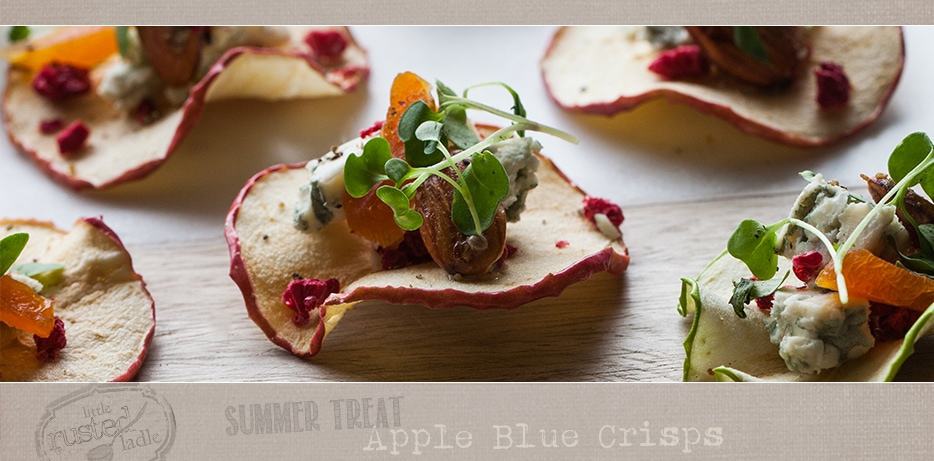 If you're like Jena and I, every summer means having to come up with some appetizer or dish to bring to a friend's party at the last minute. Sometimes that's not so easy. Between cutting the grass, planting flowers, getting kids to summer events, and the endless parade of weddings, graduation parties or family summer excursions, those dishes to pass can sometimes cause us stress. Forget about the concept of creating something people will remember, or trying to make it healthy as well. Until now that is.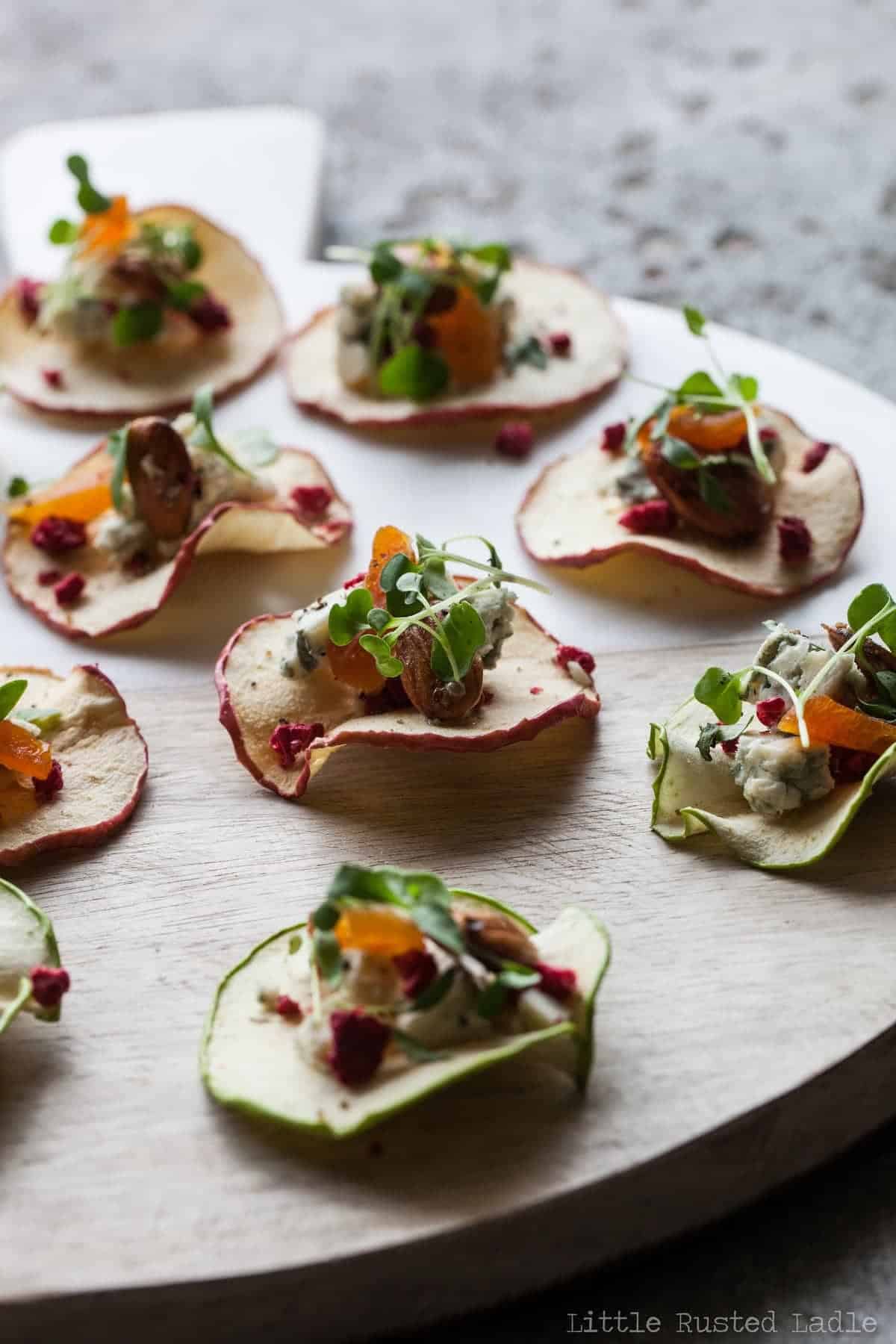 Jena and I were working on a project for a client that involved creating a shot of multiple kinds of appetizers on different trays. We thought we were getting many choices, but only had a couple, so I had to come up with some more options and do it quickly. We had many ingredients to choose from, but nothing that seemed to really add any kind of visual excitement. Sometimes when in that kind of situation, you have to just trust your creativity and go with it. We had some cool dried apple crisps on hand, which were nothing more than dehydrated apple slices that were cut very thin and were very flat. My guess is they were weighted down to prevent curling. In addition to these, we had an assortment of cheeses, various dried fruits, nuts, and some fresh herbs. No breads were available and crackers seemed mundane, Dips or spreads were not an option because they needed to be finger foods. That's when it hit me. Why not use the apple slices in place of a baguette slice or cracker and make a healthy, gluten free bruschetta appetizer? Kind of a portable salad.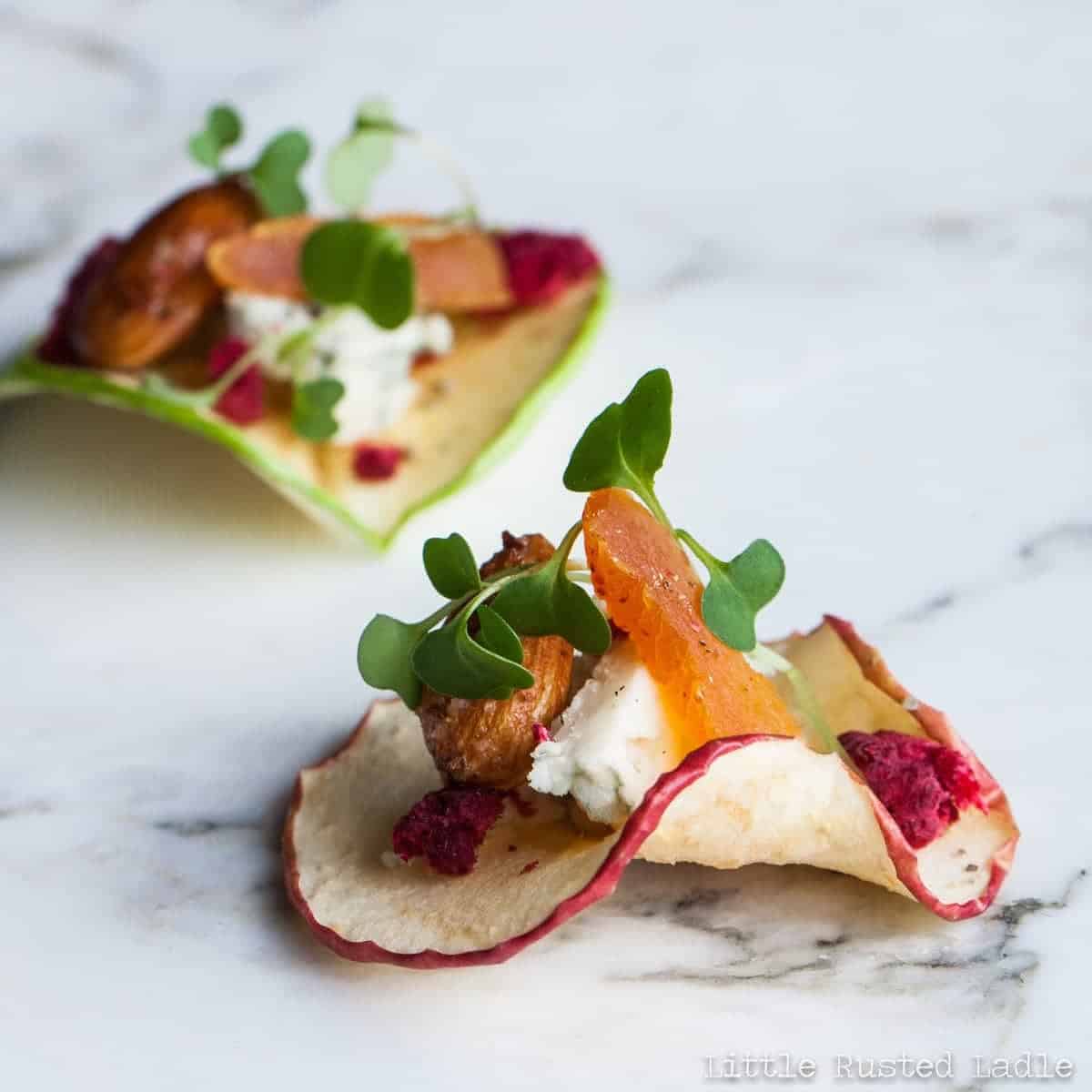 With the apple slice chosen as the edible canvas, we simply needed some color, texture and smell and flavor to give this canapé some life. What goes good with apples? Cheese. Blue cheese to be more specific. So do nuts and lettuce. By putting a few crumbles of blue cheese on the apple slice, we added a big punch of flavor. A whole almond added texture and a nice crunch, a few crumbles of freeze dried raspberries added great color and some tartness, a slice of dried apricot for more color and some sweetness, and a few fresh herb micro greens for the smell and splash of green to finish it off. What a great combination of flavors. Simple, fancy, yet achievable. In order to re-create them for this article, Jena dried some thin apple slices in the oven overnight, which only took about 10 minutes to prepare. All the other items we found in the grocery store or our gardens. The micro greens can be an easy find in the spring by simply planting a packet of fresh basil or cilantro seeds in a pot of soil and watering them everyday. Make sure they are in direct sun. When they start growing, you can use them as garnishes for cute appetizers like these. Feel free to substitute other chopped fresh greens or herbs for the micro greens if you want. Like everything we do here, there are no rules, so do whatever you want. Just think with your tastebuds about what each ingredient will taste like.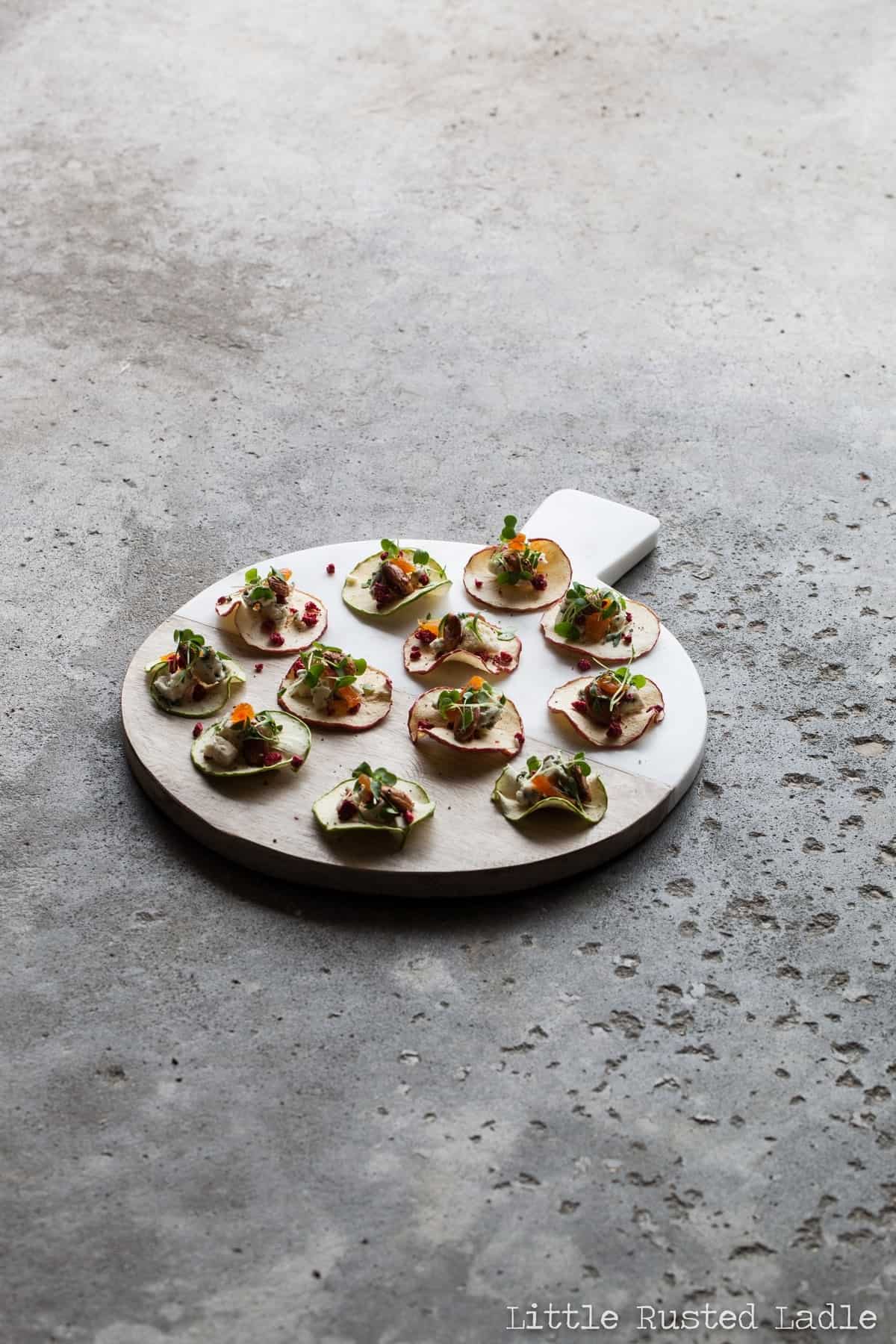 A platter of these simple but healthy canapés is a beautiful statement for your next party. Your friends will be asking for the recipe. Tell them you got the recipe from LRL, or tell them you came up with it on your own. It doesn't matter. You'll be happy you delivered a fun appetizer that is perfect for the last minute summer party when seven layer dip from the deli just doesn't cut it anymore. Enjoy the summer and don't forget to cook with love and live to cook.
Jim & Jena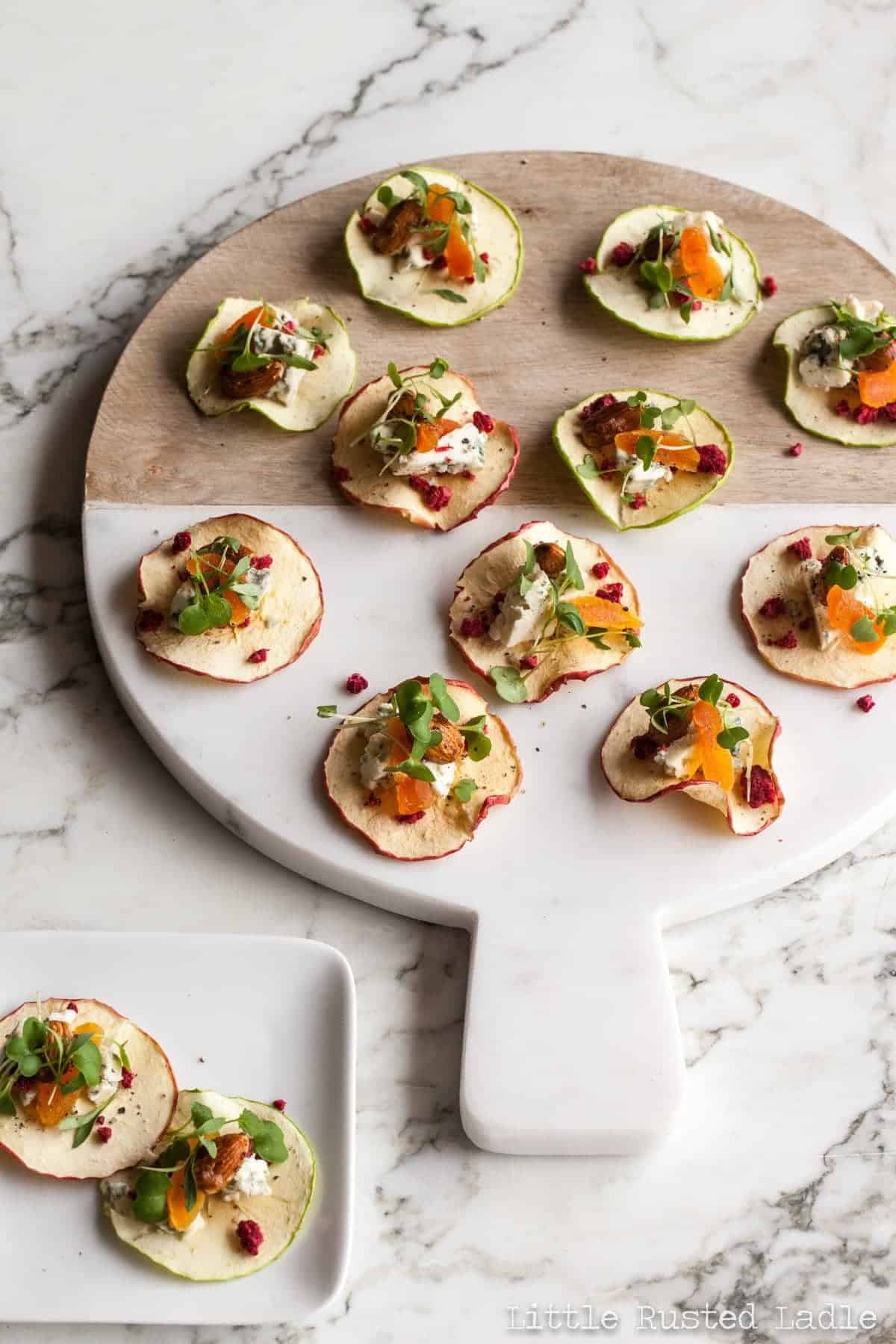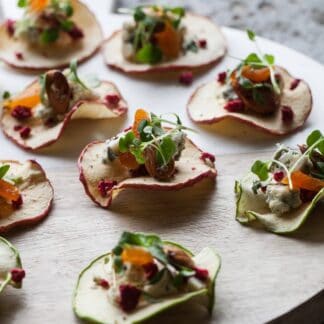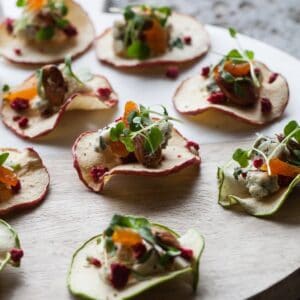 Ingredients
24

Dehydrated apple slices

1

cup

Blue cheese

broken into 1/2 " pieces

4

Dried Apricots

cut into 6 slices each

12

Freeze-dried raspberries

24

Whole almonds

1

cup

Micro greens or chopped fresh herbs like basil or tarragon
Instructions
Place a piece of blue cheese on each apple slice and top with a small amount of remaining ingredients. Place on trays, cover and refrigerate until ready to serve.