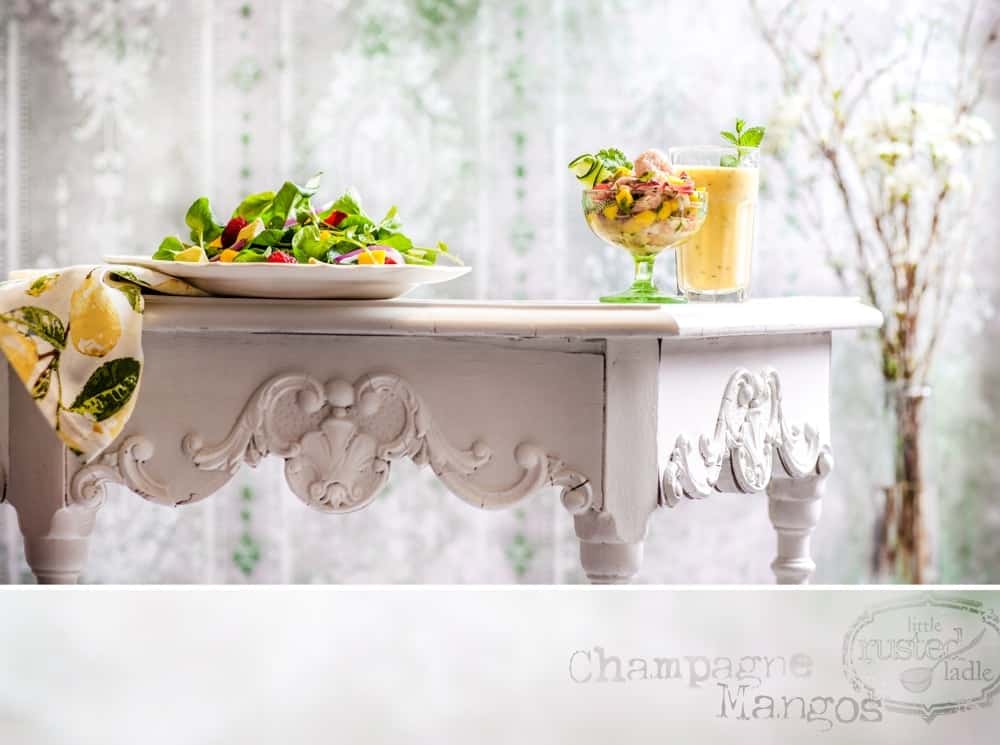 Stop reading this right now, go to the store and buy as many champagne mangos as you can, then come back and finish reading this.  O.K.,  good job.  I would hate to talk to you about the wonders of the champagne mango and then have you go to the store only to find they are already gone.  I know what you are thinking, why would a Wisconsinite like me be so excited about a fruit that can't be found without a 40 hour car ride to Chiapas, Mexico?  Well, it's simple.  This little kidney shaped fruit is not only delicious, but also inexpensive.  For less than $9.00 you can get a dozen of these gems.  If my wonderful gardening parents taught me anything, it was that fruits and vegetables have seasons.  They are at their best for a fleeting period of time and when they are in season, you eat them like crazy until they are gone or you can't eat any more.  For me that is true with many foods.  Morels, ramps, asparagus, rhubarb, baby greens, strawberries, raspberries, beans, sweet corn, peaches, beets, fresh herbs, tomatoes, etc..  

Until the morels, ramps and fiddleheads start coming in, I am more than happy to adopt this foreign exchange fruit from south of the border.  Why are champagne mangos so great you ask?  Champagne mangos, otherwise known as the Ataulfo variety, are different than the normal mangos you see in the stores.  They are smaller, creamier and their flavor is much sweeter.  They taste like they have been bathed in honey.  They are solid yellow when ripe, unlike the larger varieties that are a combination of green, yellow and red.  The one drawback to the champage mango is that like most produce, their season is very short.  I love that.  As much as I enjoy being able to get things year round like tomatoes so I can make recipes such as our Roasted Tomato Soup, I appreciate produce that comes into your life quickly and unannounced, then leaves just as quickly.  Kind of like a summer fling in high school but with fruit.
Before anything else, I always eat my very first champagne mangos raw.  In order to do that, one must first get at the honey sweet flesh.  Kind of like that summer fling.  I could spend about two paragraphs trying to explain how to cut a mango, but it is easier to just send you to the champagne mango website.  There is useful information about the fruit, as well as detailed illustrations on how to cut them.  Their website is: http://www.champagnemango.com/site/champagne.  After I have devoured the first few over the sink, I am ready for some additional mangolicious recipes.  I believe that the best way to enjoy the ataulfo mango is by keeping it simple.  Let natural, fresh flavors surround the mango encouraging it to be the best it can be.  I made three different recipes using champagne mangos.  The first was a simple mango and watercress salad.  I tossed some locally grown watercress with diced mango, diced avocado, fresh raspberries, red onion, a drizzle each of basil olive oil and rice wine vinegar.  A simple turn or two of the pepper grinder and a pinch of kosher salt and you are good to go.  The peppery watercress is the perfect muse for the honey sweet mango.  The avocado adds a nice creamy mildness and the red onion adds that needed crunch and flavor.  Raspberry for tartness and color, pepper for bite, and basil oil for an herbal note combined with the acidic addition of rice wine vinegar.  Perfect!  As usual with my recipes, feel free to substitute any greens you want such as arugula, endive, or spring mix.  Eliminate anything you want.  Even if you got rid of every other ingredient, you'd still be back to the plain mango and that is o.k. too.


The next recipe was a traditional ceviche with a twist, mango and shrimp ceviche.  Those who don't understand ceviche, think of it this way.  You add raw shrimp to fresh lime juice, and in about 45 minutes it magically cooks the shrimp without heat.  It's mother nature's answer to saving the planet.  No fossil fuels, electricity or man power needed.  Just lime juice and seafood.  Feel free to substitute grouper, scallops, halibut or any other mild white fish.  To this I added a habanero pepper for fruity heat, red bell pepper for sweetness, jicama for a mild crunch, radish for a little peppery flavor, unsalted pumpkin seeds for a nutty flavor, cilantro for freshness, tomato for color and a little acid, green onion for flavor and of course the mango for all it has to offer.  Toss it all together, and refrigerate for about an hour to allow the flavors to jive.  Eat as is, or serve on tortilla chips or baguette slices.  Eliminate the seafood and some of the lime juice and guess what you have?  Mango salsa.  Perfect over fish, pork, chicken or the same tortilla chips.

With two recipes that utilize the fruit unadulterated, I felt it was time to make a little mango mint cocktail that highlights the potential of the mango.  Like I need an excuse to make a cocktail?  I could have found a way to make a cocktail from any of our articles so far.  Anyway, I started with making a simple mango smoothie using the champagne mango in frozen form with pineapple flavored Greek yogurt, coconut milk, orange juice, honey, ice and fresh mint.  A great drink for breakfast or an afternoon snack.  Freezing ripe mango pieces enables you to use the mango as an ice cube replacement, preventing your drink from getting watered down.  Plus, when you get a craving for champagne mangos out of season, you have them at your fingertips.  Looking for a more "adult" version to enjoy?  Substitute spiced rum for the yogurt and coconut milk if you aren't into that, and you have a frozen mango mojito.  Substitute vodka and lemonade and you have a refreshing frozen mango vodka cooler.  Looking for another use?  Make your own mango vodka by spooning about two cups of fresh champagne mango pieces into a glass container such as a large mason jar.  Cover with vodka.  Cover and let sit for 10 days to 2 weeks.  Strain back into vodka container and enjoy as a sipping liquor or as a base for other drinks.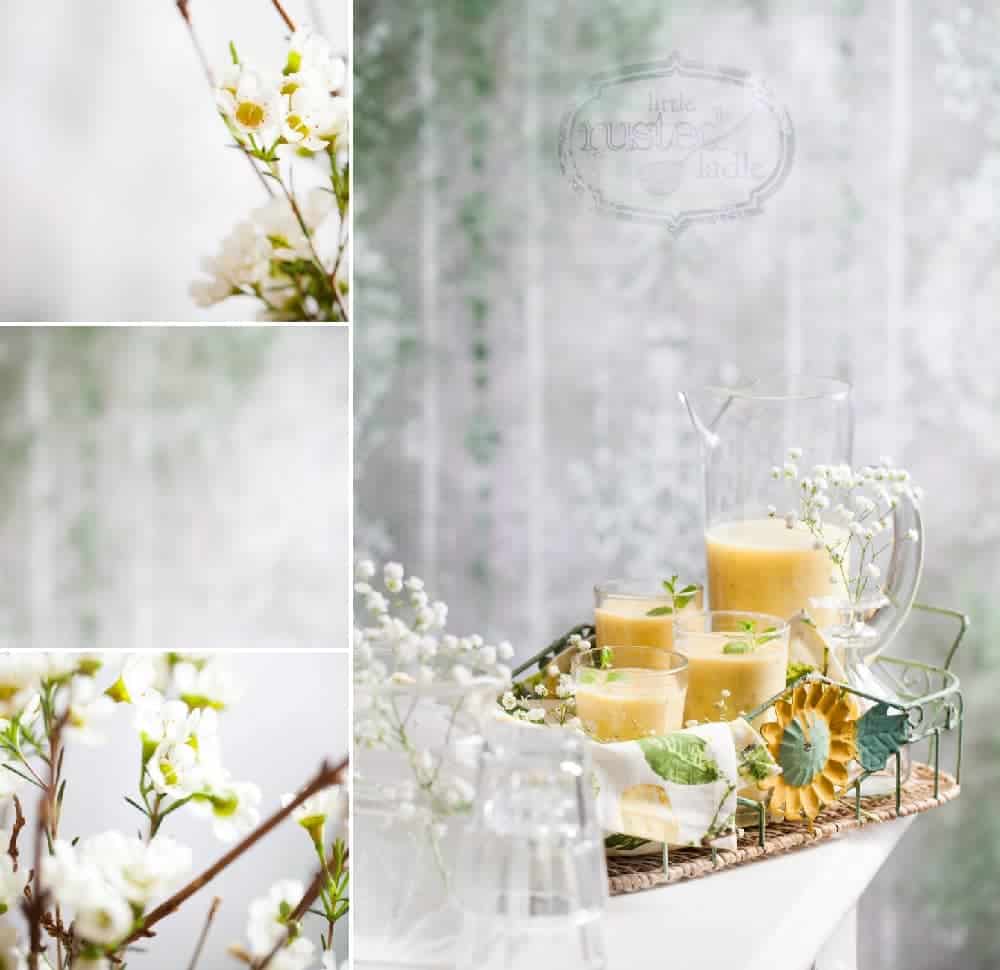 As much as I'd love to sit here and discuss the wonders of the champagne mango, I'm going to whip up some mango salsa and enjoy it with a mango margarita. So, the next time you are in the grocery store and see this cute little kidney shaped yellow fruit next to it's larger cousin, remember, size does not matter.  Until next time, remember to cook with love and live to cook.  Adios.
Jim

A special thanks to De Anna Lu's Re-tiuqe Shop for the rental of the sunflower tray.