Seared Pork Chops with Roasted Winter Vegetables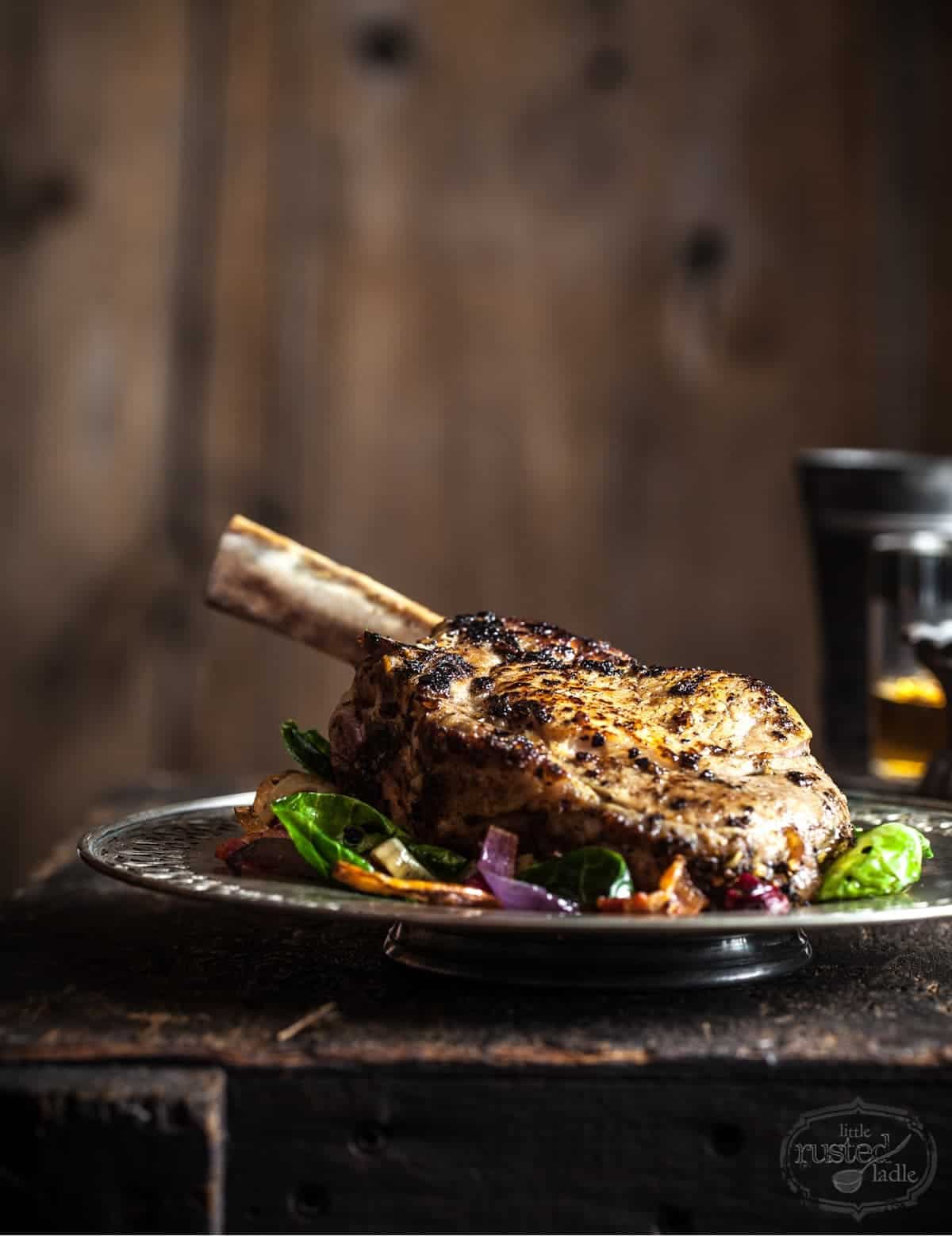 3 strips of applewood smoked bacon, cut into ½" pieces
2 8-12 oz. pork bone-in rib chops, brined (see recipe above)
1 tsp. curry powder
½ tsp. dried basil
¼ tsp. crushed red pepper flakes
3 small parsnips, cleaned and halved lengthwise
¼ cup apple cider
1 small red onion, cut into strips
½ small bulb fresh fennel, top removed, halved and thinly sliced
¼ cup fresh cranberries, halved
2 cloves garlic, peeled, roughly chopped
4 large brussels sprouts, stems removed, separated into leaves
Preheat oven to 375 degrees. Transfer brined pork chops to a plate and dry with paper towels.
In a large heavy bottomed skillet or frying pan, cook bacon over medium heat until browned. Transfer bacon to a small plate leaving remaining bacon grease in pan to brown pork chops.
Meanwhile, combine curry powder, basil and red pepper flakes in a small dish. Sprinkle over pork chops. When bacon is removed from pan, add pork chops and parsnips to pan with bacon grease. Cook over medium heat for 4-5 minutes per side or until golden brown. Transfer chops to a plate and set aside. Add apple cider to pan with parsnips and scrape up any brown bits with a spatula.
Transfer parsnips and pan drippings to a small roasting pan or shallow baking dish. Add onions, fennel, and cranberries to pan with parsnips. Add any juices from pork and toss to coat. Roast in oven for 30 minutes. Remove from oven, place pork chops over vegetables, add brussels sprouts leaves and return to oven. Roast an additional 10-15 minutes or until vegetables are tender and pork is slightly firm to the touch and cooked to medium. Remove from oven. Serve topped with cooked bacon.
Since the pork chops have been brined in a salt solution before cooking, do not season with salt and pepper until after tasting.
Recipe by
Little Rusted Ladle
at https://www.littlerustedladle.com/apples-porks-favorite-muse/