St. Patty's Day Corned Beef Pot Pie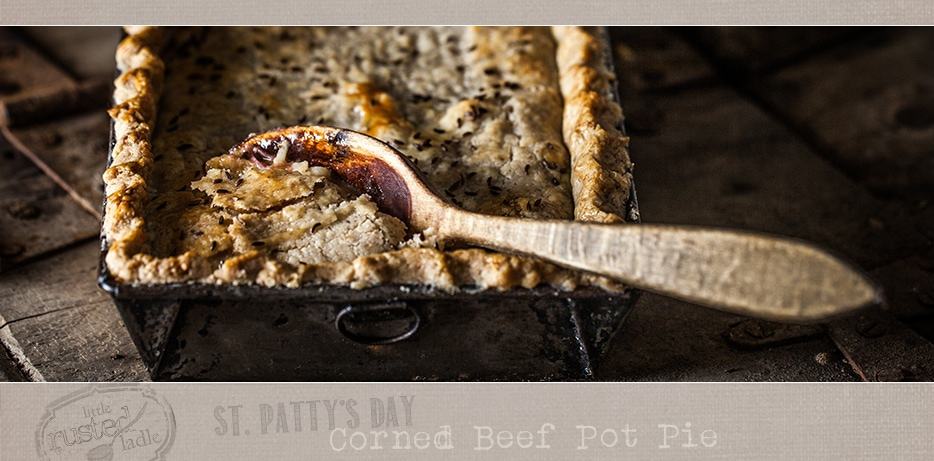 Author:
Little Rusted Ladle
2 C. Small yellow potatoes, cubed
3 C. Reduced sodium chicken broth
1 C. Chopped sweet onion
1¼ C. Sliced carrots
2 Cloves Garlic, minced
1 Tbsp. Vegetable oil
2 C. Savor or green cabbage, cut into 1" pieces
2 C. Cooked Corned beef, shredded or cut into bite size pieces
2 C. Thousand island dressing
½ C. Swiss cheese, shredded
½ tsp. Cracked black pepper
Salt to taste
1 Box Refrigerated pie crust dough (enough for 2 crusts)
2 Tbsp. Rye flour, optional
1 tsp. caraway seeds, optional
In a large saucepan or dutch oven, simmer potatoes in chicken broth until barely cooked through (about 10 minutes).
Meanwhile, heat butter in a medium skillet over medium heat until melted. Add onions, carrots and garlic and cook until carrots are crisp tender.
Add cabbage and cook an additional minute or until softened.
Stir in flour and cook for about 4 minutes, stirring often.
Add potatoes and broth mixture and stir until thickened.
Stir in dressing, cheese and pepper. Cook until cheese is melted and mixture is thick.
Fold in cooked corned beef and remove pan from heat to let cool. Transfer mixture to a container, cover and refrigerate for 1 hour or until completely cooled.
Meanwhile, remove pie dough from refrigerator and let rest for 10 minutes.
Sprinkle half of the rye flour onto a clean surface and unroll one pie dough over flour. Sprinkle with half of the caraway seeds, then roll pie crust out until circle is about an inch bigger.
Place in pie pan and trim edges to about a half an inch hangs over the edge.
Sprinkle remaining flour on surface and unroll remaining pie dough over flour. Sprinkle remaining caraway seeds on dough and lightly roll over dough, allowing seeds to be pressed into dough.
Spoon cooled filling into dough lined pie pan.
Place remaining dough circle over filling and roll in edges to top of pan.
Crimp edges with your fingers.
Transfer pie to a foil lined baking sheet. Make small holes in pie for venting.
Bake in oven preheated to 350 degrees for 45-50 minutes or until crust is golden brown.
Remove from oven, let cool for about 5 minutes, then cut into pieces and serve.
For a fun alternative, cut pie dough into shamrock shapes and spoon about ½ cup of filling onto one shamrock. Brush edges with egg wash, then top with another shamrock. Press to seal. Bake for 2--25 minutes.
Recipe by
Little Rusted Ladle
at https://www.littlerustedladle.com/st-pattys-day-corned-beef-pot-pie/