Sweet Potato Pork Poutine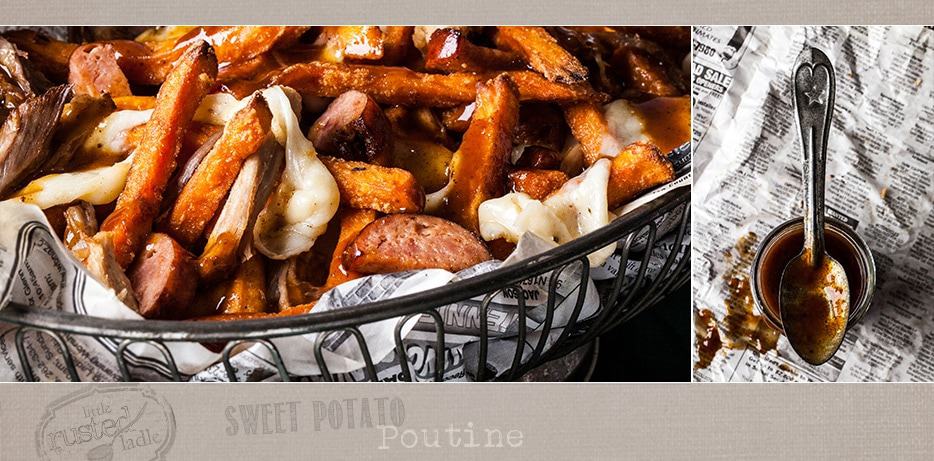 Author:
Little Rusted Ladle
2 Tbsp. Paprika
2 Tbsp. Brown sugar
1.5 lbs. Boneless pork roast
1 tsp. Kosher salt
1 C. Water
½ Lb. Smoked sausage link
¼ C. Ketchup
½ C. Prepared beef gravy
1 lb. Frozen sweet potato fries
1 C. White cheddar cheese curds
Combine paprika, sugar and salt in a small bowl. Rub over pork, then place in a 2 quart slow cooker. Add water and smoked sausage. Cover and cook on low for 5-6 hours or until pork is fork tender. Remove pork and sausage and set aside while making the sauce.
For the sauce, skim the fat off the top of the remaining cooking liquid, then add ketchup and gravy. Stir to combine. cook on high until hot and thickened. Pull pork apart with 2 forks or roughly chop with a knife. Add pork and sausage back to prepared sauce and fold in with a spatula. Keep warm until ready to serve.
Prepare sweet potato fries according to package directions until crisp and hot in a shallow pan or baking sheet lined with non stick foil.
Top fries with cheese curds and keep warm in the oven until curds are soft.
Top with meat and sauce mixture and serve.
Recipe by
Little Rusted Ladle
at https://www.littlerustedladle.com/poutine-recipe-march-madness-party-appetizer/