Venison Chili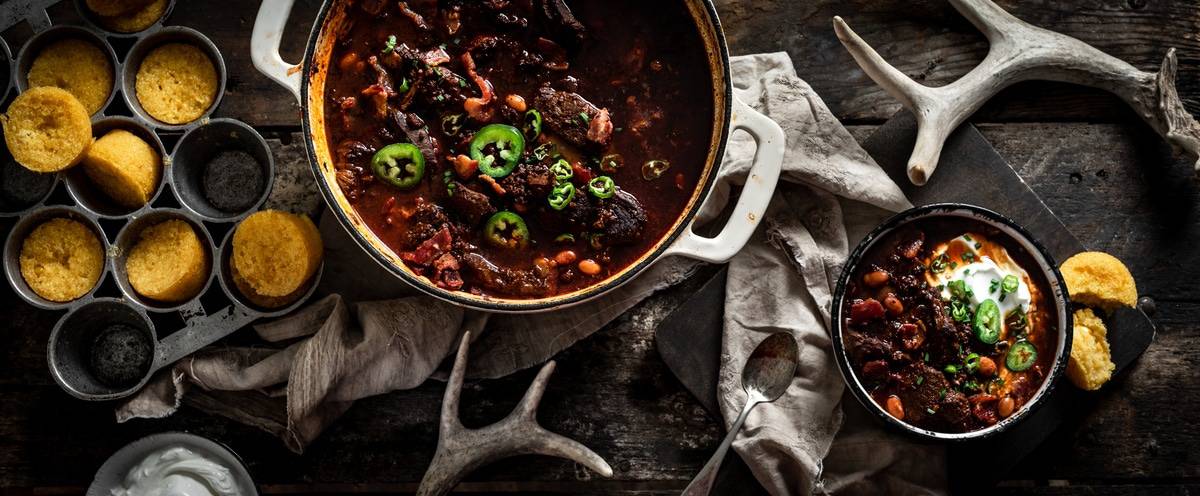 Author:
Little Rusted Ladle
10 Dried chiles (2 of each ancho, pasilla, cascabel, morita, chipotle)
1 cup Hot coffee
1 cup Hot water
½ lb. Bacon, diced
1½ lbs. Ground venison or venison stew meat
1 med. Onion, diced
4 cloves Garlic, minced
1 Tbsp. Smoked paprika
1 Tbsp. Cumin
¼ tsp. Cinnamon, ground
2 tsp. Kosher salt
1 tsp. Fresh ground black pepper
3 Tbsp. Tomato paste
1 Tbsp. Molasses
1 Tbsp. Agave nectar
1 qt. Beef broth
1 ea. Bay leaf
1 can Pinto beans, rinsed and drained
Garnishes: Sour cream, jalapeño slices, cilantro, corn chips, tortilla chips, onions, cheese
In a large bowl, combine chiles, hot coffee and hot water. Cover with plastic wrap. Let sit for 30 minutes to an hour. Add mixture to a blender. Cover and blend on high until smooth. Set mixture aside while cooking bacon.
In a large saucepan, cook bacon over medium heat until crisp. Transfer to a plate lined with paper towels, reserving 2 tbsp. of bacon grease in the saucepan.
Brown venison meat in remaining bacon grease over medium high heat until cooked well browned. Add onion and next 6 ingredients. Reduce heat to medium. Cook for 3-5 minutes or until onion is softened.
Stir in pureed Chile mixture and remaining ingredients except garnish. Cover and cook on low for 1 hour, stirring about every 15 minutes. Adjust salt and pepper to liking and serve with desired garnishes.