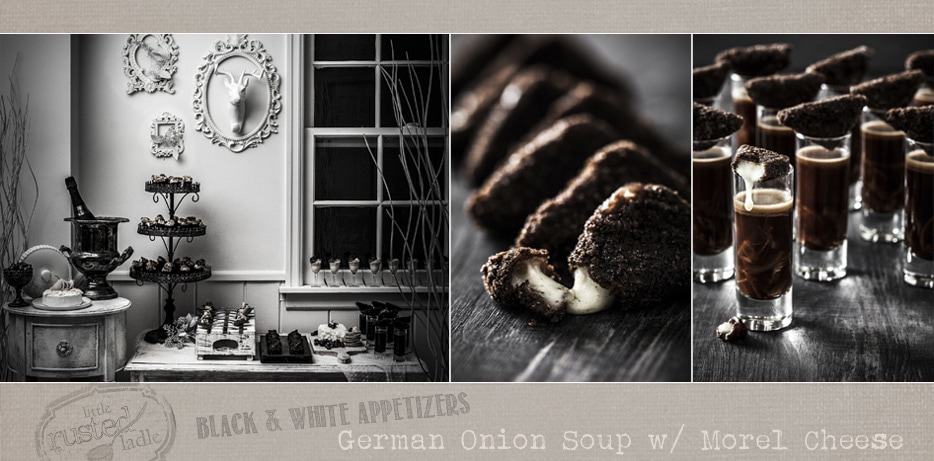 Jena and I love small things. Since Jena and her husband Brandon are expecting their first child very soon, I think its safe to say they like small things a little more than I do. However, when it comes to small food, I think we are on the same page. Who doesnt love little food during the holidays? As a kid, little food meant it was Christmas eve. Mom would make various appetzers that could never be considered gourmet but at the time they were pretty fun for a kid like me. Cocktail weenies in barbecue sauce, shrimp cocktail, meatballs, and the best, cannibal sandwiches, which were simply raw beef tenderloin, spread on a piece of mini rye bread and topped with raw onions. White trash beef carpaccio so to speak. I know, it sounds
disgusting to many of you, but for me it meant the holidays. We may have more sophisticated pallets now, but small food still rules.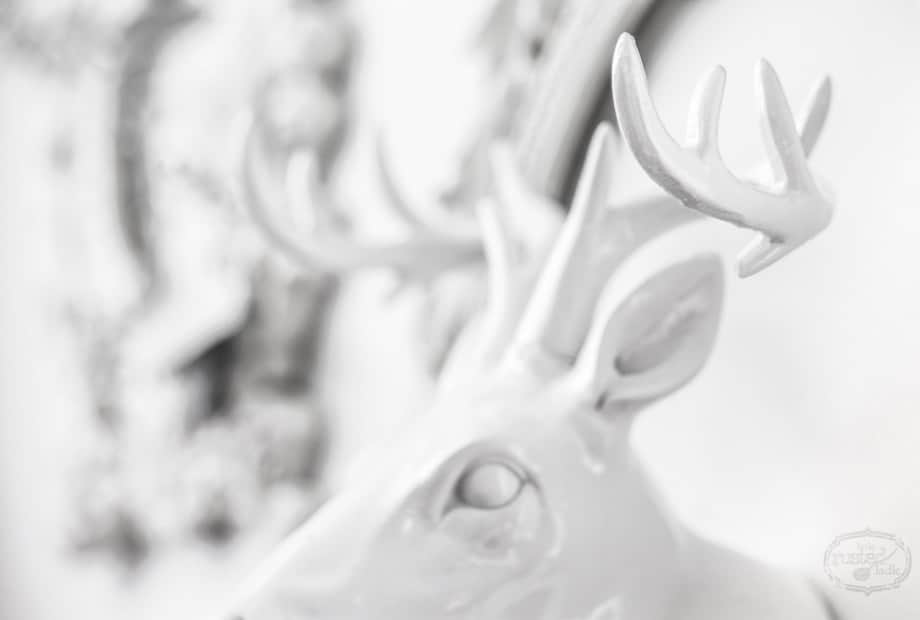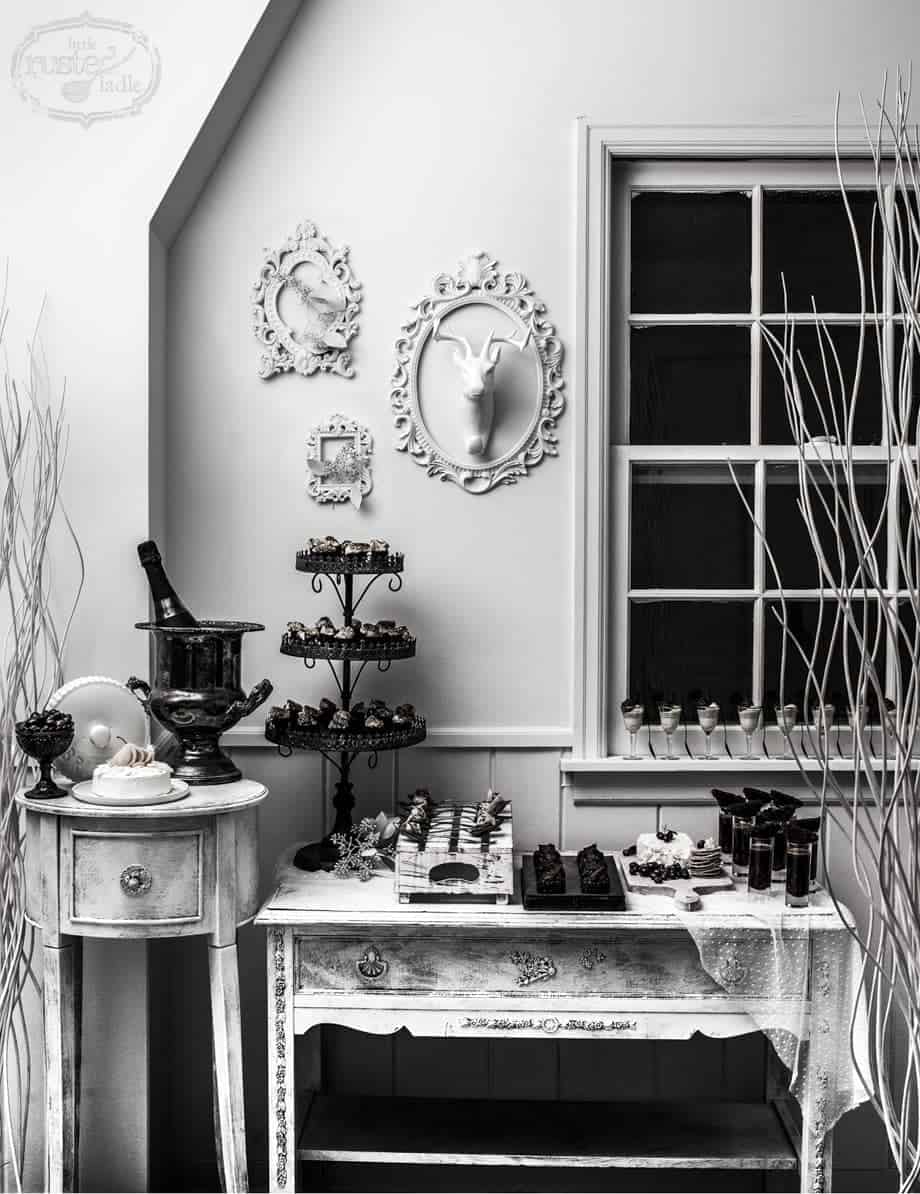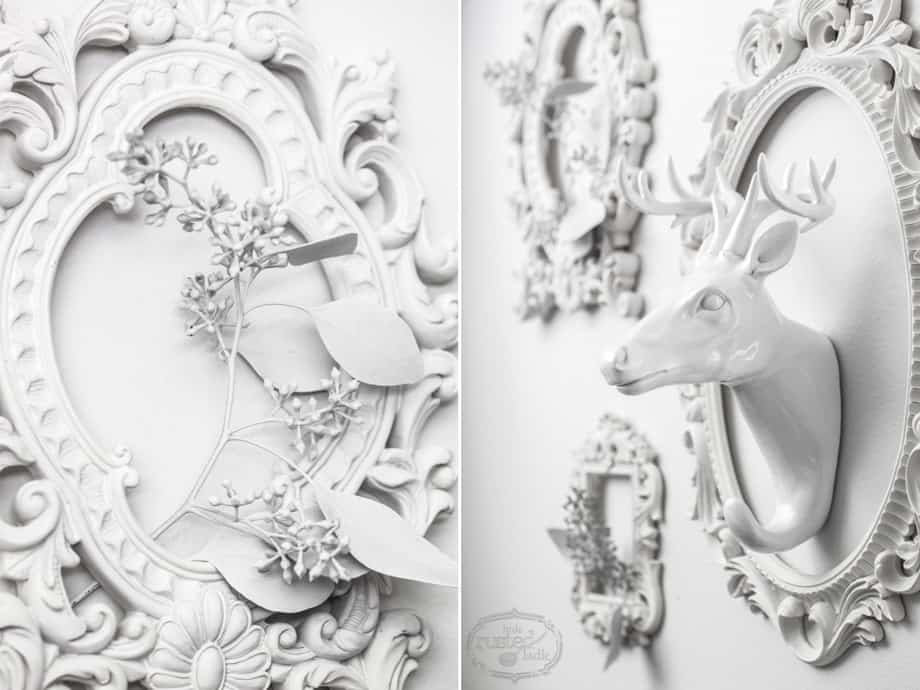 Jena had this idea of doing a black and white theme with food. All the food being either black or white, or both. Great idea, but what about little food? It is not easy to come up with small, yummy food that is also black or white, but we decided to give it a try. For our first appetizer, we chose to do a variation of French onion soup. We substituted a black IPA beer from New Glarus Brewing Co. called Black Top for the customary sherry that would normally be used. You can also substitute a dark stout beer instead of the IPA we used for the beer.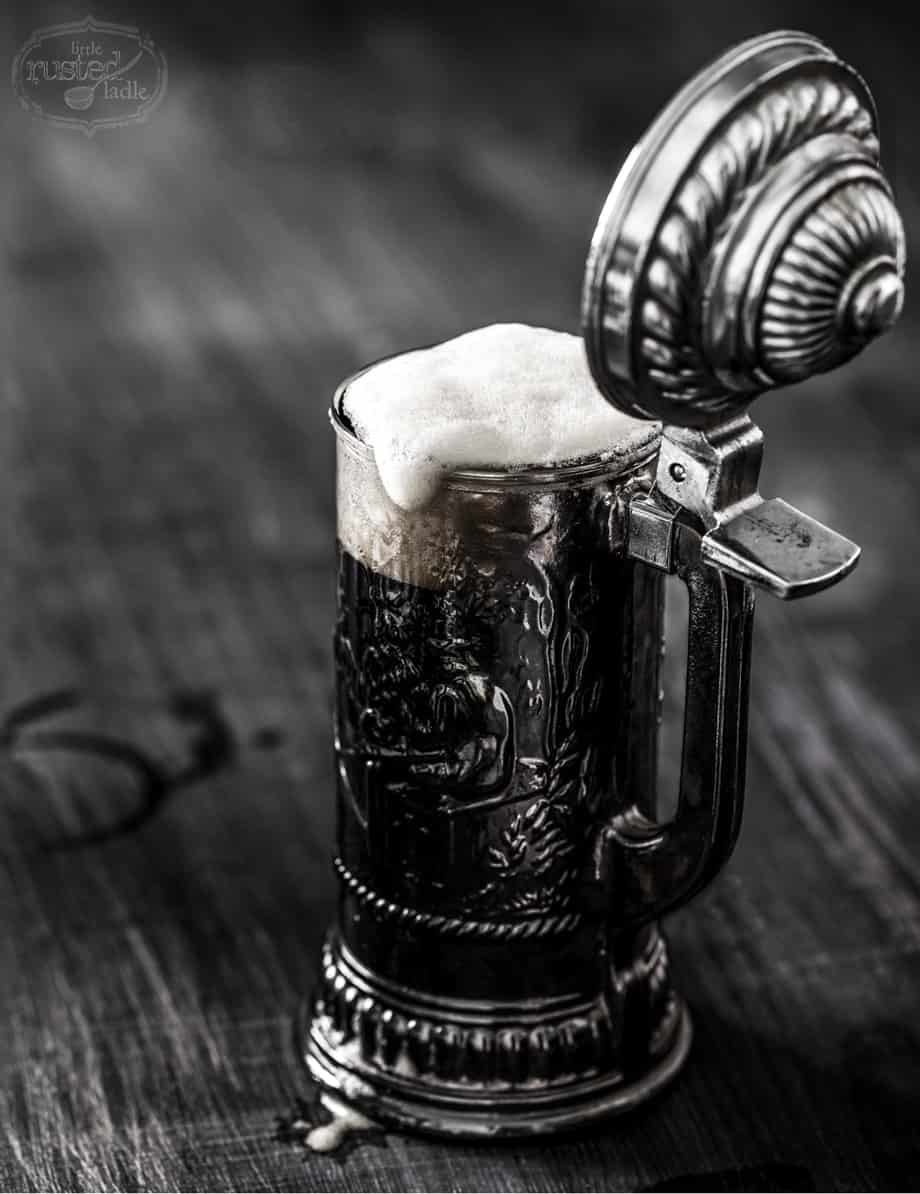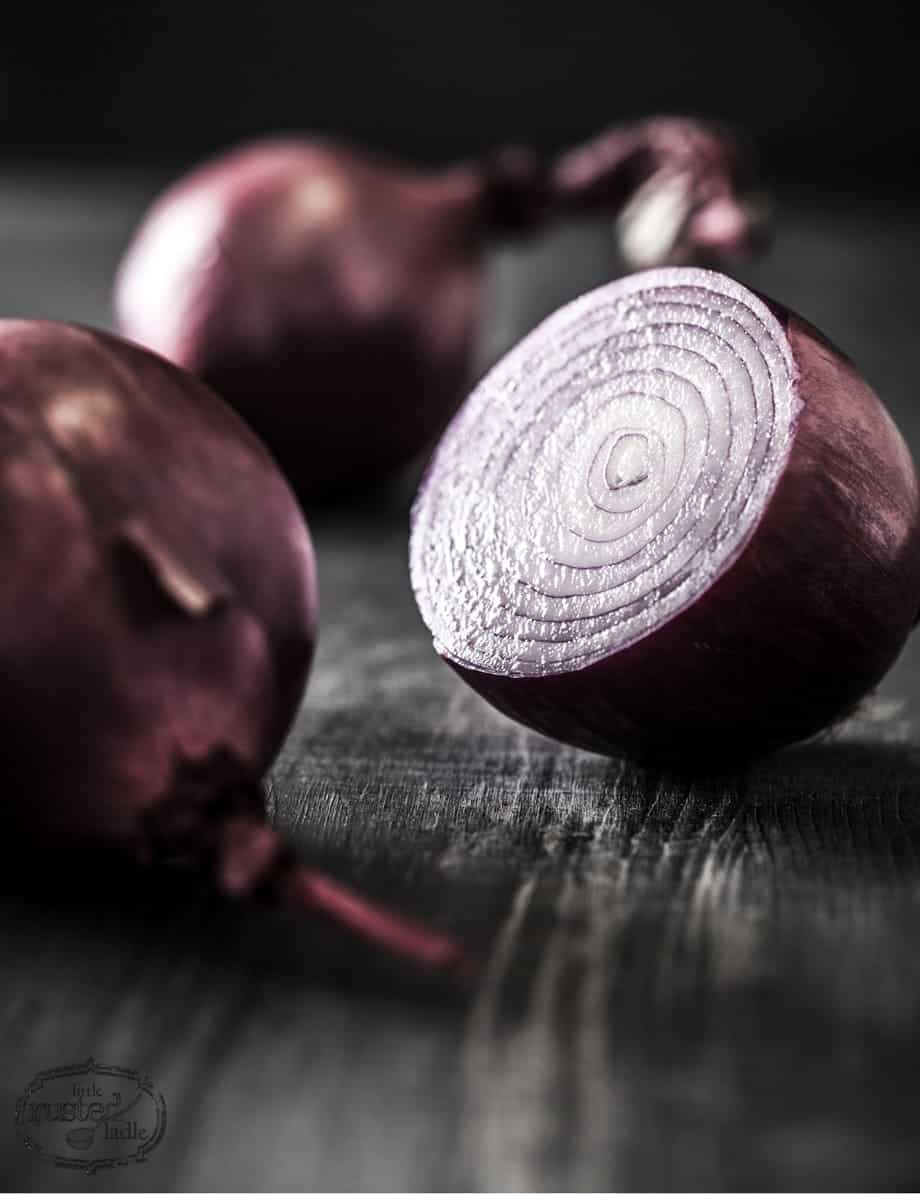 There is one glaring problem with trying to make a mini sized onion soup recipe though. French onion soup is very messy to eat. Greyere cheese is melted over large crostini making it a difficult soup to eat anytime, let alone in a small appetizer version. The thought of molten gooey cheese falling on party goers holiday outfits sounded like a bad idea. But what if the cheese was contained in an easy to eat fried triangle that could be dunked into the hot soup? This could work. To add to the German theme, we decided to use a Wisconsin morel leek jack cheese from Renard's cheese Co., and breaded them with rye bread crumbs.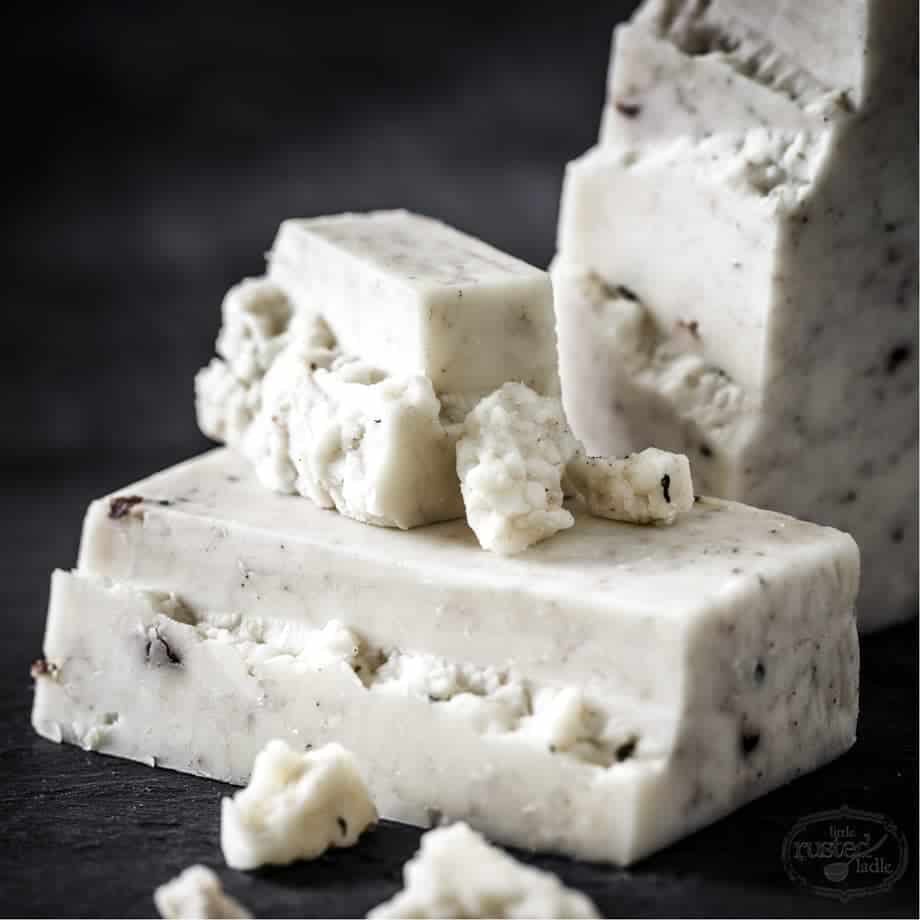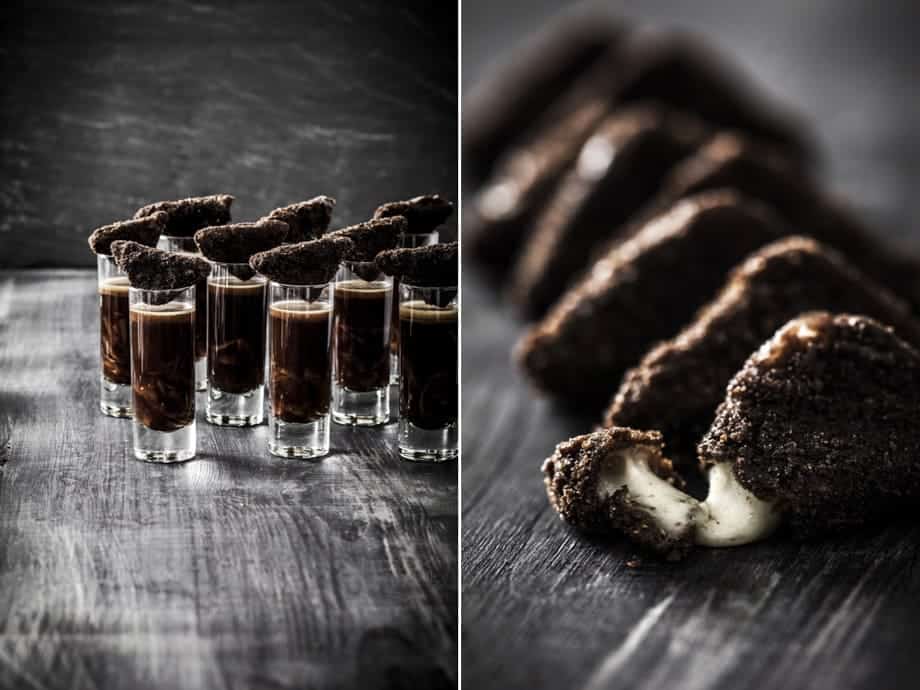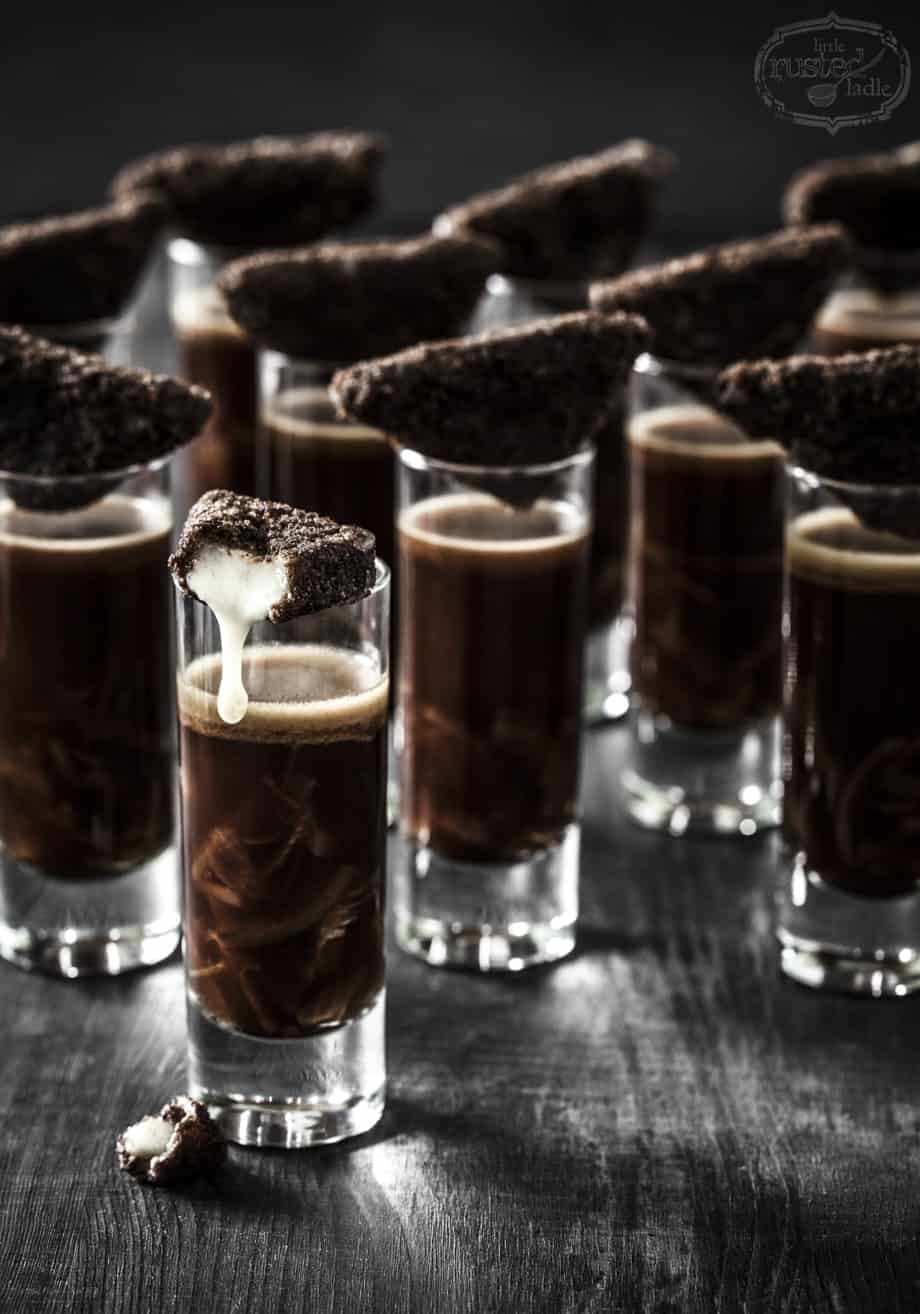 A German Onion Soup with Morel Cheese Triangles. Sounds like a great starter to our black and white themed holiday party. What's next? Check back soon! Until then, remember to cook with love and live to cook.
Jim & Jena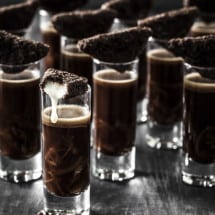 Ingredients
3

tbsp

unsalted butter

1

medium

red onion

cut into thin strips

1

medium

sweet yellow onion

cut into thin strips

1

12 ounce bottle

dark stout or IPA beer

4

cups

reduced-sodium beef broth

2

sprigs

thyme

1

bay leaf

salt & pepper to taste
Instructions
Melt butter in a large saucepan over medium heat. Add onions and cook, stirring often until caramelized.

Add beer and cook until beer is reduced by half.

Add broth, thyme, and bay leaf. Cook for 30-40 minutes.

Remove thyme sprigs and bay leaf, then season to taste with salt and pepper.

Pour soup into shooter glasses topped with morel cheese triangles.
Notes
If you don't feel like serving this soup in shooter glasses, feel free to serve it in bowls or crocks.
To make serving easier, strain liquid into a glass measuring cup and keep warm until needed, reserving onions. When ready to serve, spoon a small amount of onions into 12 shooter glasses. Pour warm soup into glasses to 3/4 full. Serve with morel cheese triangles on top or on the side.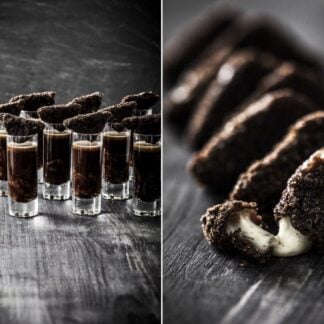 Ingredients
12

ounces

morel leek jack cheese

cut into 24 triangles

2

cups

rye bread crumbs

about 4 rolls, dried and processed into crumbs

1

cup

flour

2

large eggs

beaten

3

cups

vegetable oil
Instructions
Transfer rye bread crumbs, flour, and eggs into 3 pie plates or shallow bowls. Starting with the flour, roll one cheese triangle into flour, then egg, then crumbs. Dip in egg again, then into crumbs, creating a double coat. Transfer to a baking sheet or container.

Repeat process with remaining cheese triangles.

Freeze triangles until ready to fry.

Heat vegetable oil in a large skillet over medium heat to 350 degrees.

Carefully place 4-5 frozen cheese triangles in hot oil and fry for 2-3 minutes or until dark brown and cheese has melted (cheese will start to ooze out of triangles).

Transfer to a paper towel-lined baking sheet to drain.

Repeat with remaining cheese triangles. Serve, or keep warm in oven.
Notes
To make serving easier, pre-fry all cheese triangles, then freeze until about 20 min before serving. Place triangles in a single layer on a baking sheet and bake at 425 degrees for about 10-12 minutes or until cheese barely starts to come out of triangles. Remove from oven and serve.