If I know Santa, he loves chocolate as much as the crew of Little Rusted Ladle do. You don't get a belly like he does without a healthy dose of treats, and chocolate is definitely a treat. We love it in cookies, cakes, pies, sauces, dips, frostings, in drinks or on it's own. On it's own, chocolate is a pretty healthy ingredient. Dark chocolate (70-85% cocoa )contains antioxidants and minerals such as iron, manganese, copper, and magnesium as well as containing a generous amount of fiber. It can also lower blood pressure and raise HDL(good cholesterol). The problem with chocolate is it is often paired with a couple ingredients we try to avoid. Processed sugar and dairy. Oh sure, the nine of us (Santa, Jena, Brandon, Austin, Elijah, Logan, Kennedy, Judi and I)could just eat dark chocolate, but sometimes there is no substitute for a creamy, rich chocolate dessert. So what can we do to get that creamy, chocolate fix without the guilt? It's called Holiday Chocolate Dessert Hummus, and trust me, you're going to want to make some.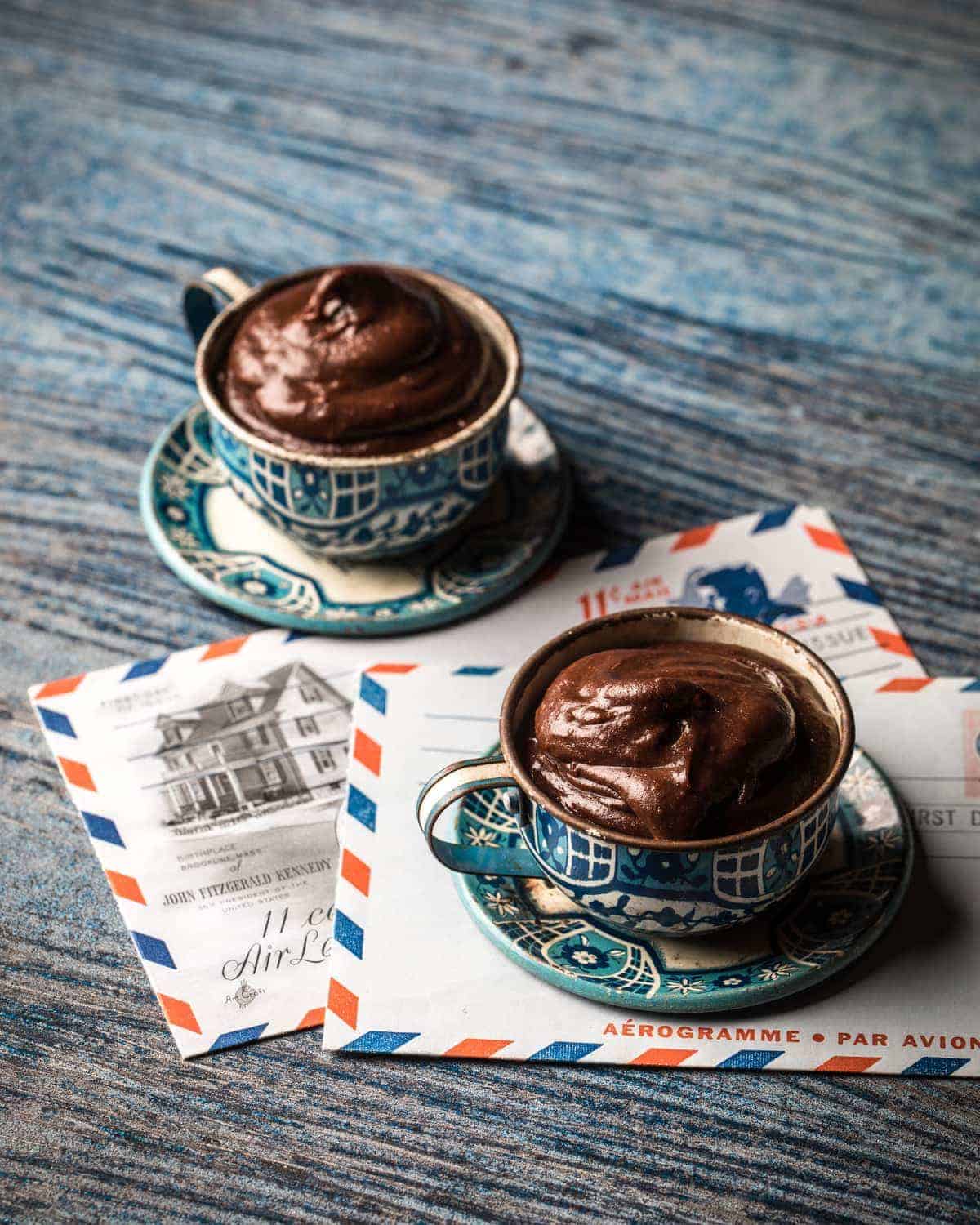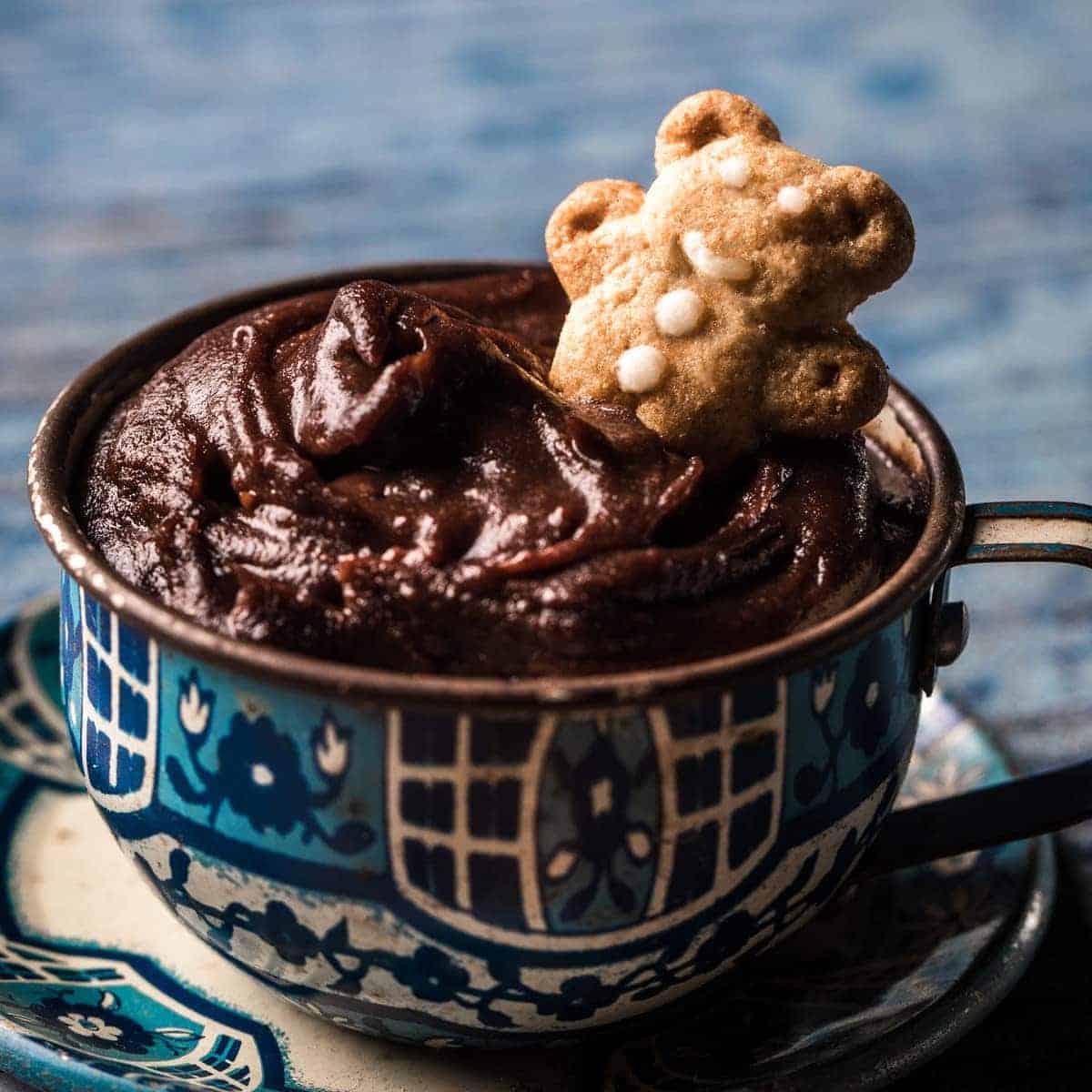 I know what your thinking, chocolate hummus, really? Of all the chocolate desserts, we chose one made with garbanzo beans? Yes, we did, and Santa is going to thank us for it. We are definitely getting extra presents under the tree this year. Why? For one, chocolate hummus is delicious! The rich chocolate flavor works really well with the texture of the creamy pureed chickpeas, which have a very neutral flavor on their own. When we substitute coconut oil for the olive oil, Coconut milk for the tahini, and add raw sugar and vanilla, the hummus gets transformed from a savory middle eastern dip, to a decadent western dessert.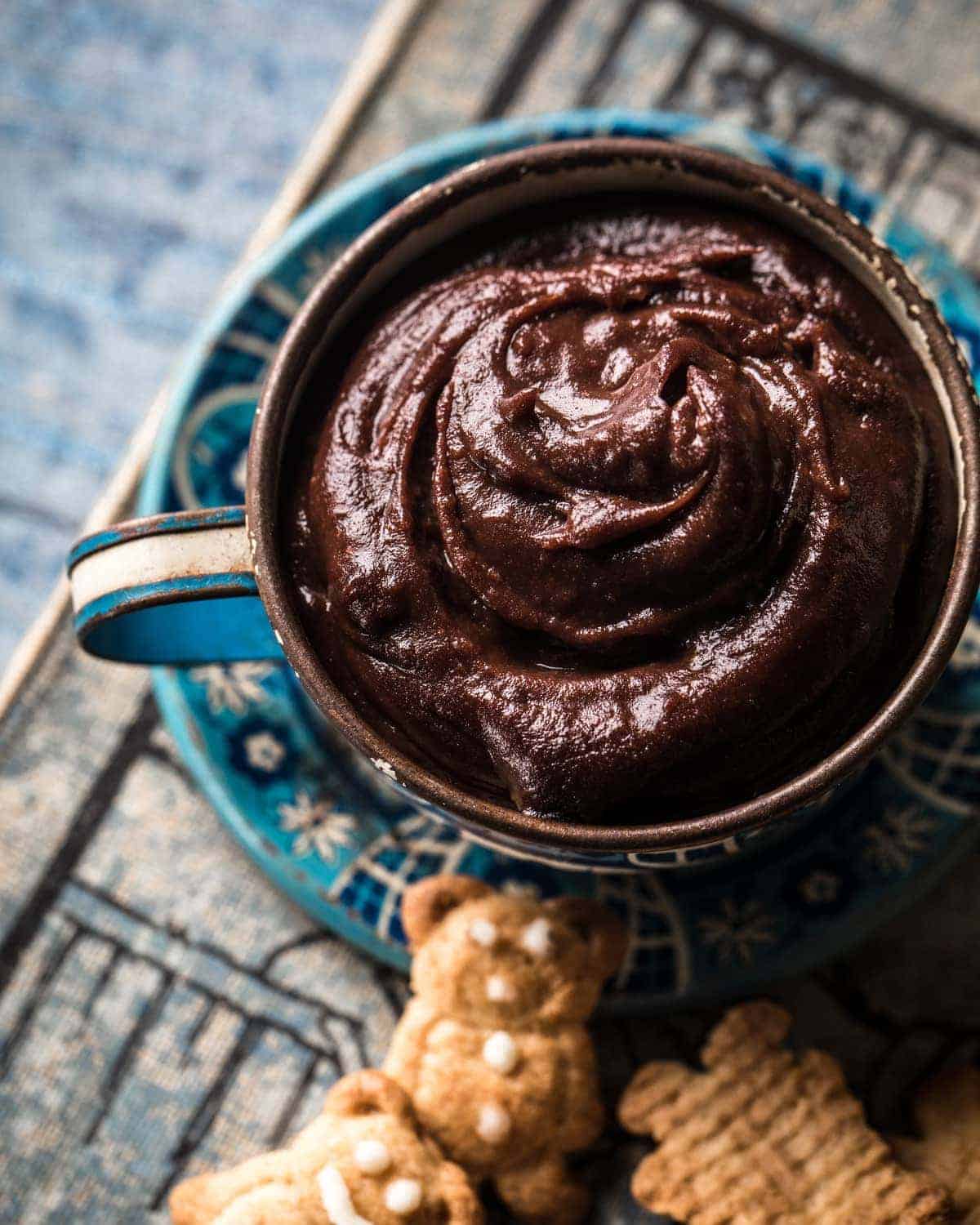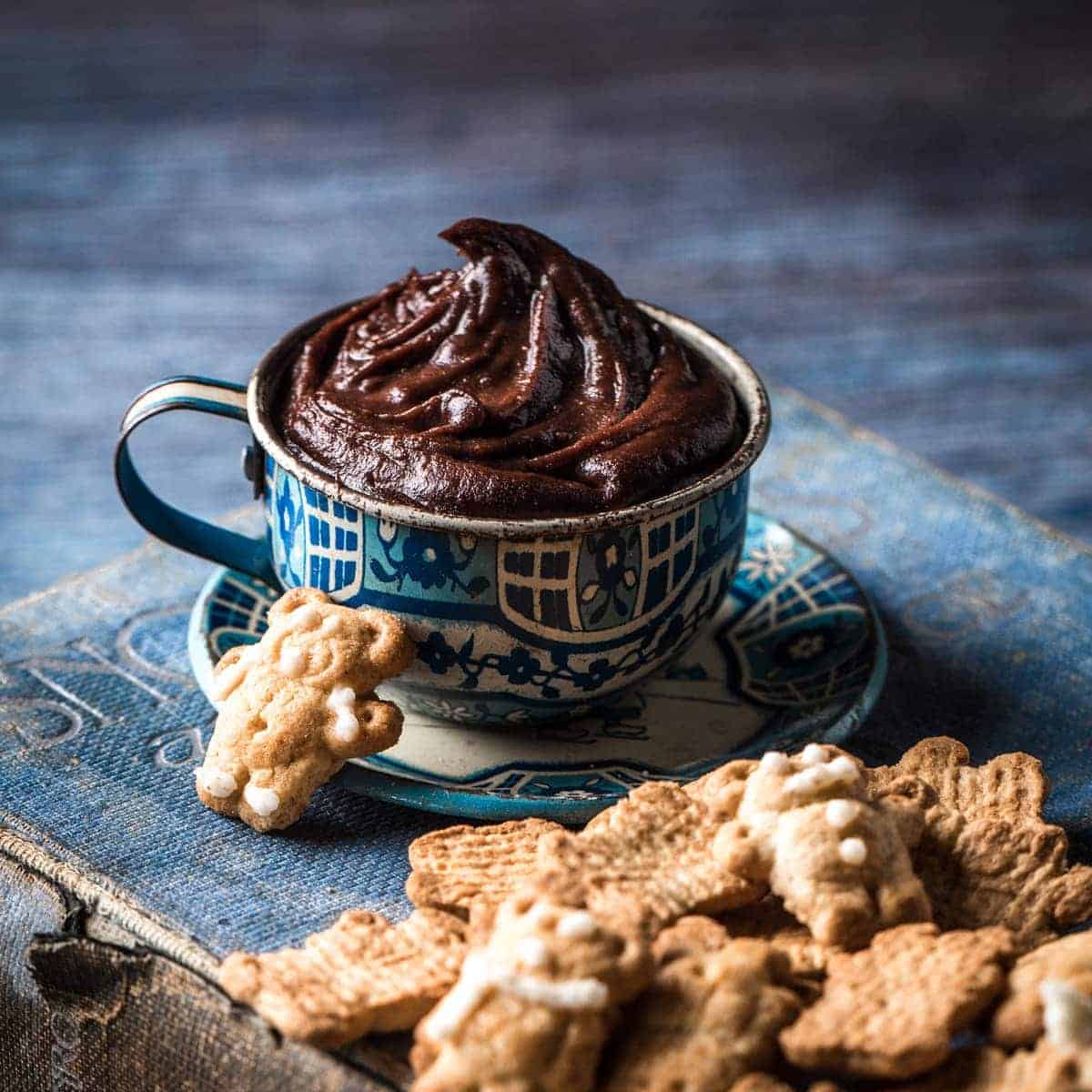 Want to know how good this dessert is? Well, recently, when I served this tasty treat to some clients and they were shocked that it was made from chick peas. I piped some onto Mexican wedding cookies and topped them with fresh raspberries. What made it good though was the ingredients. When compared to a homemade frosting using butter and sugar, we see some pretty dramatic results. The calories go from around 140 to 100. The sugars go from 16 grams to 9, but more importantly, we eliminated the processed sugar and replaced it with raw sugar, which helps lower inflamation. The fat stays about the same, but we substituted healthy coconut oil for the butter. Using chickpeas almost doubled our fiber, which for a dessert is pretty amazing.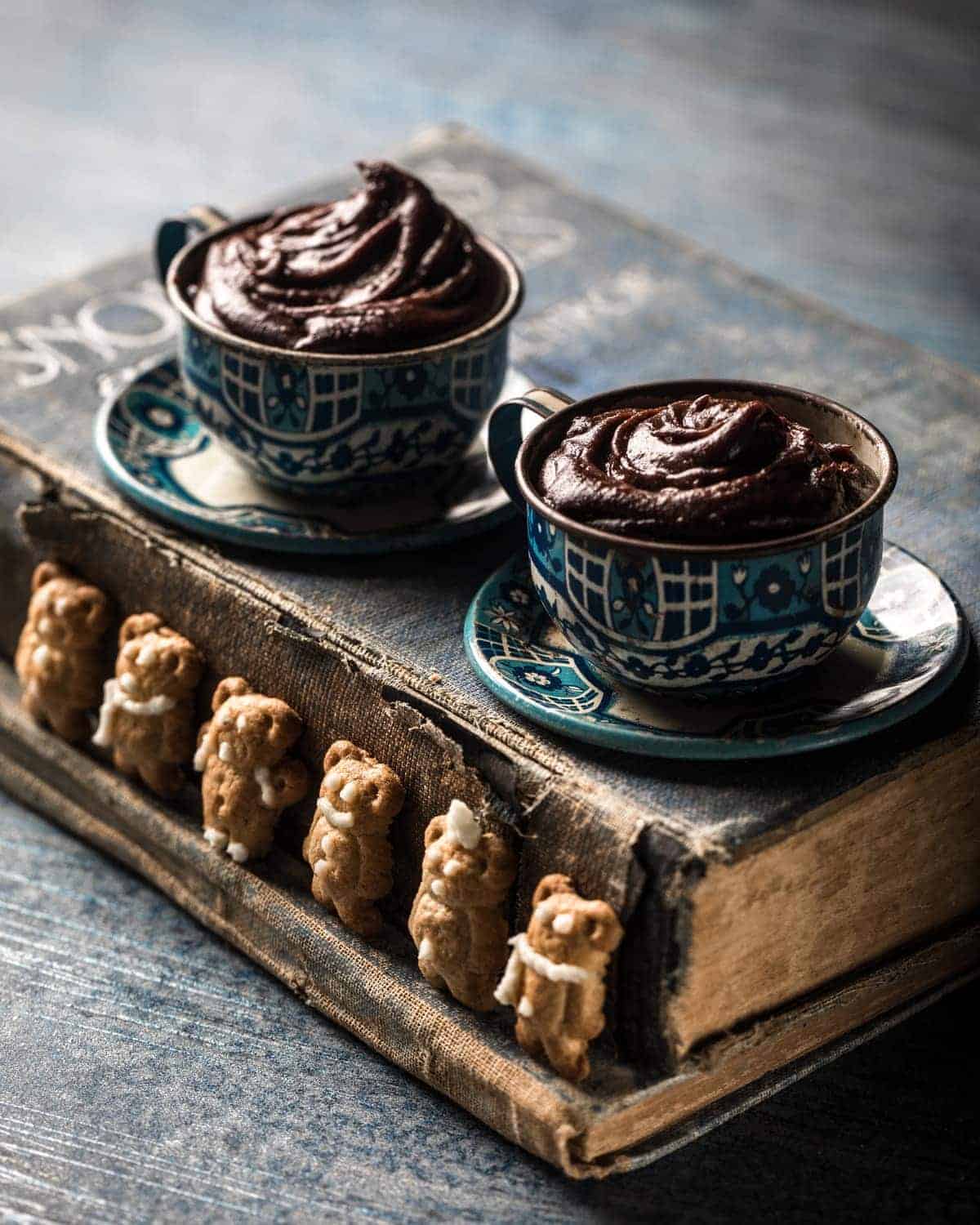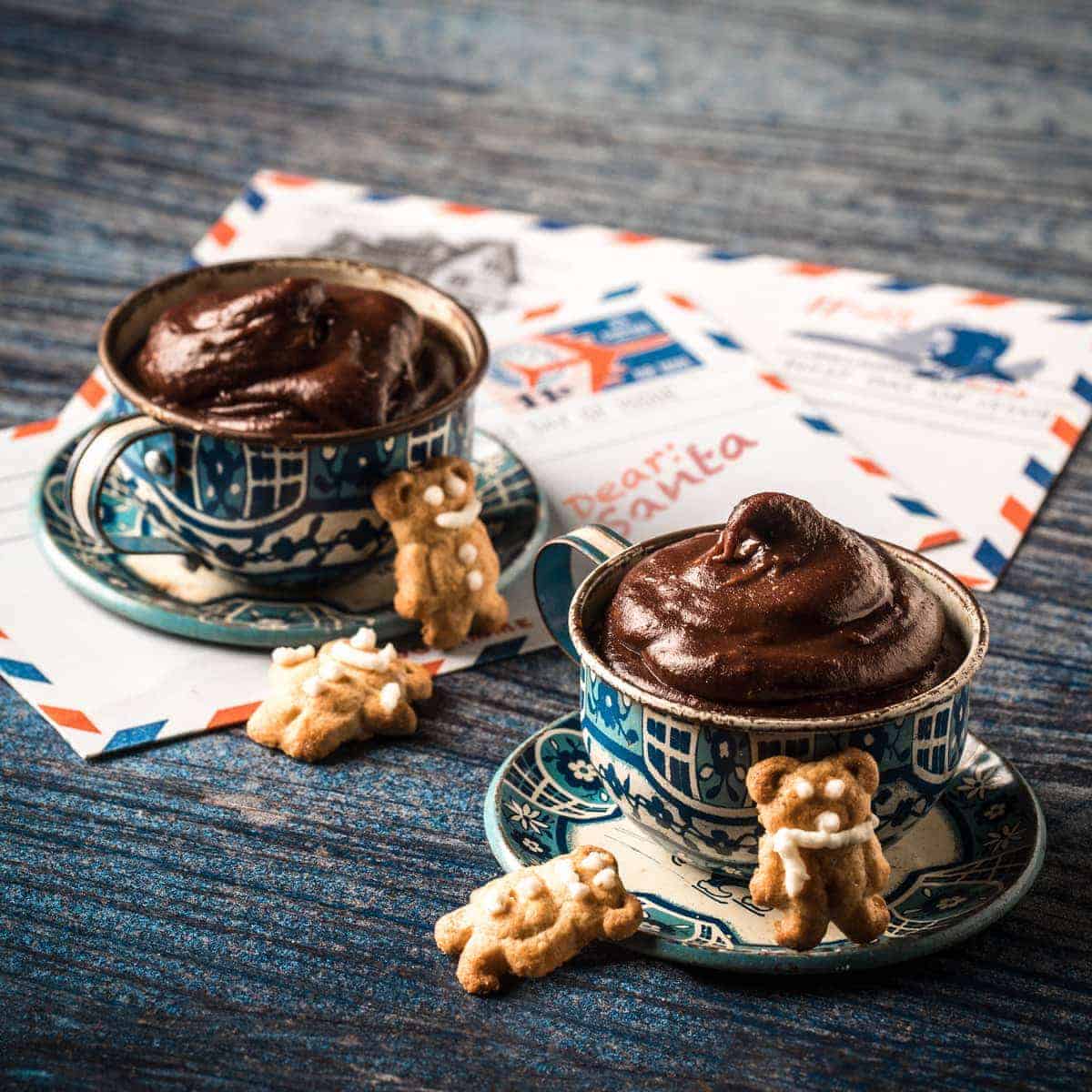 So this Christmas, when you are thinking about leaving cookies and milk for Santa, think about leaving him some chocolate hummus instead of the cookies. If you have to leave any cookies, try some cute little teddy graham cookies decorated with mascarpone cheese like gingerbread men. He will probably appreciate it more than another plate of sugar cookies. After all, how many sugar cookies can you eat before you get sick of them? Until next time, remember to cook with love and live to cook. Jena and I and our families would like to wish all of you a very Merry Christmas and a Happy New Year. We look forward to another fabulous year in 2018.
Jim & Jena
Holiday Chocolate Dessert Hummus
This healthy super chocolate hummus is delicious, healthy and really versatile. Spread it on cakes. Use it as a filling, or use it as a dip for fruits, cookies, or pretzels.
Author:
Little Rusted Ladle
Ingredients
1 can(15 ozs.) Chickpeas, drained and rinsed
¼ cup Unsweetened cocoa powder
¼ cup Unsweetened dark cocoa powder
½ cup Organic raw turbinado sugar
3 Tbsp. Coconut oil, melted
3 Tbsp. Coconut milk
1 tsp. Pure vanilla extract
½ tsp. Sea salt
¼ cup Coconut water
Instructions
In a medium saucepan, bring 2 cups of water to a simmer. Add
chickpeas and cook for 10 minutes.
Remove from heat and strain chickpeas. Add chickpeas and remaining
ingredients to the bowl of a food processor. Process for one minute or
until smooth. Transfer to a covered container and refrigerate until
needed. Serve at room temperature.
0
by