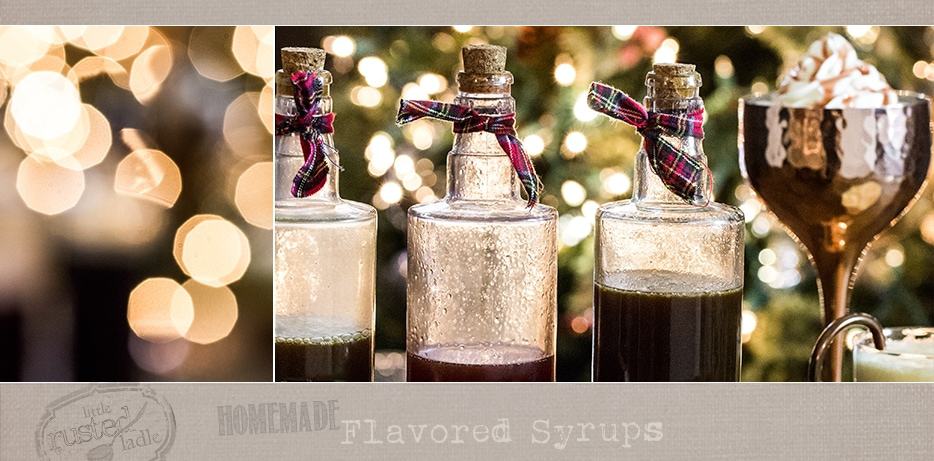 Coffee Shop Flavor at Home
Go to any coffee shop on a given day and what will you find on the menu of coffee offerings? Flavored coffee. Salted caramel, white chocolate mocha, candy cane macchiato, etc. Heck, look at the hype every fall when Starbucks releases their pumpkin spice latte. You'd think it was the best think since, well, sliced pumpkin pie.
In reality though, all those yummy-sounding flavors are just artificially flavored syrup added to coffee. When they add a catchy name like snickerdoodle or coconut almond truffle, and it makes you really want one doesn't it? Well, guess what? You can make your own syrups and you'll know what's in them, where they are made, and they will be better for you at the same time.
Coffee syrups are really just simple syrups. What is simple syrup? Exactly that, simple. It's half granulated sugar and half water, cooked until the sugar melts into the water. Basically sweet water. Simple right? This simple syrup is used in coffee syrups, coffee creamers, flavorings for mixed drinks, ice cream toppings, and also many other store-bought products. Just look at the ingredient list. If the first two ingredients are sugar and water, chances are it's a simple syrup base.
So simple, So Scrumptious
While creating the hot cocoa party and trying to come up with ideas for how to jazz it up, Jena threw out flavored syrups as an idea. After a little research on The Google, I decided to give it a whirl. Think about it: if syrups are the base for creamers and both are used extensively to make awesome tasting flavors, why not spruce up other beverages this way?
Why only flavor coffee? Coffee, tea, hot cocoa, eggnog, apple cider, martinis, shakes, floats, and sundaes could be jazzed up using a homemade syrup. I must say, it's kind of fun to bring out bottles of homemade coffee syrups or creamers when friends come over for coffee klatch, and say "these are some homemade creamers I whipped up for you".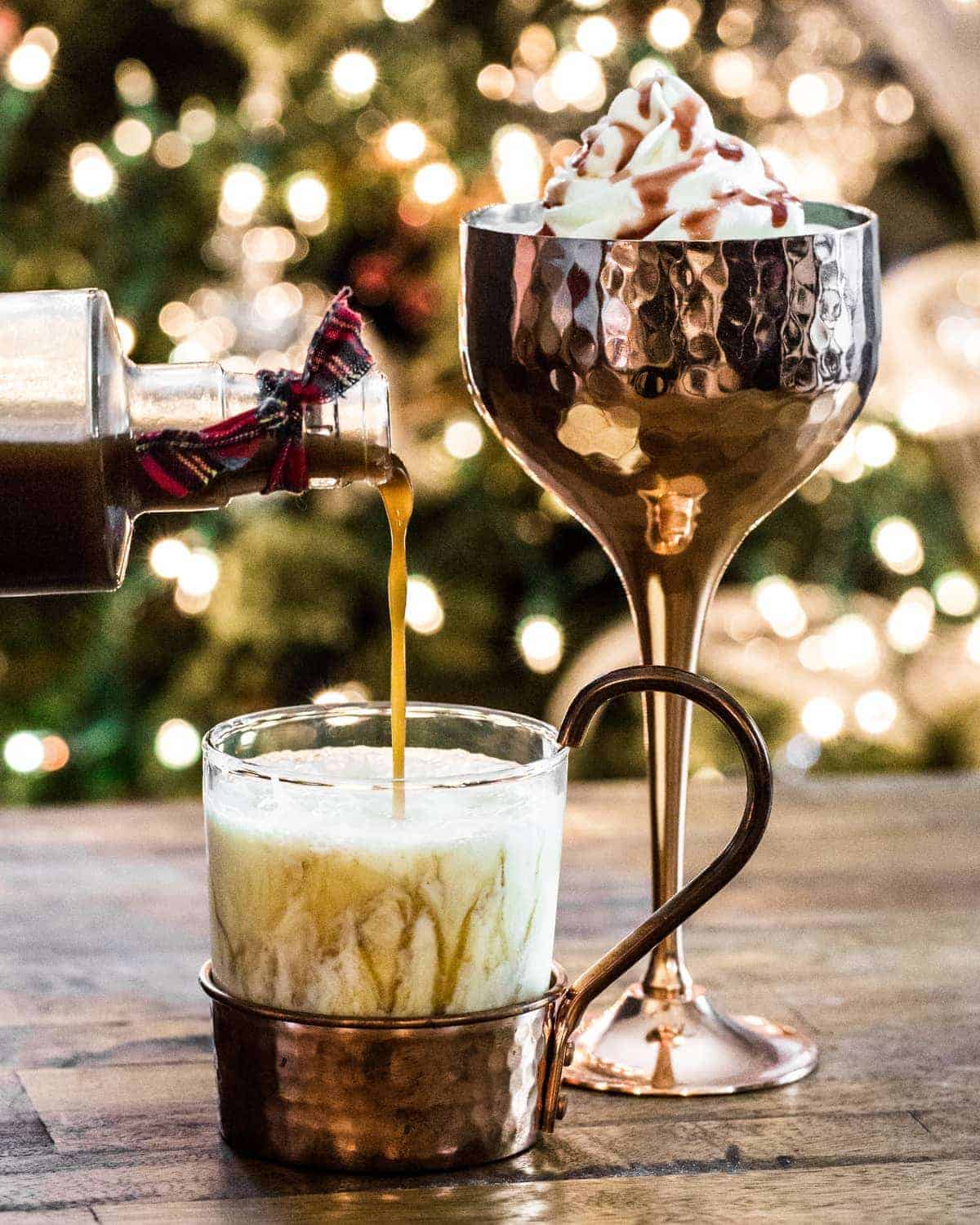 Refining the Recipe
When making our own syrups, the first thing that needed to change was the ingredients. Simple syrup is usually made with granulated sugar and water. But to make them a little healthier, we decided to use raw, unrefined and coconut palm sugar.
Both are better for you than granulated sugar because they are not processed or bleached with chemicals. Did you think white sugar came that way naturally? Nope. As a matter of fact, most granulated sugar in the stores these days is made from sugar beets rather than sugar cane. Unless the package says pure cane sugar, chances are it comes from sugar beets. Also, because of the refining process, granulated sugar contains zero nutrients and a lot of empty calories.
We're not suggesting that our homemade syrups are a new super food. We just wanted a cleaner alternative for those who like a nice flavored beverage with a tasty dessert name once in awhile–like yours truly.
Starbucks, Eat Your Heart Out
Once we had the simple syrup base, it was time to add the tasty, coffee shop flavors.
We made homemade coconut caramel sauce using coconut sugar and coconut almond milk then added it to the simple syrup for a tropical treat.
To create cran-raspberry syrup, we cooked down fresh raspberries and cranberries, strained the mixture, keeping only the liquid and then added chambord liquor and a little heavy cream.
For Irish cream, we added some instant espresso powder, heavy cream, and Irish whiskey.
You can find the full recipes below. You could make the recipes simpler by adding flavorings instead of making them all from scratch, but what's the fun in that? Besides, if you want to know what's in your food, the only way to do that is by making it yourself. With this in mind, feel free to simply add prepared caramel sauce, drained frozen raspberries, or skip the alcohol.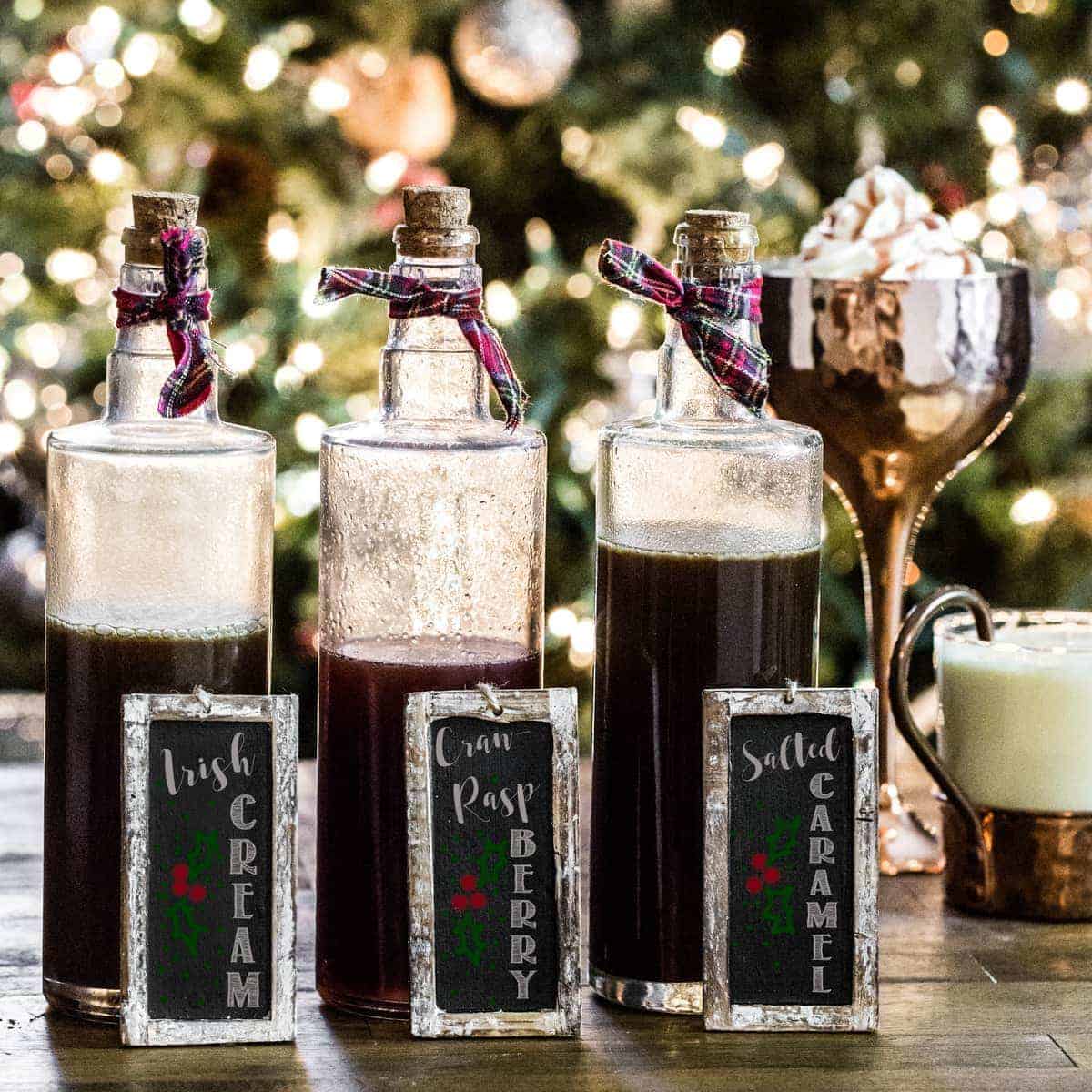 Cream of the Crop
Also want to make your own coffee creamers? Just combine half and half or heavy cream in equal proportions with the finished syrups. Then, create your own RumChata or Baileys Irish Cream by adding more booze and cream to the syrups. Want an especially wonderful after-dinner frozen drink? Combine the cran-raspberry syrup with ice cream and more Chambord in a blender. Spoon it into a glass and top it with whipped cream and drizzle with another spoonful of syrup. Yum!
The possibilities are endless, so experiment with your own versions. Until next time. Remember to cook with love and live to cook.
Jim & Jena
Homemade Flavored Syrups
Create your own delicious flavored syrups and use them in everything from coffee, chai tea, hot cocoa, or eggnog to martinis, frozen drinks, or sundaes.
Author:
Little Rusted Ladle
Ingredients
4 cups Organic, unrefined cane sugar
2 cups Coconut palm sugar
6 cups Filtered water
Instructions
For Basic Syrup Combine all ingredients in a medium saucepan. Simmer over medium heat for 15 minutes or until sugar dissolves completely and is reduced by ¼. Let cool to room temperature.
For Salted Caramel Syrup In a small saucepan, combine ½ cup coconut sugar and 1 Tbsp. of water. Cook over high heat for 4-5 minutes or until deep brown in color. Add ½ cup coconut almond milk and cook over medium heat until sugar is melted and mixture is smooth. Stir in 2 Tbsp. heavy cream and 1½ tsp. kosher salt. Stir in 2 cups of the cooled cocoa syrup and 1 tsp. pure vanilla extract. Cool to room temperature. Pour into bottles, cap and refrigerate until needed for up to 4 weeks. Makes 2½ cups.
For Cran-Raspberry Cocoa Syrup In a small saucepan, combine ½ cup of water, ½ cup of fresh raspberries and ½ cup of prepared cranberry sauce (preferably homemade) and 2 Tbsp. heavy cream. Boil over medium heat for 10 minutes or until liquid is reduced by ⅓. Strain mixture into a bowl with 2 cups of reserved cocoa syrup. Add 2 Tbsp. raspberry liquor such as chambord. Strain mixture into a bowl, then pour into bottles cap and refrigerate until needed up to 4 weeks. Makes 2½ cups.
For Irish Cream Syrup In a medium saucepan, combine 3 cups prepared hot cocoa syrup, 1 cup heavy cream, 1 Tbsp. instant espresso powder, 2 tsp. cocoa powder and 1 cup of Irish whiskey. Bring to a boil. Cook for 15 minutes. Remove from heat and let cool to room temperature. Stir in vanilla. Pour into bottles, cap and refrigerate until needed up to 4 weeks. Makes 3 cups
Notes
For dairy free versions, substitute almond or soy milk for the cream, or eliminate the cream altogether. For kid friendly versions, eliminate the alcohol.
Homemade Raspberry Creamtinis
These creamy martinis are a great way to start or end a dinner party.
Author:
Little Rusted Ladle
Ingredients
2 ozs. Cran-raspberry syrup (see above recipe)
2 cups Almond milk
3 ozs. Chambord or raspberry liquor
2 ozs. Brandy or cognac
Ice
Instructions
Combine syrup and next 3 ingredients in a small pitcher. Add ice and stir. Let sit for a few minutes. Strain into martini glasses. Top with whipped cream and drizzle with syrup if desired.
Serves 4
Notes
For a non-alcoholic version, eliminate the alcohol and increase the syrup(made without raspberry liquor).
4