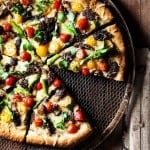 Morel Pizza
This pizza is a great way of combining the tastes of spring.  Morels, asparagus and homegrown baby greens pair nicely together.  The recipe calls for pizza dough.  Feel free to use par-baked pizza crust like boboli, flatbread or any refrigerated pizza dough product you wish.
Ingredients                           Makes 1-12 inch pizza
13           Ozs.                          Fresh pizza dough of choice
1             Cup                           Fresh asparagus spears, trimmed, cut into 1 inch pieces
1 ½       Cups                         Bourbon Buttered Morels (see recipe for Bourbon Buttered Morels)
1             Cup                           Grape tomatoes, halved
2            Cups                         Shredded cheese of choice (mozzarella, cheddar, pepper jack, parmesan)
¼          Cup                          Fresh micro greens or arugula
Salt & pepper to taste
Directions
Preheat oven to 400 degrees.  Spread pizza dough evenly onto a 12 inch pizza pan or sheet pan lined with non-stick foil.  Bake crust for 7-10 minutes or until crust has risen, but hasn't browned completely.  Remove from oven and let cool.  Reduce oven temperature to 350 degrees.  Sprinkle cheese over cooled crust.  Arrange asparagus, morels and tomatoes over cheese.  Bake for 7-10 minutes or crust is golden brown.  Remove pizza from oven, let rest for 5 minutes and serve.
View full article here!