Click here to view the full post on Overnight Crockpot Quinoameal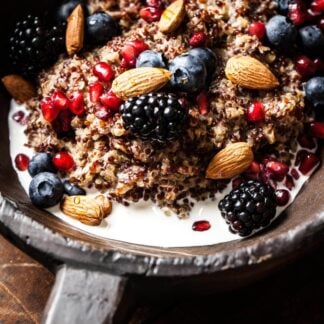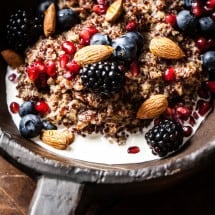 Ingredients
1 1/2

cups

Quinoa

2

cups

Almond milk

2

cups

Filtered water

2

cups

Apple cider

1

tbsp

Chia seeds

1

tbsp

Flax seeds

2

tbsp

Maple syrup

1

tsp

Cinnamon

1/2

tsp

Sea salt

1

cup

Fresh berries

blueberries, blackberries, raspberries or strawberries (optional)

1/2

cup

Chopped or whole nuts

almonds, walnuts, pecans, or pistachios (optional)

1/3

cup

Fresh cream

(optional)

2

tbsp

Honey

(optional)
Instructions
Combine all ingredients in a 2 qt. slow cooker. Stir to combine. Cover, then set cooking level knob to low. Cook for 7 hours or overnight. Stir mixture. Spoon into bowls and sprinkle with fresh fruit, nuts, or a little cream, a drizzle of honey and butter. Serve.
Notes
You can substitute oat groats, steel cut oats, or buckwheat groats for the quinoa.
Feel free to experiment with different additions like dried fruit, fresh apples, or pears.
Adding a touch of pure vanilla extract at the end adds great flavor.
Brown sugar, raw sugar, or maple syrup can also be drizzled on top.