Sneak a peek into this fun Sunflower Lemon Pasta food stylist collab with Sue Draheim!
Everything about this sunflower lemon pasta is FRESH and EASY, making it the perfect side dish for those late-summer soirees. The bright colors and beautiful textures impress just as much and the light, lovely flavors.

Wow! Things have been absolutely crazy since the Master the Art of Food Photography Summit in July. I was so moved and motivated by the level of engagement and how many AMAZING professional and aspiring food photographers are out there!
I heard from so many of you about which speakers you loved and learned the most from.
(And here's the secret. I learned a ton from them too!!)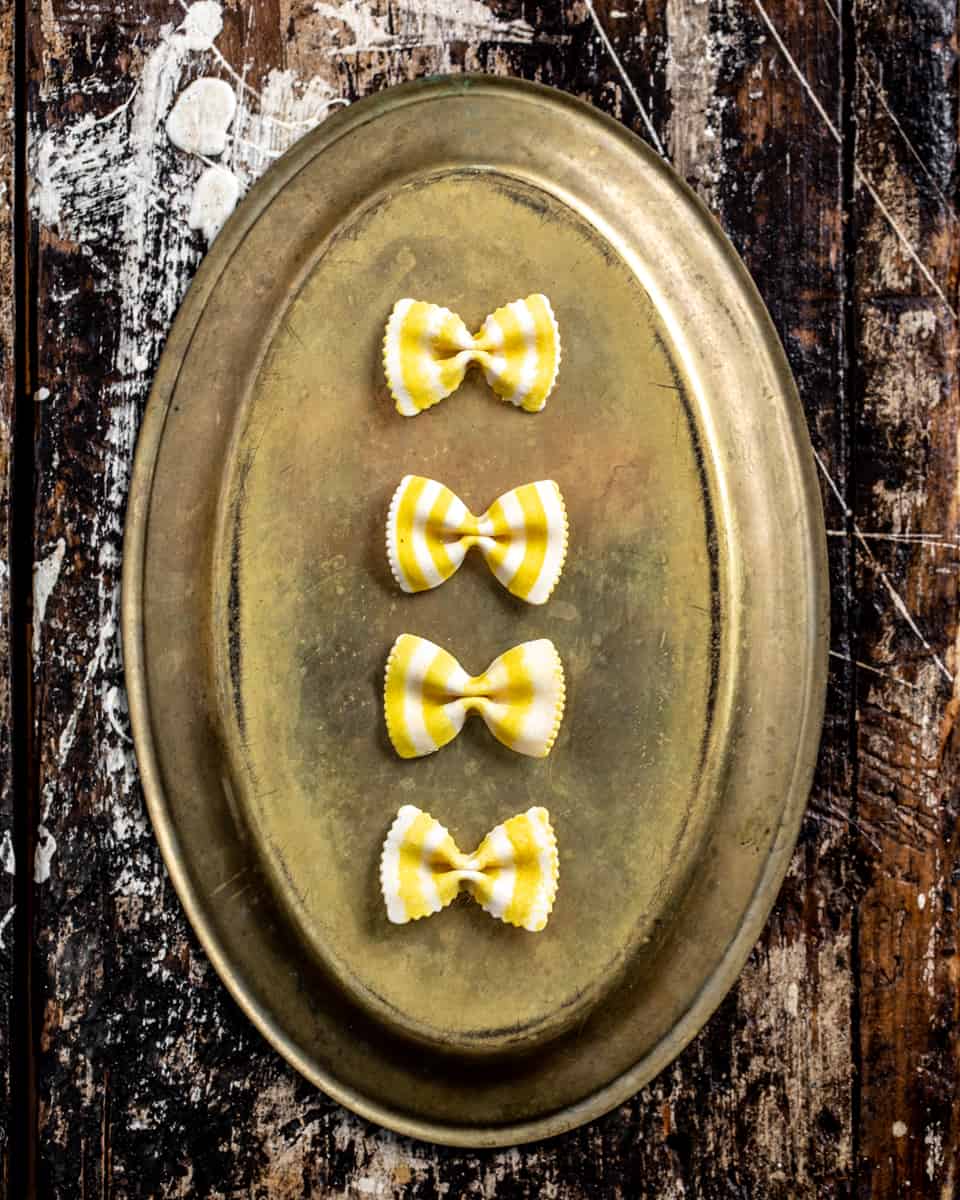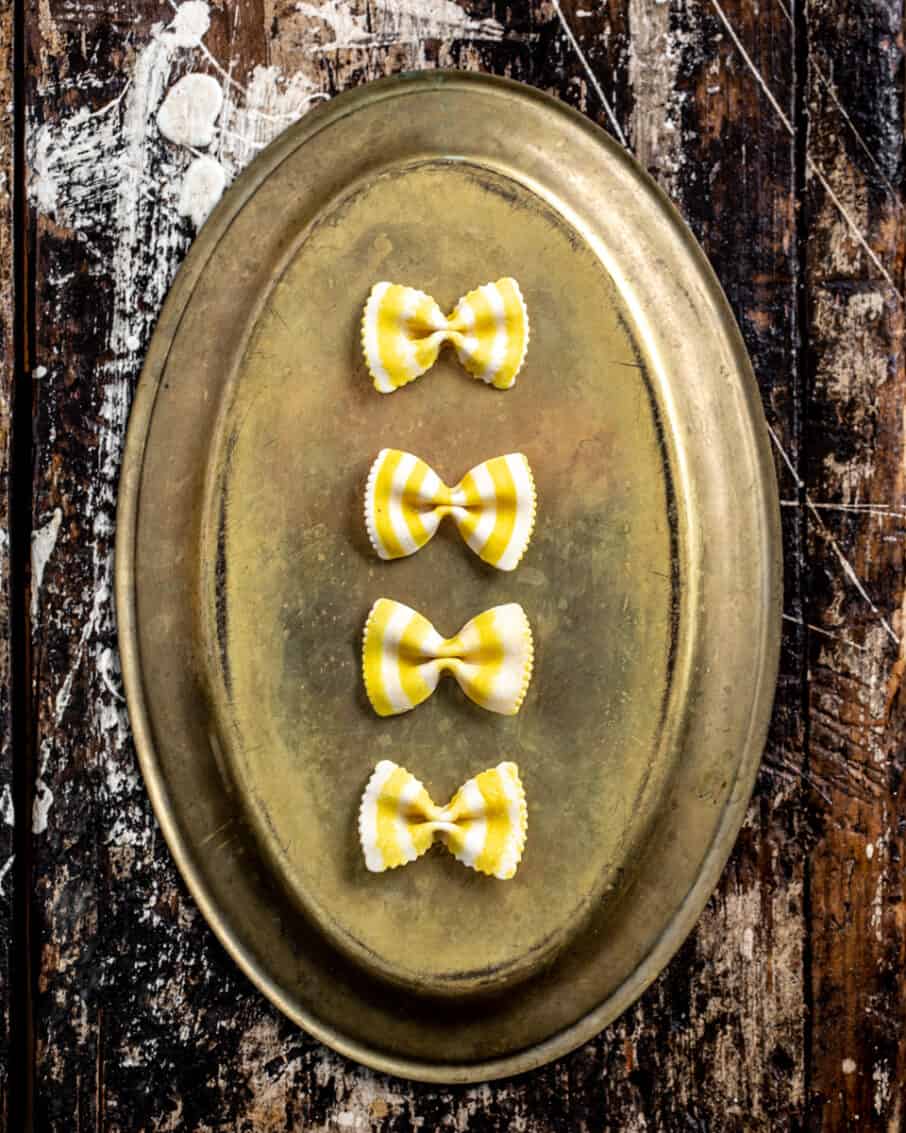 I've made so many wonderful connections in the industry and I was able to work with one of my favorites—food stylist Sue Draheim!
We spent some time in my studio with fresh veggies from my garden and some beautiful flowers from a local gardener-turned philanthropist, Because of Bea! I received a bouquet of flowers from Because of Bea recently from a friend.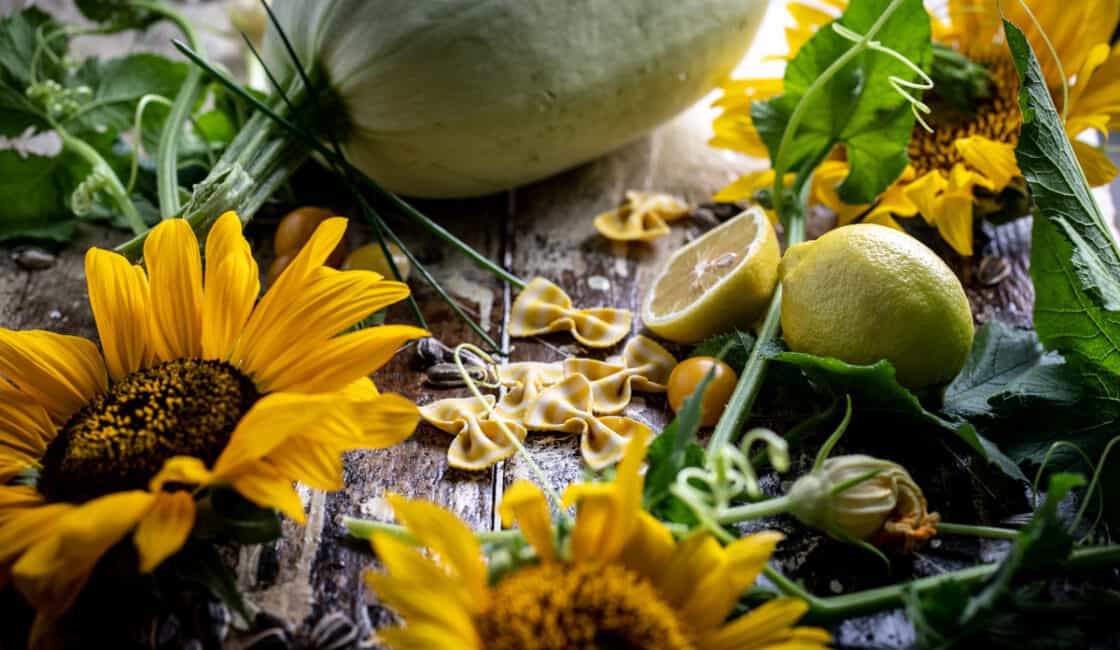 Spreading the Sunshine
Shari Schladweiler started bringing bouquets to her mom, Beatrice, while she was in a nursing home. When she discovered that some of the other residents rarely had visitors, she began bringing bouquets for the common areas in her mom's and other local nursing homes.
Now she takes requests on her Facebook page, Because of Bea, and she delivers flowers to ANYONE she's asked to (locally). They can be get well flowers, congrats flowers, or just thinking of you flowers! That's how I ended up with a bouquet of radiant sunflowers! And it was just in time for this fabulous sunflower lemon pasta collab with food stylist Sue Draheim!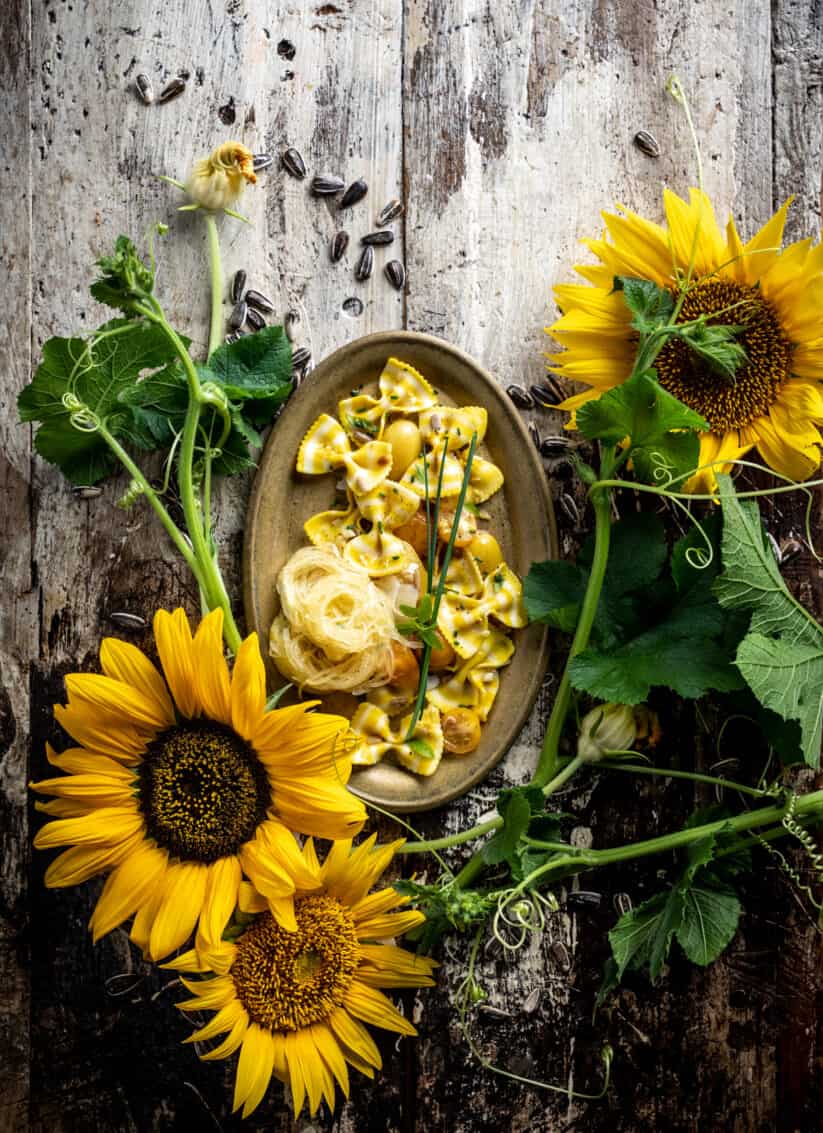 Summer Sunflower Lemon Pasta
Inspired by the gorgeous sunflowers from Shari Schladweiler's garden, we decided to make a Sunflower Lemon Pasta dish. We wanted to work with shades of yellow in contrast with a fabulous, moody new backdrop I picked up. The sunflowers were a great prop, but we also wanted them incorporated into the dish, so we grabbed some roasted sunflower seeds.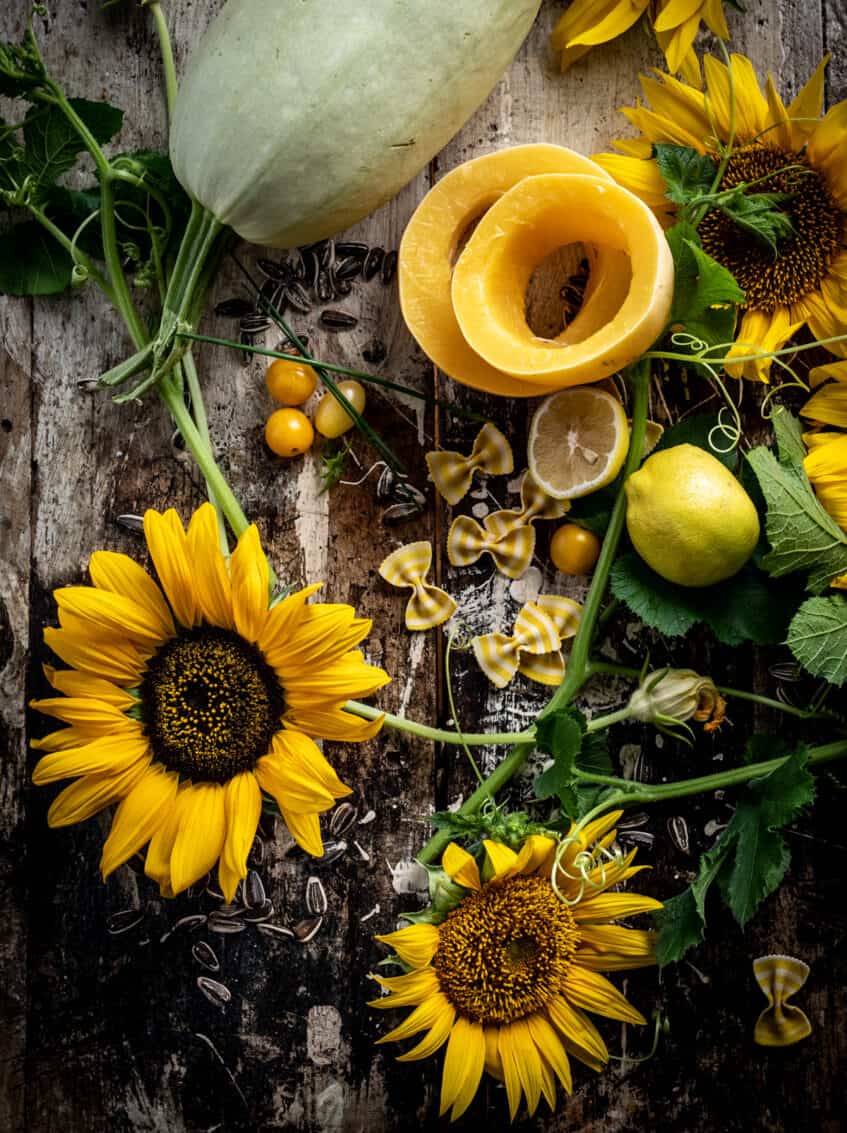 The first step is to bake the spaghetti squash. If you haven't worked with spaghetti squash before, it is truly magical in the hands of a good food stylist. Cut the squash in half, scoop out the seeds (just like a pumpkin!), and drizzle the flesh with olive oil, salt, and garlic. That's it! Once baked, (30 to 40 minutes depending on the size of your squash), the fibers of the squash come apart with a fork in little strands like noodles! We made them into the perfect little noodle nests for our summer lemon pasta.
After that, everything is SO EASY, even for armature cooks. Boiling noodles? Got it. Saute a little garlic in butter? Child's play! Then, just toss it all together. This stellar sunflower lemon pasta side dish is ready in just over 30 minutes. So you can make it fresh on the day of your event!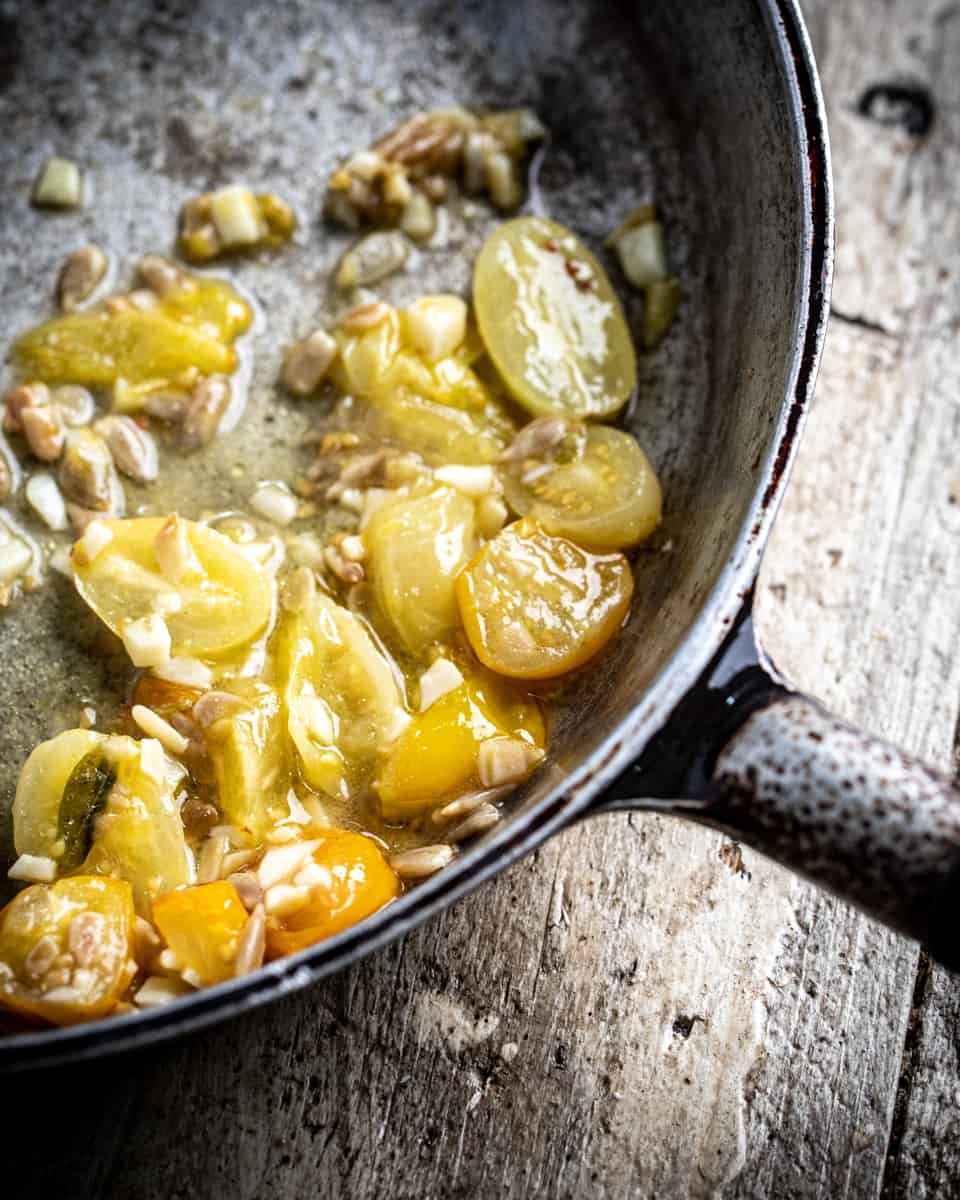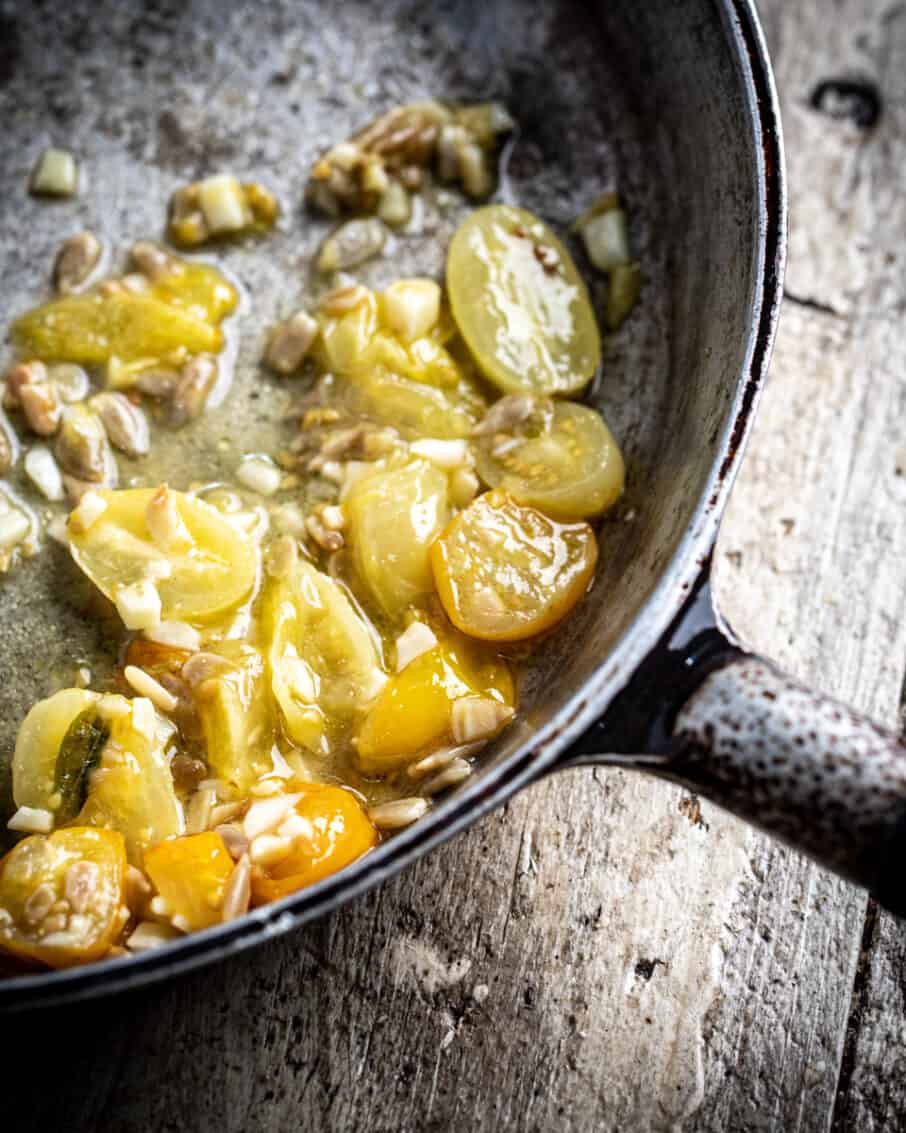 People will be talking about this dish. Amazing textures and unique ingredients are a fresh surprise. And the light flavors of lemon and white wine are fantastic paired with the juicy cherry tomatoes and the salty and crunchy roasted sunflower seeds!
It was so so fun working with Sue after our amazing conversation for the summit. As a food stylist, her attention to detail and love of food make her a truly spectacular collaborator. And while a lot of times I'm my own food stylist, it was great to have another pair of creative eyes so I could focus on the light and mood and all of that fun stuff. Check out Sue's Instagram for more STUNNING food styling!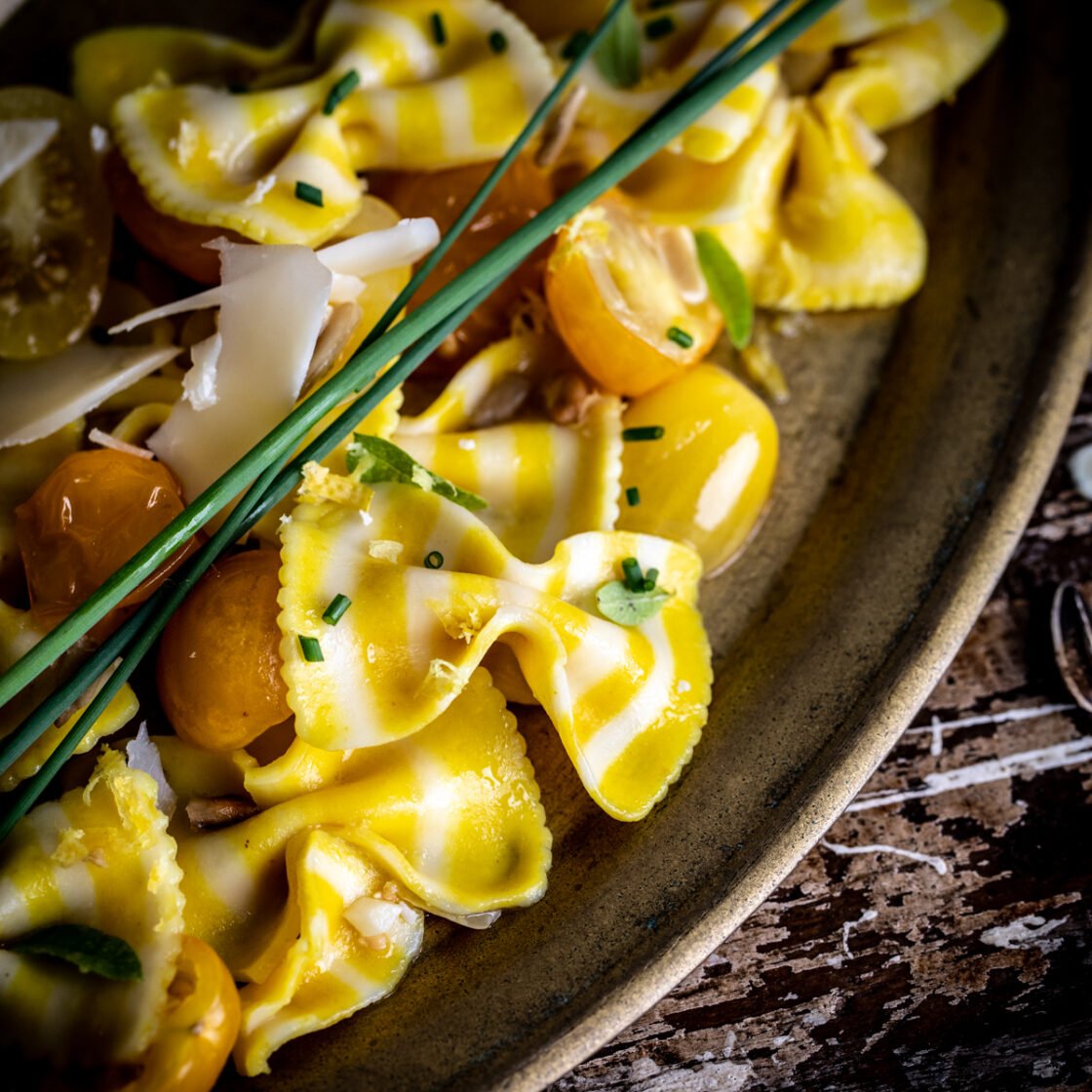 And, for more sunflower fun, check out my intimate outdoor tablescape featuring a delicious Sunflower Harvest Slaw. I had a lot of fun experimenting with dishes while capturing some amazing shots out by the field.
Don't forget to sign up for the next food photography summit next year right here!
Cooking with friends is a great way to pass the time. Remember, don't wait for a special occasion, create one!
xoxo, Jena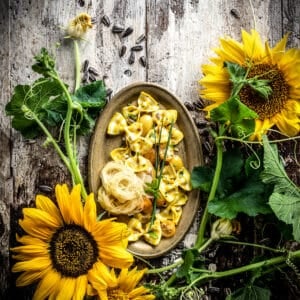 Ingredients
3-4

Garlic cloves

minced

1

tbsp

Olive oil

3

tbsp

Unsalted butter

1/2

cup

White wine

2

tbsp

Lemon juice

1

pint

Yellow grape tomatoes

cut in half

1

cup

Spaghetti squash

cooked and shredded

1

lb

Bowtie pasta

cooked and drained

1

tsp

Grated lemon peel

1

tbsp

Fresh lemon verbena

minced

1

tsp

Fresh thyme

minced

1

tsp

Salt

1/2

tsp

Freshly ground pepper

1/4

cup

Roasted sunflower seeds

1/2

cup

Shredded Parmesan cheese
Instructions
In a large skillet, saute garlic in oil until golden, about 1-2 minutes. Add butter until melted.

Stir in wine and lemon juice.

Add tomatoes, squash, and pasta.

 Sprinkle with lemon peel, verbena, thyme, salt and pepper.

Toss with sunflower seeds and Parmesan cheese.
Nutrition
Calories:
2646.5
kcal
|
Carbohydrates:
381.8
g
|
Protein:
91.2
g
|
Fat:
75.8
g
|
Saturated Fat:
34.6
g
|
Cholesterol:
135.6
mg
|
Sodium:
3537.9
mg
|
Potassium:
2557.2
mg
|
Fiber:
25.6
g
|
Sugar:
30.2
g
|
Vitamin A:
5619.7
IU
|
Vitamin C:
86.5
mg
|
Calcium:
780.2
mg
|
Iron:
10
mg