One of the most advanced techniques I teach to my food photography mentees is how to use liquify in Photoshop. It is one of my secret weapons in food photo editing and it blows my students away when they first see it in action!
This 20-second fix SAVED this image from my laptop's trash bin. Once you tackle how to use it, you will see the opportunities for using it everywhere!
After our summer retreat, I had the perfect opportunity for a little explainer, so I recorded myself editing a photo with Photoshop's liquify tool. The goal in this tutorial was to save a very wilted cucumber and give the image a fresh and appealing look. Here is the before and after.
Shot with Canon 100mm Macro Lens (one of my favs!)
Our beautiful cucumber ribbon had gone pretty flat after sitting in the outdoor table scene for awhile. This problem is commonly known as the food 'going dead' or simply 'dead food'. I really liked the rest of the photo elements, but I couldn't let go of the cucumber. Especially when I know how nice it looked when Chef Travis first brought it out!
Watch the quick tutorial on how to use liquify in Photoshop below!
Here's a step-by-step breakdown of how to use liquify in Photoshop. It took me maybe 20 seconds to complete, and the image is completely transformed.
Step 1: Open the Image and Create a Duplicate Layer
The first step is to open your image in Adobe Photoshop. Once you have it open, create a duplicate layer by pressing "Command + J" (or "Ctrl + J" on Windows). This duplicate layer will allow us to make changes without altering the original image.
Step 2: Enter the Liquify Tool
Next, navigate to the Liquify tool. You can find it under the "Filter" menu. The Liquify tool is a powerful feature in Photoshop that allows you to distort and manipulate specific areas of an image, making it perfect for our task of saving the wilted cucumber.
Step 3: Adjust the Brush Size
In the Liquify tool, you'll see a brush that you can use to make adjustments. Make sure your brush size is a bit larger than the area you want to modify. In this case, it's the cucumber.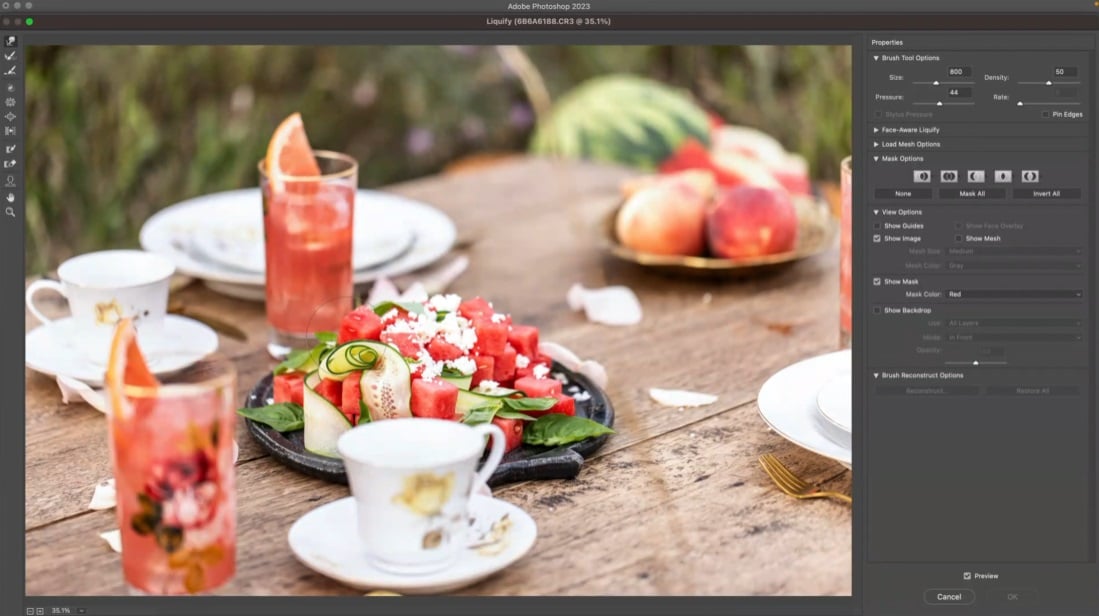 Step 4: Start Reshaping
Begin by using the Liquify brush to reshape the cucumber. Try to match the curve and shape you want to achieve. Remember that when using this tool, you should follow the direction of the object you are modifying to maintain a natural look.
Step 5: Maintain Form
It's important to maintain the form of other elements in the image that shouldn't be altered, like the drink in this example. Be cautious when making adjustments around these objects, and follow their contours to avoid distorting them.
Step 6: Preview Your Changes
After making the necessary adjustments, preview your changes to see how they look. This step helps you assess whether your modifications appear natural and appealing.
Step 7: Final Adjustments and Saving
If you are satisfied with the changes, click "OK" to apply the Liquify adjustments to your duplicate layer. You can always go back and make further refinements if needed.
Like these lifesaver tutorials? Comment down below what other quick fixes you'd like to see!
If you are interested in a more in-depth editing demonstration, check out my Behind the Scenes Drink Photography lesson which includes a full edit of the final image!