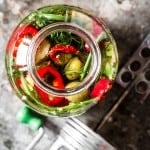 Ingredients                                Makes about 4 cups
1                  Liter                        High quality vodka
1                  Ea.                           Banana pepper, cut into slices
2                  Ea.                          Habanero chile peppers
1                  Ea.                          Dried chile pepper
2                  Sprigs                    Fresh Dill
1                  Large                     Dill pickle, cut into wedges
6                  Ea.                         Red pearl onions, peeled
6                  Ea.                         Pimento stuffed green olives
1                  Ea.                         Sweet red pepper, cut into rings
1                  Ea.                         Garlic Scape, or 2 cloves fresh garlic
Directions
Pack vegetables into a large glass container.  Add vodka, then stir with a long spoon.  Cover and store in a cool, dark place for at least three days and up to two weeks.  Strain liquid through a coffee filter or paper towel into original vodka bottle.  Cap and store until needed.
Use as a base for bloody marys.
Click here to view the full Infused Booze article.