Got a good rhubarb jam recipe? I do, and I'm sharing my new favorite application with you. Elevate your frozen yogurt to the next level by topping it with flavorful, homemade Strawberry Rhubarb Chia Jam and raw honey.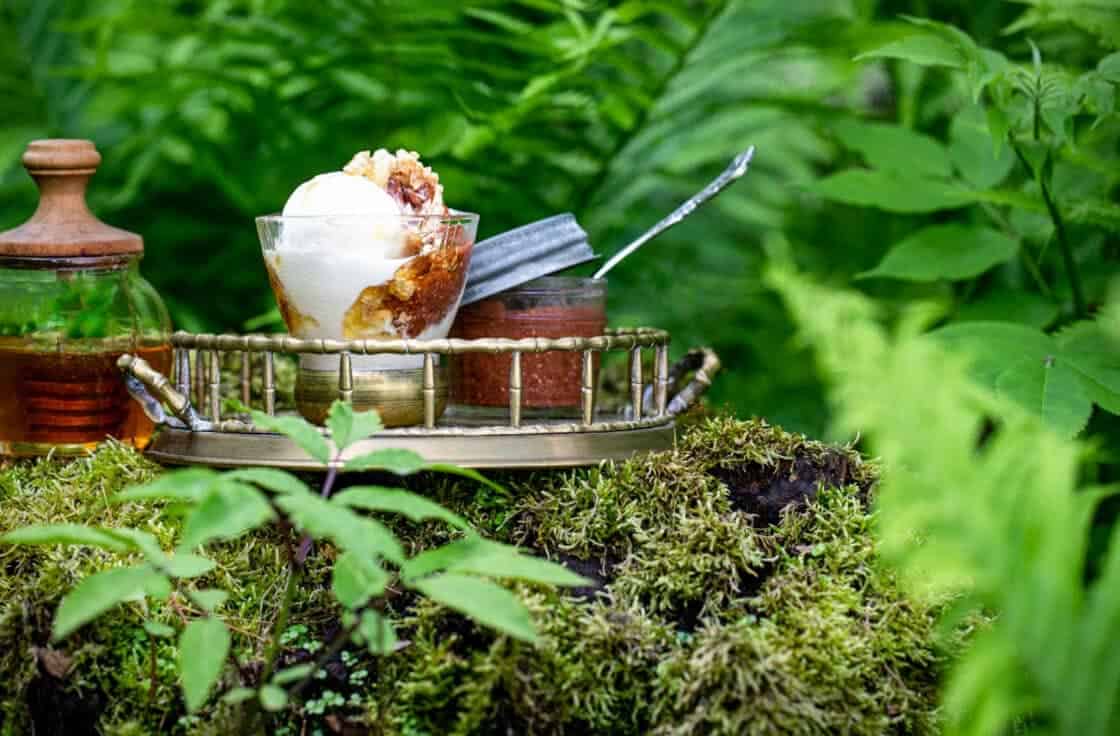 Let's talk about photography locations for a hot second.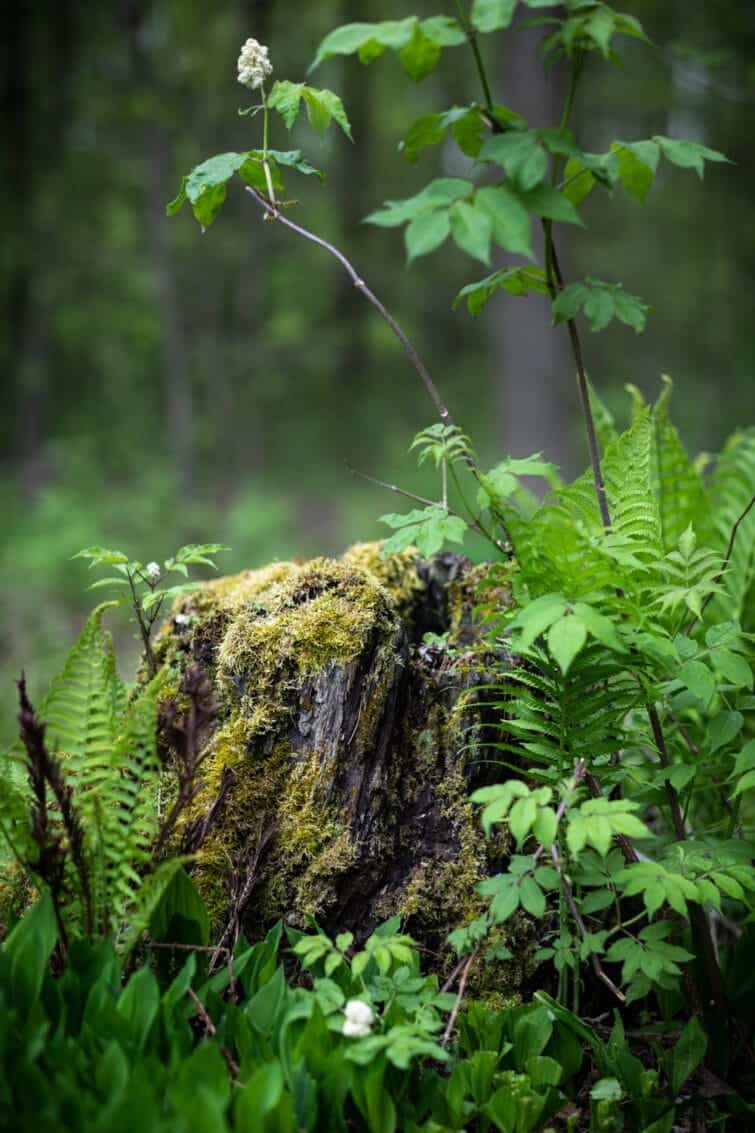 This stump has been my muse lately. (Yes, this post may or may not be about a stump. No worries. We will get to the uundae in a bit.) The moss and baby ferns that inhabit this stump in the spring are what I admire most about it. I couldn't wait to get my camera on it for a picnic setting. This time of year is also the season for rhubarb and great prices on strawberries! So here is what happened.
For your viewing pleasure… The recipe in motion and fond family memories 🙂 Three-year-old me makes a special appearance at the end while my brother and cousin fight over the rhubarb patch.
This Strawberry Rhubarb Frozen Yogurt Sundae!
I have to say I am equally excited about this rhubarb jam recipe as the location I shot it! Hard to believe, I know. I get pretty amped up when it comes to good food and photography.
When I find something I love, I tend to obsess over it. As you may have read in the previous post, I am eating this sundae for the third time in two days. Check out the two sundaes in the photo below…
I ate them. I'm still eating more.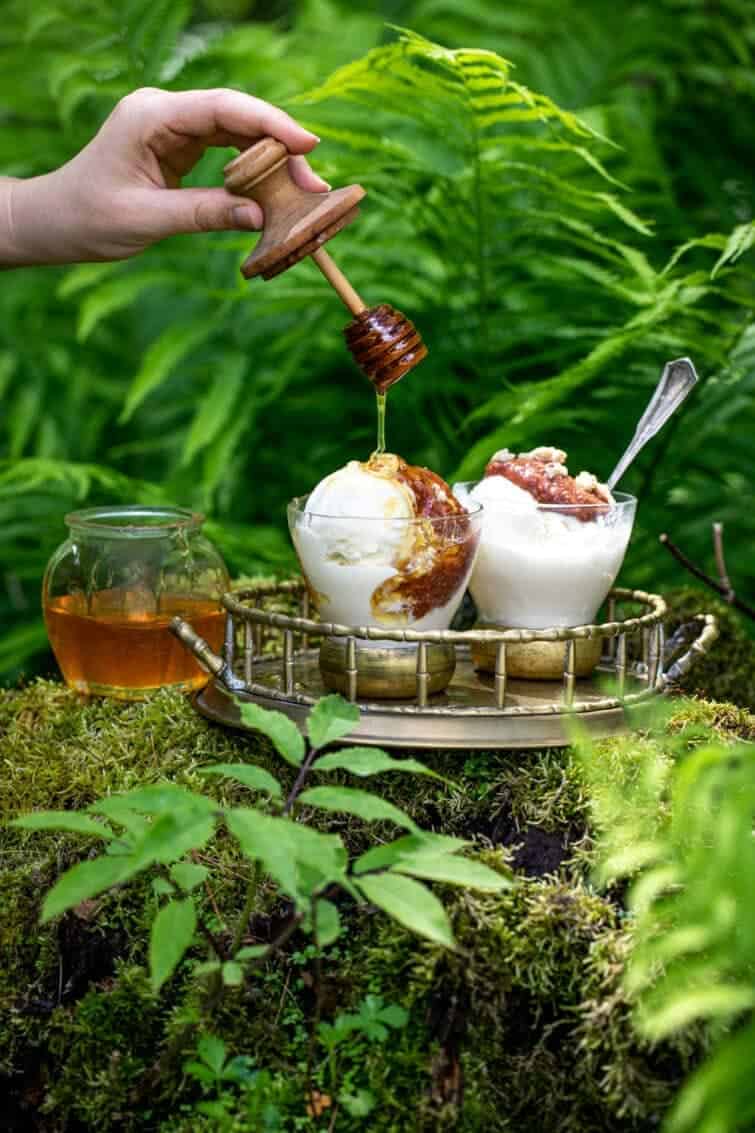 Photography Props Tip
If you are an antique shopper like I am… just a little shout out here. I bought this bronze tray at a new antique store I've been going to: Marshfield Mercantile. If you are in the area, check them out. The owner Kelly is the sweetest. Also, in the middle of the store, they have a darling lounge area set up where you can hang out and drink coffee. It is so welcoming!
Four Ingredients and Done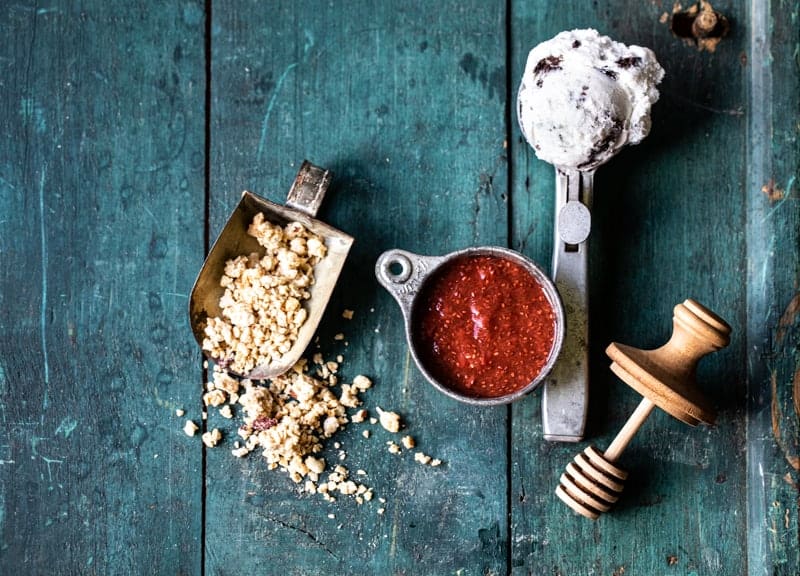 Okay, done dishing about the dishes. Back to this Strawberry Rhubarb Frozen Yogurt Sundae. The steps here are so simple and yet the results are so delicious. That is why I had to make it its own post! Start by making this quick Strawberry Rhubarb Chia Jam. (You can freeze the leftovers). Then, dish up our favorite frozen yogurt and top with the jam, raw honey, and a sprinkle of granola for the perfect rhubarb jam recipe.
Don't wait for a special occasion, create one!
xx, Jena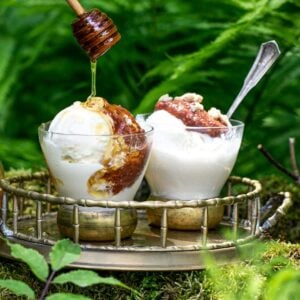 Ingredients
4

cups

Vanilla Frozen Yoghurt

4

tbsp

Strawberry Rhubarb Chai Seed Jam

(link in notes)

2

tbsp

Honey

4

tbsp

Granola
Instructions
Make Easy Strawberry Rhubarb Chia Jam.

Divide equally in 4 dishes and enjoy!
Nutrition
Calories:
363.2
kcal
|
Carbohydrates:
64
g
|
Protein:
7
g
|
Fat:
9.9
g
|
Saturated Fat:
5.2
g
|
Cholesterol:
2.9
mg
|
Sodium:
135.4
mg
|
Potassium:
358
mg
|
Fiber:
0.7
g
|
Sugar:
54.9
g
|
Vitamin A:
305.3
IU
|
Vitamin C:
2.9
mg
|
Calcium:
218.5
mg
|
Iron:
1
mg
P.S. Here is another shot I did for a separate business of mine where I photographed on this stump with baby ferns. It truly has so many beautiful textures! Am I wrong to be obsessing?
Do me a favor and comment below now if you love food and photography as much as I do and would love to hear more about this process!