Lovely Lilac
Looking for a fresh, spring party cocktail you can break out at your next gathering? I'm thinking lilac. But of course, I've been thinking lilac a lot lately. If you haven' seen it yet, go check out the post where I made infused sugar with lilac, lemon, and thyme.


While the Lilac, Thyme, and Lemon Sugar is a perfect complement for tea and pastries, it also pairs beautifully with alcohol.
Specifically, a vodka martini.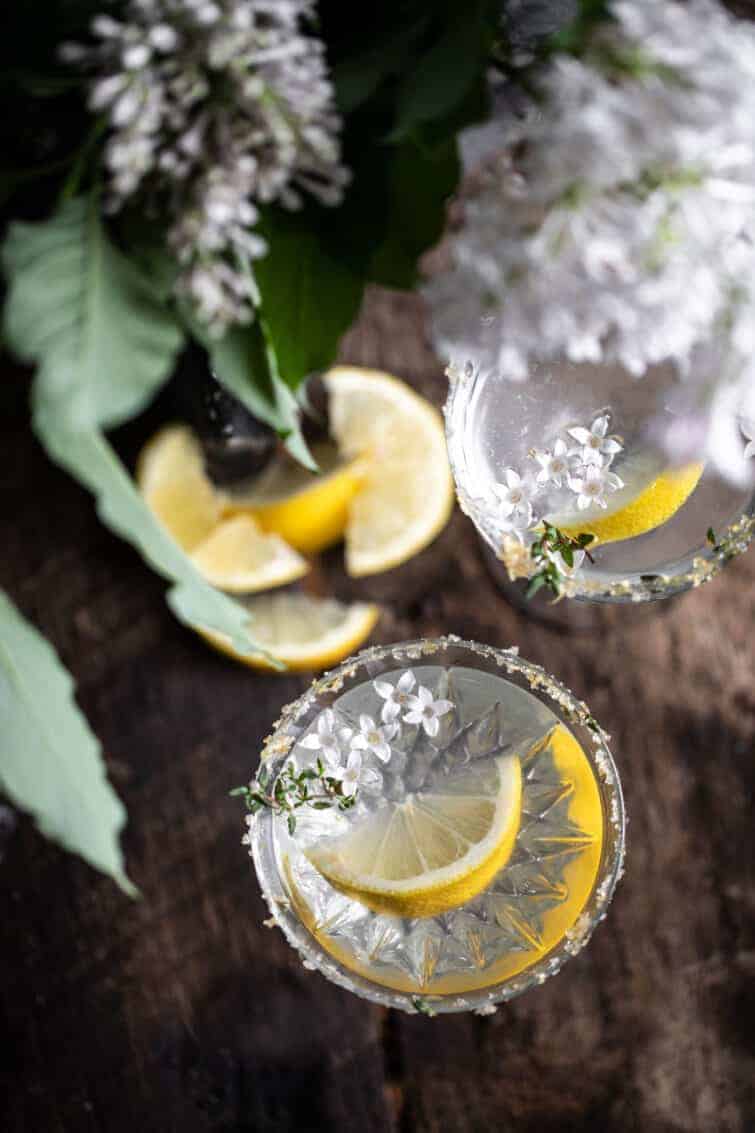 Fresh and Fragrant
The infused sugar makes for a unique and inviting rimmed glass, especially if using crystal glasses. The color lent by the thyme and lilac is an eye-catching addition to your presentation.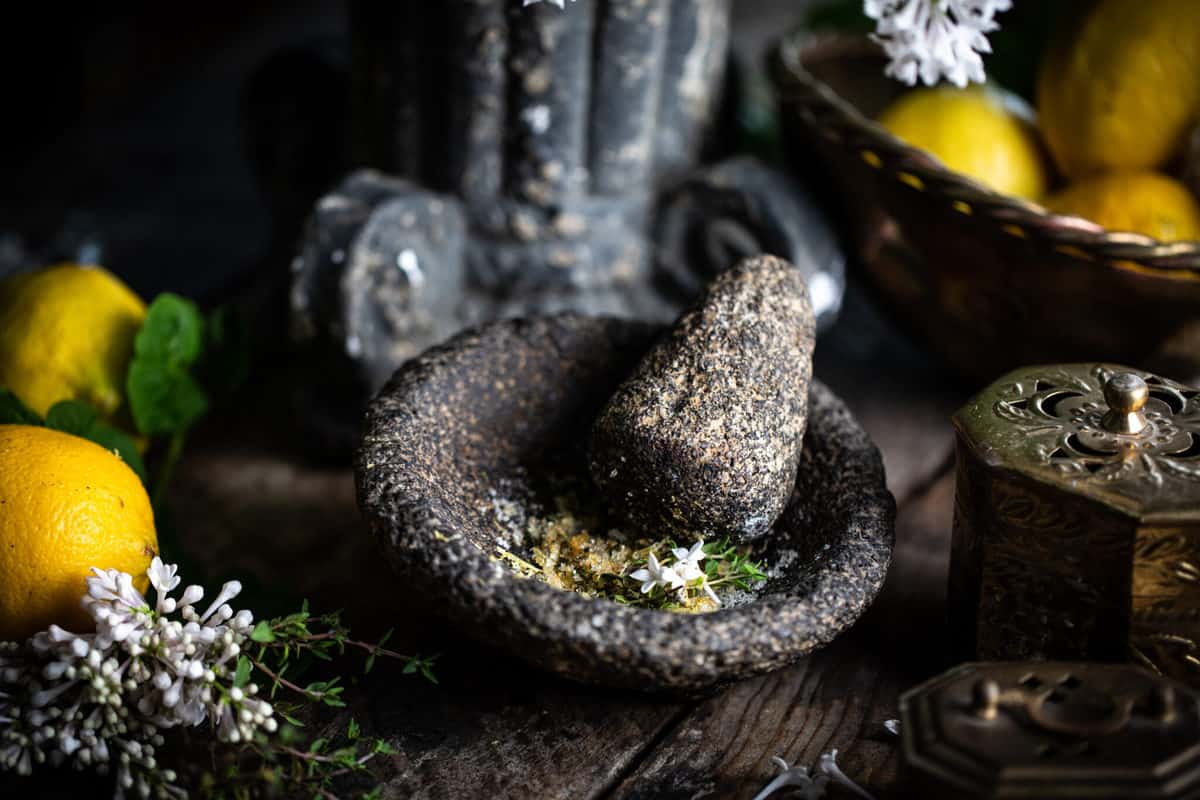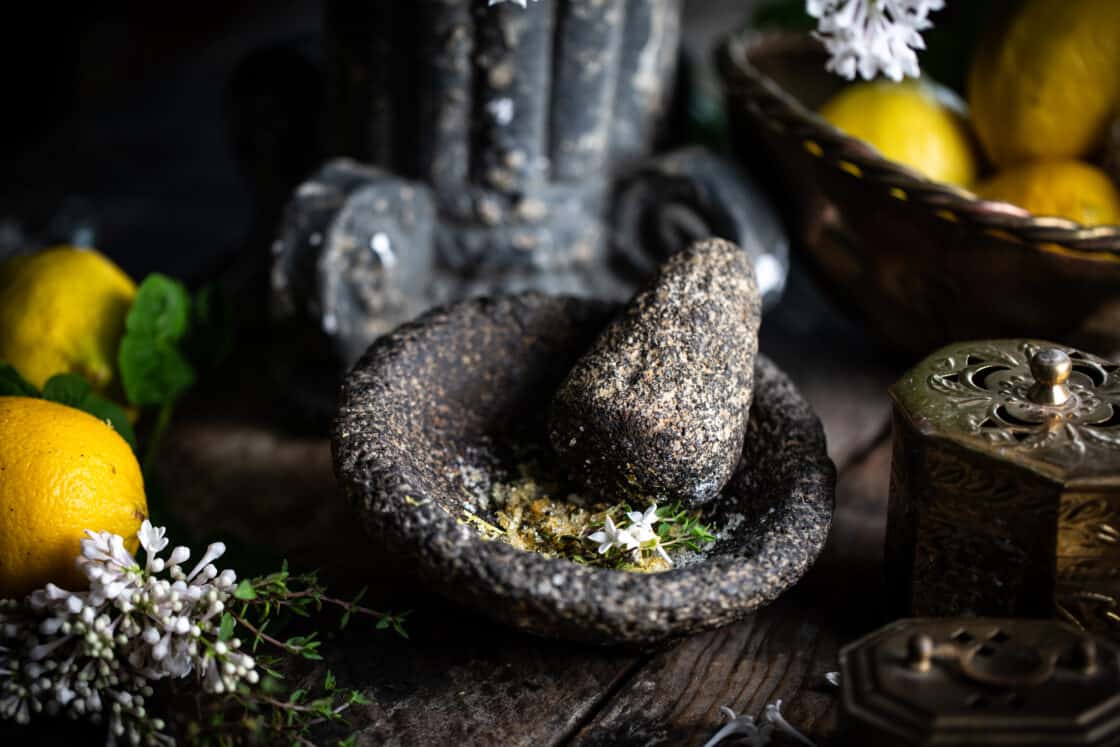 And that's just how it looks!
For this recipe, I dressed up a perennial cocktail-hour favorite, the lemon drop martini. A little tart, a little sweet, it's a go-to for me at any party. The addition of lilac to the mix adds a springtime freshness unlike anything else. What a great surprise for your party guests!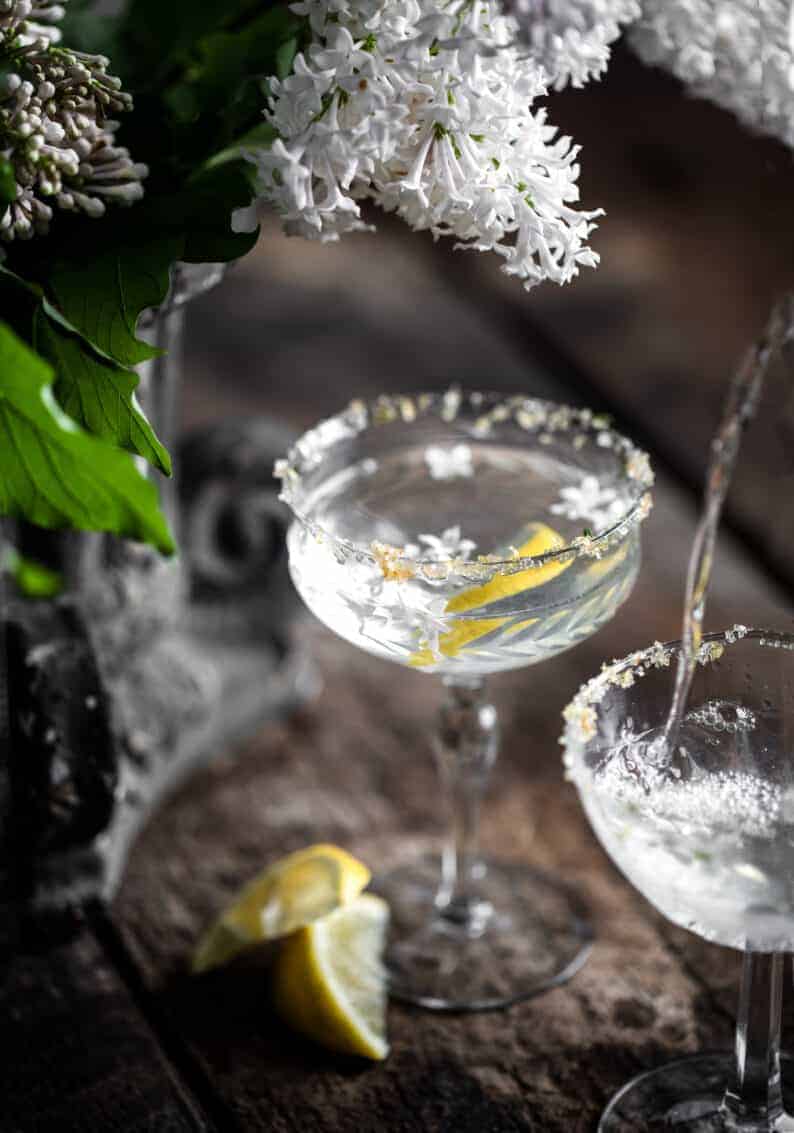 To add a little sweetness to smooth out the floral and lemon flavors, I created a lilac simple syrup to add to the drink. Simple syrup is, like the name suggests, simple to make. Though it does take some patience.
Boil equal parts water and sugar until the sugar is dissolved. Add 2 parts fresh, rinsed, lilac blossoms, cover and let simmer for 5 minutes. Remove the pan from the heat and allow the blossoms to steep for at least 3 hours and up to 8, depending on how potent you'd like the lilac flavor to be.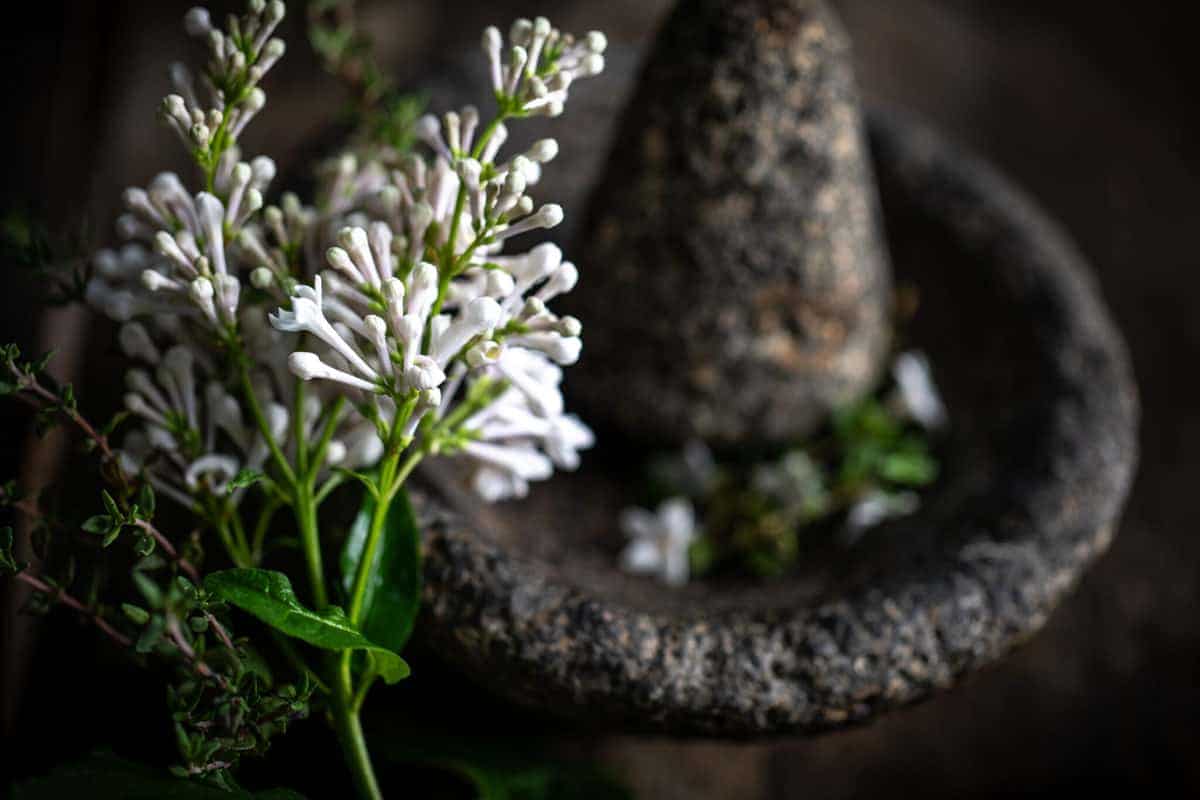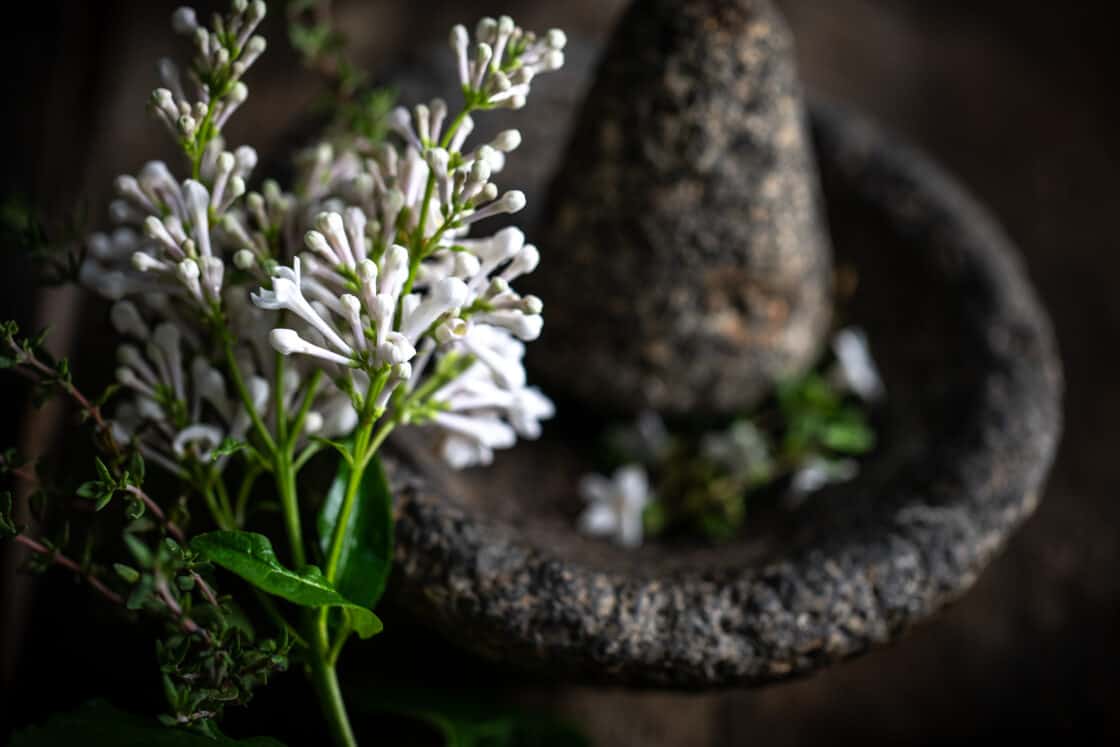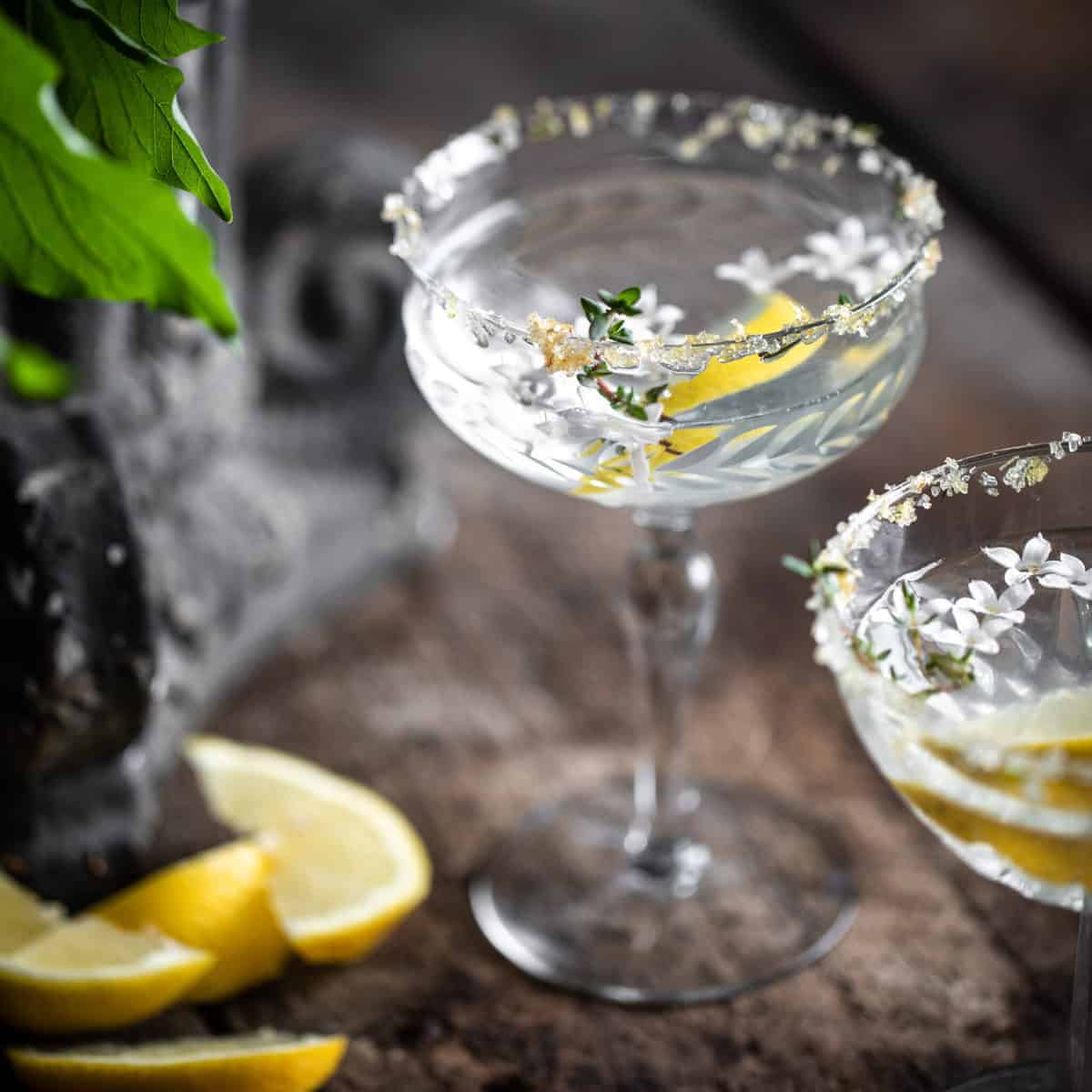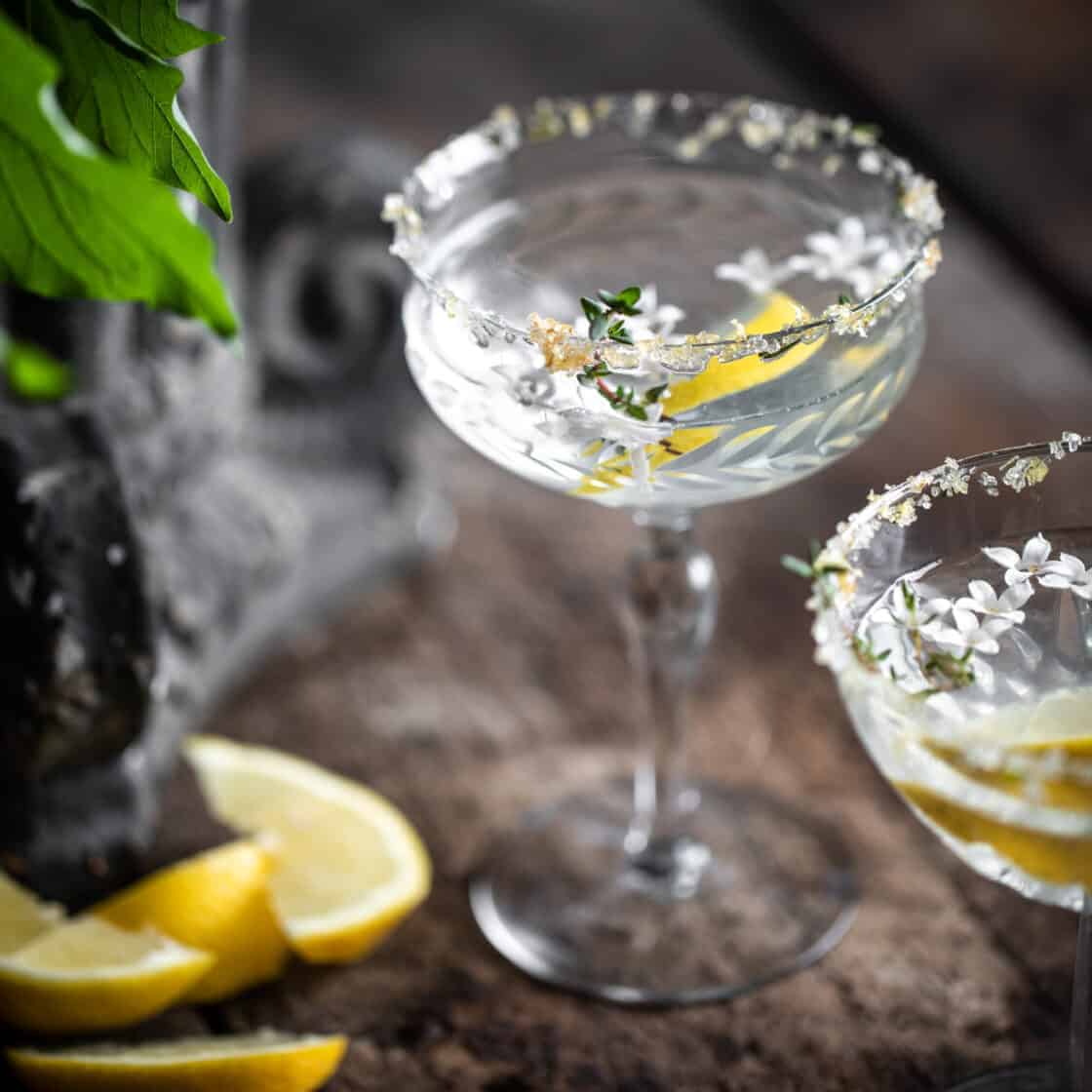 Lilac & Lemon Garnish
The finishing touch to this pretty cocktail is a fresh garnish. The tiny lilac blossoms floating on the top remind me of a Monet painting. So lovely and delicate and springy! For peak freshness, you can pick them off the bush right before your guests arrive!
And lemons are always a wonderful garnish. Lemons are easy to get, but with the correct presentation, they can really add 'wow' to a drink.
Check out this lemon cutting tutorial from Stella Culinary for professional-looking garnishes. You'll never end up with seeds in the bottom of your glass again!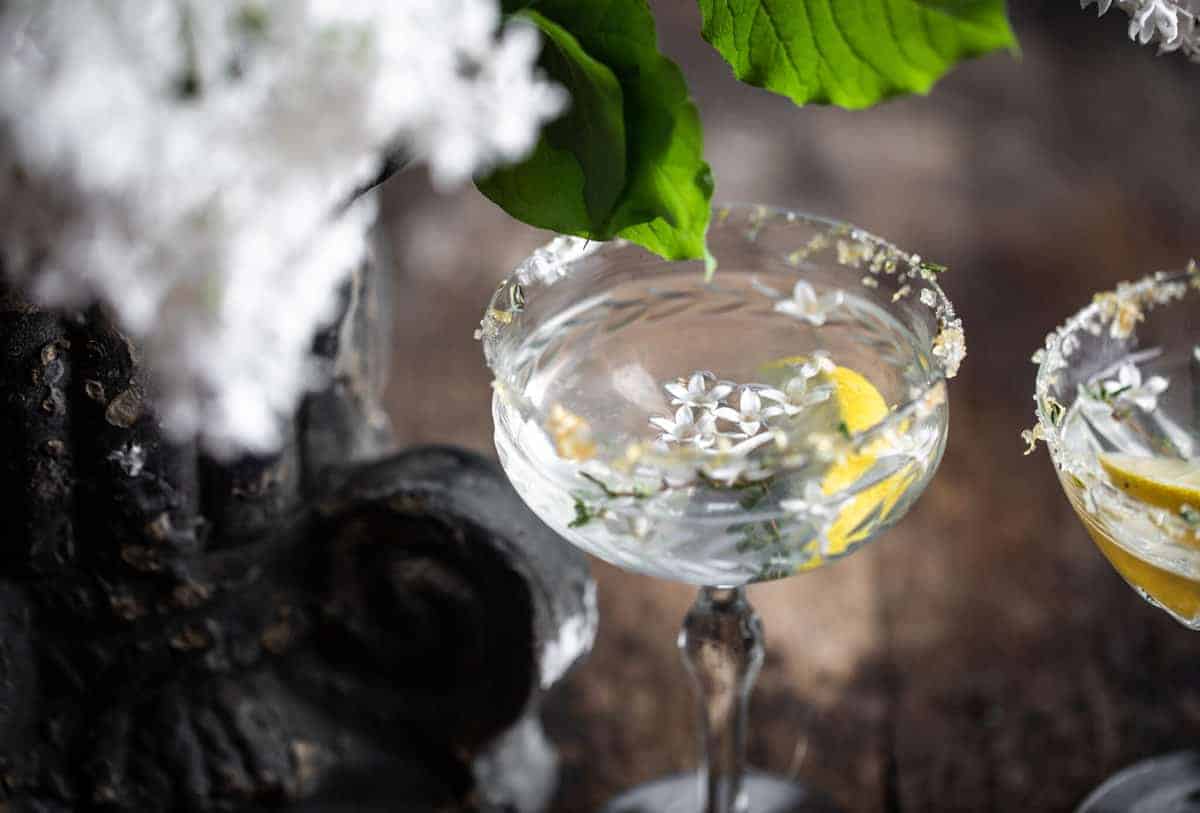 I'm ready for the lilacs to bloom this year so I can make this tasty drink again. Once it happens, it may be cause for a garden party of my own.
What are your favorite floral cocktails? Have you used lilac in your beverages before? Let me know in the comments below!
And let me know how your martinis turn out! Don't wait for a special occasion, create one!
-Jena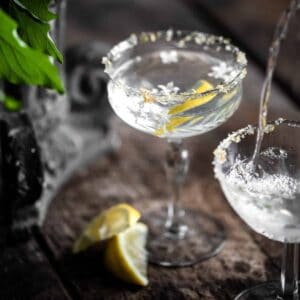 Ingredients
Simple Sugar
2

cups

Water

2

cups

White sugar

4

cups

Lilac blossoms

rinsed
Lilac Lemon Drop Martini
1 1/2

oz

Vodka

3/4

oz

Fresh lemon juice

1/2

oz

Lilac simple syrup

1

Lemon

Lilac, lemon, thyme infused sugar

(see recipe)
Instructions
Simple Sugar
Cut several large bunches of lilac blossoms. Remove the florets, making sure to remove any bitter green stems.

Rise the florets in a fine mesh strainer under cold water.

In a small saucepan, combine water and sugar and bring to a boil over medium heat. Stir until the sugar is completely dissolved.

Add the lilac blossoms to the saucepan and stir gently. Cover and simmer for about 5 minutes.

Remove the saucepan from the heat, keep it covered, and allow the blossoms to steep from 3-8 hours, depending on how potent you'd like the lilac flavor to be.

Pour the mixture into a fine mesh strainer over a bowl. Allow the syrup to drain, shaking the strainer occasionally. Store the syrup in a glass container with a tight lid in the refrigerator.
Lilac Lemon Drop Martini
Rim a martini glass with a lemon wedge and dip in the infused sugar.

Pour the vodka, lemon juice, and lilac simple syrup in a martini shaker with ice. Shake well and strain into the rimmed martini glass.

Add a lemon wedge and extra lilac blossoms as a garnish as desired.
Nutrition
Calories:
1651
kcal
|
Carbohydrates:
376.8
g
|
Protein:
1.3
g
|
Fat:
0.4
g
|
Saturated Fat:
0.1
g
|
Sodium:
18370.3
mg
|
Potassium:
149
mg
|
Fiber:
3
g
|
Sugar:
13.6
g
|
Vitamin C:
65.5
mg
|
Calcium:
42.3
mg
|
Iron:
1.2
mg