Sugar & Spice
It's almost spring and I, for one, am ready for lilacs in the breeze, the sun warming my skin, and fresh, light, flowery dishes. Lilac is one of those flavors that I return to again and again.
One of my favorite ways to incorporate this common flower is with infused sugar. Sugar and spice: they say it's what little girls are made of, but I think it's a big part of bad-ass small business owners too.
Alright, daily pep talk. Check.
Lilac has really been inspiring to me this season. The ideas just keep coming, so I've been hustling, trying to capture all the good stuff before it's gone.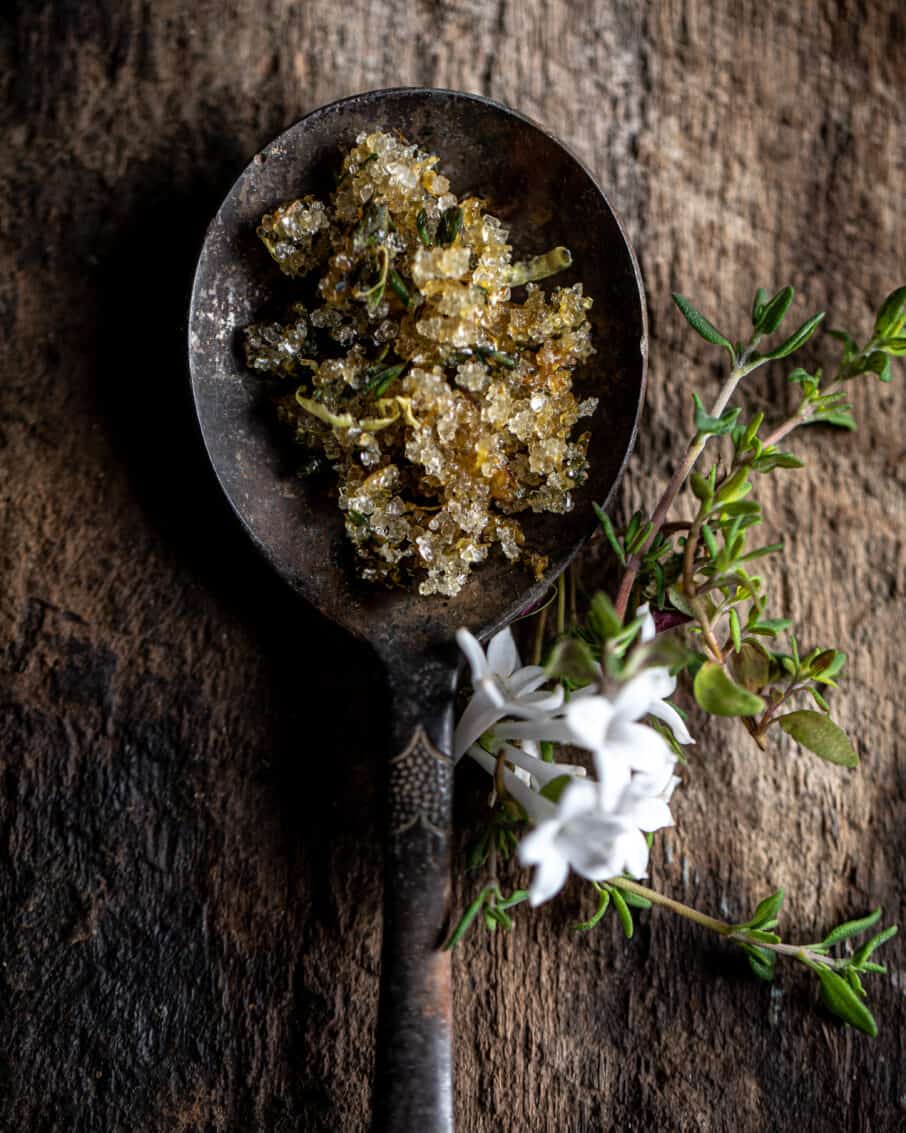 Homegrown Goodness
I love picking these white lilacs that grow in our front yard. They bloom a little bit later than our purple bushes in the backyard. Which is lucky because I thought I missed out on the season! Out back, the bushes are surrounded by ferns and thorny blackberry bushes (lovely but painful!). This white lilac bush was fuller and easier to get to!
I feel really blessed to have so many botanical treasures around my home. It's one of the reasons I'll never regret leaving the city and coming home. Not only and I surrounded by family, but my homestead professionally inspiring, lush with wildflowers, and there is so much space to explore.
These tiny blossoms are pleasing to the eye, nostalgic in scent, and, maybe less popular,, tasty!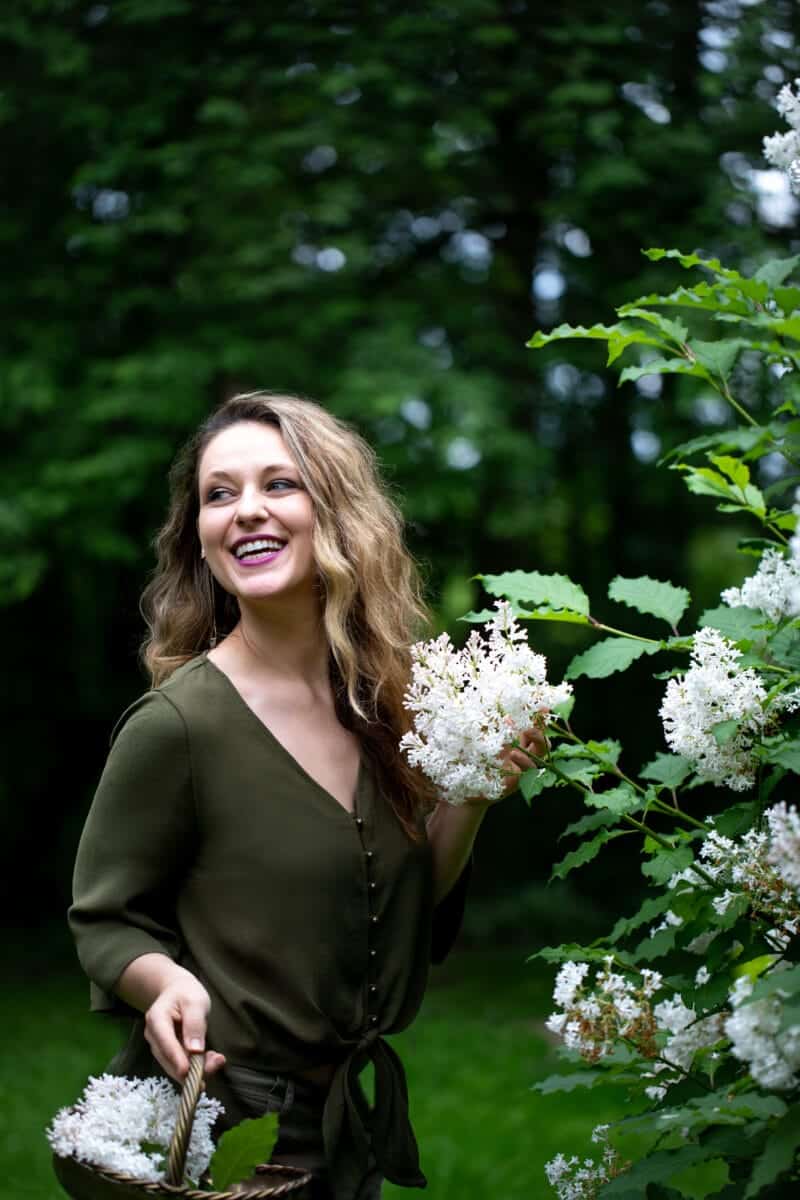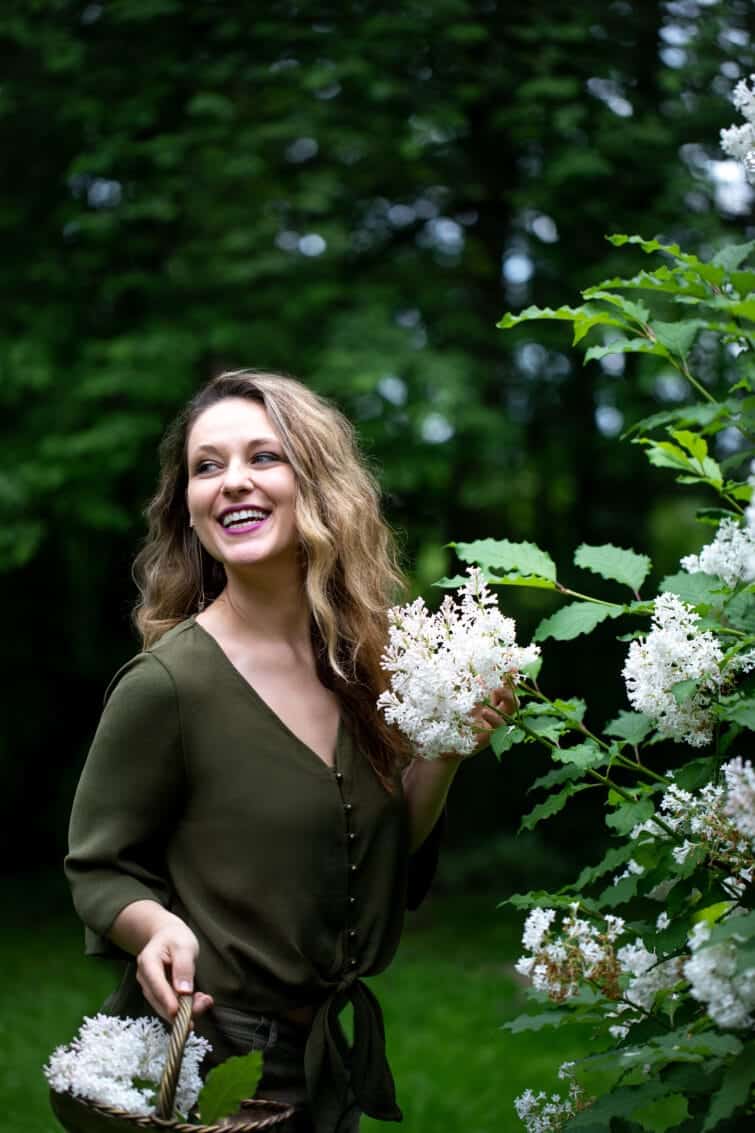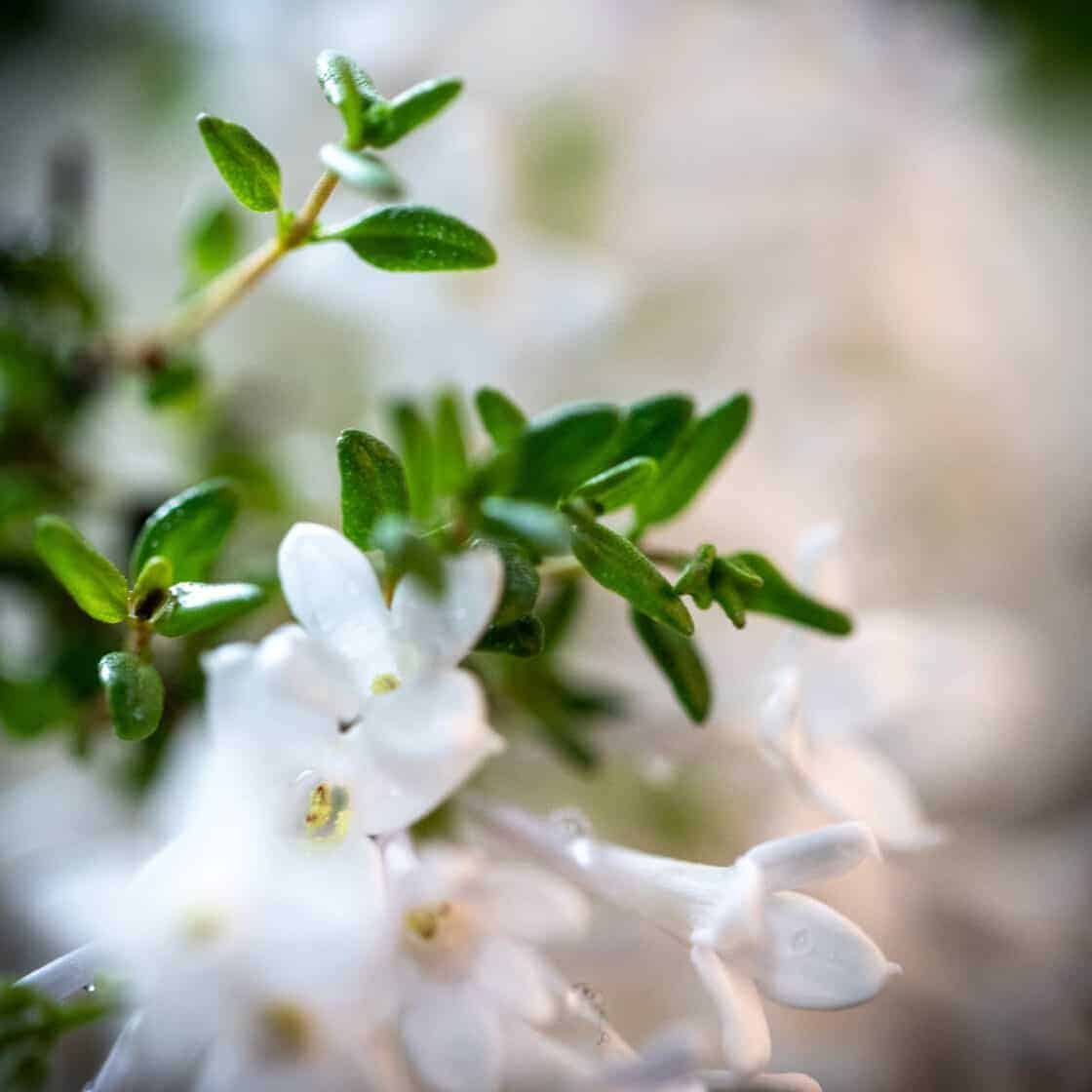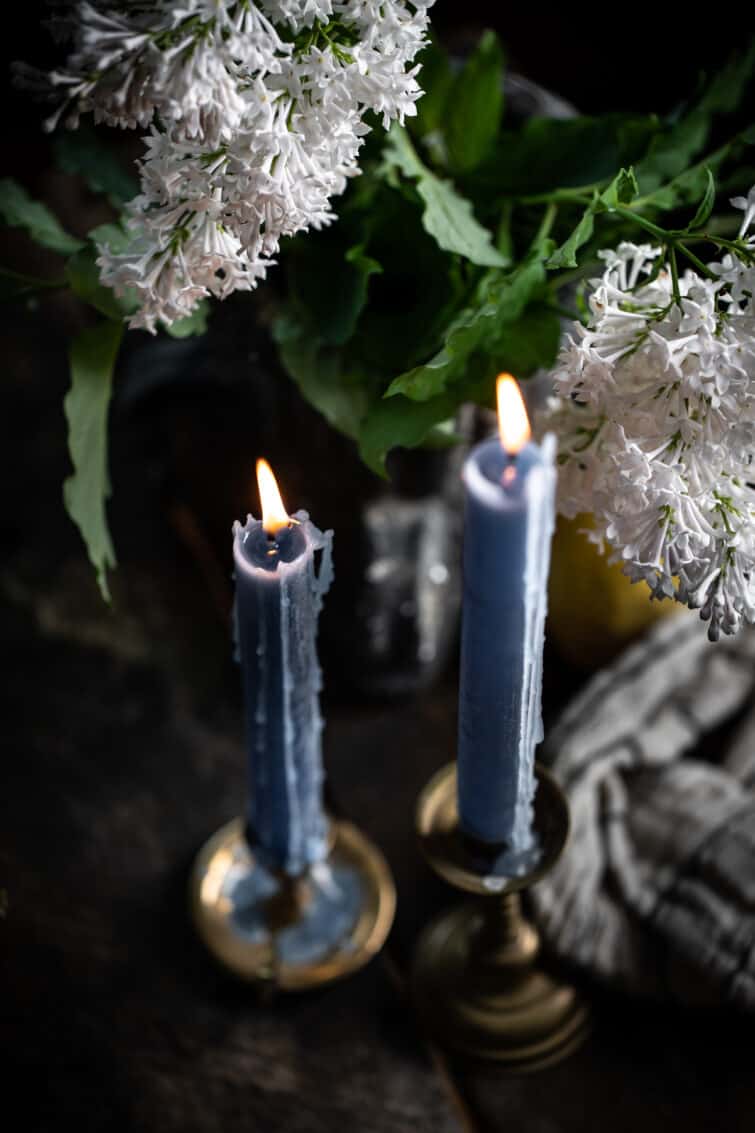 Bringing Lilac to the Table
As I mentioned earlier, a great way to add lovely lilac to your cooking without going overboard is to create a lilac sugar to use in your baking, tea, and more! (Including a delicious Lilac Lemon Drop Martini.) Once infused with sugar, it's easier to tell how the floral flavor will come through in the final product.
This sugar is so easy, it's almost not a recipe, but it tastes so good I had to share!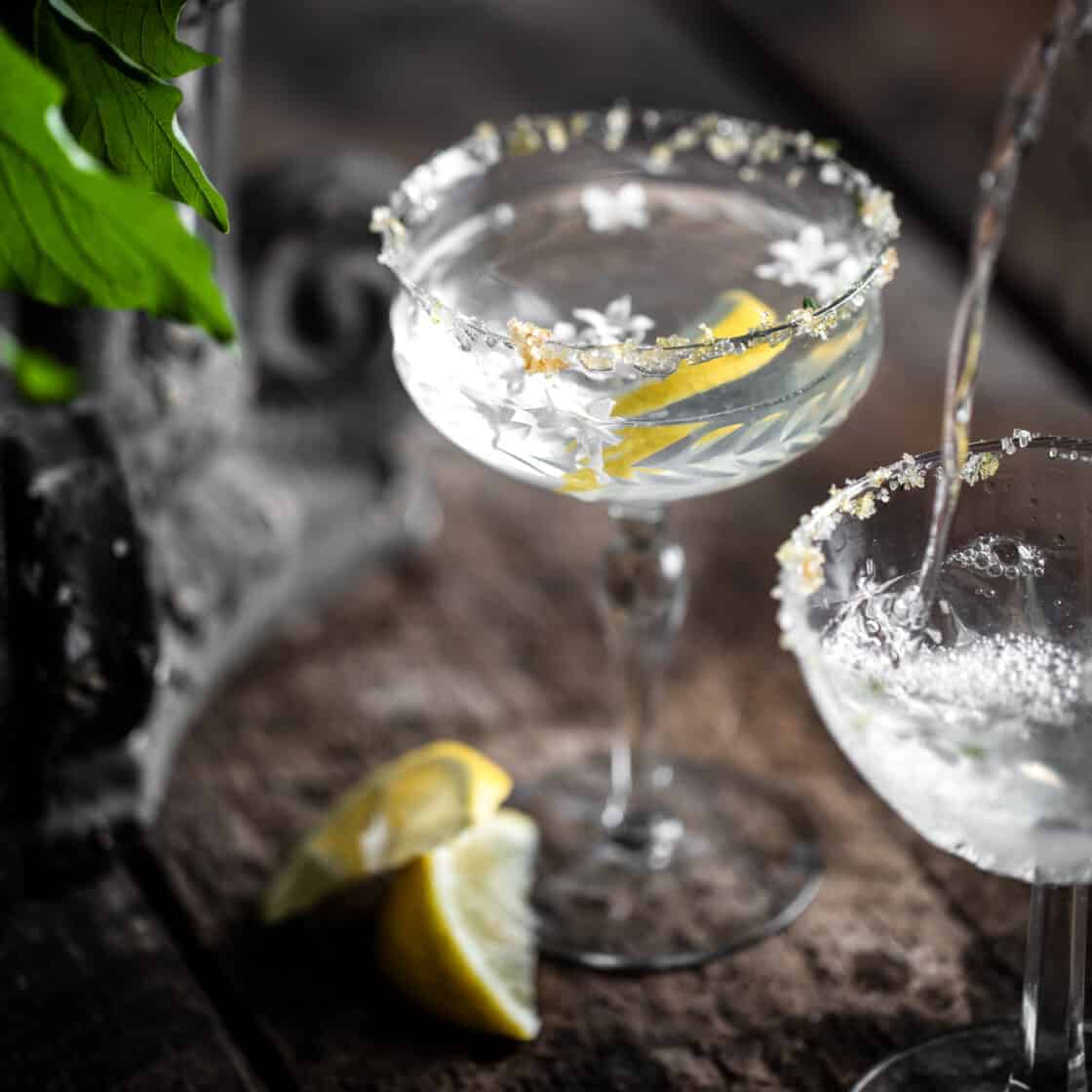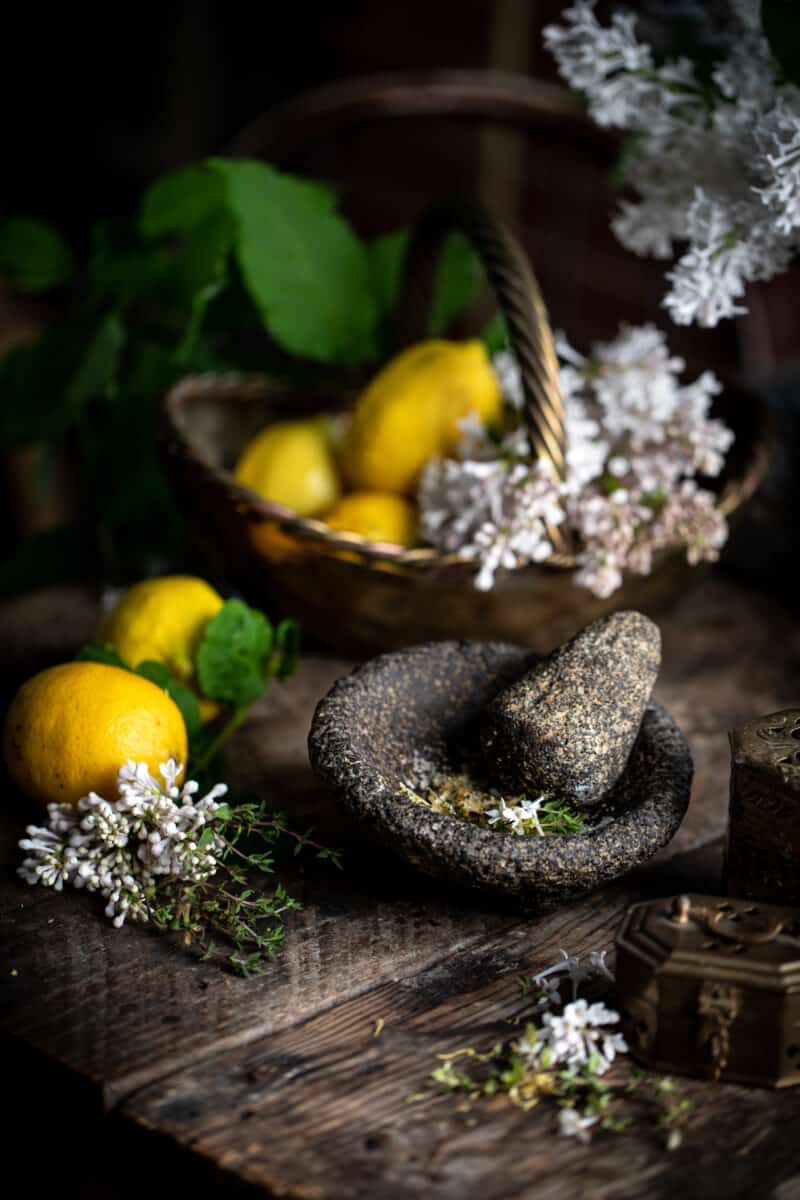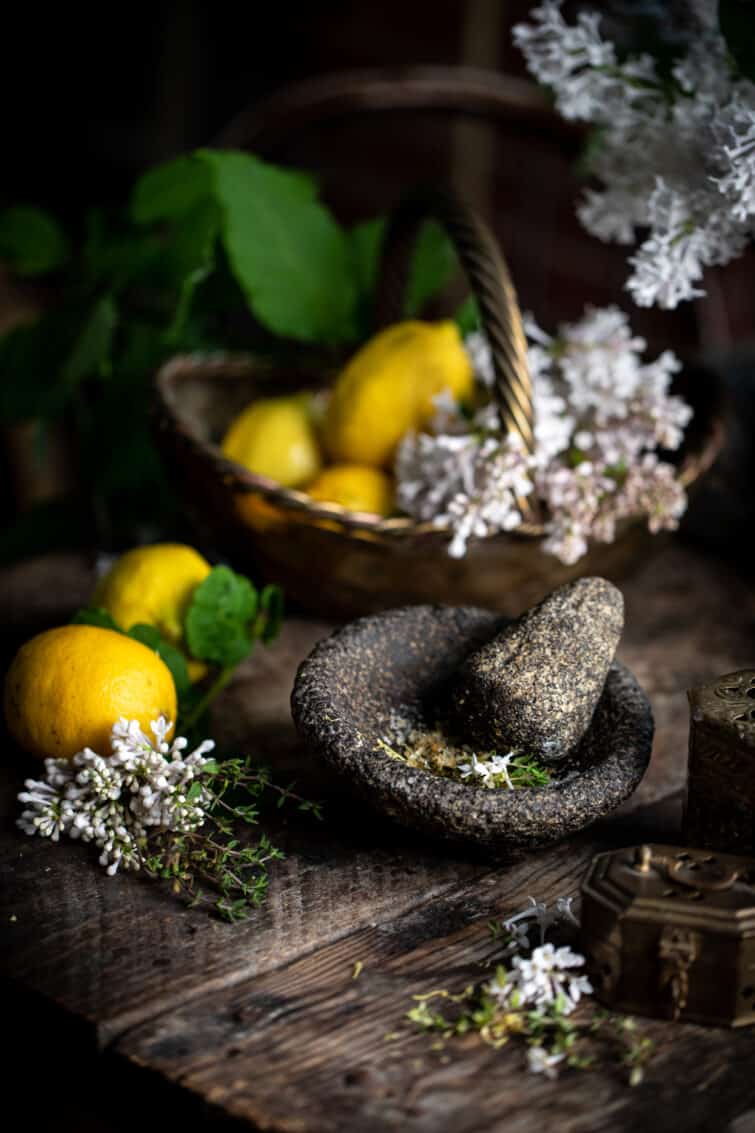 Use a mortar and pestle or your favorite herb grinder to break down your chosen herbs and combine them with the sugar. Once combined, spread the mixture out on a paper towel for a day. After it is all dry, you can put the sugar in an airtight container to enjoy long term. It is such a wonderful experience to enjoy the smell of lilacs every time I open the container long after the lilac season is over.
Keep an eye out for more lilac-themed posts coming up. Lilac is so easy to come by and surprisingly versatile in recipes, so I'm excited to share with you more ways to enjoy it.
Do you have lilac bushes in your yard? Have you ever used the blossoms in your cooking? Let me know in the comments below how you use your lilacs.
Interested in how herbs like thyme can be incorporated into your dishes? Check out my cookbook: Herbs For Flavor, Health, and Natural Beauty.
And as spring is coming to us, remember, don't wait for a special occasion, create one!
-Jena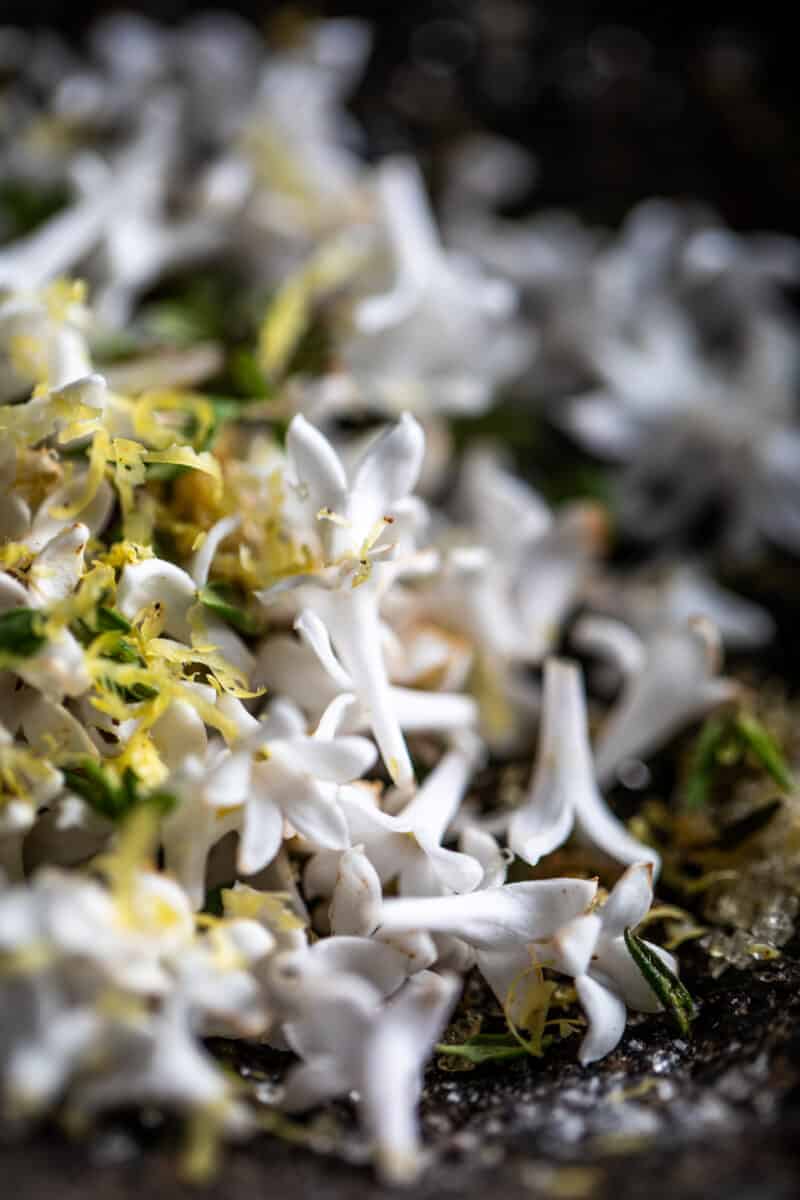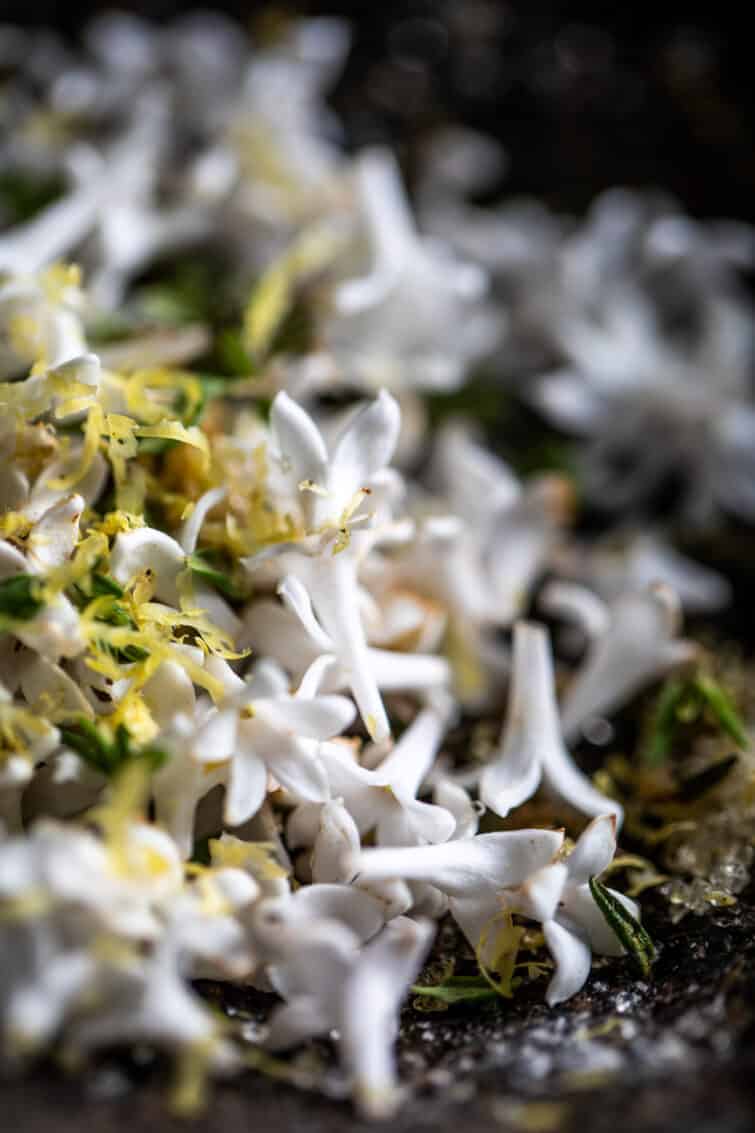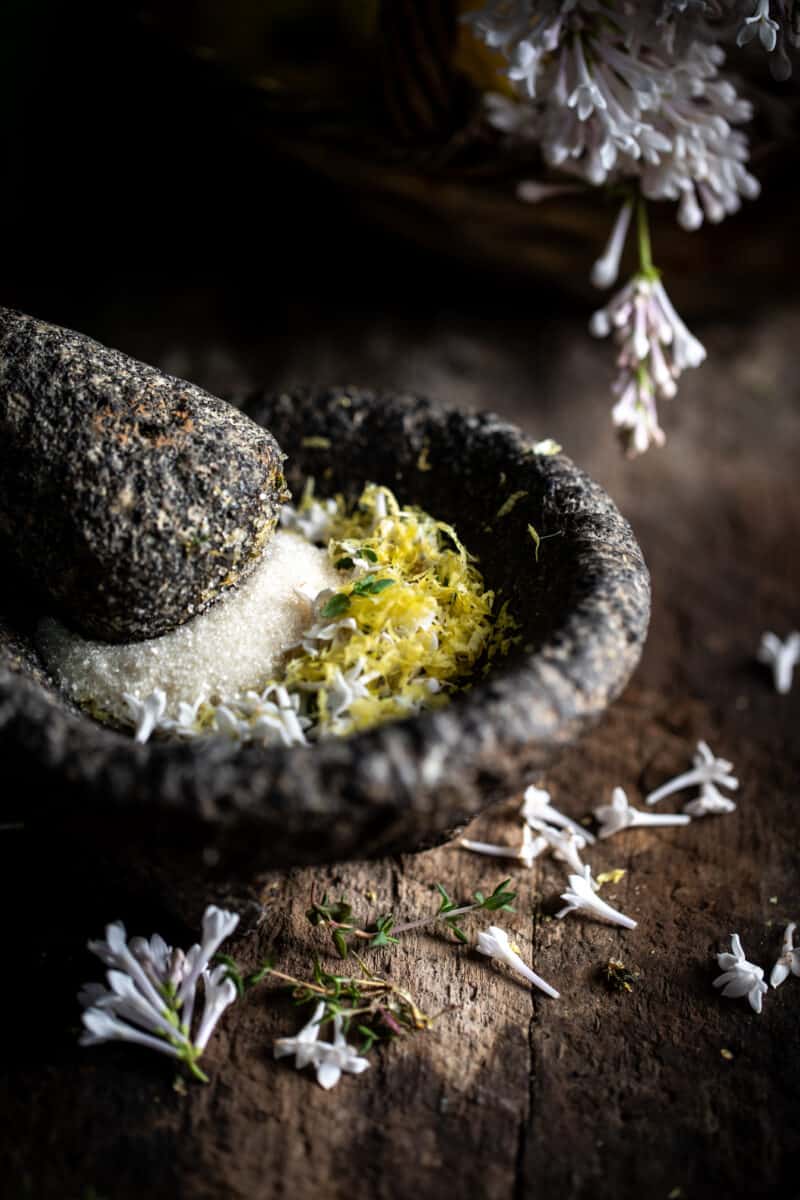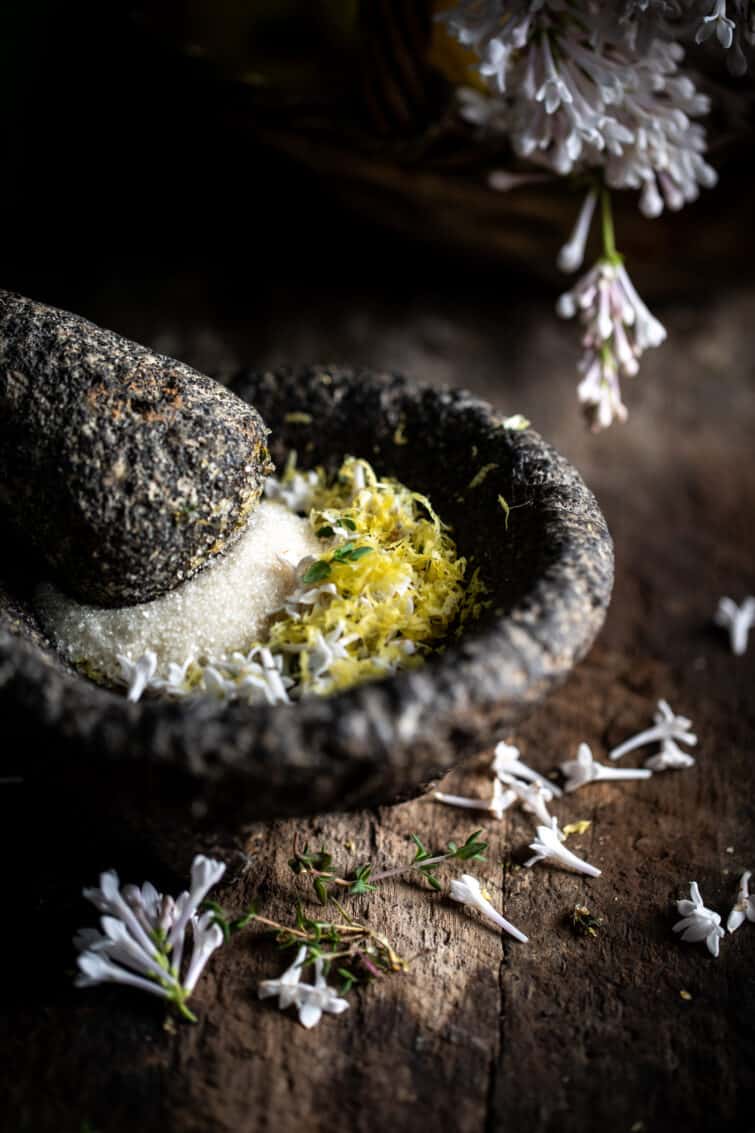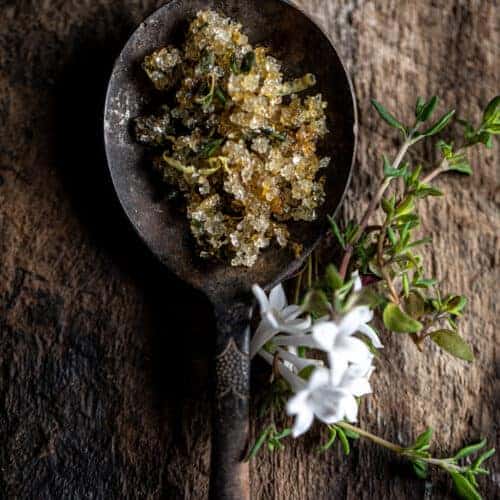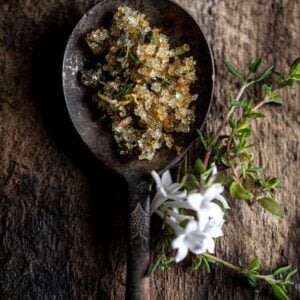 Ingredients
.5

cup

White sugar

1

Thyme sprigs bunch

fresh

3

Zest of whole Lemon

1

Lilac blossoms bunch

rinsed
Instructions
Use a mortar and pestle to combine thyme, lemon zest, and lilac blossoms.

Stir combined ingredients with the sugar.

Lay the mixture out on a paper towel for a day to dry. Store the sugar in an airtight container until you're ready to use it.
Notes
Dont be afraid to double or tripple this batch!  It will last for months and you will miss the scent of lilacs!
Nutrition
Calories:
387
kcal
|
Carbohydrates:
100
g
|
Sodium:
1
mg
|
Sugar:
99.8
g