The beet has a reputation not unlike politicians. You either love them or you hate them. They are a gorgeous vegetable with a very unique flavor that some would describe as earthy, while others would say they taste more like dirt. Well, regardless of which side of the beet your on, beets need to stop taking a beating from beet haters and start getting some well deserved credit.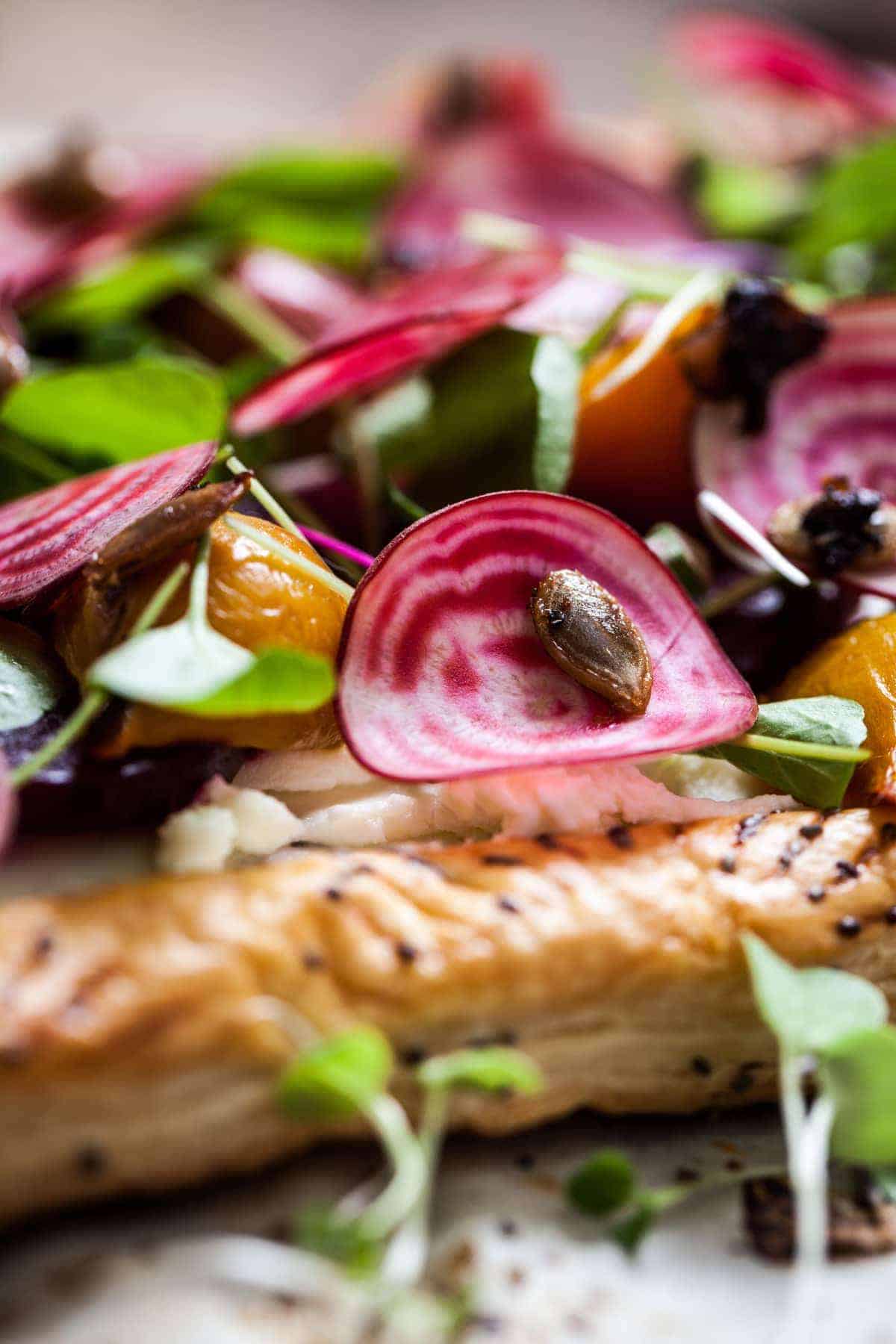 Beets are extremely good for you. They are loaded with phytonutrients which give them their deep purple color. These nutrients are known to help fight cancer by slowing the growth of tumors. They are also known to have exceptional detoxifying benefits and are helpful at reducing inflammation, which these days it seems everyone is trying to accomplish. But wait, there's more. Beets are also good for boosting mental health, helping with digestion and lowering blood pressure. They are loaded with vitamins and minerals including iron and potassium.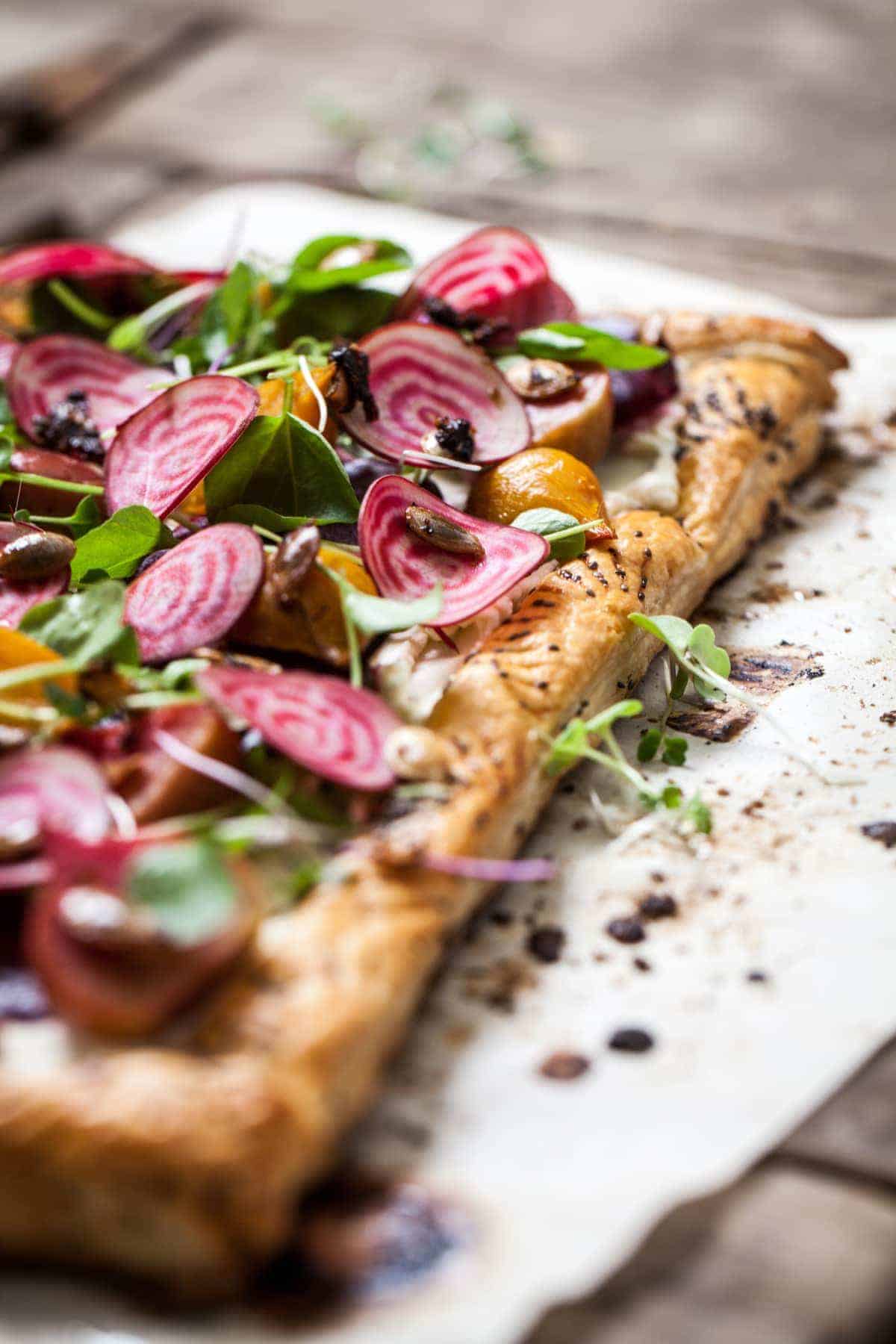 Back when I was a kid, you couldn't get me to choke down a beet. Then, as I grew older and started actually TRYING new foods, I realized that beets weren't so bad after all. They are great in salads with goat cheese and nuts, and there are very few vegetables that can match their beauty. Red beets, yellow beets, or my favorite chioggia beets, which are white, with red circles going through them, are all beautiful and each has a different flavor. Jena and I thought they would all taste good together in a recipe, so we decided to try a tart version of a beet and goat cheese salad.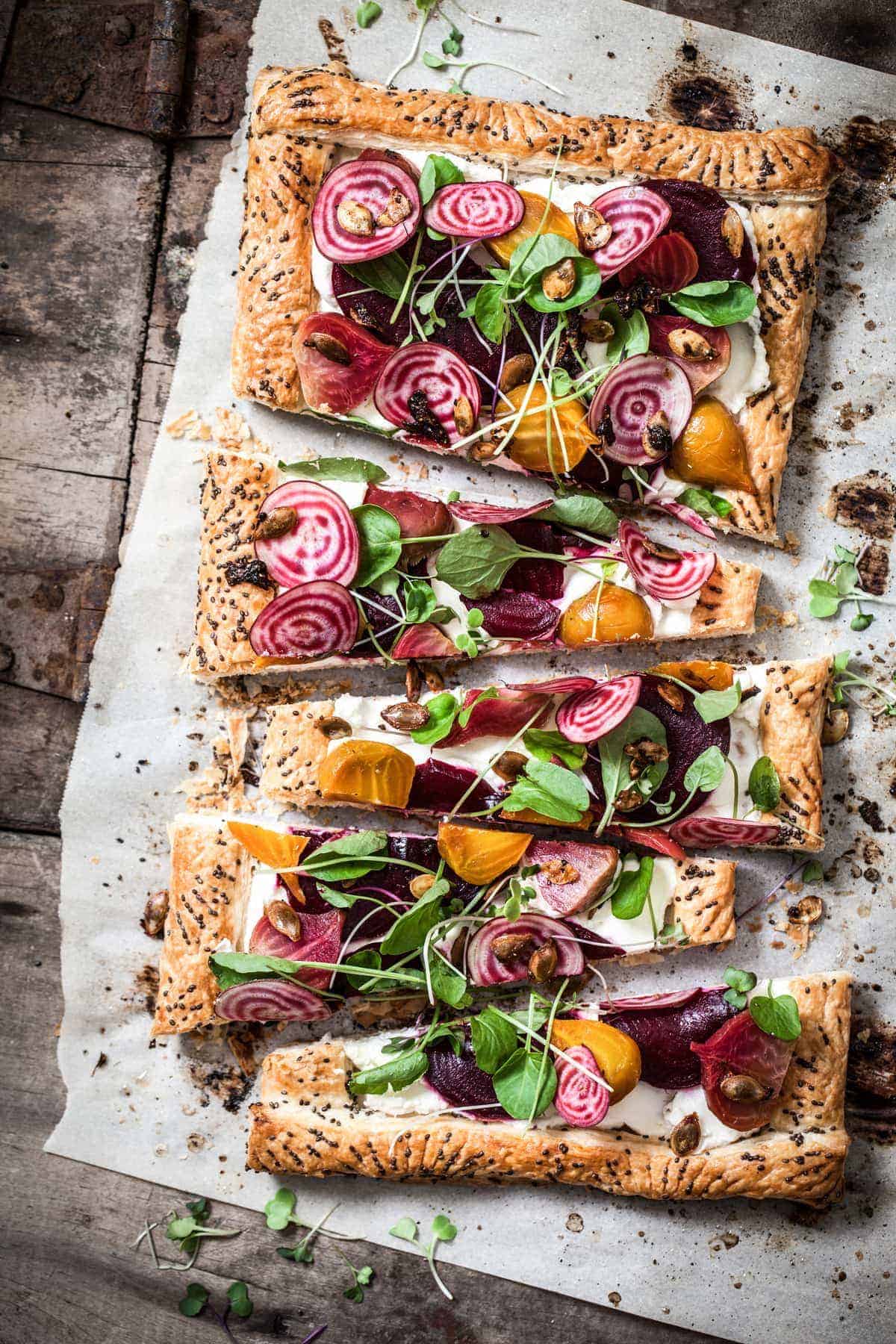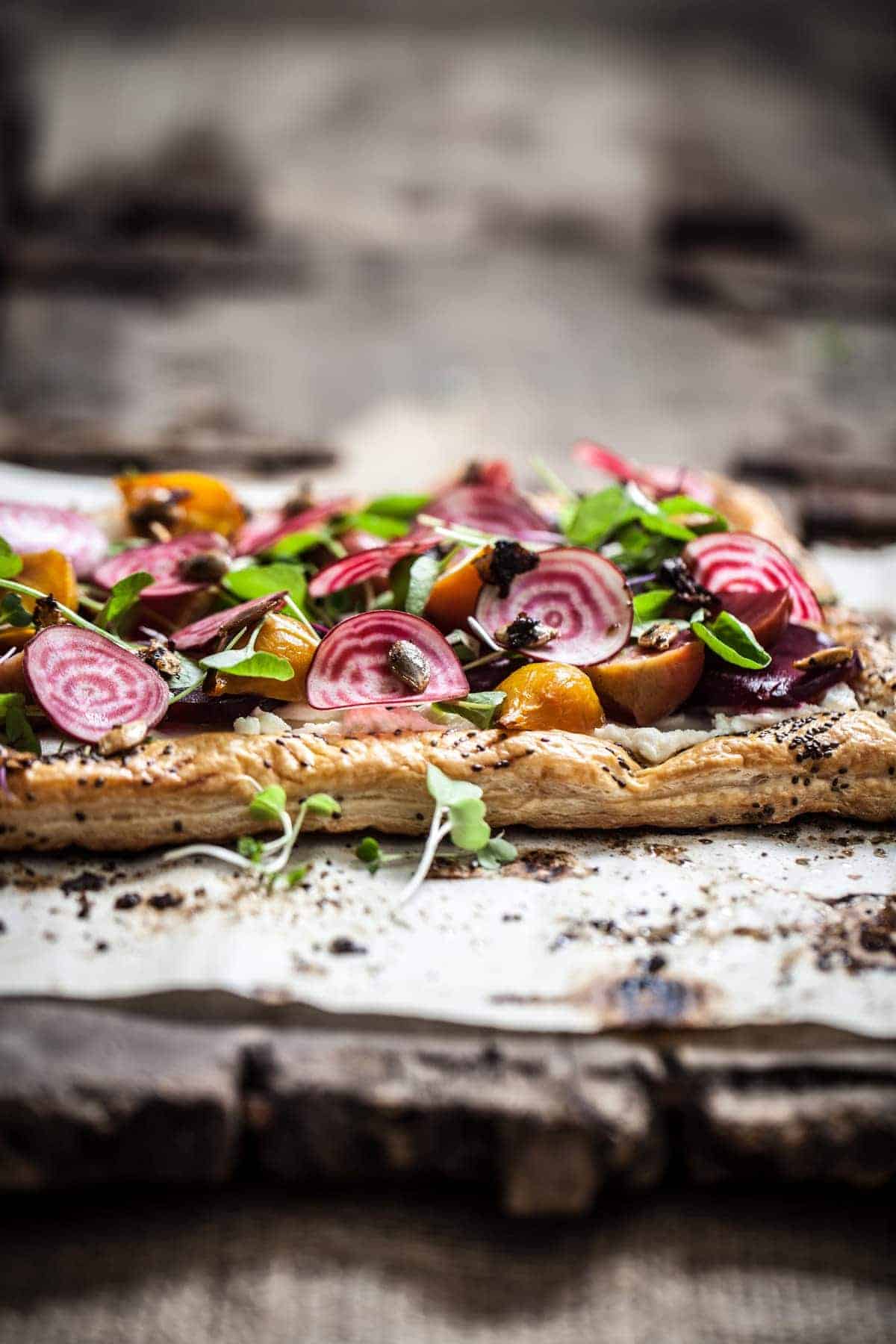 This tart is loaded with flavor and beets galore, so if you don't like beets, this is not the recipe to try to learn to accept them. It actually has 4 kinds of beets. Cooked roasted red beets, roasted yellow beets, roasted pink beets and raw slices of chioggia beets. We added these beets to a puff pastry shell topped with a goat cheese spread made with fresh dill. Peppery watercress, micro greens and toasted pumpkin seeds are sprinkled on top making this the most stunning tart we've ever seen. The bonus is that it tasted so good, we decided to put it in our cookbook Herbs For Flavor, Health and Natural Beauty. If you don't like beets, don't make the recipe, but don't forget to buy our book. It makes the perfect Mother's Day gift. Especially if mom likes beets! You can buy it on Amazon or Barnes and Noble online, or through Jim's website Rude On Food. Enjoy and remember to cook with love and live to cook.
Jim & Jena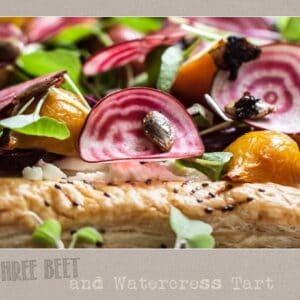 3 Beet Watercress Tart Recipe
Beets are the hero in this beautiful tart, but the fresh flavors of goat cheese, watercress and pumpkin seeds add layers of flavor, while the buttery puff pastry gives it that rich flakiness that makes this a crowd favorite. You can find the recipe in our cookbook Herbs for Flavor, Health and Natural Beauty.
Print
Pin
Rate
Add to Collection
Go to Collections
Ingredients
1

sheet

Puff pastry

thawed

1

lg.

Egg white

beaten

2

tsps.

Sesame seeds

4

ounces

Goat cheese

softened

4

ounces

Cream cheese

softened

Salt & pepper

to taste

2

tbsp.

Fresh dill

chopped

1

whole

Small chioggia beet

thinly sliced (optional)

3

whole

Small pink beets

roasted, halved

4

whole

Small red beets

boiled until tender, peeled & sliced

2

whole

Small yellow beets

roasted, halved

1/2

cup

Watercress

washed

1/4

cup

Microgreens

(optional)

1

tbsp.

Pumpkin seeds

roasted (optional)
Instructions
Tart Shell
Preheat oven to 425 degrees. Unfold puff pastry onto a parchment lined baking sheet. Cut 1/2" wide strips from all 4 sides of puff pastry and set aside. Brush remaining sheet of dough with egg white. Place reserved strips of puff pastry along edges on top of pastry sheet, creating a border. Press to seal.

Brush edges of pastry with egg white. Using a fork, poke center area of puff pastry all over to prevent pastry from rising too much. Sprinkle sesame seeds along edges.

Bake for 20-25 minutes or until golden brown. Remove from oven and let cool completely.
Cheese Spread
In a medium size bowl, combine goat cheese and cream cheese. Season to taste with salt and pepper.
Assembly
Spread mixture over cooled puff pastry. Sprinkle dill over cheese mixture. Place beet slices, watercress and micro greens evenly over cheese. Sprinkle with pumpkin seeds if desired.

Cut into squares and serve.
Notes
If yellow, pink, or chioggia beets are not available, you can use red beets.
https://www.instagram.com/p/BTfjWxOh7Fu/?taken-by=littlerustedladle