I know you can now get asparagus pretty much year round. And, it's pretty good year round. However, like most fruits and vegetables, fresh is best, and local & fresh is king (or queen). That is the case with asparagus as well. If that were not the case, you wouldn't have local farmers protecting their roadside land like guard dogs. In most rural areas I know, if you have spots where wild asparagus is coming up in the spring, you keep your mouth shut and pray that you get to it before anybody else knows it's there. It's kind of like morel mushrooms, except instead of battling tree branches, prickly brush or crazed land owners, you can often pull over on the side of the road, cut your find and be back in the car before anyone knows you were there.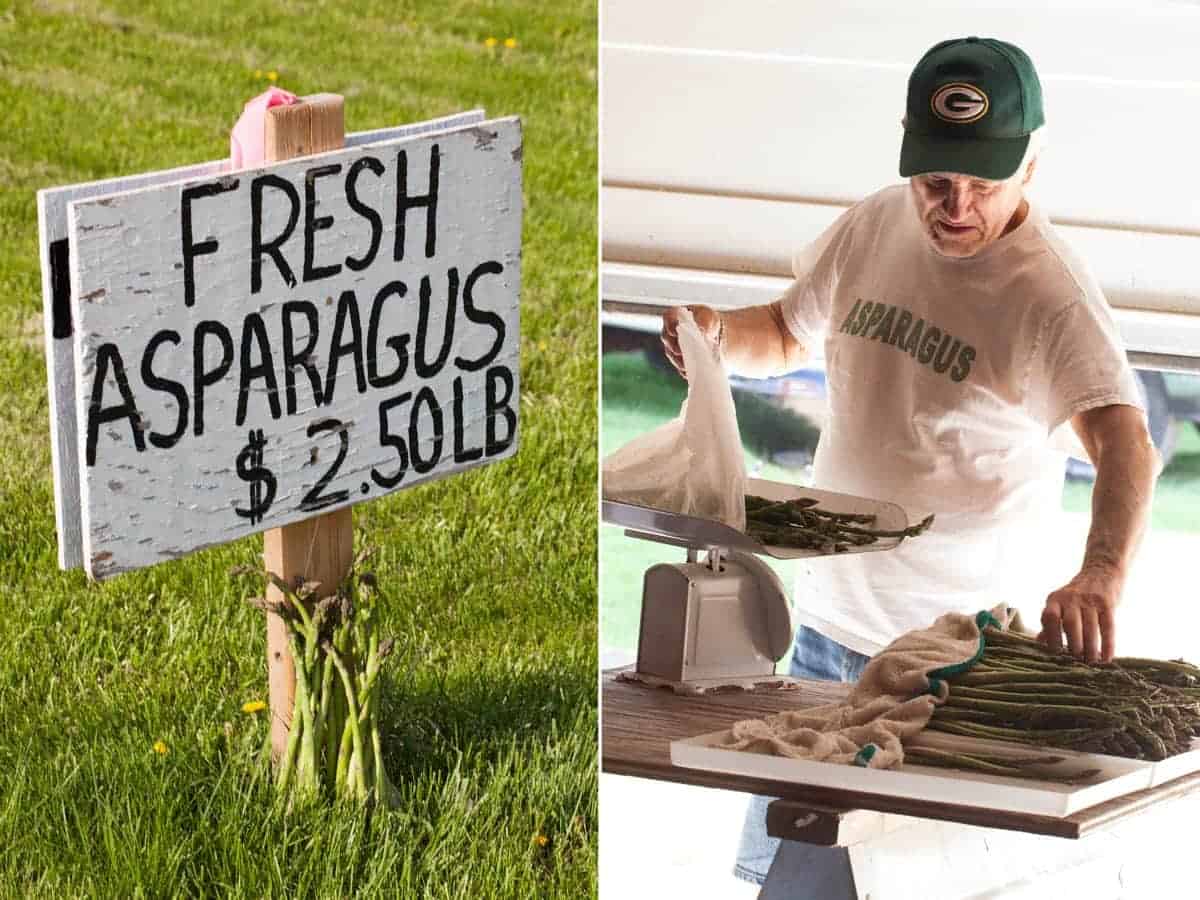 What makes it tough is getting to it before the farmers, who always know where they are, and they get up reeeaaallly early. If you do find a patch, or are fortunate enough to know someone who sells wild asparagus, it is a treat. Everything that comes from the earth unspoiled by us is usually better. It may not be bigger, but it will taste better. Take for example the asparagus caprese salad that we made recently.

Fresh tomatoes, basil, fresh mozzarella and long curling strips of fresh asparagus drizzled with extra virgin olive oil and seasoned with some sea salt and fresh pepper. Yum. Also, like most vegetables, asparagus is really good raw and it's pretty easy to peel with a vegetable peeler. I know, I know, asparagus may be in season, but tomatoes and basil are not. Not in Wisconsin anyway. Heck, those two won't show up for awhile in my yard.
Thank goodness both can be readily found in the grocery stores these days, and unlike many vegetables, you can get pretty good vine ripened hot house tomatoes and fresh basil these days. They'll never grow naturally together in the midwest, so sacrifices must be made. That may be the only sacrifice however, because the flavor is still wonderful. Give it a try. It's beautiful, delicious and a creative new way to showcase this long vegetable that can get a little boring after a couple weeks of roasting it. Enjoy and remember to cook with love and live to cook.
Jim & Jena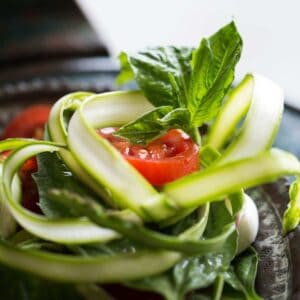 Ribboned Asparagus Caprese Salad
Fresh asparagus is rarely paired with the classic caprese salad. However, when the asparagus is peeled into ribbons, it adds a sophistication that is welcome and delicious.
Print
Pin
Rate
Add to Collection
Go to Collections
Ingredients
12

stalks

Fresh wild asparagus

peeled lengthwise into thin strips

6

Medium heirloom or vine-ripened tomatoes

sliced

16

Fresh basil leaves

1

cup

Small fresh mozzarella balls

2

tsp.

Extra virgin olive oil

Salt & pepper to taste
Instructions
Layer asparagus, tomatoes, basil, and mozzarella balls on a large plate or individual salad plates.

Drizzle with olive oil, then season with salt and pepper. Serve.