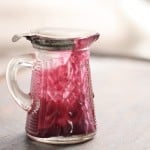 This sauce is easy to make.  It is great on pancakes, but equally good as a dessert sauce over ice cream or pound cake.
Ingredients     Makes about 2 cups
1 1/2          Cups     Fresh blueberries
1/4             Cup       Maple syrup
1/4             Cup      Plain greek style yogurt
Directions
In a small heavy saucepan combine blueberries and syrup.  Heat over medium heat until berries release their juices.  About 10 minutes.  Add yogurt and stir until well combined.  Remove from heat.  Serve over pancakes.  Sauce can be cooled, then refrigerated until needed.