Take better photos of your holiday gatherings with these editorial food photography storytelling tips. Learn to capture precious memories AND food.

My mom was a scrapbooker. In fact, she ran her own craft and scrapbooking store when I was growing up. She wasn't a professional photographer, but the way she used images to bring our family memories to life on a scrapbook page was a real artform.
In my career as a food photographer, I strive to achieve that same masterful level of storytelling. Her influence, and my early professional exposure to editorial food photography in the Taste of Home studio, solidified what is now a core part of my artistic voice: adding and capturing the tiny details that bring the story of the food to life.
If you're like me, you always have your camera at the ready, capturing family memories at every opportunity. This is especially true around the holidays, when extended family gathers to prepare and enjoy a meal. Here, everything I love joins together: family, food, and photography.
This year, I wanted to share a unique recipe with my family as we celebrate the joys of the last year and think with hope and anticipation about the year to come. The rich jewel tones of the seasonal ingredients are relatively easy to capture and preserve in photos, but the trick is to also catch the intangible dishes brought to the table: kindness, generosity, happiness, and love.
Inspiration from Editorial Food Photography
I've picked up a lot of tips and tricks for storytelling over the years, and I thought presenting them in our own magazine spread would be a fun way to illustrate everything that editorial food photograph has to offer. With that inspiration, I recently collaborated with SIGMA Lenses and B&H Event Space to present a storytelling masterclass inspired by capturing the joy of a shared family meal and the world of editorial food photography.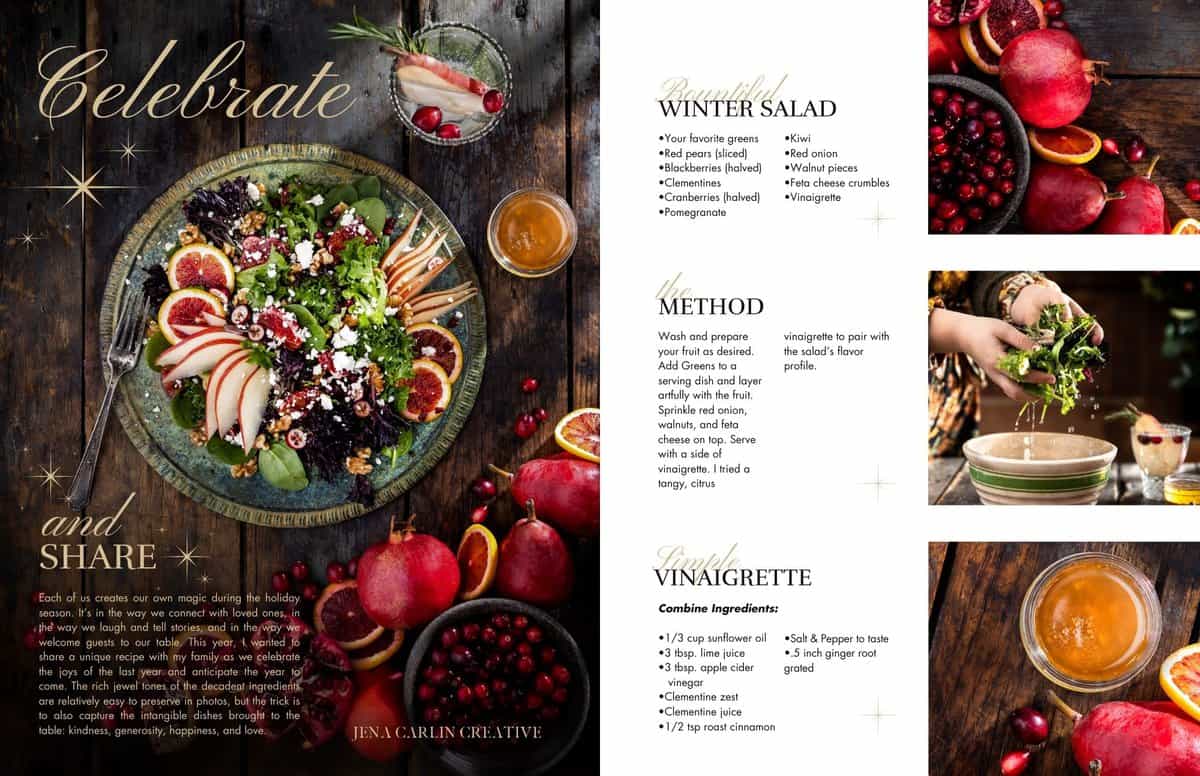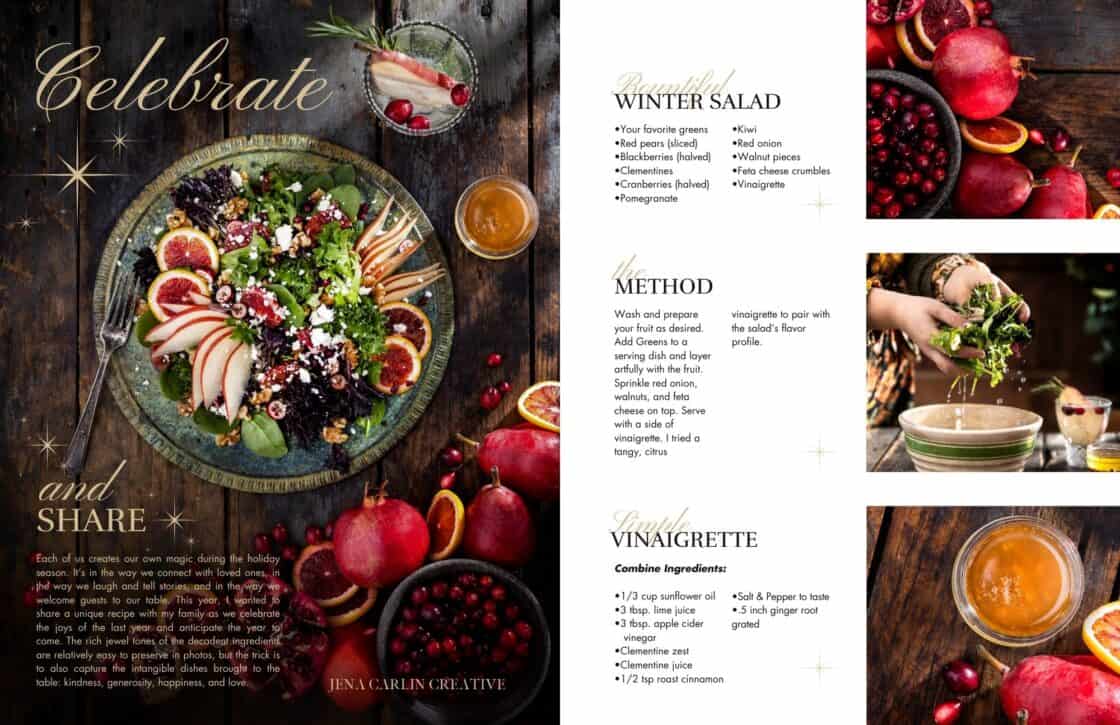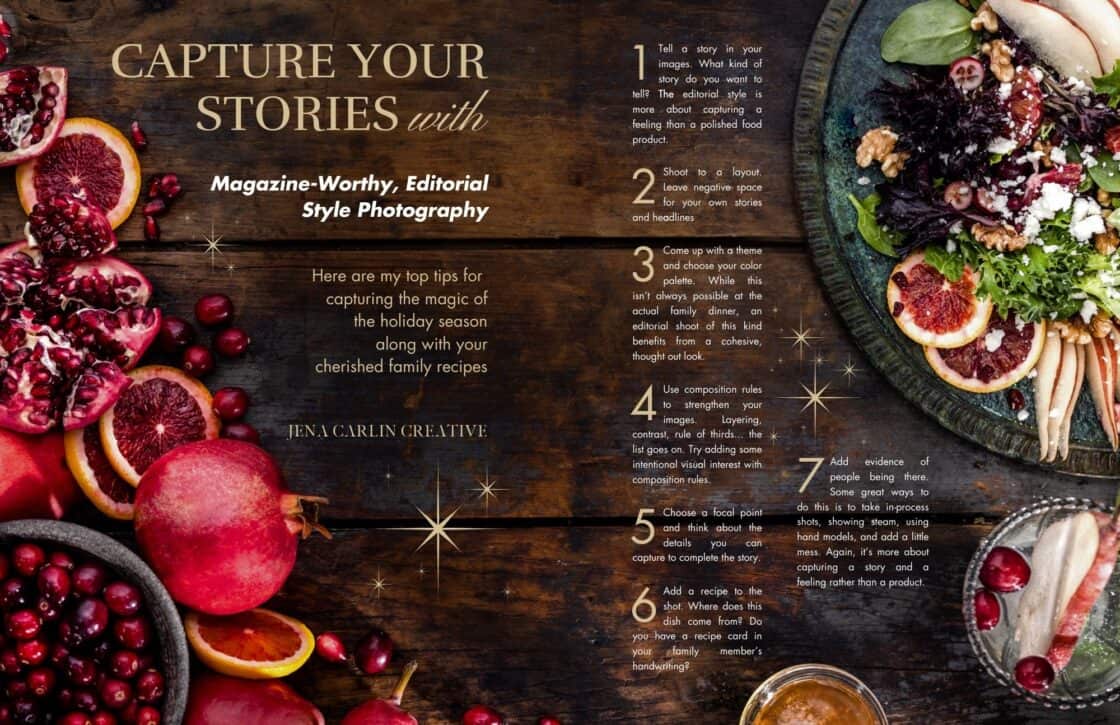 Our graphic designer, Mercadees, put together a four-page spread complete with headings, flavor text, and recipes so that we could give the live workshop a real magazine experience. If you'd like to try it out for yourself, we've made the Lightroom overlay files and the Canva template available here!
You can learn more about the photoshoot, including the gear and settings I used, in our sister blog post on the SIGMA blog. And, if you're tastebuds are tingling, you can get the recipes featured in the shoot here.
Without further ado, here are 7 practical tips for applying the techniques that make editorial food photography so captivating to your own cherished food photography.
1. Tell your story in images
Your food images should tell a story about your dish. The fun thing about photographing food for magazines or in a more editorial style is is that not everything has to be stiff and pristine. In fact, this style is more about capturing a feeling than perfection.
If you need ideas for what kind of images will tell your story, try asking yourself these questions:
What inspired you to create it?
How did you develop the recipe?
Was it passed down through your family or did you create it from scratch?
Who do you image is eating this dish?
Where and how is it being served?
What is the most compelling or beautiful element of the recipe?
2. Shoot to a layout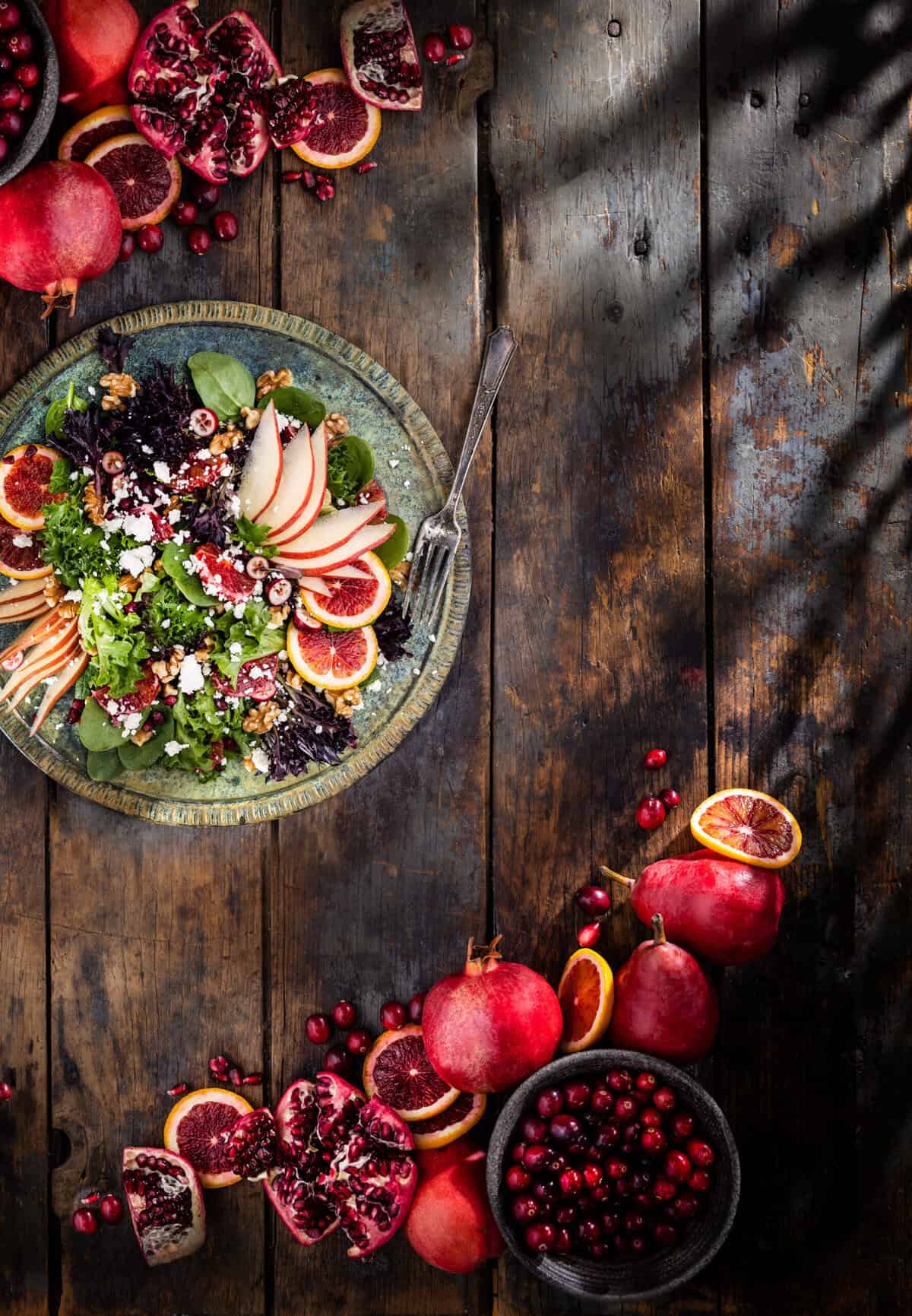 It may feel odd, but in editorial food photography, you often have to leave room for, well, the editorial. The headings, text, blurbs, and pullouts are all part of your composition.
That's why, when you see a delicious dish on the cover, Food and Wine or 5 Techniques for Fluffier Pancakes aren't covering up important elements of the image. It's not a coincidence! It's thoughtful editorial composition!
So, when you're photographing food, think about how the final images will fit into your blog, website, social media feed, or scrapbook. Intentionally leave negative space for headlines, those pesky TikTok buttons, or any flavor text that might come along.
In the upper right hand corner of the above image, we used the dappled light to create some texture that added to the atmosphere without getting in the way of the text. For this shoot, we used the Dapple Pro between the set and the window to cast the striking shadows.
In our workshop, we had an overlay of the layout that we could work around, but your negative spaces doesn't have to be as blatant as ours. It can look more like breathing room, or however it will best serve your end goal.
3. Come up with a theme and color palette
Now, I know that this isn't always an option when you're capturing a real holiday dinner. But if you can, choose a theme and color palette to give your images a cohesive and polished look. This will make them more visually appealing and professional.
Because color is such a huge part of how I see and visualize ideas, the vibrant reds influenced the creation of this winter fruits salad. Walking through the grocery store, I was completely inspired and knew this salad would be a festive and unique addition to the family table.
4. Use composition rules to strengthen your images
Composition rules such as layering, contrast, and the rule of thirds can make your images more interesting and visually appealing. A little intentional composition can go a long way to elevating your holiday snapshots. Here are a couple examples:
Layering: Use coasters or napkins under glassware, stack dishes, or play with the foreground, midground, and background to add visual interest.
Contrast: Help the subject of your image stand out with a backdrop of a contrasting color.
Rule of Thirds: Off-centering your subject and giving it space to the left or right leaves room to pull the viewer into the frame and lead the eye to what's important.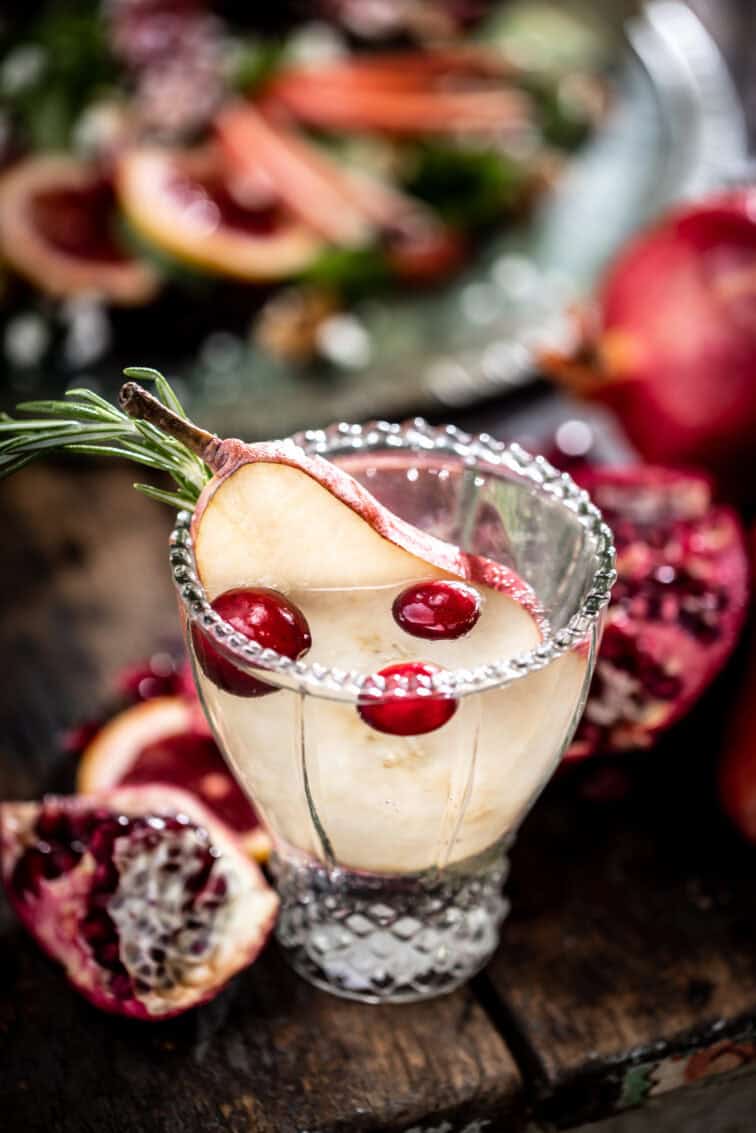 5. Choose a focal point and capture the details
Decide on the focal point of your image, then capture the details that complete the story. If your focal point is a finished dish, try to also capture the dish being prepared or served. If your focal point is Grandma handing your son a cookie, try to also capture their hands together, or the giggles and smiling faces.
You can use a wide-angle lens to show the entire scene, or a macro lens to capture all of the textures and tiny details.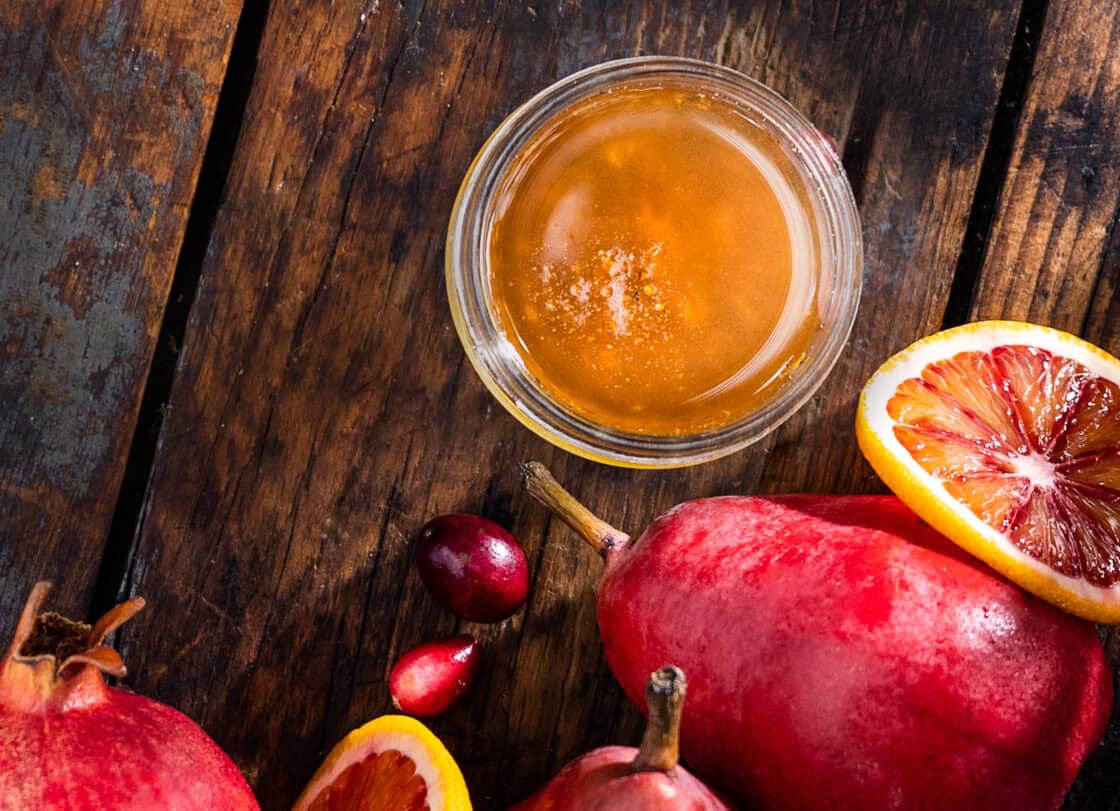 6. Add a recipe to the shot
Including a recipe card or the ingredients and cooking utensils in the shot can give your images context and make them more personal. Where does this dish come from? Do you have a recipe card in your family member's handwriting? Was it in a cookbook that looks like it's been well-loved with splashes of sauce or smears of chocolate?
History and the relationships around food are compelling additions to your images. That way you can remember the food, but also who shared it with the family and why.
7. Add evidence of people being there
Remember to focus on storytelling, which involves the people making and enjoying the food! Here are some of my favorite ways to capture the feelings and the story surrounding a dish.
Take in-process shots of the food being prepared
Include hands in action: serving, carrying, stirring, or uncovering are some personal favorites
A steaming hot dish implies the immediacy of the meal and create anticipation in the shot
Add a little mess! It's all part of capturing the story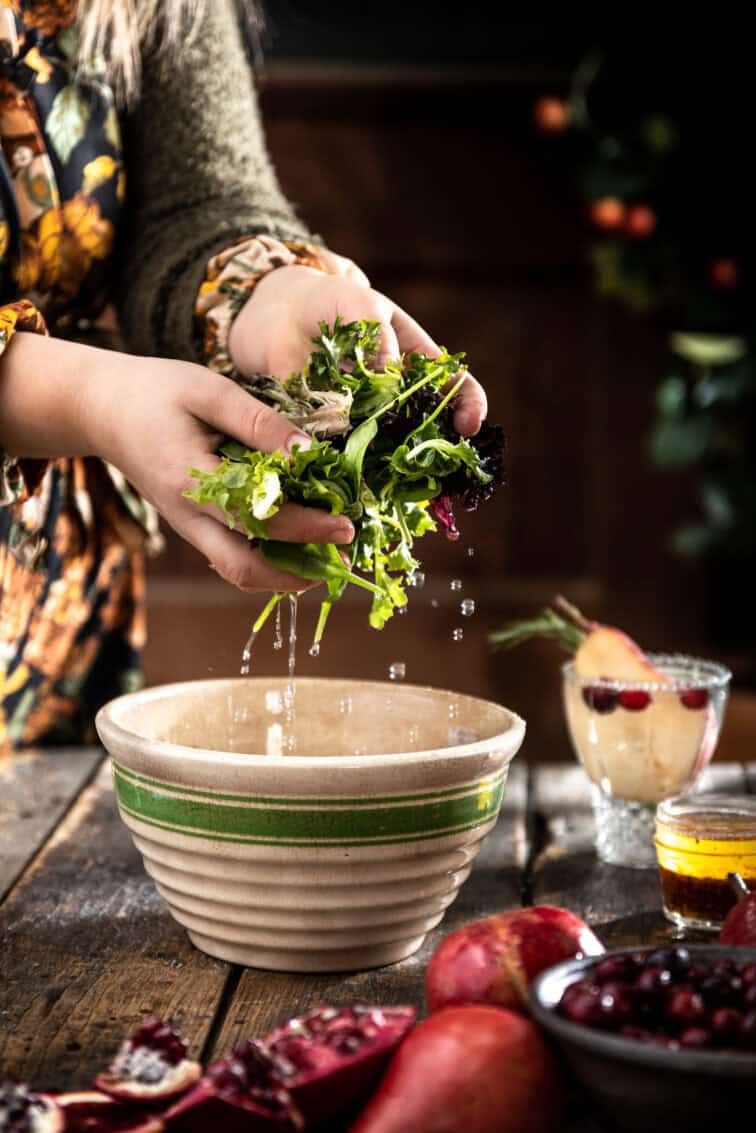 I hope you enjoyed this little lesson in editorial food photograph. You don't have to work for a magazine to borrow from their techniques. I've found it's a great way to capture family memories in a deeper way that I appreciate when looking back on the images.
If you use the templates to create your own magazine spread, we want to see! Tag @littlerustedladle on Instagram with your images. We'd love to see what you create.
And, if you haven't checked out the workshop blog post over on SIGMA's site, I encourage you to do that. We get real technical over there with lenses, settings, and all of the nerdy food photography details.