Bring something new and special to your holiday table with this extremely quick and easy Winter Fruits Salad. It's the perfect plated appetizer or toss the ingredients together for a memorable winter salad to share.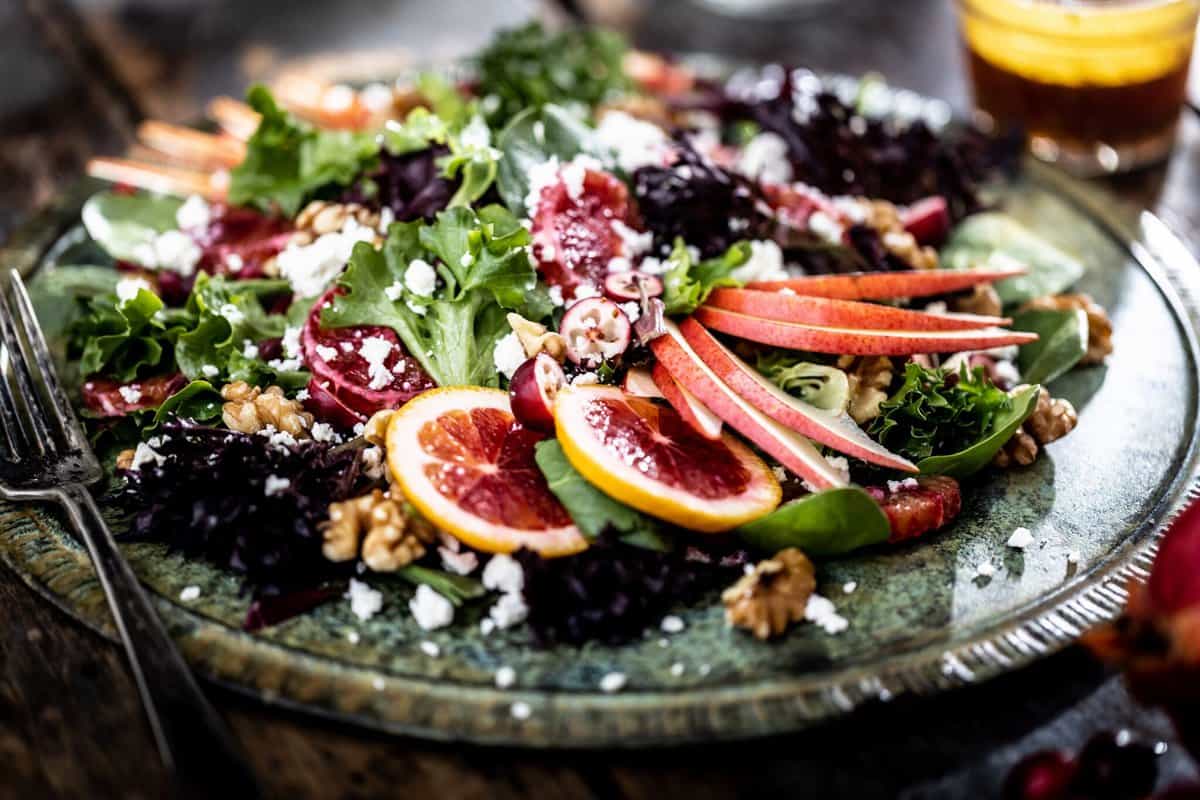 Incorporate Seasonal Winter Fruits in your Salad
Do you ever get stuck on what to make for a holiday potluck? There are the old standbys that everyone loves, but sometimes it's fun to bring something new to the table. An elevated dish that can be tossed together but will still have all of you aunts and cousins asking for the recipe.
So this holiday season, I wanted to create a dish that was a feast for the eyes and the appetite. The combination of sweet and tangy flavors, along with the crunch of the walnuts and the creaminess of the feta cheese, makes this salad an absolute winner. Plus, the vibrant colors of the fruits and vegetables make it a visually appealing addition to any table.
Whenever I'm creating a new recipe, there are several factors I take into consideration.
Seasonal produce
Flavor combinations
Textures
Who will be eating and what else is being served
Any time I walk through the grocery store, I make sure to check out the fresh produce so I can see the seasonal selection. Around the holidays, red pears, citrus fruits, pomegranates, and cranberries were catching my eye. AND, I thought the bright, tangy flavors would be a nice complement to the more savory dishes that typically appear at holiday gatherings.
With that base in mind, I decided to flesh out the flavor palette with walnuts, feta cheese crumbles, and red onions. And, to top it off, a simple sunflower oil vinaigrette with some of the citrus and nutty flavors already found in the salad.
I was extremely pleased with how it turned out, and it was a hit at my family gathering too!
How to Make the Best Simple Winter Fruits Salad
A good salad recipe always begins with washing and preparing all of the ingredients.
Wash and dry your greens before tearing or chopping them into smaller pieces if necessary.
Wash the outside of the pears and pat dry.

If you're individually plating your salads, the thin slivers are an attractive addition. Cut your pear in half vertically, then, with the flesh-side down, cut thin, vertical slices. This way, they will retain the pretty, curved shape of the pear.
If you're serving the salad family-style, you may want smaller pieces so they can be more evenly distributed.

Wash the outsides of the blackberries and cranberries before halving them with a paring knife.
Slice the blood oranges with the rind still on, to create flat, circular, pieces. Then, remove the rind by making a cut through the rind and peeling around.
Make sure your pomegranate is dry before cutting into it to avoid slipping. Use a paring knife to make a small incision in the skin of the pomegranate. Then, use your thumbs to pull the pomegranate into two halves and remove the seeds.
Peel the red onion, and slice into small slivers.
If you are plating each salad, layer your prepared fruits with your greens in a visually appealing way. Then, sprinkle the salad with walnuts, feta crumbles, and red onions.
If you are preparing the salad family style, Lightly toss all of the ingredients with the greens until they are well-distributed. Try not to let all of the small pieces fall to the bottom of the dish, or toss the salad too vigorously, smushing the fruit.
Serve the salad with the tangy vinaigrette recipe included here, or your favorite dressing. If you want to serve the winter fruits salad pre-dressed, wait to add the vinaigrette until just before meal time.
Adding a Festive Touch
The bright colors of the fruit were such an inspiration to me as I was creating this salad recipe. I love combining unique flavors for new recipes, but I can't help but put my food photographer cap on as well.
Once the salad was plated and looking fabulous, I used the extra ingredients to spruce up my table setting. A swath of vibrant fruit made fun décor for the holiday table. And I couldn't resist whipping up a little cocktail to accompany my holiday fruits salad. (You'll find the recipe for my Pear Fizz below.)
Recreating this recipe for a live storytelling masterclass with SIGMA and B&H Event Space was a blast. We focused on telling a story with the images in an editorial style, complete with a magazine spread mockup! (Try it yourself with a free download here!)
If you would like to learn more about the food photography workshop and all of the juicy food photography details, check out our sister post on the SIGMA blog.
Finally, if you are interested in the expert storytelling tips we pulled from the principles of editorial food photography, check out this post! We really dug into how to best capture the memories we make when gathered with family around the holiday table.
While I couldn't capture my recipe in this way during my holiday gathering, I strive, through my images, to capture the love, laugher, and memories also brought to the holiday table.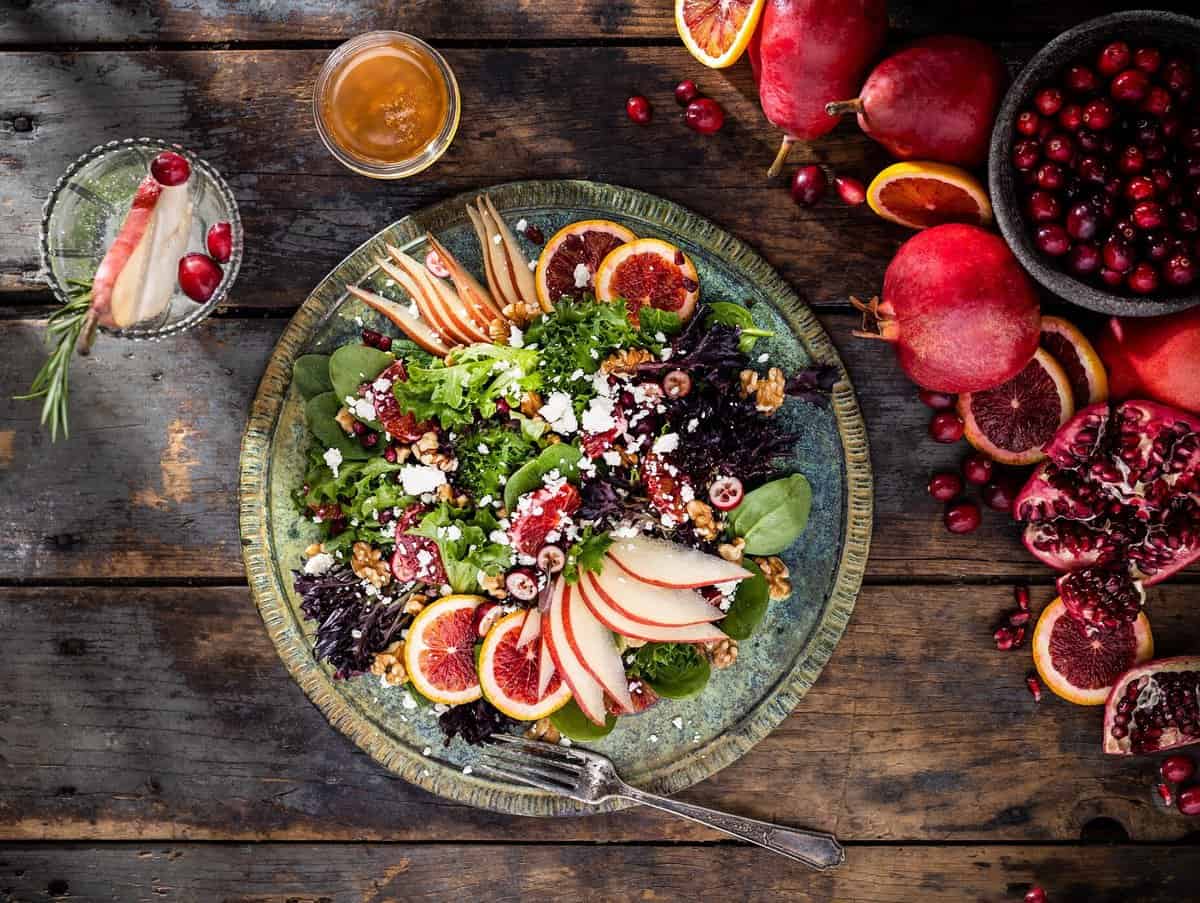 ---
Thank you so much for visiting the Little Rusted Ladle Blog! We spend a lot of time here indulging in our love of food and food photography. If you're interested in hearing more from me, and keeping up on the live classes and teaching I do pretty frequently, join our mailing list!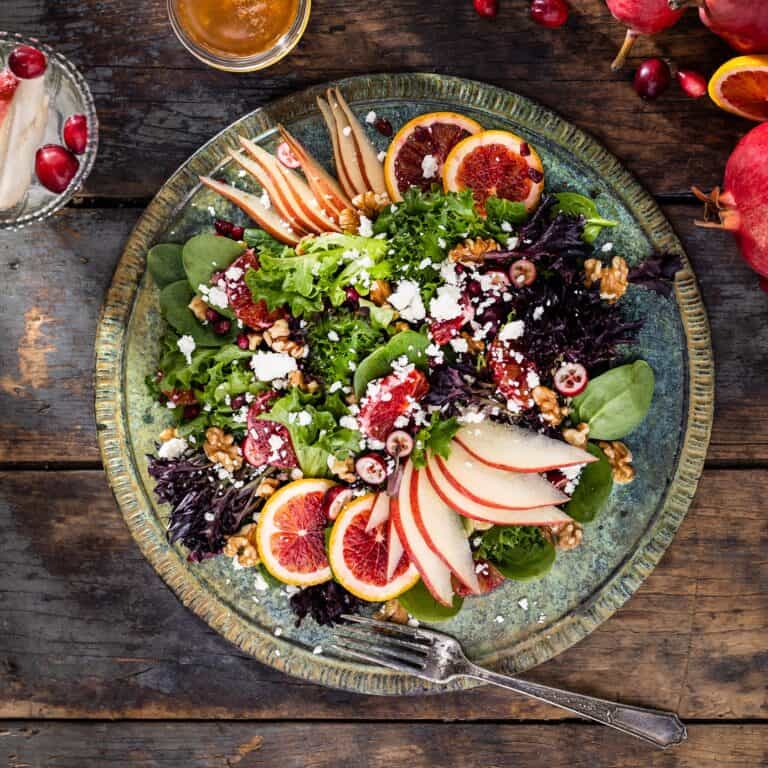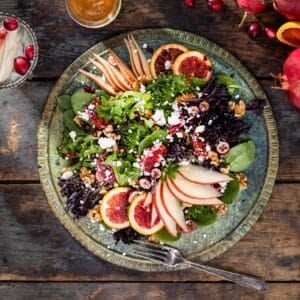 Ingredients
your favorite greens

red pears

sliced

blackberries

halved

blood oranges

sliced and peeled

cranberries

halved

pomegranate seeds

red onion

finely sliced

walnut pieces

feta cheese crumbles
Instructions
Wash and prepare your fruit and greens as desired.

 Add greens to a serving dish and layer artfully with the fruit.

Sprinkle red onion, walnuts, and feta cheese on top.

Serve with a side of vinaigrette.
Ingredients
1/3

cup

sunflower oil

3

tbsp

lime juice

3

tbsp

apple cider vinegar

blood orange zest

1

tbsp

blood orange juice

1/2

tsp

roast cinnamon

1/2

inch

ginger root

grated

Salt & pepper to taste
Instructions
Combine ingredients and serve on the side.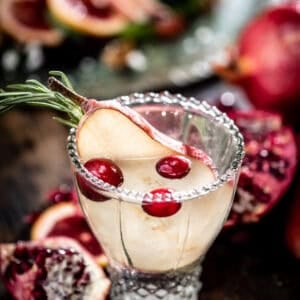 Ingredients
1

shot

Absolut pear vodka

1

tsp

homemade simple syrup

cranberry seltzer water
Instructions
Mix vodka and simple syrup in a glass.

Top with cranberry seltzer water.

Garnish with sliced pear, cranberries, and rosemary.