Food photography is all about capturing the essence of the food and making it look as delicious as possible. Each food photographer approaches this task with their own artistic voice, which resonates in their images.
You may be surprised to learn that what plays a crucial role in setting the mood, creating atmosphere, and selling a story… is your surface and background choice! It can define your style, help your work stand out, and make the viewer feel like they are right there with you.
Yes, that's right! The right background can make all the difference in your food photography. And, if you're looking for the best food backgrounds, you've come to the right place. This blog post will discuss what you should look for in backgrounds and surfaces that will express your unique style and elevate your food photography to the next level.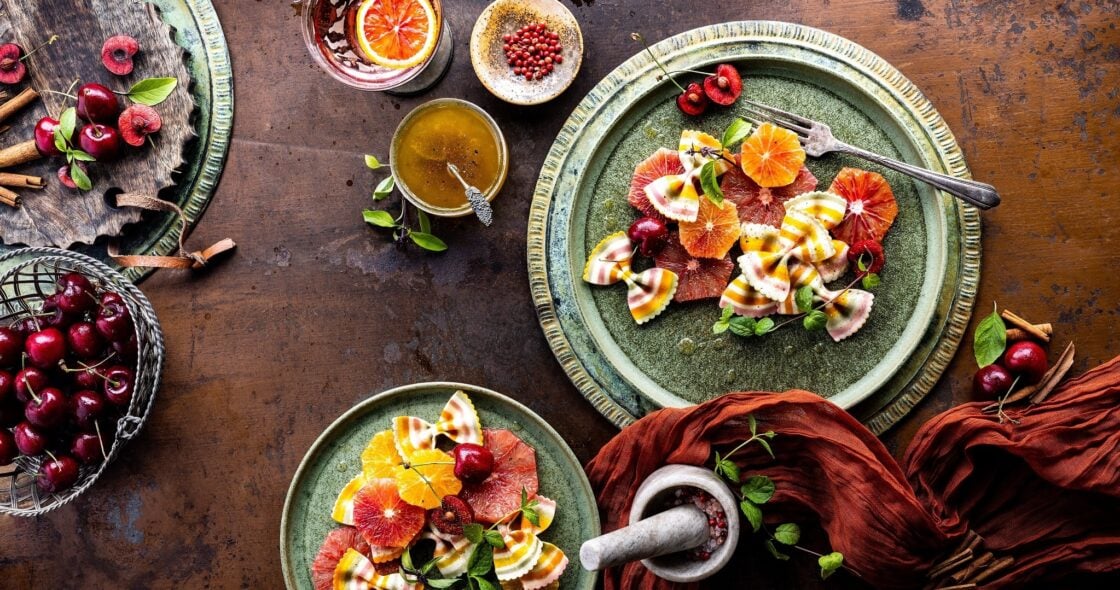 Bringing Artistic Voice to Food Photography Backgrounds
Knowing your style and what lights you up is going to show in each of your photos. It's also why you may choose a white marble background for a shot while a different photographer would go with concrete.
Finding your artistic voice is a huge part of becoming a successful food photographer. It's why we take the whole first month of my mentorship program, Portfolio to Profit, to dive into what each photographer values in their images and what story they want to tell.
There are plenty of exercises you can do to help you along on this journey.
You can check out my free 20-minute artistic voice training here.
But for the moment, try this simple test. Look at your portfolio of images and pick your three favorites. Then, try to describe the style of those images. Are they vivid or understated? Do they have even light or hard light? Are you prone to fill the shot with props or play with negative space? What feelings come to mind as you look them over?
Then, keep that list of words close at hand as you're setting up your next photography set. If you're not sure which props to use or what surface to select, see what matches up most with your list of words.
How to Choose the Right Food Background
Choosing the right food background can be daunting, especially if you're new to food photography. Here are some tips to help you choose the right food background:
1. Keep in Mind the Color of the Food:
The background should complement the color of the food. Your photography style will guide you as you weigh your options. Colorful foods may really shine in a neutral background, or an equally vivid color could produce bold results. Even food backgrounds colored similarly to the subject can be striking in the right context.
Really, the only thing to avoid is a color that makes the dish appear unappetizing or overpowers the dish in some way. Also consider that surface color can tint the light that hits it and reflects onto your subject. Make sure to check your color balance before finalizing your shot.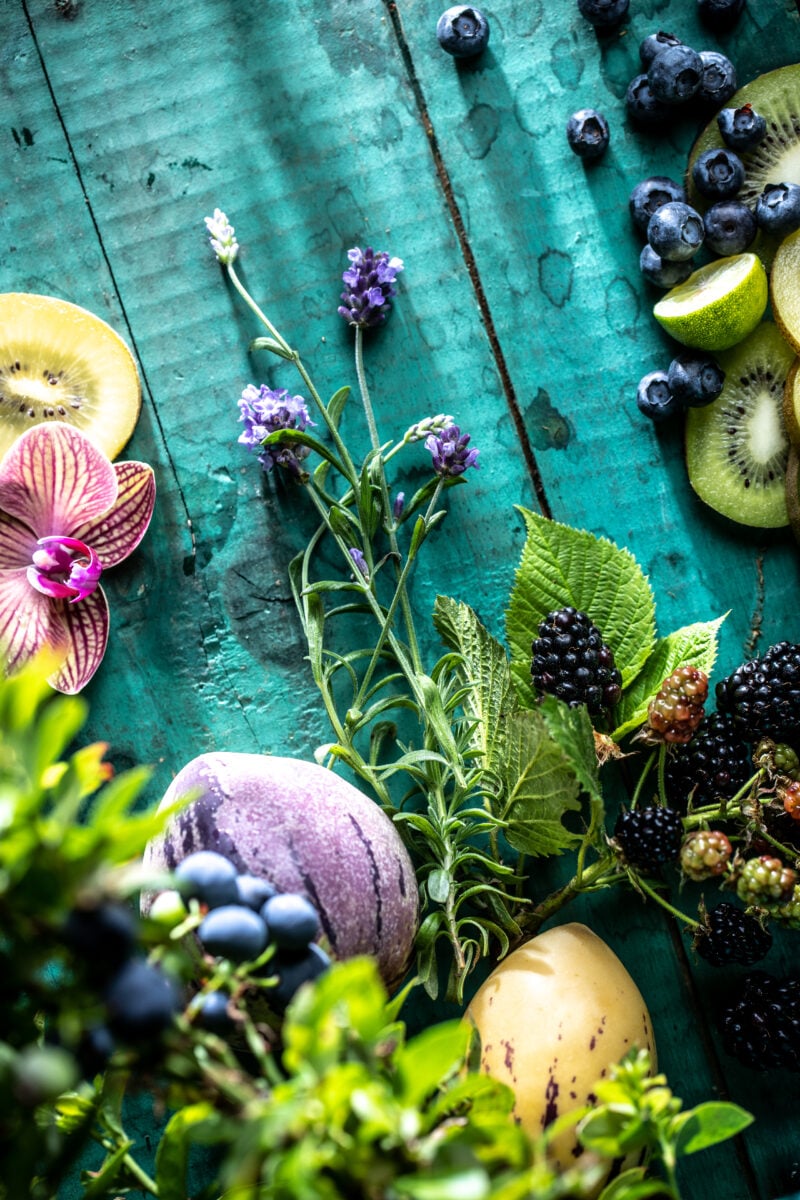 2. Consider the Style of the Food:
In general, the background should match the style of the food. For example, a cloth backdrop would work well in several situations. If you're photographing a fancier dish that you might find in a restaurant with tablecloths or a picnic for example. When considering the style of a food background, think about the story you want to tell with your image.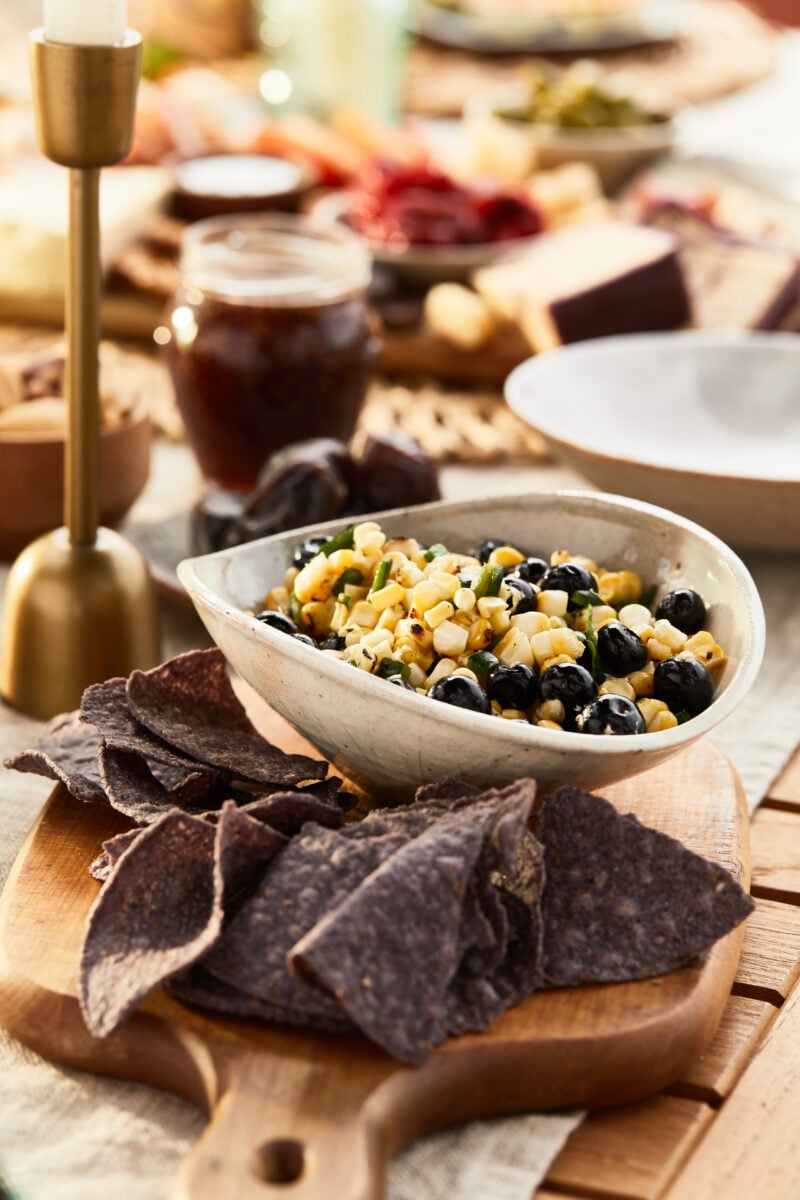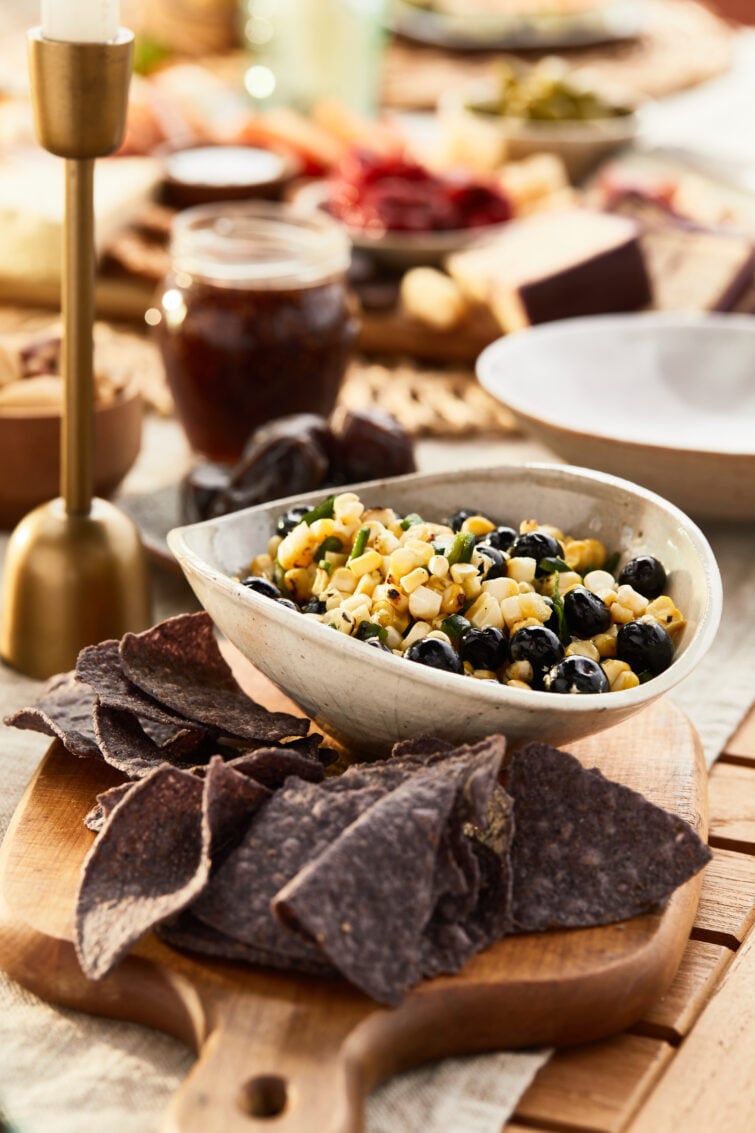 3. Give Thought to the Mood of the Food:
The background should enhance the mood of the food. For example, a dark marble background would work well if you're photographing a moody dish while something brighter would be appropriate for a more playful dish.
4. Determine the Versatility of the Backdrop:
When investing in surfaces and backgrounds, think about how much use you'll get out of it before you buy. If the surface is extremely specific it may call attention to itself in your portfolio.
Think also about your brand colors. This is something we dive into quite a bit in my mentorship course Portfolio to Profit. If the background is a color that clashes with your brand aesthetic, it's not going to flow naturally with the rest of your portfolio images and you may only use it once!
The surface making workshops inside Portfolio to Profit encourage you to create surfaces that utilize your brand colors, making it an easy choice for your portfolio images.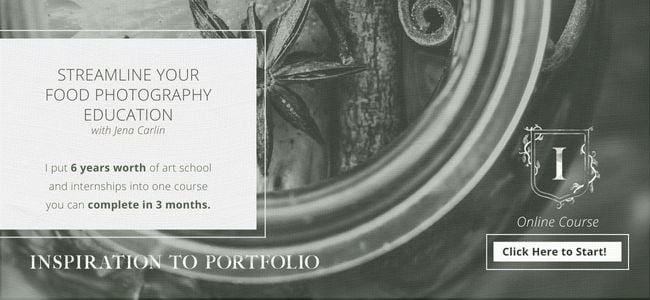 Best Backgrounds for Food Photography
There are so many food backdrops to choose from, but I'll touch on a couple of big ones here. Your choices will stem from several factors: cost, storage space, and access to local or online retailers. Here are some of the most popular types:
1. Making Your Own Backdrops:
Surface making is an extremely fun process and you end up with something completely unique you can use as a food background. I studied fine art in school, and because of that expertise, I was hired by J-Lo, Lauren Conrad, Taste of Home, and Kohls to paint room sets while I was also working as a photography assistant.
When I started my business I continued to paint backdrops. Most of them I made with my own brand in mind, but occassionally I created a custom backdrop for a client who was looking for something specific and unique!
I've done several demos on surface and backdrop creation, working with wood, concrete, canvas, metal, and more! I've even painted beadboard and trim to create the bakery in this set I used in a demo for Master the Art of Food Photography a couple of years ago.
All this to say, my preference is creating my own surfaces when I have the opportunity. And, if you haven't tried it out, I would encourage you to!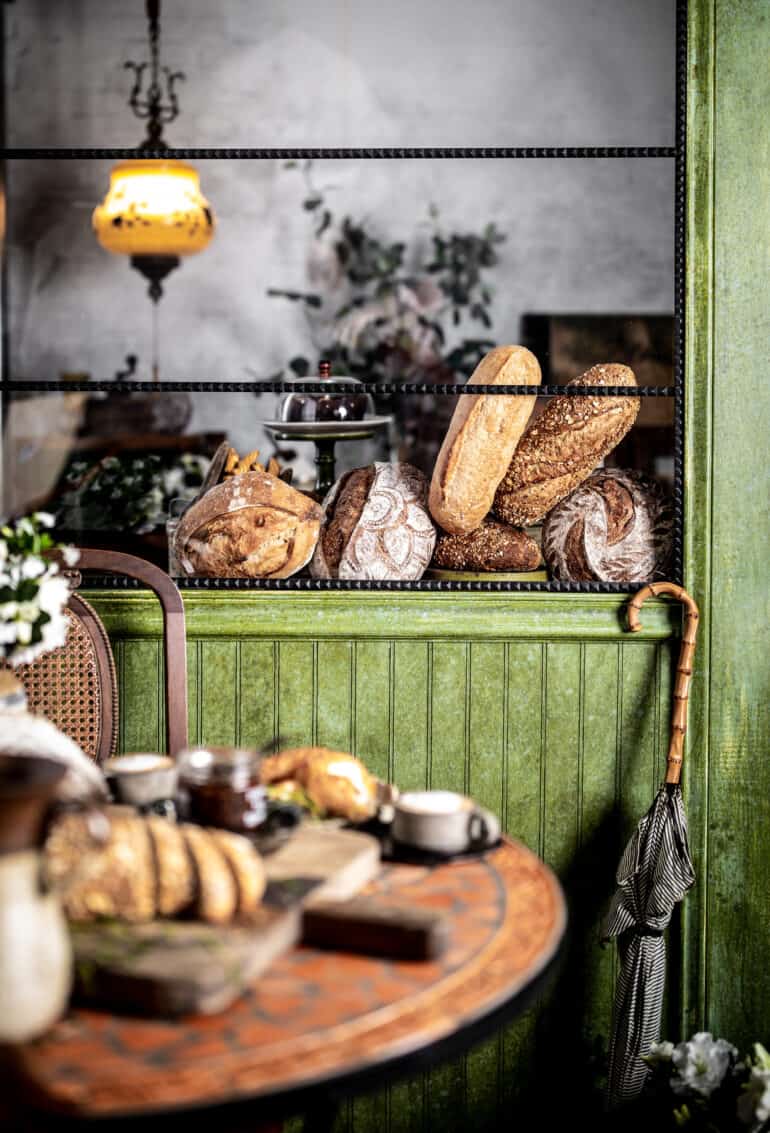 2. Concrete Backdrops:
Concrete backdrops are a great choice for creating an industrial and urban look. They work well with food that has a modern and edgy feel. Real concrete is heavy and breakable. A real polished concrete surface is a wonderful asset, but you can also use products like ready-mix concrete to create a concrete layer on wood, particle board, or even floral foam.
For example, the risers in this sushi image are foam shapes made to look like concrete blocks. They are simple to store and stage without sacrificing the concrete look.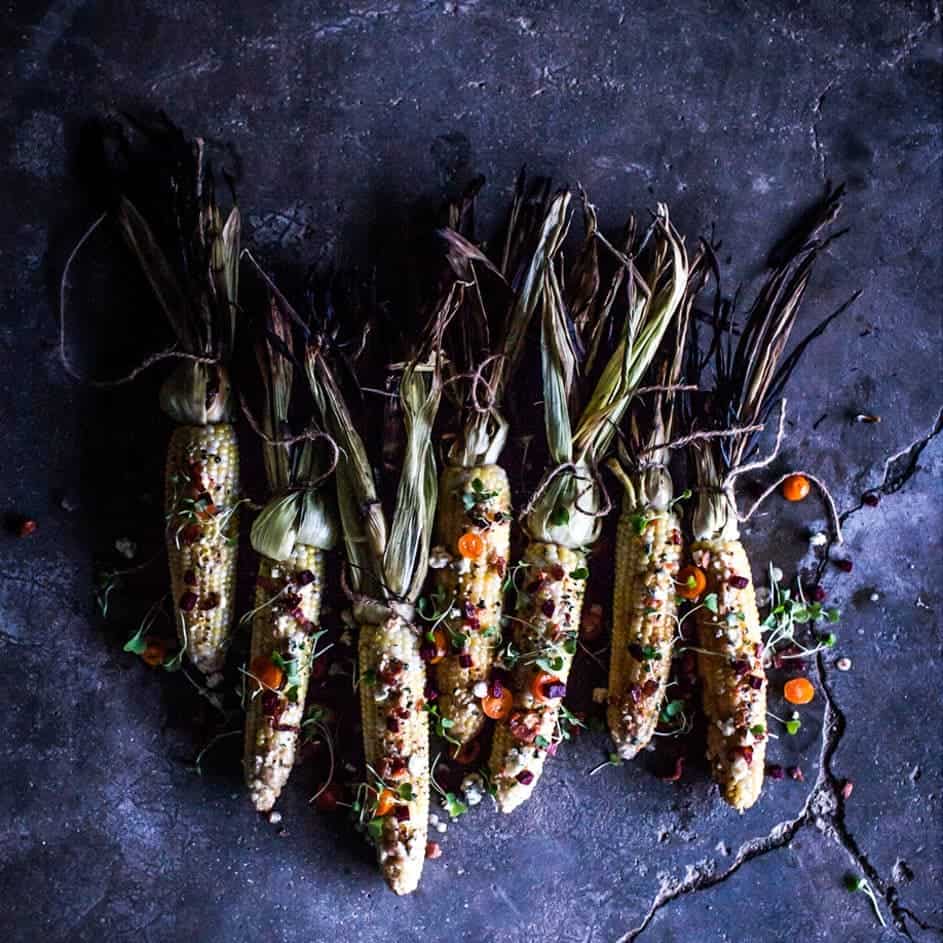 3. Wood Backdrops:
Wood backdrops are perfect for creating a rustic or homey look. Depending on the wood selected, you can also create specific spaces, like a butcher block in a home kitchen or the bartop or table in a casual restaurant.
They work well with many types of food because wood surfaces appear organically in so many places. It can be helpful to have different shades of wood to bring out the unique tones in a dish: light, dark, warm, cool, etc.
Many of my wood surfaces are "found" pieces, meaning that they have been salvaged from damaged furniture or other structures like fences or gates. I have sourced my from antique stores, junk yards, yard sales, and even the side of the road. (One of those great times to have a van!) I love the history that these pieces have: scratches, dents, peeling paint, and all!
4. Marble Backdrops:
Marble backgrounds are one of my favorite choices for food photography. The smooth, reflective surface adds a touch of elegance to your photographs and can interact beautifully with a variety of lighting styles.
Here are some guidelines for of the best marble backgrounds for food photography:
The color choice of your marble background will depend partly on your artistic preferences and partly on the type of food you're photographing. A white marble background is perfect for creating a clean and minimalist look.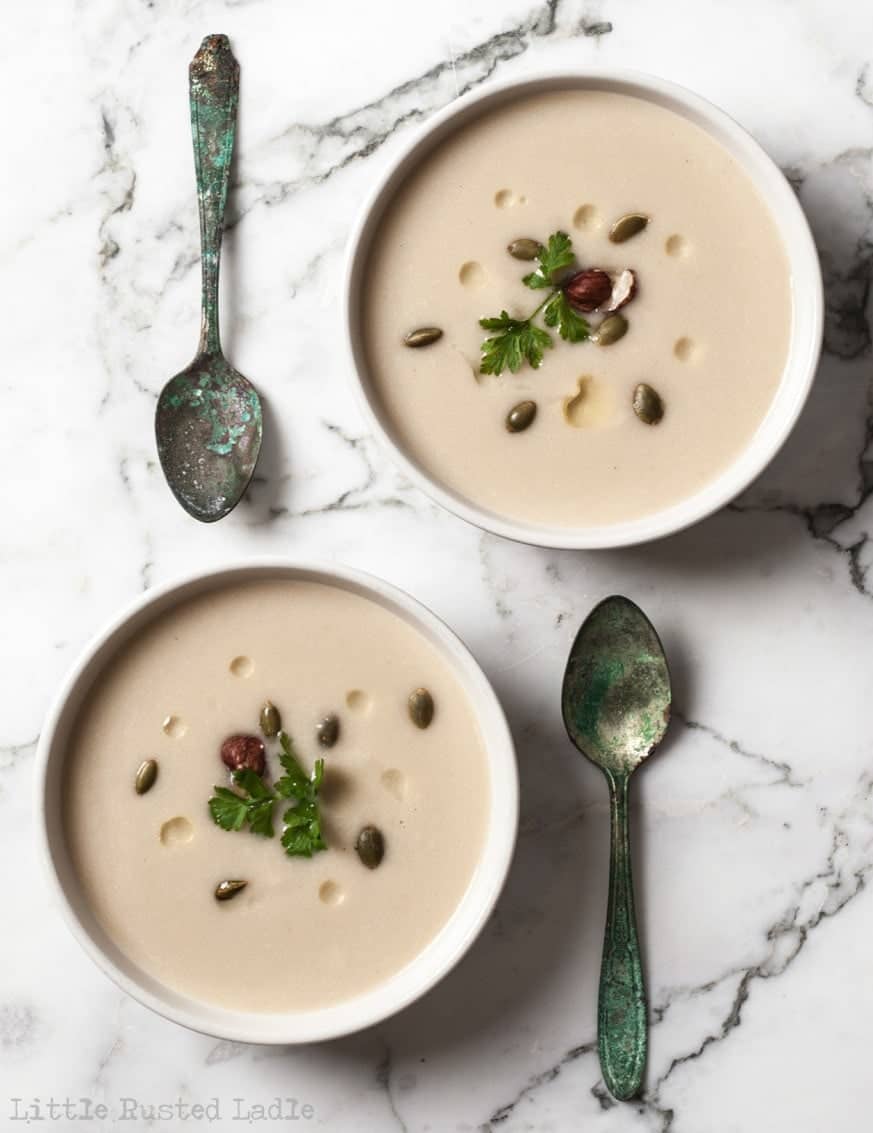 A dark marble background adds drama and depth to your food photography. And both options, as the far ends of the color spectrum, have the potential for high contrast or monochromatic scenes.
A gray marble background is a versatile option that works well with both bright and dark food. It's an excellent choice for creating a neutral and understated look.
I have found marble at hardware stores or specialty stores where they sell discounted, broken, counter pieces. This often works out well because the pieces are a manageable size, and the rough edge can be a beautiful addition to food photos. I also have marble pieces that are simply tabletops. Most of them I can remove from the original table if necessary, which makes them more versitile.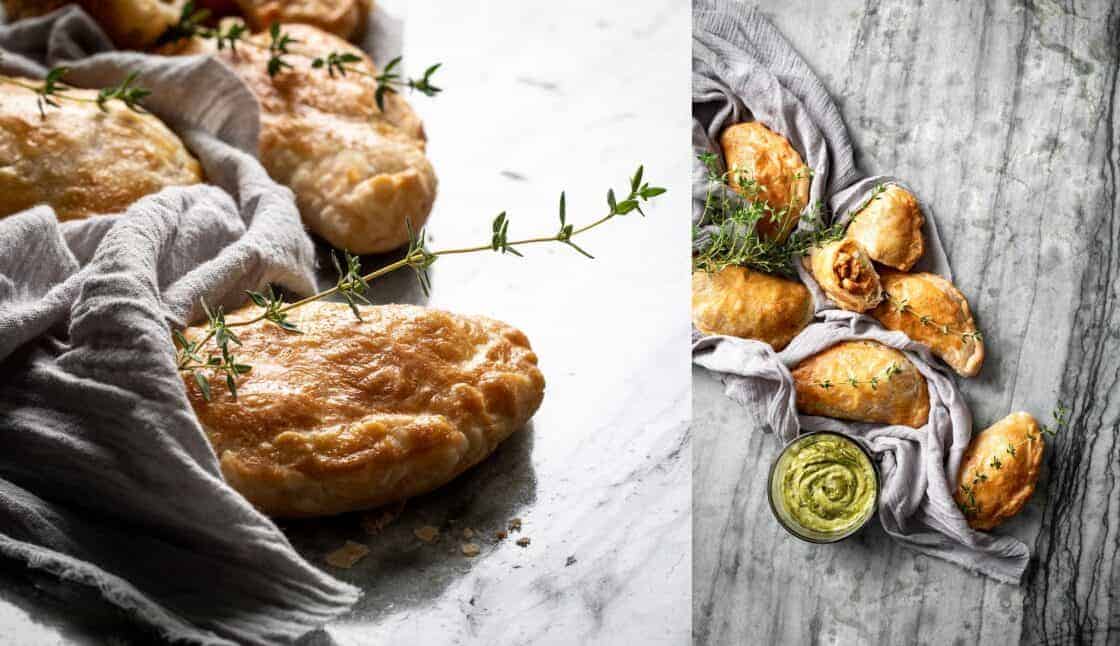 5. Textured Backdrops:
Textured backdrops come in various styles and add depth and interest to your food photography. Texture can be especially effective in macro food photography. When you are up close and personal and in dramatic or moody lighting situations the texture can cast tiny shadows.
While you can purchase flat surfaces with artificial textures, my favorite way to utilize texture is in a surface's natural properties. Pitting in worn stonework, rust on vintage metal pieces, and pronounced wood grain are all great examples of natural texture.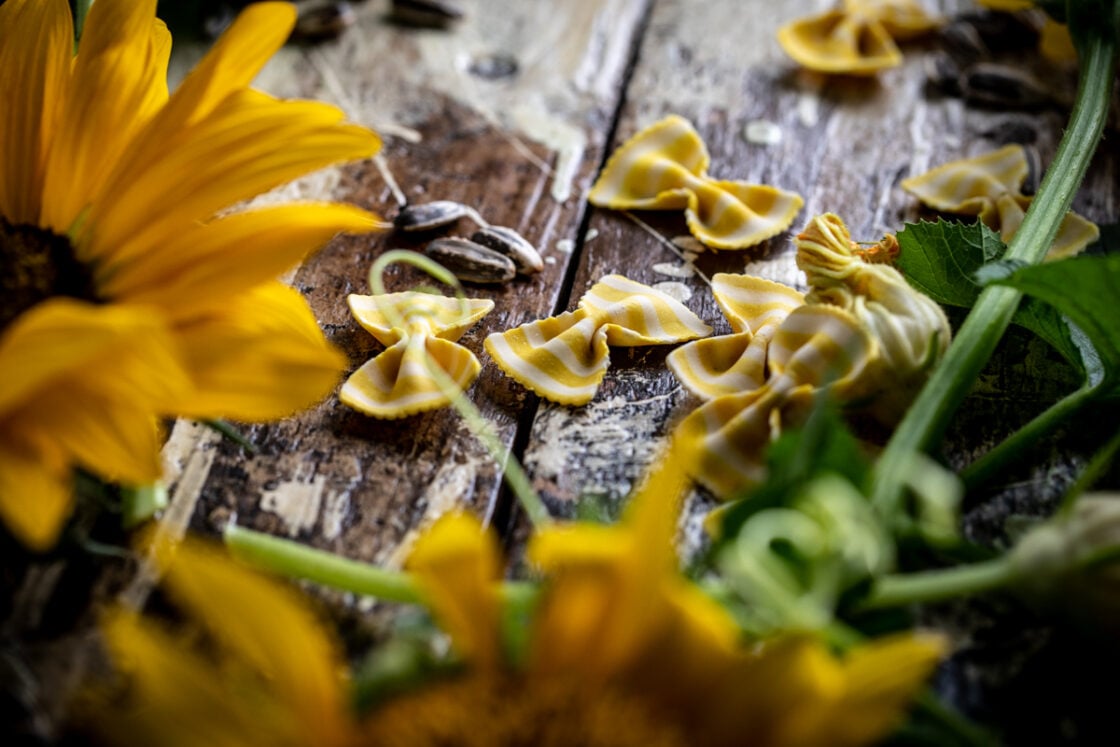 6. Manufactured or Printed Backdrops:
There is a reason that surface boards and paper backgrounds are so popular. They are lightweight, easy to store and transport, and come in a million different colors and styles. However, not all manufactured surfaces are made equally. Here are some things to look out for:
First, consider how you're going to be using the surface. Paper surfaces don't hold up the best to moisture and repeated cleaning. Be careful not to put food directly on a paper food photography backdrop. If you anticipate your set getting a little messy, it may be better to opt for a printed board that will hold up better to spills and splashes.
When looking at printed food photography backdrops, it's also important to investigate the printing quality. Some printed surfaces reveal printer dots on closer examination, so close up shots on your printed wood grain surface will be noticeably fake. Each company has its own standards, so shop around and find what works best for you and your photography.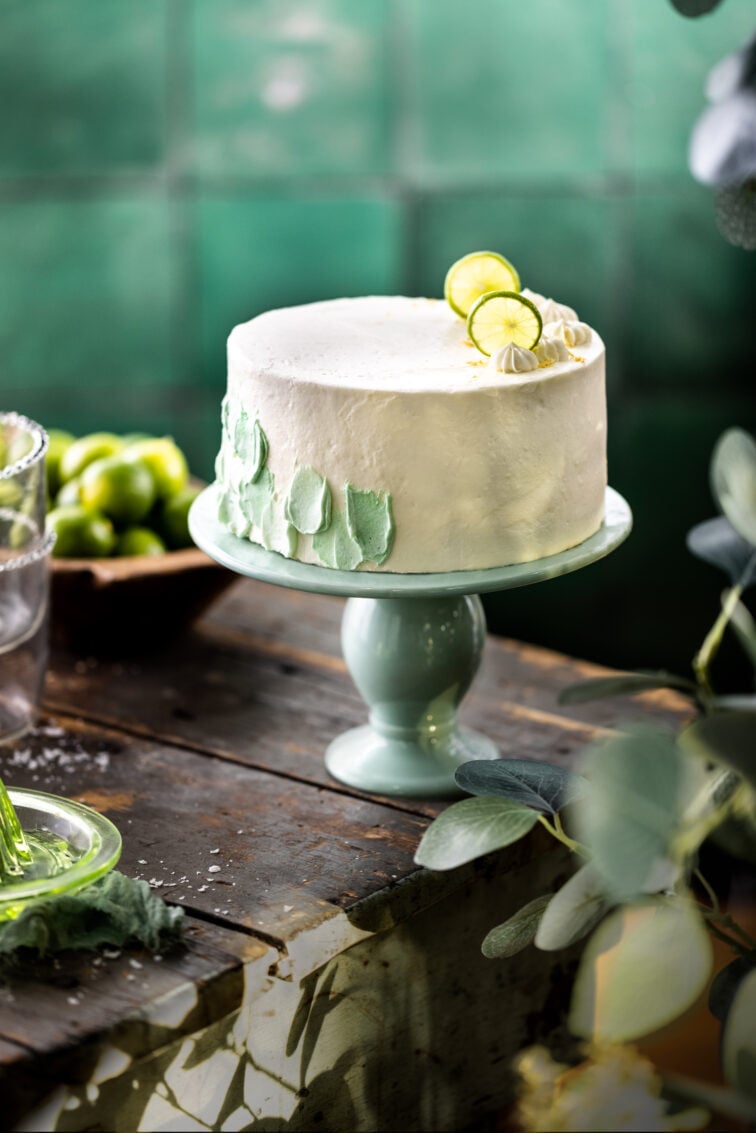 Where Can I Buy Food Photography Backdrops?
You can buy food photography backdrops online from various websites that specialize in photography backdrops. Some of the most popular and recommended options are backgrounds from V-Flat World, Black Velvet Styling, Woodville Workshop, and Bessie Bakes.
You can also find food photography backdrops anywhere you shop. Vintage or antique stores are great places to find cloth backdrops, tables, countertops, rusted sheet pans, and many other repurposed items. If it's fairly flat and helps to set a scene, it's a photography background!
Food Background Final Thoughts
In conclusion, choosing the right food background is crucial for enhancing the aesthetics of your food photography. It can also be a key player in displaying your artistic style. There are so many quality options to choose from, both new and used, manufactured as a surface or waiting for you to discover as a table top or other furniture. Marble backgrounds are great options to consider, especially for some added elegance.
Food photography backgrounds come in a variety of styles and colors so you can choose the one that complements your food and enhances its beauty.
Go out and experiment with different food backgrounds and take your food photography to the next level! If you'd like to learn more about how I create surfaces, how I choose the perfect background for a shoot, and much more about making a career in food photography join us inside my premium mentorship program for food photographers, Portfolio to Profit.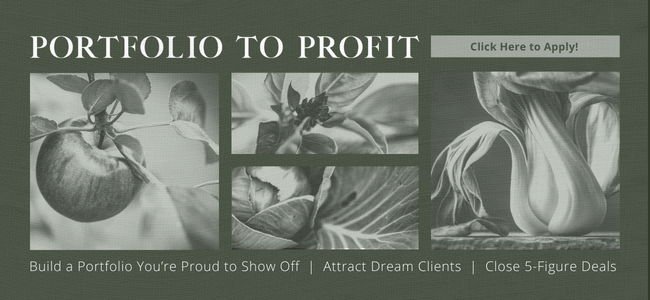 New on the Blog ⤵️