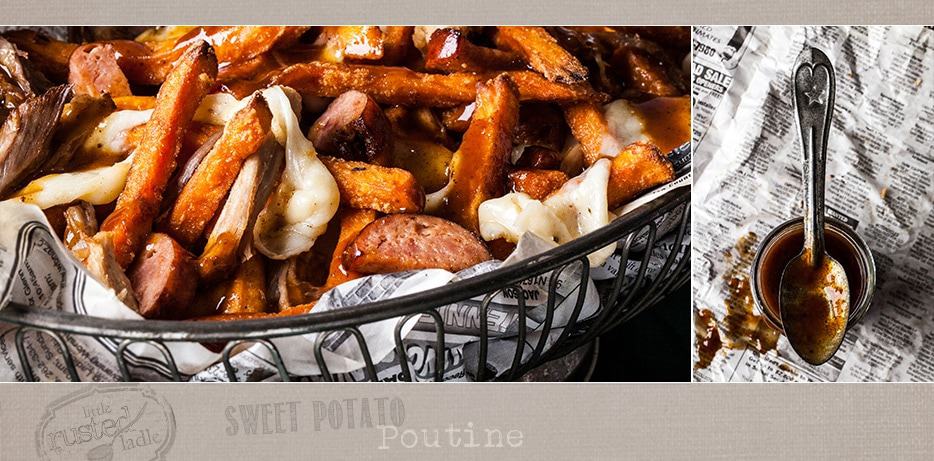 Since our Wisconsin Badgers NCAA Tournament came to a screeching halt last weekend with a heart breaking loss to Notre Dame, I'm less than exited about having a party for the final four this weekend. However, I will still be checking out the game, and I'm going to need some tasty treats to satisfy my cravings. Lately I've been obsessed with poutine. This slightly dirty sounding dish is a Canadian classic. French fries topped with gooey cheese curds and gravy. What could be better? Well, Jena and I set out to attempt that very task. Make poutine better. As luck would have it, we come from Wisconsin, so cheese curds are really another food group unto themselves. We have access to the best cheese curds in the country. They are also available in many flavors. Cajun, garlic and chive, even bloody mary flavored cheese curds. So, by adding Wisconsin cheese curds, we're already taking it up a notch.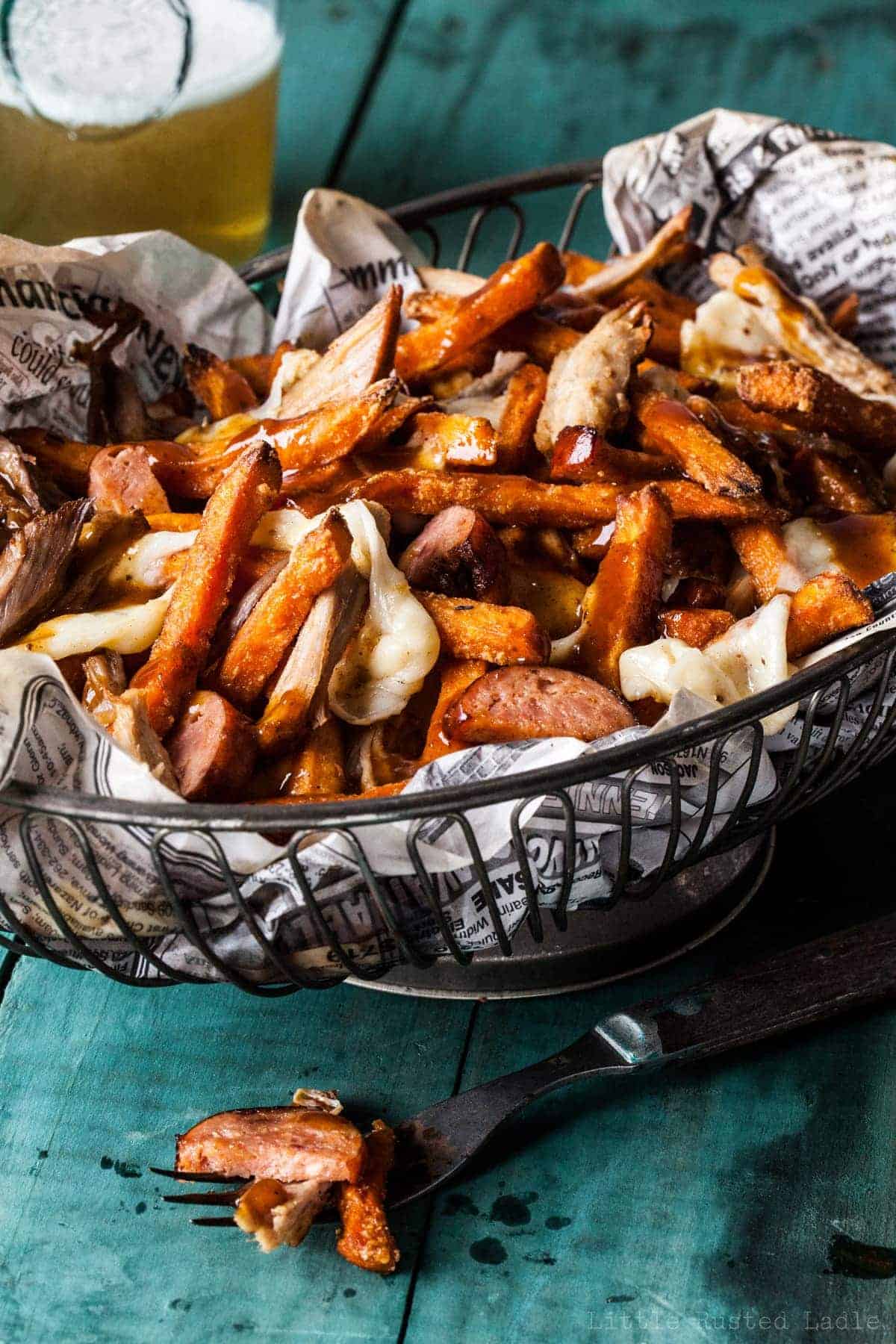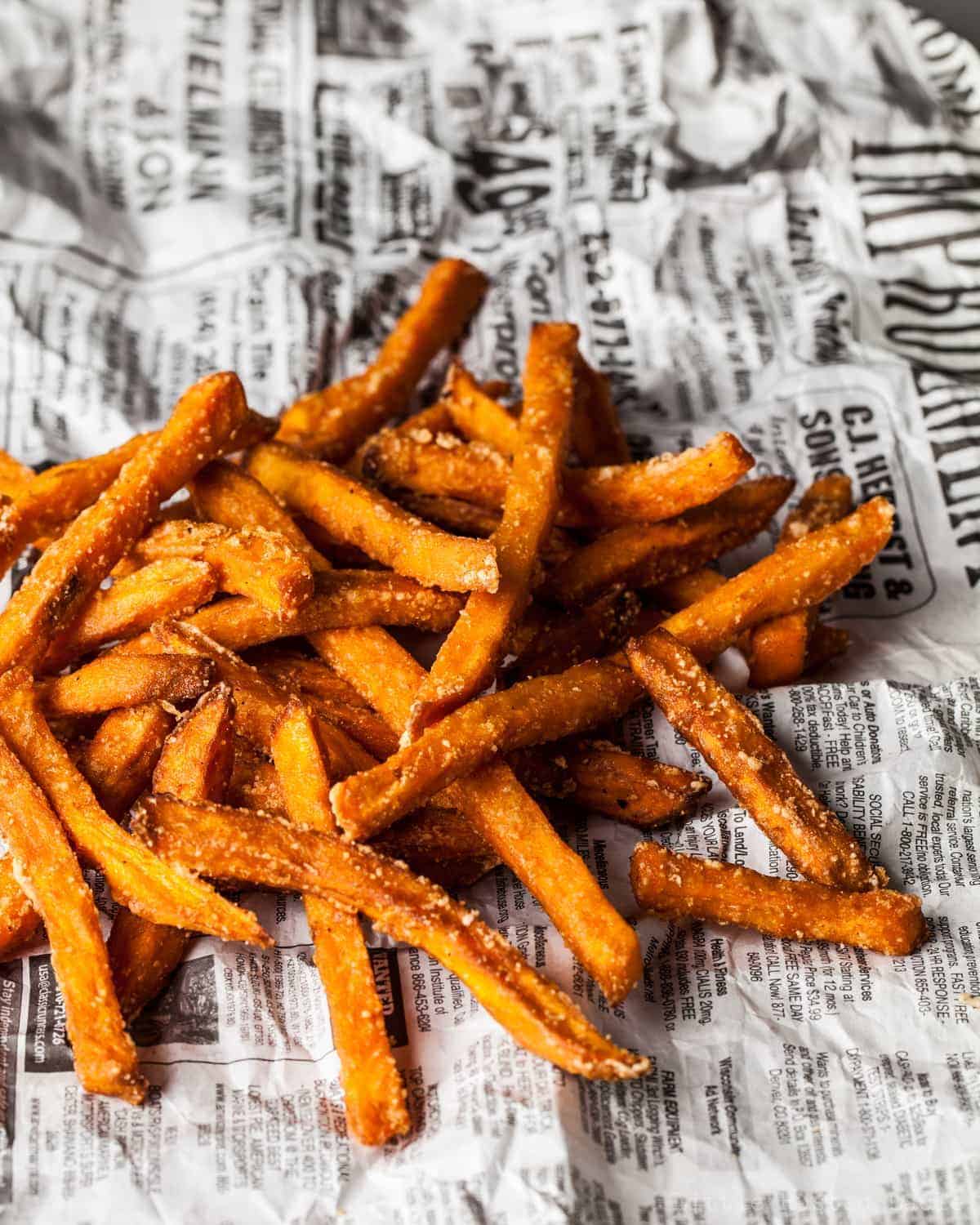 If we wanted a better poutine though, it was going to require more than an upgrade in cheese curds. It's Spring, so that means barbecue. Pulled pork seemed like a natural for poutine, so we added some homemade pulled pork to the list. Since I wanted something easy to make, my normal process of smoking a pork butt for 12 hours in my smoker seemed a little overkill, so instead I simply rubbed about two pounds of boneless pork roast with about a quarter cup of a sugar and paprika mixture. A 50/50 blend works fine. Add a teaspoon of salt and rub it all over the pork. Add it to a slow cooker with a half a pound of smoked sausage, a cup of water or beer, and about a tablespoon of apple cider vinegar. stir, cover and cook on low for about 5 hours or until mixture can be pulled apart with a fork. I added smoked sausage pieces to the mix to add some smokey flavor to the pork since I wasn't smoking it myself. You can bypass this whole step by using any prepared pulled pork you want. If you have a favorite barbecue joint, this would be the time to get take out. When the pork is tender, remove the roast and sausage, let it cool, then use the liquid to make the sauce by straining the fat off the top and adding 1/4 cup ketchup, a couple tablespoons of brown sugar and 1/2 cup of prepared beef gravy. Cook the mixture on high until hot and thickened slightly. Pull the pork with a couple of forks, or roughly chop it with a knife. Add it back to the sauce and keep warm until needed.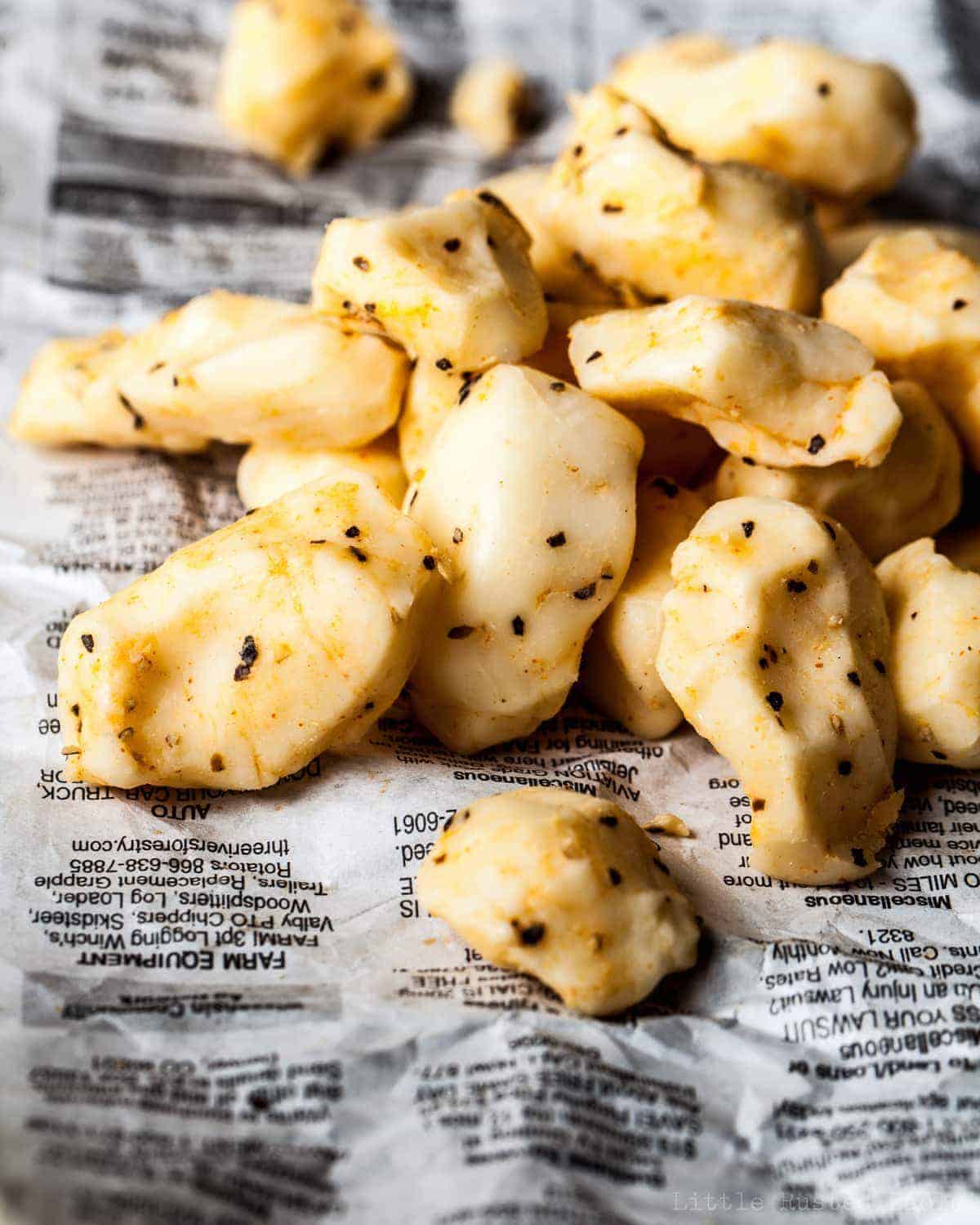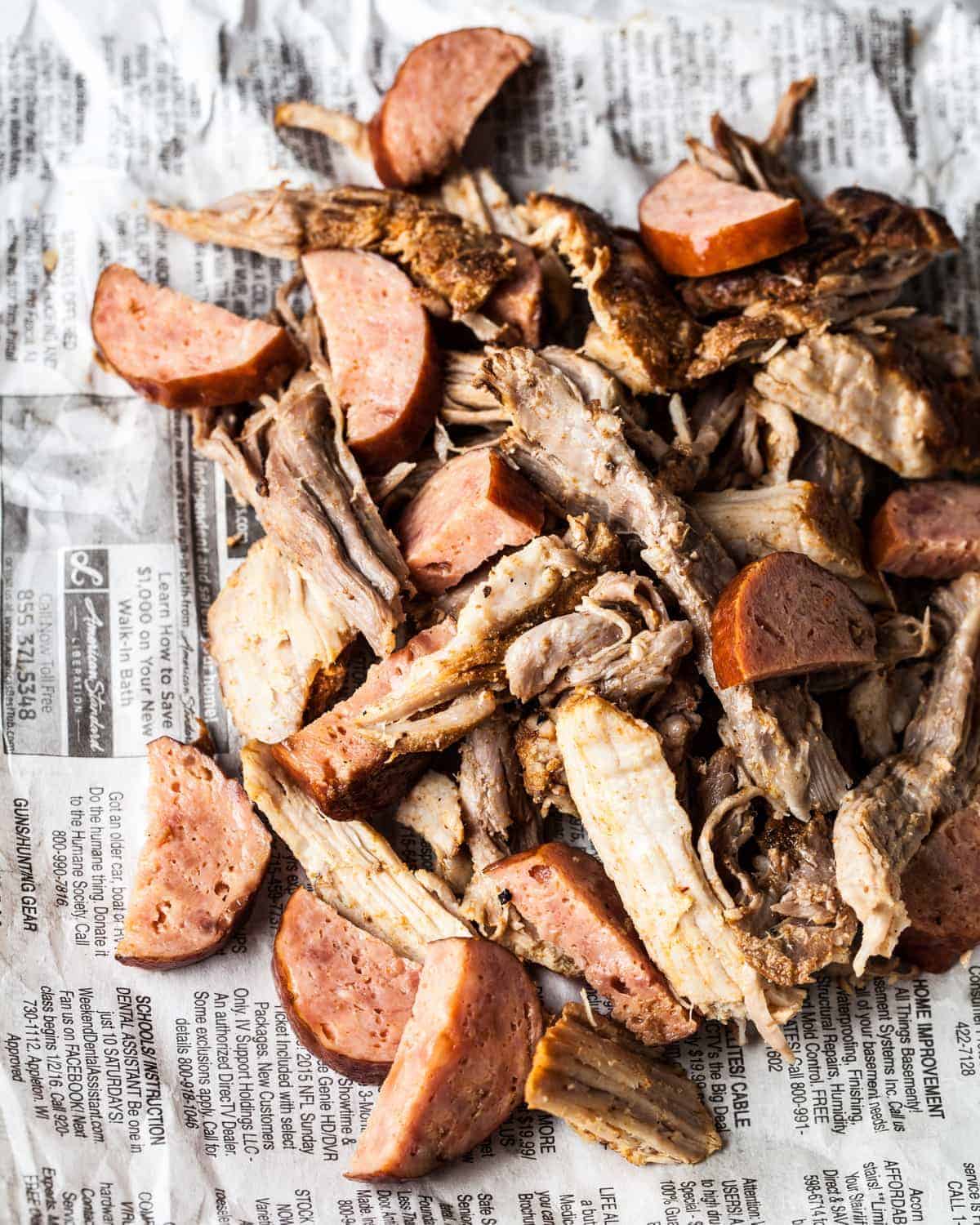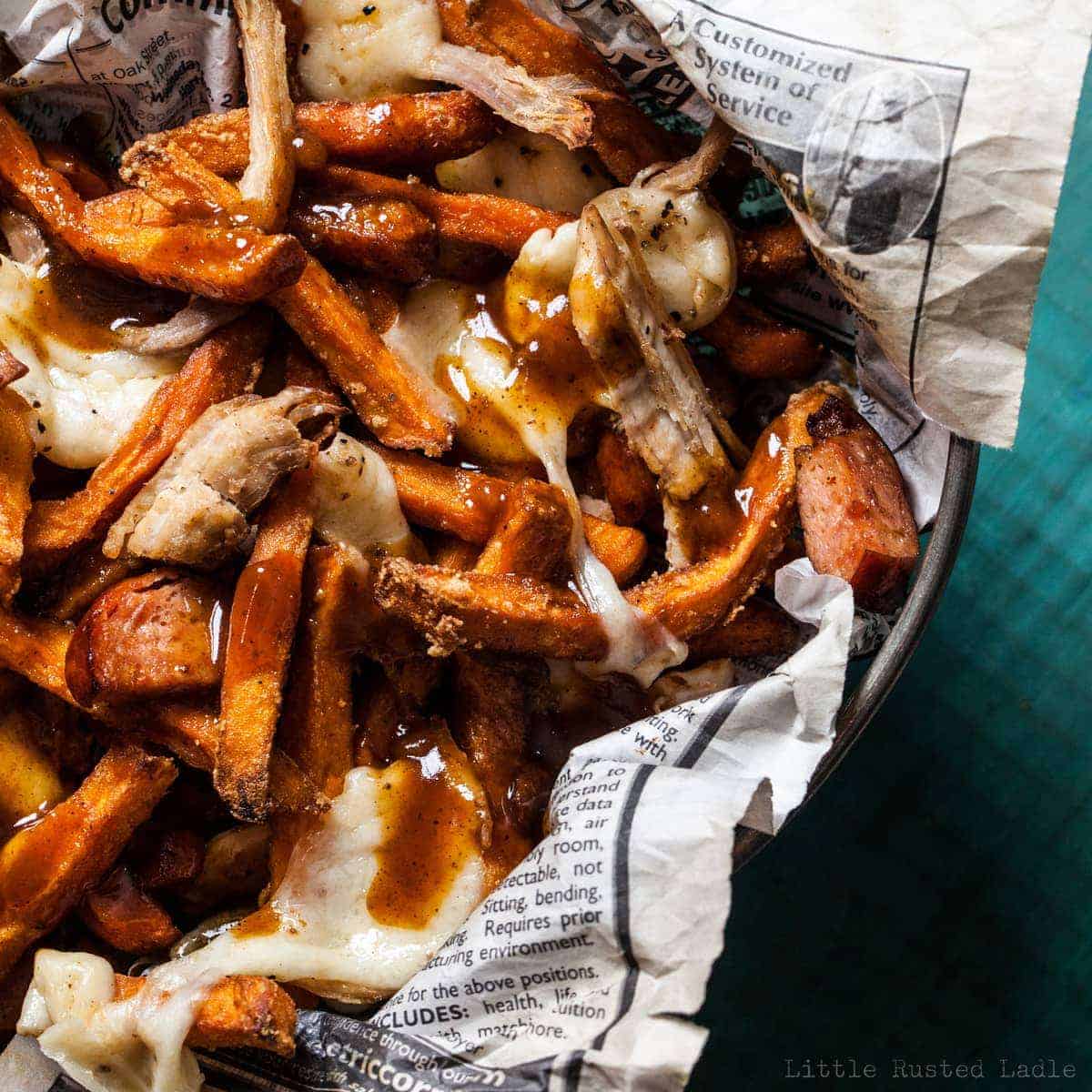 Since we are doing kind of a southern barbecue version of poutine, what better way to spruce it up than by substituting sweet potatoes for the russet potatoes? Sweet potatoes have a nice, sweet flavor that goes great with barbecue. If you want to make your own, feel free. I hate deep frying in the house, so we went with the oven baked version. The only step left was to put it all together. Make a nice pile of sweet potato fries on a platter or baking sheet. Scatter about a cup of cheese curds of your choice over the top. Place in a 200 degree oven for about 10 minutes or until the curds are nice and soft. Remove from the oven, spoon a healthy portion of the pork and sauce mixture over the top and have at it. Whether you're watching the final four games or golf, or enjoying a warm spring weekend (we're expecting snow), this pulled pork poutine will be the real winner, and you'll thank me for it. until next time, cook with love and live to cook.
Jim & Jena.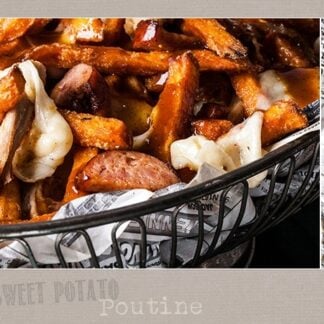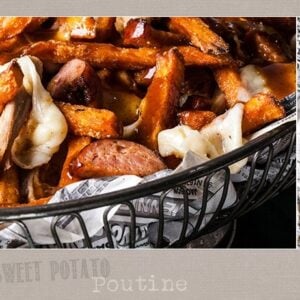 Sweet Potato Pork Poutine
Smokey sausage, pulled pork, sweet potatoes, cheese curds, and barbecue gravy combine to create the ultimate indulgent appetizer for the next big game. Add some beers and you're good to go.
Print
Pin
Rate
Add to Collection
Go to Collections
Ingredients
2

tbsp

Paprika

2

tbsp

Brown sugar

1.5

lbs

Boneless pork roast

1

tsp

Kosher salt

1

cup

Water

1/2

lb

Smoked sausage links

1/4

cup

Ketchup

1/2

cup

Prepared beef gravy

1

lb

Frozen sweet potato fries

1

cup

White cheddar cheese curds
Instructions
Combine paprika, sugar, and salt in a small bowl. Rub over pork, then place in a 2 quart slow cooker. Add water and smoked sausage. Cover and cook on low for 5-6 hours or until pork is fork tender. Remove pork and sausage and set aside while making the sauce.

For the sauce, skim the fat off the top of the remaining cooking liquid, then add ketchup and gravy. Stir to combine. Cook on high until hot and thickened.

Pull pork apart with 2 forks or roughly chop with a knife. Add pork and sausage back to prepared sauce and fold in with a spatula. Keep warm until ready to serve.

Prepare sweet potato fries according to package directions until crisp and hot in a shallow pan, baking sheet lined with foil, or air fryer.

Top fries with cheese curds and warm in the oven until curds are soft.

Top with meat and sauce mixture and serve.