In the three years since Jena and I have been doing LRL, we have been fortunate enough to have other businesses so happy with our blog photography, that they hire us to do the same for them. Companies like Fromm Family Foods, Rhodes Frozen Bread Dough, The Wisconsin Milk Marketing Board, and Harvest Mill Grain Company are a few that come to mind. Recently, we were also asked to do a calendar project for a local company in Beloit, Wisconsin. Kerry specializes in ingredients, flavorings, and services catering to food companies as big as Tyson, or as little as a start up mom and pop company. They asked LRL to help them create a new look that would not only show their capabilities, but would also do it in a way that was real world and not too product driven. This was a fun project, because it involved some organization, planning and feedback from clients. I thought it might be fun to go through that process for this project while showing off our work at the same time. As a professional food photographer and stylist team, we sometimes assume that every aspiring blog writer knows what is involved with doing food photography of great quality, and maybe they do. However, we thought we'd share some of the behind the scenes thoughts that went into the making of this calendar so people can get a sense of what we do as a food blogger team. I'll go first with my thoughts, then Jena will add her own thoughts on the same project from a different perspective.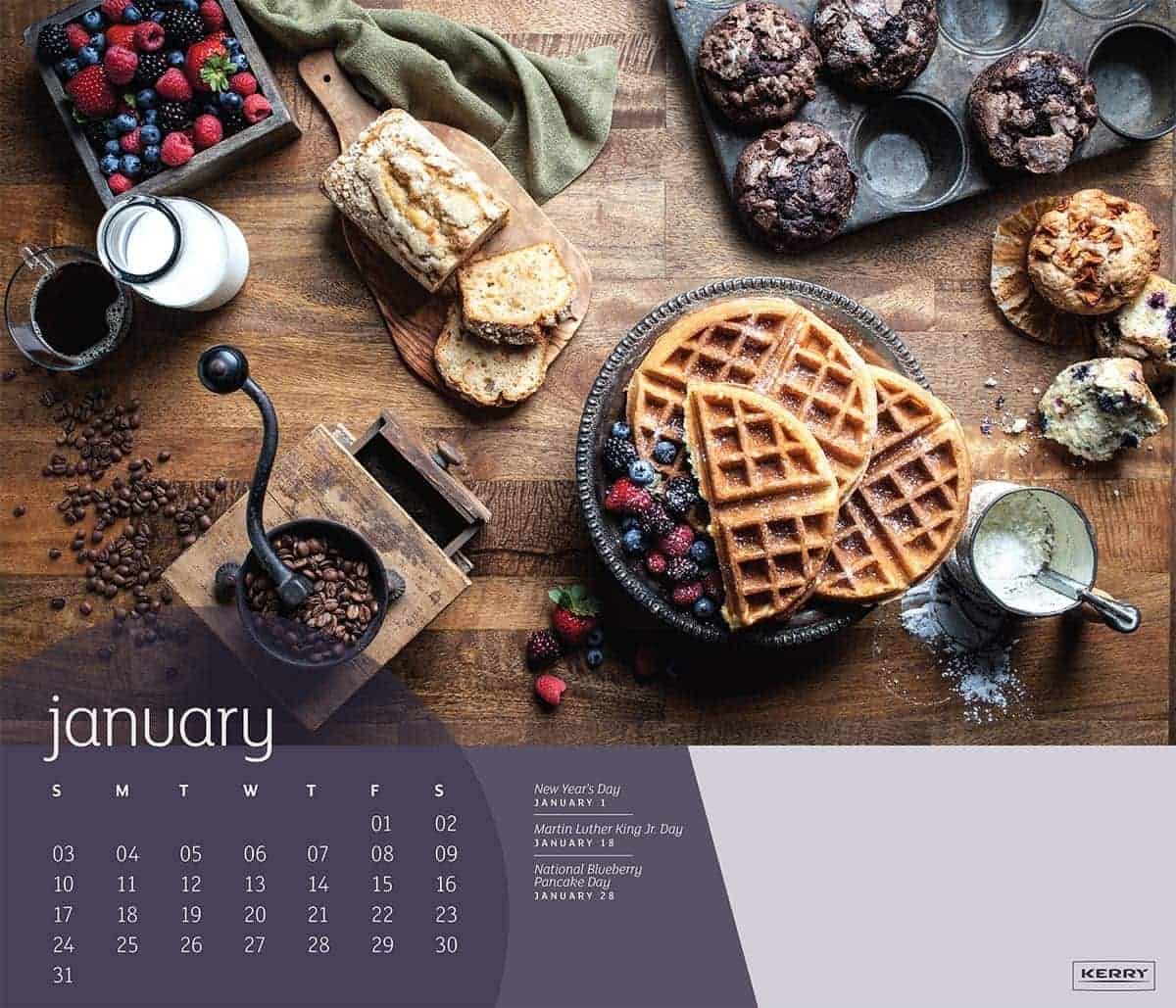 Since it was a calendar, every month was represented. Although January is first in the year, it was one of the last shots we did. For this shot, the focus was breakfast, so we wanted to show variety. Waffles with berries muffins, coffee, milk, breads and baking ingredients were shown to emphasize Kerry's vast capabilities. The breads and waffles were all made the day before. When styling baked goods, it doesn't matter if it is fresh. It matters if it looks fresh. Making them fresh the day of the shoot was not an option due to shoot schedules. Plus, when it comes to styling waffles, you never want to show them hot. Powdered sugar melts immediately on hot waffles, so cold waffles are used and cornstarch is used in place of powdered sugar so it lasts longer. The berries are places exactly where we want them, but with a sense of casualness to give the appearance of a "real life" look. Adding a few bubbles on top of the coffee at the end adds to that feeling. We also add a few crumbs coffee beans and spilled powdered sugar to make it look like mom made it all that day.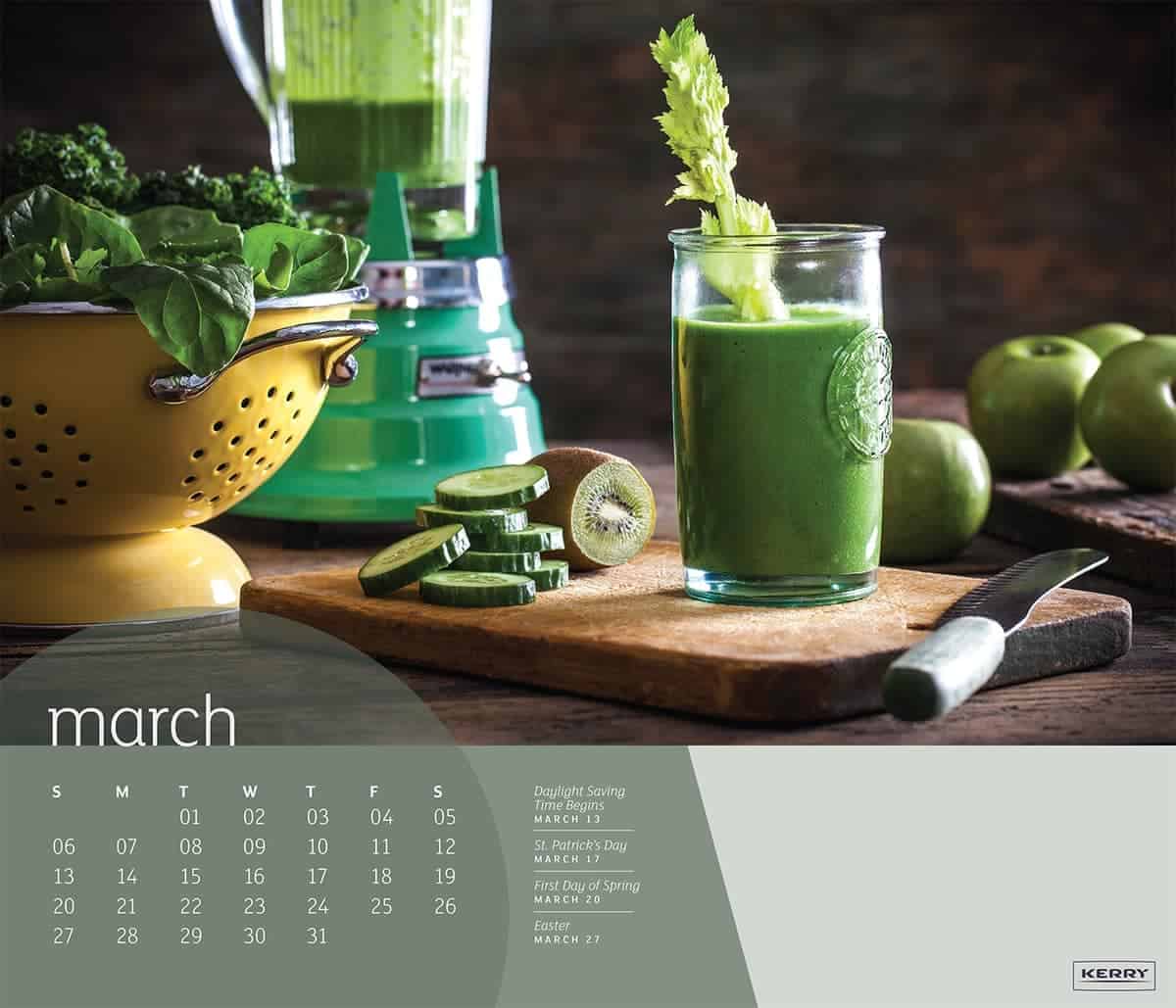 The goal of this shot was to give it a restaurant feel. Like plates were being prepared and served by chefs. Actually doing that kind of a shot at a restaurant can be almost impossible in a casual restaurant because the food rarely looks good enough to photograph, and chefs are rarely willing to have people in their kitchens during open hours. Plus, lighting in never ideal in "the real world", so in this case, we created the atmosphere in a test kitchen. All the food was in place for quite awhile before we were ready to shoot the final image. Melting the cheese, adding drops of water to the condiments and mayo on the burger were all added at the last minute to maintain that fresh out of the kitchen look. The end result is fabulous. Jena really captured that live feel of a restaurant by showing action in the background but still emphasizing the beauty of the food in the foreground.
Photographing this calendar we did a mix of shooting outdoors, natural window light and strobe. This one was taken using strobe lighting from one direction. A fill card was added to wrap around the light and highlight the yogurt. We loved adding the human element to this shot! Rusty did a wonderful job modeling for us while we did multiple takes to get it just right.
From a food stylist perspective, this shot was the most challenging of them all. We all wanted to capture the feel of a backyard barbecue, by showing various smoked meats and foods that one would find in a backyard barbecue. The problem was that it needed to be shot on location first thing in the morning and it was the end of October, so it was fairly cold. There was no power, grill or tables anywhere near where we shot it, so everything you see in the shot had to be transported by car, then unloaded and set up. This meant that all food needed to be made in advance, yet look like it was fresh off the barbecue for the final shot. Since it was shot in October in Wisconsin, we could not get smoke to naturally appear in the final shot due to temperatures and timing, so we used a smoke machine to give the appearance of smoke. It adds motion and that real life barbecue feel that really sells this shot. Homemade pickles, corn, onions, water and beer added enough color and visuals to help tell the story.
Photographing this rustic fall image was one of my favorites. With our tight schedule we realized we would not be able to go to a location with this look and feel. I brought in the windows, table as well as the other props to set the stage. Our assistant, Rusty and I placed the windows in front of the existing window and blocked the rest of the light coming in with black cards.  The afternoon light was beautiful but we had to be quick on the trigger as the sun was setting.
Have you ever made an entire Thanksgiving meal in less than four hours from scratch? Me either, yet we needed to achieve that goal when we did the shot above. Luckily, I had a staff of talented chefs from Kerry at my disposal, or it would have never happened. In order to create a photo worthy turkey it requires a fair amount of time, coloring and luck. Having styled many a turkey for companies like Jenny O Turkey and Taste of Home, it is pretty easy to me. However, when you add mashed potatoes, stuffing, and all the other trimmings, it can be a little overwhelming. It is always a lot of fun collaborating with corporate chefs when working on a project this big. Their talent and help are what made this shot look so great. That and Jena's incredible propping and photography, which make the whole shot come together. The added motion of people serving the dishes give it that real look. Makes you want Thanksgiving all over again doesn't it?