Ancient grains have been around a long time. I'm sorry, but that's funny; of course they've been around a long time. You don't get the title,"ancient grains," unless you've been around a few hundred millennia. Those words have been showing up a lot lately. It's kind of the new "all natural."  Food companies are throwing those words onto their products as a way of attracting those consumers who are looking for healthy options in the grocery store. In order to understand whether "ancient grains" are good for us, we need to look closer at what is considered an ancient grain.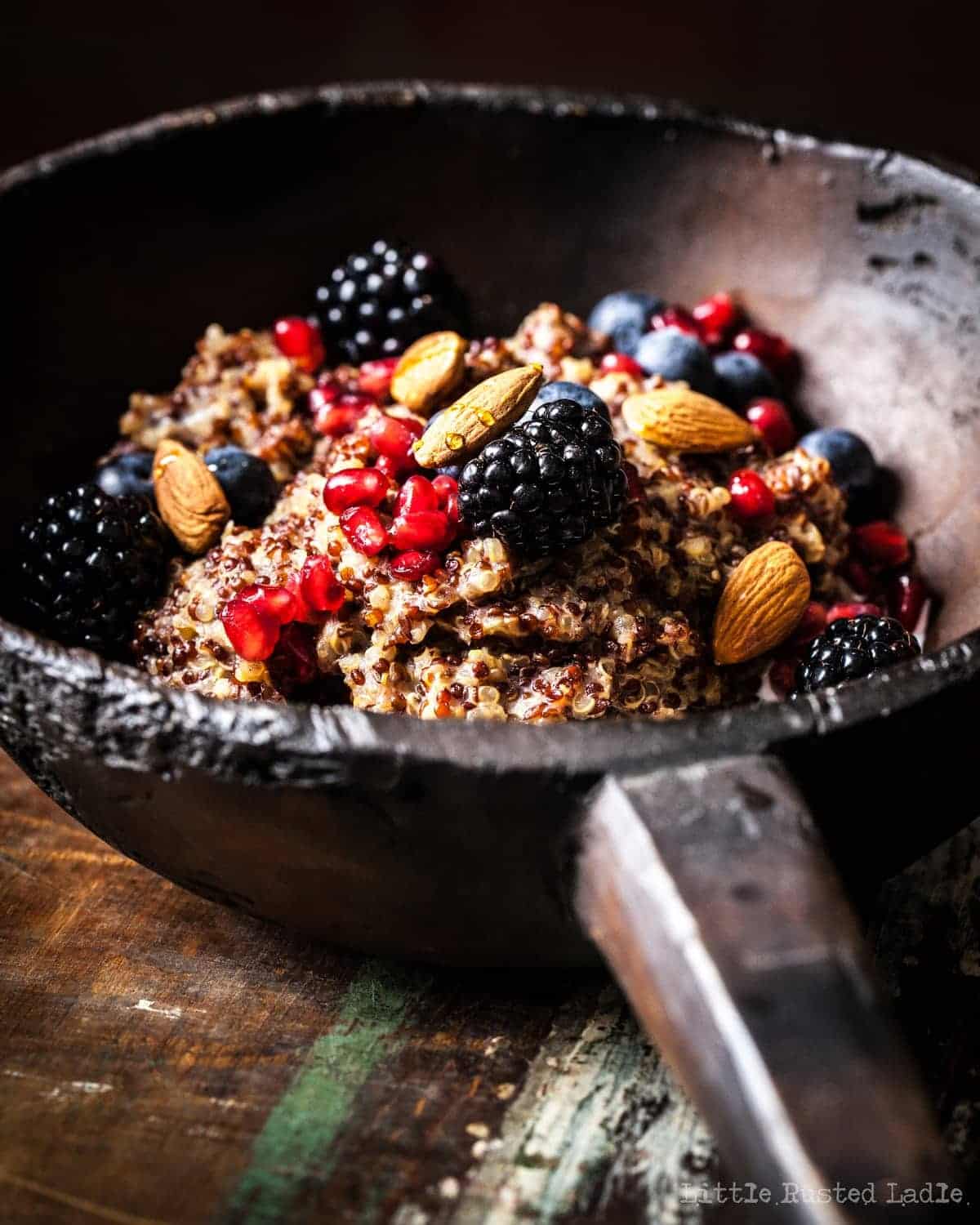 Basically, any grain that has gone unchanged for hundreds of years can be considered "ancient." For example, einkorn wheat is considered ancient, but the wheat we get in products today is not because it has been bred, changed and altered over the years. So, in general, things like barley, millet, amaranth, buckwheat, quinoa, oats, black, red and wild rice, farro, kamut, teff, and a few others are all considered ancient.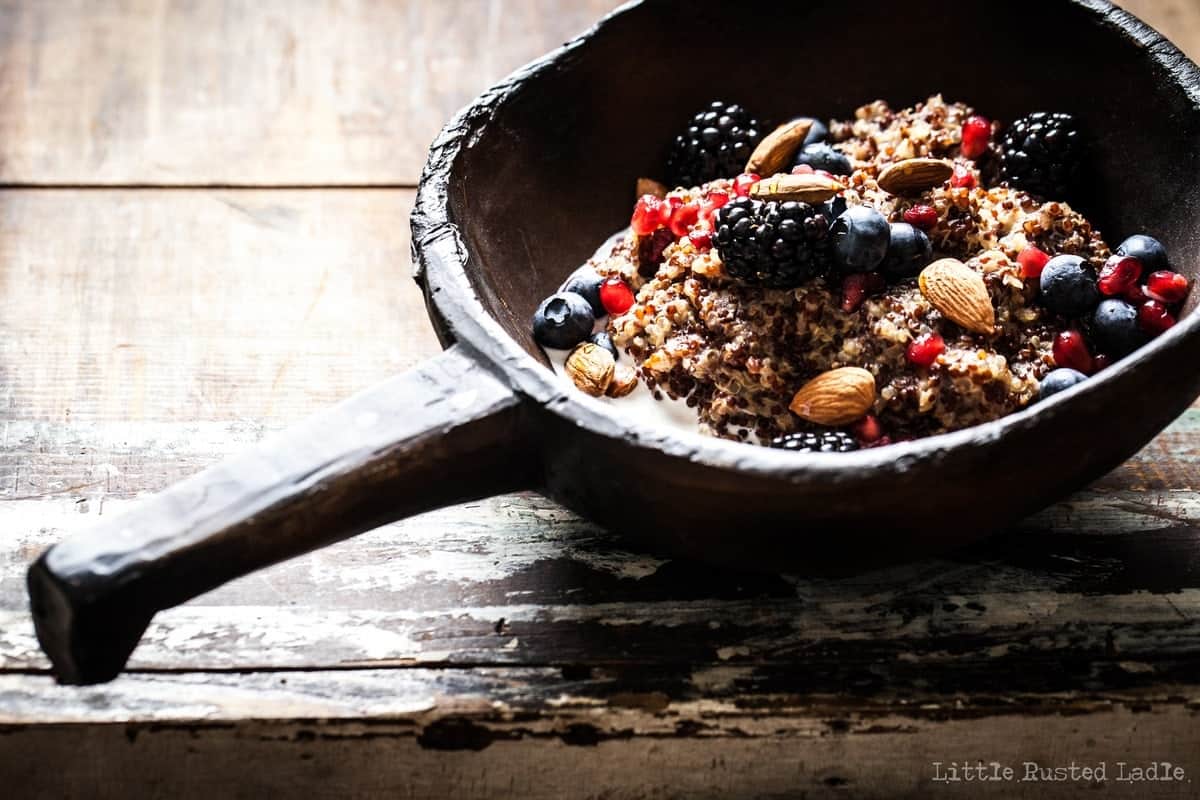 Well, Jena and I decided to highlight a few of these ancient grains this month. Since many people out there, including myself, are supposed to be eating a more healthy diet due to those annoying New Year's resolutions, we should of course be interested in these grains. Funny, I don't remember seeing any ancient grains in those blood orange margaritas or the Chicago style hot dog I had last week during my week of food debauchery. Oh well, I'm sure they were there or I wouldn't have ordered them.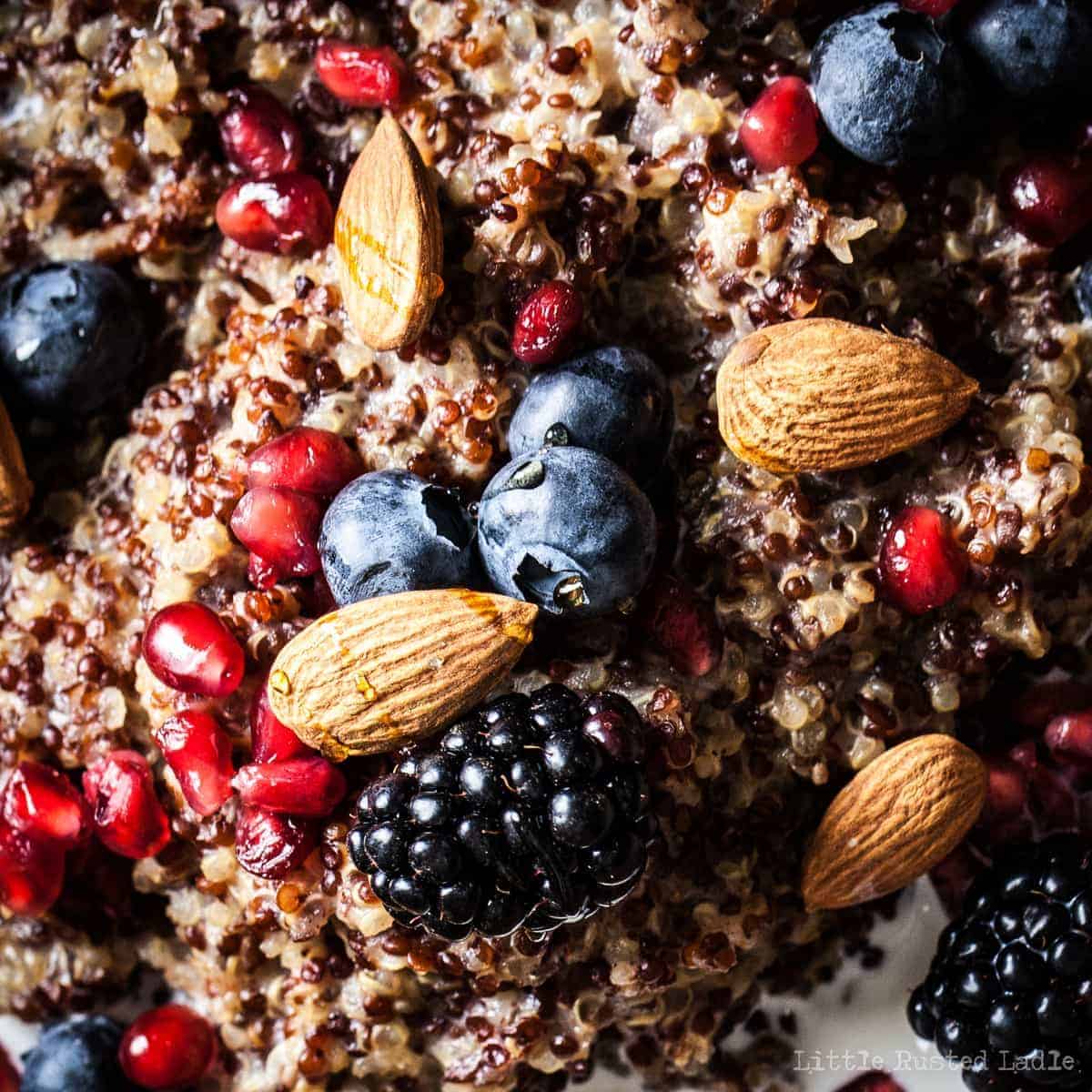 We are starting the month of February off with a basic recipe for crockpot oatmeal that I've been using for about two months. I love crockpot oatmeal, because you put all the ingredients in a small slow cooker at night, before you go to bed, and when you wake up, you are greeted with the wonderful smell of fresh oatmeal and everything you decided to embellish it with. Personally, I like apples, cinnamon, maple syrup and walnuts. It tastes like apple pie. Yummy!! Because it takes about seven hours to cook completely, it becomes necessary to plan this in advance. I'm not always big at planning and sometimes just want to eat. I came up with a good alternative: using quinoa instead of oat groats (the whole version of oats) for the oatmeal. I guess you could call it quinoameal. Quinoa, which comes from the Incas in India, cooks quicker than oat groats or steel cut oats. In fact, it cooks similar to cous cous, another ancient grain, which cooks in about five to ten minutes. We used a Bob's Red Mill Tri-Color Quinoa, which has a nice color and taste to it.  Feel free to use whatever quinoa you prefer though.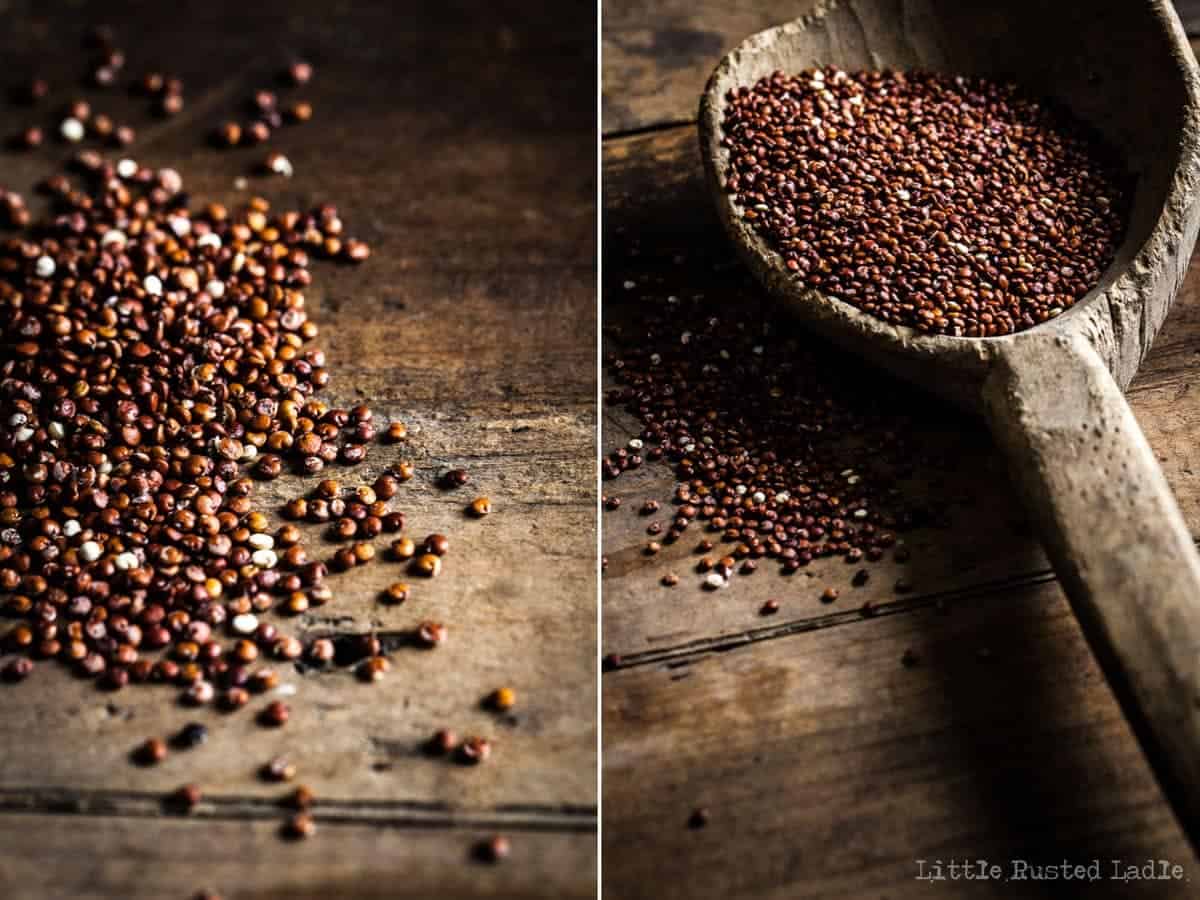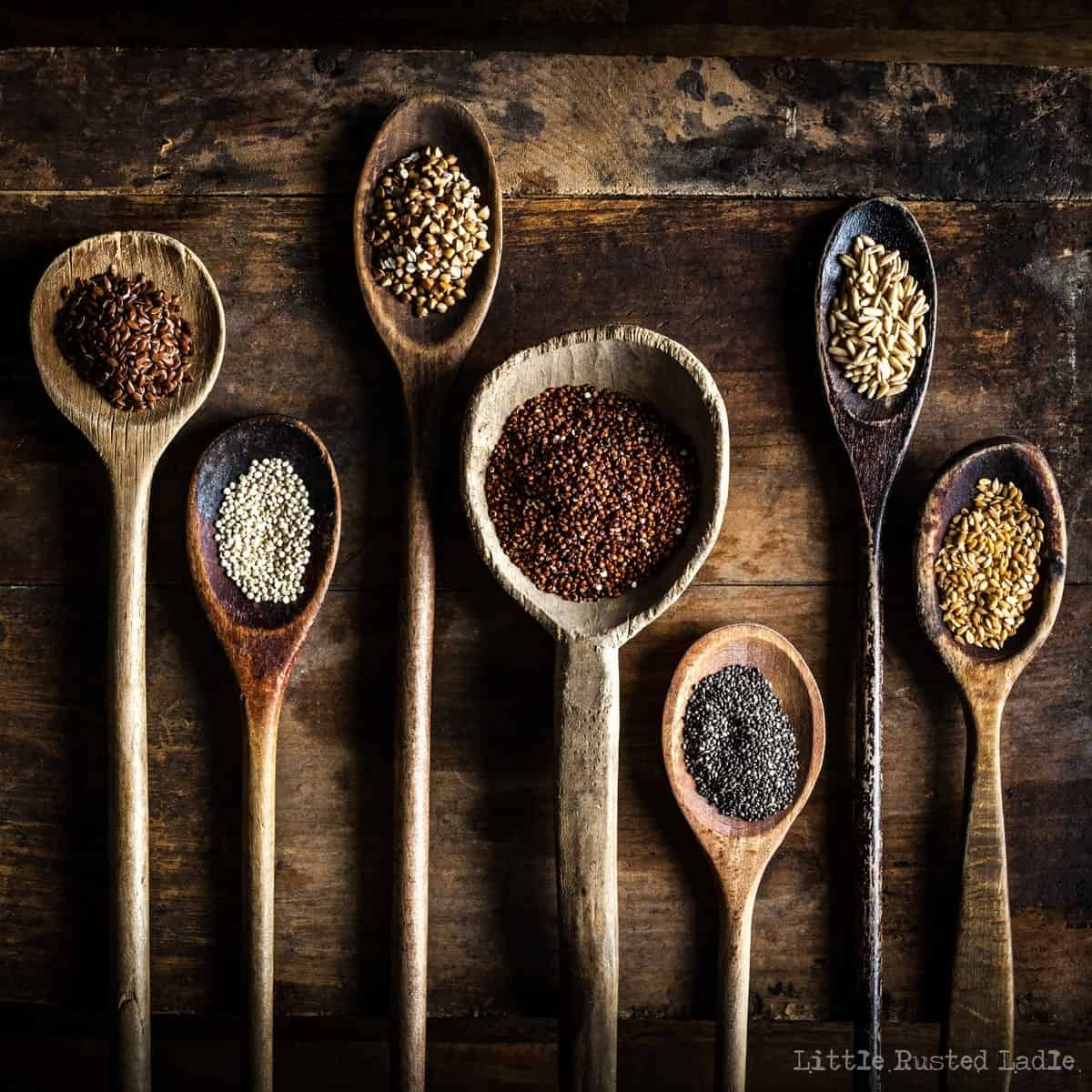 Simply add all your ingredients to a small crockpot. One part quinoa, two parts liquid. I used a combination of almond coconut milk, water and apple cider because I love apples, and dairy is not nice to me. However, you can use water or regular milk instead. Maple syrup, cinnamon, a pinch of sea salt were added, as well as some chia and flax seeds to boost the protein. I skipped the nuts, but feel free to add almonds, pecans or walnuts. They are all tasty. Stir up the mixture with a spoon, cover and cook for about one hour on high or until the quinoa has been soaked up and is cooked through. One last stir and you have a delicious alternative to oatmeal. Top with fresh berries, a little cream and a drizzle of honey or syrup and a few pistachios and you've got a delicious, healthy breakfast that took you five minutes to make and cook as long as it took me to write this article. Thanks to being a hunt and peck kind of typist, that means about an hour and some change. Of course you can make it much quicker if you make it on the stove top or in the microwave. That's your choice; don't sweat it.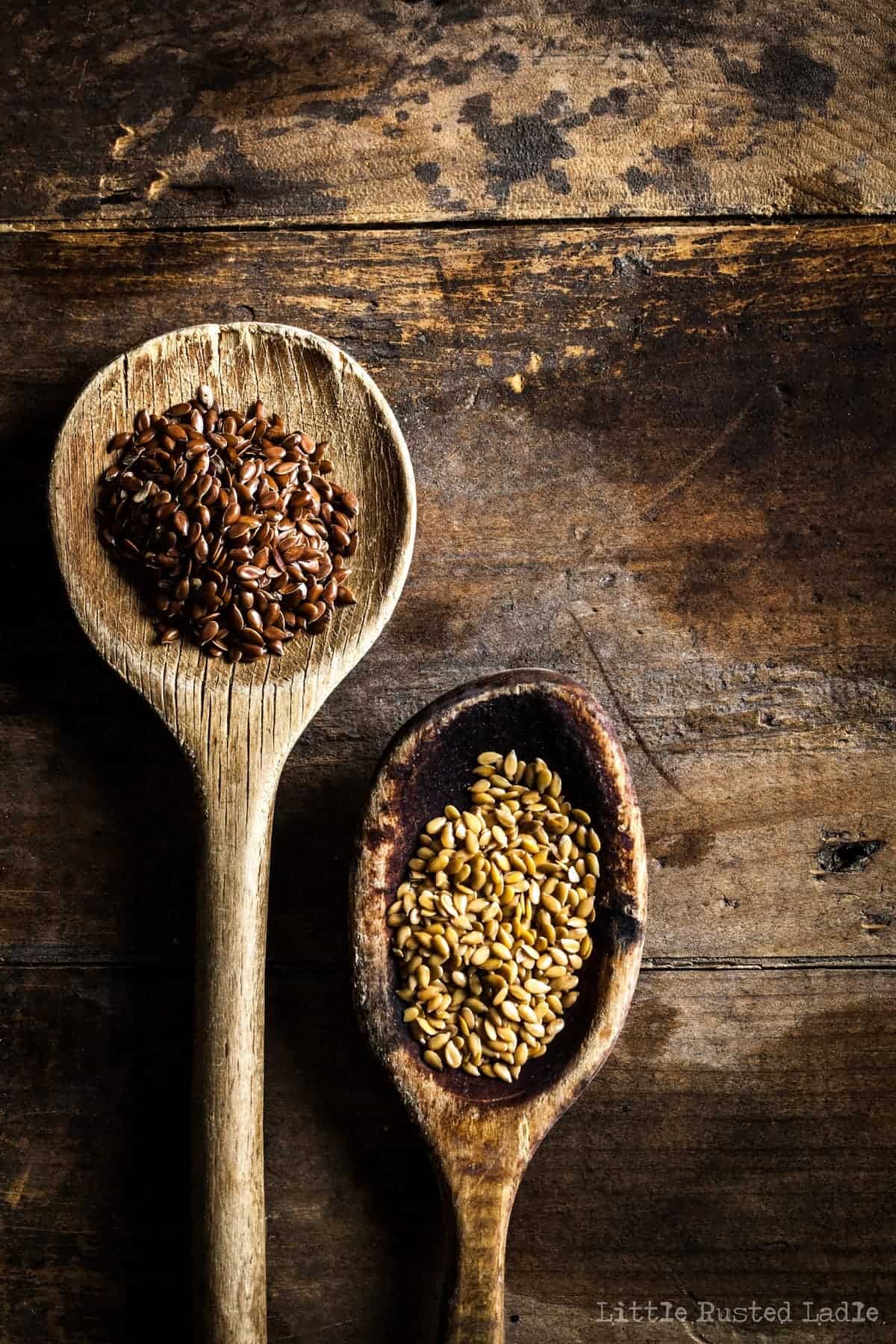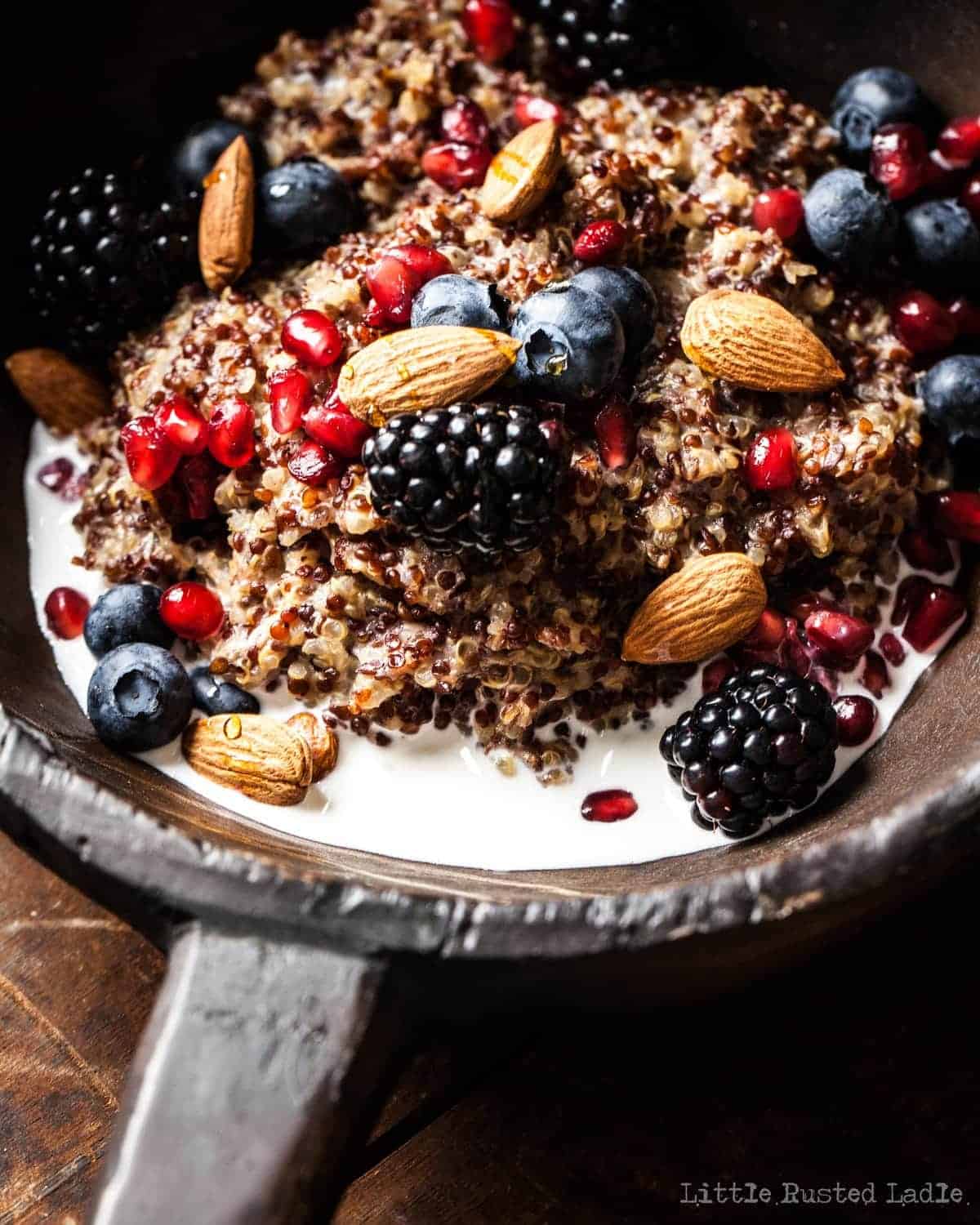 So you say you don't like quinoa? No problem, the recipe below works with oats and buckwheat too. There, now you can say you know how to cook with ancient grains. It will make you sound smart in front of your kids and friends. Plus, it will make you feel better following that night of chicken wings and beer with a nutritious breakfast of ancient grains, fruit and nuts.
See you next week, when Jena and I will show you what to do with that oatmeal/quinoameal/buckwheatmeal you have left over from this week. Enjoy and don't forget to cook with love and live to cook.
Jim & Jena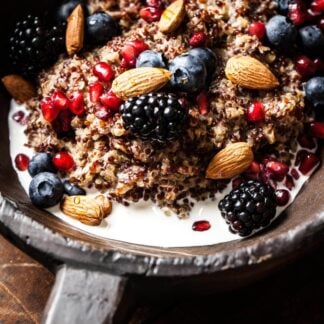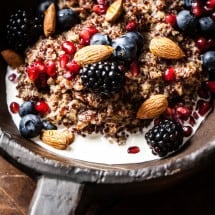 Ingredients
1 1/2

cups

Quinoa

2

cups

Almond milk

2

cups

Filtered water

2

cups

Apple cider

1

tbsp

Chia seeds

1

tbsp

Flax seeds

2

tbsp

Maple syrup

1

tsp

Cinnamon

1/2

tsp

Sea salt

1

cup

Fresh berries

blueberries, blackberries, raspberries or strawberries (optional)

1/2

cup

Chopped or whole nuts

almonds, walnuts, pecans, or pistachios (optional)

1/3

cup

Fresh cream

(optional)

2

tbsp

Honey

(optional)
Instructions
Combine all ingredients in a 2 qt. slow cooker. Stir to combine. Cover, then set cooking level knob to low. Cook for 7 hours or overnight. Stir mixture. Spoon into bowls and sprinkle with fresh fruit, nuts, or a little cream, a drizzle of honey and butter. Serve.
Notes
You can substitute oat groats, steel cut oats, or buckwheat groats for the quinoa.
Feel free to experiment with different additions like dried fruit, fresh apples, or pears.
Adding a touch of pure vanilla extract at the end adds great flavor.
Brown sugar, raw sugar, or maple syrup can also be drizzled on top.