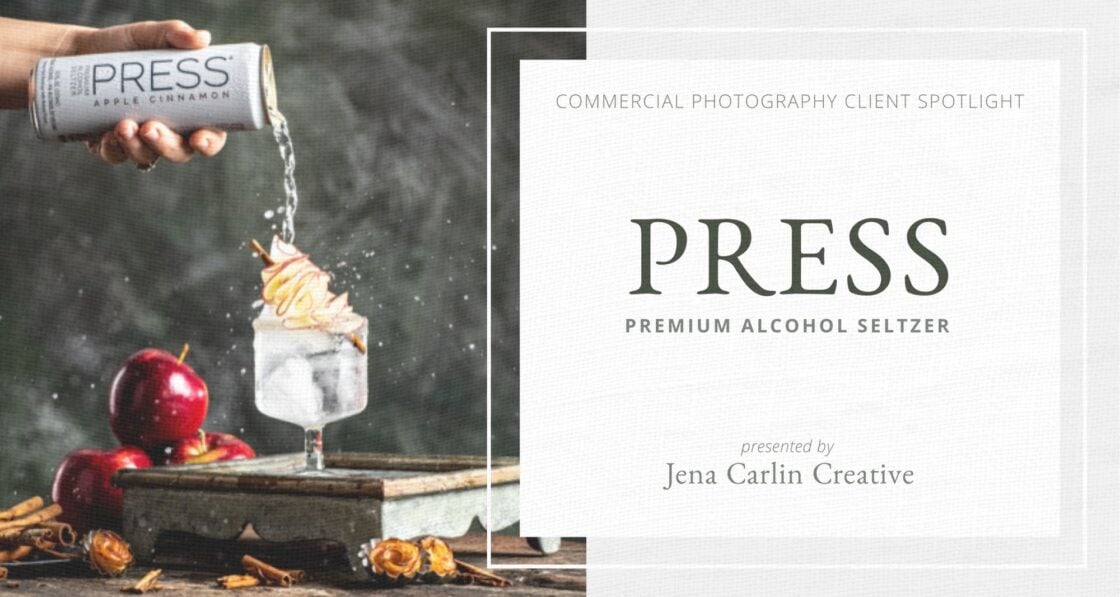 "Did I mention how talented you are?! Seriously. Beautiful work. PRESS for life for you. 😉 No, really if you'd like."

Amy, PRESS Founder
How do you end up with such a glowing review? I'll tell you.
---
As a busy commercial food photographer, mom, and mentor, I LOVE when my work can do double duty. I used Blood Orange Chili Press Seltzer for a test shoot while building my mentorship course, Portfolio To Profit, and it ended up locking in a dream job with a dream client!
I was intrigued by the unique flavors and luxury marketing that an up-and-comping Wisconsin business was implementing for this typically party-centric product. So I used them as an example.
Well, the photos and the module turned out great (see below 😉). And after submitting a treatment to Press featuring my photos, I won a job shooting their whole line of flavors and ended up working with an incredible client and company whose aesthetic and values really paired well with mine!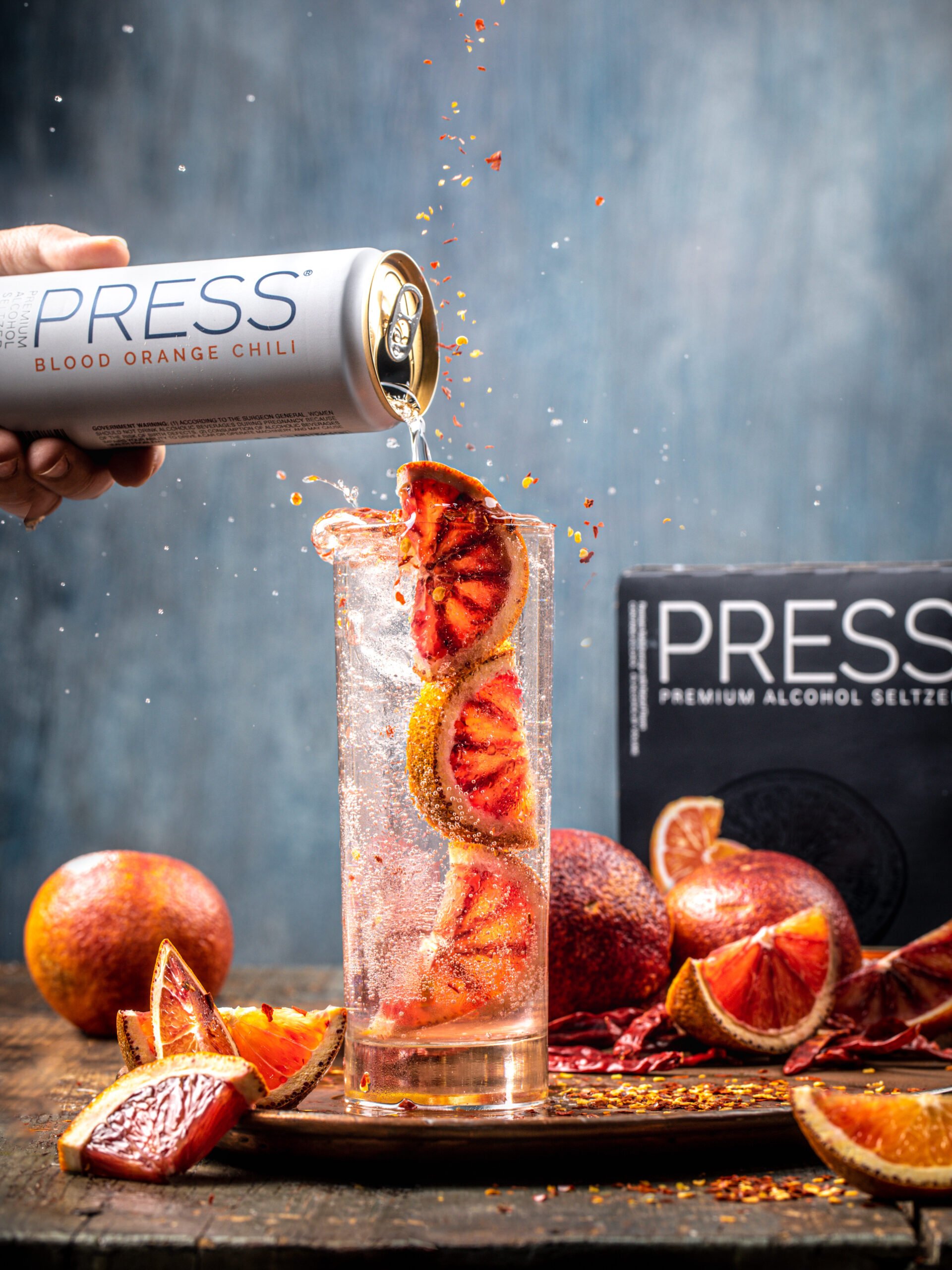 I've been enjoying Press all summer long and now into the fall. I've loved seeing the results of our spring shoot show up in Press marketing and on their Instagram page. Let's go behind the scenes!
Drink Photography Clients
Client interactions are all different, but my communication with Press was clear and thorough throughout the process. With the help of a mood board and a lot of discussion about the goal of these images, we felt confident going into the two-day remote drink photography shoot.
One of the first things we did was select the glassware (Press wanted each to be unique) and send a simple image over for initial approval. It was important to Press also that their seltzer be portrayed strong on it's own, not as a mixer for cocktails, so glassware was an important factor.
It's important to really discover the client's needs so you can have the necessary conversations up front. No one wants a reshoot after several hours of work!
Press Seltzer Drink Photography on Set
Press Seltzer was looking for images of their flavors that featured the fresh ingredients. With flavors ranging from Lime Lemongrass to Lingonberry Elderflower, I was glad to have the help of my friend and food stylist Chef Travis Teska for sourcing and preparing the ingredients.
For each flavor, we wanted to capture three shots:
a static shot of the glass and garnish
a pour shot featuring the Press can and logo
a splash shot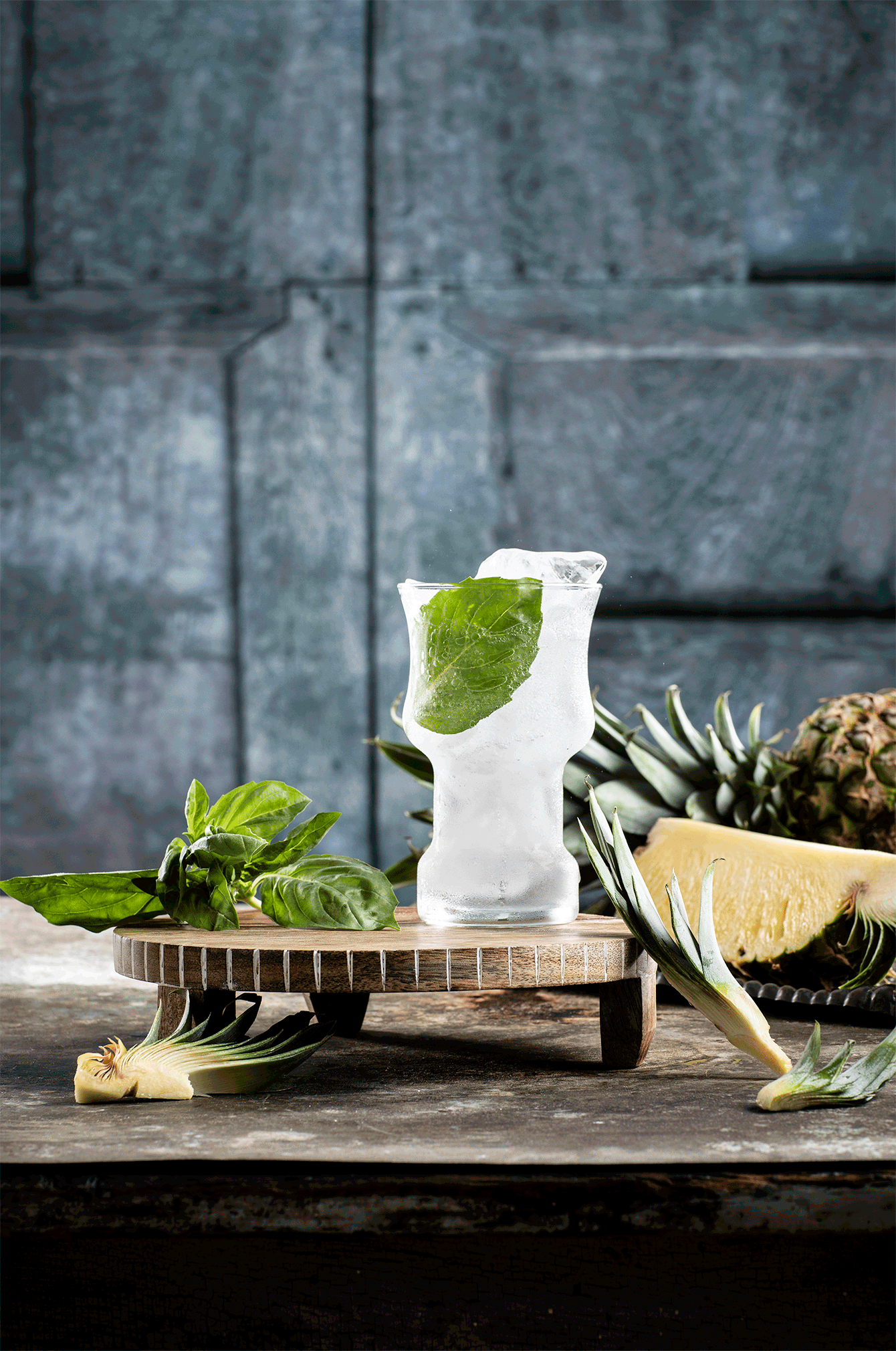 We completed each set in that order. We first perfected the hero shot, then got the drink and set a little messy with repeated pours and splashes! And while we had all of these beautiful ingredients handy, we came up with another little ingredient shot as well.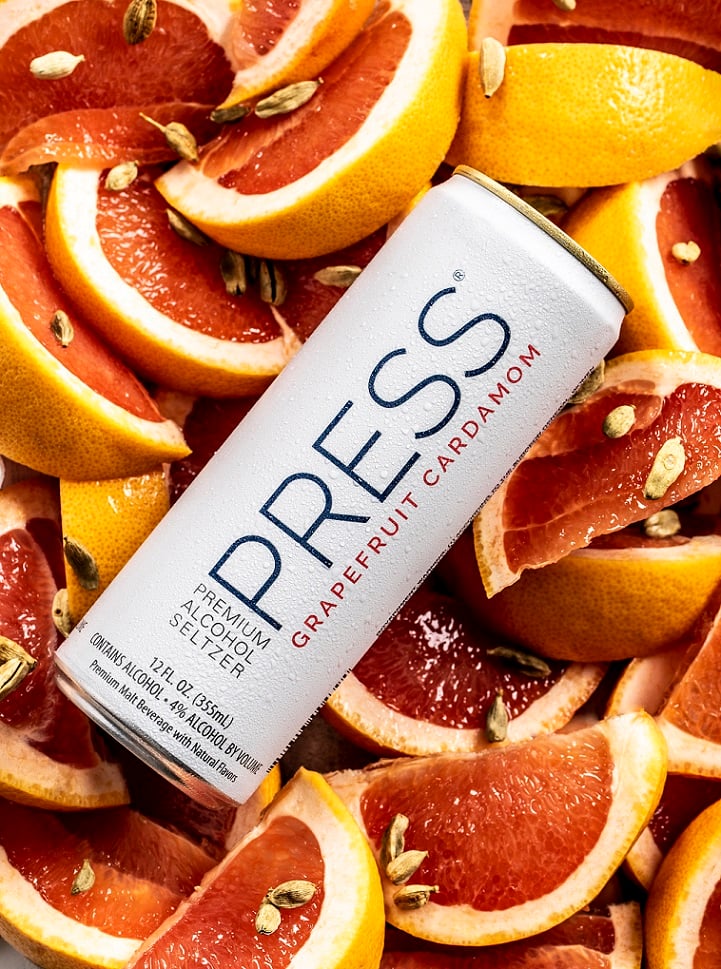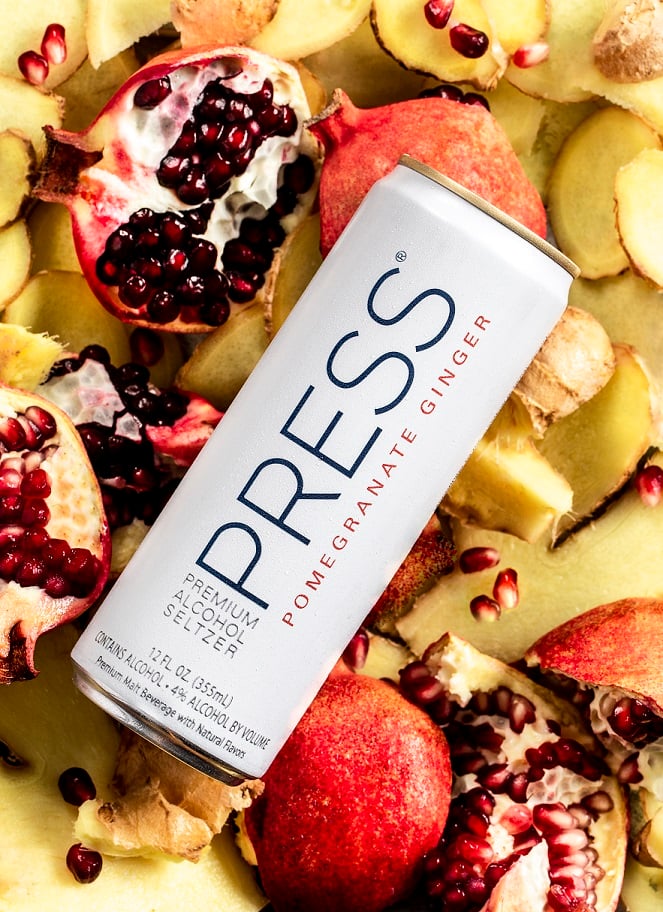 Drinks and clear glassware can be tricky to shoot. That's why I have a whole module dedicated to it in Portfolio To Profit. There are so many variables and tiny details to consider. Luckily this Wisconsin drink photographer has plenty of tips and tricks to help you along the way.
The shoot took us two full days to capture the eight flavors in each setup. In the end, we came up with some images that we were really proud of and the client loved.
Drink Photography Challenges
I find that to get really amazing shots, I've got to challenge myself. If everything is going too smoothly, maybe we're not pushing the boundaries enough! That's not always the case, but on this Press Seltzer shoot our challenges came in the form of beautiful, spectacular garnishes.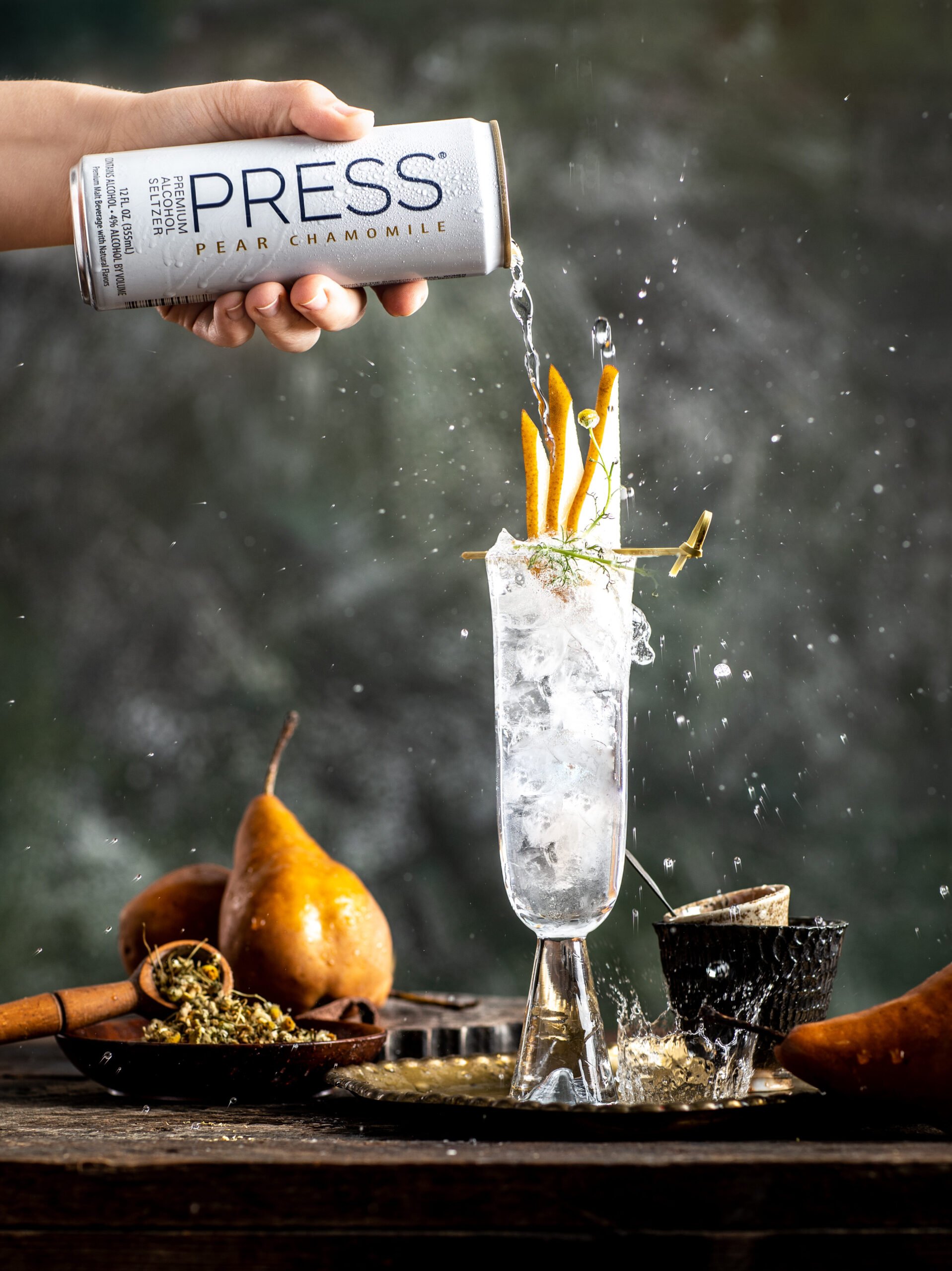 Challenges To Overcome:
keep the ingredients fresh
make the garnishes look striking and sophisticated
stabilizing the garnishes for action shots
keep a dynamic set consistent enough to complete merges in post production
The Splash Zone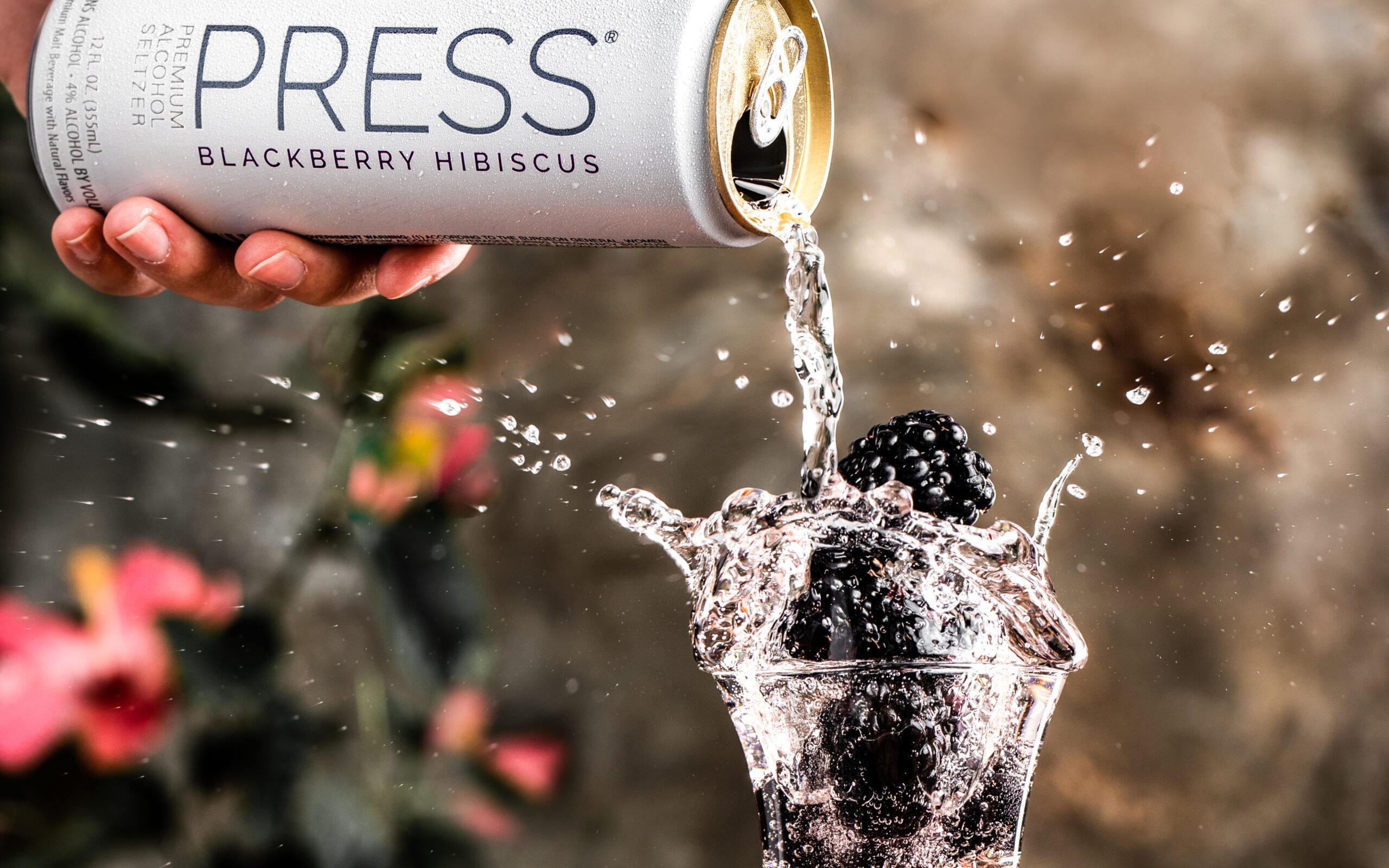 The splashing is always the most fun and the messiest part of a drink photography shoot.
With clear glasses and products, we decided ice shards were the most natural thing to drop to create the splash. The shards really provided some unique splash patterns while blending into the existing scene.
And, we didn't have to fish them out of the glass every time we wanted to take a new shot, which was helpful in maintaining our garnishes.
We kept going until we had one really great shot and some other nice splashes we could composite into the image if necessary. I had a three-shot burst set up on the camera. Chef Travis and I would time it out to catch the best splashes. Even though we did a lot of mopping up afterward, the gorgeous shots were absolutely worth it.
Wrapping Up
Drink photography is such a valuable skill to have early in your food photography career. Even if you don't go beyond the basics into splash or pour photography. New photographers can easily concoct beverages that can be shot in a relatively small set.
I have been shooting beverages for a long time (see my portfolio of images here). And it was so rewarding to see all of my knowledge written out and being put into action by other food photographers in our membership program, Portfolio To Profit. There are so many small elements that I don't always think about…until they come up during a shoot! And watching my students excel and create some TRULY STUNNING drink images has been such a joy. I can't believe how much they have grown and improved. 
If you'd like to learn the skills necessary to take amazing drink photos like these, and learn the entire ecosystem of the commercial food photography business, apply to my course, Portfolio To Profit! I'd love to check out your work and see if you're a good fit for the program!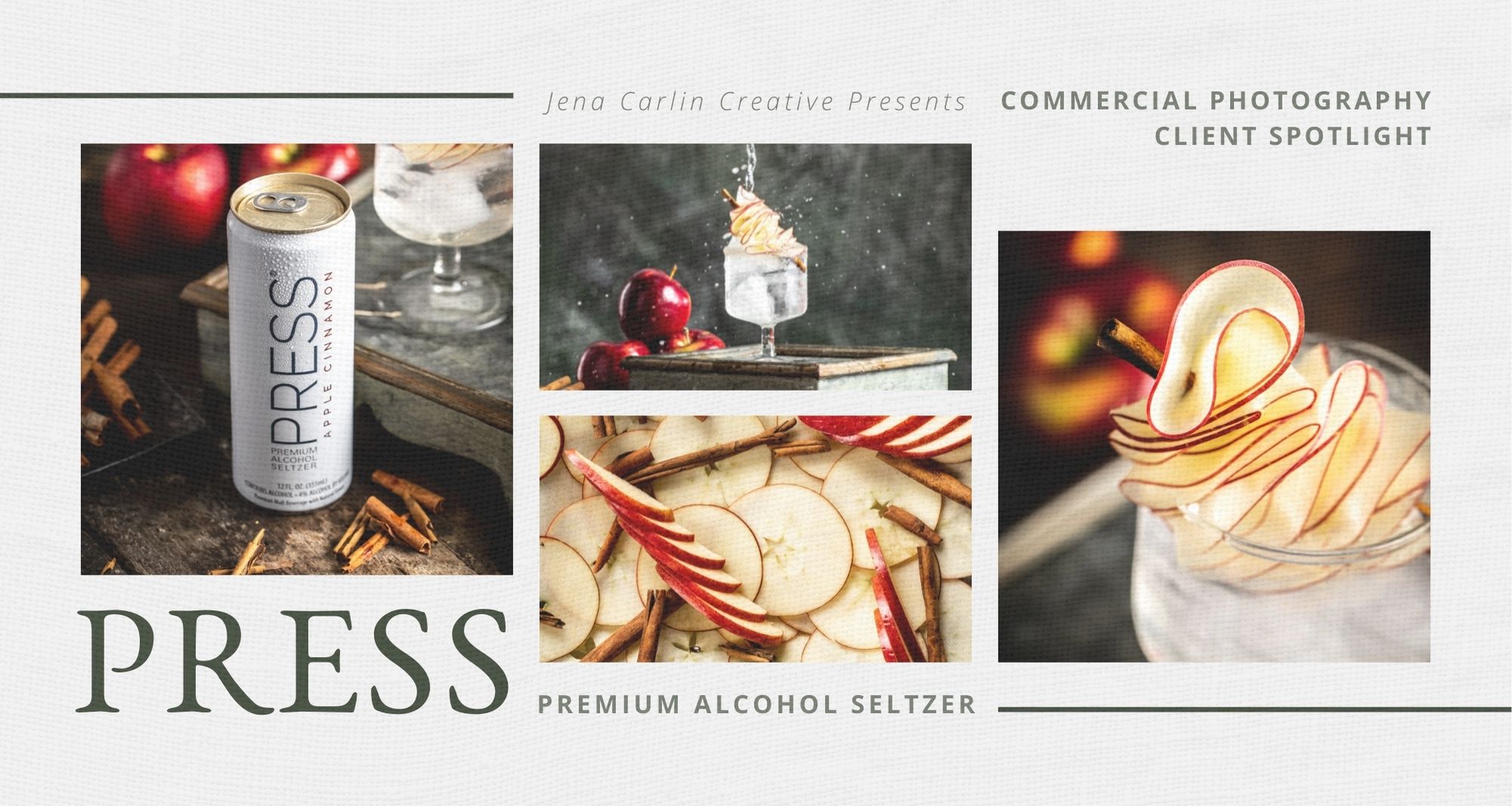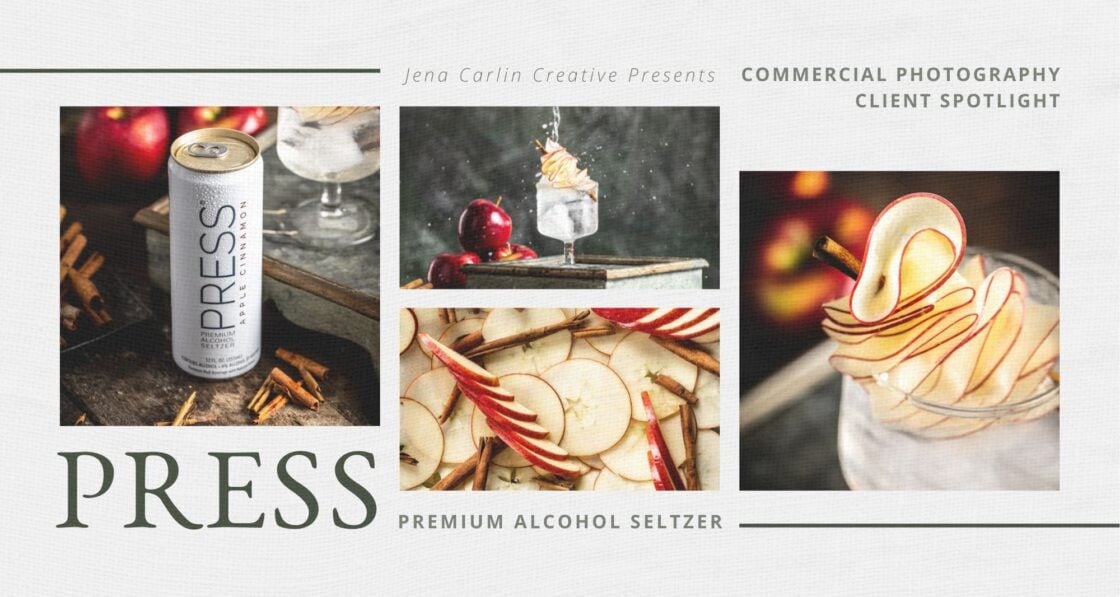 Thanks to Press Seltzer for making such a fun product to photograph! And for trusting this Wisconsin drink photographer with their amazing seltzer! I am in love with this collection of images. I can't wait to enjoy more of the fall and winter flavors with my friends and family! It's apple cinnamon season!