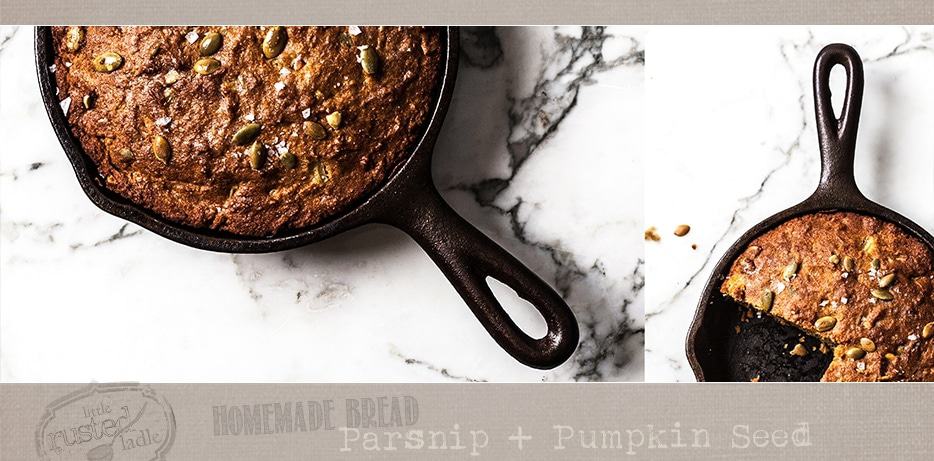 Parsnips are so great that we decided to do another article about them. That and maybe we're feeling a little guilty that we haven't been posting recently. Also, we have this really cool gadget that we are giving away. Since you have probably already looked at the photos(I would too), I guess I can discuss the fancy gadget we used for this articles parsnip recipe, which is parsnip and pumpkin seed bread. Awhile back, I started eating healthier and began thinking about getting a grain mill for grinding my own flour. Since most of the flour today doesn't contain much nutritional value, and even store-bought products labeled "whole grain" usually aren't, I thought I'd look into it more. A client of mine grinds his own wheat, and said the quality of bread made with flour ground from whole wheat berries is far better than any commercial bread. About the same time, the wonderful people pleasanthillgrain.com asked if we could review a new product they carry called the Mockmill for Kitchen Aid mixers. Mockmill is known for making very high quality grain mills. It sounded like a match made in heaven. I was looking for a grain mill and they had one to review. The best part is that this new product attaches to a standard Kitchen Aid mixer. Simply attach the mill to the front, add wheat berries, corn, rice, etc.. to the hopper on top and turn on the mixer. Out comes your own home ground flour. You can also adjust the size of the grind from coarse to fine.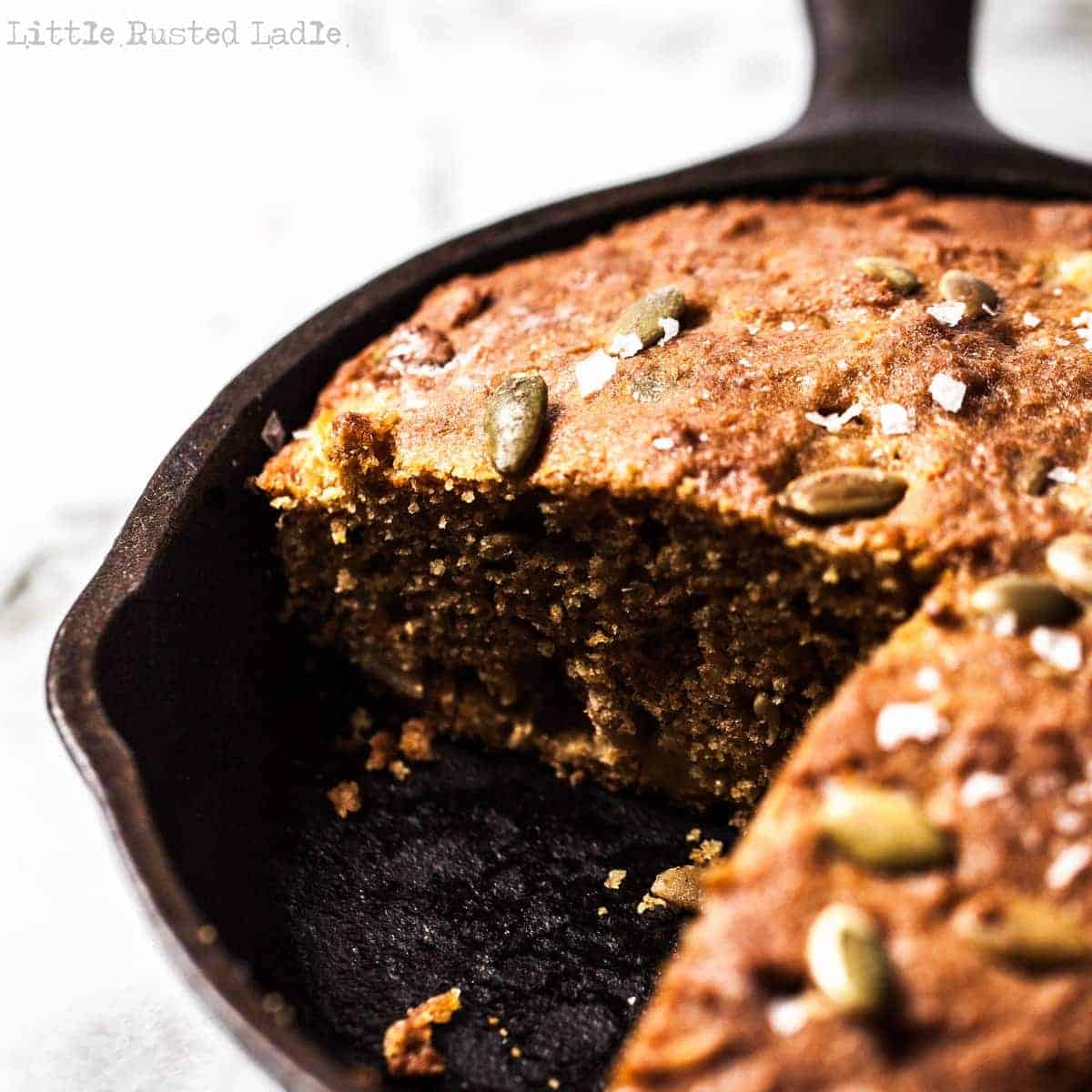 Milling my own whole wheat flour made me feel like an amish farmer. Next thing you know Jena and I will be wearing straw hats and riding in a horse drawn buggy. O.K., maybe not, but the Mockmill is easy and fun to use. I experimented with the mill by making cookies, crackers and bread. What I found out was there is a learning curve with using fresh ground flour that takes some time to get used to. It's a little too technical for this article, but maybe in the future we can do an article just on home milled grain. Regardless, I'm very happy with my new Mockmill for Kitchen Aid. It's great knowing where our food comes from. Flour was one of those ingredients that you just never know. Until now that is. Would I recommend a grain mill to grind your own grain? You bet. I bought twenty pounds of Einkorn wheat berries to prove it, which are the first plants to be domestically cultivated, dating back over 10,000 years ago. How awesome is that?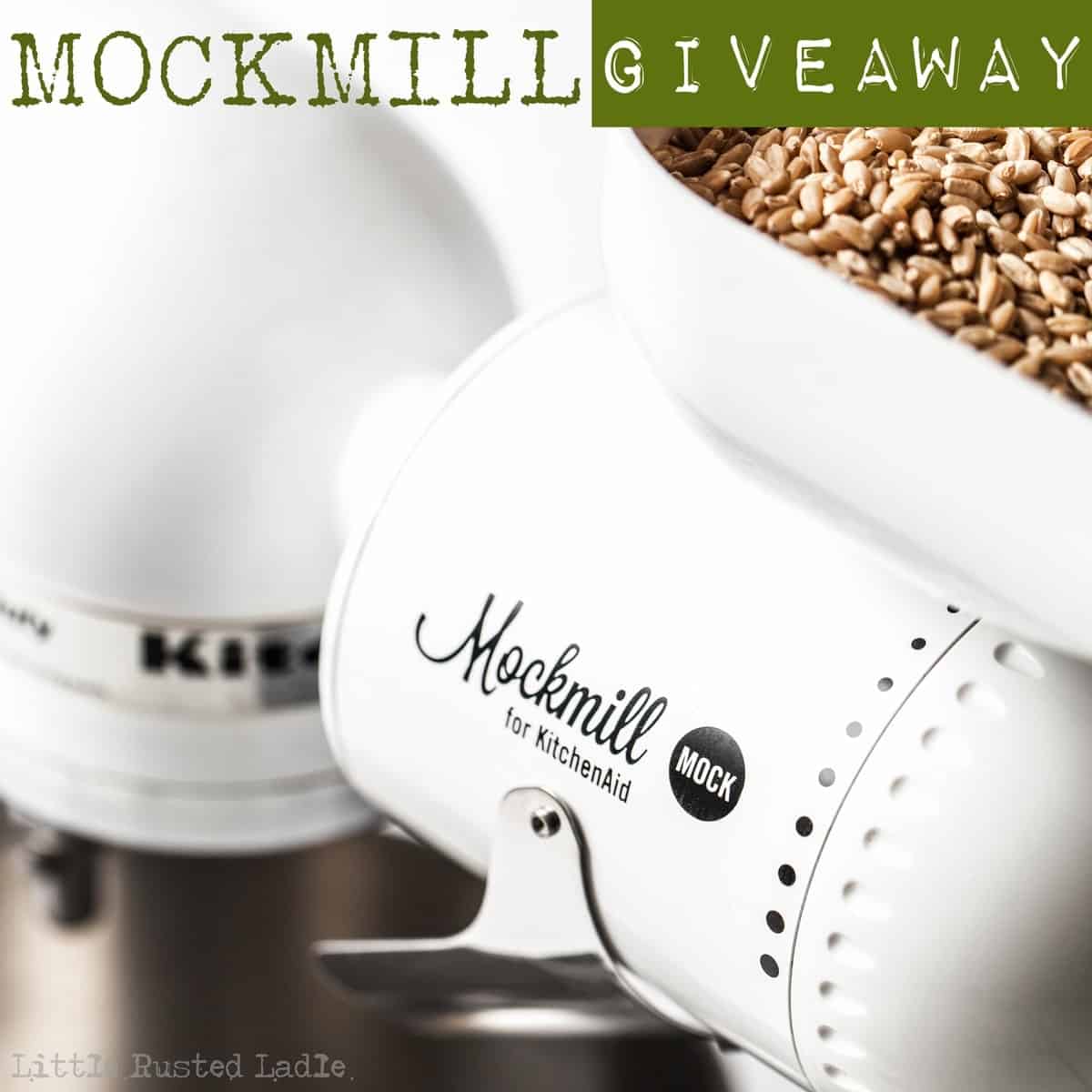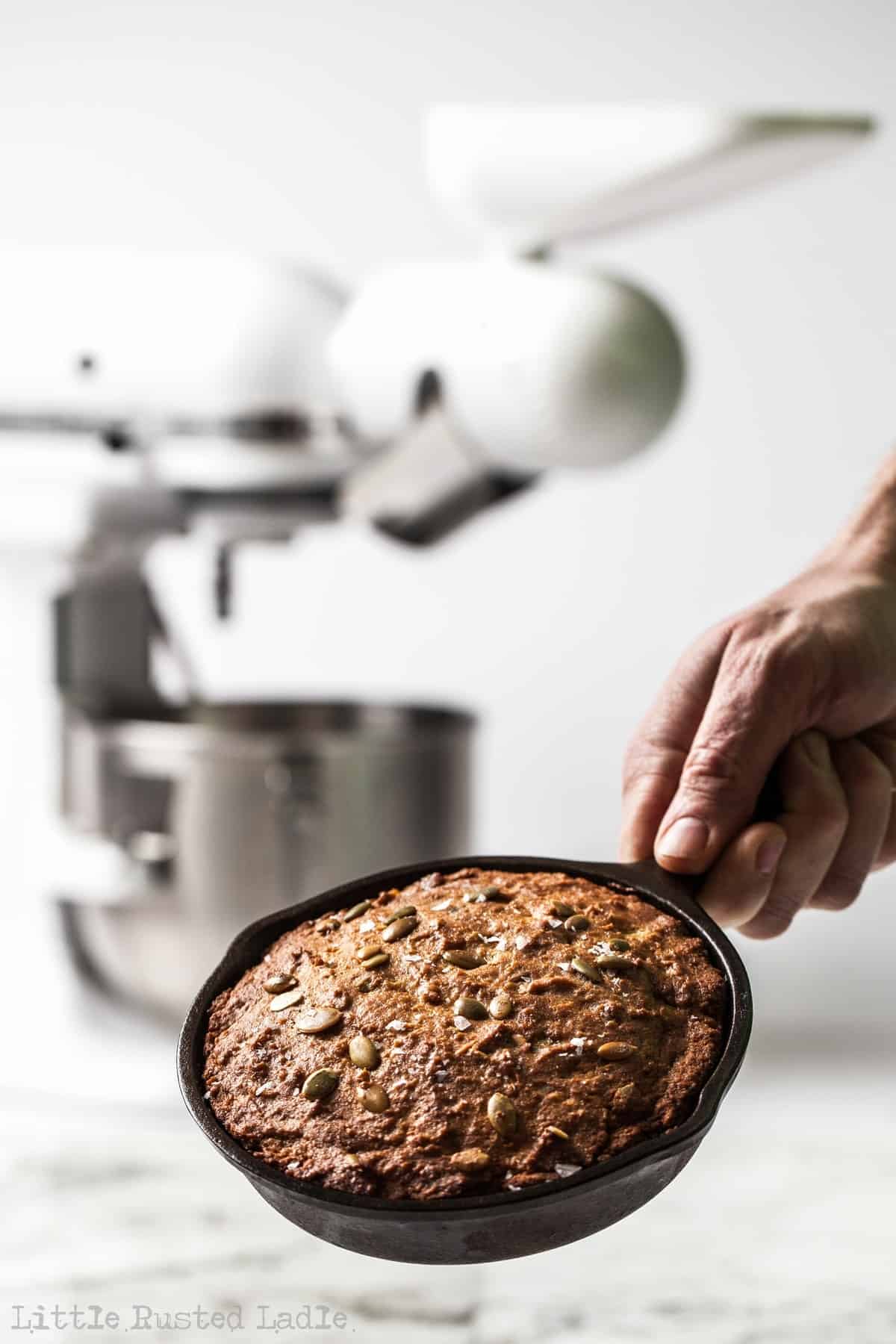 The recipe chosen for the second part of our parsnip and parsley root series is a delightful parsnip bread. Sweet parsnips, brown sugar, eggs, yogurt, carrots, and of course whole wheat flour are the foundation. I decided to make it and substitute some whole wheat flour that I ground in the Mockmill. The bread is sweet like banana bread, but has a nice nutty, full flavor from the whole wheat that diffuses the sweetness. Added pumpkin seeds gave it a nice crunch, while the addition of a little sea salt and melted butter on top really made it all come together. I used 2 cups of cooked parsnips that we used to make the soup from our Parsnip and Parsley Root Bisque article a couple of days ago. It's a great way of doing the prep for two recipes at once. Cooking the parsnips in the milk and broth gave added flavor to the soup, and the liquid also flavored the parsnips better than cooking them in water.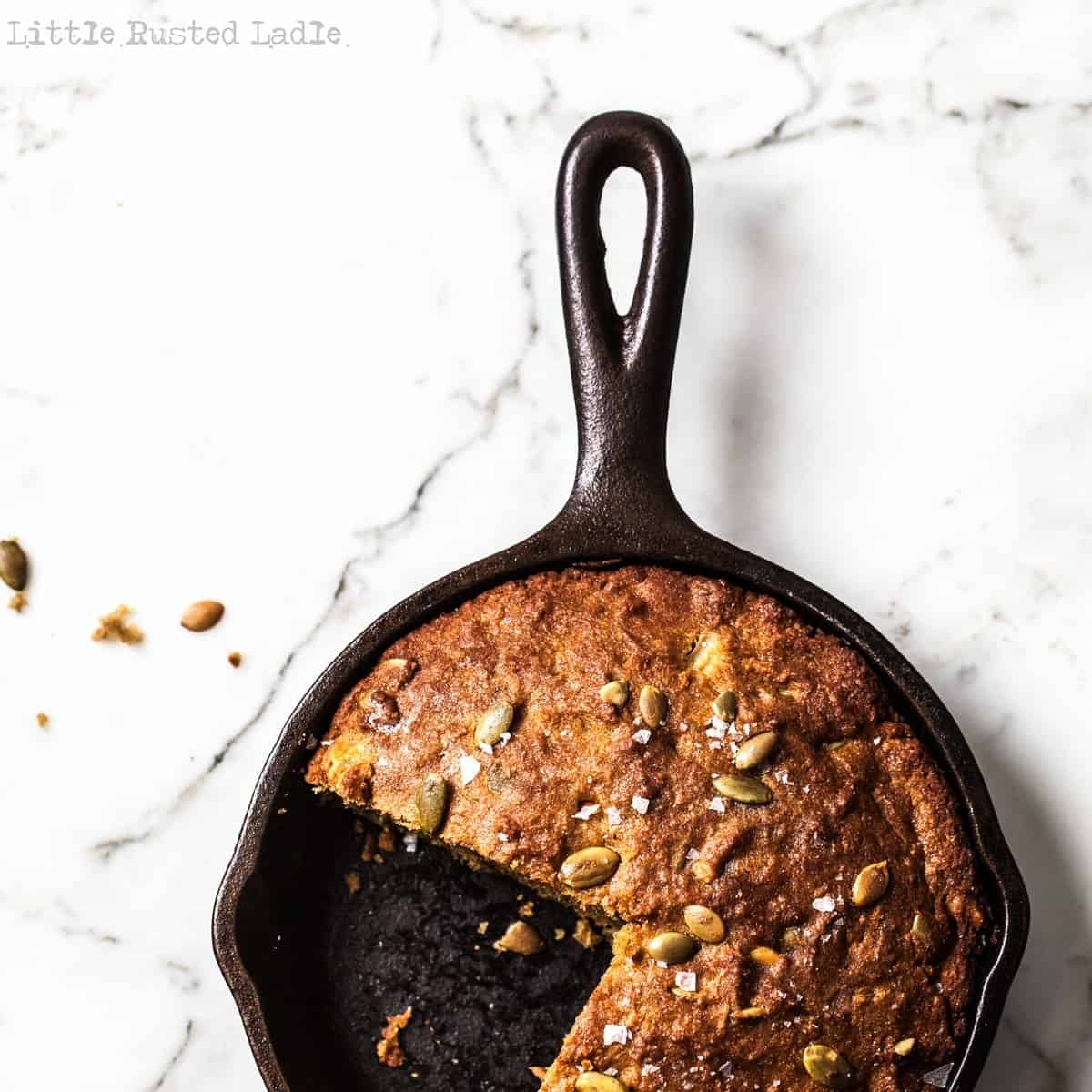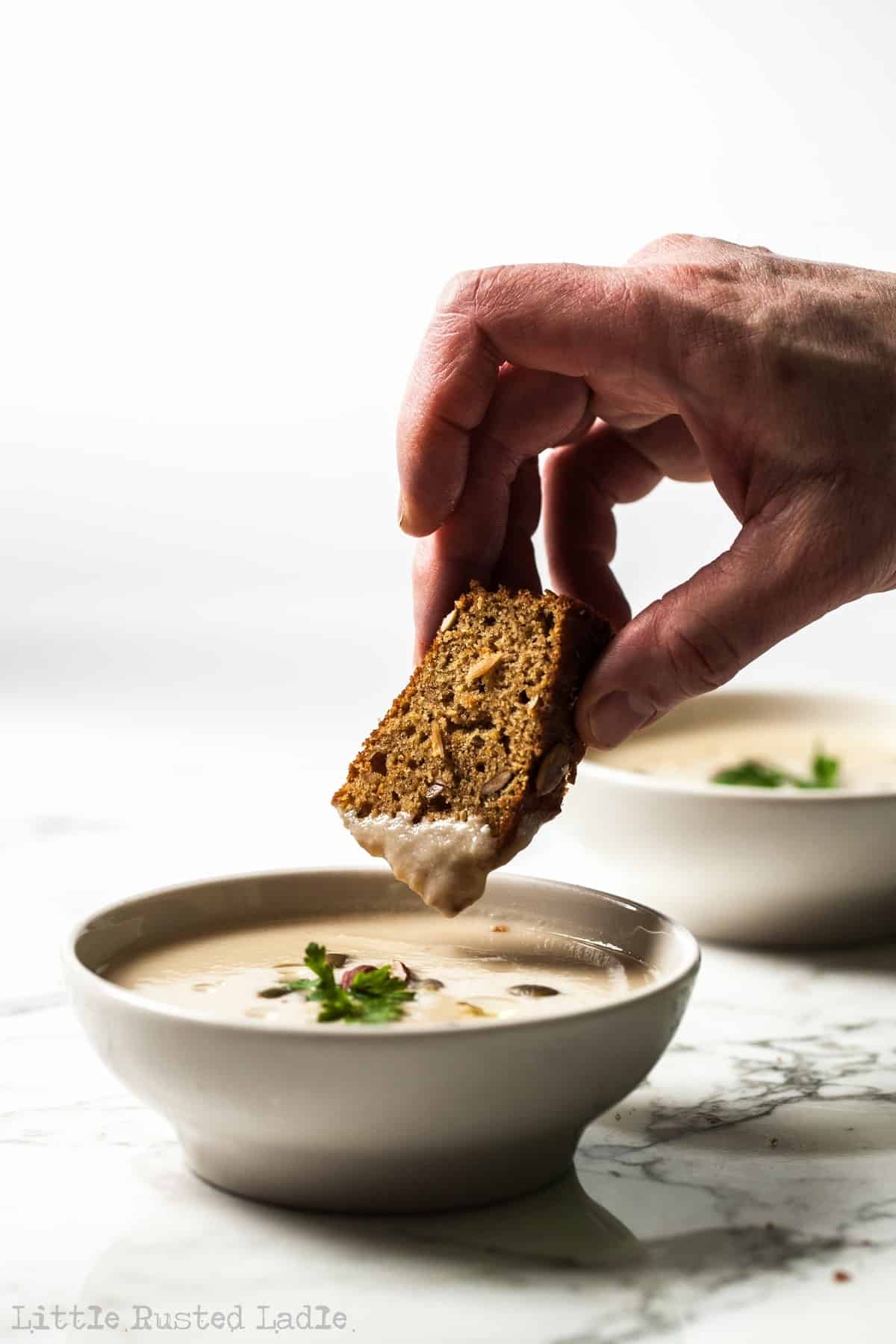 Since Jena and I like to mix it up a little, we decided to make the bread in a cast iron skillet. Feel free to use any kind of pan you'd like. Remember, it's a quick bread, which uses baking soda instead of yeast to make it rise, so it works in just about any kind of pan you want. We even made some in small mason jars that were cute as a button. I love parsnips and I'm sure after trying this bread and our soup, you will too. As far as the Mockmill goes, I find it very useful and fun, as well as being a great way of Getting added nutrients to my food. It's so fun, I'm headed to the kitchen to get some more bread going. Now for the fun part. Here's your chance to win a Mockmill of your own thanks to Pleasant Hill Grain. Simply fill in the entry form below by Friday January 15th. One winner will be chosen, and you will be sent a new Mockmill valued at $199.00 free of charge. It's January, which means diets and exercise. Adding home ground flour to your cooking will give added flavor and nutrition to your breads, polenta, and custom flours. Until next time, remember to cook with love and live to cook.
Jim & Jena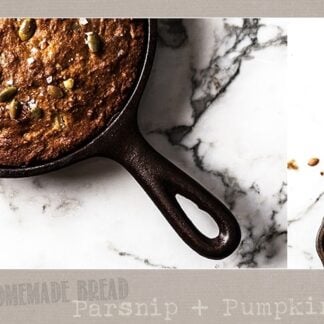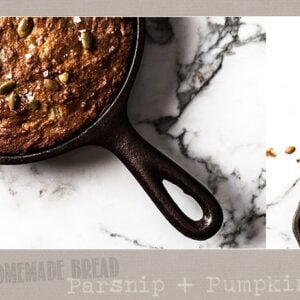 Parsnip Pumpkin Seed Bread Recipe
This wonderfully sweet quick bread gets a lot of its sweetness from parsnips and carrots. Using fresh ground whole wheat flour adds a great full, nutty flavor that really balances the bread nicely.
Print
Pin
Rate
Add to Collection
Go to Collections
Ingredients
3

cups

whole wheat flour

preferably freshly ground from berries

1

cup

packed brown sugar

1/2

tsp

fine sea salt

1

tsp

baking soda

1/2

cup

unsalted butter

melted

1/2

cup

plain yogurt

2

lg. organic eggs

beaten

2

cups

cooked parsnips

see parsnip & parsley root soup for method

1/2

cup

grated carrots

1/4

cup

toasted pumpkin seeds

additional melted butter

coarse sea salt
Instructions
Pre-heat oven to 350 degrees. Spray a large bread loaf pan with non-stick cooking spray.

In a large bowl combine flour, sugar, salt, and baking soda.

In another medium bowl, combine butter, yogurt, eggs, parsnips, carrots, and pumpkin seeds.

Add wet ingredients to bowl of dry ingredients and gently stir until combined.

Spoon batter into greased pans and sprinkle with additional pumpkin seeds if desired.

Bake for 50-55 minutes or until a toothpick inserted in the center comes out clean.

Remove from oven and cool on a wire rack.

Brush with melted butter if desired and sprinkle with coarse sea salt.
Notes
For a different twist, batter can be spooned into small cast iron skillets, or small mason jars. Reduce baking time if the pan used is smaller than a bread loaf pan.