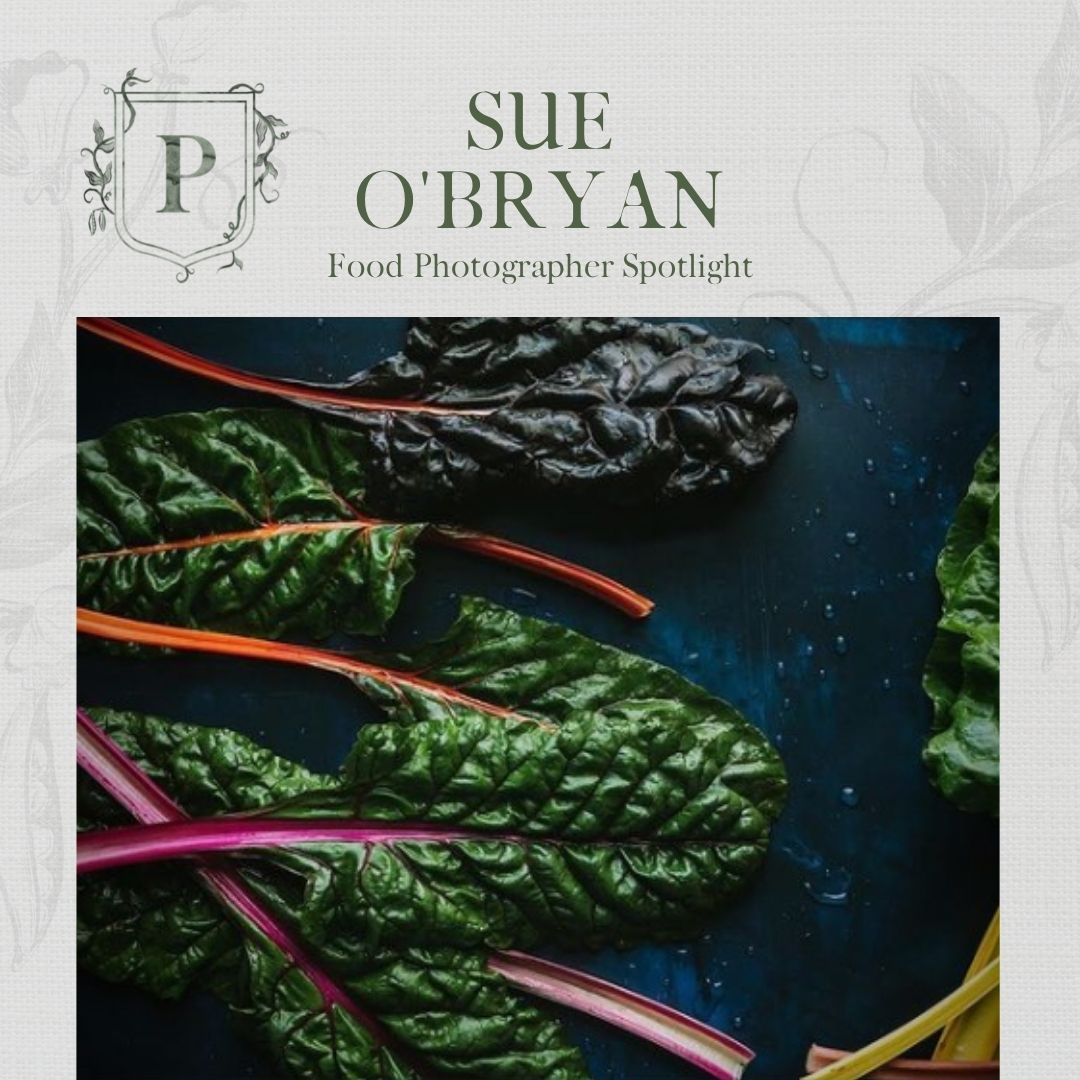 Today, I would like to share an interview I did with Sue O' Bryan, one of the original members of my mentorship-based photographer course, Portfolio To Profit.
I am blown away by Sue's work ethic and tenacity. She has shown a dedication to high-level learning that is rare and special. Sue has even been teaching community photography classes while in the program. She takes such pride and joy in introducing herself as a professional food photographer after 25 years of working at a desk job. While she never seriously considered being a professional food photographer, Sue has been an appreciator of food for a long time. Growing up, her parents took her to any oddball, hole-in-the-wall restaurant they could find which developed a natural curiosity and enjoyment around food.
Her love of food and cooking led her to enter a burger recipe contest with the LA Times – and to her surprise, she won! The recipe was great, but the photo, not so much. The competition organizers told her the iPhone photo she submitted was "too yellow." They gave her some resources and asked her to try again. She wasn't entirely sure what they meant. Isn't one picture of a burger the same as any other? And Sue was off on her food photography journey!
With a new desire to learn the ins and outs of taking a good burger picture, Sue took a food photography class. It was in the middle of that class that Sue quit her day job to pursue food photography full time. Talk about unshakable courage! This is another thing I love about Sue. If she wants something she will learn and go after it without hesitation.
Like many of us first starting out, Sue hit a plateau. She got trapped in a work for exchange loop: taking photos for brands and restaurants for exposure and product. This mindset can be difficult to break free from, and Sue felt like she didn't have the tools, skills, or knowledge to transition to professional, paid work.
It was about a year later when Sue joined the Master the Art of Food Photography Summit. As she watched the summit presentations, she realized that the world of food photography was huge. So many speakers at the Master the Art of Food Photography Summit were sharing their path to a professional career. Sue was encouraged by the stories that began right where she was now, but felt that there were a lot of missing pieces to find before she could reach her goal of being a full-time photographer.
Ever since she joined the Portfolio to Profit mentorship program after the 2020 summit, Sue's confidence has soared. In the photographer course, she's found answers to her questions and the tools to start leveraging her skills for high-ticket success! Learn more about her amazing transformation below!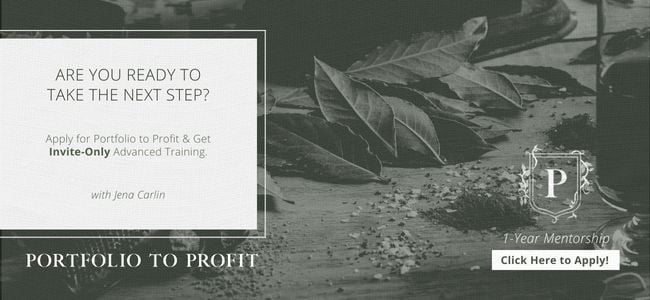 Q&A
What made you want to join Portfolio to Profit? Was there an 'aha' moment or a specific feature of the photographer course that totally sealed the deal for you?
I come from a background of competitive sports where I worked with a coach. It wasn't until I started working with an individual coach that I saw my ranking go from 18 to 3. For photography, I always thought, 'I'm not a trained photographer; I didn't go to school for photography.' And I'd just wish that I could have someone that I could work with really closely and on a one-on-one basis.
I was also held back because I felt like I was a little too old to be applying for an assistant job, but it had always been my dream to be mentored and coached by someone in food photography. So, when I saw the opportunity in the form of Portfolio To Profit come up, I took action.
At first, I thought I couldn't afford the professional photographer course, but I knew it was exactly what I had been waiting for. I couldn't convince my husband that it was a worthwhile investment because I had not made enough money as a food photographer. I just didn't have confidence! To raise the money I got another job for three months and saved everything I could. Although I thought 'I might regret this!' I just did it anyway.
I knew I needed some personal direction – a cheerleader. But on top of that, I also had no clue how to price my services as a photographer, although I had been doing so for two years. Instead, I would simply go with what my potential client told me they wanted. I realized that being a successful food photographer was more complex, and I could really benefit from feedback and a community.
What were you most looking forward to and what happy surprises have you found in the program?
The thing I was looking forward to the most was having a buddy in my corner who would actually take the time to look at my photos and give suggestions on how I could be improving. It was also important for my mentor to have a lot of experience working with artificial light.
I had a little speed light sitting in my basement for three years that I never used. However, once I signed up for P2P, I started using it. I was also looking for basic feedback on lighting, such as whether my images are too blown out and something along those lines. I was also looking for recommendations on modifiers I could use instead of focusing on the equipment she already has.
To me, a huge surprise in the program was in making friends with members of P2P. I not only learned a lot from their critiques on my shots, but I'm also inspired by their work. For example, I observed that some of the other members in the photographer course were constructing cucoloris modifiers on their own and was motivated to learn it myself. I would also look at their portfolios and think about how they made those shots, and even reach out to them to ask about how they achieve those results, including things like lighting.
Initially, I had a negative view about networking. But since the module about networking on P2P, I gained the courage to reach out to other photographers and was pleasantly surprised by their enthusiasm in doing a photoshoot just for fun. Not only has doing so improved my photography, networking has also given me useful contacts who could refer clients.
What would you say has been your biggest win professionally so far?
Firstly, one of the biggest wins is raising my rate. I'd always heard that people will respect you if you don't work for free. But for some reason, I thought that because I'm older, I didn't go to photography school, and I get free food from taking photos that it was okay. Before, I did not even disclose my rates and how much I charge. In your very first critique, you suggested going to this rate, and the very first shoot that I did after that, I priced it all out.
I know that it doesn't always work like that. But I started to learn what's not a good fit for me because I am putting in a lot of time for little return. Even though I didn't go to photography school, I have spent resources and time on equipment and education. The fact that my friends seem to like my photos made me think that my work is pretty good, even though I realized I can still improve on them.
So, I raised my rate by almost 500%. That's how much it was, I know. I also learned how to structure a proposal in a way that is really attractive to the client. For example, giving them different options and a nice mood board of colors I feel would match their story. I also add images that I feel would go well with their brand. I also include examples of my work that they've said that they like. Instead of just responding to an email by saying, "Oh I could do 10 photos for $100". I now go about it completely differently now!
How has it impacted your life and your photography?
At the beginning of P2P, you asked us to set some goals. I went ahead and set a goal for two clients or two shoots per month. At the time, I thought that was kind of outrageous because as I looked at my business, for the past two years, it had been much less than that. So I thought that would be great if I could do that.
Within two months, I've been able to go from aiming for two shoots a month to feeling ready for a lot more. I'm definitely doing two per month right now. So P2P has had a huge impact on me, financially. P2P also helped me in terms of being able to use and understand the equipment I have, as well as also knowing what equipment and skills could benefit me and how to kind of parcel that out.
Secondly, I think I now have better communication with clients. This was an area that I was really lacking because I was just going off the cuff before. I did not realize that my own personality can be kind of abrasive or not professional. Getting feedback from you about this really helped. I had this happen with a proposal that I sent out, or with a shoot I did. Understanding how to communicate with clients in a constructive way that can add value to what I'm doing was huge.
Lastly, knowing how to talk to people, which includes knowing the right questions to ask my client such as how many images, the usage rights and how to structure that all in a way that's non-threatening to the client that gives them some room to make creative decisions…I now feel like I am able to deal with the client side of things more confidently.
Can you describe the transition of finding your voice throughout this process?
My transition in this has been huge because I didn't realize that I had a voice. Some of my friends would say that they can always tell when an image is mine. One of the things that you challenged us to do was to find our artistic voice. And I realized something I never knew, which is that although I'm not going to shoot certain things for clients, if it excites me, it's going to motivate me to practice more. So that's the main thing for me.
I also love fashion although I don't even have that many clothes. I love having food be just an element in the photography and have clothing be in the scene somehow. Through the mood board exercise you had us do in the first or second module I learned that I really liked pop art, bright colors and hard shadows. I didn't really know this about myself until now!
How has your pricing and communication with clients evolved since joining?
It's almost like telling a story to the client when I present a collection of what I've done. So I will say, here's the one shot you asked for but here's some other shots that are related. I would tell them that I think it would really round out the story they're trying to tell. I've done that two or three times and they would usually say to me, "Yes, I want that one. And I want that one". Because of what I've learned about pricing now, I would offer extra shots to my clients at a reasonable, additional cost because I'm going to do some editing anyway. That was huge because I never used to do that.
Learning how to make contact sheets, and how to deliver my product or information to the clients is something that is totally new for me. It's completely different from the way I used to do it.
For instance, I was hired to do this menu shoot for a restaurant here in Vancouver. At the last minute, I thought offering them a header shot for their website would be a good idea. So when I sent them the pricing, I just included it as an option. Like just in case you know, you might want a header shot, it would be this much more. So when I sent them the contact sheet, it had the shot they asked for as well as a header shot and two other shots. To my surprise, they just jumped at it. I never would have thought to do that before, in fact I would have just sent them what they wanted without any other offerings.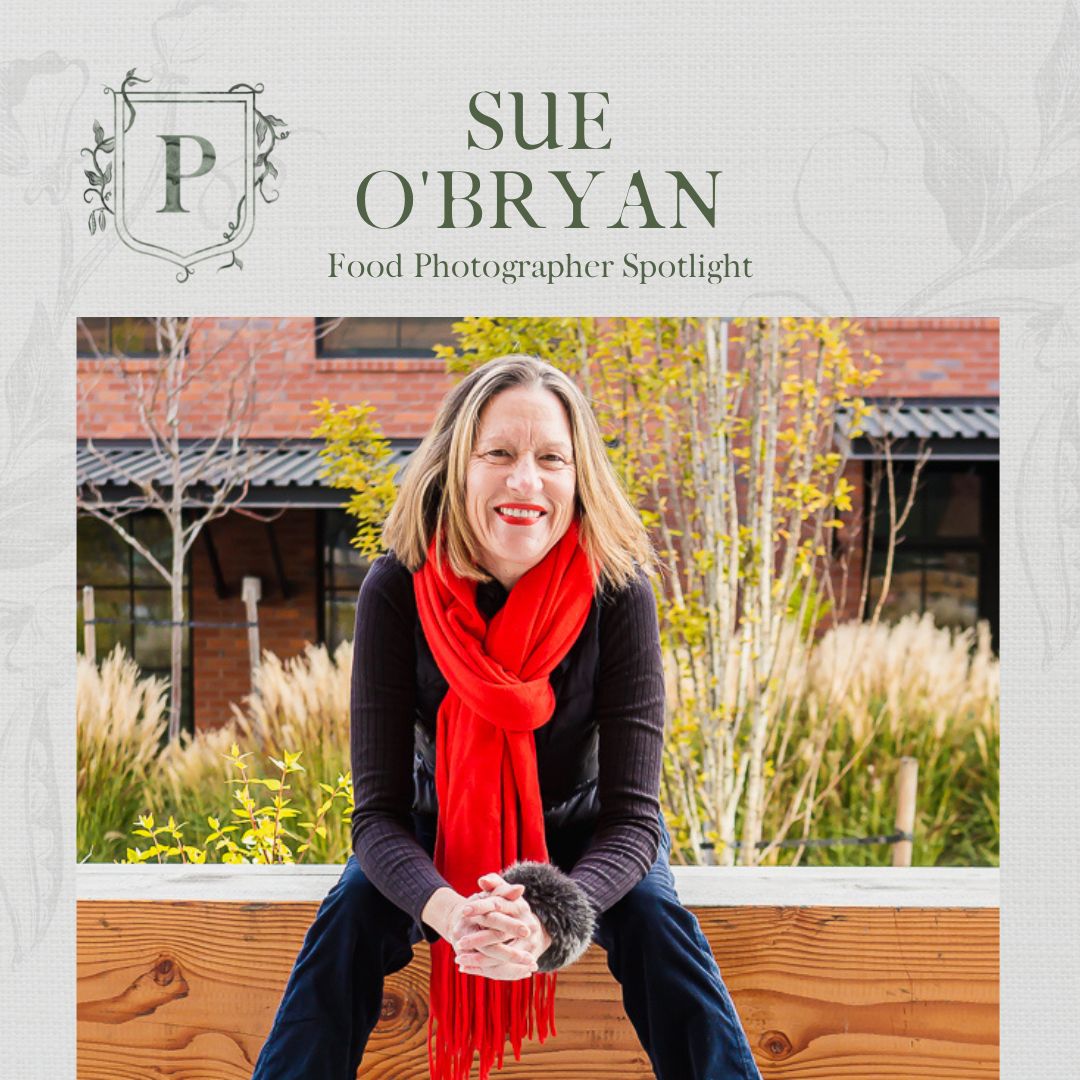 How has the group impacted you for the better?
I mentioned that I had the speedlight in a closet, or in the basement for three years. And it's not one of those common ones where you see all the time; it's a great little speedlight. But anyway, when I finally posted about what model I had, it turns out that someone has the same exact one. So we've done a couple of Zoom calls to talk about it. Actually, because she had done the same thing, she had not looked at this damn thing for a year. So I felt like I could teach her something. So we've done a couple Zoom calls about that.
As I mentioned before, it's wonderful feeling like I have somebody who I could text or message late at night to ask something like, "How did you get those croissants to not look so flat?" And they just send me the whole lighting setup and give me tips. I will try their ideas out and discover that doing certain things give way more dimension. And that I could try to take care of it in editing. But there was something about what someone posted that made me feel like I could reach out to him. He was a member of our community. He got back to me right away. This gives me a feeling of security and comfort and fellowship.
You mentioned being in a lot of other programs and Portfolio to Profit was the one that moved the needle the most in your business. What makes this photographer course so special for you and what are your needle movers?
First of all, it required more of an investment on my part. But I've learned through the years that oftentimes what you spend is proportionate to what you will receive. That was why I enrolled. I had been in one other food photographer course that gave me the hope to know that I could be a food photographer.
Portfolio to Profit really helped me see my photography in a different light. The one-on-one critique of my photos was the most important part. People will just respond on Instagram telling me that it was a great shot and so on. But then you would come in and say, "Well, there's a million pieces of dust on this chocolate chip. It's a great shot for Instagram, but if you were going to try to get Ghirardelli as a client, you would want to learn how to remove every single piece of dust, or know how to shape the light to fall on those three chips right there."
I don't think I ever would have figured that out unless I had access to another human being who I knew was going to respond. So, to me, it's the one-on-one interaction and your level of experience as a commercial food photographer that made P2P special. You're not just a food blogger, but also you're a commercial food photographer with a lot of valuable experience.
How long have you been in P2P now?
Since October 5th. So October, November, December, January, February, March. So, I've been in the photographer course for five and a half months.
What has been your favorite part of P2P so far?
I look forward to the coaching calls the most, and a close second is getting the constructive feedback. I also look forward to the fifth of the month for new content to drop. I'm really excited to see what you're going to be teaching us, and my favorite part is going through the modules.
Something that's been invaluable to me has been watching you construct a shoot and seeing where everything is and how patient you are with your shoots. It's another thing I did not realize. I used to just go into restaurants and just whip out my camera to take pictures of food. But now I know that there is a lot more involved when you're doing a shoot.
You're going to be looking for the best ways to shape the light and what time the light looks best, even when you're working with artificial light. So things like, Do I want to use two lights? Where do I want to position the light, or whether I want to use back light or side light. Understanding all that is my job. So if I take out eight hours out of this date to photograph a pulled pork sandwich, it's okay. Because the first shot usually sucks.
Do you have a favorite coaching call moment?
My favorite part is getting that new content where I can just soak it all up and see what I never would have the opportunity to see. Yeah, I just get really excited about it.
What would you tell someone who was on the fence about joining Portfolio to Profit?
I would say to them to just go for it. If you want to be a food photographer, and you want to know how to actually have a profitable business, you will get a return on the amount of investment in P2P. So if you have to get a second job to pay for P2P, do it.
I keep thinking that I don't know that I ever would have been able to improve this way if I had not had all the feedback I received in this photographer course. I'm only halfway through the program, so I would definitely encourage someone to just go for it and have faith.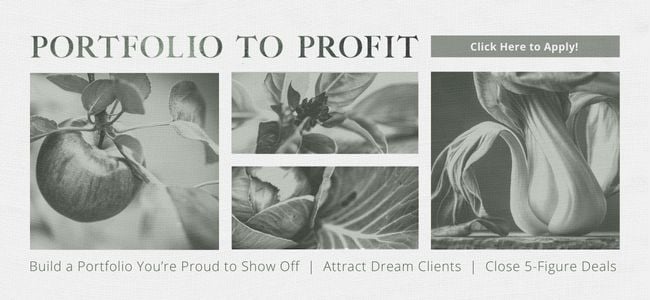 Follow Sue on Instagram @sue_obryan and make sure to check out her portfolio work on her website, susanobryan.com. And learn what Sue and my other mentees know by applying for my mentorship program and photographer course Portfolio To Profit!
---
Interested in other photographers who have taken the leap? We've got stories for you!