What is the first word that comes to your mind when you hear the word "dairy"? Cheese, milk, farm, cows? Ask Nicole Opie of Opie's Goats that question and she would agree on all of those. However, she would probably start with the word "goats". As we wind down another June Dairy Month and the celebration of dairy in Wisconsin, let us also acknowledge a rock star of the dairy family known as the goat. There are more and more products available nowadays that use goat milk. Milk, cheese, lotions, and even soap, like my friend Nicole Opie makes.
Nicole owns and operates an organic goat milk soap company called Opie's Goats on her farm in Beloit, WI. She hand milks her goats, then uses the milk to make artisan soaps. She recently spent three weeks in Africa teaching local farmers modern techniques to care for their herds. Nicole knows her stuff. Her goats feed off the land on her farm. Unlike large commercial farms that often use feed, she lets them feed themselves. They eat leaves, shrubs, grass or just about any other kind of vegetation. Things that help their digestive system, not destroy it. This method not only helps the goats, but helps clear the farm of unwanted brush and things we call weeds. It also gives the goats the nourishments to produce incredible milk. If your looking for a natural farmer that is doing things in a responsible, sustainable way, she's your gal.
I know what your thinking. Jim, I thought this was a food blog? You can't eat soap! Actually, many parents would disagree with that statement. Why else would they ask their kids if they want it whenever bad words are uttered from their mouths? "James, would you like me to wash your mouth out with soap?" If I had Nicole's cured goat milk soap at the ready, I might have said "sure mom". You see, the soap that Nicole makes from raw goat's milk is completely edible, however, I'm not recommending that you eat it. She uses all natural ingredients like homegrown berries, cinnamon, green tea, orange peel, coffee, ginger and a host of other organic herbs and spices. It makes me hungry just thinking about it. Her soaps are great, and you can buy them at a number of stores across the country, but I was interested in the milk her goats produce for this article. As a matter of fact, let's get to the other wonderful uses of goat milk, such as cheese.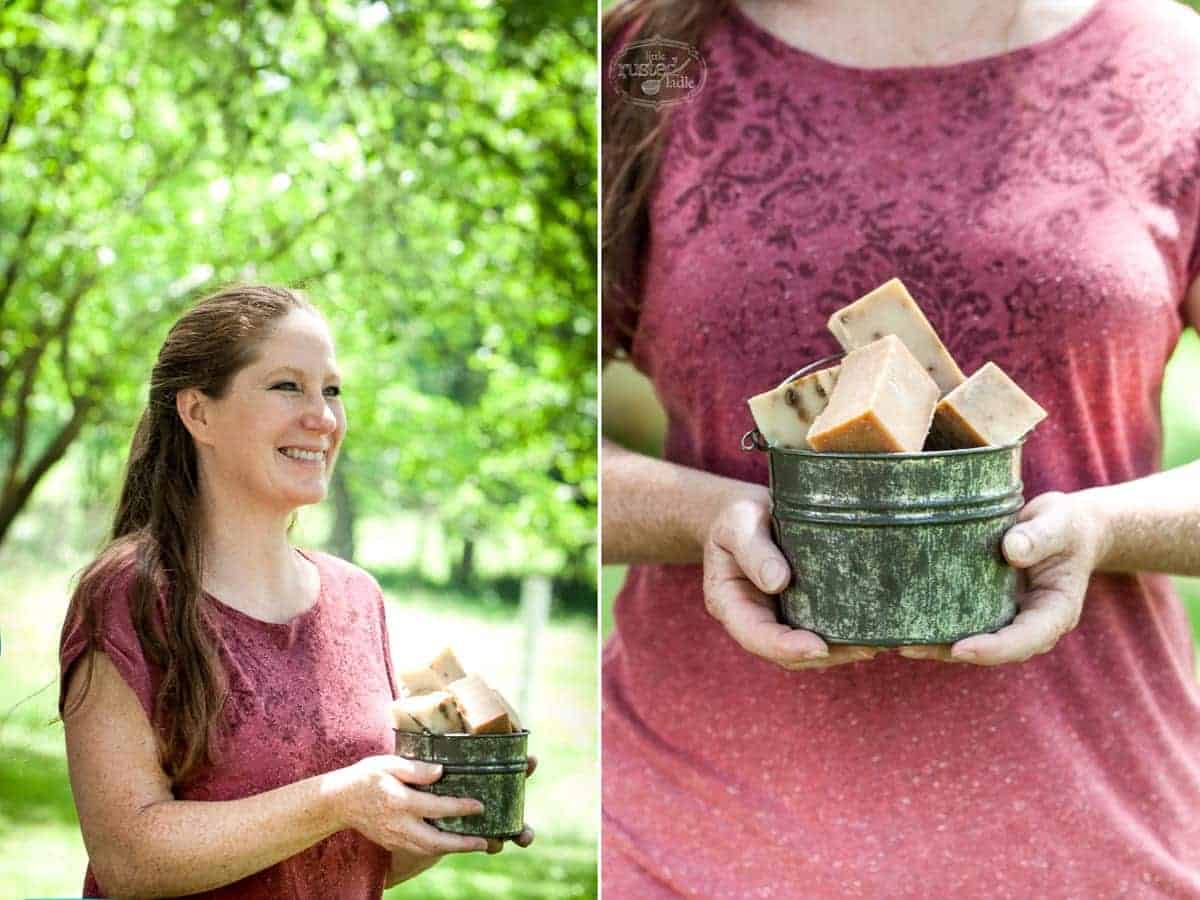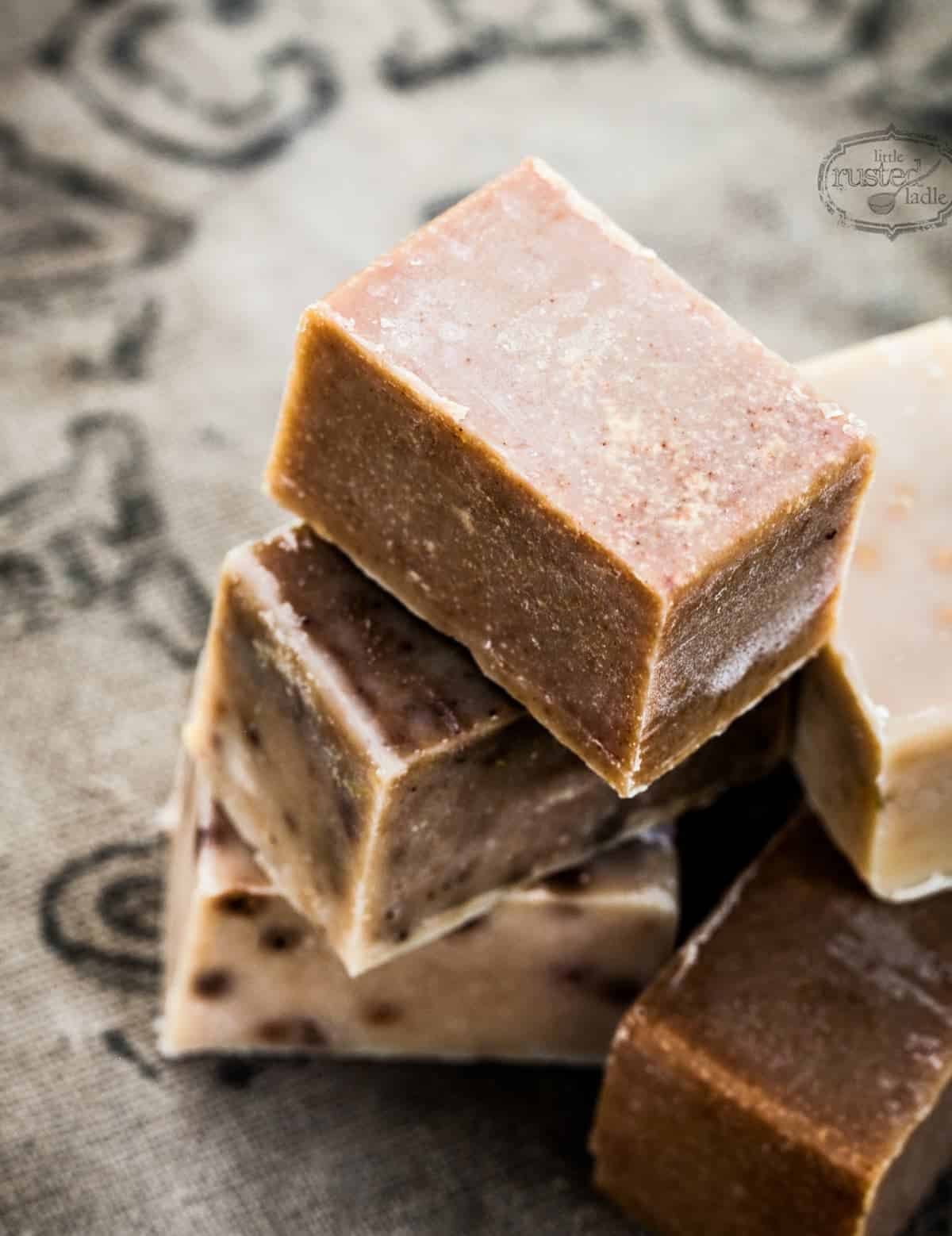 Knowing Nicole for a long time, I knew she has experimented with many recipes using goat milk, so I asked her for an easy goat cheese recipe. Her answer was Labneh. Labneh is basically yogurt cheese. It is made by mixing yogurt with salt, then letting the whey drip out through a sterile cloth by hanging it over a bowl. It's really that easy. You can use store bought yogurt, or do it the way Nicole does, and use raw, un-pasteurized goat milk, and make your own yogurt by adding culture, or yogurt you already have and letting it thicken. For an easy description of how to make yogurt from scratch, check out the food blog Chef in Disguise.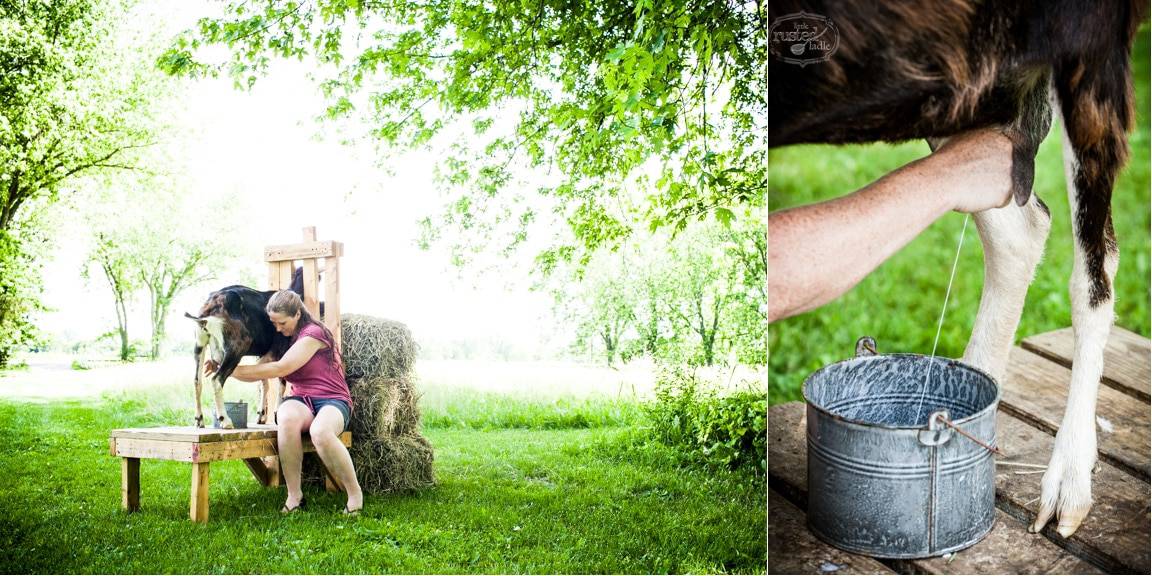 (http://chefindisguise.com/2012/04/01/make-your-own-homemade-greek-yogurt/). Hers is made using cow's milk, however, for this article, we used raw goat milk, which due to regulations, is not available for sale in Wisconsin(yet). To learn more about the health benefits of raw goat milk, check out an article in Natural News at http://www.naturalnews.com/031586_raw_goats_milk_health.html . If you think about it, the best milk for babies is raw mothers milk. Why then wouldn't the same be true of all milk? Just something to ponder.
Back to Labneh. We made a batch of this creamy, goat cheese by adding 1 tsp. of sea salt to 1 quart of goat milk yogurt. Feel free to use greek yogurt if you like. Let it drain for 24 hours in the refrigerator. The next day it was put it in a container and stored until we were ready to make something with it. Creating recipes is not always easy. Especially when you need to document everything. This was the case with the Labneh. I can't very well add salt to yogurt and call it a Little Rusted Ladle recipe, so even though it tasted great on it's own, it needed to get a boost. Jena and I went to her local grocery store for inspiration. Thirty minutes later, we came out with avocados, limes, baby cucumbers, and habanero peppers. These were to be used for our Fiery Goat Cheese Rollups. Thin slices of cucumber are spread with a mixture of the prepared labneh, fresh herbs, fresh lime juice and zest. I used a ziplock bag with a small hole cut out as a way of applying the cheese spread. Simply rollup the slices like a pinwheel, then lay them on their side and add a small sliver of habanero pepper. Be sure to wear gloves when handling habanero peppers. You may substitute jalapeno peppers, or eliminate the hot peppers all together. The combination of the tart, creamy cheese, garden fresh herbs, and avocado are the perfect muse for the crisp cucumber slices. The pepper adds a burst of fiery heat that is quite invigorating. The mixture is great just on crackers. You can also eat the plain Labneh mixed with fresh herbs. Either way, goat cheese is a delicious dairy delicacy that may well leave you taking a second look at the wonders of goat milk. I know Nicole Opie would appreciate it, as would any other hard working goat farmer in the country. To find out where you can buy Nicole's goat milk soap, go to her site here. Remember to cook with love and live to cook.
J.R.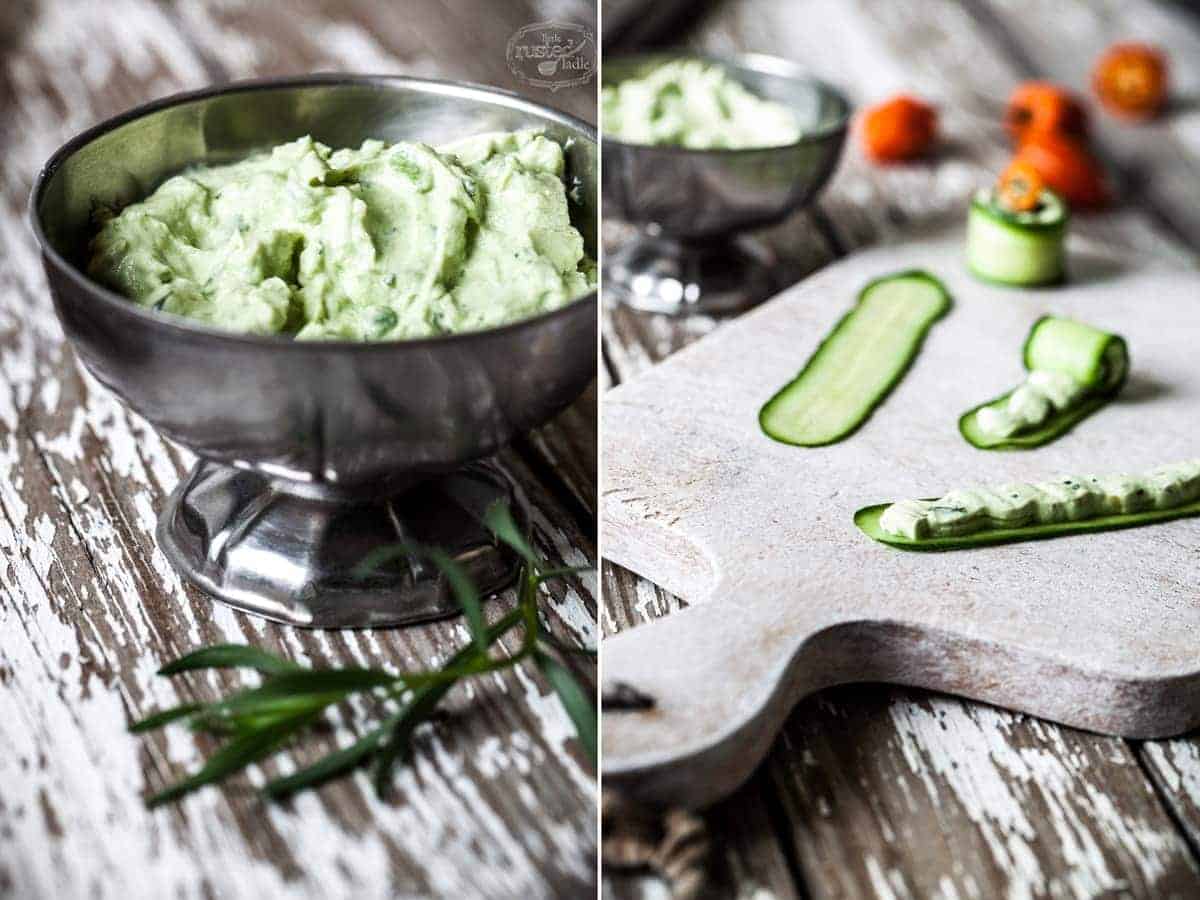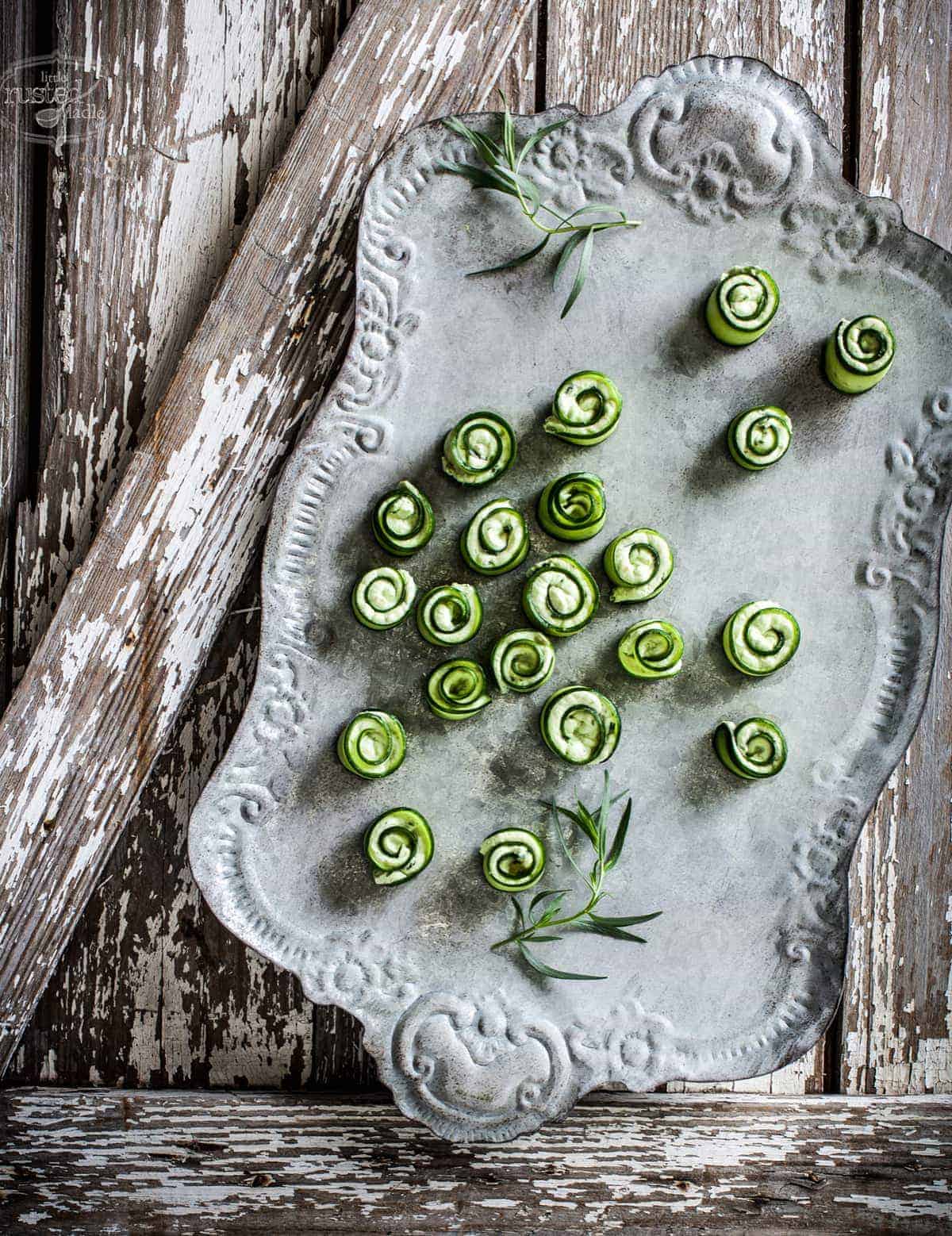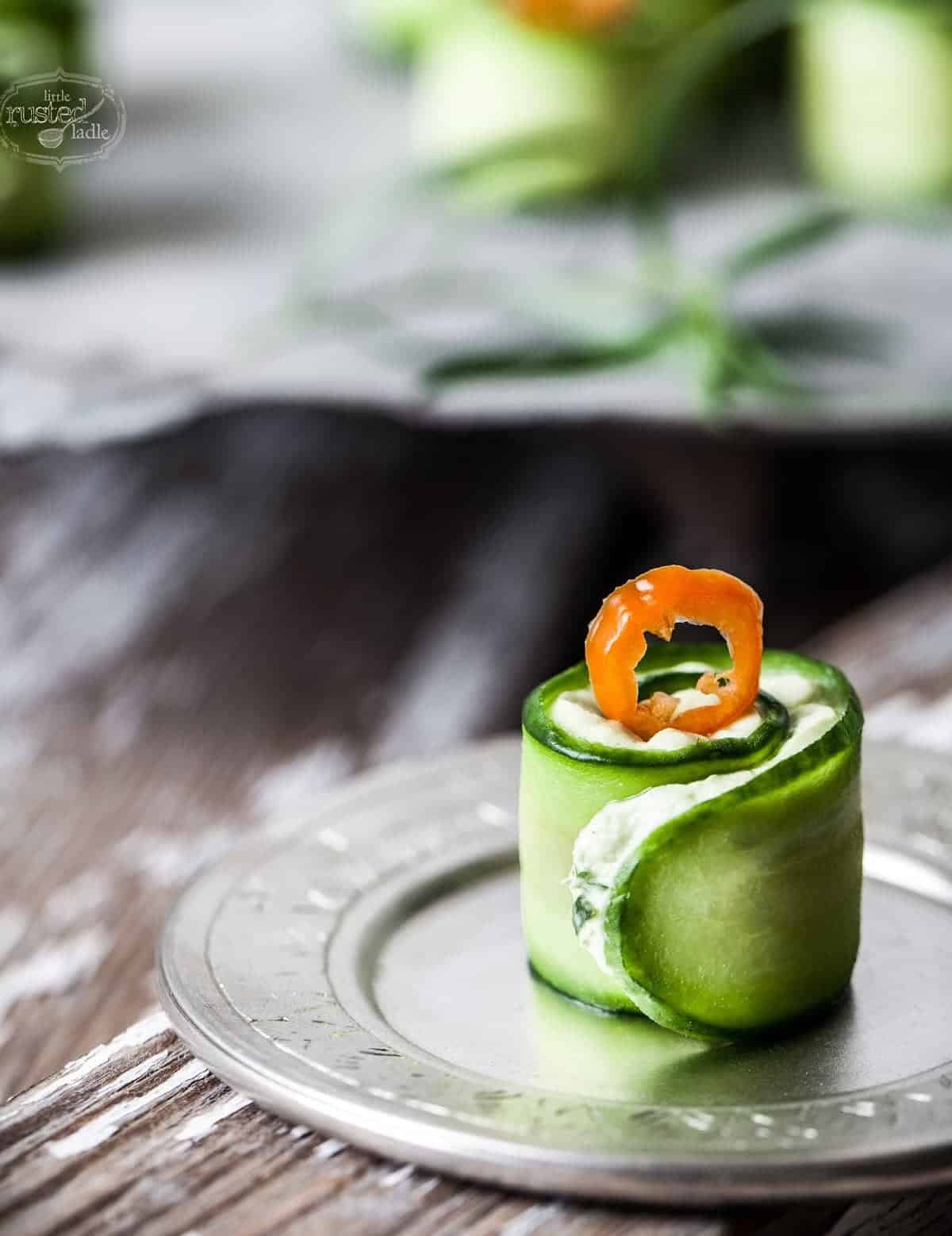 Fiery Goat Cheese Rollups
Recipe Type
:
Dips and Spreads
Cuisine:
Southwest/Lebanese
Author:
Prep time:
Total time:
The basic spread this recipe makes is a breeze and goes<span class="Apple-style-span" style="font-family: Georgia, 'Times New Roman', 'Bitstream Charter', Times, serif; line-height: 21px; ">great on crackers or pita chips. The rollups require a little more patience, but are a delightful appetizer for your next summer party.</span>
Ingredients
1 1/2 cups prepared Labdeh
1 Avocado, halved, scooped and mashed
1 Tablespoon fresh herbs, finely chopped such as chives, tarragon, cilantro, burnet, etc.
1 Tablespoon fresh lime juice
1 Habanero pepper, cut into thin slices.
6 Baby cucumbers, or 1 large seedless cucumber, cut into slices with a peeler, then patted dry with paper towels.
Instructions
In a medium sized bowl, combine labdeh, avocado, herbs, and lime juice until smooth. Spoon into a resealable plastic bag. Cut bag at the corner to make a 1/2″ opening. Squeeze mixture lengthwise onto cucumber slices. Roll up like a pinwheel. Top with a small piece of pepper and serve.