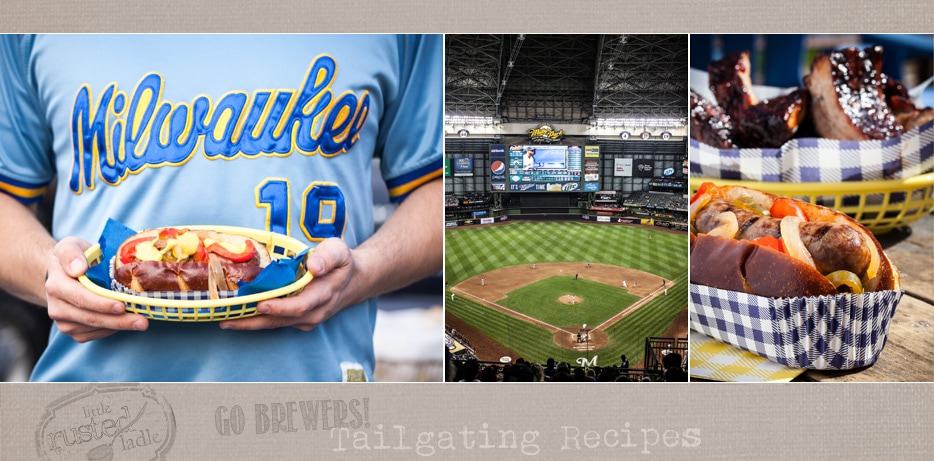 Tailgating is as much a national past time as baseball, hot dogs apple pie or Chevrolet. As a matter of fact, you'll usually find all of those things at a tailgate party. However, make sure not to forget the beer. For those of you who have spent your life being raised by wolves in the jungle, "tailgating" is the excuse sports fans use to get to a ballpark hours before the scheduled game, so we can eat, drink and be merry before we eat, drink and be merry in the stadium. Think of it as a pitcher warming up in the bullpen. Is it really a coincidence that the person who throws the ball in a baseball game is also a vessel used to hold cold beer? I doubt it.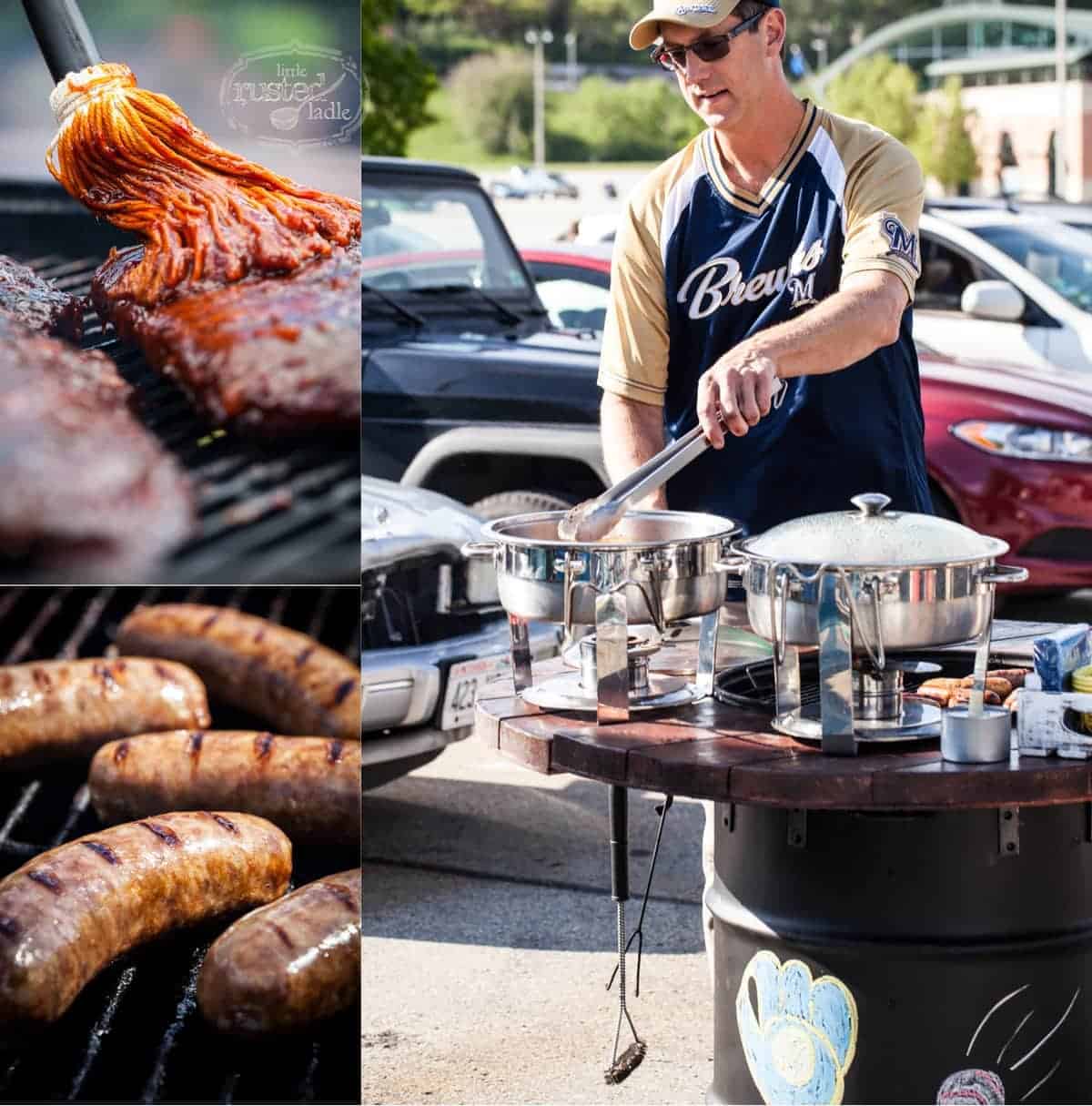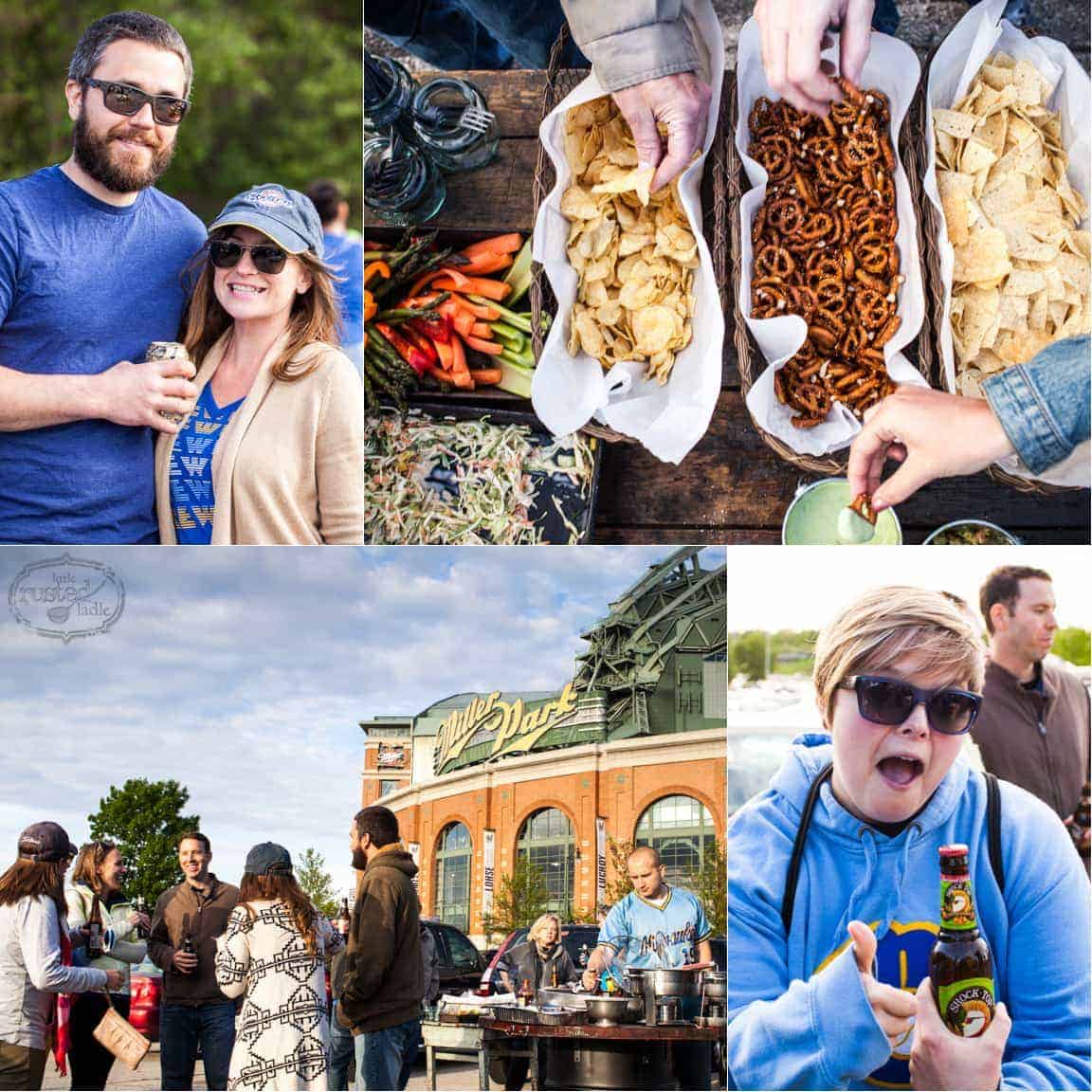 Not really needing an excuse to have a party, we decided to take LRL on the road to a Milwaukee Brewers baseball game at Miller Park. No tailgating party is complete without a handful or two of fellow tailgating friends to add to the frivolity of the event. Tailgating is really a simple concept. Pack your favorite foods and beverages into coolers, dress in your best sports team attire, then drive to the stadium, park, and party till the game starts. Then take your seats and party some more. One must be careful not to be an overly enthusiastic partier, for fear of spending a few innings in the stadium jail. Yes, they have one, and yes, I've seen it. That was a long time ago and I was innocent, but that's another story. In reality, tailgaiting can sometimes be a much bigger endeavor. For example, with this game, we had about 15 people attending and Jena and I were providing the food. Ham sandwiches or even basic brats would have been fine. Add some chips and plenty of beer, and everyone would have been happy, including Jen and I. Apparently that wasn't a challenge enough for yours truly, so I decided to take it to crazy town. Oh sure, there would be the traditional Johnsonville brats simmered for hours in a spicy chile beer broth with onions and peppers. However, I decided to add sassy sambal baby back ribs with fennel slaw, grilled Jamaican chicken satays, smoked morel cheese spread with crackers, fresh herb dip, homemade pickles, fresh veggies and assorted chips, pretzels and condiments. Needless to say, there were too many options and too many recipes to post for this article, so I'll stick to the ones that I thought worked the best.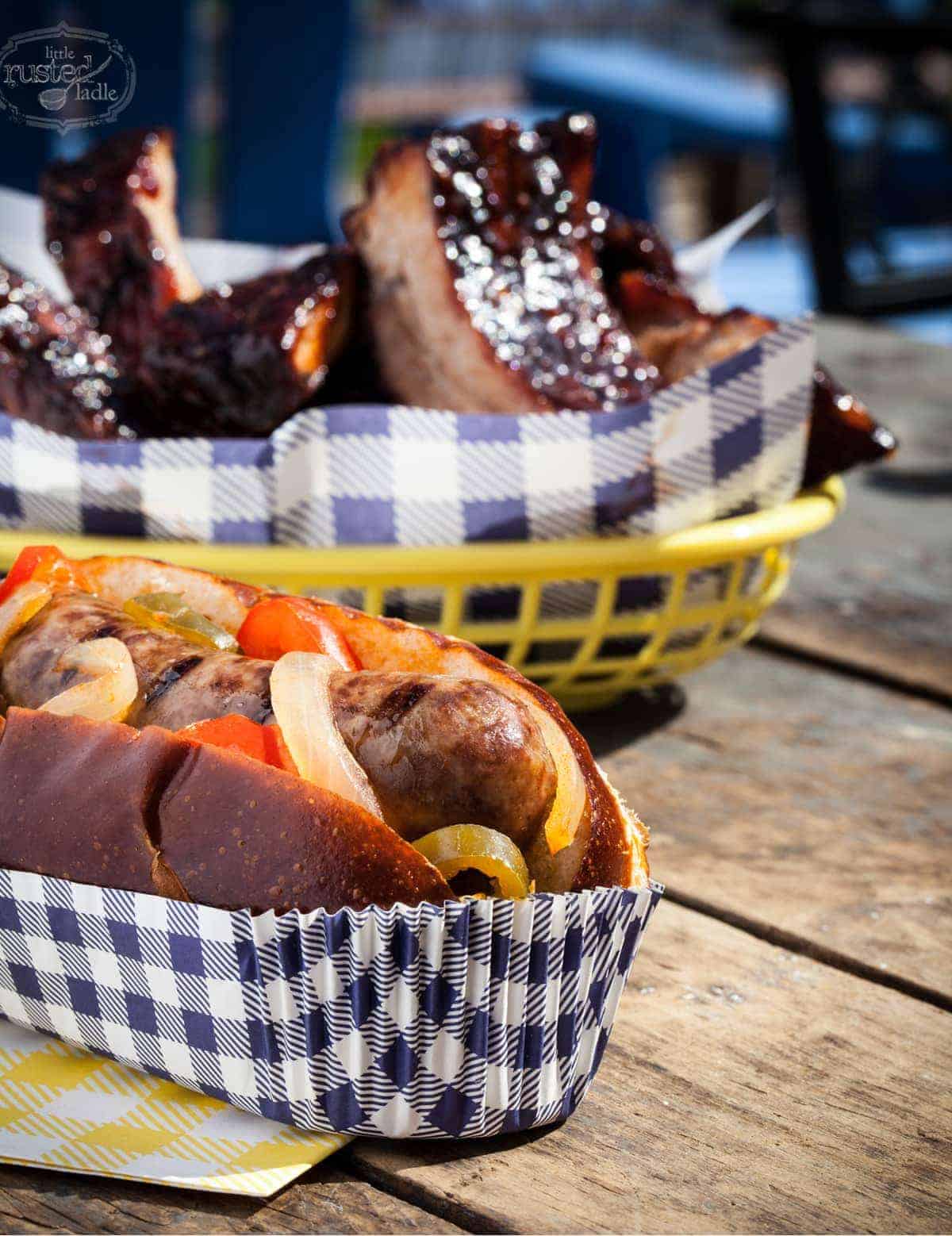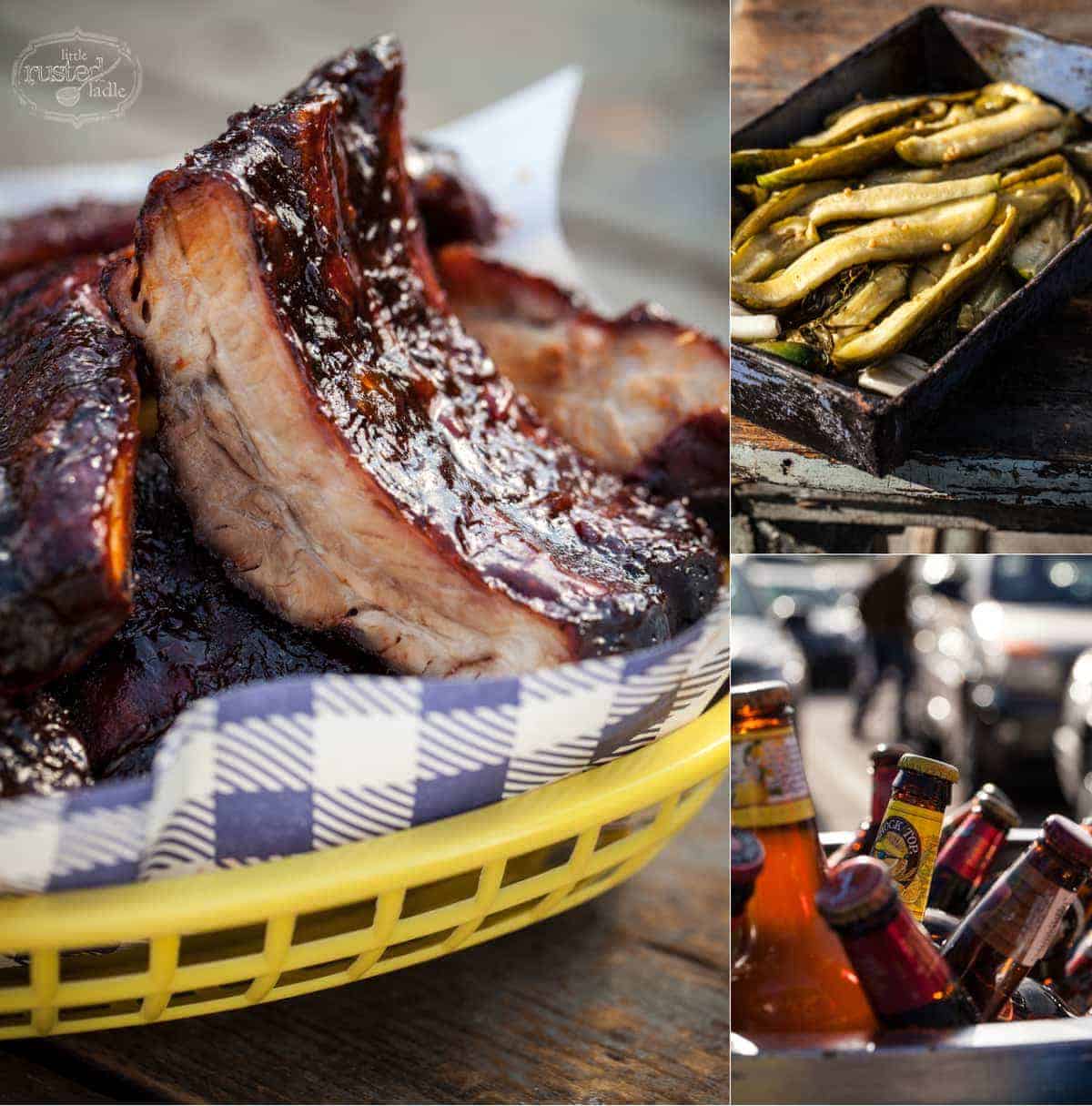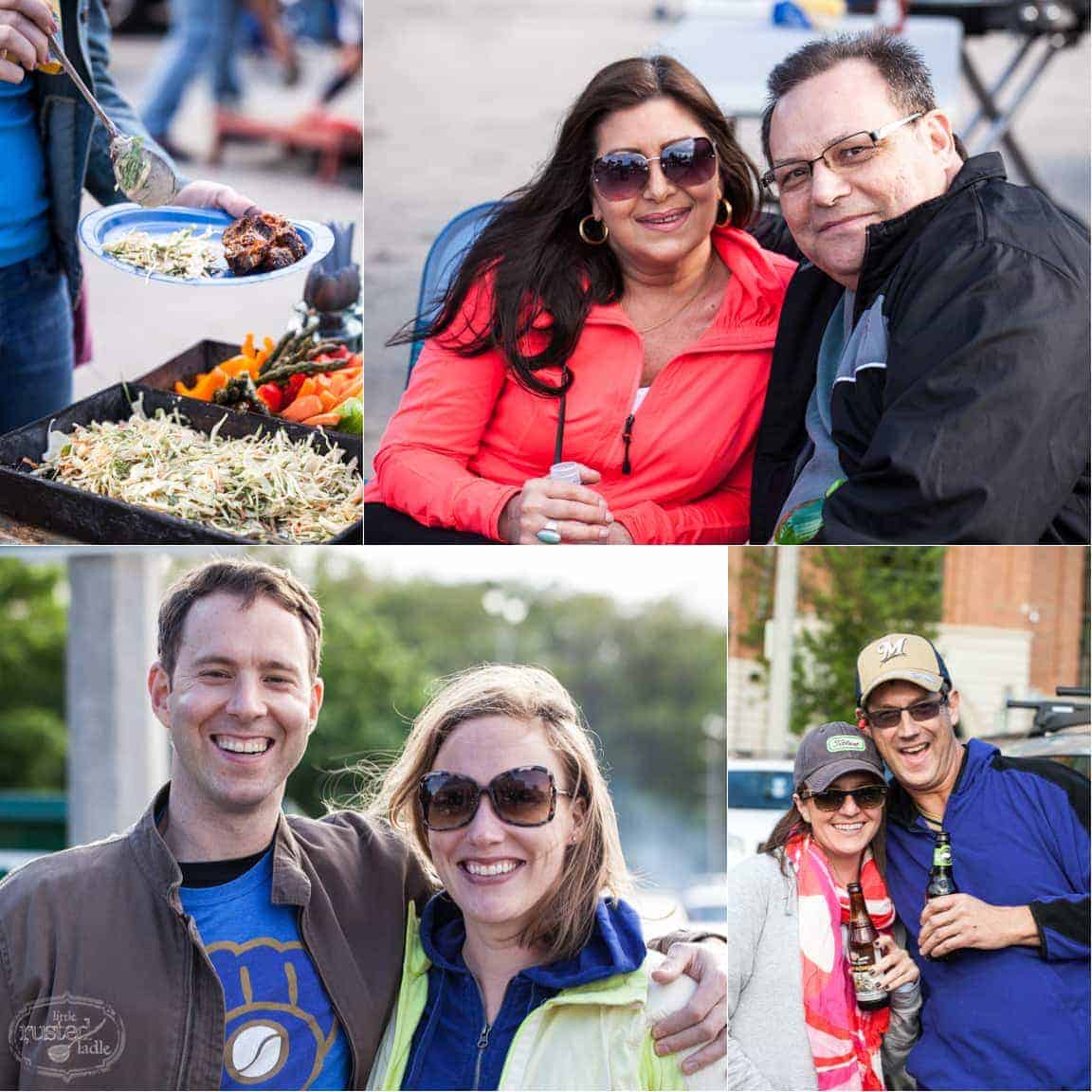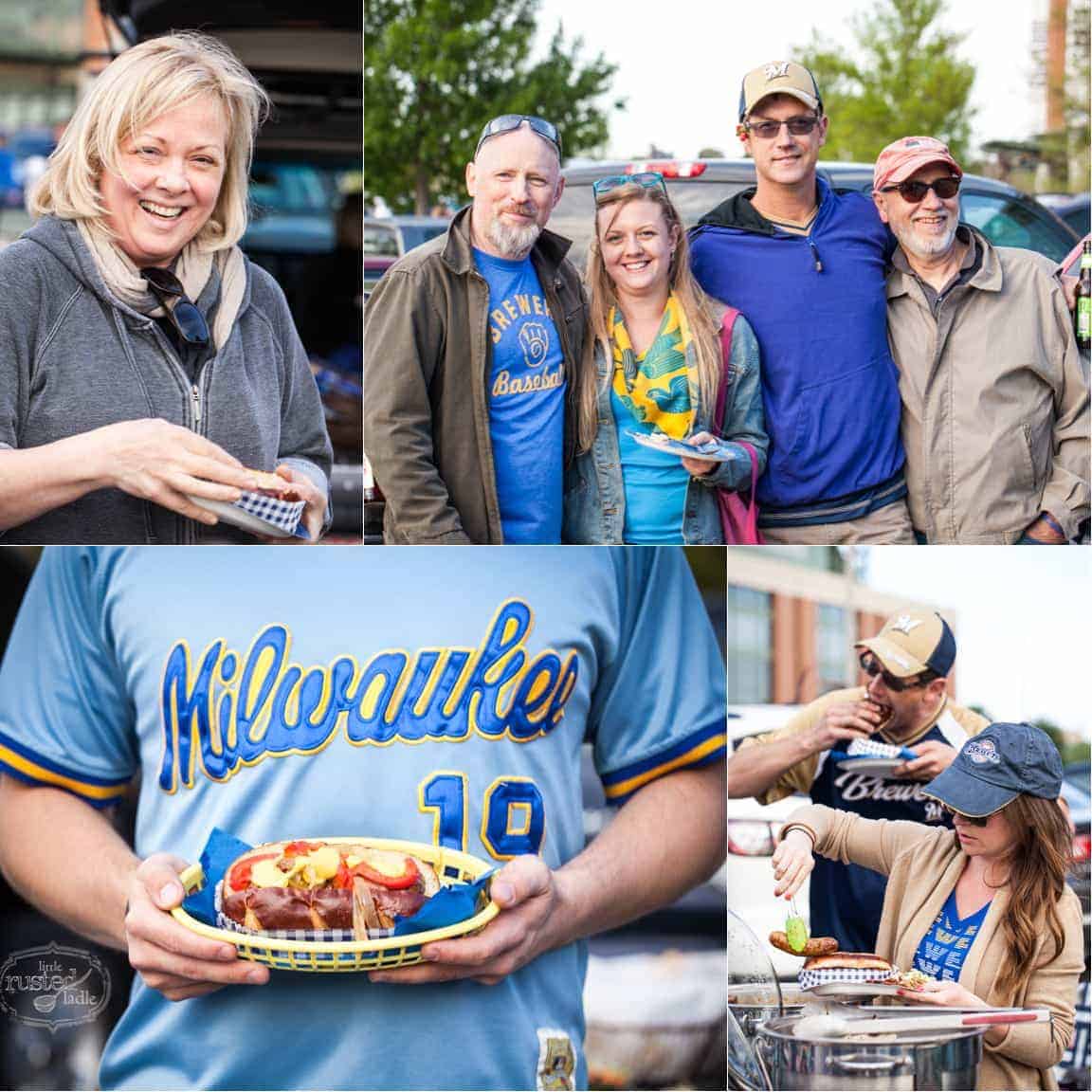 We were fortunate to have some great co-workers from Kohl's photo studio join us. A talented group of people who enjoy attending parties as much as we do. The challenge with hosting a tailgate party at Miller Park is time. We arrived when the gates opened at 4:15. From there it's a mad dash to get the vehicle unloaded, the food cooked, the people fed and then repack the cars and get into the game before the game starts in less than three hours. Knowing this, we did take steps to help make things easier. The brats, ribs, pulled pork, sauce, pickles, dips and veggies were all cooked or cut up the day before. I would recommend that for anyone hosting a lot of people. When it comes right down to it, it really doesn't matter if it's brats on the grill, sub sandwiches or steak and lobster. Tailgaiting is about having a ball before the ballgame with friends who have the same goal. Watch their sports team win another one for the gipper, or in this case Jena and Jim & the rest of the hooligans with us. In the end, we got what we wanted. A Brewer victory. We had a great time, at a great stadium, with great people. Next time I've got the chips. As always, remember to cook with love and live to cook.
J.R.
Sassy Sambal BBQ Ribs
Author:
Prep time:
Cook time:
Total time:
These smokey barbecued ribs have some kick to them thanks to red chili sauce. They taste better smoked after they have been cooked in the oven, but they can also be grilled slowly over lower heat as well.
Ingredients
1/2 Cup Light brown sugar
1/4 Cup Paprika
2 Racks Pork baby back ribs, cut in half
1 Can Beer
Sauce:
2 Tbsp. Vegetable oil
1/2 Cup Onion, chopped
1/2 Cup Yellow Pepper, diced
2 Cups Ketchup
1/4 Cup Sambal Chili Sauce
1/2 Cup Brown Sugar
1 Cup Teriyaki Baste & Glaze with honey and pineapple
2 Tbsp. Apple cider vinegar
Instructions
Preheat oven to 325 degrees.
For rub, combine paprika and brown sugar in a small bowl.
Place ribs on a jelly roll pan lined with foil.
Sprinkle mixture over both sides of ribs and let rest at room temperature for one hour.
Pour beer around ribs, cover pan with foil and carefully place in oven and cook for 90 minutes.
Meanwhile, add oil to a medium saucepan and turn heat to medium.
Add onion and pepper, then saute for 3-4 minutes or until softened.
Add remaining ingredients, stir to combine, and simmer over low heat for about 15 minutes or until sugar has melted and sauce has thickened slightly.
Brush sauce liberally over cooked ribs, then place ribs on grill away from the heat. Cover and let cook for 10-15 minutes or until ribs are tender and sauce has baked on to ribs.
Serve with additional sauce on the side.
Notes
Add wood chips to hot coals if using charcoal to add a nice smokey flavor to ribs.
Salsa Brats
Author:
Prep time:
Cook time:
Total time:
Brats are a staple food in Wisconsin. This version combines the tradition of cooking brats in beer, with mexican ingredients to add some zip.
Ingredients
Cooking liquid:
1 Can(7 ozs.) Chipotle salsa
1 Can (7 ozs.) Salsa verde
2 Bottles (12 ozs.) light beer such as Corona
1 Lime, quartered
1 Fresh jalapeno pepper, sliced
14 Ozs. Water
1 Medium Onion, sliced
1/2 Ea. Sweet red and yellow bell pepper, cut into strips
5 Bratwurst sausages such as Johnsonville
5 Pretzel buns, split
Instructions
In a large saucepan, combine all cooking liquid ingredients.
Add brats to liquid and turn heat to medium low.
Simmer brats for 30 minutes or until brats are cooked through.
Transfer brats to a plate and set aside.
Turn heat to medium high and cook remaining liquid for 30 minutes or until liquid has reduced by half.
Remove from heat and let cool. Refrigerate mixture until needed.
Grill brats over medium hot coals until nicely browned.
Transfer brats to split pretzel buns and top with cooled pepper and onion mixture.
Serve.
Fennel Slaw
Recipe Type
:
Vegetable Side Dish
Author:
Prep time:
Total time:
Nothing goes better with barbecues ribs than creamy cole slaw. This version adds the flavor of fresh fennel and the sweet taste of clementine.
Ingredients
Dressing:
1 Tbsp. Fresh lime juice
2 Tbsp. Fresh clementine juice
2 Tbsp. Sour cream
1/4 Cup Mayonnaise
1 Tbsp. Honey
2 tsp. Sciracha hot sauce
1/4 tsp. Chili powder
1/4 tsp. ground cumin
1/4 tsp. cracked black pepper
1 Bag Cole slaw mix, washed and patted dry.
1/2 Head fresh fennel, cored, and finely chopped
1 Bunch Fennel fronds from above, chopped
1/2 Sweet yellow bell pepper, chopped
Instructions
In a large bowl, combine all ingredients for dressing.
Whisk until smooth, then add remaining ingredients and toss to coat. Refrigerate for 30 minutes.
Serve
Fresh Herb Dip
Author:
Prep time:
Total time:
The intense flavor of fresh basil, tarragon, chives and parsley shine through with this tasty dip. Try it on chips or veggies.
Ingredients
1 /14 Cups Sour cream
1/4 Cup Mayonnaise
1/4 Cup Fresh herbs such as Basil, tarragon, chives and parsley, chopped
1/2 Cup baby spinach
2 Tbsp. Blue cheese, crumbled
2 Tbsp. Grated parmesan cheese
Salt & pepper to taste
Instructions
Combine all ingredients in a food processor or blender.
Blend until smooth.
Serve