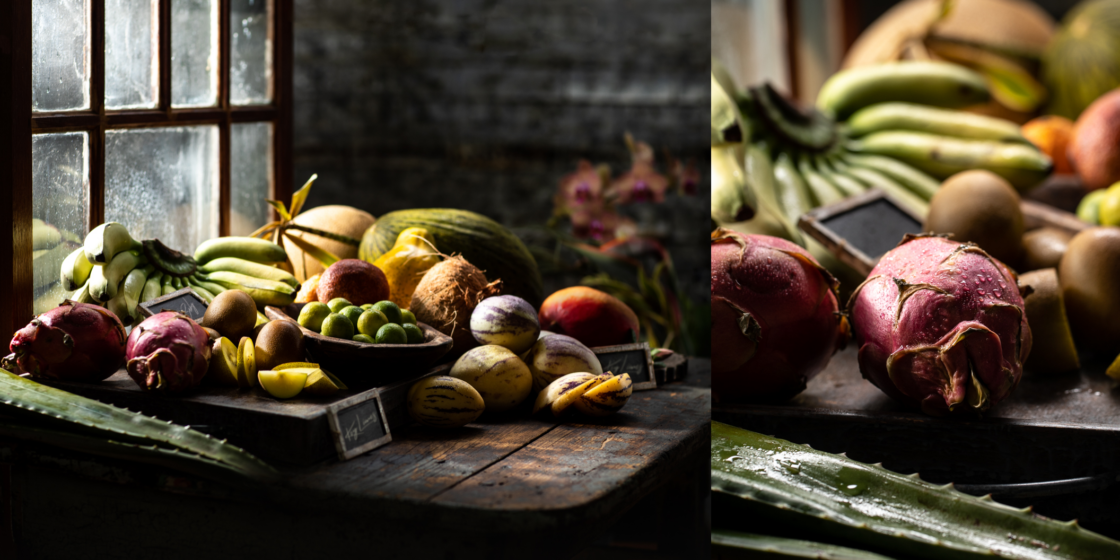 I am really excited to work with summit sponsor Adorama for this artificial light post today. This sponsored post is part of the 2021 Master the Art of Food Photography Summit and contains links that may earn me a small commission at no extra cost to you.
If you attended the 2021 Master the Art of Food Photography Summit, you probably know a little bit about my relationship with Adorama already. They were a large sponsor of the summit and gifted me Flashpoint XPLOR 600 Pros along with some stands and accessories to help update my lighting setup. Getting new equipment is the best, and the lead-up week to the summit felt like Christmas and my birthday wrapped into one.
With the craziness of the 2021 summit behind me, I've been able to spend some quality time with these lights and use them for several shoots. One I did recently was a live demo of a tropical farmer's market scene with tons of beautiful fruit and modified light for my Portfolio to Profit mentorship program. The basic setup featured a table with the fruit and an antique window clamped to a stand so we could create an "indoor" farmers market scene with the beautiful, misty tropical sunshine coming from the outside.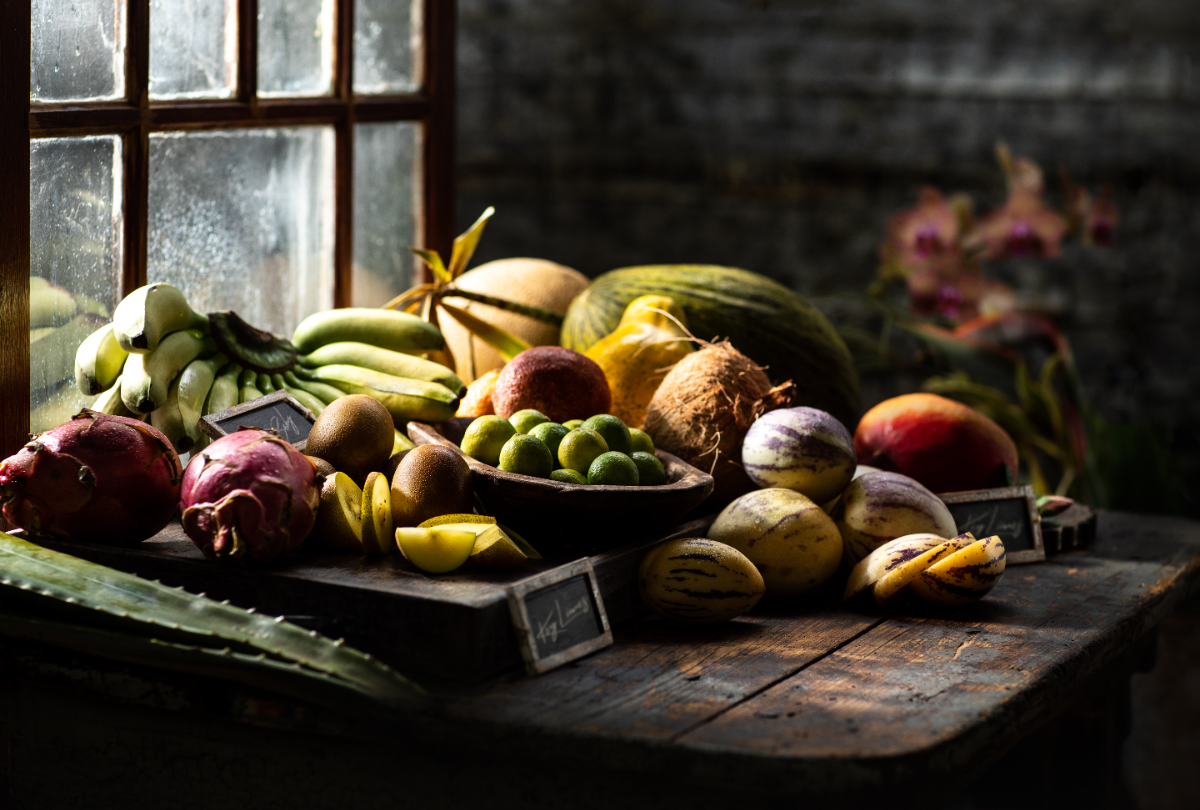 I used three Flashpoint XPLOR 600 Pro lights with different modifiers. The key light behind the window used a vertical 14 x 60″ Glow EZ Lock Quick Strip Softbox with the top layer of diffusion material removed. Then, there was the 48″ Glow EZ Lock Deep Parabolic Quick Softbox coming in with a nice circular light from the other side. The third light used a horizontal 14 x 60″ Glow EZ Lock Quick Strip Softbox behind the scene for backlight, with a large black flag positioned beneath it to reflect black back into the set. As I was in my studio, the lights were all plugged in, but they do have large batteries for taking the lights on the go.
Lights in Practice
Setting up the lights did involve a little assembly, but nothing difficult or time consuming. I handled the flash tube with rubber gloves, so the oils from my fingers wouldn't contaminate the light. The bulb clicked easily into the body of the light and mounted to a c-stand without an issue.
A quick note about the c-stands. I can't imagine what they cost to ship to my studio because they are heavy duty! That stand isn't going anywhere if you don't want it to. And a cushioned grip on the stand makes maneuvering it easy when you want to.
I am a big fan of light modifiers in artificial light, which makes it very irritating when they don't work efficiently. The Glow EZ Lock lightboxes are such a pleasure to use. I love the double diffusion panels to really eliminate any hotspots from the lights. The aluminum framing is already set in the fabric of the softbox, so all you have to do is open it like an umbrella and click the rods into place. This is true for both the parabolic and strip softboxes I've worked with so far. As an assistant at the beginning of my photography career, I had to assemble A LOT of tedious, frustrating softboxes. So I really appreciate the simple process. I have not taken them on the road yet, but I, and my assistant, will be grateful for the effortless assembly and disassembly when I do!
I am also consistently impressed that the light modifiers fit any Flashpoint light you have. So even when you upgrade or add to your lighting system, the softboxes can grow with you. You don't need a new set just because you got higher-quality lights. You won't be wasting time figuring out which light modifier goes with each light as you pack. My impression is that they are really designed with working photographers in mind.


Artificial Light Recommendations
I am clearly in love with the 600 Pros I'm working with, but the Flashpoint XPLOR series comes in a range of powers and features, and therefore prices. XPLOR lights at every power level can be used in tandem. They can connect to each other and to a trigger that will control them all from a central location. I want to break down the range for you so you can evaluate what will work best for you.
The lowest price points are the XPLOR 100 Pro, a basic off-camera monolight that's great for truly on-the-go situations and the eVOLV 200 which is a speedlight that is lightweight and low power. The speedlight is designed to mount to your camera, but can also work as an off-camera flash on a stand. Generally, these lights will stay close to the subject you're shooting, so you don't need a ton of power. The lights even come with mini light modifiers that attach with magnets. They are great for those who are dipping their toe into artificial lighting or need an extremely portable flash option. The XPLOR 100 Pro and, when on a stand, the eVOLV 200 can take on larger light modifiers with the Bowens Adapter just like the higher powered monolights.
In reality, when you're beginning as a food photographer, you can create great work with only one light. I think it's worth it to invest in a light with a little more power and versatility from the get-go. The XPLOR 300 Pro is a monolight that works solely off DC power (so battery packs). If you make the step up to the XPLOR 400 Pro, you get a boost of power and can run the light on DC or AC power.
The wattage and the prices go up from there to the XPLOR 600 Pro, XPLOR 1200 Pro, and the XPLOR 2400 Pro. For food photography, the XPLOR 600 is more than enough power. The high-speed sync, quick recycle time, and long-lasting wireless capabilities are the cherry on top of an already amazing lighting system.
Depending on where you currently stand in your food photography journey, you may be making equipment choices based on price point, or power, or portability. And wherever you land on that spectrum is completely understandable. Flashpoint has a professional, high-quality light that will work for you now. And it will grow with you as you develop as a food photographer!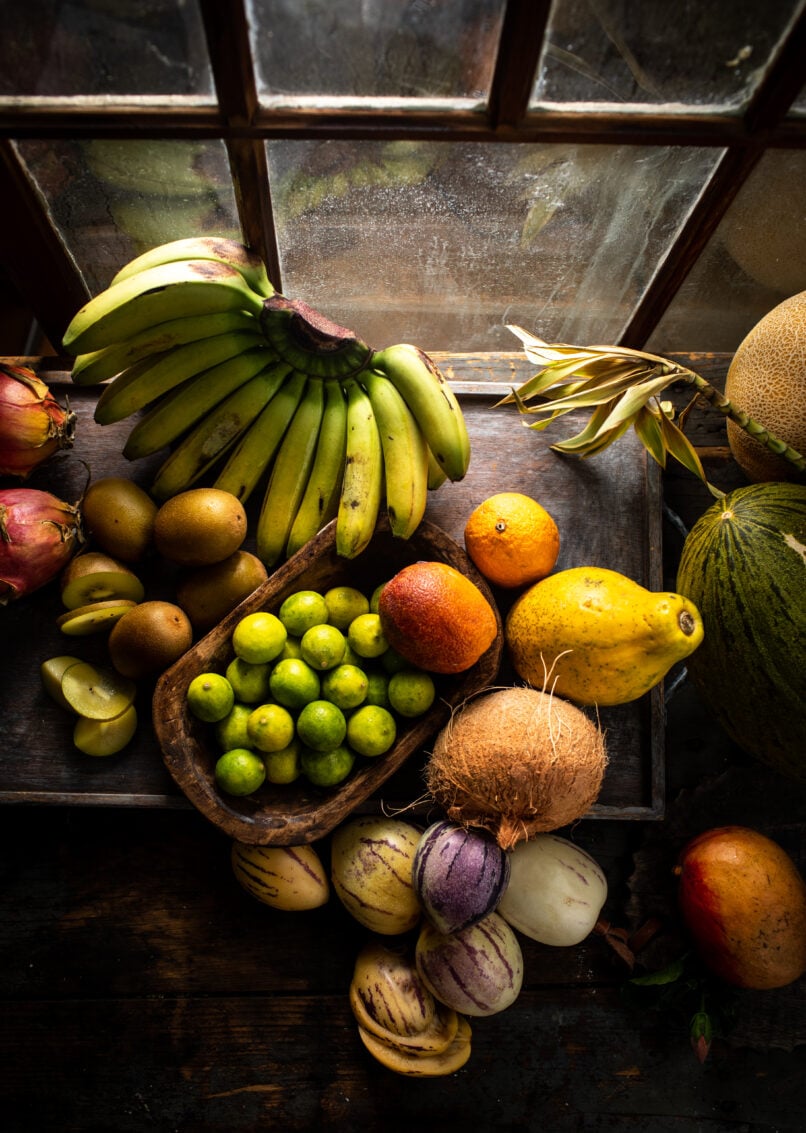 Flashpoint "First Light" Collection
Check out this personally curated "first light" list of products for those of you dipping your toe into artificial light for the first time, or looking to make an upgrade to your current gear! In my opinion, if you're on the path to being a professional photographer, you should start with a basic Monolight. These lights will give you enough power and the level of versatility that you'll need to succeed. You can see my choices highlighted in green below.
Adorama has even given special discounts to Master the Art of Food Photography lovers. Redeem special prices through 7/31/21 by using the links in the descriptions below. When you buy something using the links below, I may earn a small commission. This post reflects my personal opinion about the products provided by Adorama. (Full list of deals HERE.)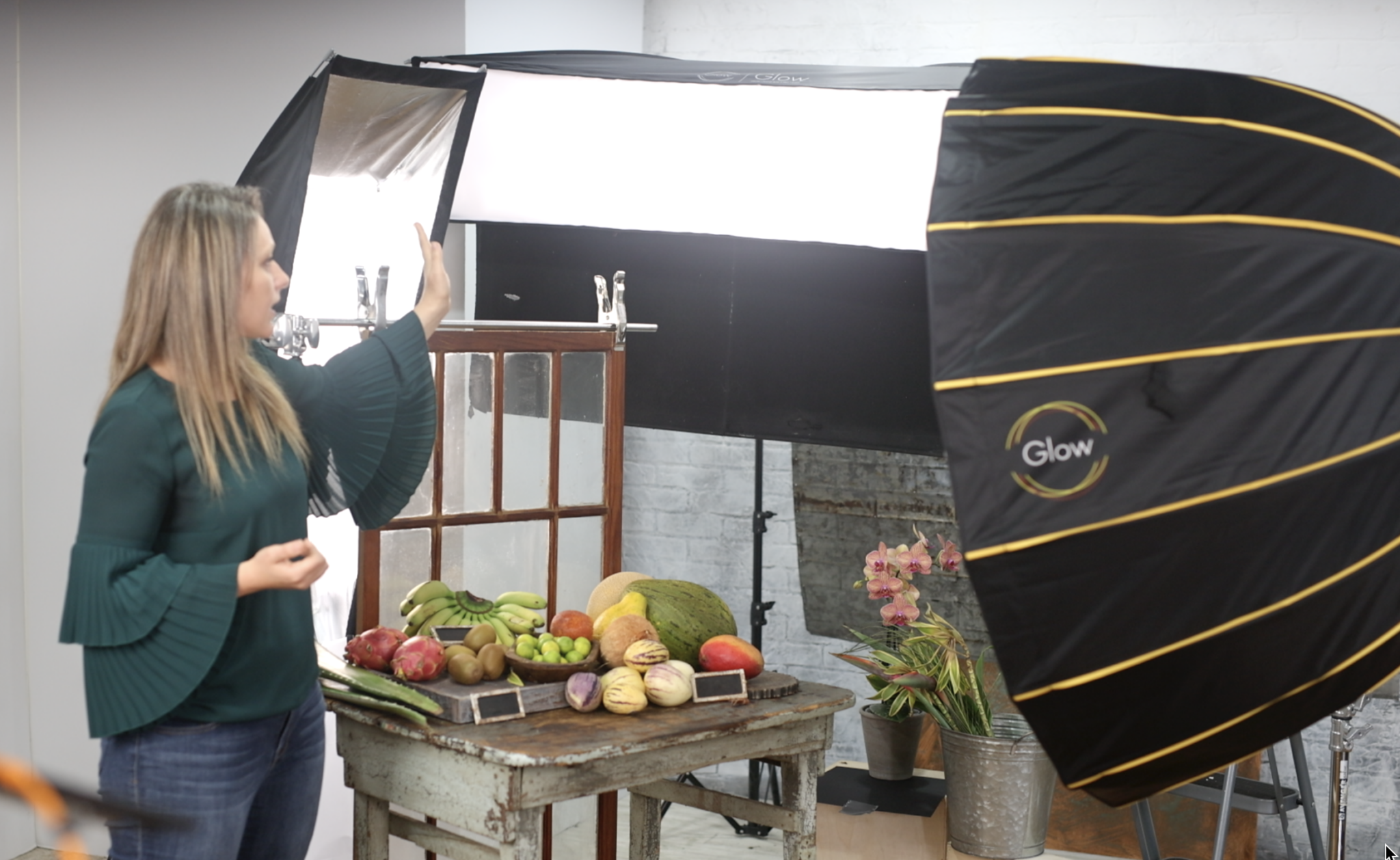 Speedlights and Beginner Artificial Light
Zoom Li-on X R2 on-camera flash (for multiple camera brands) – Reg. Price $259, until 7/30: $219
The Zoom Li-on X R2 can be used both on and off-camera. When using off-camera, they can be controlled by an R2 trigger OR another Zoom Li-on X. The light can command up to four groups, so is a great way to start your R2 family. It also accepts the same round head magnetic modifiers as mentioned above as well as other round head accessories.
eVOLV 200 Pro – Reg. Price $349, until 7/30: $299
200 Watt seconds TTL, works with R2, one of our most popular lights. Has multiple accessories available, such as the round flash head. Can be used with the same magnetic accessory kit as the XPLOR 100 and can also be used with a Bowens adapter. The difference from the regular eVOLV is the interchangeable head, magnetic modifiers and improvements for the Stable Color Mode (5600 ±100K Across Power Range) and stops (9 Stop Power Range – 1/256 – 1/1, in 1/10th Stop Increments).
Hybrid Lights
Our Flashpoint hybrid lights feature both continuous and constant LED. They are a great starter option for learning to master artificial light. What you see is what you get. They are not the best option for freezing action, but give you the flexibility of a monolight in a LED. They come with Bowens mount so you can use different modifiers, are part of the R2 family so you fire them using a trigger and are great for video.
Monolights
XPLOR 300 Pro – reg. Price $499, until 7/30: $399
300 Watt seconds, TTL, works with R2 system. This light (+ the XPLOR 400) comes with a Direct mount, and we have specific accessories that attach directly such as Glow modifiers. They can also be used with a Bowens adapter for Glow modifiers. Also, Flashpoint offers mount adapters for other brands such as Profoto, Broncolor, and Elinchrom.
XPLOR 400 Pro – Reg. Price $649, until 7/30: $499
A step up in the R2 family, delivering 400 Watt seconds of power.
XPLOR 600 Pro is also on offer until 7/30, reg. price $899, now $699
---
I hope you enjoyed this dive into artificial lighting. It is really a game changer for professional food photographers. I spend many hours teaching these techniques and more in my mentorship program, Portfolio to Profit! Want to take your food photography up to pro-level? Apply for the program and enjoy an exclusive training. Or check out my free 24-page e-book, Next Level Food Photography!