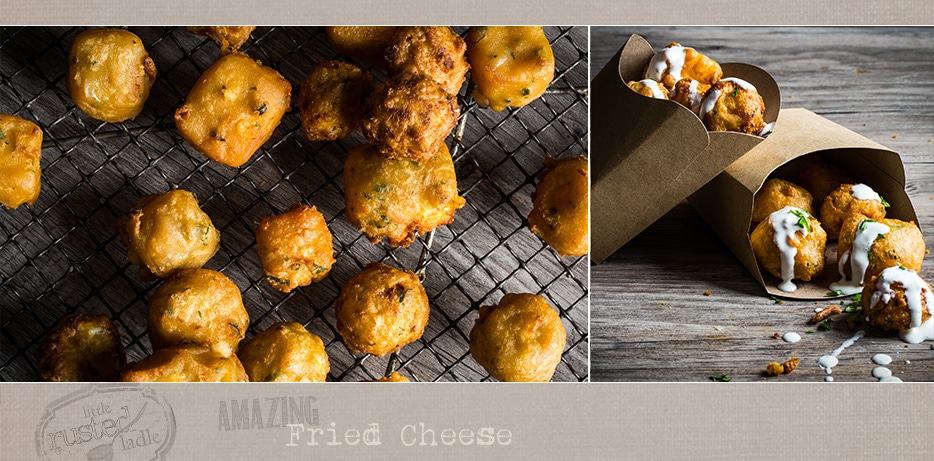 Cheese is as much a part of a Wisconsinites everyday routine as any food available. When it is in melted form, it only increases its desirability. Batter or bread it and deep fry it, and you have what almost every restaurant and bar in the state would be crazy not to have on the menu. Fried cheese curds are salty, gooey, savory, crunchy, and extremely delicious.
Cheese curds are indeed gooey pillows of yumminess. However, it occurred to me that other than curds and of course mozzarella sticks, there aren't many other flavors of fried cheese available. Yet there are hundreds of delicious Wisconsin cheeses even tastier than the simple curd. Why not cut some of these many delectable cheeses into cubes and batter them as well? That is the purpose of this article.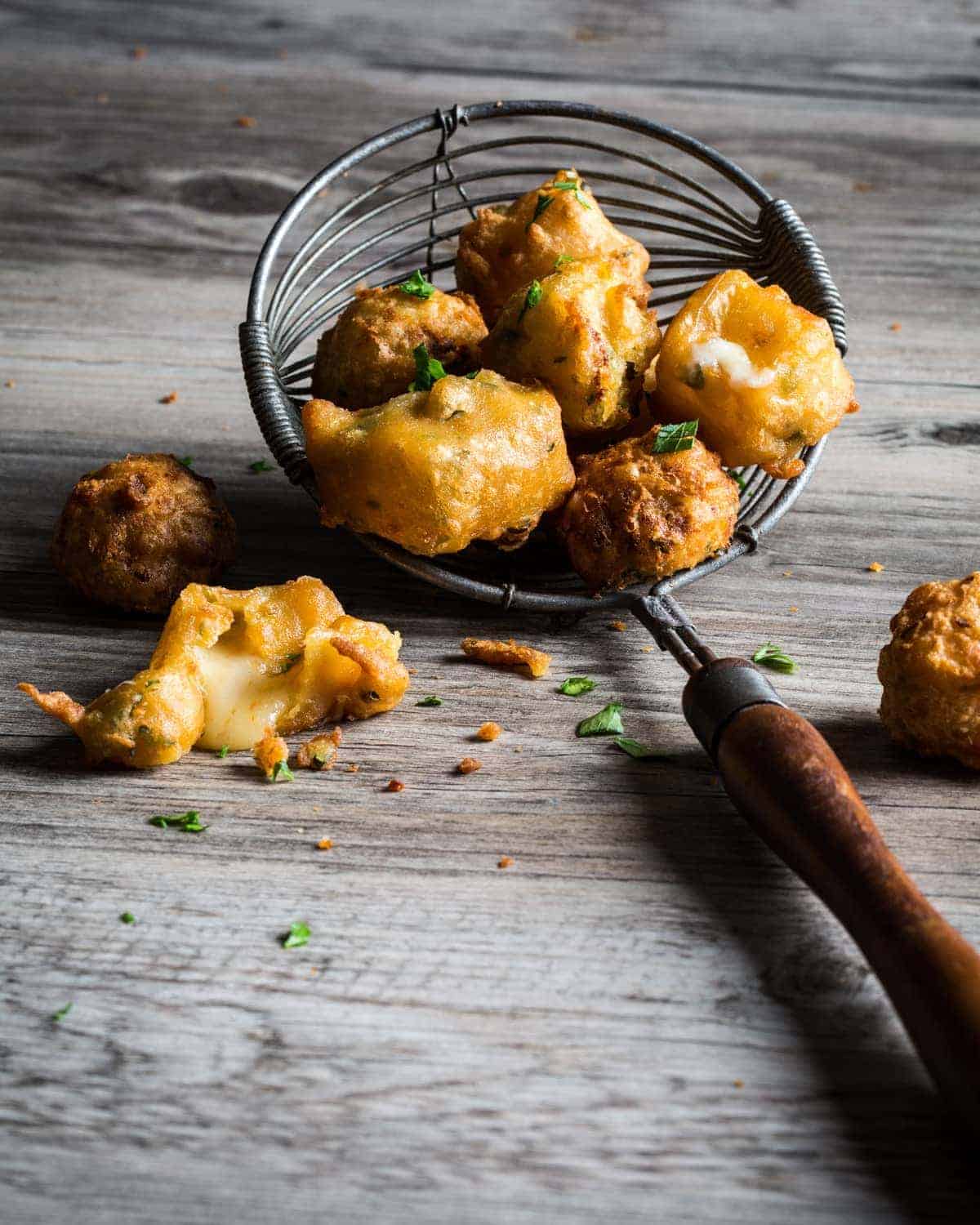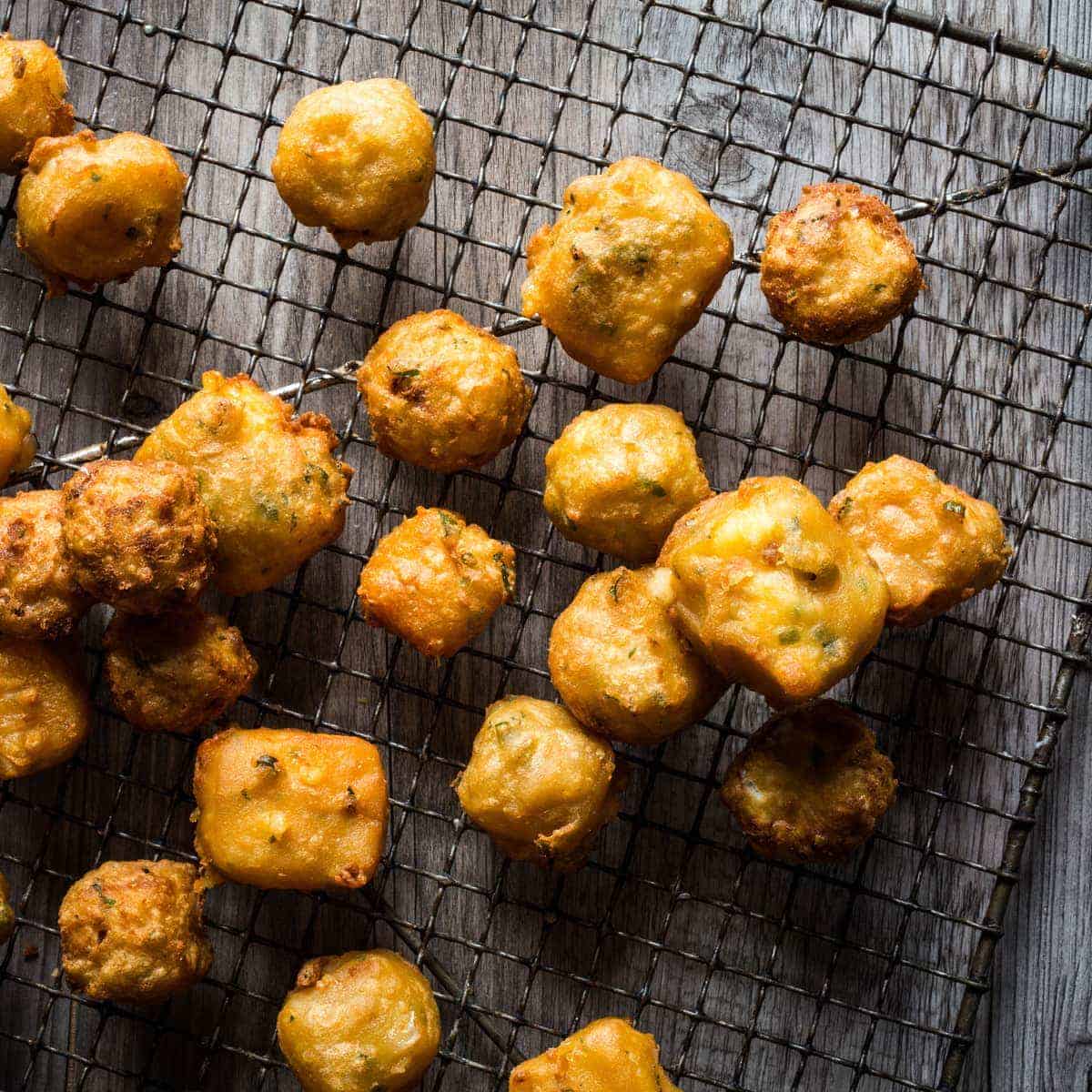 When trying to decide what cheeses to use, a few important things are needed. If you are going to batter cheese, it must be able to be battered or breaded. It can't be too soft and it can't be too hard. If it's too soft, it can't be coated. If it's too hard or aged too long, it won't melt very well. Flavor is also important. If you fry a cheese with too strong a flavor, it is less than pleasant to eat, especially in any quantity. So, a semi-soft or firm, meltable cheese with good flavor is what is needed.
The cheeses chosen for this grand experiment were very different. One of my favorite wisconsin cheeses is a fenugreek gouda. It's sweet, salty and very meltable. Blue cheese is very soft and very strong in flavor, which would normally rule it out as an option. However, when combined with cream cheese, it's flavor is just right. Form the mixture into small balls with scoops, then freeze them and they are able to be battered as well. Horseradish and chive havarti is very creamy and full of horseradish that cleans the sinuses. Ghost peppers are very popular right now. When they are added to cheese, it makes the cheese much hotter than any other cheese. Call it torturous, but it sounded like a tasty option. The last cheese chosen was a smokey cheddar swiss combo. It's combination of flavors seemed perfect choice for frying.
What about the batter? A standard beer batter would normally be the choice, but a lighter batter is a better choice so the cheese doesn't get dominated by a thick coating. A tempura style batter gives a crunchy but light flavor. Instead of all-purpose flour, rice flour was used. It eliminates the gluten as well as making for a tasty alternative. The recipe is very similar to the fried sage bundles that are in our new cookbook called Herbs For Flavor, Health and Natural Beauty. It's available for pre-order on Amazon here. Instead of ice water, I did use beer, but a light one. Any pilsner or ale will do. To add extra flavor, fresh herbs were added to the batter. Parsley, chives and thyme was used, but feel free to use whatever herbs you prefer.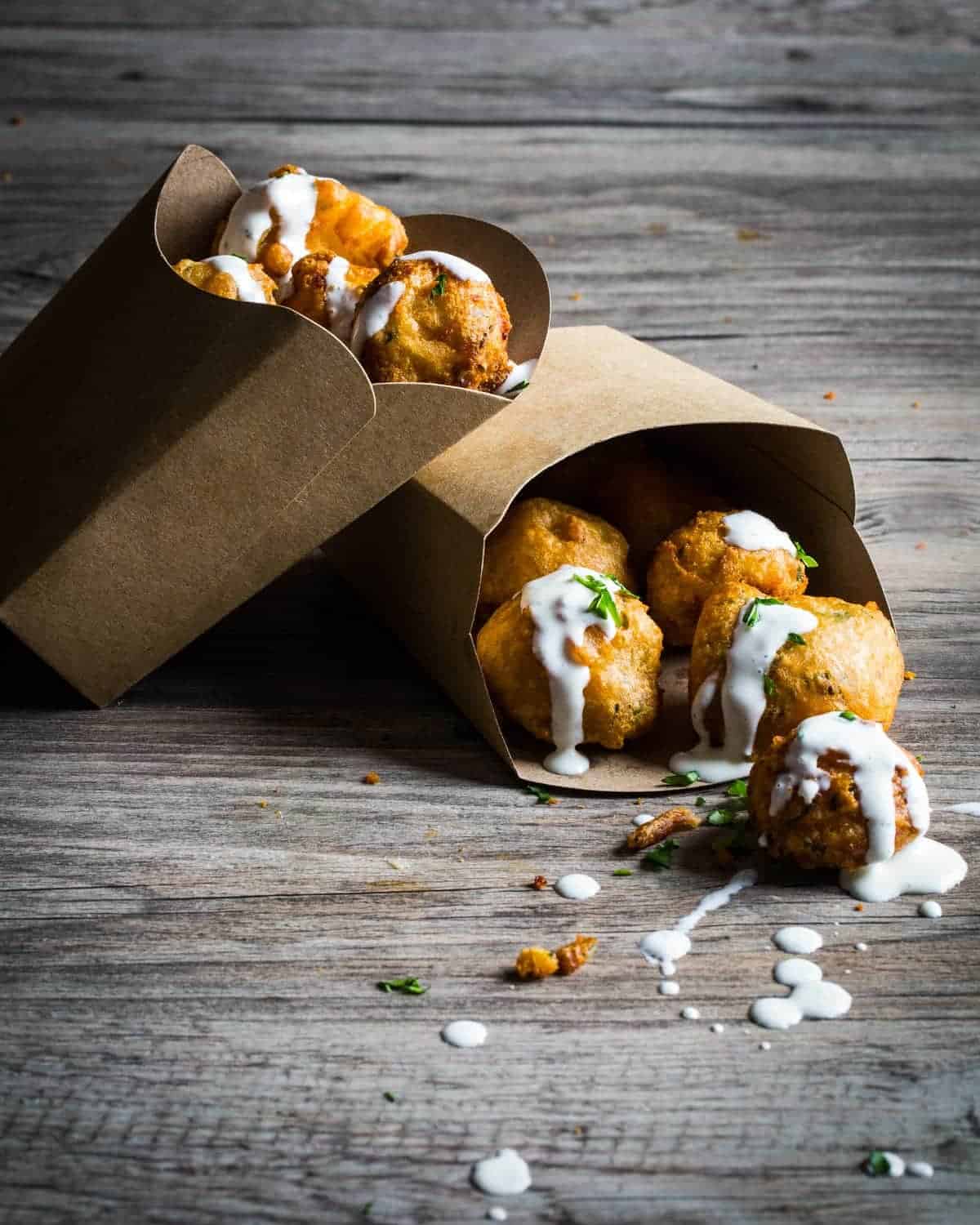 The last detail was coating the cheese with plain rice flour and freezing the cubes so when they are fried, the cheese doesn't melt too quickly. All that's left is to batter the cheese, fry it and eat it up. Be sure to use a good electric fryer and do your frying outside. Otherwise, your house will smell like a fried food stand, which may be fine now, but won't be as pleasant when the feast is over. All the varieties of cheese were great. I mean come on, bad melty cheese, Really? The only negative was that the ghost pepper cheese was hard to pick out of the pile, so if you picked the wrong piece, you were greeted with a blast of molten fire. Kind of a russian roulette kind of choice.
So tomorrow, when you're trying to decide what to make for the big game, maybe some fried cheese is a good way to start the show. Pick any cheese you like. If it doesn't work, you can always eat it cold. Either way, you'll be eating cheese. Preferably from the dairy state. The recipe will be posted tomorrow. Until then, cook with love and live to cook.
Jim & Jena
Ingredients
2 1/2

cups

Rice flour

divided

1

tsp.

Salt

2

lg

Egg yolks

1

cup

Light beer

1

tbsp.

Parsley

chopped

1

tbsp.

Chives

chopped

8

ounces

Cream cheese

softened

4

ounces

Blue cheese

crumbled

1

lb.

Assorted cheese cubes

1

cup

Ranch dressing
Instructions
Pre-heat 1 gallon of vegetable oil in a large electric fryer and pre-heat to 375 degrees.

Combine 2 cups of the rice flour and the next 5 ingredients in a medium bowl until smooth.

In a small bowl, combine the cream cheese and blue cheese.

Scoop the mixture into 1" balls with a small scoop and transfer the balls to a foil lined sheet pan. Freeze for 2 hours or until firm.

Transfer remaining 1/2 cup flour into a resealable plastic bag. Add frozen blue cheese balls. Roll around balls until well coated. Set aside.

Add remaining cheese cubes to the bag. toss in the bag until cubes are well coated. Set aside.

Transfer 4-5 pieces of the reserved cheese balls and cubes into the batter. Stir them around to coat them completely. Using a wooden toothpick, transfer cubes one at a time into the hot oil.

Fry for 2-3 minutes or until golden brown and cheese starts to melt out.

Transfer to a plate lined with paper towels to drain. Serve with a side of ranch dressing.