Let me start this article by wishing all of our dedicated LRL followers a Happy Valentines Day.  We love you guys and gals almost as much as muffins!  I know what you're thinking, "muffins?"  Well, think about it, what says "I love you" more than warm muffins made with love and served with a pat of creamy butter?  What bakery item can also be used as a term of affection or to signify a man's sexual prowess?  Pie?  No, you can "shut your piehole", but that is not very affectionate.  You can "let them eat cake" if your Marie Antoinette, but we know where that got her.  About ten pounds lighter.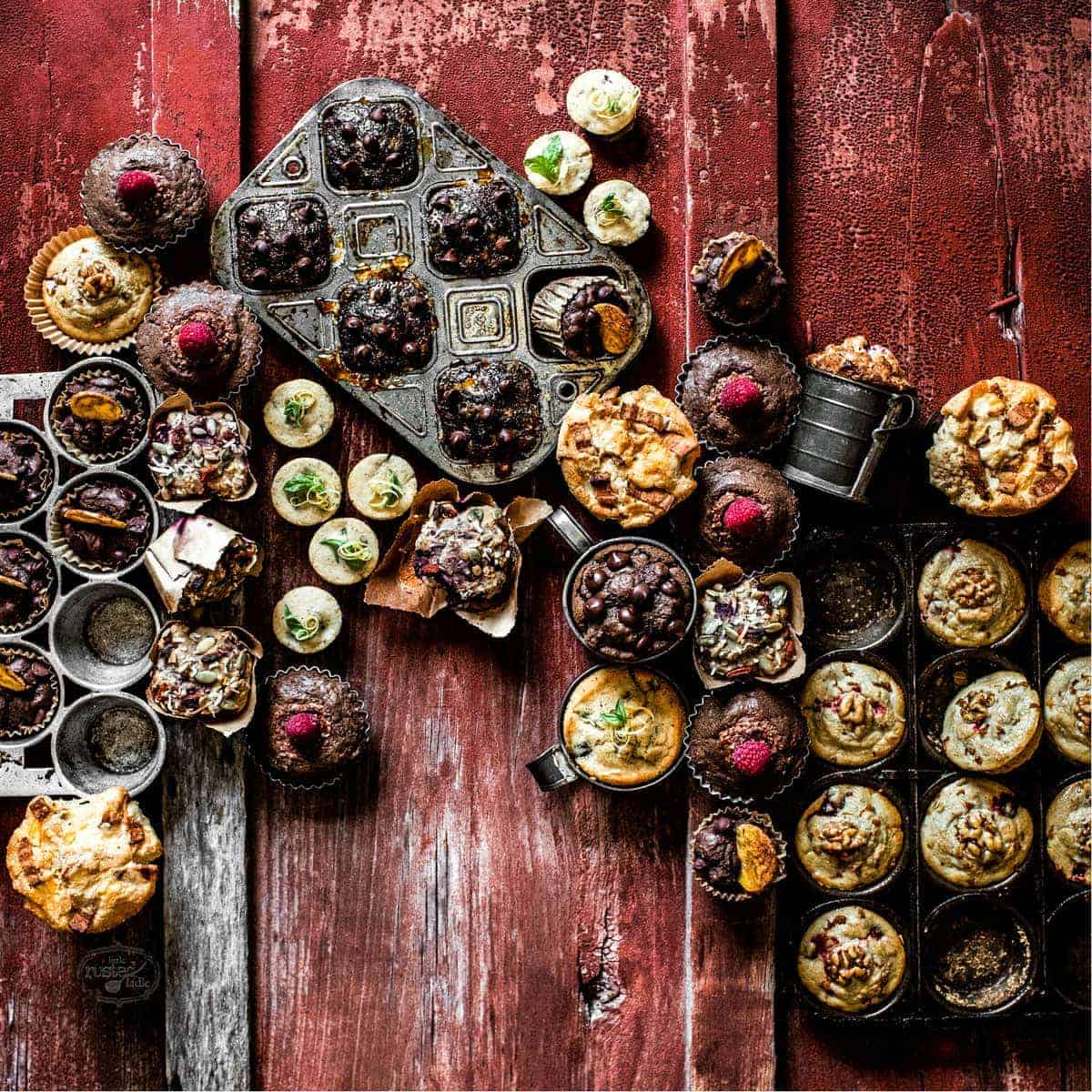 Also, muffins are extremely versatile.  They can be sweet or savory.  Served for breakfast, lunch or dinner.  They can be made into countless shapes and baked in many different kinds of vessels.  Old tin cups, molds, and unique tins work well for muffins.  Muffins can be flavored with anything imaginable.  The smell of a warm cinnamon muffin with crumb topping slathered with butter gets the mouth watering.  As does a perfectly moist jalapeno corn muffin served alongside a bowl of hot chili on a cold winter's day.  I think there's been over one hundred of them this winter in Wisconsin!


Trying to decide what kind of muffins to make for this article was a tough one.  I mean the muffin is far from unique or new.  Do a photo search for muffins and you'll get hundreds of them.  Do not search muffin top however.  You get a completely different picture.   On a side note, a suggestion to you guys.  Do not tell your sweetheart that you made her muffins because they remind you of her.  You may get a firm kick in the muffin.
For this article, I decided to focus on versatility.  Come up with one basic muffin recipe that I trust, then show easy ways of making different muffins.  One problem.  Beth and I have kind of gone gluten and dairy free lately, so trying muffin after muffin kind of kills my new eating routine.  But hey, why not make some easy gluten free muffins too?  After all, it seems everyone I know is on some kind of diet this year.  None of which endorse eating sweet muffins bathed with butter.  In the end, I decided to do both gluten full and gluten free muffins.  The basic gluten full muffin recipe is a variation from my go to cookbook "The Joy of Cooking"  A trustworthy cookbook with thousands of good recipes and helpful tips.  For the gluten free muffins, I took the easy way out.  I used a gluten free baking mix and followed the directions for muffins, then added ingredients to make them different.  Since gluten free requires the right blend of non-gluten flours like rice, tapioca, buckwheat, corn, etc.., it could take months of testing to develop the perfect recipe.  With baking, I like to trust food scientists, home economists and pastry chefs who spend hundreds of hours testing different combinations until the perfect blend has been achieved.


Luckily for me and for you as well, there are now many different kinds of Gluten Free all-purpose mixes to choose from.  Simply look in the health food isle of your favorite grocery store.  Somewhere next to the quinoa, flax seed, bulgar wheat or other exotic ingredients that are now making their way into the mainstream.  For this article, I used a brand called Pamela's Baking & Pancake Mix.  It contains rice flour, cultured buttermilk, almond meal, tapioca starch, potato starch, baking powder and baking soda, which is nice because the leavening needed to get a rise out of your muffins is already in there.  However, if you have a basic, gluten free mix you prefer, by all means go for it.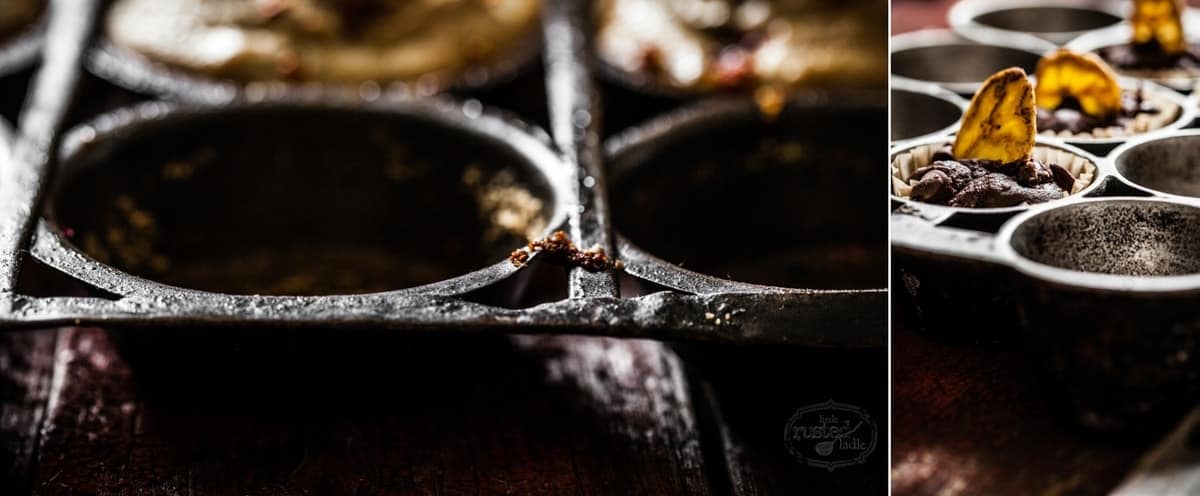 The six muffins I went with were the Stud Muffins, which were basically an homage to studs.  Bacon, cheese, maple glazed muffins with a hint of chipotle chili powder and a dash of single malt scotch.  Now that's a manly muffin!  The other two were a Triple Chocolate Caramel Brulee Muffin and a Blood Orange Cranberry Walnut muffin for the full gluten versions.  The gluten free muffins included a Superfood Muffin, which has goji berries, almonds, coconut, pumpkin seeds, flax and hemp seeds.  A Double Chocolate Banana Almond Muffin and a Lemon Blueberry Basil Muffin.  The best tip I can give about trying different variations of muffins is to stay consistent with the look of the batter.  It should be wet enough to spoon into what ever kind of container you use, but not so wet that it can be poured.  Think thick oatmeal.  Also, make sure the proper amount of sweetener is used if you are not using fruit as a natural sweetener.  Especially when making gluten free muffins, which tend to need added sweetener to offset the fuller flavors of gluten free flours.  After two days of making muffins, I was actually pleasantly surprised by the flavor and texture of the gluten free muffins.  They didn't rise as well as the gluten full versions, but they were moist with a nice flavor.  I didn't get a chance to partake in the gluten full muffins, but the Stud Muffins were so tempting.  I avoided them however, for fear I'd go on a muffin bender then wake up three days later surrounded by crumbs and little memory of what happened.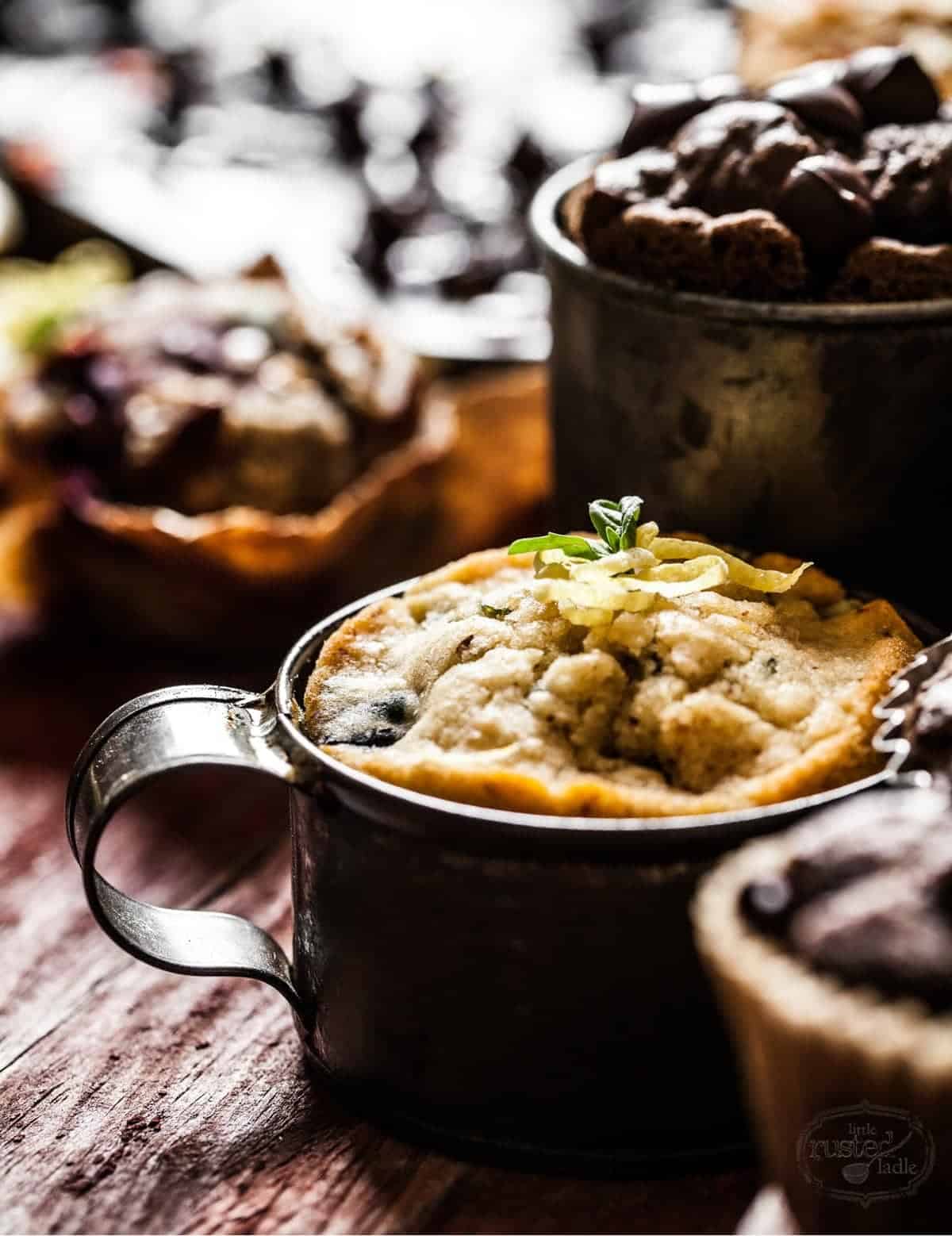 In the end, muffins are really the finished art you make for your significant other, using natural ingredients.  Ingredients from grains grown by farmers in soil on loan from mother nature.  Maybe that's a little better gift than the paper card with someone else's words.  Until next time remember to cook with love and live to cook.
J.R.

1