It's week two of ancient grains month, and for this week we are showing a few examples on how to use that leftover ancient grain meal you made last time. In case you forgot, we discussed how easy it was to add some basic ingredients to a slow cooker before you go to bed and by morning, you have creamy quinoameal, oatmeal or buckwheat meal.
I made some buckwheatmeal recently by mistake and found out it tasted pretty darn good. Buckwheat groats, when cooked like oatmeal, has a very hearty and nutty flavor. It's also very filling. So I wasn't surprised when I had some left in the crockpot. Leftover buckwheat meal does not reheat very well. Once it cools, your more likely to have success using it as mortar for building a house, then enjoying a warm, creamy bowl of it.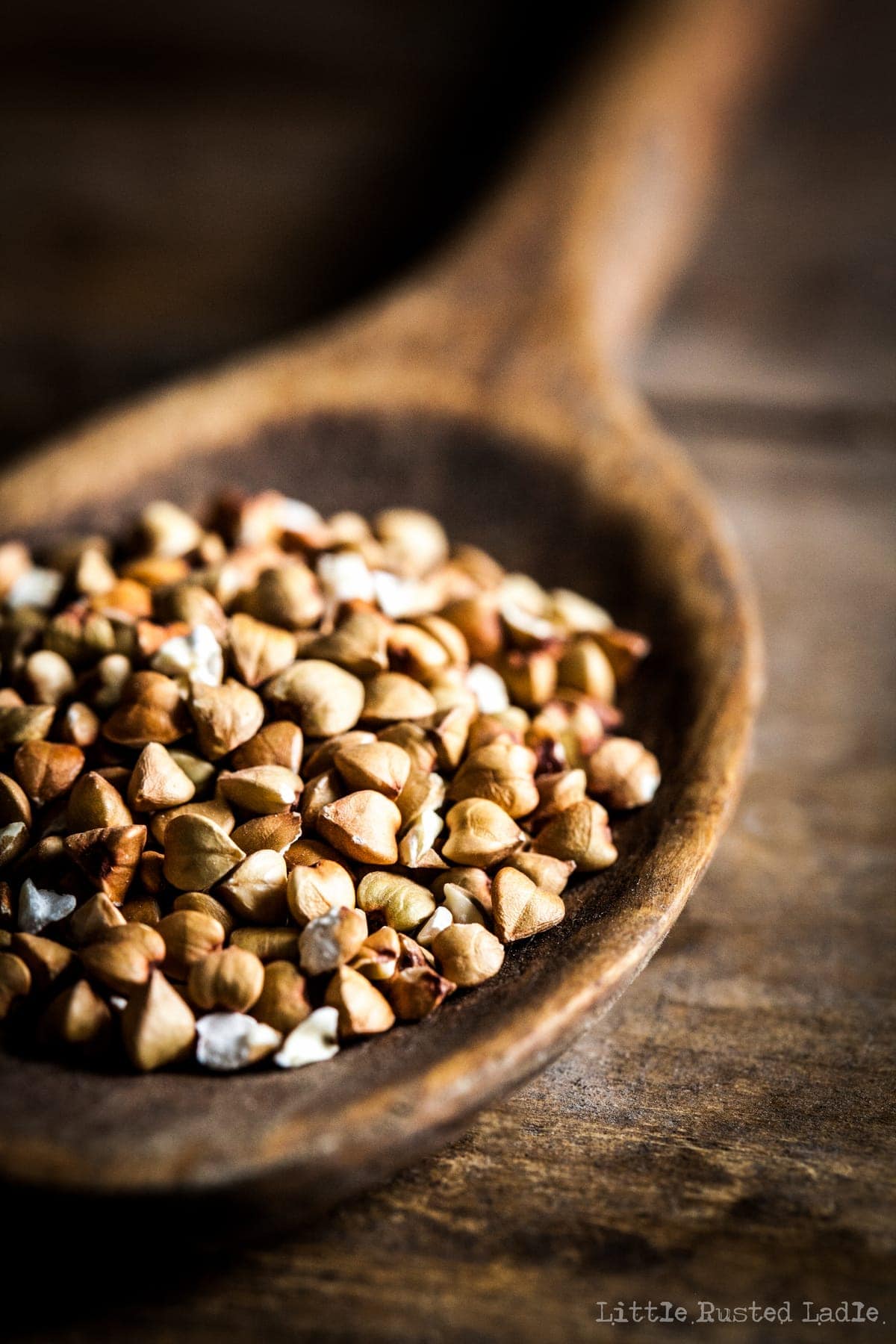 I was just getting ready to throw it away, when I thought to myself "self, why not add some eggs, and a few other ingredients, and make little soufflés with it?" A filling, healthy breakfast again sounded like a great idea. Especially since the outside thermometer was showing 5 degrees above zero. In the past, I would prepare individual egg strata's for the kids in the winter. They are leftover cubed bread, eggs, cream, cheese, sausage and bacon. The mixture gets baked in small soufflé cups, then drizzled with maple syrup. They are in no way healthy. But what if the bread, cream, cheese, sausage and bacon were eliminated and replaced with ingredients such as brown rice flour,a little baking powder and a few other items that would give these updated stratas flavor without the fat or calories?
Jena and I experimented with a few versions. We used ingredients like olives, fresh basil and sun-dried tomatoes for an Italian version. Green onion, cilantro, green chiles, pepper jack cheese and Mexican seasoning for that south of the border flair. Canadian bacon & pineapple for a Hawaiian treat. Generally, you can put anything you want in this mix, and it will workout. Spoon the mixture into well greased muffin cups or molds, then bake them in a 350 degree oven for about 20 minutes or until puffed and golden brown. Top with assorted coniments and enjoy.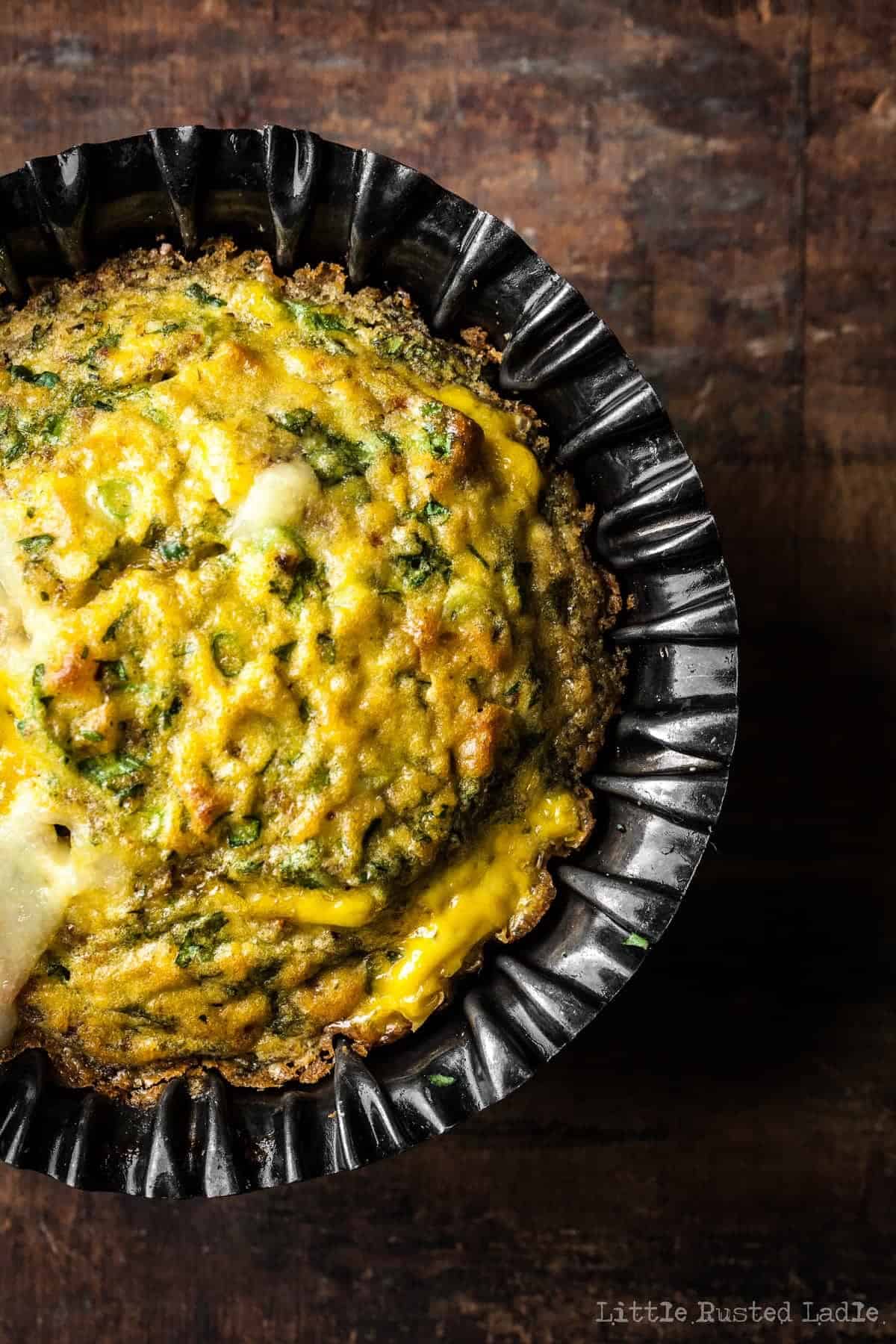 Sometimes, it just takes a little thought to turn a cardiologists nightmare into a healthy, satisfying and inexpensive breakfast or brunch treat that will keep your whole family full and happy. We'll be back next week when our ancient grains go into snack mode. Until then, cook with love and live to cook.
Jim & Jena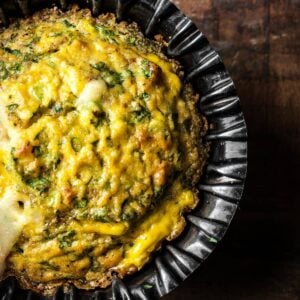 Buckwheat Breakfest Soufflés
These protein-packed egg soufflés are similar in texture to muffins, but without any gluten. It's a great way to use up oatmeal or any grain meal you have leftover.
Print
Pin
Rate
Add to Collection
Go to Collections
Ingredients
2/3

cup

Leftover quinoa meal, oatmeal, or buckwheat meal

4

Large Eggs

beaten

1/2

cup

Brown rice flour

1/4

tsp

Sea salt
Instructions
Pre-heat oven to 400 degrees. Combine leftover meal and eggs in a medium bowl until well blended. Stir in rice flour, baking powder, and salt until well blended.

Pour mixture into well-greased molds, soufflé cups, or custard cups until half full. Add desired ingredients such as cheese, meat, veggies, herbs, or seasonings to each cup until almost full.

Place filled cups on a baking sheet and bake for 20-25 minutes or until cooked through and golden brown. Remove from oven and let cool until cool enough to remove. Run a knife around the edge if they stick. Serve.
Notes
These can be made in advance, cooled, and frozen until needed up to two months ahead.