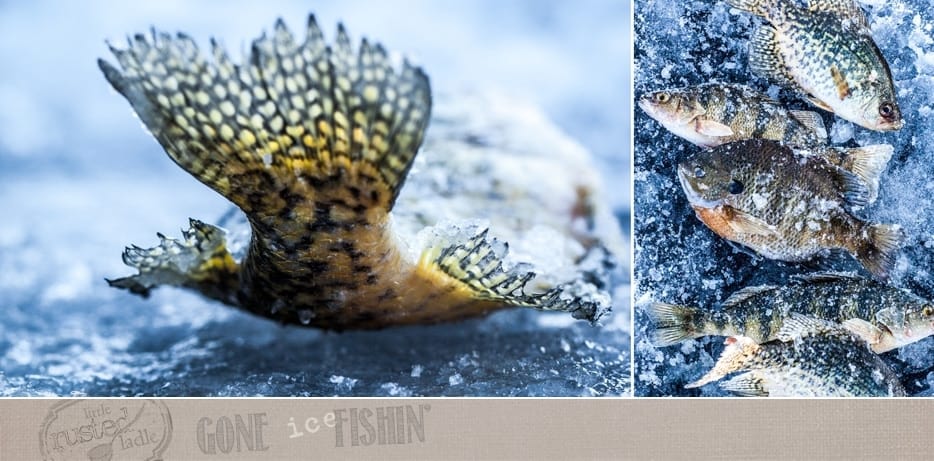 As you can imagine, a guy like me, who makes food look "pretty" and writes a food blog, is probably not known for his prowess as a fisherman.  Oh sure, my dad gave me some basics about fishing as a child.  Heck, he even took me out occasionally in the summer at our cabin in northern Wisconsin.  However, he soon realized that like many fathers, he had much better luck on his own than he did hauling his son out onto a lake at six in the morning.  Sitting in a boat for hours, while being quiet, was never my forte.  Forget about expecting me to bait my own hook.  Well, not much has changed over the last thirty-five to forty years.  Just ask Dave Knickelbine.
Dave was the lucky guy who chose to be our ice fishing guide recently.  Jena, who usually finds a cool antique, then says "I want to use this in a shot" had an idea for a fishing theme for LRL.  Of course, due to my vast knowledge of the sport, I suggested we do one on ice fishing.  Mind you I had never been ice fishing, but it had been thrown onto my bucket list, so why not?  Anyway, Dave and his wife Cathie, who are in-laws of a friend of ours, had invited us all to join them at their scenic house near Mondovi, WI.  Mondovi is a little town near the Mississippi just south of Eau Claire, Wisconsin.  Dave, who can only be described as a true sportsman, had no idea what he was in for.  Nor was I going to spill the beans about my less than stellar fishing abilities.  Little did I know that Jena was in the same boat as me.  Pardon the pun.  For those of you out in cyberspace who have no idea what ice fishing in the Midwest is like, imagine all of the patience and knowledge that is required to be a good fisherman, then substitute a five gallon bucket for the boat and drop the temperature about fifty degrees.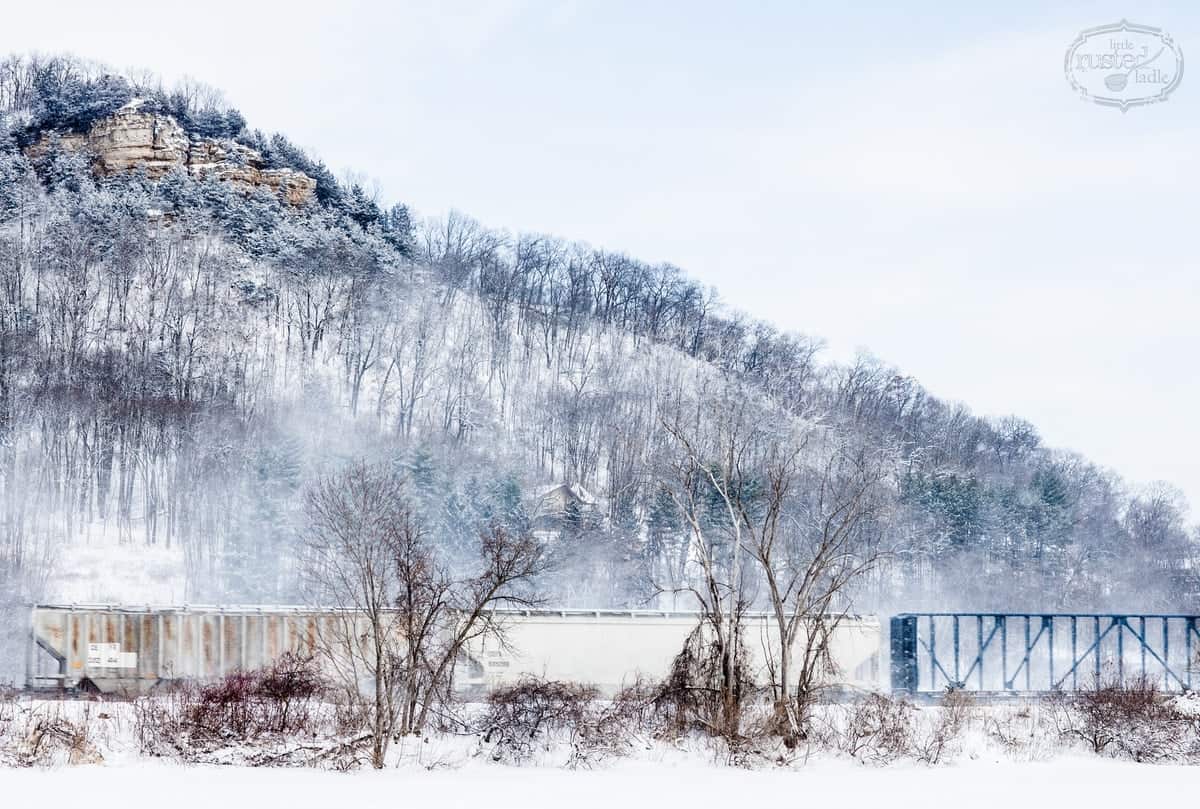 Our ice fishing excursion started much the way any fishing or hunting trip in Wisconsin starts.  Staying up till the wee hours of the morning drinking multiple forms of libations the night before.  Since we refused to use common sense, we got a late start in the morning.  Dave had already done the hard work of getting the poles and pop-up rigs ready and packing the equipment needed, so we had that going for us.  I made up a batch of apple bourbon slushes, as seen last in our Infused Booze II article back in September.  Jena remembered some beer and Dave & Craig remembered everything we really needed including trivial things like bait.
When you start an ice fishing trip, getting your mood right is key.  Especially when you are suffering a little and you know the four inches of fresh snow that fell that morning, will make things a little more difficult.  The best way to encourage that good mood is sometimes picking up where you left off.  A stop at a local tavern for a pre-fishing "bloody" to get our minds right.  The bloody marys we were given were less a drink, and more a meal.  A large bloody mary, with a beef stick, pickle spear, jumbo shrimp, and a celery stick filled with cheese wiz.  Awesome!  Once we powered our way to the chosen site thanks to Dave's 4×4 pickup, a must for any loyal fisherman, it was time to haul our stuff and start fishing.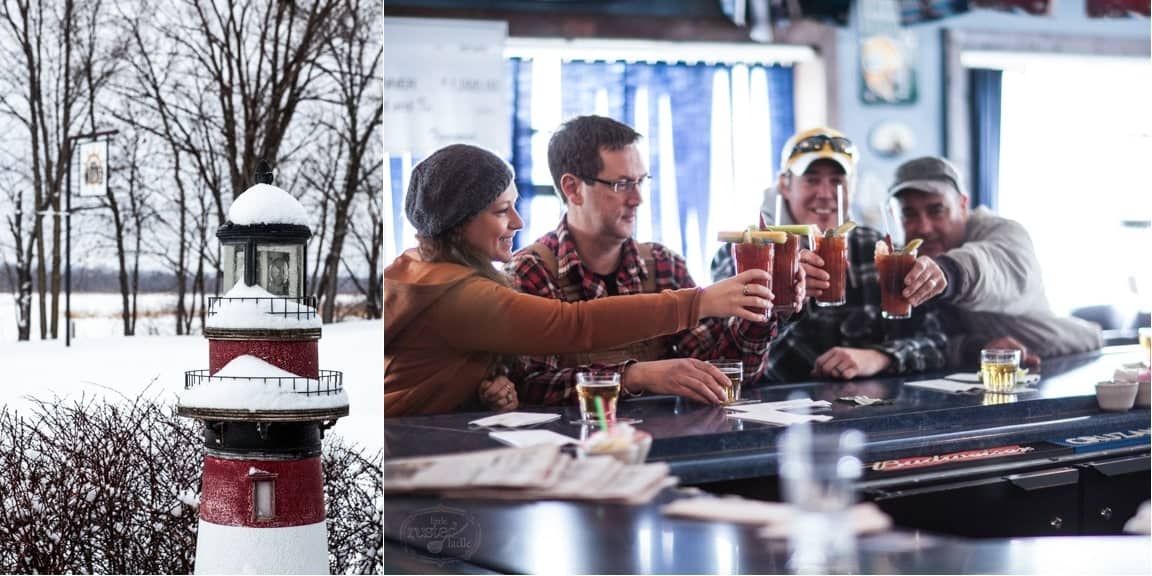 You know that old story your parents used to tell you about when the were kids they had to walk uphill both ways to school?  Well, we needed to haul all our equipment uphill both ways as well.  Over active railroad tracks, then across frozen, snow covered water to get to the "perfect spot".  The word "workout" does not begin to explain the effort required to get everything moved.  However, the sun was shining, it was a balmy fifteen degrees and we were excited to catch some fish, so no problem.  Now normally, being such a helpful guy, I would dive right in and help get things ready.  However, being clueless as to the process, I found myself standing around watching Dave & Craig drill the holes with a large auger and set up our fishing home for the day.  Dave was even nice enough to bait my hook, which I did not request, but by this time he obviously knew it was going to speed things up.  Much the same way my dad patiently watched me baiting a hook as a kid, then taking the hook from me and doing it for me.  I appreciated it then and I did this time as well.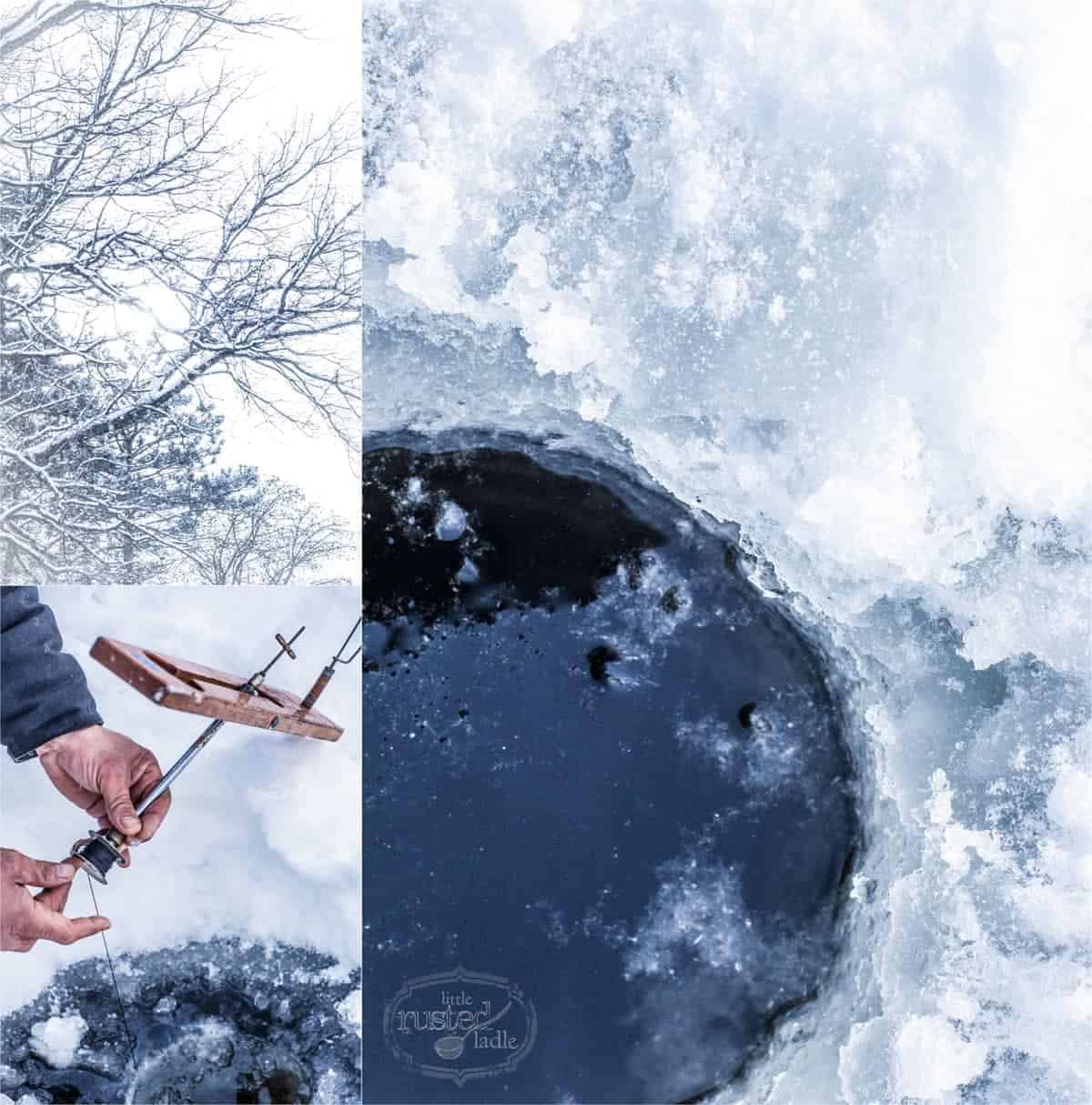 Once all the holes were drilled and the tip up poles, which have a flag that springs up when a fish bites, were set up, we commenced with the fishing.  Just like in the summer, fishing for panfish requires holding your line in the water and watching the bobber closely for it to move.  If you don't keep a close eye on your bobber, you'll never see whether a fish is biting or not.  I found I was really good at this.  For about fifteen minutes, just as I was as a kid.  Then I got bored and thought the idea of having a beer sounded better than watching a bobber.  Needless to say, Dave didn't get much help from me fish-wise.  As a matter of fact, when all was said and done, Dave was the only one who caught any fish that day.  I did contribute that day.  I made some awesome venison cheeseburgers on the grill, and the whiskey slushes that I threw together in a grocery store parking lot were outstanding.  Meanwhile, Jena worked tirelessly behind the camera looking for the perfect shot.  It's amazing how cold a camera can get when it's ten degrees outside.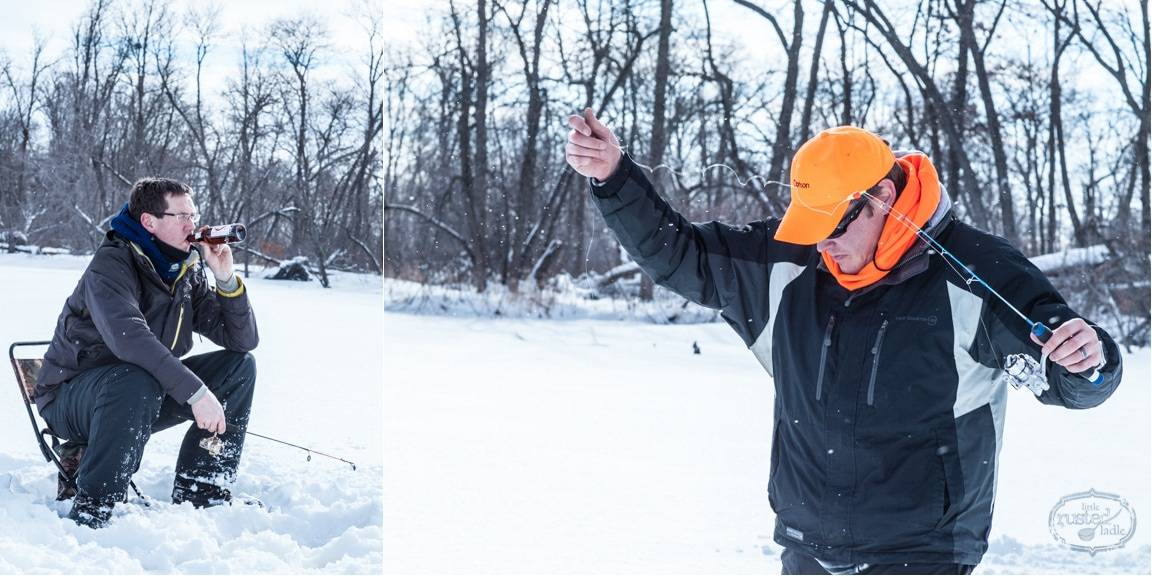 It took about two hours before Dave caught the first fish.  A nice sized crappie.  I can only imagine what he must have been thinking as Jena and I excitedly played with the half alive fish for an hour trying to capture that perfect pose.  Once the first one was caught, Dave was able to hone in on where the school of fish was located.  " They're about a foot off the bottom" he said.  I apparently was NOT a foot off the bottom, because the only thing I caught was a case of cold hands trying to rework the bobber.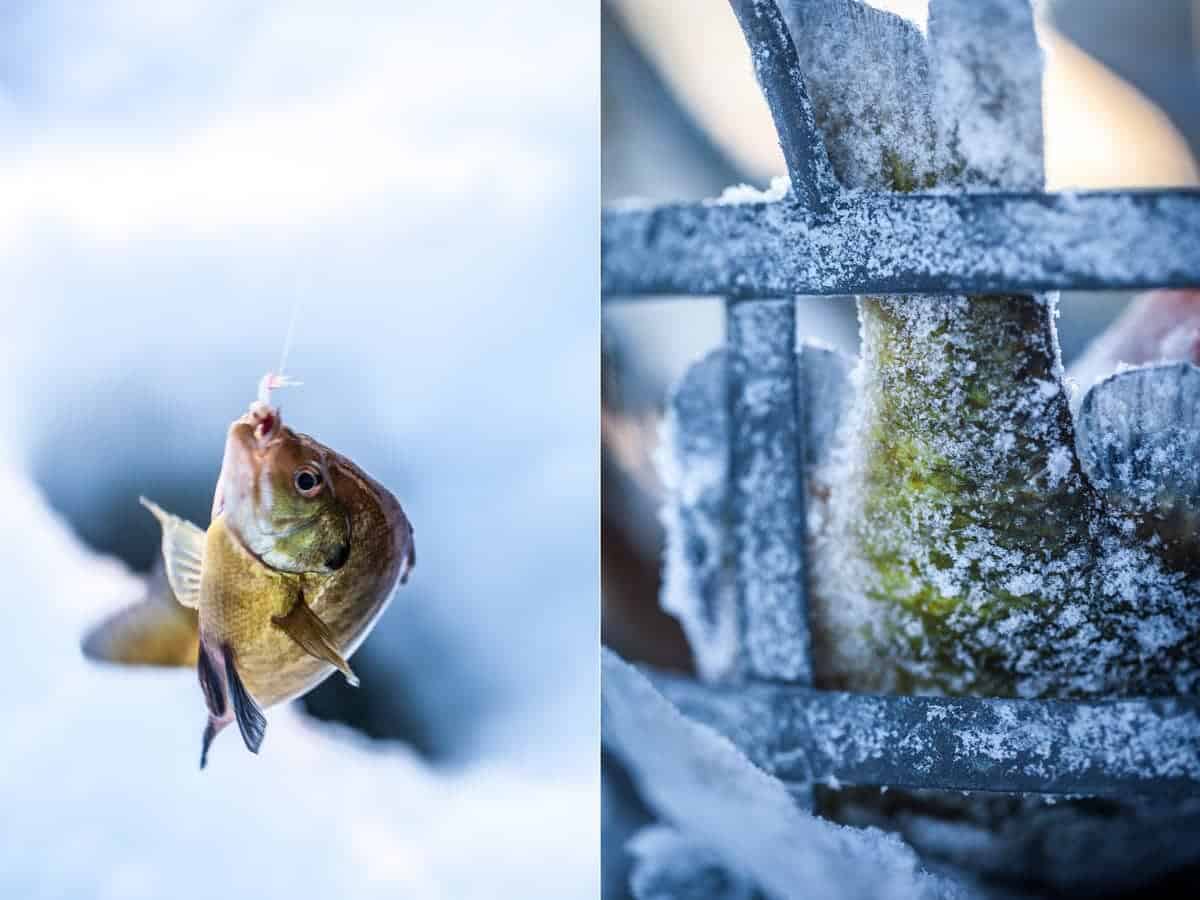 I am always amazed when I see a talented sportsman work their craft with precision.  The nuance between catching fish and going home empty handed can literally be inches.  For example, when asked if we could get some pictures of the fish on the line, Dave, while ignoring the request, quickly removed the fish from the hook, tossed it onto the snow next to him, re-baited the line and got it back in the water.  No time for pictures.  Why?  Simple, where there is one fish, there are often many and a fisherman would never screw around with photos when there are fish waiting to be caught.  If we were living off the land like our ancestors did, the rest of us would have gone hungry, while Dave would have fed his family.  When it boils right down to it, that's what makes a sportsman like Dave successful.  Whether it's fishing or hunting deer, duck, turkey or pheasant, you can judge the level of talent by the results.  Thank goodness we had Dave, because without him, the only fish we'd have brought home would have been the minnows we had remaining.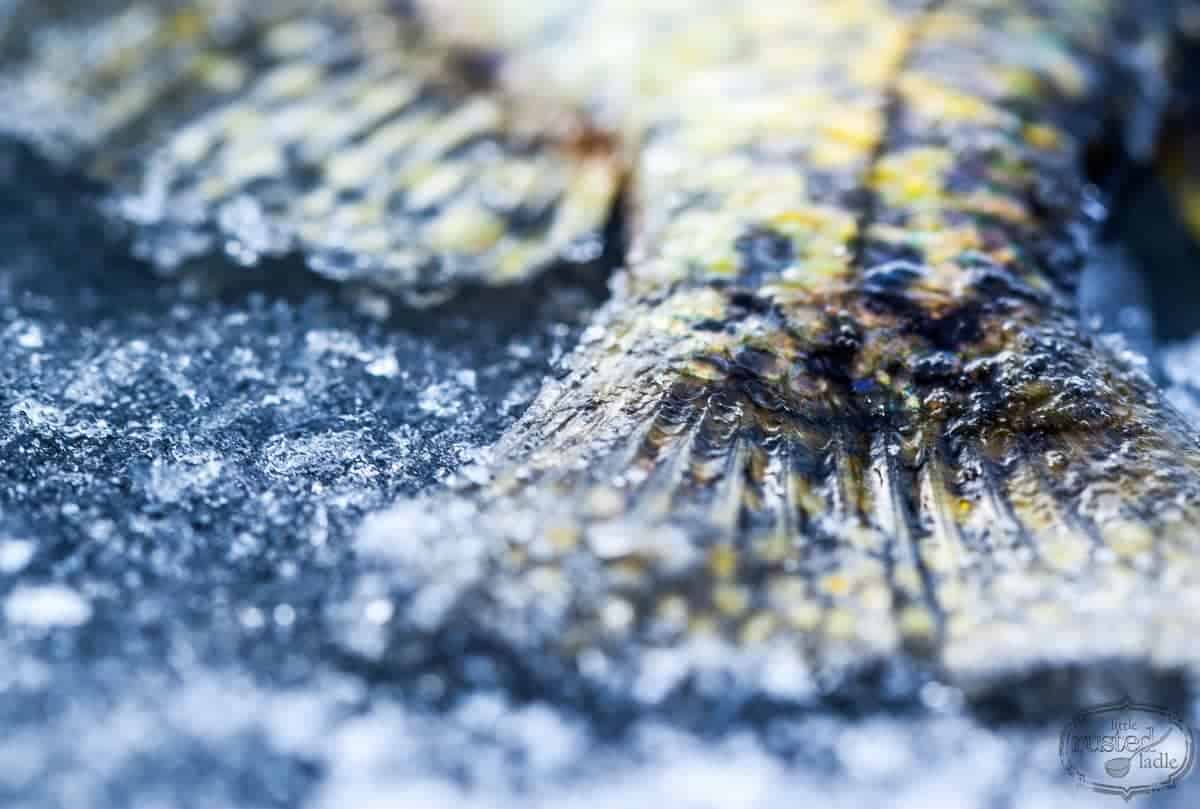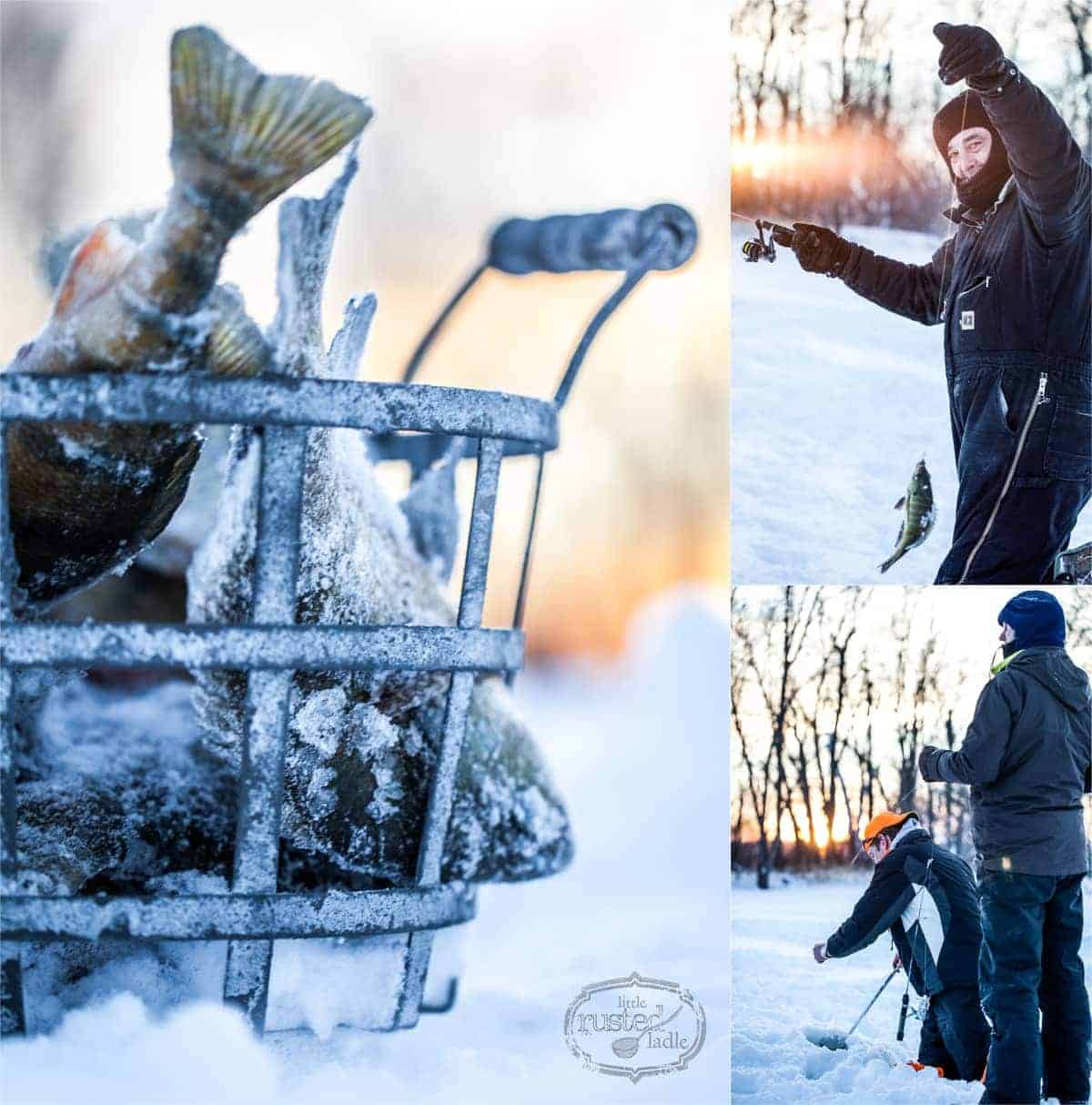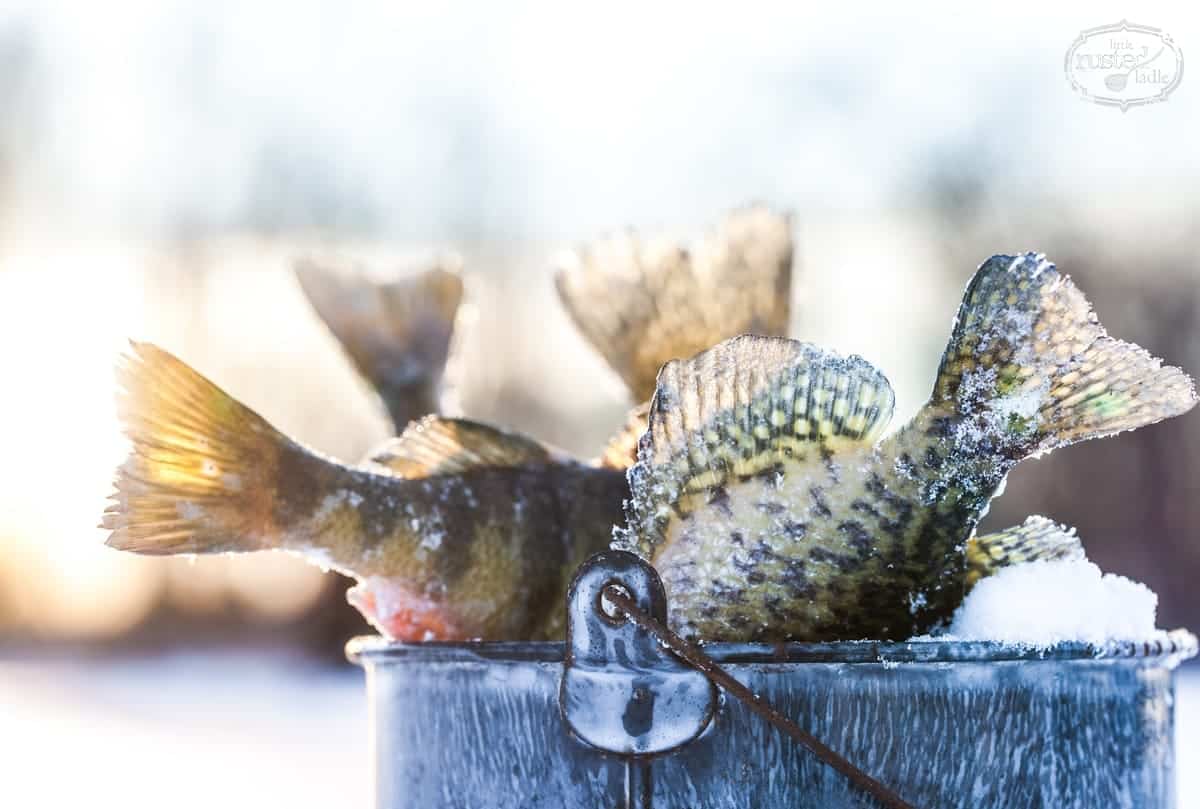 As the sun was setting on the great Mississippi, I realized how important it is to have people like Dave and Cathie in this world.  Sportsman, who cherish the water they fish on and the land they hunt on.  They work hard to be successful at their craft and they are rewarded with fresh, unprocessed food.  From the venison burgers we had for lunch, to the fish we ate that evening, one thing is for certain.  We would all appreciate our food a little more if we understood where it came from and how hard it was to get.  So the next time you have perch, walleye or bluegill at your local fish fry, remember guys like Dave, who stare at little bobbers floating in a hole in the ice waiting for a sign that a fish is ready to be caught.  Without them, you may be eating something else.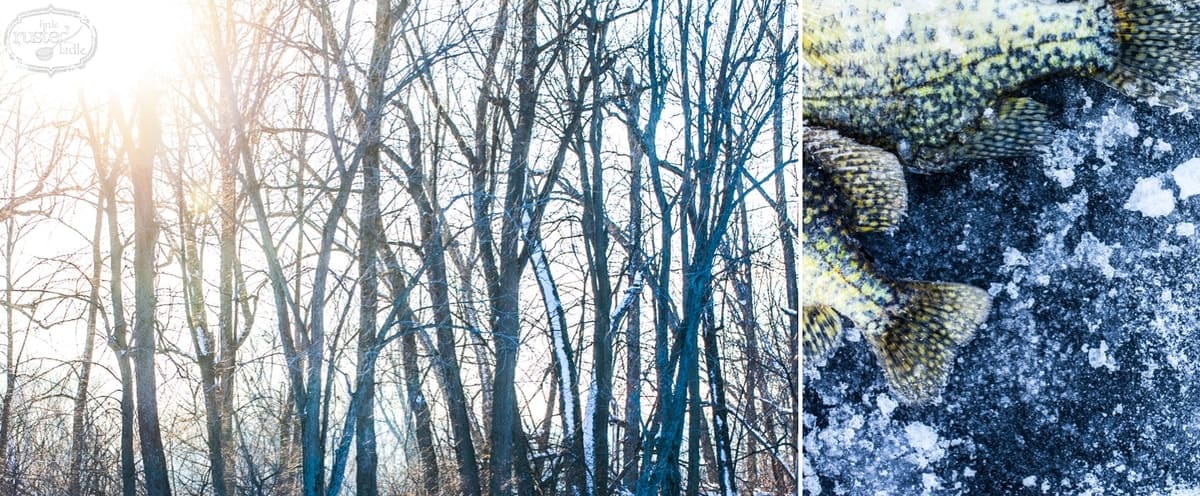 Feeling tired and hungry, we headed back to the house with fish waiting to be cooked.  It occurred to me on the thirty-minute drive back, that I had felt the same feeling I was experiencing then.  It was as a kid after a long day of sledding or playing in the snow.  Exhausted from the exercise and the cold air hitting your face.  Looking forward to a good meal and a warm cup of cocoa.  The menu was a typical Wisconsin fish fry with a twist or two to keep things fresh.  Pistachio crusted panfish with broccoli slaw and potato pancakes.  I like the combination of pistachios and panko. I also made a simple gluten free sautéed panfish with a rum butter pan sauce.  The gluten free all-purpose flour did not brown as well as regular flour, but the flavor from the brown rice and tapioca flours had a nice, light flavor.  I found the gluten free all-purpose flour at Trader Joes, but you can substitute regular all-purpose flour if you don't need to eliminate gluten.  Neither fish would be complete without a tangy tartar sauce to enjoy with the fish.  I used some of the tartar sauce as the dressing for the coleslaw, which was a great way of cutting down time.  The potato pancakes were pretty basic, except instead of using raw potatoes, I used frozen hash brown potatoes.  Once again to cut corners.  It is often necessary to make sacrifices when working in an unfamiliar kitchen.  Especially when you are exhausted from fishing all day.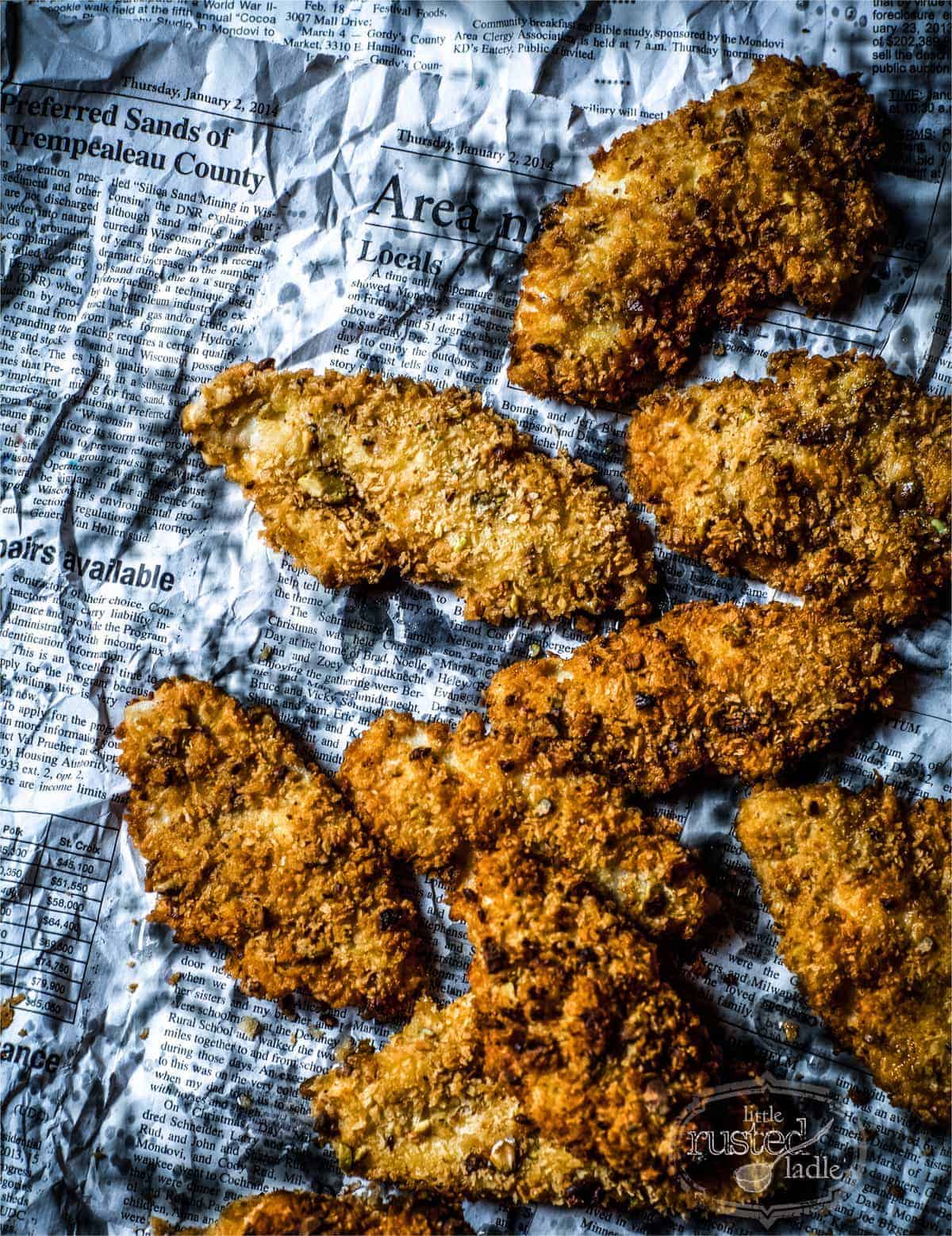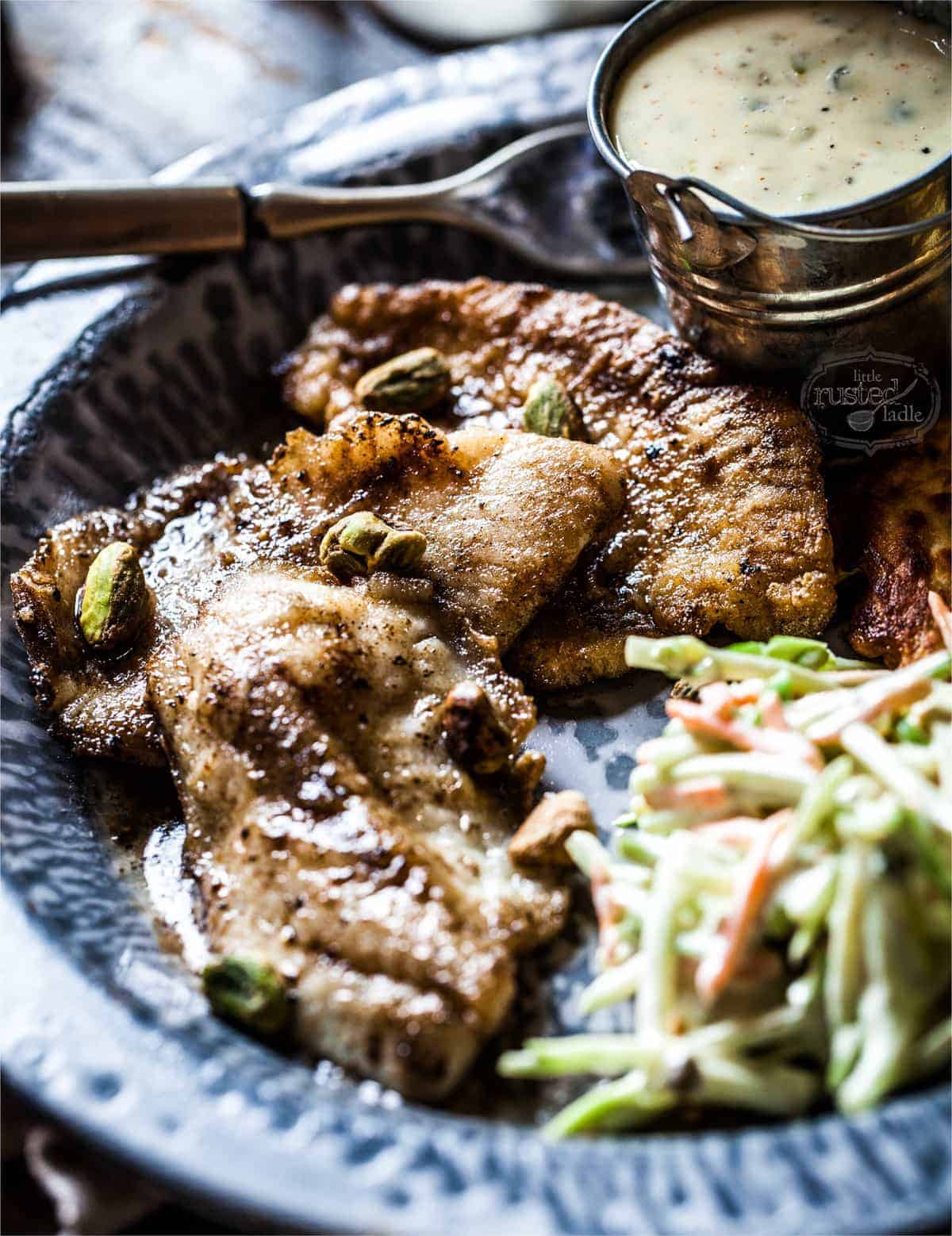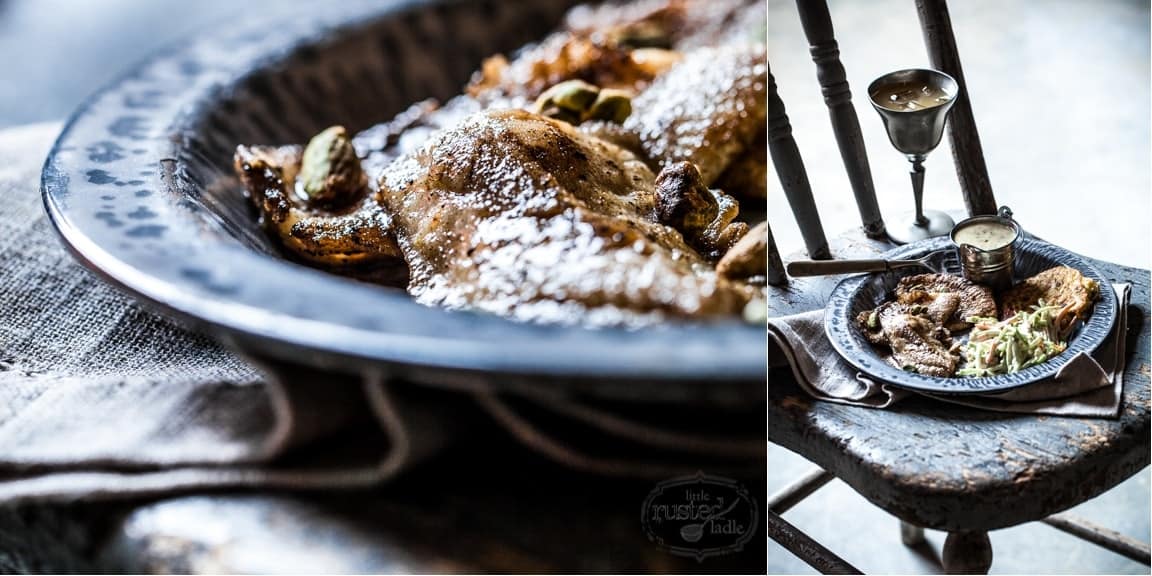 We all enjoyed the meal that evening, as well as the conversation that went with it.  With a full belly and some relaxing around the fireplace, it was time to hit the sack.  Falling asleep was easy that night.  The same as it was after a long day of sledding as a kid.  As I drove away the next day I was grateful to have experienced another Wisconsin tradition with some new friends.  I'm looking forward to the next adventure, wherever it may take Little Rusted Ladle.  Until next time, cook with love and live to cook.
J.R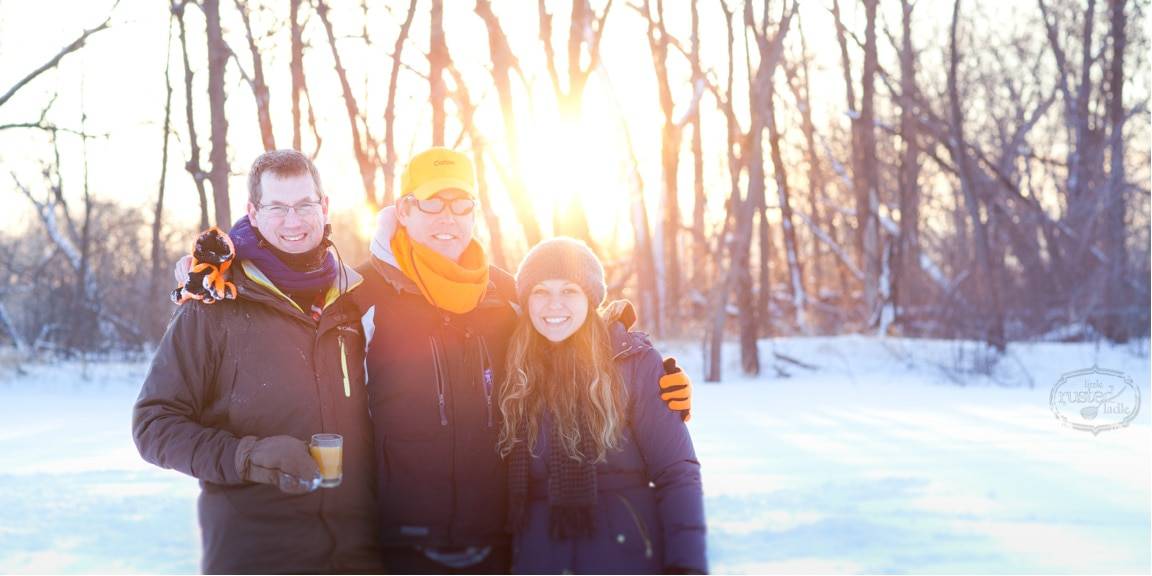 Pistachio Crusted Panfish Recipe
Author:
Prep time:
Cook time:
Total time:
Ingredients
1 Cup Panko crumbs
½ Cup Shelled pistachios, finely chopped
½ tsp. Seasoned salt
½ tsp. Black pepper
2 Lg. Eggs, beaten
¼ Cup Almond milk (may substitute 2% milk)
½ Cup Gluten free all-purpose flour (may substitute all-purpose flour)
8-12 ozs. Fresh perch, bluegill or walleye filets
Canola oil for frying
Instructions
Combine first four ingredients in a shallow dish and set aside.
Combine eggs and almond milk in another shallow dish and set aside.
Add flour to another shallow dish and set aside.
To bread fish, dip one fish filet in pan of gluten free all-purpose flour, then dip into egg mixture, then into panko/nut mixture. Lay flat on a sheet pan. Repeat with remaining fish filets.
Fry breaded filets in 350 degree pre-heated oil for 3-4 minutes or until golden brown.
Drain on newspaper, sprinkle with salt and serve with tartar sauce and lemon wedges.
Gluten Free Sautéed Panfish with Rum Butter Sauce
Author:
Prep time:
Cook time:
Total time:
Ingredients
1 Cup Gluten free all-purpose flour (may substitute all-purpose flour)
1 tsp. Cajun seasoning
1 tsp. Black pepper
6-8 Ea. Fresh panfish filets (bluegill, perch or crappie)
1 tsp. Canola oil
1/3 Cup Spiced rum
1 Tbsp. Fresh orange juice
2 Tbsp. Unsalted butter
Instructions
Combine gluten free flour, Cajun seasoning, and pepper in a small bowl.
Dredge fish filets in flour mixture.
Pre-heat a frying pan over medium heat.
Add canola oil, then add fish filets one at a time, shaking off excess flour.
Saute' for 2-3 minutes per side or until just cooked through.
Transfer fish to a plate and cover with foil.
Remove pan from heat then add rum. Return to heat and cook until liquid is almost evaporated. Caution: if using a gas stove, alcohol may ignite, so keep face away from pan. Add orange juice and butter. Remove from heat and stir until butter has melted into liquid. Season with salt and pepper. Pour over warm fish and serve.
Potato Pancakes
Author:
Prep time:
Cook time:
Total time:
Ingredients
1 Bag (20 ozs.) Frozen, shredded hash brown potatoes, thawed
3 Lg. Eggs, beaten
½ Cup Gluten free all-purpose flour (may substitute all-purpose flour)
4 Ea. Green onions, chopped
1 tsp. Seasoned salt
1 tsp. Black pepper
2 Tbsp. Canola oil
Instructions
Combine all ingredients in a large bowl.
Add a teaspoon of oil to a pre-heated frying pan over medium heat.
Add 4-5 heaping tablespoons of potato mixture to the hot pan.
Flatten with the back of the spoon.
Fry 3-4 minutes or until golden brown.
Turn with a spatula and fry an additional 3-4 minutes.
Transfer cakes to a sheet pan and cover with foil. Keep warm in a 175 degree oven.
Repeat process with remaining potato mixture.
When all cakes are browned, serve.
Notes
For a new twist, spoon mixture into greased muffin tins and bake at 400 degrees for about 30 minutes or until golden brown. Serve.[br]Serving Suggestion: Serve with apple sauce.
Broccoli Slaw
Author:
Prep time:
Total time:
Ingredients
1 Bag(12 ozs.) Broccoli slaw blend (may substitute cabbage blend)
½ Cup Prepared tartar sauce ([url href="https://www.littlerustedladle.com/tartar-sauce-2/" title="Tartar Sauce"]see recipe[/url])
1 tsp. White vinegar, optional
Instructions
Combine ingredients in a large bowl.
Refrigerate for 1 hour or until ready to serve.
For added flavor, you may add fresh herbs such as dill, parsley, tarragon or chives.
Tartar Sauce Recipe
Author:
Prep time:
Total time:
Ingredients
½ Cup Mayonnaise
1 Tbsp. Fresh squeezed orange juice
1 Tbsp. Fresh squeezed lemon juice
2 Tbsp. Capers, drained and rinsed
¼ Cup Pickle relish, drained
½ tsp. Cajun seasoning
¼ tsp. Black pepper
Instructions
Combine all ingredients in a small bowl.
Refrigerate until ready to serve.
Serve with fried fish.
If a thicker sauce is desired, add ¼ cup of greek yogurt.
0