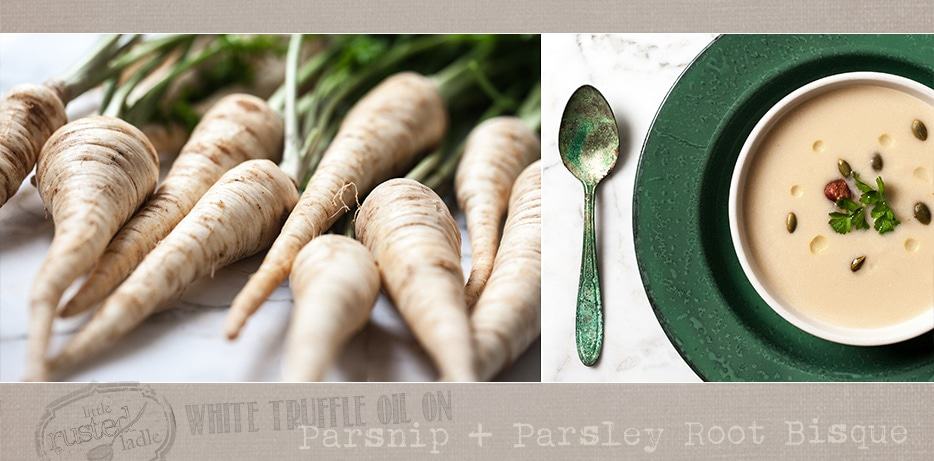 Every once in awhile as a foodie, you have one of those "aha" moments. These can also be called "oh my god am I stupid" moments, but it doesn't sound as good, so aha moments they are.
Well, recently, I had an aha moment when I was buying parsnips at the grocery store for our latest article on, yes you guessed, parsnips. The story goes something like this; I run to the store looking for parsnips (those white carrot looking vegetables that often have wax on them). I find them, but the only bag left has huge parsnips, which I know will never look good. Knowing Jena would kill me if I brought her big, ugly, waxed parsnips to photograph, I tried another store, but no luck. I tried one more store, praying that they would have these often overlooked vegetables.
Luckily for me, not only did the store have the ugly waxed ones, but they also had beautiful baby parsnips with no wax and gorgeous stems. I know, I thought the same thing, I've never seen parsnips at the store with stems. I've never even seen parsnip stems. My dad would always let them winter over in the ground, then dig them up the following spring, so the stems were always dead. These stems looked like they came right out of the ground. What a great find! Jena will be very proud of me. lol. Except for one thing. They weren't parsnips. They were parsley root.


Yup, that was the aha moment I mentioned earlier. You see, as I was looking at my prize find at hour 99 on my way to the shoot, I noticed a sign next to the parsnips that read "parsley root". I looked at the stems, and guess what they looked like? That's right, parsley. You know, that herb that grows so easily in the midwest? The parsley used tomato tabouleh and flavor so many soups and dishes. I looked at the sign, then at my perfect parsnips and felt instantly stupid.
You see, I consider myself pretty knowledgable about herbs, but have never actually seen or cared about what grew under the herb that grows all spring, summer and fall. I'd cut sprigs off the plant thinking I was using natures treasures so effectively. Well, I wasn't, because under those beautiful green sprigs, grew a root that was not only edible, but is also a very good substitute for parsnips.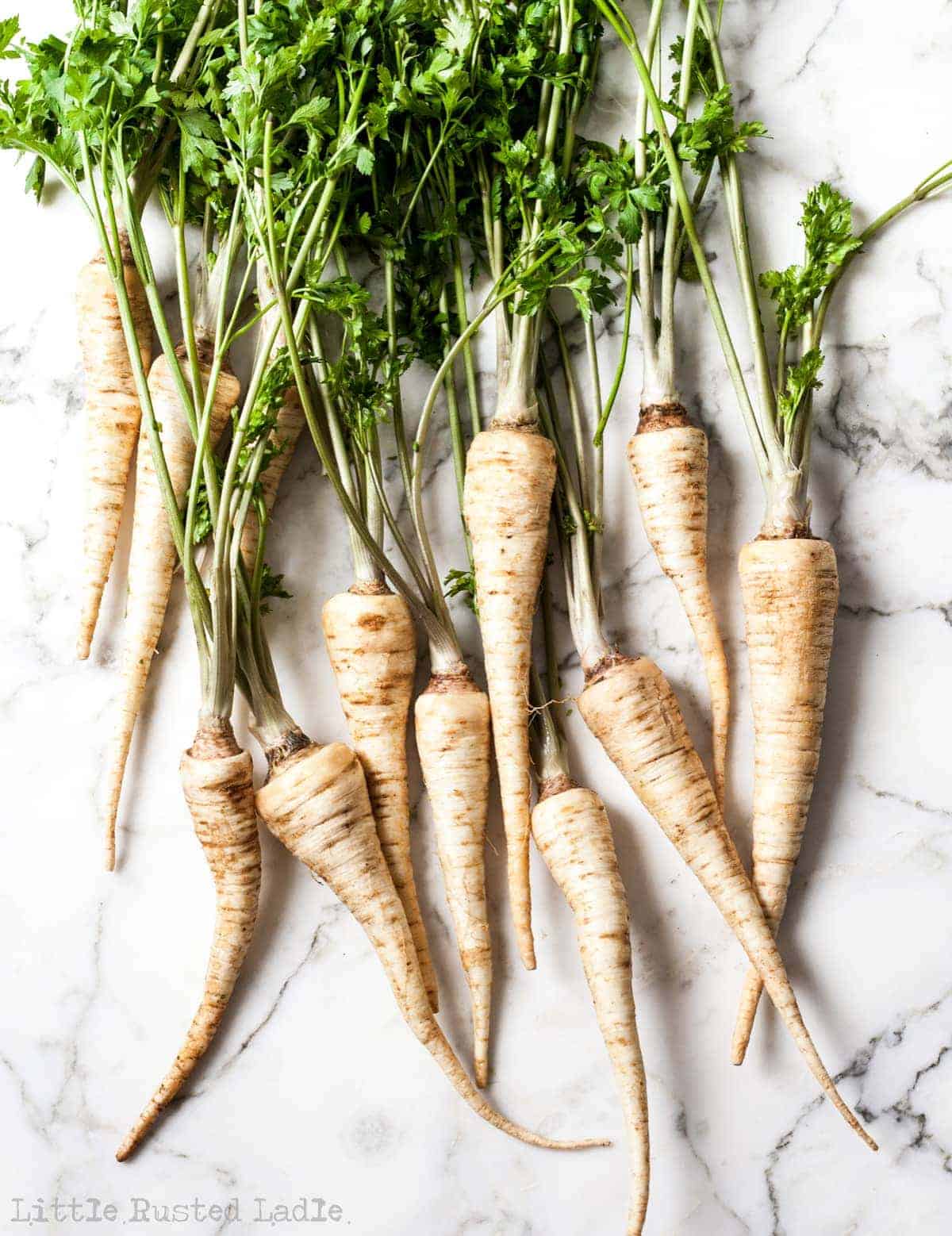 The taste of parsley root is not as sweet as parsnips, but still very delicious. Since parsley root is so close to parsnips, we decided to combine the two for this article. Use them interchangeably. Personally, I'm partial to parsnips for their sweetness, but am now happy to say I know the difference between those nice looking ones with the green tops and the waxy ones I grew up with. If only mom had dug up the parsley and served it, I wouldn't have needed that "aha" moment. Oh well, at least I learned something. Now maybe you have too.
By the way, in case you're wondering, the recipe for this article is a velvety smooth bisque that is so easy and delicious. You simply simmer a pound of parsnips, parsley root or both in a mixture of chicken broth and half and half, then puree the mixture with a little parmesan cheese, a touch of salt and then top it with toasted hazelnuts, a few drops of white truffle oil and a sprig of, you guessed it, parsley. Enjoy.


Check back tomorrow, because we are giving away a very special new kitchen gadget valued at over $200 to one lucky person. This gadget is great for anyone looking to improve their health and the quality of their food this new year. See you tomorrow. Until then, don't forget to cook with love and live to cook.
Jim & Jena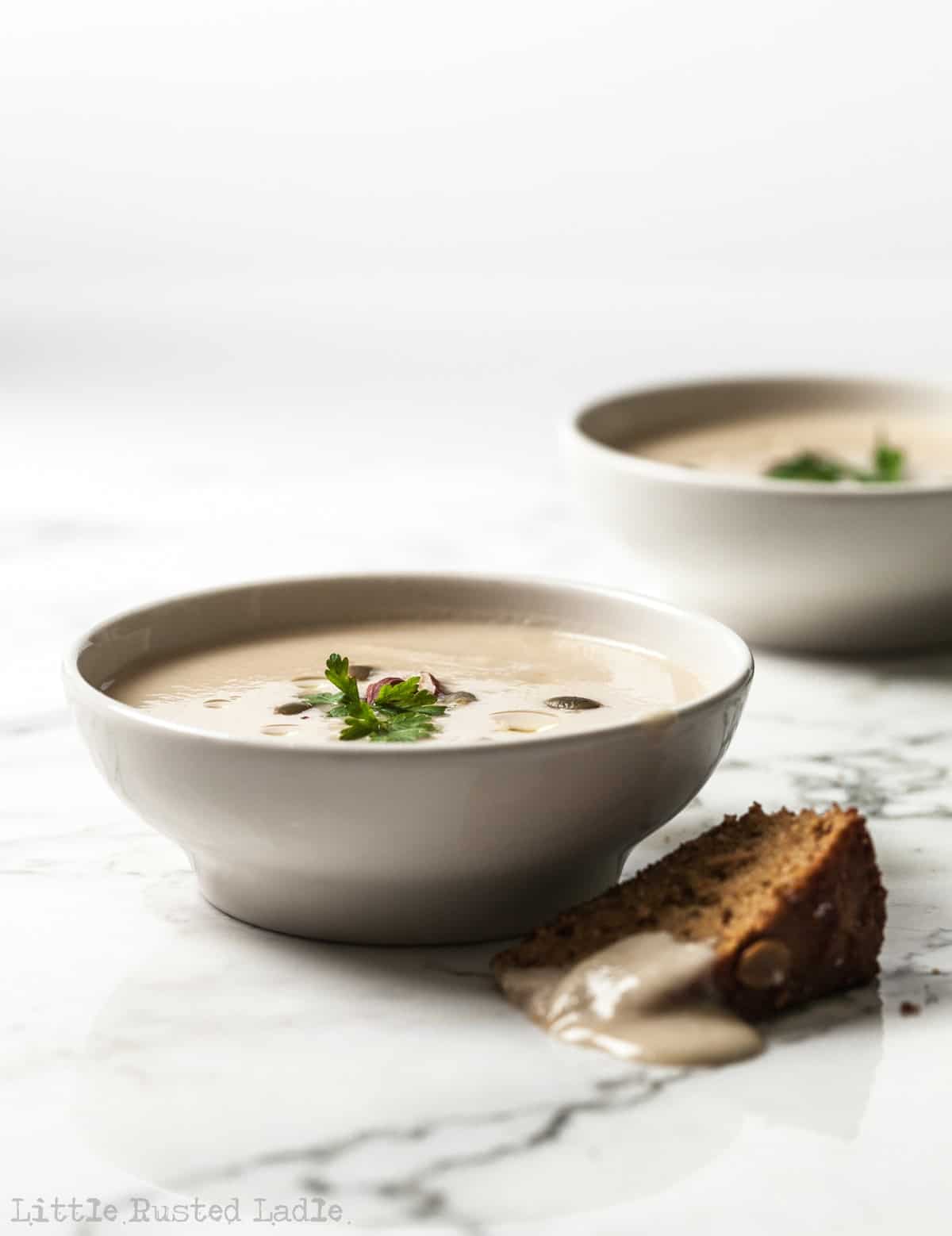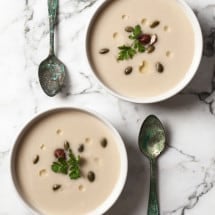 Parsnip & Parsley Root Bisque with White Truffle Oil
This easy to make sweet vegetable bisque gets a gourmet upgrade with the addition of white truffle oil and hazelnuts. It can also be made into a vegetarian soup by using vegetable broth in place of chicken broth.
Print
Pin
Rate
Add to Collection
Go to Collections
Ingredients
4

cups

peeled and chopped parsnips or parsley root

about 1 lb

2

cups

whole milk

1

cup

reduced sodium chicken broth or vegetable broth

2

tbsp

parmesan cheese

grated

salt and white pepper to taste

6-10

drops

white truffle oil

optional

6-10

toasted hazelnuts

reserved parsley sprigs

if using parsley root
Instructions
In a large saucepan, combine parsnips and/or parsley root, milk, and broth of choice. Simmer over medium low heat for 15-20 minutes or until vegetables are very tender.

Add mixture to a blender with parmesan cheese.

Blend until smooth.

Add salt and pepper to taste.

Ladle into 2-4 bowls or cups.

Sprinkle with hazelnuts, white truffle oil, and a parsley sprig.