Well, here it is the beginning of March, and after shoveling another eight inches of heavy packed snow, it is evident that spring is nowhere to be seen.  Heck, even my snow blower, which has been a faithful worker for over eight years' stopped working.  Essentially saying, "your on your own pal, I'm going to Hawaii".  So, one way of boosting my kid's spirits after forcing them to shovel (isn't that why we have kids?) is to make them some oven roasted tomato soup and the ultimate grilled cheese sandwich  I know what you're thinking.  Why would I choose to write about roasted tomato soup in February, when August or September would clearly be a better choice?  Why not potato soup, chicken noodle, or the hundreds of other options?  Try dunking a gooey grilled cheese sandwich into potato soup and you'll have your answer.  It is a classic combo for a reason.  Besides, sometimes you just have to say who cares, I WANT IT NOW!  Just to be clear, I'm not talking the tomato soup that comes in a red and white can.  No soft, square bread that is anything but wonderful or cheese that is less "American" and more "processed".  Do not get me wrong. I'm no food snob.  I'm more than happy to revert back to my childhood once in awhile.  Beth or Jena would probably say I revert back a little too frequently.  Especially when it comes to reciting old Bugs Bunny cartoons, which I think still kick butt.  However, for this meal I'm putting on my big boy pants and throwing caution to the wind.  These are XXX versions.  Hold on, not that kind of XXX.  I mean they are eXtra flavorful, eXtra bold and eXtremely easy.
To get this classic combo going, we are going to need tomatoes.  This soup is almost impossible to screw up, regardless of what kind of tomatoes you use.  For this purpose, I filled a small sheet pan with about six tomatoes, some fresh anise, an onion and some garlic cloves.  It doesn't really matter what the proportions are.  Skip the anise and add more tomatoes or you can skip the garlic or onion.  Remember, you can't screw it up.  Drizzle the vegetables with olive oil, and kosher or sea salt and fresh ground black pepper.  To mix it up, I poured about a cup of coconut water into the pan.  Normally I would have used white wine, but since this is the year of the better Jimmy, I thought I'd skip the booze.  Actually, I just decided to not waste it on cooking and drink it instead.  The coconut water will add a subtle tropical flavor to the soup without overpowering it. Carefully transfer the pan to a four hundred degree oven and set your timer for ninety minutes.  What's fantastic about this recipe is that after a few cuts with a knife and about ten minutes, you don't need to do anything else except enjoy the incredible aroma that will completely fill your house.  You will be begging the timer to go off.  While the tomatoes are roasting, you can prep the grilled cheese sandwiches and have them ready to go.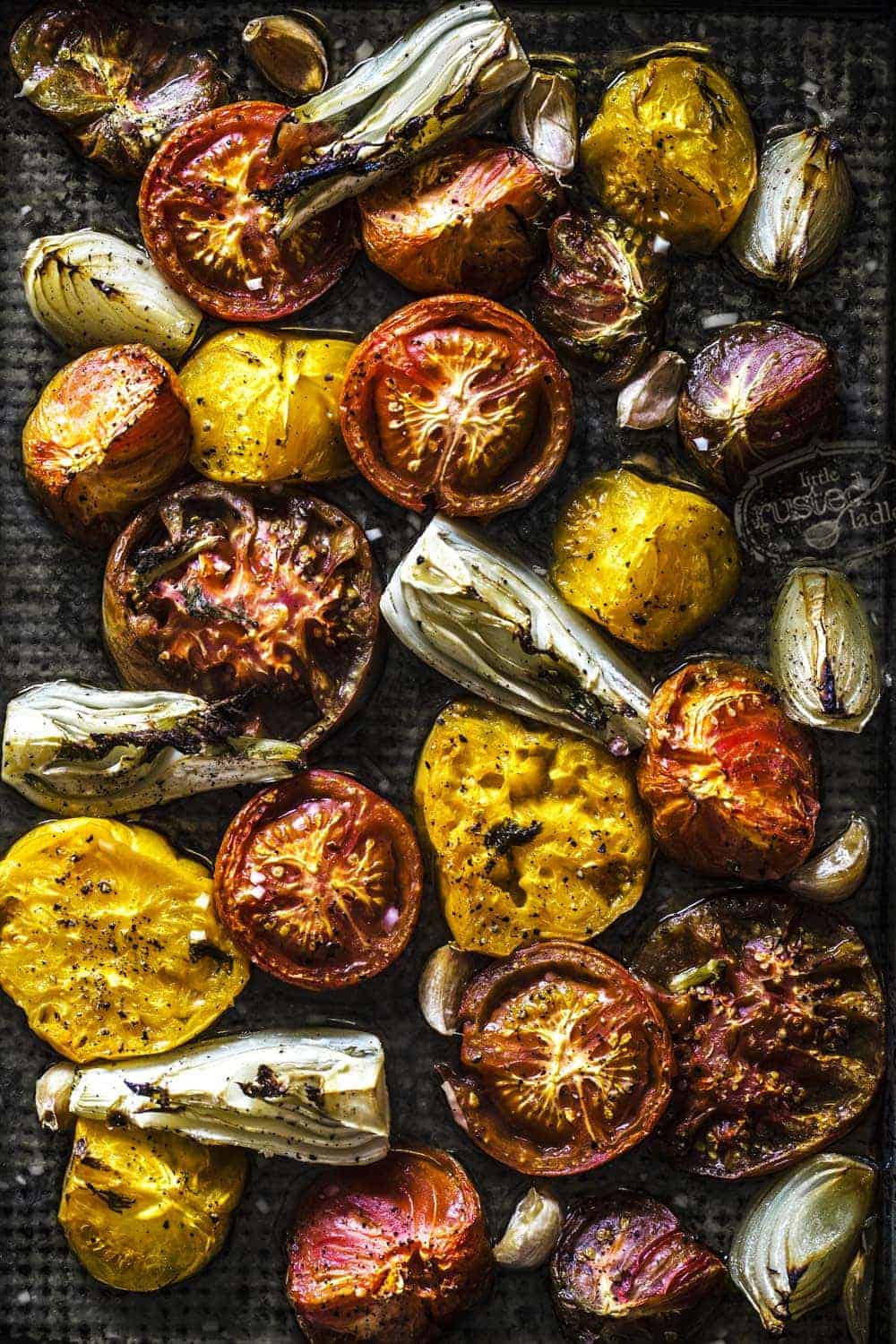 The perfect grilled cheese sandwich needs to fulfill many goals to get its' title as "perfect". The bread should be crunchy on the outside, chewy on the inside.  I chose a rustic Turano bread available in many large grocery stores in Wisconsin.  If this is not available, simply choose bread that has some firmness to it.  It should have a nice homemade flavor and it shouldn't be too thick as too overpower the cheese.  A thin layer of good quality unsalted butter softened to room temperature is spread on the outside of the bread.  The cheese needs to be gooey and creamy and full of flavor without being too sharp or overpowering.   Being from the largest cheese producing state in the nation and home to more award winning cheeses than any place else in the country, it can be overwhelming to decide which cheeses to use.  I chose seven different kinds of cheese. Each one offers a unique layer of flavor.  They were a high quality American, which is a tribute to the original, havarti for it's meltability and creamy texture, colby/jack for it's bold and tangy characteristics, buttermilk blue for a touch of pungent earthiness, butterkase for it's buttery flavor and shredded aged parmesan pressed into the butter on the outside of the bread for it's salty, nutty notes and it's ability to add crunch.
With the cheeses, bread and butter chosen and the sandwich put together and ready for grilling, it was time to finish the soup.  I Carefully removed the tomatoes from the oven and let cool for a few minutes.  Next I removed the skins from the tomatoes by pinching them with my fingers.  If you can't remove some of them don't worry, they still taste good.  I removed the skins from the garlic and transferred the entire mixture to a blender, juice and all.  I blended it on high for about 45 seconds or until smooth.  A little extra salt and pepper to taste and it was ready to eat.  Next up, the sandwich.  Remember when grilling the sandwich not to let the pan get too hot.  Grilling a grilled cheese sandwich at a medium low heat for a longer amount of time will create a crunchier exterior and gooey cheese.
With my sandwich perfectly grilled and the soup creamy and hot, the only thing left was to enjoy, and boy did I enjoy.  The natural sweetness of the roasted tomatoes, onions and garlic, the slight licorice flavor from the anise, and the mild coconut notes were intoxicating.  Especially when the last few spoonfuls were sopped up with the crunchy and gooey grilled cheese.  With another six to eight inches of snow expected today, I'm guessing this soup and sandwich combo may need to make an encore performance.  Especially since that snow blower has yet to come back to life and my kids are less than enthusiastic about another March snowfall.  So, the next time you need a little comfort to ease those everyday anxieties we all face, try the LRL version of the classic grilled cheese and tomato soup.  You may find they are just what the doctor ordered.  Doctor Jim and nurse Jena anyway.
Until next time, "Remember to Cook with Love and Live to Cook".
Jim & Jena
Oven Roasted Tomato Soup
Author:
Prep time:
Cook time:
Total time:
Oven Roasted Tomato Soup
Ingredients
6 Ea. Medium tomatoes, cut in half crosswise
1 Hd. Fresh anise or fennel, white part only, quartered
1 Small Yellow onion, Peeled and quartered
6 Ea. Garlic cloves, unpeeled
2 bsp. EVOO
1 tsp. Course sea salt or kosher salt
1 tsp. Fresh cracked black pepper
1 C. Coconut water or sweet white wine, optional
¼ C. Fresh anise fronds, chopped
Instructions
Preheat oven to 400 degrees Fahrenheit. Place tomatoes, cut side up on a sheet pan or in a roasting pan. Add anise, onion and garlic to the pan.
Drizzle vegetables with olive oil, then sprinkle with salt and pepper. Pour coconut water or white wine into pan. Transfer pan to oven and roast for about 90 minutes or until onions and garlic start to brown.
Let cool for 10 minutes. Remove skins from tomatoes by pinching them with your fingers. Remove skins from garlic. Using a large spoon, transfer tomatoes, onions, garlic and anise to a blender. Pour liquid into blender. Cover and puree on high for about 45 seconds or until smooth. Keep warm until ready to serve. To serve, stir chopped anise fronds into soup, then ladle into bowls. Serve with a grilled cheese sandwich.
Notes
Add browned ground beef, pork and or veal to leftover tomato sauce and serve over pasta for a delicious Bolognese sauce, or add some fresh basil for a homemade pizza sauce.
Ultimate Wisconsin Grilled Cheese Sandwich
Author:
Prep time:
Cook time:
Total time:
Ultimate Wisconsin Grilled Cheese Sandwich
Ingredients
2 Slices Rustic white bread such as Pane Turano
3 Tbsp. Unsalted butter, softened
½ Oz. Wisconsin aged Parmesan cheese, shredded
2 Slices Wisconsin American cheese
2 Slices Wisconsin havarti cheese
½ Oz. Wisconsin buttermilk blue cheese, crumbled
2 Slices Wisconsin colby jack cheese
2 Slices Wisconsin Butterkase cheese
Instructions
Spread butter on one side of each slice of bread. Srinkle Parmesan cheese over butter and gently press into bread. Place one slice of bread butter side down on a paper plate. Top with American, havarti, blue, colby/jack and butterkase cheeses. Place remaining bread slice on top of cheese butter side up. Cut sandwich in half if using large bread slices.
Preheat a large non-stick skillet over medium low heat. Place sandwich halves in pan and grill for 2-3 minutes on each side or until golden brown and cheese is melted. Transfer to plates and serve with roasted tomato soup.
Note: May substitute your favorite cheeses or bread.