Sweet, sexy, delicate, full-bodied, smooth, delicious.  These may be words used to describe your valentine, but in this case they are referring to ganache.  Ganache may not sound like something that would impress your better half, but don't be fooled.  This luscious chocolate has been putting smiles on loved ones faces almost as much as the written notes that remind our significant others how much they mean to us.  Why would a majority of women rather have chocolate than sex?  Sorry guys, but it's true!  Because chocolate is sweet.  It satisfies for a long time and when you're done with chocolate, you can put it in the drawer till you want it again.  
Ganache is sexy because it can be everything you want chocolate to be.  Warm and creamy, rich and chewy, full bodied and exotic.  Ganache, for those who are still wondering what I'm talking about, is a mixture of hot whipping cream and semi-sweet chocolate combined until smooth.  Depending on how much of each you use, it can take many forms and flavors.  It is most commonly used as the center of those incredible round shaped chocolates named after my favorite mycological wonder known as the truffle.  Besides truffles, ganache can be used as a glaze for cakes, a base for hot chocolate, or a molten filling for chewy brownies.  Each method of preparation has earned high marks for it's seductive powers, and each one was prepared for this blog.  Let's do some chocolate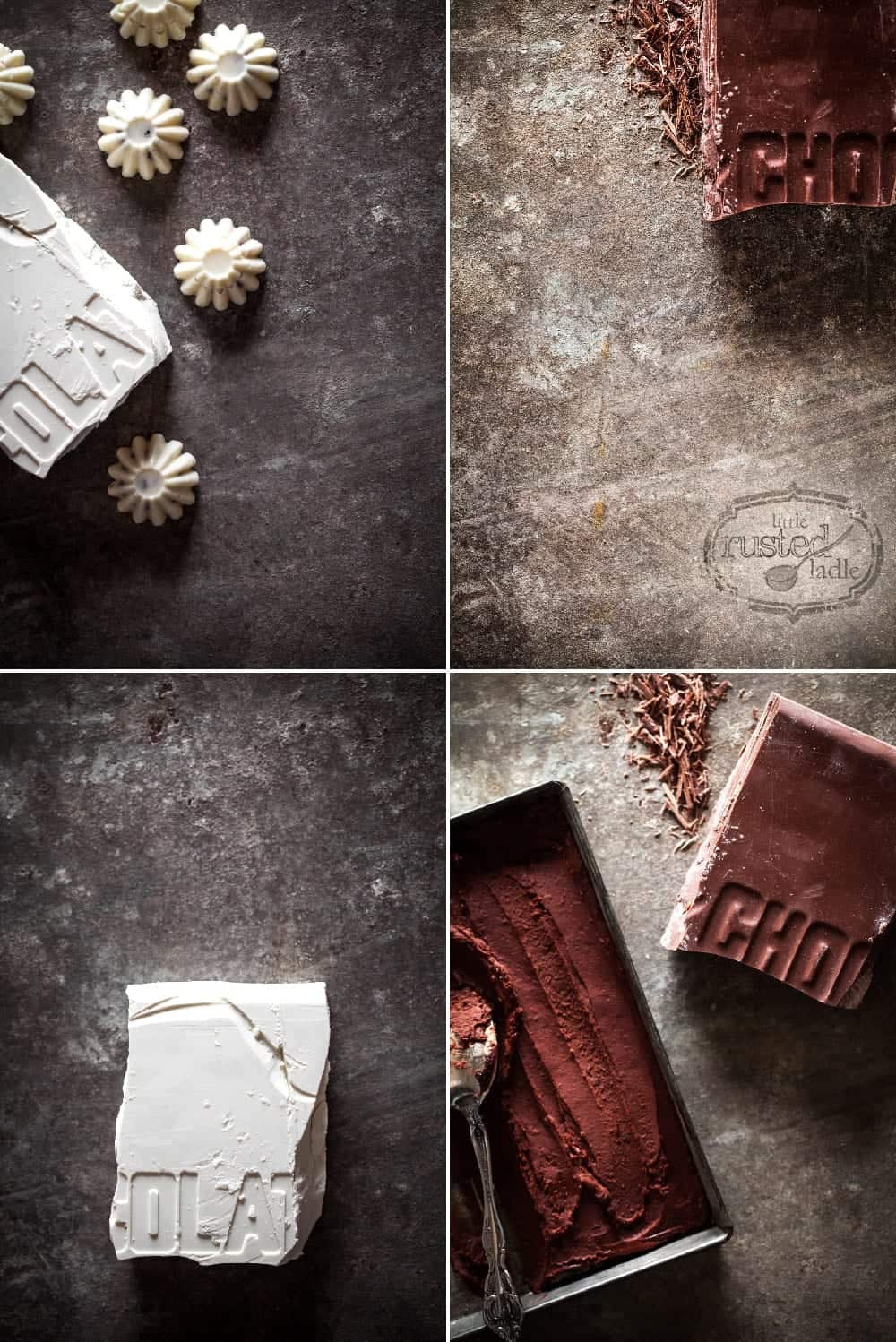 The first step in preparing any of these chocolate desserts is to make the chocolate ganache.  A food processor, semi-sweet chocolate, egg yolks, cognac and about five minutes is all you need to get this chocolate fantasy started.  I've been using this recipe since my pastry instructor gave it to me back in the late 80's when my idea of romance was to buy a girl a shot at the bar after a Friday night frying fish as a fry cook.  Amazing how few takers I had with the smell of fried food permeating from my body.  This simple chocolate ganache would have increased my odds for success.  That and a shower.  For a good chocolate ganache, I like to use a good quality chocolate such as Scharffen Berger, Ghiradelli, Guittard or Lindt.  If you have a personal favorite, feel free.  There are no restrictions with this recipe.  Don't get me wrong, a bag of chips with a little house on it works fine too, but if I'm looking to impress my wonderful wife Beth with chocolate, I'm going to need a little extra fire power.  Especially if a small box with shiny jewels isn't in the equation.
The first use of the ganache is as a base for chocolate truffle squares.  They were flavored with an assortment of unique coatings.  Curried coconut with basil, roasted pistachio, cocoa powder, and freeze dried raspberry.  I'm a big believer in big flavor.  Food should attack the senses.  Make your taste buds stand up and go "what the hell was that?"  However, if you are a little more reserved, simply follow the original ganache recipe below and roll them in cocoa powder, cocoa nibs or anything else your heart desires.  I chose to cut them into squares as an alternative to the popular round shape mostly because it was easier.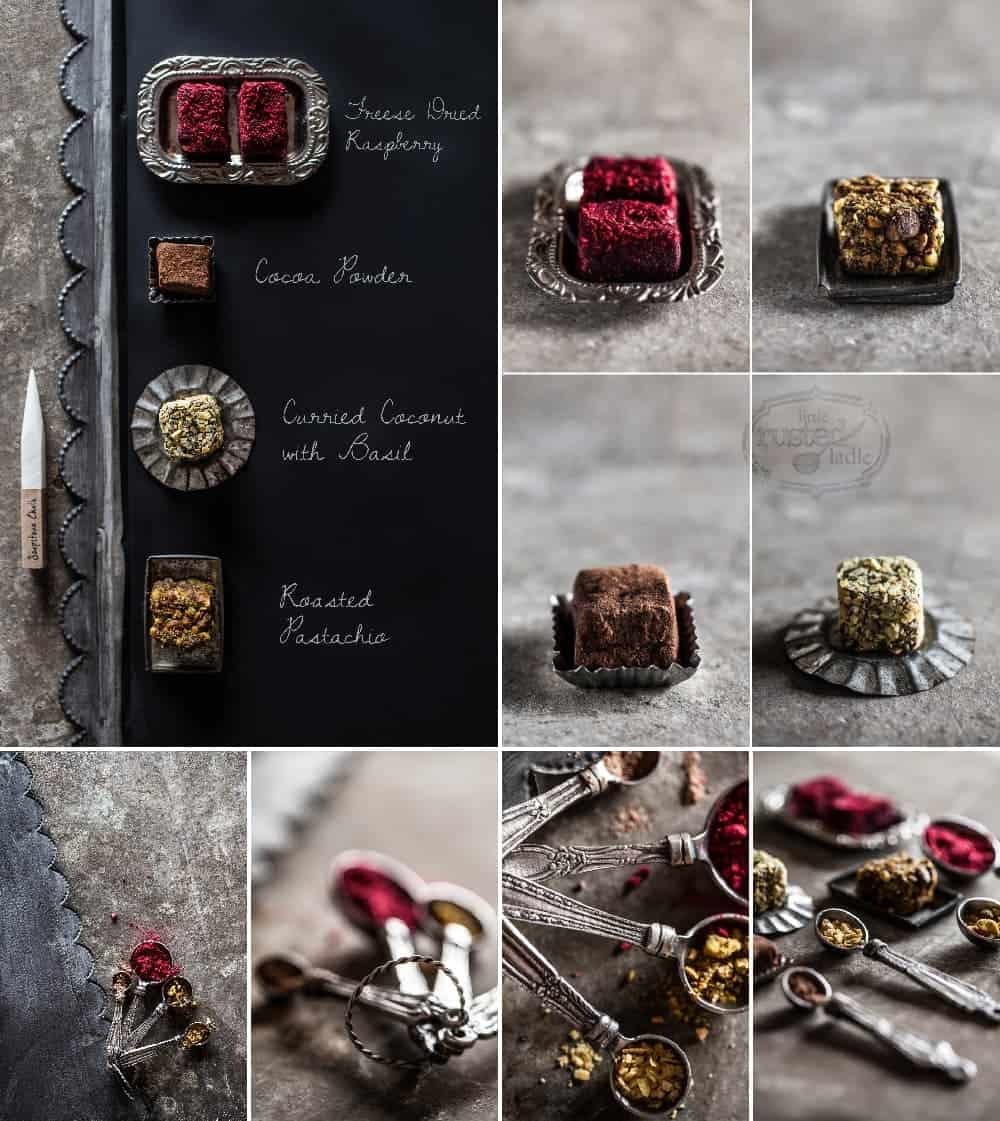 Chocolate indulgence number two was a warm chocolate brownie cups with jalapeno lava filling.  That was topped off with toasted coconut, pomegranate arils (the juice filled seeds of a pomegranate), and some red sugar glass for a garnish.  This one is a crowd pleaser for any party.  The best part is that the whole thing takes less time to prepare than it takes to pick out something sexy at V.S. for yourself. Uhh, I mean your sweetie.  The jalapeno thing may sound a little weird, but the fruity fresh flavor combined with the heat adds a unique zip to the brownie filling. The smoked sea salt adds a slightly smoky nuance that goes great with chocolate.
The last chocolate temptation was a best ever hot chocolate made by using the ganache as the chocolate, then adding hot milk, cinnamon and a toasted marshmallow.  The adult version included Frangelico and Baily's Irish Cream as well.  Delish!  If Looking for a unique chocolate taste without having to spend hours in the kitchen or driving to a local chocolatier?  Try adding pomegranate arils, chopped jalapeno, basil, curry, chopped wild mushrooms, white truffle oil, or jerk seasoning to melted white or dark chocolate.  Then pour into small candy molds.  So the next time you want a little romance in your life, start with a bowl of exotic chocolates or some warm chocolate ganache, a bowl of fresh fruit and some cool jazz.  You'll be surprised how far this decadent dessert will take you. Until next time, remember to cook with love and live to cook.
-Jim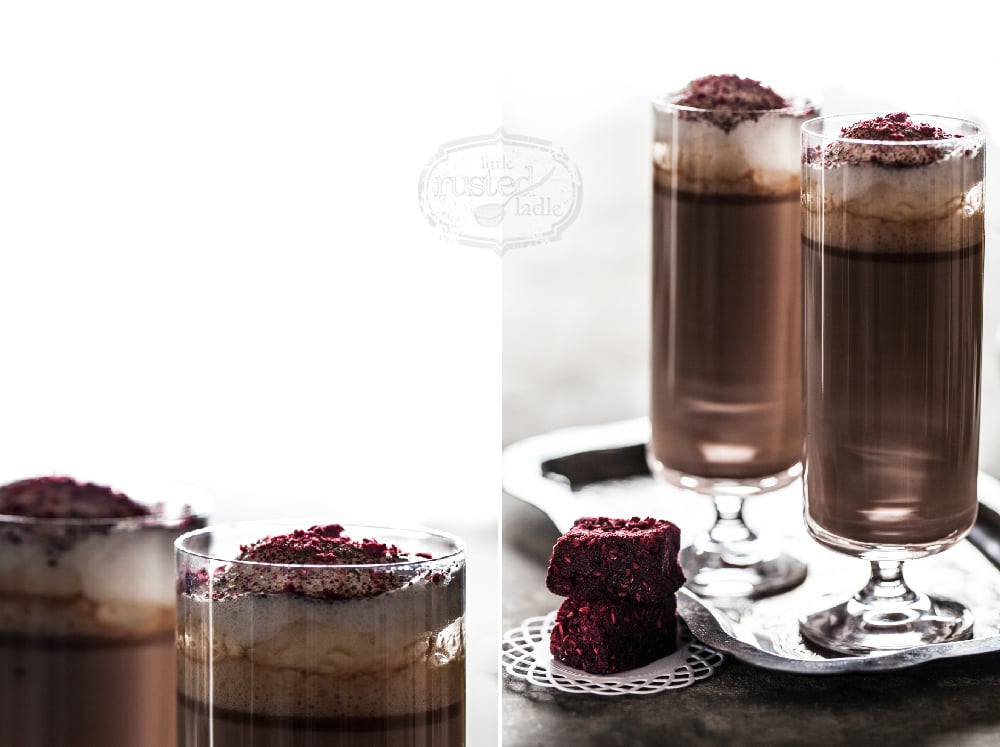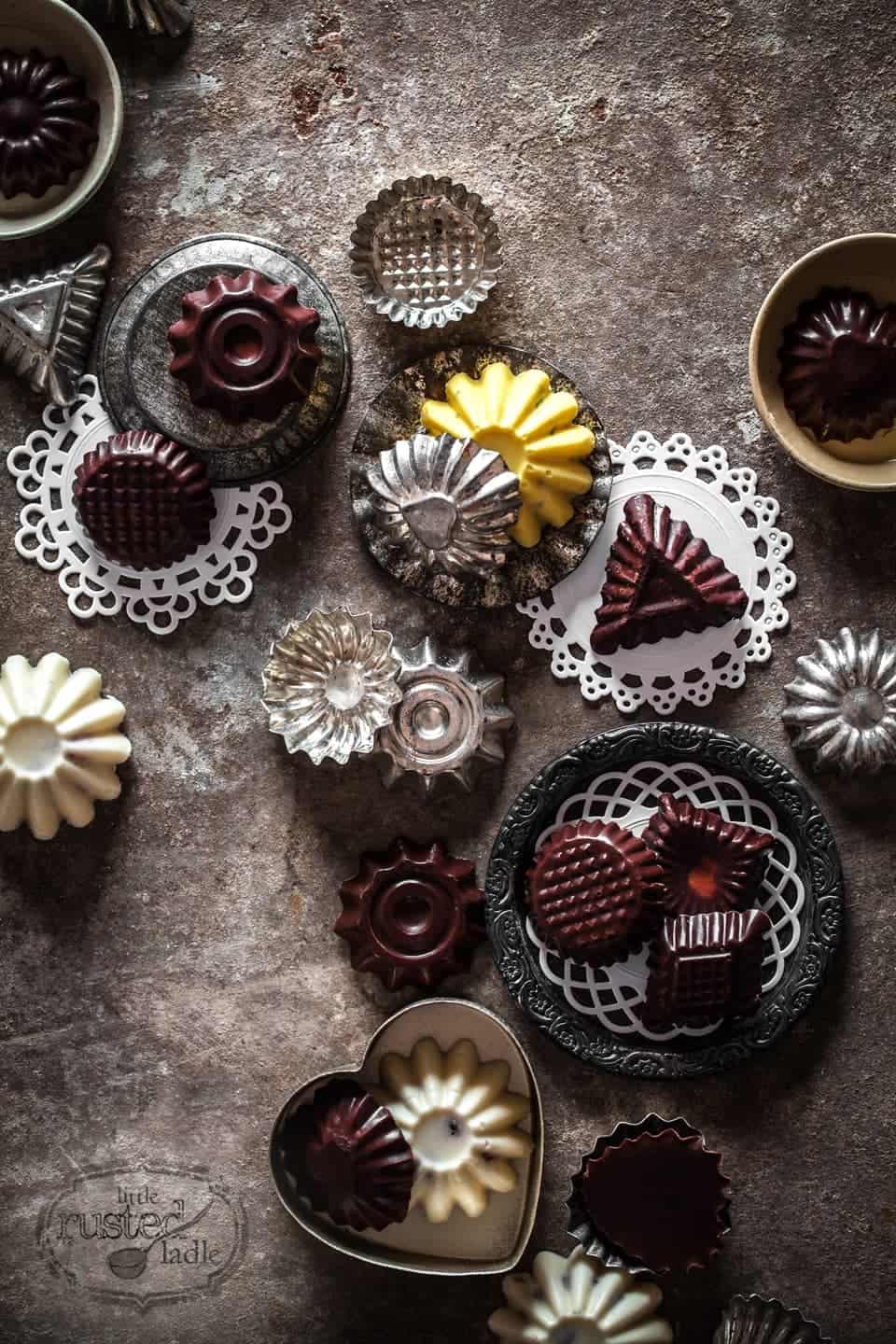 Chocolate Ganache
Author:
Prep time:
Total time:
Use this basic recipe to make truffles, as a filling for brownies, as a base for hot chocolate or anything else you can think of.
Ingredients
Ingredients
12 ozs semi-sweet chocolate, chopped
12 ozs heavy cream, heated to scalding
2 ea egg yolks
2 Tbsp. cognac or flavored spirits, optional
Instructions
Place chocolate, egg yolks, and cognac in a large food processor with a blade attachment. With the motor running, slowly add hot cream into the pouring tube. Process for one minute or until completely smooth. Transfer mixture to a bread loaf pan lined with non-stick foil. Refrigerate until firm.
Notes
The hot cream does double duty here. It melts the chocolate and cooks the egg yolk. the yolk adds extra richness.
Chocolate Brownie Cups with Jalapeno Lava
Author:
Prep time:
Cook time:
Total time:
Ingredients
3 cups [url href="https://www.littlerustedladle.com/chocolate-ganache/"]chocolate ganache, (see Chocolate Ganache Recipe)[/url]
1 ea fresh jalapeno pepper, quartered
1 ea. store bought brownie mix
2 ea. large eggs
1/4 cup red or pink decorating sugar
1/4 cup sweetened coconut, toasted
1/4 cup pomegranate seeds, optional
Instructions
Prepare ganache recipe (above), except after heating cream, add fresh jalapeno quarters to cream and let steep for 10-15 minutes. Remove jalapeno and reheat if necessary. Continue with ganache recipe directions. refrigerate until firm.
Meanwhile, prepare brownie batter according to directions. spray ovenproof glasses, coffee cups or ramekins with non-stick spray. Pour 1/4 cup into each cup. Spoon scant 1/4 cup of ganache mixture into cups over brownie batter. Top with more brownie batter until cups are 2/3 full. Bake for 25-30 minutes or until brownies are done. Let cool.
While brownies are baking, sprinkle sugar onto a non-stick foil lined baking sheet. Broil on high until sugar melts(1-3 minutes). remove from oven and let cool. Break into shards.
To Serve: Spoon coconut and pomegranate arils over warm brownies. Stick a piece of red sugar glass in the center and serve.
Chocolate Truffle Squares
Author:
Ingredients
3 cups prepared [url href="https://www.littlerustedladle.com/chocolate-ganache/"]chocolate genache, see recipe here[/url]
1/4 cup ea. various coatings like cocoa powder, coconut, freeze dried raspberries or melted chocolate
Instructions
Prepare ganache recipe per directions for Chocolate Ganache above. Freeze until firm. Remove foil from pan and place on a cutting board. Using a pizza cutter, cut into 1″ strips. Cut crosswise again into 1″ strips to create 1″ squares. Carefully transfer squares to bowls of coatings(coconut, cocoa powder, melted chocolate, chopped nuts, etc.) and gently roll until completely covered. place single layer in a 8″ square baking dish. Refrigerate until ready to serve. Transfer truffles to a serving plate and serve.
Notes
For a stiffer ganache, reduce cream by 1/4 – 1/3 of a cup.
For an exotic flavor, combine 1 Tbl. of chopped fresh basil and 1 tsp. curry powder to 1 cup of sweetened toasted coconut. Toss to coat. Roll ganache squares into coconut mixture.
Crush freeze dried raspberries into a powder. Roll ganache squares into raspberry powder.
Best Ever Hot Chocolate
Author:
This sinfully creamy hot chocolate is great on a cold winter day.
Ingredients
1 cups Chocolate Ganache, (see Chocolate Ganache Recipe)
3 cups whole milk, heated
1/2 teaspoon cinnamon
4 ea. marshmallows, optional
Instructions
Heat milk in a large saucepan or microwave safe bowl until scalding. Add cinnamon to hot milk and mix well. Add prepared ganache to milk and whisk until smooth. Reheat until hot. Ladle or pour into mugs. top each with a toasted marshmallows ( use a broiler or brulee torch to brown marshmallows). Serve.
Notes
For an adult version, add 1 ounce of your favorite liquor. Peppermint schnapps, frangelico, Baily's Irish Cream, rum, Chambord or Grand Marnier all work well.
For an extra zip to your hot chocolate, make the ganache with fresh jalapeno as described in the chocolate brownie cups with jalapeno lava.