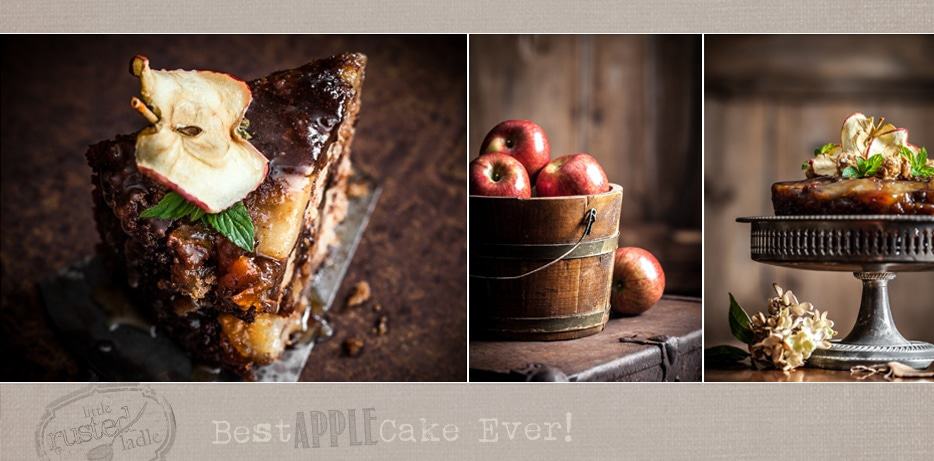 If you are like Jena and I, the excitement in anticipation for apple season is almost unbearable. It's almost understandable why Adam took that first bite of an apple in the Garden of Eden. Apples are sinfully delicious. Wisconsin in October may not be Eden, but if you like a change of seasons, it's pretty darn close. It's the beginning of all that is fall. The colors, sweaters, football, pumpkin patches, corn mazes and an almost endless supply of local apple products. Products like homemade apple cider, apple butter, apple cider doughnuts, applesauce, apple pie, and caramel apples, just to name a few. The thought of any one of these makes our mouths water. We, like the hundreds of thousands of other apple crazed people, flock to the orchards that provide us with our apple fix on a given fall day. It becomes a family tradition. I have taken my kids Logan and Kennedy since they were able to walk. I'm sure baby Carlin will enjoy the same tradition in the years to come.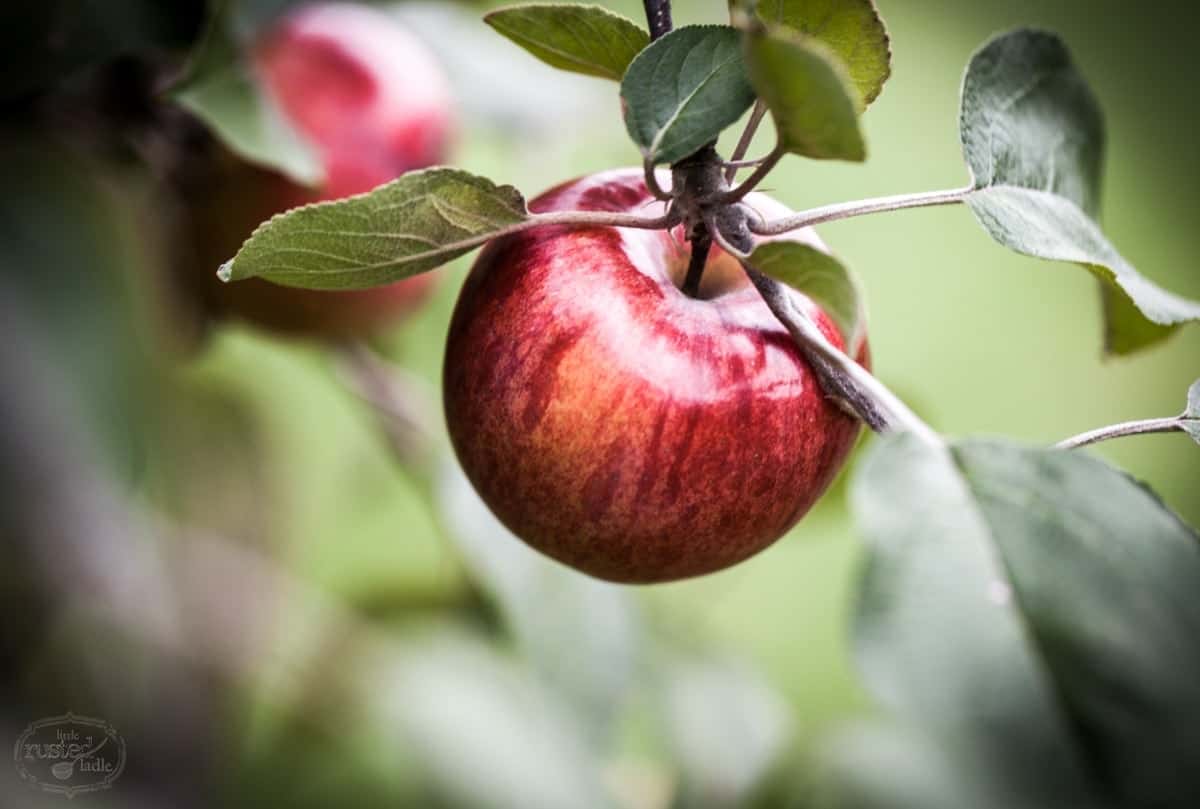 There are over 7,500 varieties of apples worldwide. That's a lot of apples. So, the question is, what do we do with the apples we get? Apples with salted caramel sauce, apple crisp, apple sauce, or perhaps an apple bourbon cocktail? They are all good options. No, this unbelievably versatile fruit deserved a special recipe that highlights the many options of apple products available. An outrageously rich and delish Apple Upside-Down Cake with Bourbon Apple Caramel Sauce.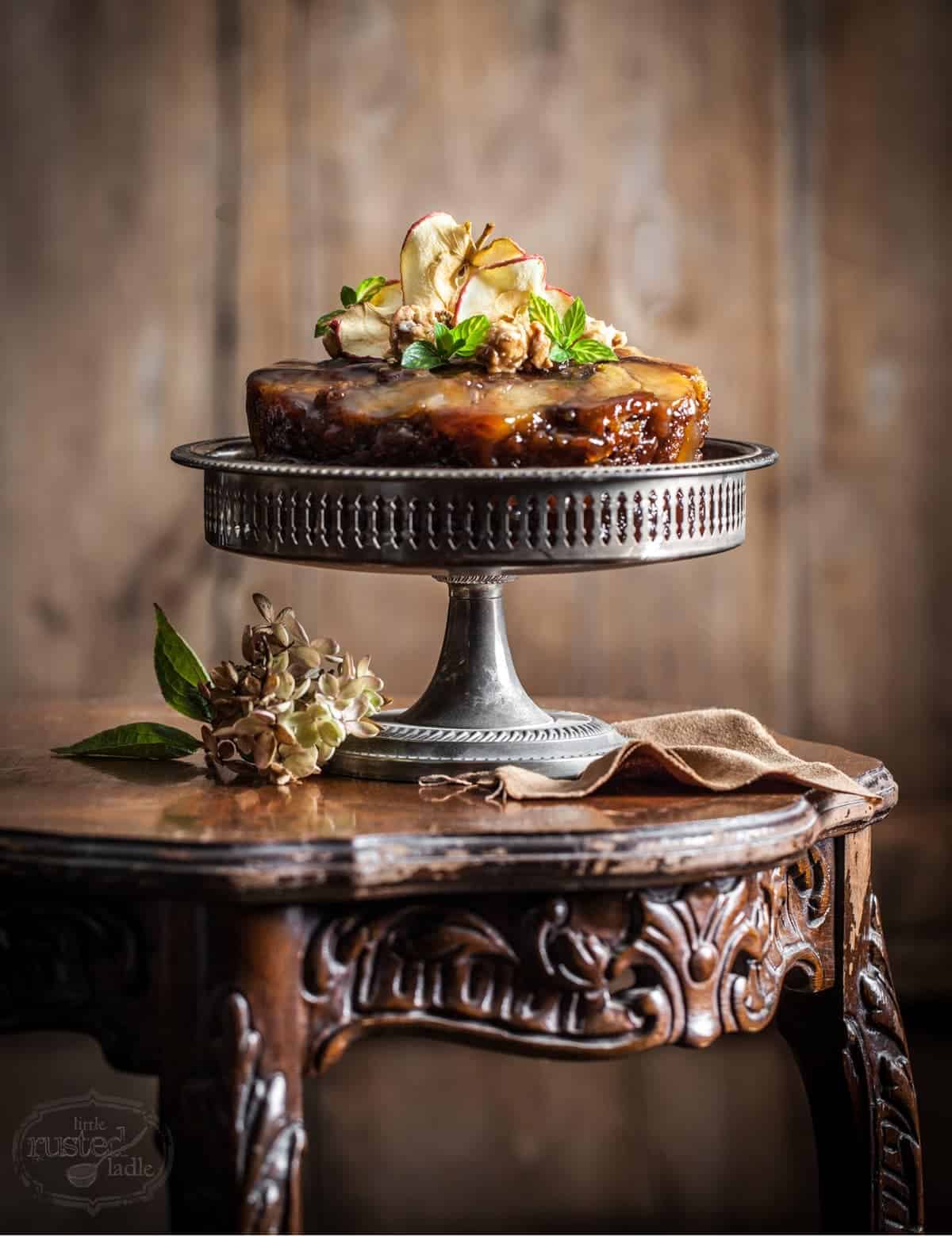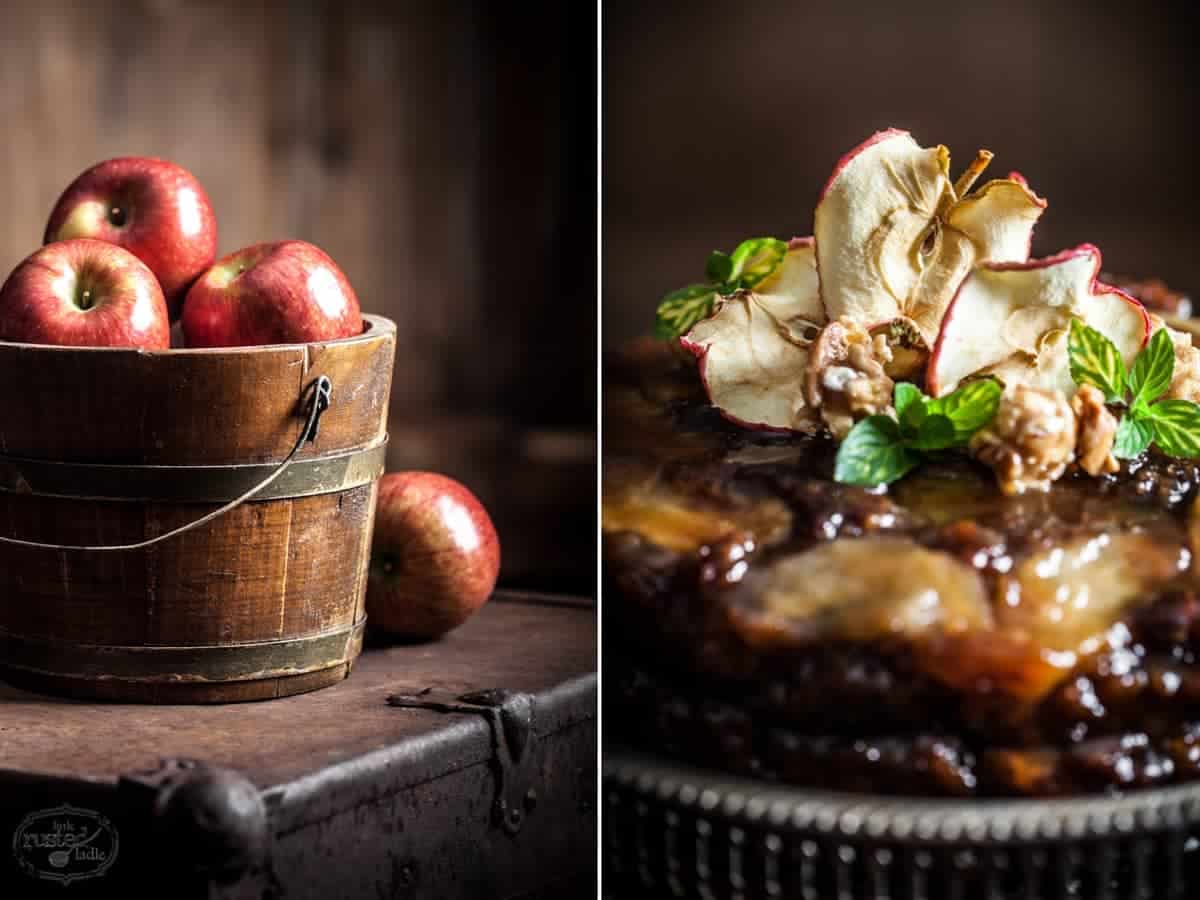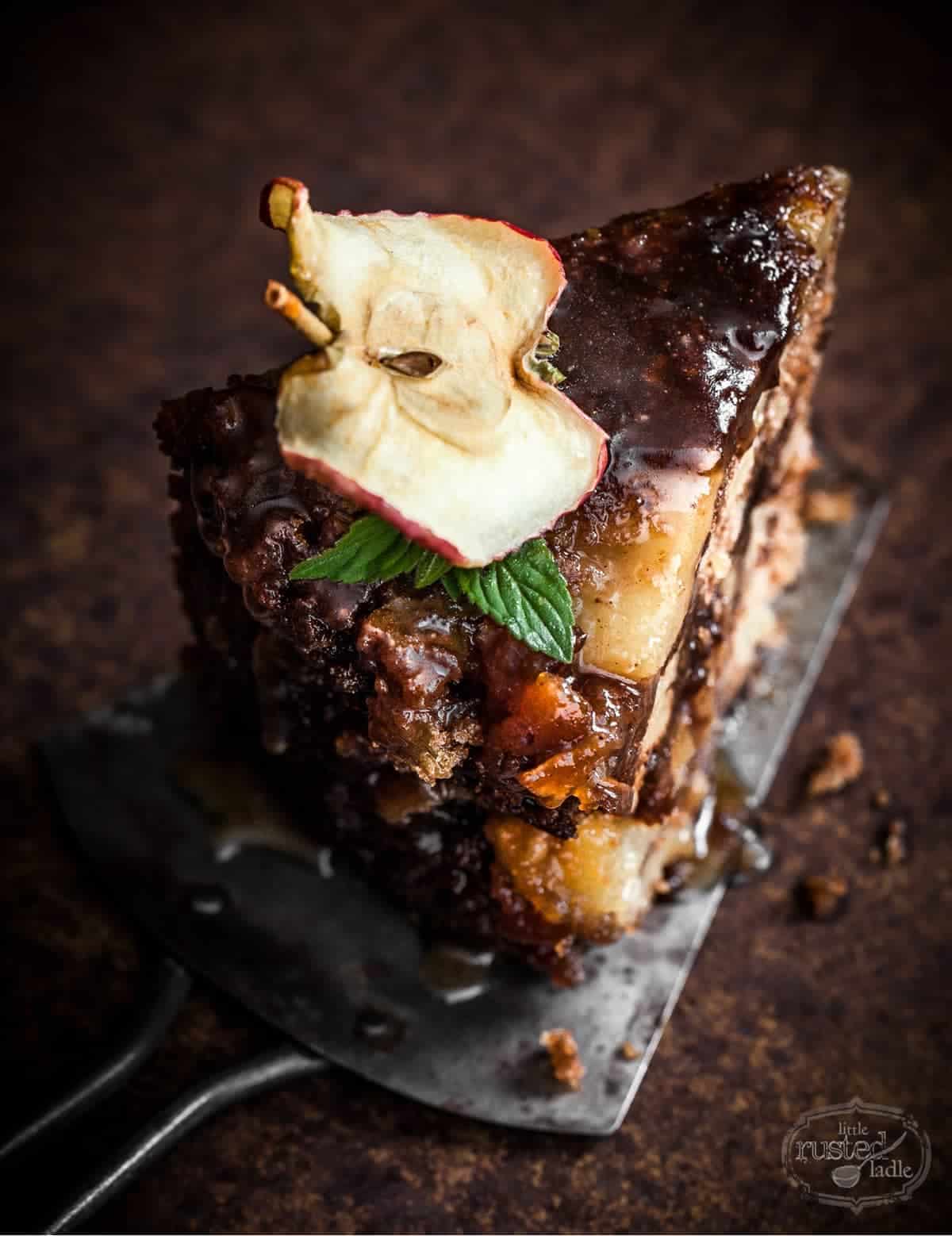 This cake is packed with apple flavor. If the most decadent cinnamon roll on the planet was fused with the most gooey caramel apple ever, it would transform into this cake! I adapted a recipe from King Arthur Flour's website for the foundation. I simply added a couple of things, and then made it twice as good by making it twice the size. If you are wondering what boiled cider is, it happens to be one of the most incredible products ever. The intensity of the apple flavor is insane and you can use it in so many different ways. You can substitute apple juice concentrate, but trust me, it's worth the investment. It also happens to go extremely well with that Apple Pie Bourbon from our Infused Booze II – Return of the Cocktail article from last year. Stop back next week for another amazing apple recipe. See you at the apple orchard. Enjoy, and remember to
Cook with Love and Live to Cook.
Jim & Jena

Apples: The Best Apple Cake Ever:
This sinfully rich, apple intense cake combines four different flavors of apple in one recipe. Two kinds of apples, boiled cider, apple bourbon and apple butter. It's then topped with a gooey caramel apple bourbon sauce. Try to resist, we dare you.
Author:
Little Rusted Ladle
Ingredients
Caramel Apple Bourbon Sauce
2 medium apples, peeled, cored and cut into wedges
2 tbsp. butter
¾ cup light brown sugar, firmly packed
2 tbsp. boiled cider, or thawed apple juice concentrate
¼ tsp. ground cinnamon
½ cup light corn syrup
1 oz. apple pie bourbon or regular bourbon whiskey, optional
1 tbsp. apple butter, optional
Cake
¾ c. vegetable oil
2 tbsp. apple butter, optional
1 tbsp. apple pie bourbon or bourbon whiskey, optional
1 c. light brown sugar, firmly packed
2 tbsp. boiled cider or thawed apple juice concentrate
2 lg. eggs
1½ tsp. ground cinnamon
¼ tsp. ground ginger
⅛ tsp. ground cloves
½ tsp. salt
1 tsp. baking soda
1½ cups unbleached all-purpose flour
1 lg. granny smith or honey crisp apple, peeled, cored and chopped
¾ c. chopped pecans, optional
⅛ tsp. ground cloves
½ c. store-bought caramel corn, optional
6-8 ea. dehydrated apple slices, optional
5-6 ea. mint sprigs, optional
Instructions
Preheat oven to 350 degrees. Lightly grease two 6" round cake pans at least 2" deep. Line the bottom with parchment, and grease the parchment. Place apple slices in a circle around the bottom of the pan.
Prepare the caramel apple bourbon sauce by heating the butter, sugar, boiled cider, cinnamon, corn syrup and bourbon together over low heat, stirring until the sugar dissolves. Pour ⅓ cup of the syrup mixture into the prepared pan, and set the rest aside.
To make the cake: Beat the oil, apple butter, bourbon, brown sugar, boiled cider, eggs, spices and salt together for 2 minutes at medium speed.
In a separate bowl, combine the flour and baking soda. Stir into the batter.
Stir in the chopped apple and nuts until just blended.
Divide batter into each pan by carefully spooning the batter over the apples. Cover them completely. Bake the cakes for 40-45 minutes or until a toothpick inserted near the center comes out clean.
Remove the cake from the oven, and run a thin knife or spatula around the edge to loosen.
Let cake cool in the pan for 5 minutes, then turn one cake out onto a serving plate, bottom side up. Scrape out any sauce that remains and spread it over the cake.
Spread half of the reserved sauce over the cake on the plate, then top with the other cake, bottom side up. Pour remaining sauce over the top.
Garnish with caramel corn, dried apples and mint sprigs if desired and serve.
1