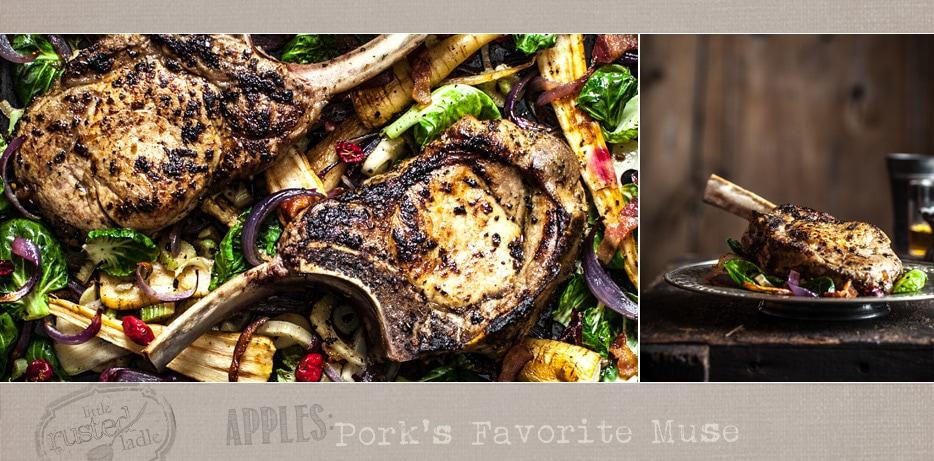 "Pork chops and apple sauce, that's swell".  Those of you old enough to understand that quote from The Brady Bunch, are also old enough to have probably tasted enough tough and flavorless pork chops over the years.  Apples go great with pork. There is no question about that.  But how does a novice home cook combine the two without ending up with a pork chop so dry that you'd have to bury it in applesauce to make it edible?  The answer to that question has eluded me for many years until recently.  See, I've been brining turkey every thanksgiving for years, and the one benefit that brining a turkey has, is that is ensures a very juicy bird.  Even when you get caught watching a football game and forget about checking the bird.  A brine is basically a salt water solution.  When meat such as turkey, chicken or even pork is submerged in a mixture of water and salt, it opens up the pores of the meat, allowing for liquid to be more readily absorbed.  By adding other flavorings such as spices, you can add flavor into the liquid that then gets absorbed into the meat.  Take a walk down any meat isle and you'll see many examples of this being done by every meat and poultry company out there.
So why not just buy store bought flavored pork?  Well, much like life, too much of a good thing can be bad.  Pork only requires about eight hours of brining to create really flavorful, juicy pork chops.  Any more than two days, and the meat becomes too salty.  Most flavor enhanced, packaged meat in the stores has been there for days.  It's even more likely that it has been sitting in the solution for weeks.  This may help preserve the meat, allowing for a longer shelf life, but it does little to satisfy my desire to get the freshest, local food available.  It also does something else.  It raises the price of the meat you buy.  Packaged, raw meat is almost always sold by the pound.  So, imagine how that package weight increases by injecting the meat with liquid.  For these reasons, it is beneficial to not only know where your pork is coming from, but what is pumped into it.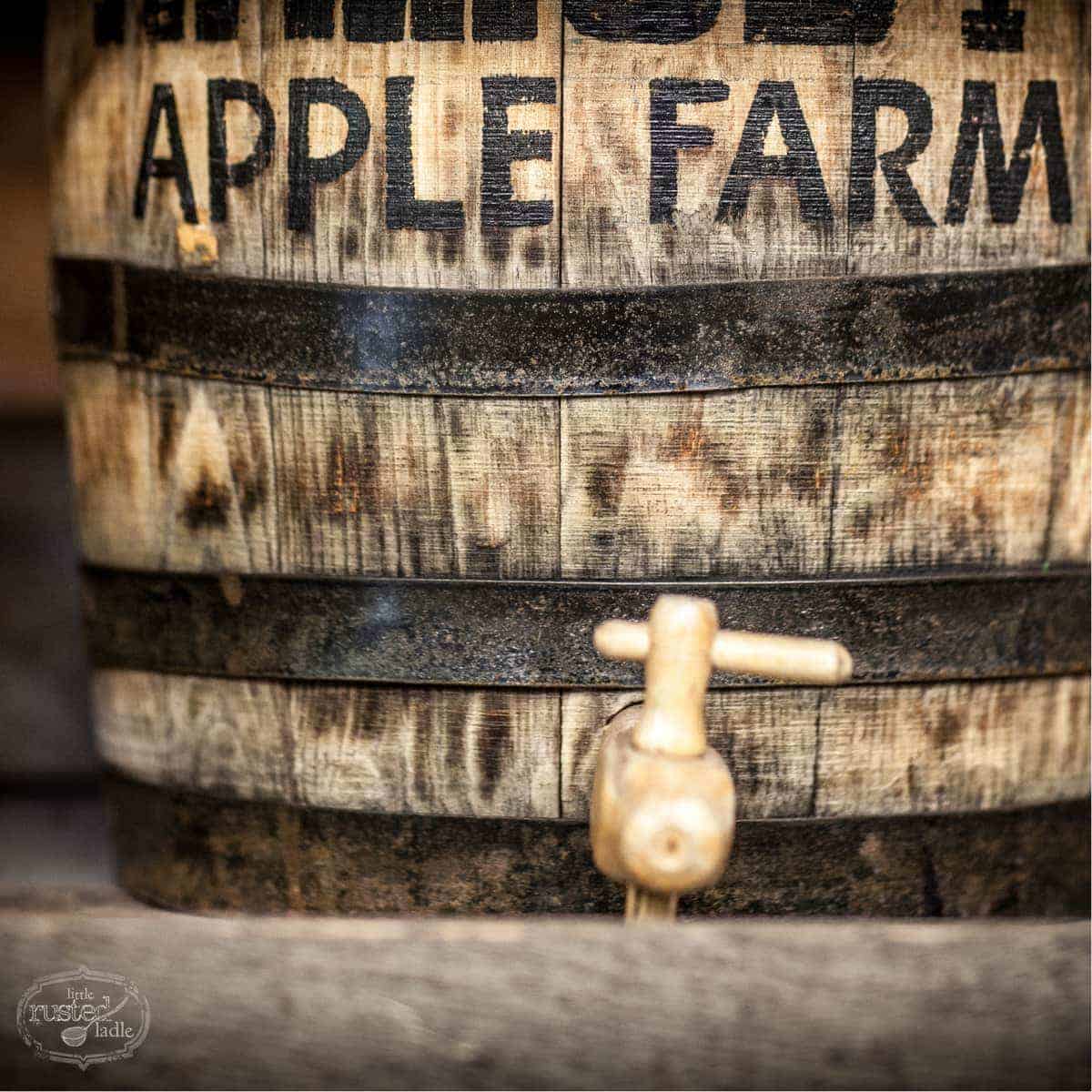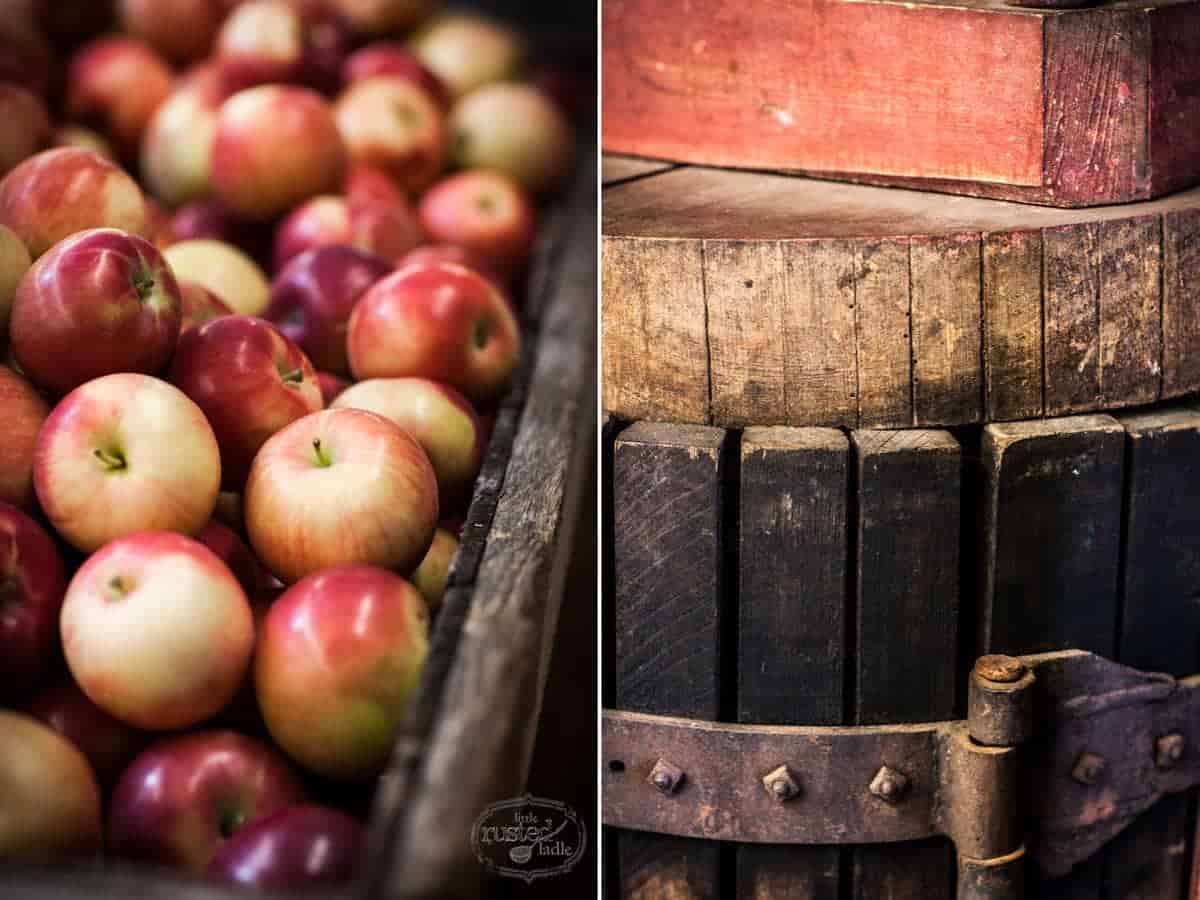 Now back to pork chops and applesauce.  The best way to give pork chops apple flavor and make them retain their moisture is to skip the applesauce, and instead add apple cider to your brine.  Fresh apple cider has a very fresh apple flavor and goes great in brines.  Add some of uncle Bernie's local maple syrup, a touch of bourbon, fennel seed, onions, red pepper flakes, black pepper and of course salt to water and you have a brine that will transform your boring, everyday pork chops into gourmet restaurant quality.  It also makes chicken, and turkey taste great as well.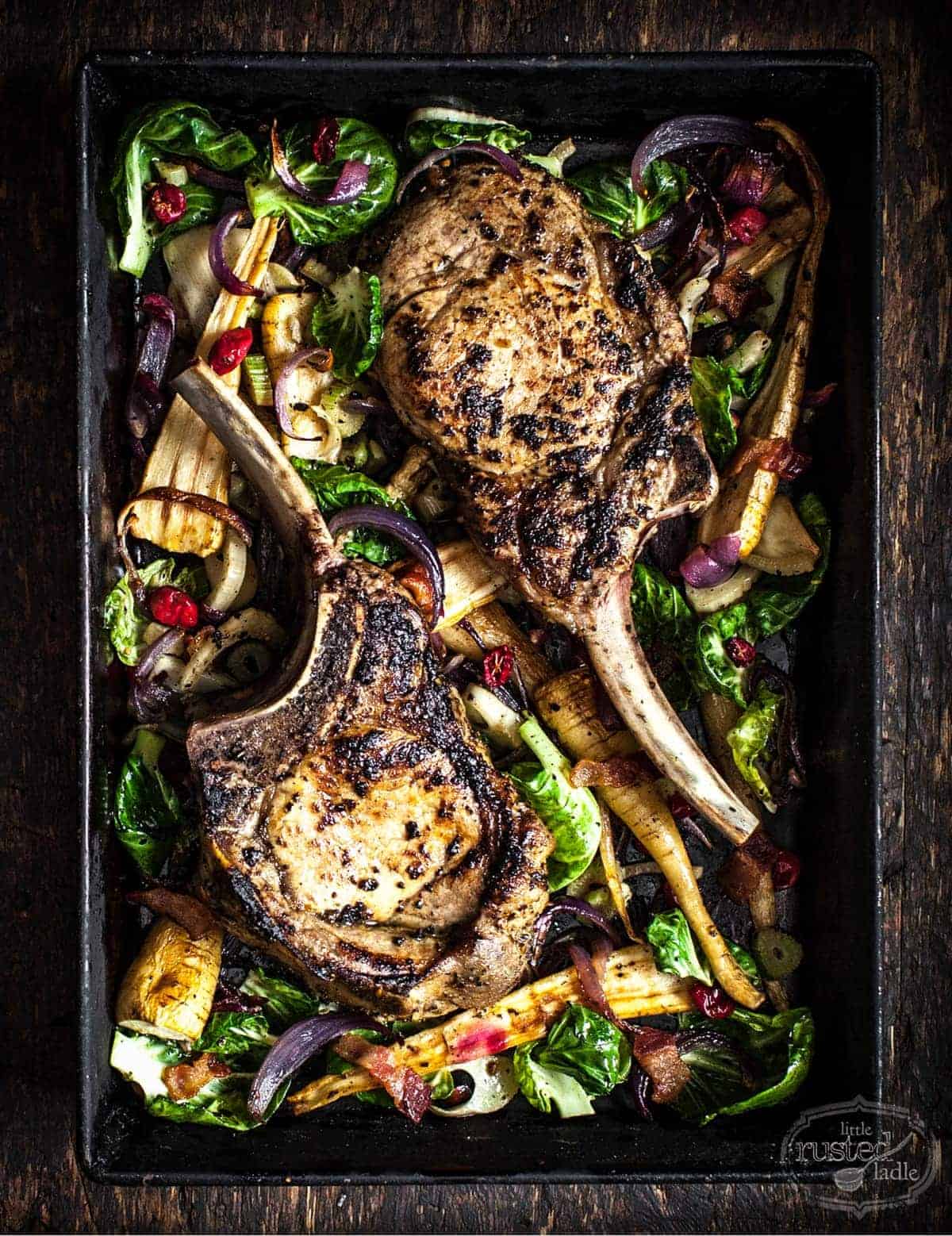 For the photos, we used a bone-in rib pork chop with the bones cut longer.  There is a reason for this.  Many meat departments now get their primal cuts already trimmed up and often already cut into chops.  This may be easier for them, but it rarely ensures the freshest pork.  We chose a local butcher shop called Sorg's near Darien, WI for the chops because they cut their meat fresh.  If you order extra long bones in your chops, you'll find out right away whether they get them in pre-cut of cut them in-house.  It is just another way of maintaining the highest quality.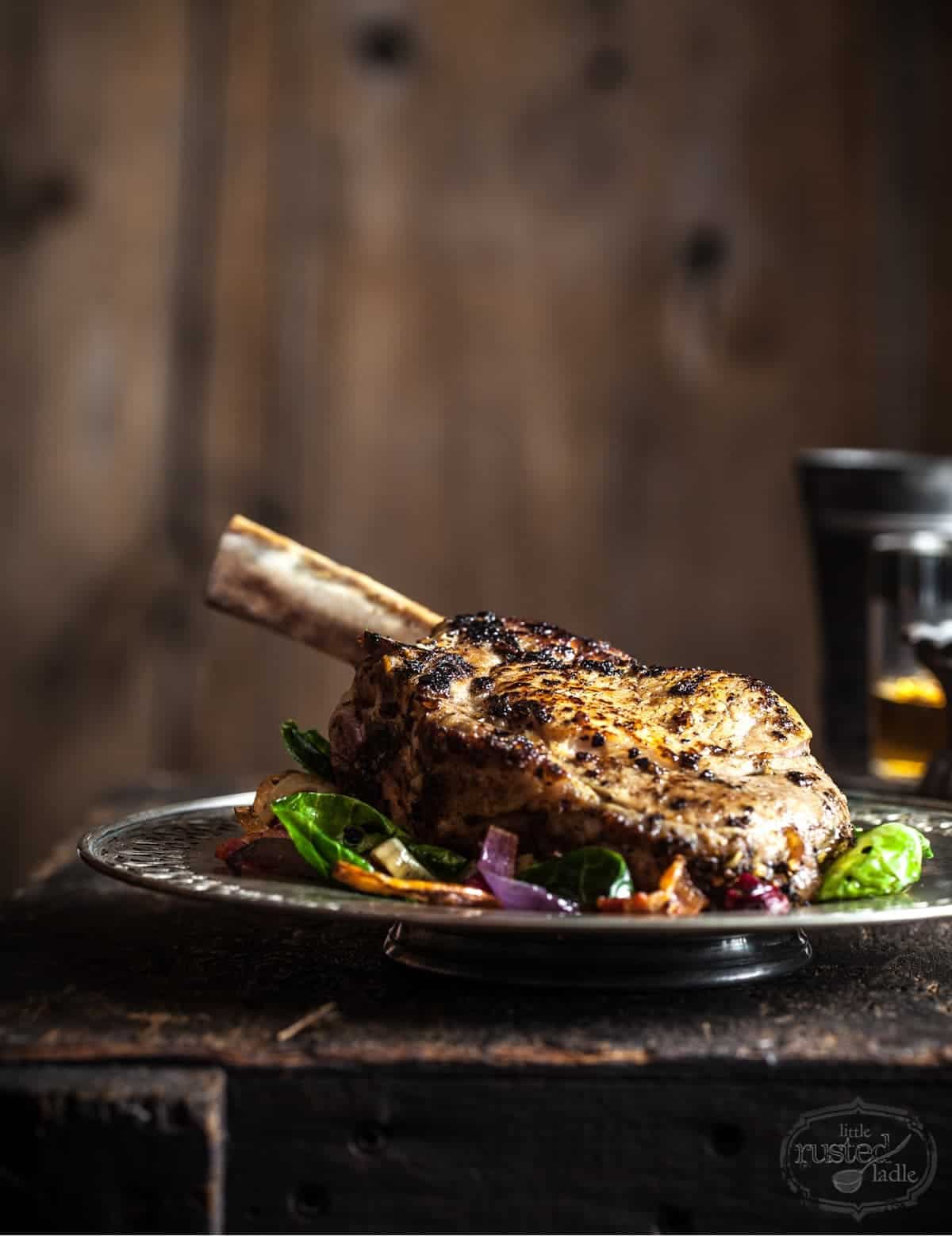 I know what you're saying.  "Why all the fuss about pork chops?  Well, it is our hope that people realize that what you eat, where it comes from and what it's flavored with is important.  Local products are all around us.  By using them in our cooking, we create better tasting, healthier food, while supporting local business.  What could be better than that?  Enjoy your pork chops and applesauce or cider.  Until next time, when Jena and I will delve into the flavors of Thanksgiving, remember to cook with love and live to cook.
Jim & Jena
Apple & Fennel Brined Pork Chops
Author:
Prep time:
Total time:
The flavors of apple cider and fennel are the perfect combination when brining pork chops or poultry.
Ingredients
1 qt. cold water
1/4 cup fine sea salt
1/2 cup fresh apple cider
2 tbsp. bourbon whiskey, optional
1/4 cup real maple syrup
2 tsp. dried fennel seed
1/4 cup diced onion
1/2 tsp. crushed red pepper flakes
2 cloves garlic, chopped
1 sprigs fresh parsley
1 sprigs fresh thyme
1 sprig fresh sage
2 8-12 oz. bone-in pork rib chops
Instructions
Combine all ingredients except pork chops in a 2 qt. container. Stir, then let sit until salt dissolves. Stir again, then add pork chops, making sure liquid covers meat. Cover and refrigerate for 8-12 hours or overnight.
Seared Pork Chops with Roasted Winter Vegetables
Author:
Prep time:
Cook time:
Total time:
The combination of apple brined pork chops and flavorful winter vegetables such as parsnips, brussel sprouts and cranberries is the perfect dish for a cool autumn night.
Ingredients
3 strips of applewood smoked bacon, cut into 1/2″ pieces
2 8-12 oz. pork bone-in rib chops, brined (see recipe above)
1 tsp. curry powder
1/2 tsp. dried basil
1/4 tsp. crushed red pepper flakes
3 small parsnips, cleaned and halved lengthwise
1/4 cup apple cider
1 small red onion, cut into strips
1/2 small bulb fresh fennel, top removed, halved and thinly sliced
1/4 cup fresh cranberries, halved
2 cloves garlic, peeled, roughly chopped
4 large brussels sprouts, stems removed, separated into leaves
Instructions
Preheat oven to 375 degrees. Transfer brined pork chops to a plate and dry with paper towels.
In a large heavy bottomed skillet or frying pan, cook bacon over medium heat until browned. Transfer bacon to a small plate leaving remaining bacon grease in pan to brown pork chops.
Meanwhile, combine curry powder, basil and red pepper flakes in a small dish. Sprinkle over pork chops. When bacon is removed from pan, add pork chops and parsnips to pan with bacon grease. Cook over medium heat for 4-5 minutes per side or until golden brown. Transfer chops to a plate and set aside. Add apple cider to pan with parsnips and scrape up any brown bits with a spatula.
Transfer parsnips and pan drippings to a small roasting pan or shallow baking dish. Add onions, fennel, and cranberries to pan with parsnips. Add any juices from pork and toss to coat. Roast in oven for 30 minutes. Remove from oven, place pork chops over vegetables, add brussels sprouts leaves and return to oven. Roast an additional 10-15 minutes or until vegetables are tender and pork is slightly firm to the touch and cooked to medium. Remove from oven. Serve topped with cooked bacon.
Notes
Since the pork chops have been brined in a salt solution before cooking, do not season with salt and pepper until after tasting.