Delicious, fresh jam is often as close as your backyard! Rhubarb can spring up in the most unlikely of places and is perfect for tasty jams and desserts including this Strawberry Rhubarb Jam made with chia seeds. I love using chia seeds to make jams because it is so incredibly easy and a way healthier alternative to the traditional process. The best part is you can make a big batch and freeze half for later!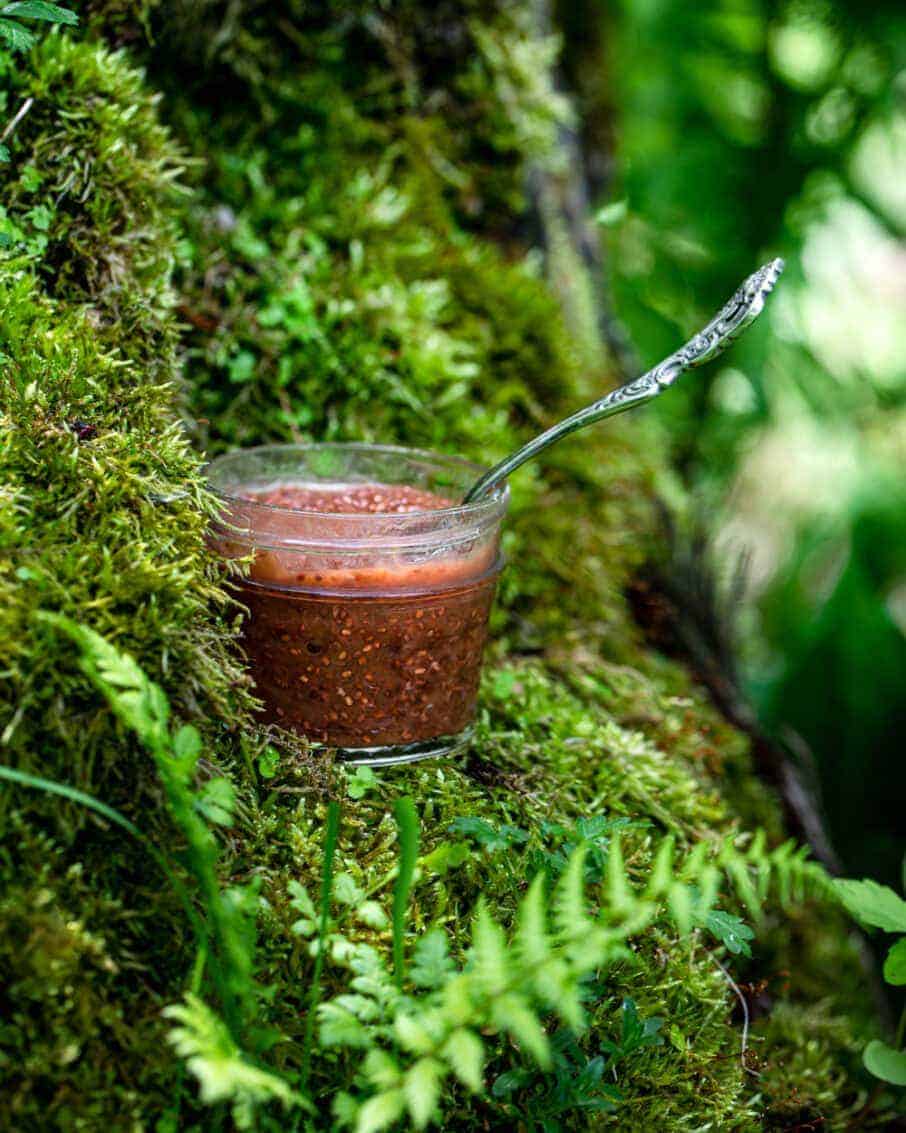 Yum for all ages
I have allowed my own rhubarb plants free reign in an open section of my backyard. When I was working on this recipe, Austin and Eli followed me out back and helped me pick the rhubarb. A normal day of play turned tart when I let them nibble on the raw stalks.
They giggled at each other's scrunched up faces and I couldn't help but laugh at their brotherly love. It was the easiest way so far I have found to get them to smile for the camera…by showing them my face after I take a bite! If I could only pack that in my camera bag to have all the time.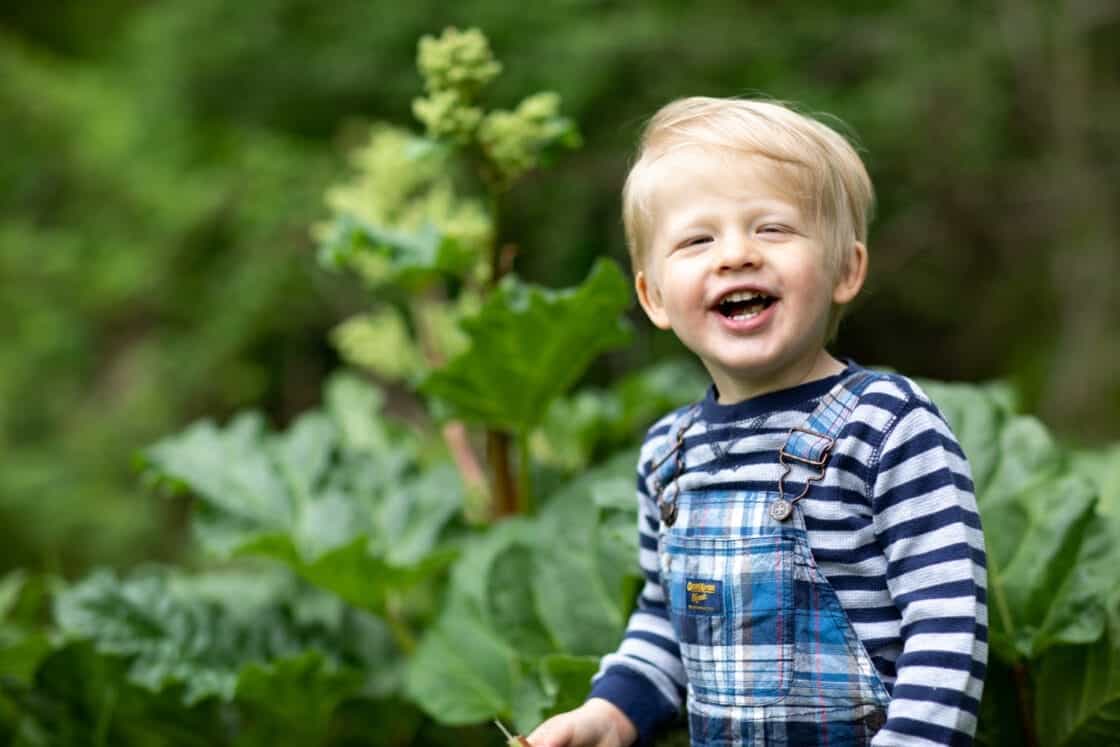 According to organicfacts.net, rhubarb is packed with minerals, vitamins, fiber, protein, vitamin C, vitamin K, B complex vitamins, calcium, potassium, manganese, and magnesium. For a weed from the backyard, it packs quite the nutritional punch.
Lucky for us, rhubarb is tasty as well as healthy. Rhubarb on it's own has a mild tart flavor that can be enjoyed raw (as Eli quickly figured out) but its qualities shine brightest when paired with other sweet and tart flavors. I created a strawberry rhubarb jam so I could use it for any meal of the day!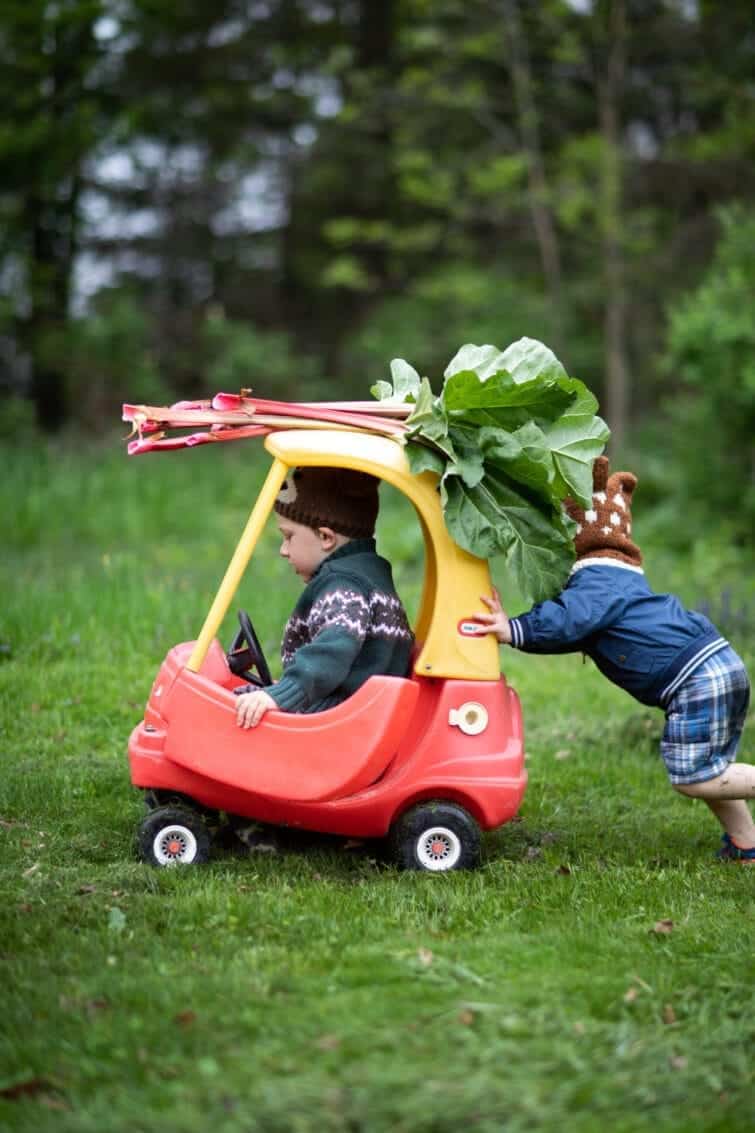 Ingredients of Note
The most popular choice of fruit to pair with rhubarb (which is a vegetable, go figure!) is strawberries. The utter sweetness of strawberries makes tart rhubarb more palatable in desserts. The addition of chia seeds, along with thickening the jam, provides a spiced flavor reminiscent of anise and cloves.
Vanilla and honey act as natural sweeteners while lime juice pulls out the rhubarb's tartness. These ingredients can be added and removed to taste.
Step-by-Step Jam
Thoroughly rinse your strawberries and rhubarb before you cut them into 1/2″ pieces. Make sure to cut the leaves off of your rhubarb stalks–they are poisonous!
Combine strawberries, rhubarb, lime juice, and boiled cider in a saucepan and bring to a boil. Reduce heat and simmer for 10-15 minutes, stirring occasionally.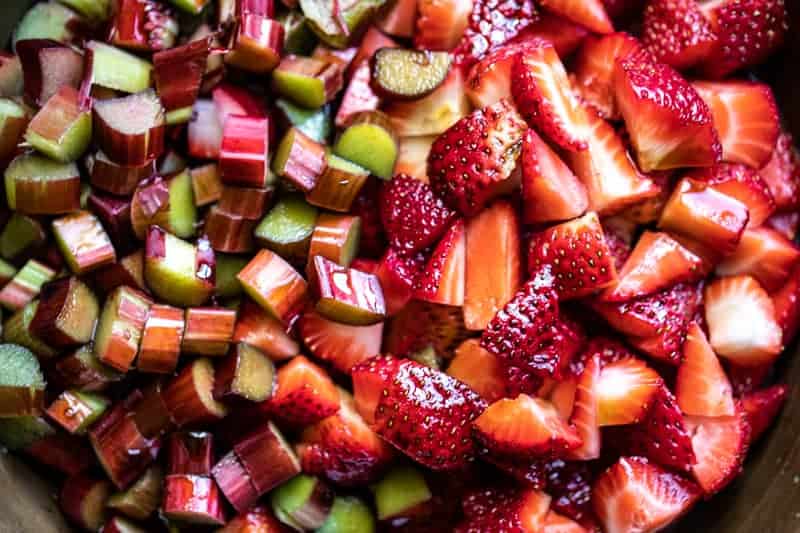 If after simmering, large pieces haven't cooked down, mash them with a fork and continue simmering.
Reduce the heat to low and add the chai seeds. If the jam is too runny after 5 minutes of simmering, add another 1/2 tbsp and let sit off the heat for another 10 minutes.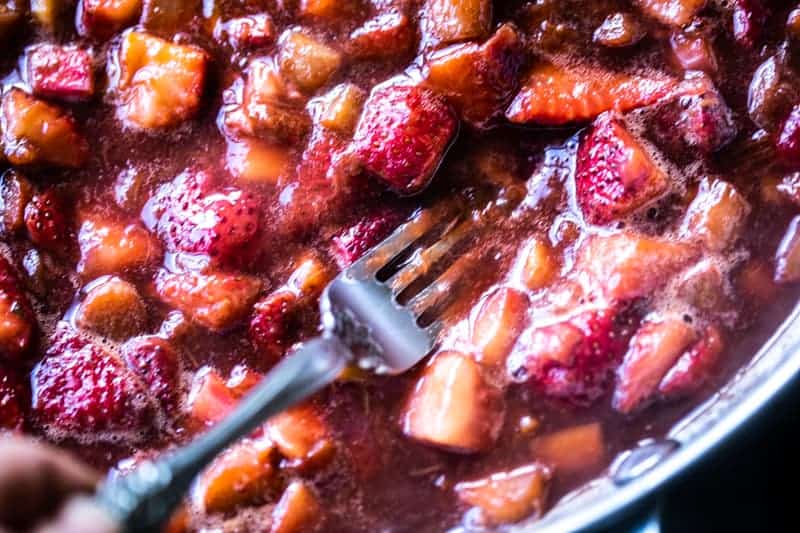 Finally, when your jam is almost cool, give it a taste. If the jam is too tart, you can stir in vanilla and/or honey to give back some sweetness and really smooth out the flavor.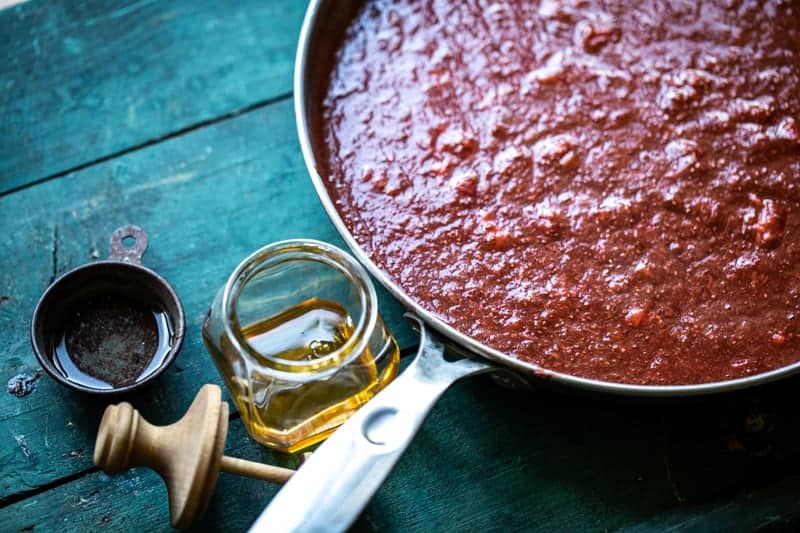 That's it! Tasty, natural jam in just four steps!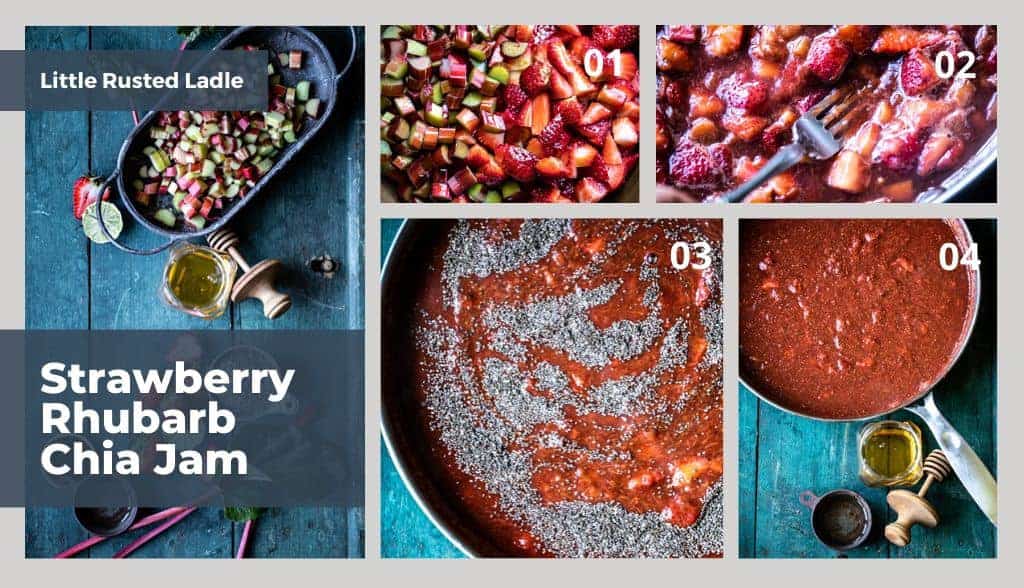 Expert Tips
Wait to harvest your rhubarb until the stalks are at least 10″ long. At this length, the plant will be fully established and come back next season.
Rhubarb leaves are poisonous to humans, so make sure to cut them off and add them to the compost pile.
If the strawberry rhubarb jam is too thin, add more chia seeds and let sit between additions. 
Store in a glass, screw-top jar that you can get a spoon into. Refrigerate for up to 4 weeks.
I tested freezing this jam and it worked really well too! 
Serving Ideas
Spread this strawberry rhubarb jam on your morning toast
Top your hot oatmeal with a swirl of jam
As a topping for the popover recipe we first featured paired with cranberry butter
Spread in the best PB&J you've ever tasted
Paired with vanilla frozen yogurt for a sweet sundae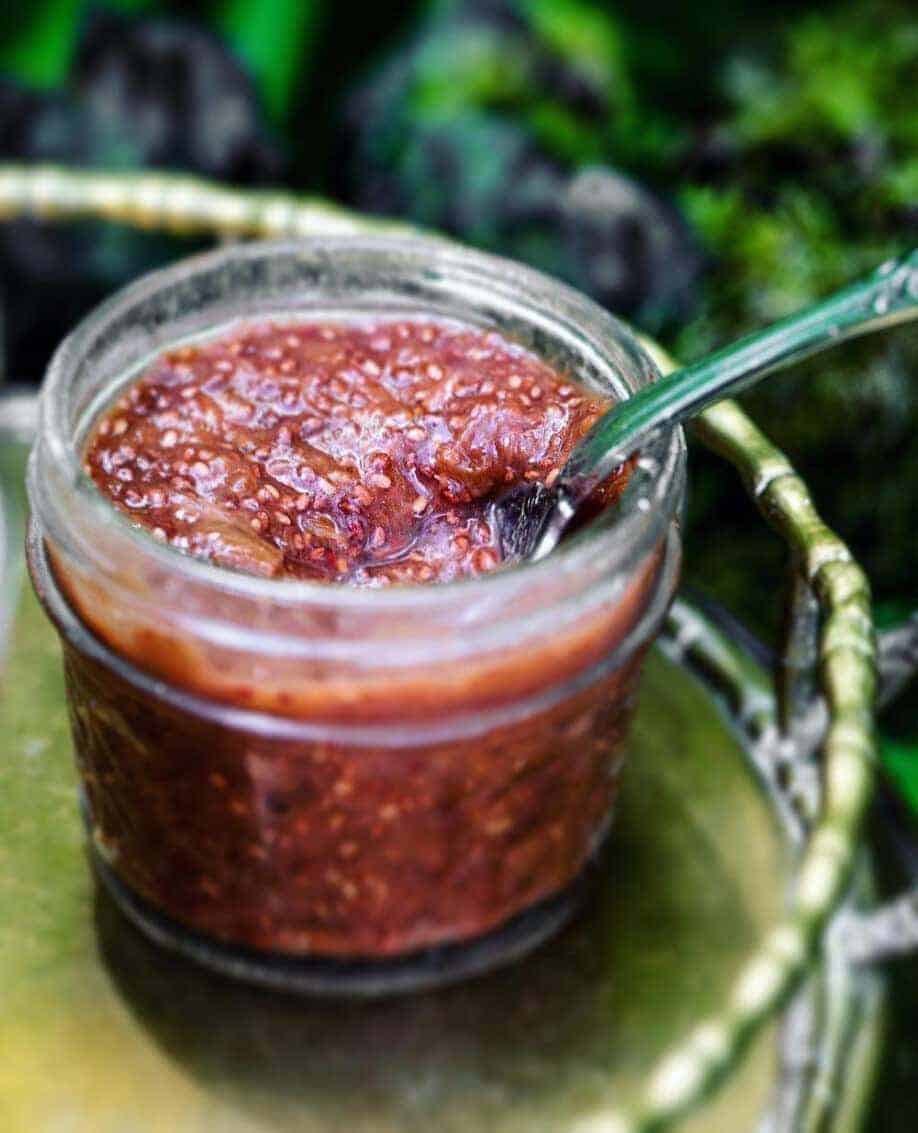 Check out the Sundae topped with this jam that I will be posting next! (I am actually eating it again right now and had two servings of it when I photographed it yesterday). Shhh! Don't tell my kids!
If you make this or any of our recipes please take a photo and share it on Instagram with #littlerustedladle.
What other ideas do you have for this jam? Also, share your best jam or rhubarb recipes with us! Comment them below now.
No matter how you decide to use it, make sure you don't wait for a special occasion, create one!
Jena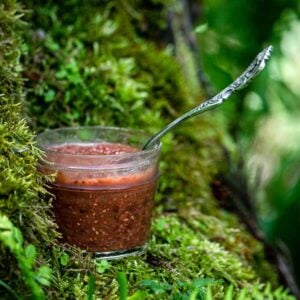 Ingredients
4

cups

Rhubarb

chopped

4

cups

Strawberries

3/4

cup

Lime juice

1/2

cup

Boiled cider

3/4

cup

Chia seeds

2

tbsp

Vanilla

3

tbsp

Honey

or to taste
Instructions
Rinse and hull the strawberries. Chop into 1/2" pieces. Rinse the rhubarb stalks and slice into 1/2" pieces.

Place the chopped strawberries, rhubarb, Nellie & Joe's Key West Lime Juice, and boiled cider in a medium saucepan.

Bring to a boil over medium heat. Reduce heat and let the fruit simmer, another 10-15 minutes. Stir occasionally to keep the jam from sticking to the bottom. If there are still big chunks, use a fork to break down the remaining pieces.

Reduce heat to low. Stir in the chia seeds and simmer for another 5 minutes. As the jam cools, the chia seeds will expand, thickening the jam. If your jam is still too thin after 5 minutes, add another 1/2 tbsp and let sit for another 10 minutes.

Once the jam is almost cool, stir in vanilla and honey to taste. You can add more if you'd prefer a sweeter jam.
Notes
If the jam is too thin, add more chia seeds and let sit between additions. 

Store in a glass, screw-top jar that you can get a spoon into. Refrigerate for up to 4 weeks.

I tested freezing this jam and it worked really well too! 
Nutrition
Calories:
106
kcal
|
Carbohydrates:
17
g
|
Protein:
2.5
g
|
Fat:
3.5
g
|
Saturated Fat:
0.4
g
|
Sodium:
4.9
mg
|
Potassium:
264.6
mg
|
Fiber:
5.4
g
|
Sugar:
8.6
g
|
Vitamin A:
60.5
IU
|
Vitamin C:
36.3
mg
|
Calcium:
111.8
mg
|
Iron:
1.1
mg