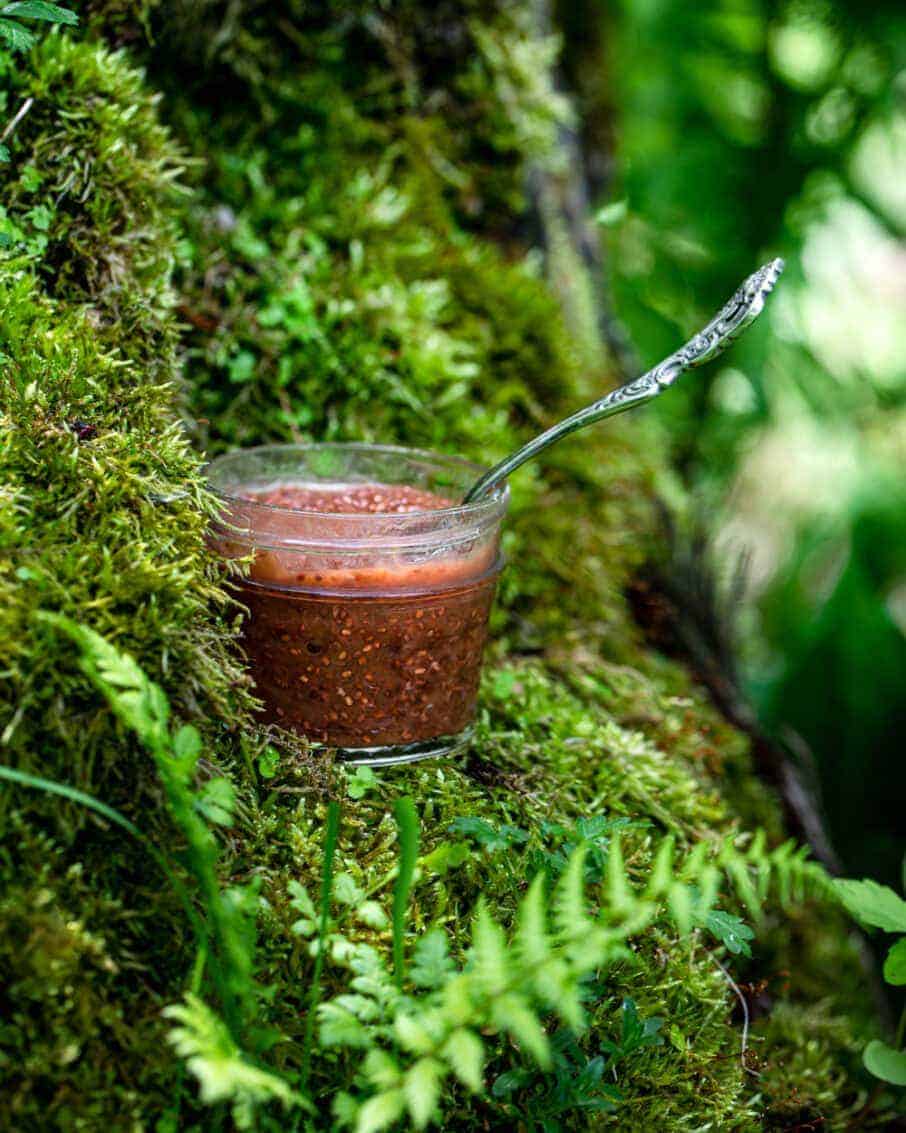 Up here in Wisconsin, I've seen people treat rhubarb like a weed. The plants can get huge when not properly maintained and they come back year after year without fail. Homeowners who see rhubarb as a nuisance are missing out on a readily available treat in their backyard.
I have allowed my own plants free reign in an open section of my backyard. When we're outside playing, the boys run circles around it. It's useful for tag, hide and seek, and probably unknown to them, the source of many afternoon snacks.
When I was working on this recipe, Austin and Eli followed me out back and helped me pick the rhubarb. A normal day of play turned tart when I let them nibble on the raw stalks. They giggled at each other's scrunched up faces and I couldn't help but laugh at their brotherly love. It was the easiest way so far I have found to get them to smile for the camera…by showing them my face after I take a bite! If I could only pack that in my camera bag to have all the time.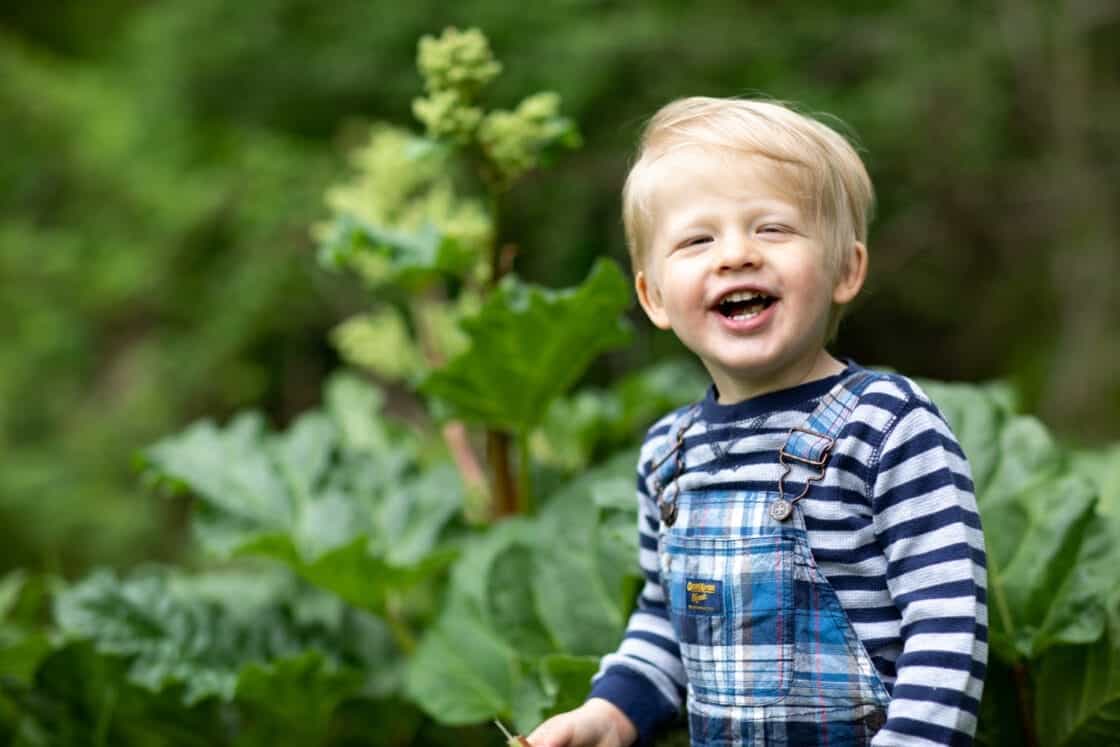 As they were carrying their haul back to the kitchen, I'm sure they were dreaming of rhubarb crumble, but I was thinking about the benefits of using rhubarb in my cooking.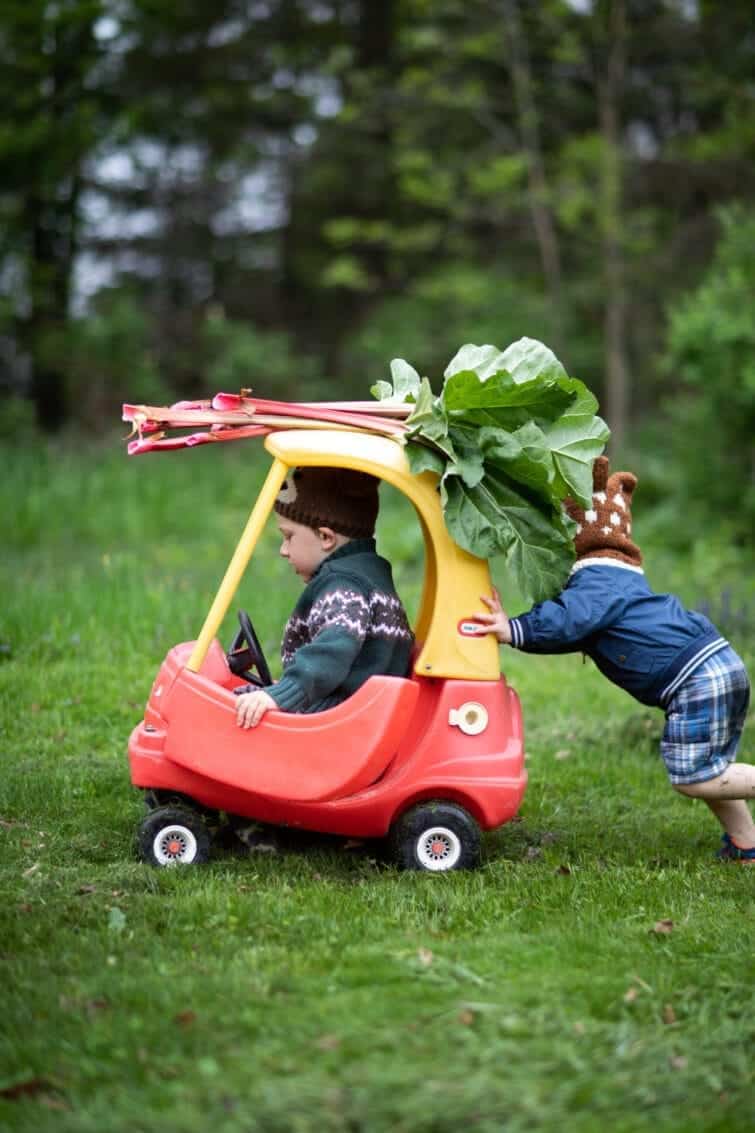 Rhubarb to the Rescue
According to organicfacts.net, rhubarb is packed with minerals, vitamins, fiber, protein, vitamin C, vitamin K, B complex vitamins, calcium, potassium, manganese, and magnesium.
These nutrients are known to promote weight loss, improve digestion, prevent Alzheimer's disease, stimulate bone growth, avoid neuronal damage, boost skin health, prevent cancer, optimize metabolism, improve circulation, and protect against various cardiovascular conditions. With all of these benefits, we should be incorporating rhubarb into as many dishes as possible!
Tart and Tasty
Lucky for us, rhubarb is tasty as well as healthy. Rhubarb on it's own has a mild tart flavor that can be enjoyed raw (as Eli quickly figured out) but its qualities shine brightest when paired with other sweet and tart flavors. Popular culinary options for rhubarb include crumbles, tarts, and pies. I wanted to try something a little quick and different, so I went for chia seed jam!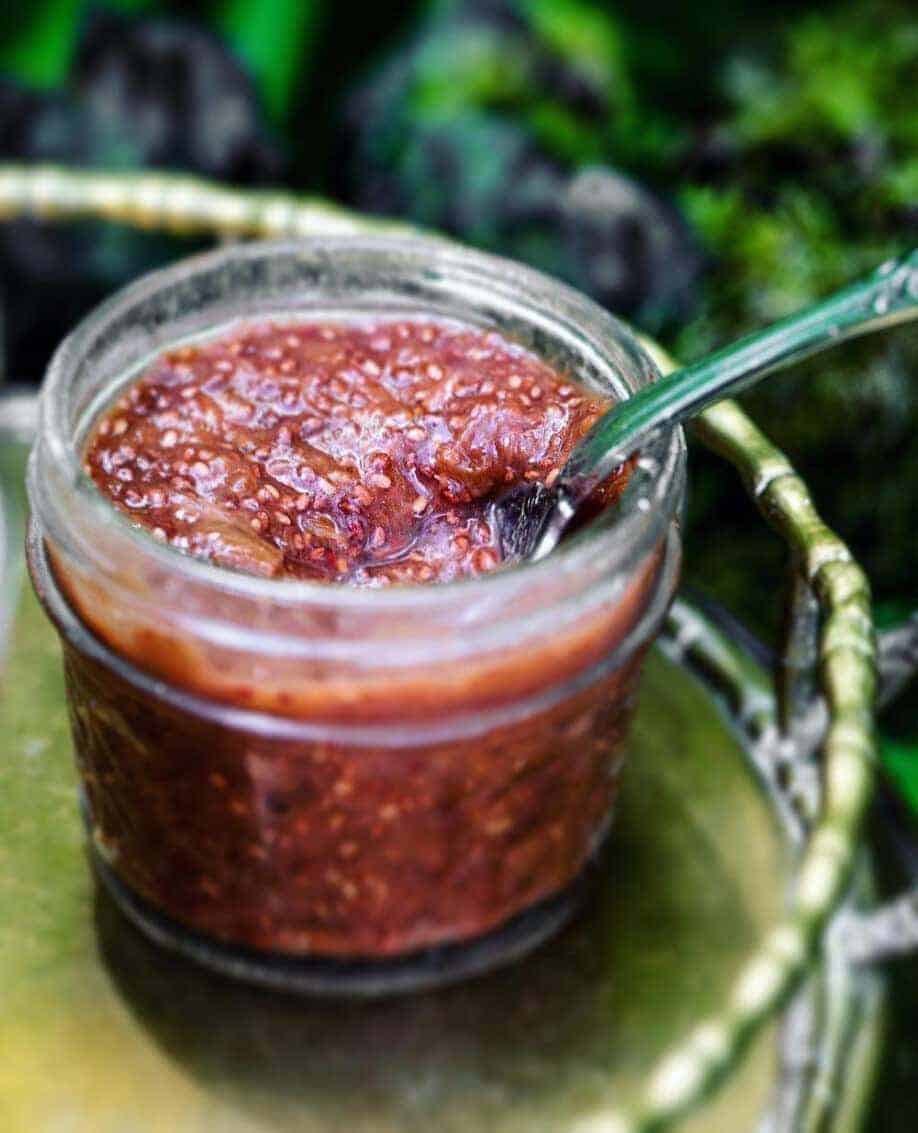 The most popular choice of fruit to pair with rhubarb (which is a vegetable, go figure!) is strawberries. The utter sweetness of strawberries makes rhubarb more palatable in desserts. A strawberry rhubarb jam would be tasty enough, but I am a fan of rhubarb's tartness. So to pull that flavor back out, I add lime juice to the mixture.
Sugar and Spice
The addition of chia seeds, along with thickening the jam, provides another flavor profile to complement the fairly tart jam. Chia seeds are spicy. We are not talking hot sauce spicy, but including the taste of many spices like anise, cinnamon, ginger, and cloves. These spices give the jam a rustic flavor to pair with the seedy texture of a homemade jam.
Finally, when your jam is almost cool, give it a taste. If the flavor of rhubarb and lime is too much, you can stir in vanilla and/or honey to give back some sweetness and really smooth out the flavor.
While I love eating this jam on my morning toast or oatmeal, it would also be spectacular as a topping for the popover recipe we first featured paired with cranberry butter. And for a cold dessert? This jam is excellent paired with vanilla frozen yogurt. Get a load of this Sundae topped with this jam that I will be posting next! (I am actually eating it again right now and had two servings of it when I photographed it yesterday). Shhh! Don't tell my kids!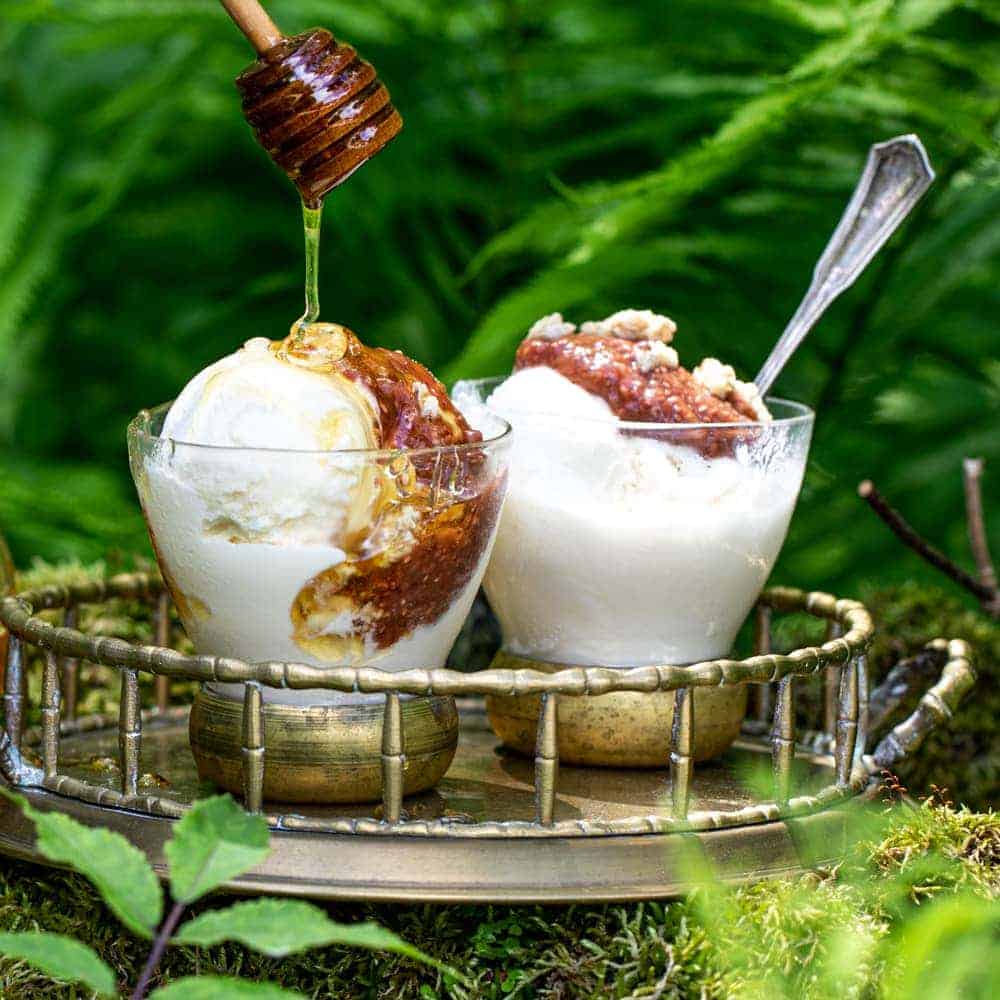 I think I'll give it a try in a grilled coco hazelnut butter and jam sandwich one of these days. See what happens! If you make this or any of our recipes please take a photo and share it on Instagram with #littlerustedladle
What other ideas do you have for this jam? Also, share your best jam or rhubarb recipes with us! Comment them below now.
No matter how you decide to use it, make sure you don't wait for a special occasion, create one!
Jena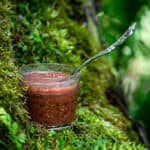 Print Recipe
Strawberry Rhubarb Chia Jam
Sweet and tart combine for the ultimate homemade jam made from readily-available summer plants.
Ingredients
4

cups

Rhubarb

chopped

4

cups

Strawberries

3/4

cup

Lime juice

1/2

cup

Boiled cider

3/4

cup

Chia seeds

2

Tbsp.

Vanilla

3

Tbsp.

Honey

or to taste
Instructions
Rinse and hull the strawberries. Chop into 1/2" pieces. Rinse the rhubarb stalks and slice into 1/2" pieces.

Place the chopped strawberries, rhubarb, Nellie & Joe's Key West Lime Juice, and boiled cider in a medium saucepan. Bring to a boil over medium heat. Reduce heat and let the fruit simmer, another 10-15 minutes. Stir occasionally to keep the jam from sticking to the bottom. If there are still big chunks, use a fork to break down the remaining pieces.

Reduce heat to low. Stir in the chia seeds and simmer for another 5 minutes. As the jam cools, the chia seeds will expand, thickening the jam. If your jam is still too thin after 5 minutes, add another 1/2 tbsp and let sit for another 10 minutes.

Once the jam is almost cool, stir in vanilla and honey to taste. You can add more if you'd prefer a sweeter jam.

Refrigerate for up to 4 weeks.
Nutrition
0