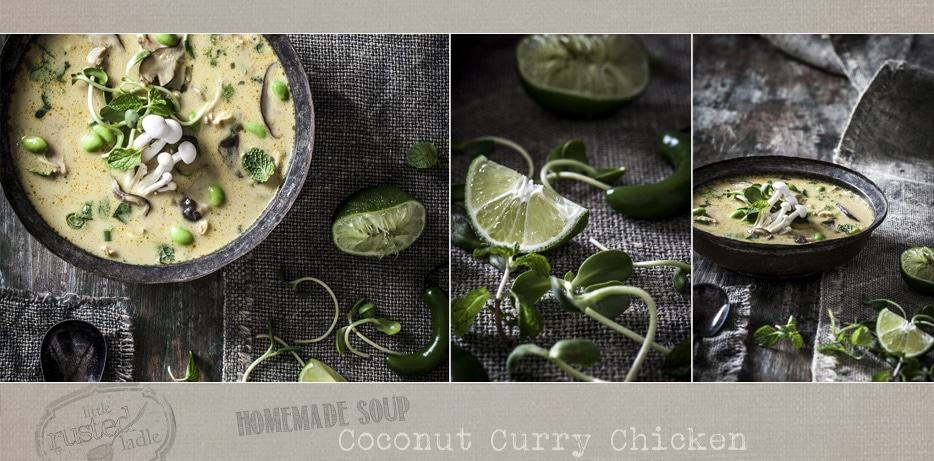 Curry can come in many forms and flavors.  It is used in dozens of countries worldwide and can be found in so many products, that it would take me a lifetime to list them all.  A lifetime?  Well, I guess it all depends on how long the life is, doesn't it?  Let's just say there is a lot of curry out there.  As a Wisconsinite with mostly european ancestry running through our veins, Jena and I aren't always subjected to the nuances of world cuisine as much as some parts of the world.  Curry has actually been a bit of a mystery to me.  For the longest time, I thought of curry as simply a powder found in the spice isle.  Curry, is actually a combination of spices just as Italian seasoning, jerk seasoning and garam masala are all combinations of different spices.  The main ingredients in curry powder are coriander, turmeric, cumin, fenugreek and chili peppers, but can also contain a litany of other spices such as cardamom, clove and mustard seed to name a few.  Curry paste, which is also used in this soup uses onions, shrimp paste, lemon grass, chili peppers and other ingredients.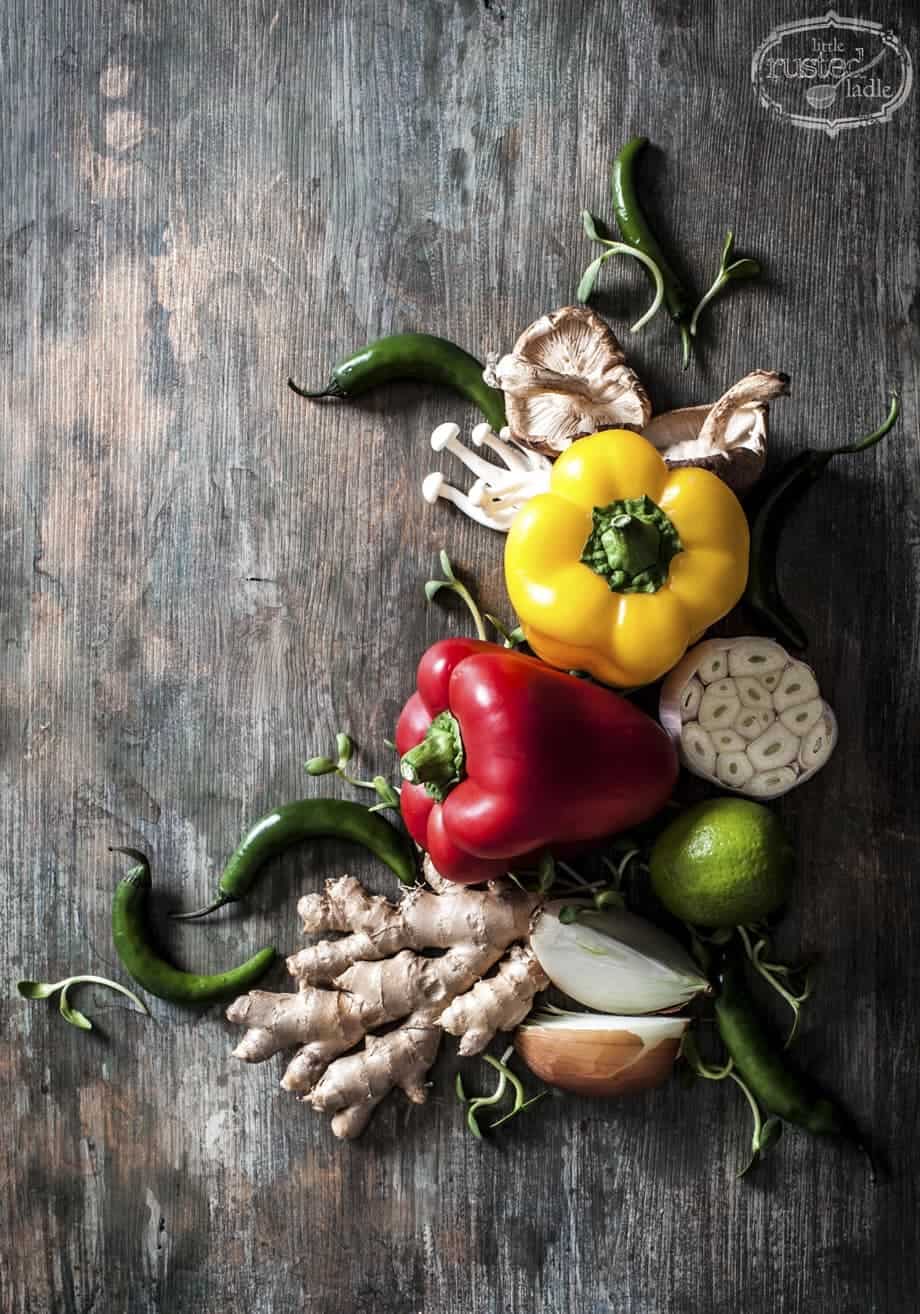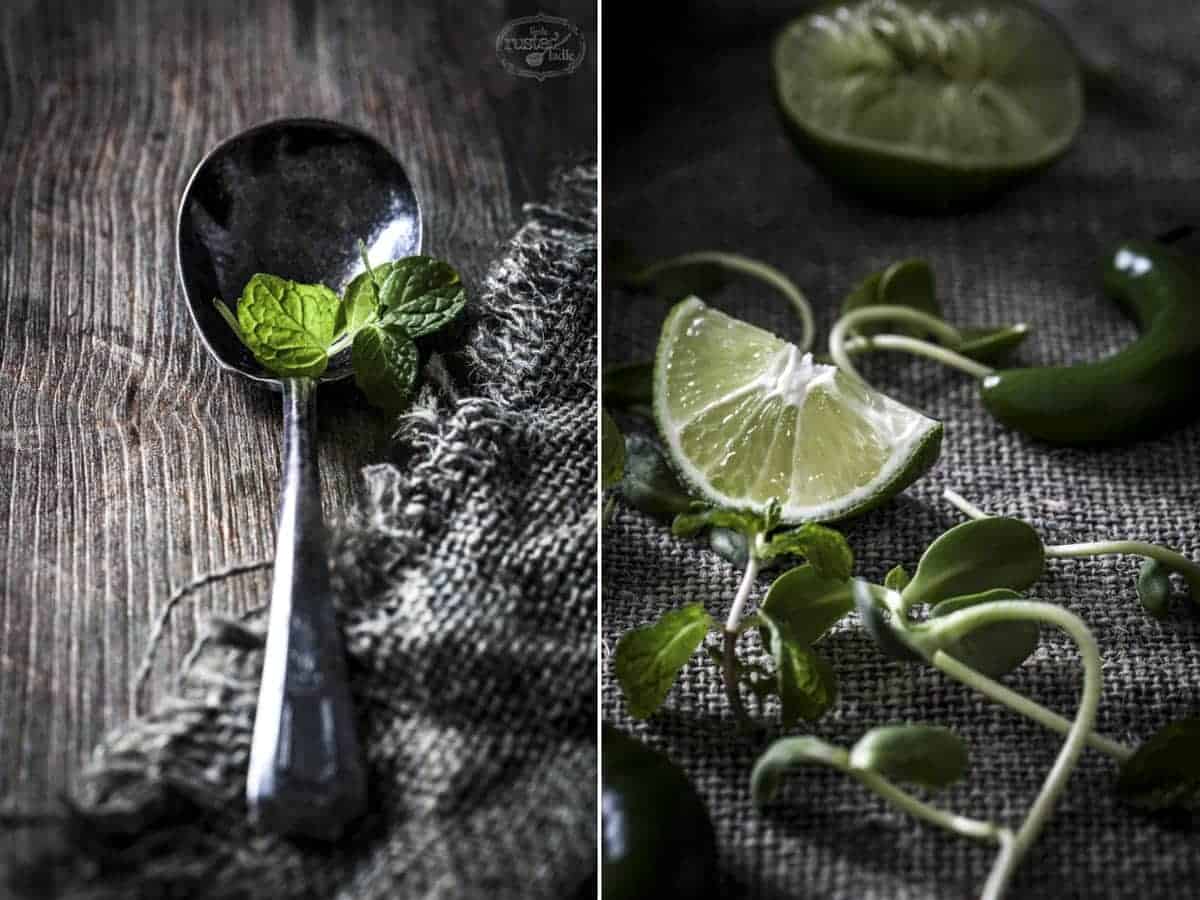 As a child, my mom would make a curried chicken dish that to this day remains one of my favorite dishes that she cooked for us.  She would serve it with rice and various condiments that we would spoon over the curry.  Coconut, bananas, cashews and raisins were a few of the options.  It was really my first "exotic" food experience.  As kind of a homage to mom, and wanting to play with some new ingredients, we thought we would make a curry coconut soup to round off our month of soup articles.  What better way to end January, than by bringing a few tropical ingredients to the table, or should I say bowl?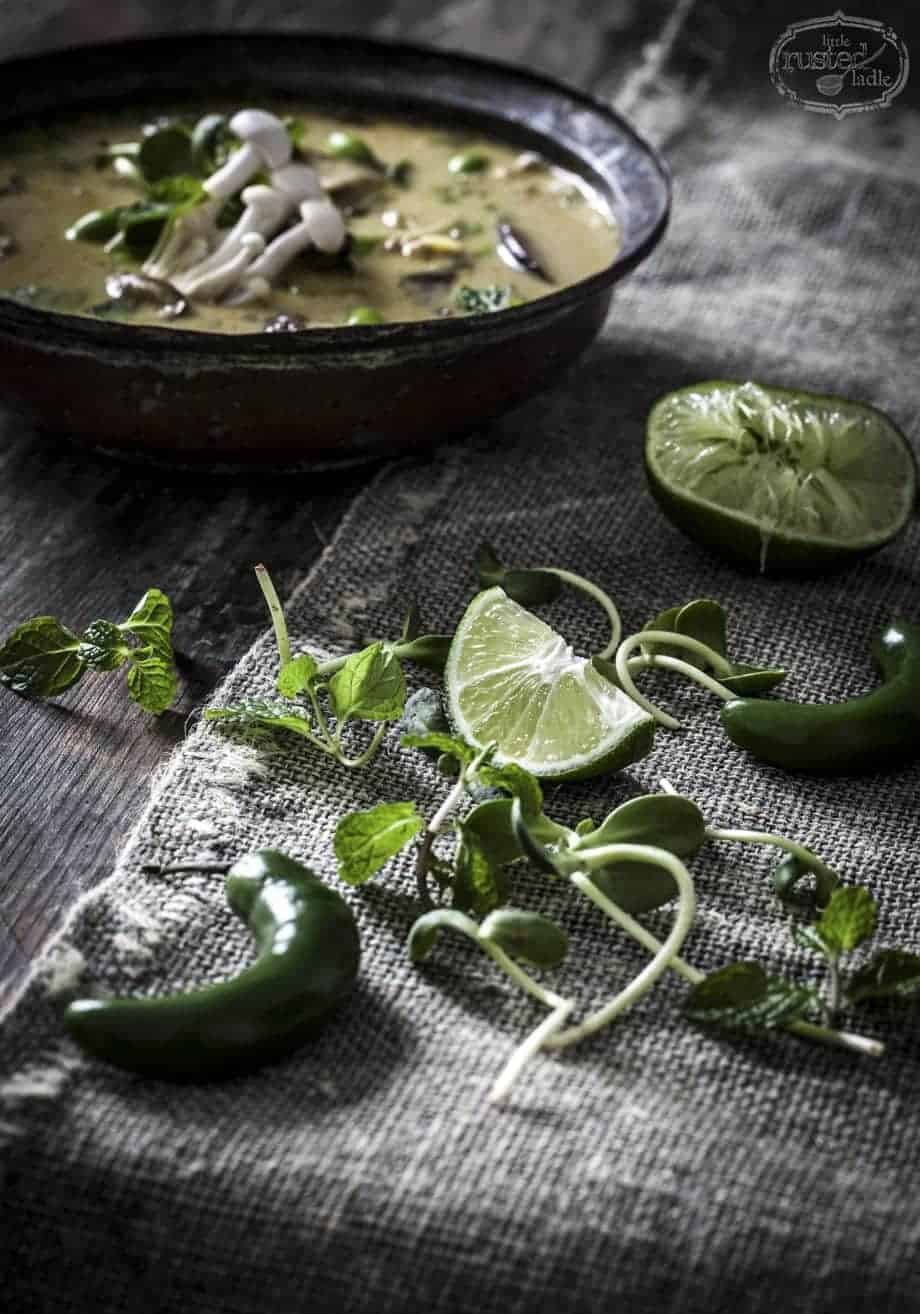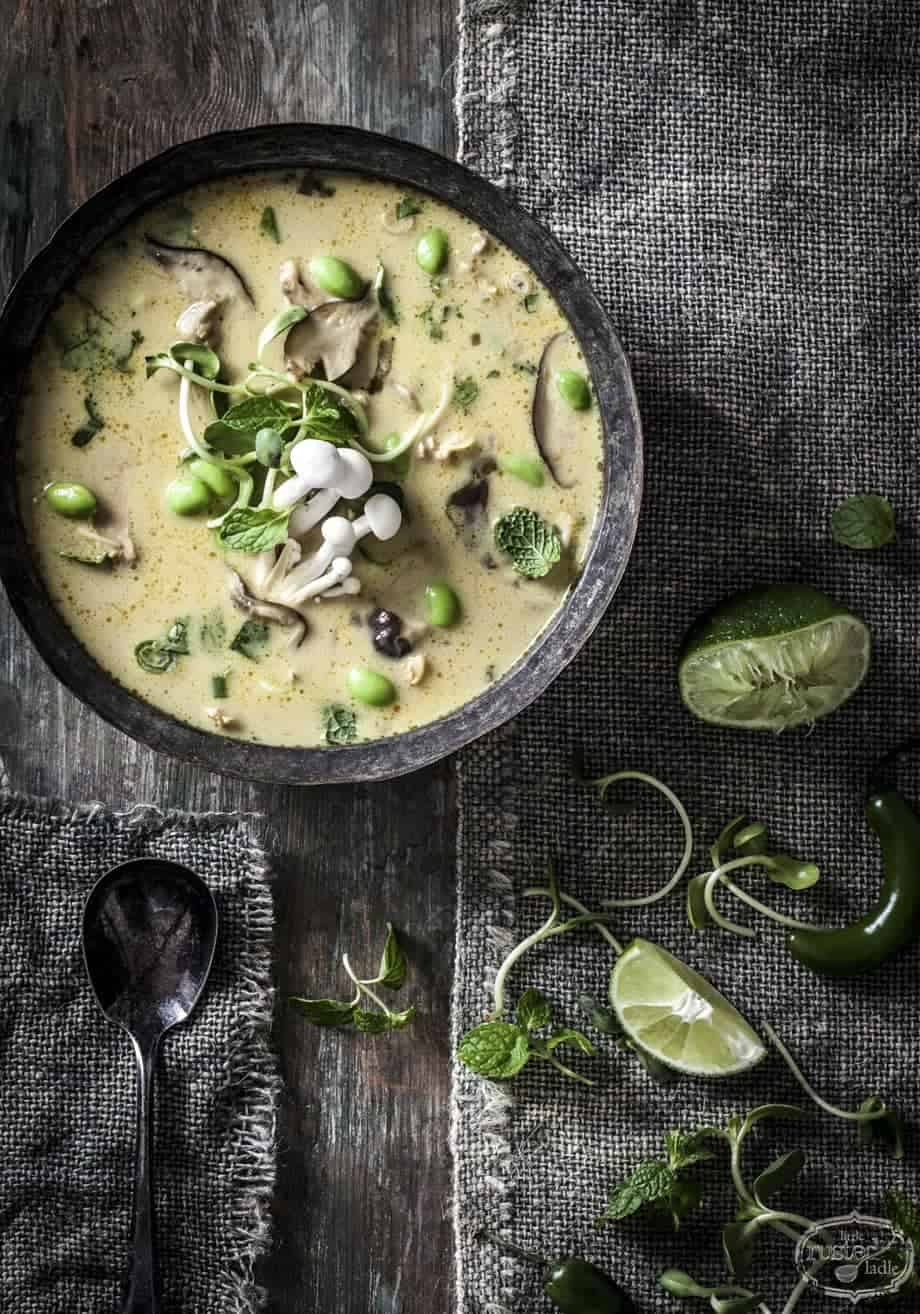 While looking for curry coconut soup recipes online for inspiration, I found one from a fellow food blogger named Brenda. Brenda was involved with the "Bake For Good" movement with Jena and I and a number of other very talented food bloggers/authors last year. Be sure to check out those articles here. It is a very worthy cause and fun for the whole family to do as well. Anyway, Brenda's blog is called A Farm Girl Dabbles. Check it out sometime. Being a fellow midwestern girl, she has the same curious pallet for curry that we do, so I found it funny when I stumbled upon her recipe for Coconut Curry Chicken Soup. Since I rarely follow any recipe exactly (the Cioppino recipe being an exception), I did make some modifications. However, like all cooking, food is as adaptable as paint on a canvas. We added a few more ingredients, and changed the method a little, but the inspiration was her recipe. A recipe, which was inspired from a Noodles and Company soup, which I am very fond of as well.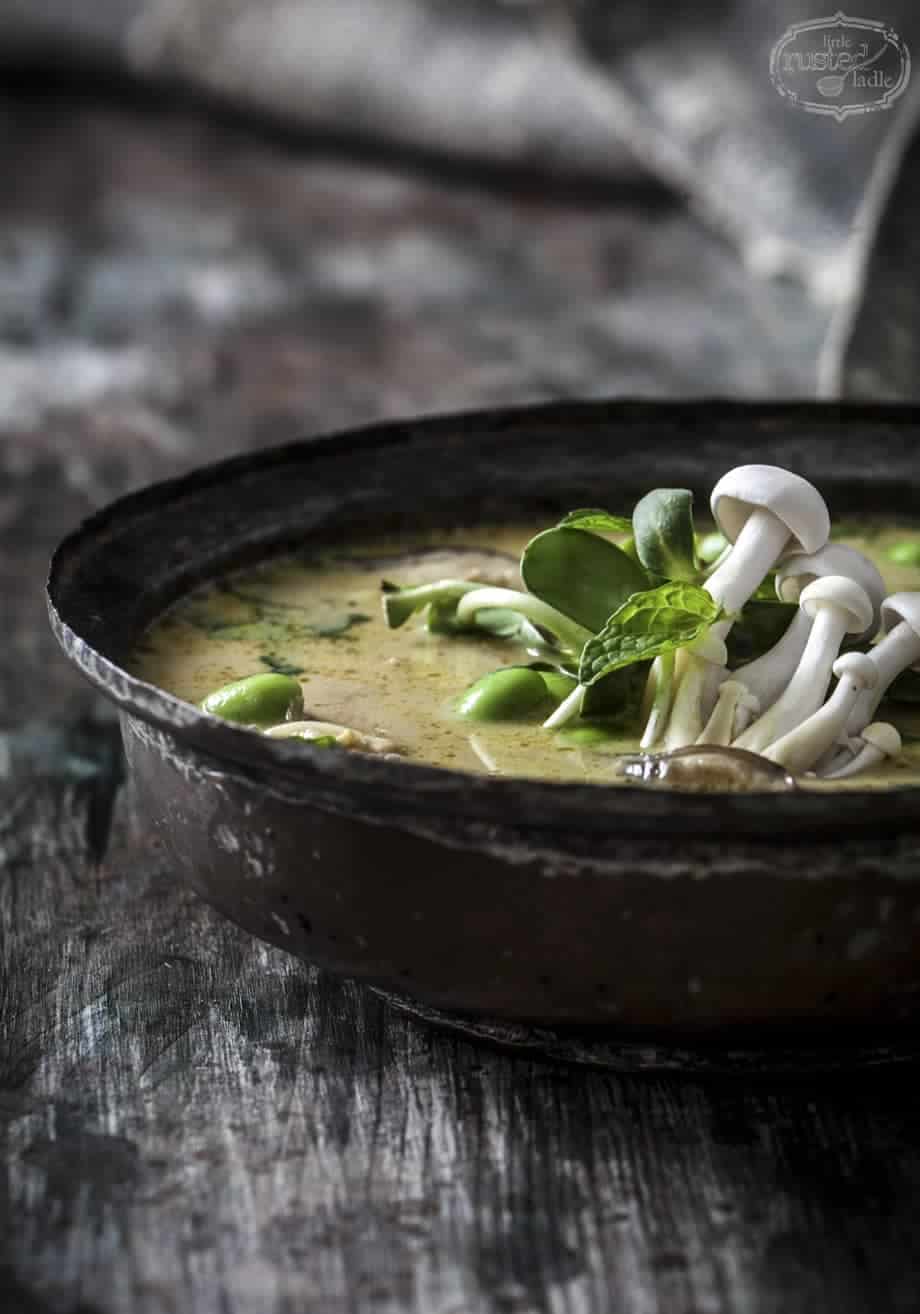 As I get older, I have found that intense flavors from spices really gets my tastebuds rockin. This curry coconut chicken soup fits perfectly with that desire to tantalize the taste buds. It uses not one or two, but three forms of curry. We used both green and red curry pastes, and hot curry powder. Add fresh ginger, garlic, bell pepper, chicken broth, shiitake mushrooms as well as cilantro, serene peppers, edamame, sunflower spouts, basil and mint and a squeeze of fresh lime juice to finish it off, and you have an explosion of flavors that will get those Wisconsin taste buds singing. We hope you enjoy our curry coconut chicken soup recipe. Jena and I think it was the best of the group. Until next time, remember to cook with love and live to cook.
Jim & Jena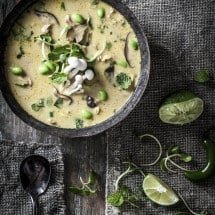 Curry Coconut Chicken Soup
The exotic flavors of curry, coconut, lime juice, mint, basil, and hot peppers will explode in your mouth making you wish you were in tropical Thailand.
Print
Pin
Rate
Add to Collection
Go to Collections
Ingredients
1/4

cup

vegetable oil

1

medium onion

chopped

1

tbsp

green curry paste

1

tbsp

red curry paste

3

cloves garlic

minced

1

tbsp

fresh ginger

minced

1

yellow bell pepper

diced

4

ounces

fresh shiitake mushrooms

stems removed, thinly sliced

8

cups

reduced-sodium chicken broth

6

boneless skinless chicken thighs

2

14 ounce cans

coconut milk

1

tbsp

curry powder

3

tbsp

brown sugar

1/4

tsp

crushed red pepper flakes

2

green onions

thinly sliced

1/4

cup

fresh cilantro

chopped

2

serrano peppers

thinly sliced

1/2

cup

frozen edamame

1/2

cup

sunflower or bean sprouts

1/4

cup

chiffonade of fresh basil leaves

2

tbsp

fresh mint leaves

4

ounces

fresh enoki mushrooms

(optional)

1

lime

cut into wedges
Instructions
In a large stock pot or dutch oven, saute onion, curry paste, garlic, ginger, bell pepper, and shiitake mushrooms in oil over medium heat until softened.

Add chicken broth and bring to a simmer. Add chicken thighs. Simmer on low for 15-20 minutes or until chicken is cooked through. Remove chicken with a pair of tongs, and set aside until cool enough to handle. Pull chicken into pieces, and set aside.

Add coconut milk, curry powder, brown sugar, and red pepper flakes to soup. Simmer until coconut milk has melted completely.

Add chicken back to soup and simmer for 15 minutes.

Ladle into bowls, and serve.

For garnish: Top with chopped green onions, cilantro, serrano pepper slices, edamame, sunflower sprouts, basil, mint, enoki mushrooms and a one wedge of lime squeezed over the top.
Notes
You can substitute noodles, shredded carrots, or ingredients of choice for the garnish.