Sometimes, soup needs to be experimenting with new flavors. Sometimes, I have no clue on making a certain dish because I've never made anything like it before, but would like to give it a go. Such is the case with our next soup this month, called cioppino. I've known what cioppino is for a number of years, but just never made it before. To be perfectly honest, I'm not a big fan of seafood, especially shellfish. But, since Jena and I like to try things we haven't tried before, why not? Cioppino, for those of you who don't know what it is, is an Italian seafood stew that originated in San Francisco in the late 1800's by Italian immigrants coming from Genoa, Italy.  San Francisco is known for it's abundance of incredibly fresh seafood such as Dungeness crab, shrimp, scallops, mussels and clams. These delicacies from the ocean were perfect for Italian sailors, who liked to make this hearty seafood stew using leftover seafood while they were at sea. When restaurants in the Bay area started adding it to their menus, it became a local staple.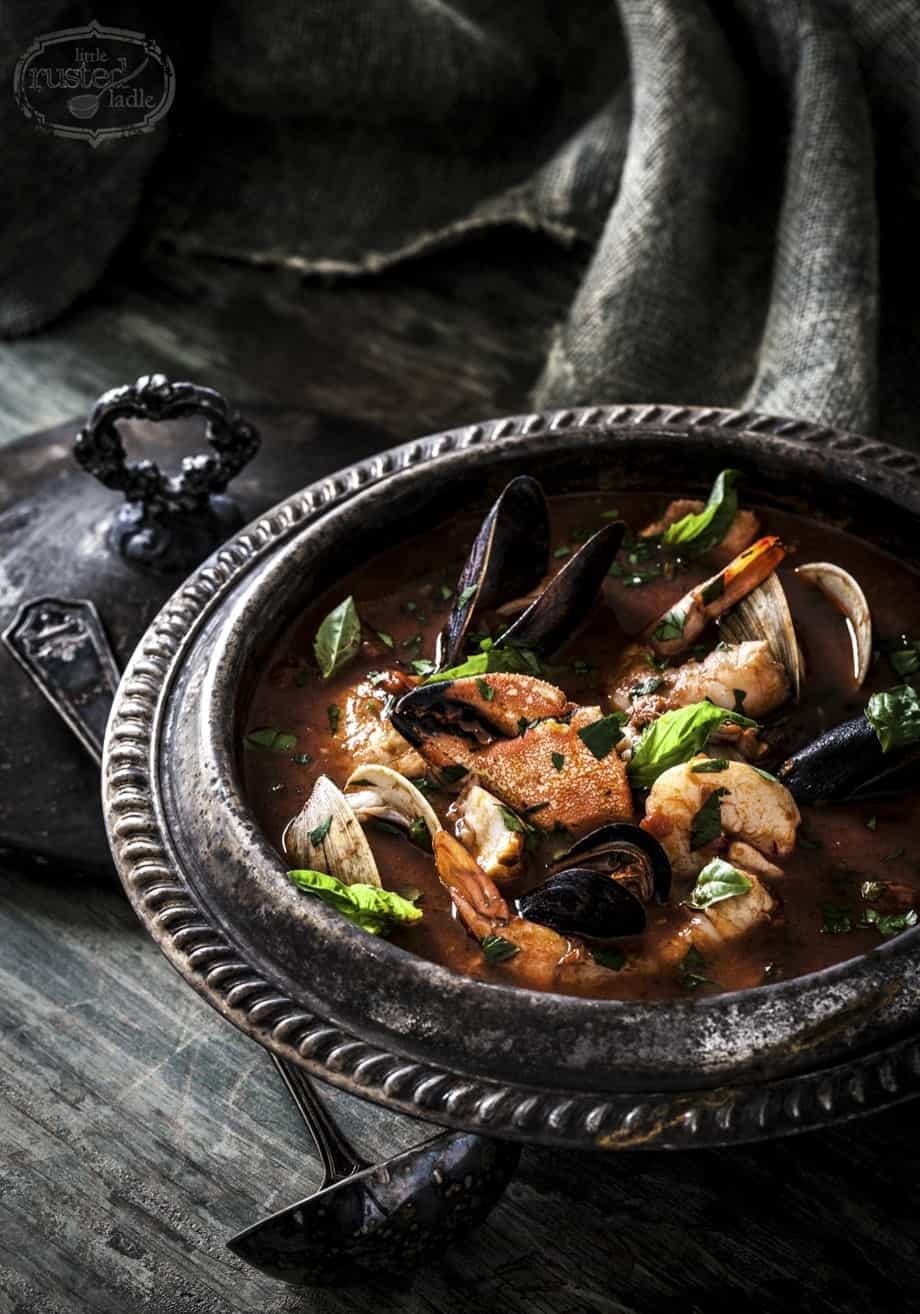 Cioppino is simple to prepare and this stew gets most of it's flavor from the sea. Fresh shellfish combined with tomatoes, garlic, wine and herbs. It's simmered, then ladled into big bowls and served with bread to soak up the delectable liquid. Leave it to the Italians to create a simple stew loaded with flavor that utilizes fresh, local seafood.
Being from the Midwest occasionally has it's disadvantages. Getting fresh shellfish like crab, mussels, clams and shrimp can be difficult and expensive. More often than not, the only option is getting frozen. Luckily for me a friend of mine named Chad Measner, from South Padre Streetfood, owns a seafood truck that sells freshly prepared seafood dishes and frozen seafood by the pound. So I picked up some lobster, crab, mussels, shrimp and clams, and headed home to put it together.
I often use internet based recipe sites such as Epicurious and Big Oven for inspiration. In the case of the cioppino, I did what I rarely ever do, which is make the recipe exactly as the directions call for. In this case, I was relying on others experience making this soup/stew to get me through it. The overwhelming favorite on Epicurious was the version I chose. It was originally a recipe published in Gourmet Magazine in March 2002. Almost everyone loved it. I'm not going to try to beat that kind of support.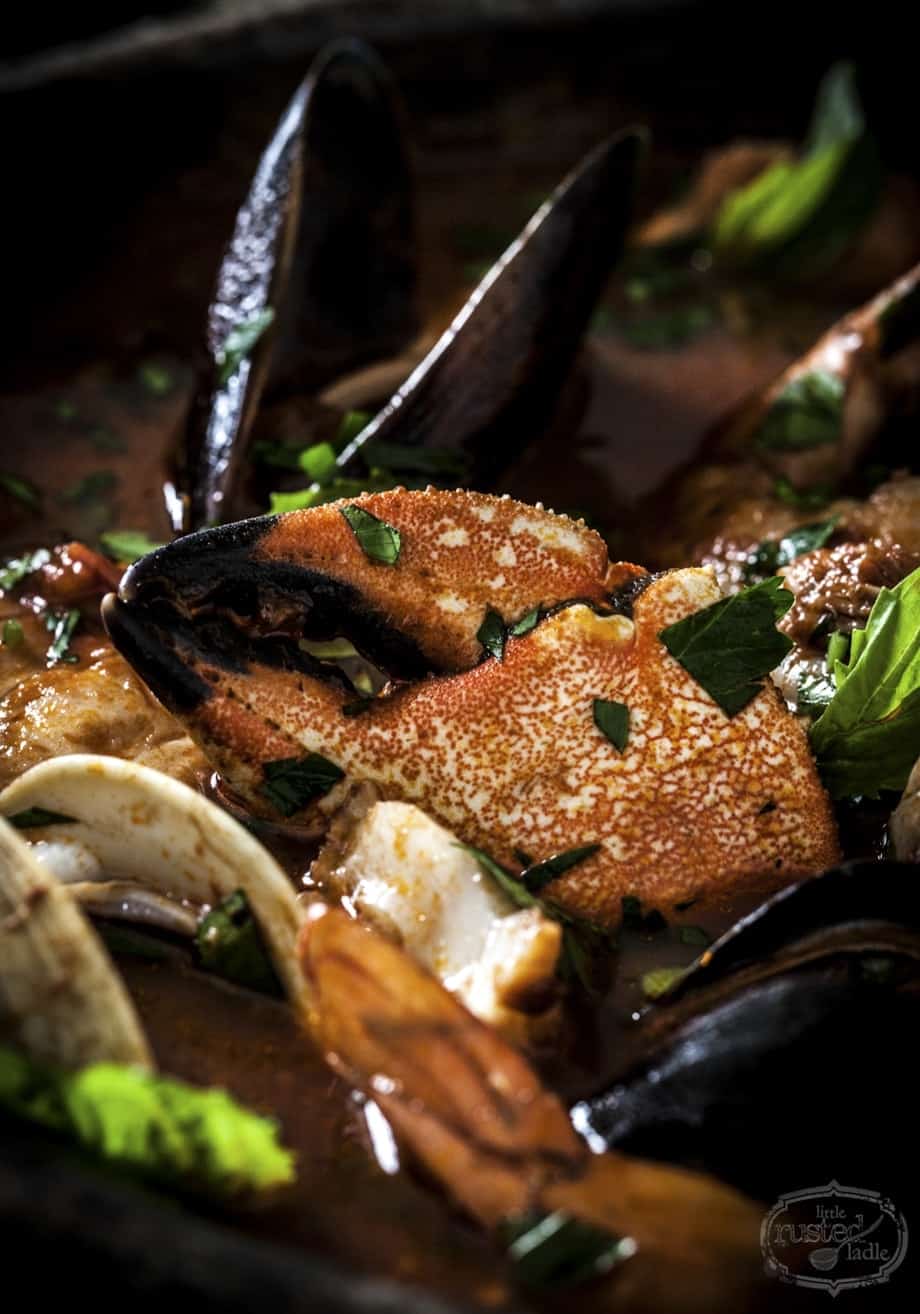 The ingredient list is not small. Heck, there are six different kinds of seafood alone. Add onions, bell pepper, garlic, herbs, red wine, and broth, and it can take some time to get it all together. However, It seems worse than it actually is. The only items that need to be chopped, are the onions, garlic and peppers. The seafood came pre-cut, so once all the items were together, it only took about 40 minutes to prepare. The end result was a very fresh tasting seafood stew that was loaded with flavor. Unfortunately, Jena and I used a vessel for the soup that was severely tarnished, so when the soup, with all it's acidic properties was added, it literally cleaned the entire inside of the dish, making the soup now inedible. I did get a nice taste prior to ladling it into the dish, but it would have been nice to actually enjoy a bowl of soup that we spent over $100 for, but oh well. Lesson learned. Such is the life of food bloggers. Next time maybe we stick to less expensive soups like the next one we are making next week. A curry coconut soup that is inexpensive and easy to make. Until next week, remember to cook with love and live to cook.
Jim & Jena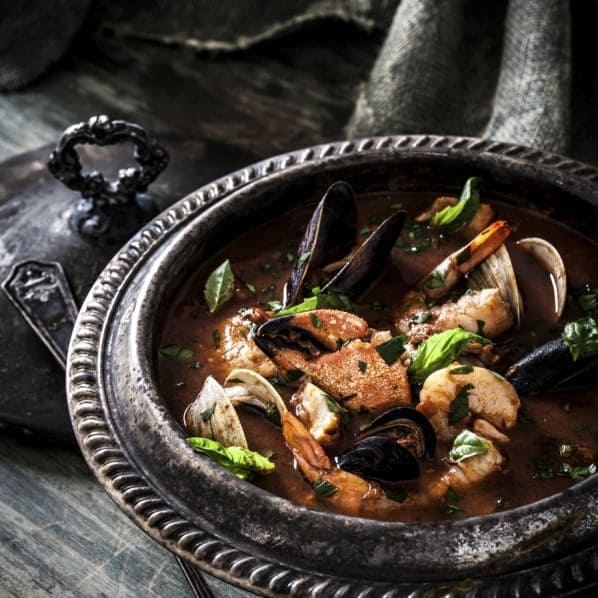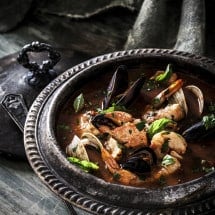 Cioppino
This hearty seafood stew is best when fresh seafood is available, however, even if you have to use frozen, the combination of lobster, crab, shrimp, scallops, mussels, clams and cod with tomatoes, wine and fresh basil will give you all the reason you need to sop up all the love in the bottom of the bowl.
Print
Pin
Rate
Add to Collection
Go to Collections
Ingredients
4

cloves

garlic

minced

2

medium onions

diced

1

bay leaf

1

tsp

dried oregano

1

tsp

dried hot red pepper flakes

1 1/2

tsp

salt

1/2

tsp

black pepper

1/4

cup

olive oil

1

yellow bell pepper

diced

2

tbsp

tomato paste

1 1/2

cup

dry red wine

1

28 ounce can

whole plum tomatoes

broken up

1

cup

bottled clam juice

1

cup

chicken broth

1

lb

Dungeness crab claws

cracked

1

lb

small maine lobster tails

cleaned, cut into pieces

9

small littleneck clams

scrubbed

9

medium fresh mussels

beards removed

1/2

lb

fresh or frozen cod

cut into cubes

1/2

lb

large shrimp

shelled and deveined, tails intact

3/4

lb

sea scallops

1/4

cup

fresh parsley

chopped

3

tbsp

fresh basil

finely chopped
Instructions
Cook garlic, onions, bay leaf, oregano and red pepper flakes with salt and pepper in oil in an 8 quart heavy pot over medium heat, stirring until onions are softened, about 5 minutes.

Add tomatoes with their juice, clam juice, and broth. Simmer, covered, 30 minutes.

Season with salt and pepper.

While stew is simmering, add crab, lobster, clams, and mussels. Cover and simmer for 5-10 minutes or until clams just open. Transfer clams to a bowl, and discard any unopened clams.

Add cod, shrimp, and scallops to stew and simmer, covered, until just cooked through, about 5 minutes.

Discard bay leaf, then return clams to pot and gently stir in parsley and basil.

Serve immediately in large soup bowls.
Notes
Be sure to have crusty bread nearby to soak up the wonderful broth in the bowl.