Spooky Vintage Halloween Decorations
As a grand opening for my new studio space, I decided to throw a Spooktacular Studio Soiree for my friends, family, and clients, complete with Jim's creative Halloween treats and my DIY vintage Halloween decorations. In this first post, I want to break down the surprisingly simple, DIY decorations I created to decorate the treat table.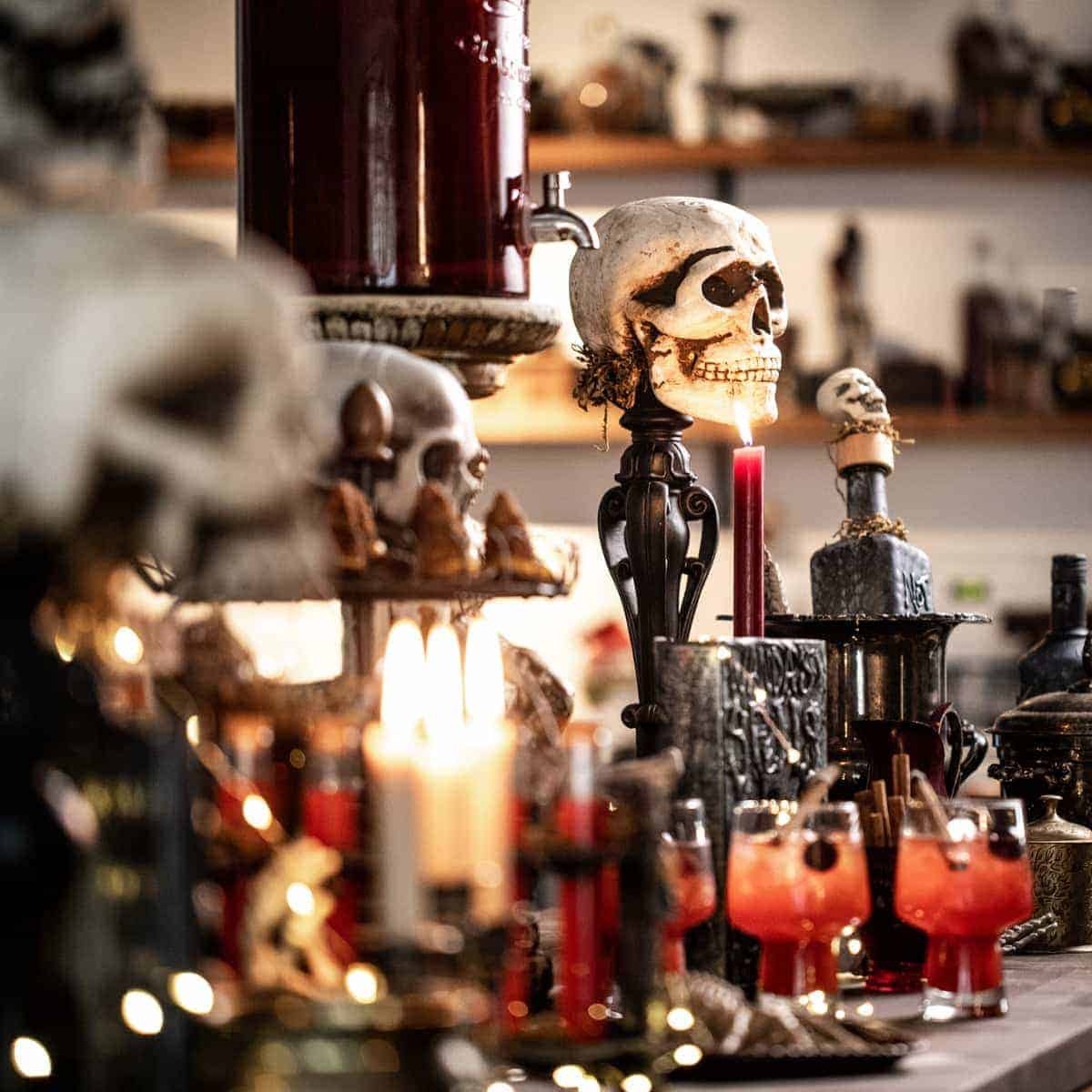 In the style of a soiree, I waned to make sure everything was elegant in style without loosing that spooky atmosphere. As a result, my Halloween decorations prominently featured black materials, with fun ageing techniques and plenty of ghoulish details.
My aunt Sandy, cousin Kelly and sister-in-law, Kristin and I had a great time working with simple craft materials and watching as these macabre Halloween decorations began to appear. It was so easy, and the results were phenomenal. They really turned my new studio into a fully realized party space!
Haunted House Spell Books
What You Will Need:
Books in assorted sizes
Mod Podge
Black tissue paper
Plastic spiders, bugs, and eyeballs
White colored pencil (optional)
Hot glue
Black, gray, and bronze craft paint
Directions:
1. Paint the books with Mod Podge and cover with crumpled black tissue paper. Then, paint the tissue paper with another coat of Mod Podge and allow to dry.
2. Design the different books you'd like to feature at your party. Attach bugs, spiders, and eyeballs with hot glue as desired. If you'd like, sketch out some words, spiderwebs, or other details with a white colored pencil and trace over them with hot glue. Allow all elements to dry completely before moving on.
3. Paint the decorated book covers black and allow to dry.
4. Dry brush the spell books first with gray paint and then with bronze paint, letting the paint dry between colors.
See how to make this Scientist Shot Glass Vials Halloween Craft Here!
Skeleton Terrariums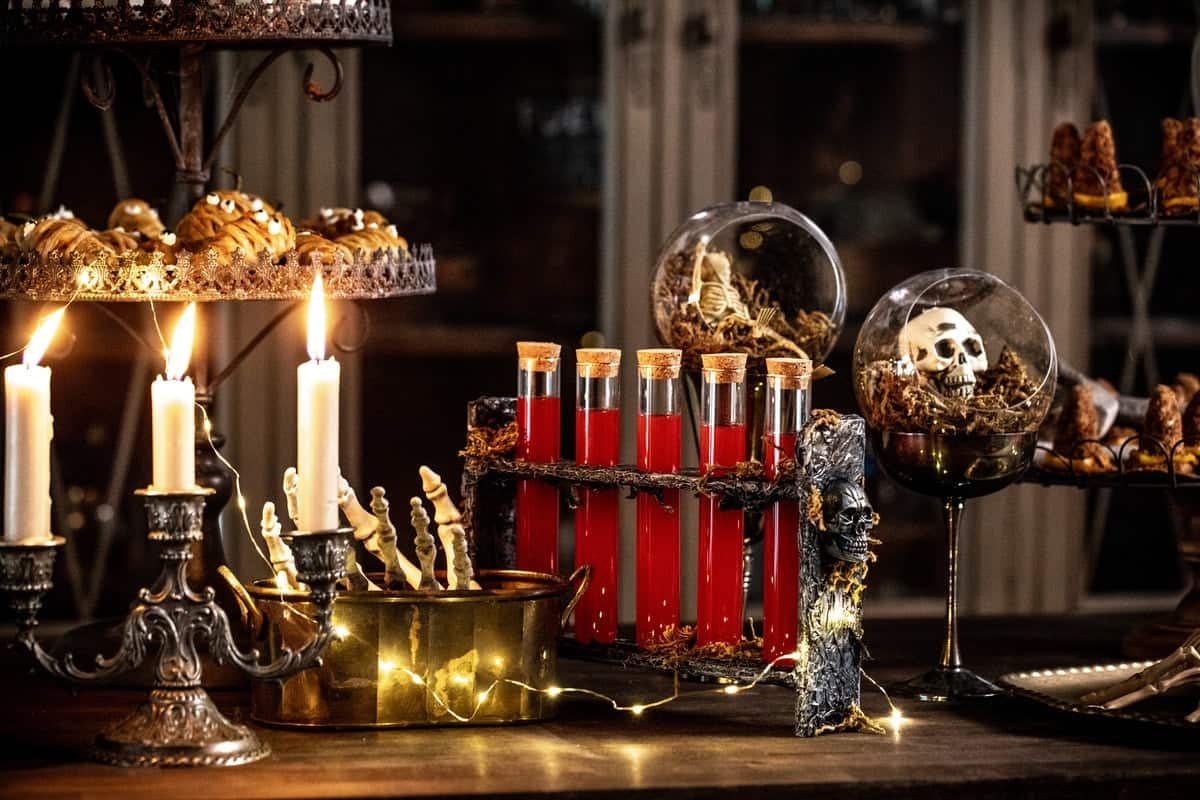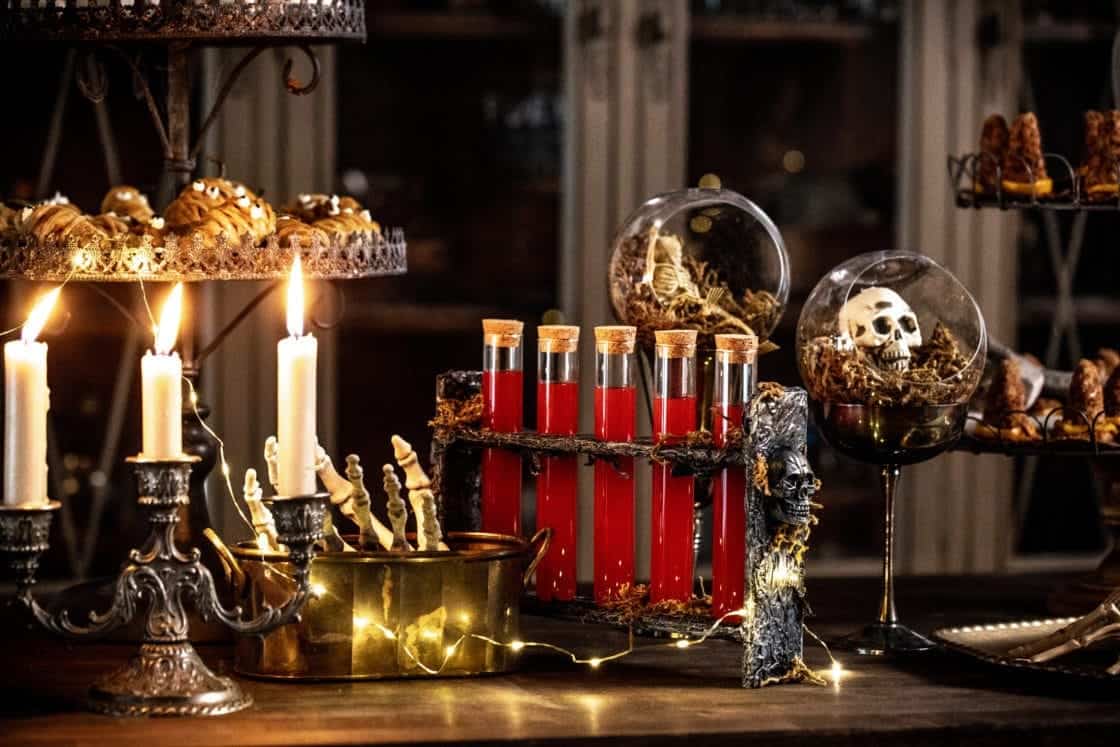 What You Will Need:
Mini Skeletons and skulls
Green Moss
4 3/4″ plastic ball ornaments with cutout
Vintage tin goblets
Directions:
1. Arrange the moss and skeletons in the upside-down plastic Christmas ornament. Get creative with your scenes! Make them as spooky or adorable as you want.
2. Place the ornament upside down in a goblet. Use hot glue to keep the terrarium in place if necessary.
These simple,crafty Halloween decorations can go a long way toward making your party a success. Later this week, we will let you know how the party went and let you in on Jim's delectable Halloween beverages and appetizers. Who says Trick or Treat can't be answered with savory goodies?
Until next time, cook with love and live to cook!
Jena & Jim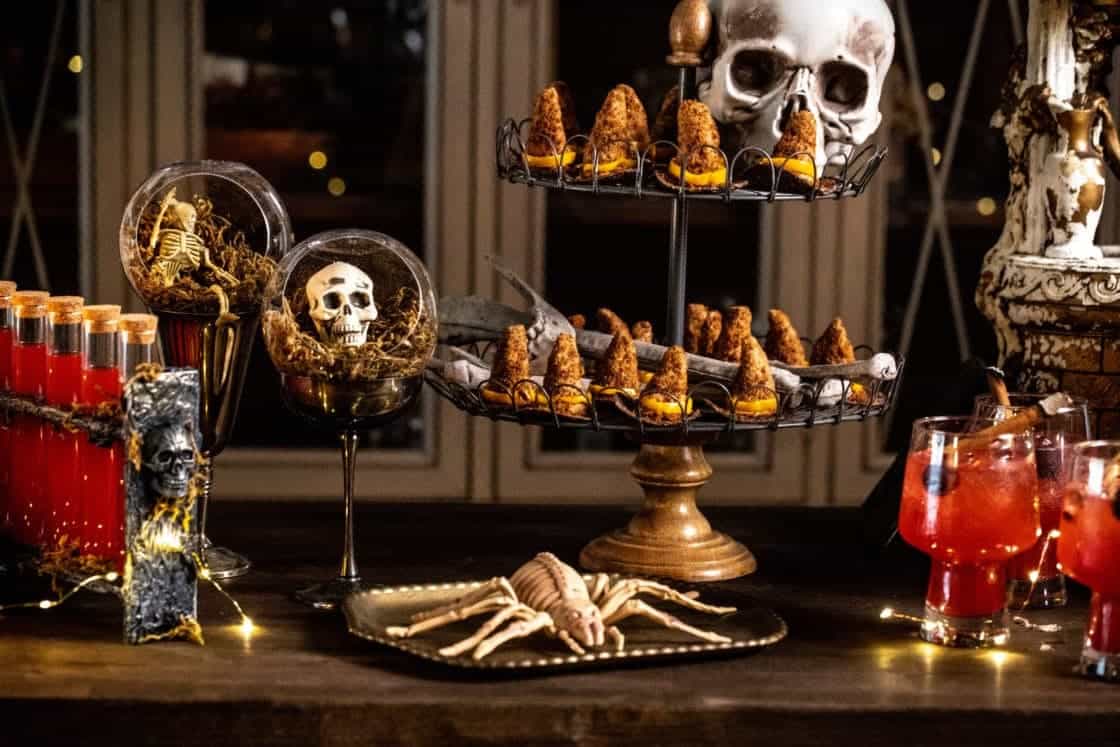 If you're looking for something sweet to give those adult trick-or-treaters, check out our Fall Caramel Martini!