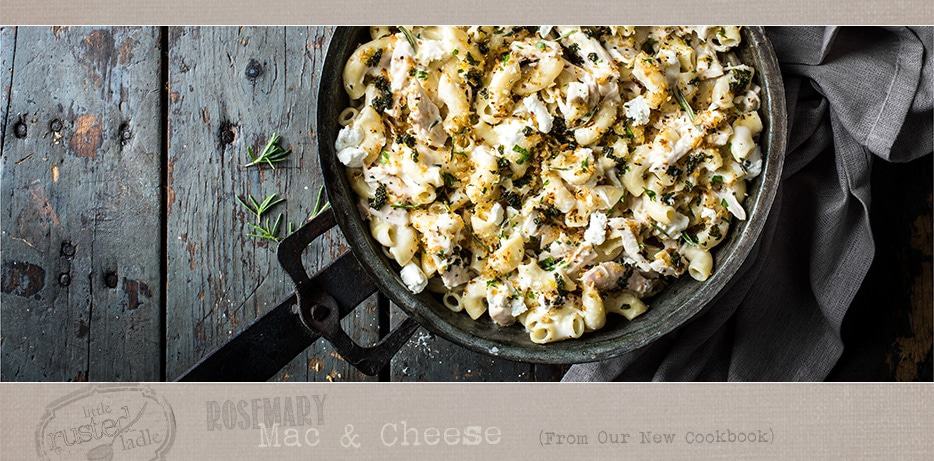 In a little more than a month, LRL's new cookbook titled Herbs for Flavor, Health and Natural Beauty will be hitting the shelves of bookstores near you and websites like Amazon and Barnes & Noble. We are really excited about it, because it will be our debut as co-authors. The entire book was written, developed, styled and photographed by Jena and I, and we did it in less than 4 months. Now don't get me wrong, this wasn't by choice. It had everything to do with spring and our desire to have it available for the coming herb season. After all, we're going to be ready for the new growing season and all the fresh herbs that will go with it. Why not enjoy some beautiful, delicious herb recipes while you're waiting for those wonders of nature to start popping? To get your mouth a watering, Jena and I decided it was a good idea to give everyone a sample recipe and a few photos to go with it to show why we are so excited about our debut book.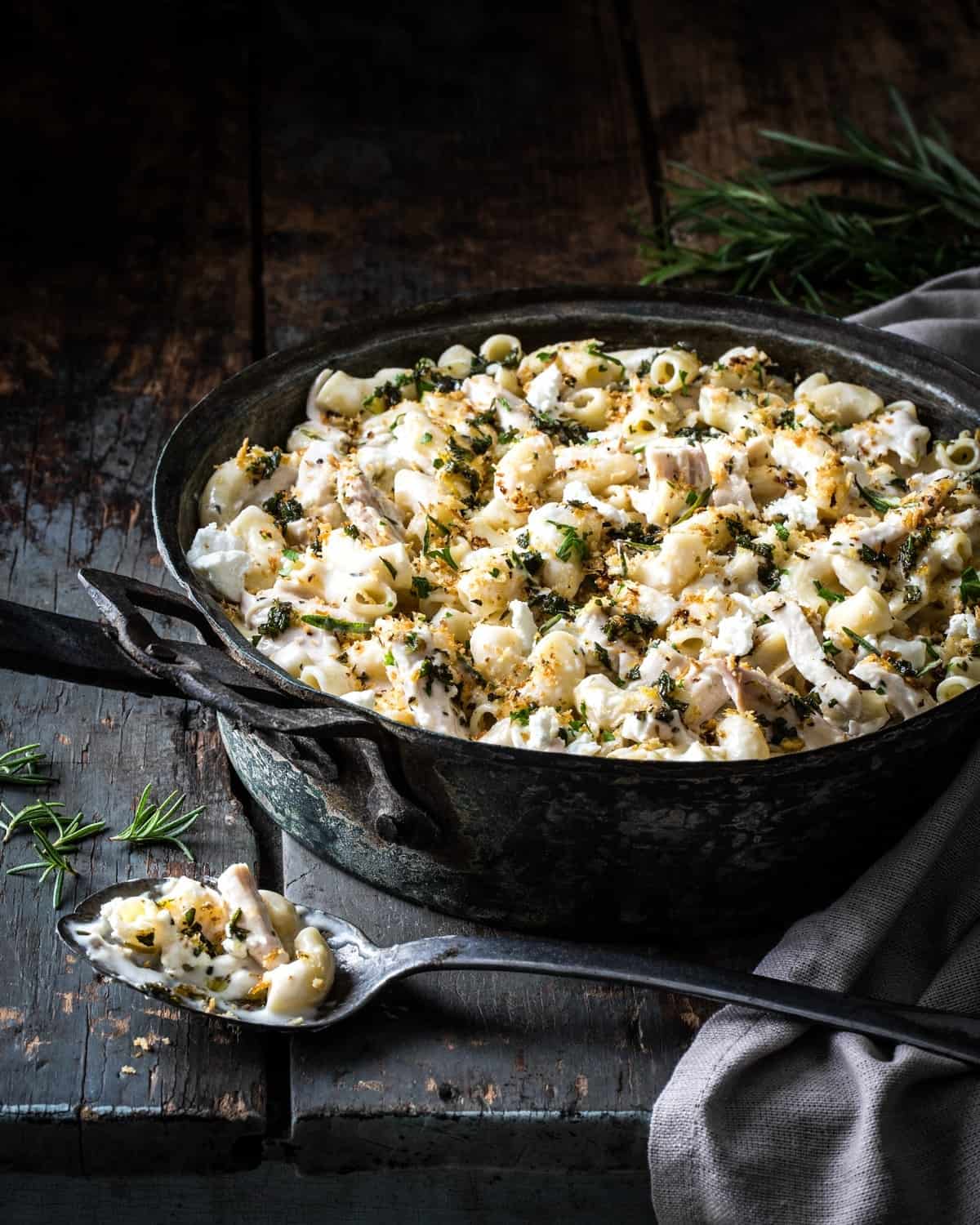 Since it's still January and there are still a good two months left here in Wisconsin before we will have temperatures warm enough to start thinking spring, and another two months after that before those delicate herbs will be able to be safely planted, why not tempt you with one of my favorite recipes from the book. Rosemary Mac & Cheese. This outstanding version of the classic mac and cheese recipe, uses rosemary in more than one form. First we cook large macaroni noodles and make the sauce right in the pan using chicken broth, gobs of goat cheese and of course rosemary. Then, we fold in some juicy rotisserie chicken and top it all off with an incredibly flavorful rosemary panko crumb topping. It's loaded with rosemary flavor and really easy to make. What better way to get through the cold and snowy days of winter than with a cheesy, gooey bowl of homemade mac and cheese?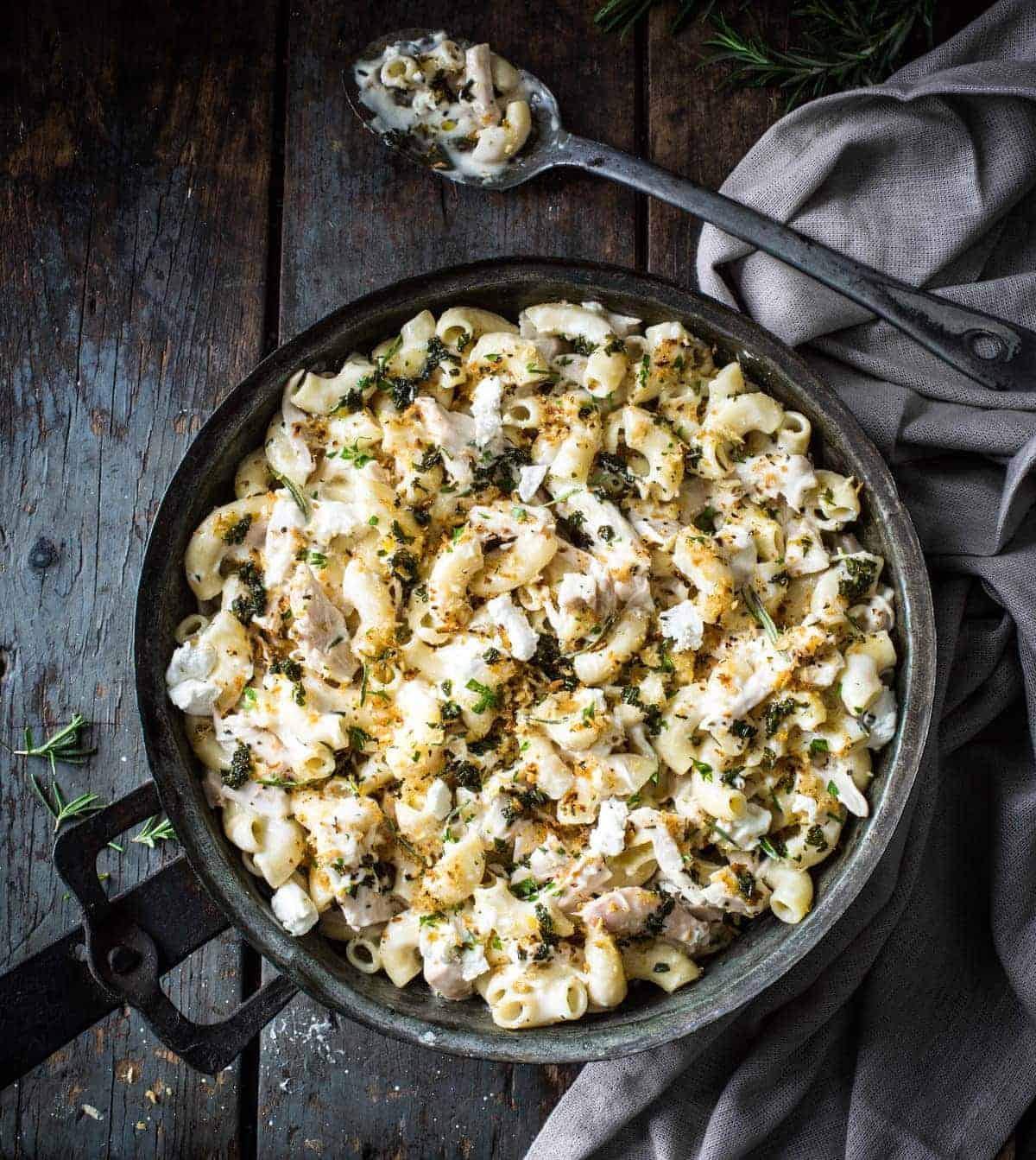 We will be taking advance orders for our book very soon, so be sure to keep an eye out for the notice. There is a limited run of books, so make sure you get your copy early. The book contains over 225 full color pages. Each recipe and herbal beauty project is displayed with Jena's beautiful photography. We hope you enjoy this teaser recipe while you wait for the book to arrive. Don't forget to cook with love and live to cook.
Jim & Jena
Herbs for Flavor, Health and Natural Beauty - A Sneak Peak
This grown up version of the classic Mac & Cheese is loaded with the fresh flavors of rosemary, goat cheese, and rotisserie chicken.
Print
Pin
Rate
Add to Collection
Go to Collections
Ingredients
1/2

cup

Fresh rosemary leaves

chopped, divided

1/3

cup

Extra virgin olive oil

2

cups

Chicken stock

2

cups

Water

2

cups

Heavy cream

3

cups

Large elbow macaroni

3

cups

Rotisserie chicken

cooked

4

ounces

Goat cheese

crumbled

1/2

cup

Panko bread crumbs

2

tsp.

Rosemary oil

see above

Salt & pepper

to taste
Instructions
Rosemary Oil
Combine 1/4 cup of rosemary and olive oil in a blender and blend on high for 1 minute or until rosemary is finely ground. Strain oil into a bowl with a fine strainer. Set oil aside while you make the pasta.
Pasta
Pour chicken stock, water and cream into a large dutch oven or saucepan. Bring to a boil over high heat. Reduce heat to medium, then add macaroni. Stir with a rubber spatula to prevent pasta from sticking. Cook for 8-10 minutes, stirring mixture occasionally until pasta is al dente and liquid has thickened.

Fold in chicken, goat cheese and remaining rosemary. Cook 2-3 minutes longer or until goat cheese has melted into sauce. Season to taste with salt and pepper. Turn off heat and let rest for 2-3 minutes.
Crumb Topping
In a small skillet over medium heat, toast panko crumbs with 2 tsp. of reserved rosemary oil for 2-3 minutes or until crumbs are golden brown, stirring often. Remove from heat and let cool while you dish up mac and cheese.
To Serve
Spoon macaroni mixture into shallow bowls or large mugs. Spoon 1-2 tsp. of reserved rosemary oil over macaroni.

Top with toasted rosemary crumbs. Serve.