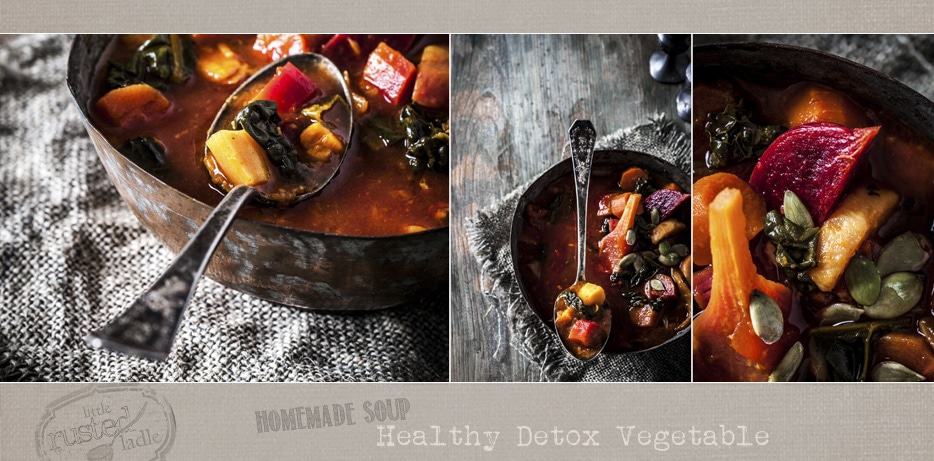 New Year, New Stew (Detox Soup)!
Welcome to 2015, everyone!  A new year that comes with new hopes, dreams, and for many, a desire to improve their health. Or at least expel some of the toxins and bad habits we accumulated throughout 2014.
Whether it's exercise, eating better, or simply cutting back on drinking after a holiday filled with a lot of "cheers!", January is always the month to kick off these resolutions. What better way to eat healthy and expel those holiday toxins than with an extremely tasty detox soup!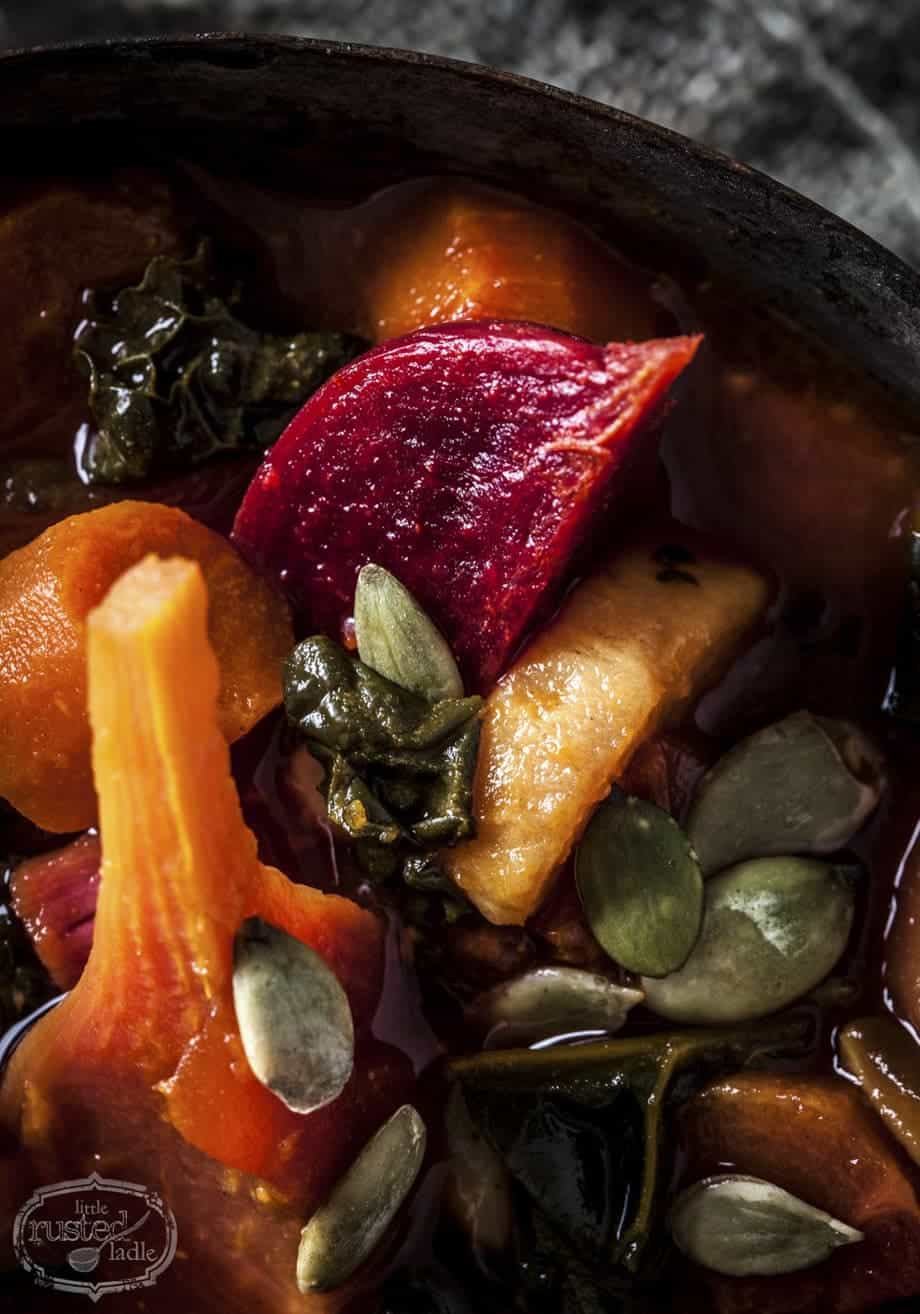 D.I.Y. Detox
Stop laughing! "Tasty" and "detox" do belong together. Our detox soup is delicious and easy to make. The word detox sounds bad, but let's examine what it really means. To detoxify is to eliminate those things that clog our body by flushing them out with healthy foods. Toxins like the pesticides we ingest, chemicals we touch everyday, preservatives we eat, alcohol and sugar-laden beverages we drink, and even the air we breath can all clog our body and make it run less efficiently.
Think of your body like a car. If you don't change the oil and fluids often, you get worse gas mileage and performance. Continue to ignore it and those annoying engine lights go on, which is never a good thing. Eventually, those small issues will cause your car to stop working altogether.
Well, guess what? Your body is a lot like a car. If we don't flush the toxins from our body once in awhile, our body doesn't work as well. We get tired more easily, we get aches and pains that we didn't have before, we gain weight, and so on. Ignore these issues, and they lead to breakdowns like heart conditions, intestinal problems, diabetes, or other conditions. Everyone wants to turn to doctors for help. I love doctors, but maybe if we just listened to our bodies a little more, we could avoid going to the doctor as much?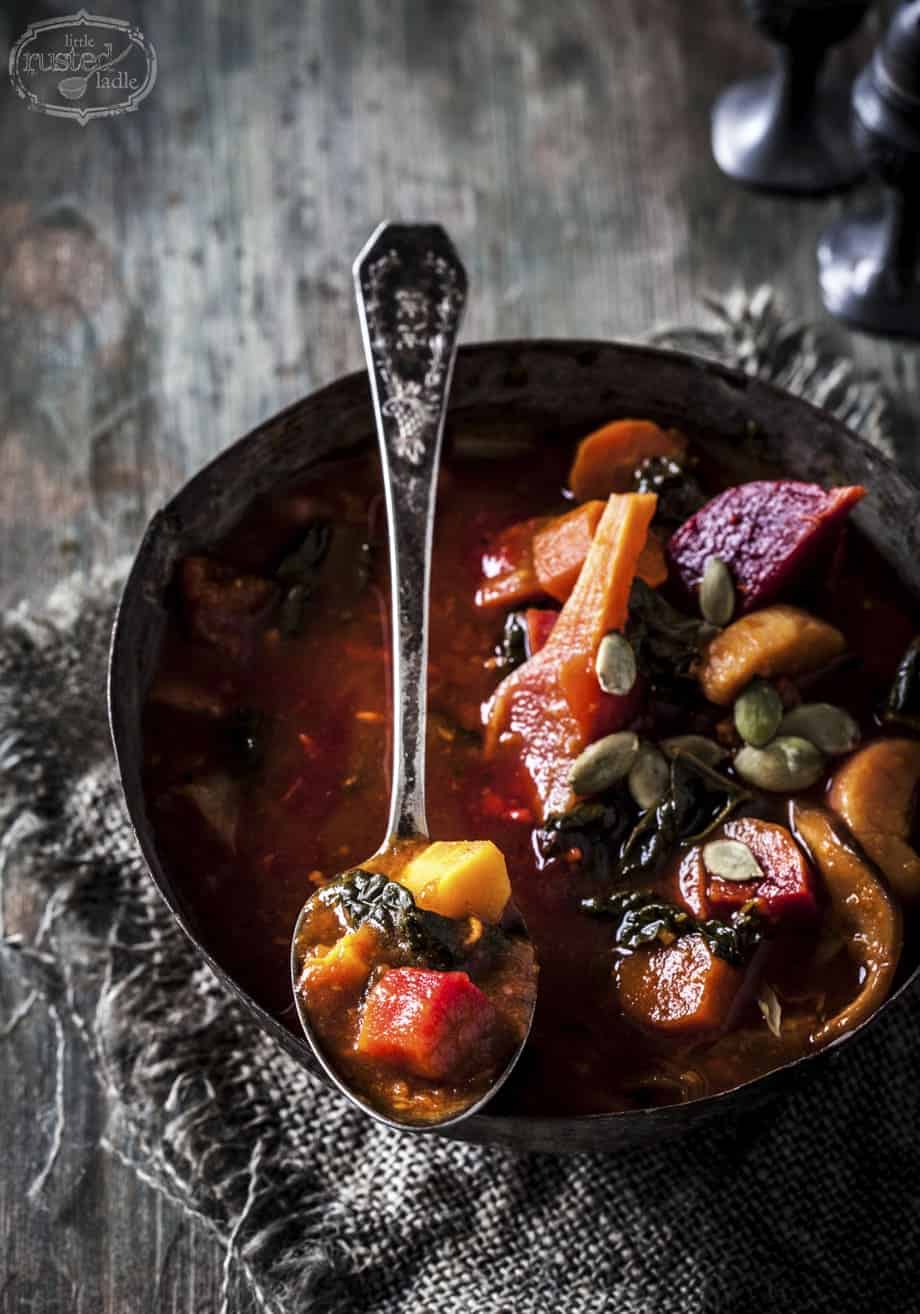 Think Healthy Thoughts
Removing unhealthy foods, if even for a week, can be difficult for some. Especially for people like me and Jena who work with unhealthy foods all the time. Imagine if during your detox diet, someone gave you a case of cheesecake or bacon and said "I can't take this back, so you can have it." Now try to say "no, I'm on a diet, so no free cheesecake or bacon for me, but thanks."  Yeah, good luck with that.
If you are tempted daily by evil foods, try to focus on foods that are good for you. Think of it as the power of positive thinking. Focus on the good, and ignore the bad. Here are some good foods to focus on, that help detoxify the body.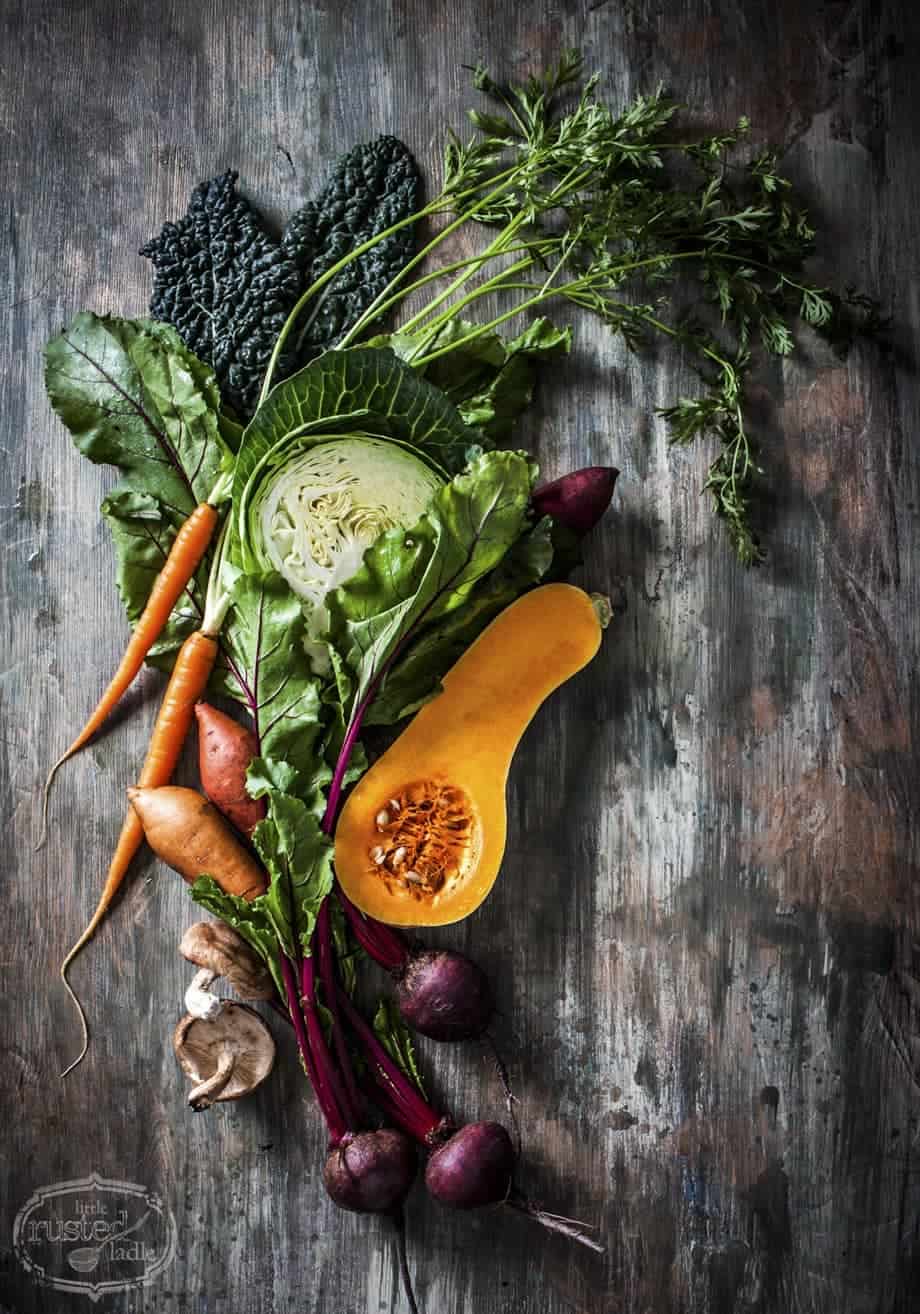 Beets, cabbage, onions, parsley, kale and other greens, garlic, turmeric, cinnamon, shiitake mushrooms, ginger, cooked tomatoes, and squash all have great detoxifying or health benefits that we should all be consuming in natural form as much as possible. Our detox soup recipe contains all of those ingredients. Just add water, and you have an incredibly filling, great-tasting and effective food to help your body get rid of excess toxins. 
Detox du Jour
The soup is cooked in 25-30 minutes in a pressure cooker, which seals in all the nutrients as well as the flavor. If you haven't worked with a pressure cooker, I highly recommend it: especially for soup. I recently purchased one at an artisan knife and cookware store in Madison, WI called
Wisconsin Cutlery & Kitchen Supply.
They recommended a brand of pressure cooker called Fagor. It is a very easy-to-use 8 quart pressure cooker. You can
buy it
here
for about $100.  I do recommend that if you use a pressure cooker, that it be stainless steel and not aluminum. Acidic foods like tomatoes can react with aluminum, and if you are trying to detoxify your body, adding additional metals to your body would not be a good thing. It is also necessary to use organic produce and organic vegetable broth or filtered water when making this recipe. You can't detoxify your body of pesticides if you're adding more pesticides to your detox diet.
**2019 Update: This soup would also be great in an Instant Pot if you are up on cooking trends!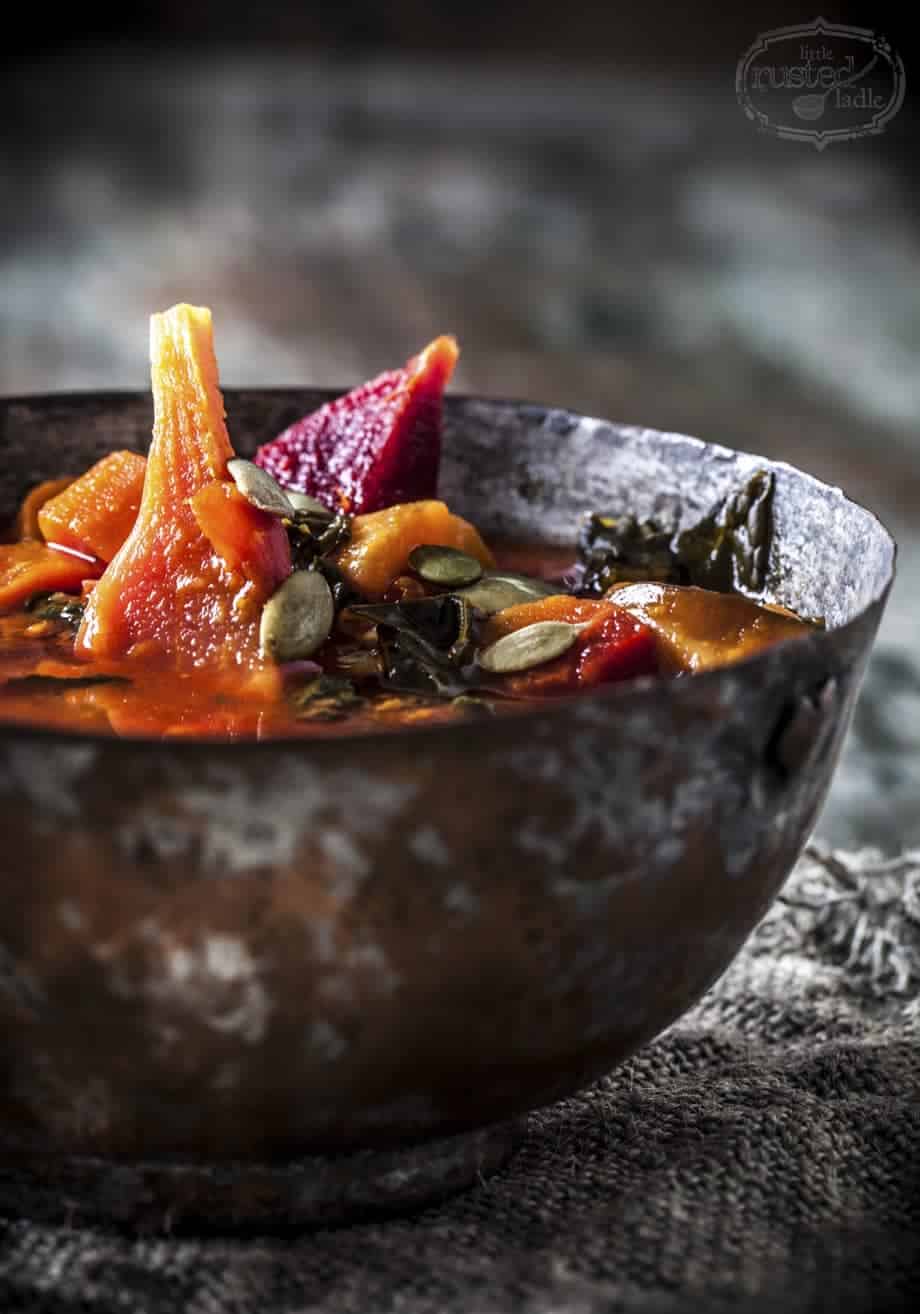 More Than Soup!
There are many websites to get information about detox diets.  However, a very good friend of mine and former food stylist Kristin Arnett from
Kristin's Kitchen Holistic Nutrition
is a valuable resource for getting more information about safe and effective ways of cleansing your body of the everyday sludge life throws our way.
Kristin lives in Elkhorn, Wi., holds a Bachelor of Science in Nutrition, and is a Certified Holistic Health Practitioner through the American Association for Drugless Practitioners. She would love to hear from you or answer any questions you may have.
You can also look to sites that inform you about the benefits of healthy foods such as
One Radio Network
or other sites that encourage natural healing.
As for us, all I can do is give you our detox soup recipe, (and maybe this
Heavy Metal Smoothie
if you prefer that) and send you out to others who are in the know. Happy New Year and don't forget to cook with love and live to cook.
Jim & Jena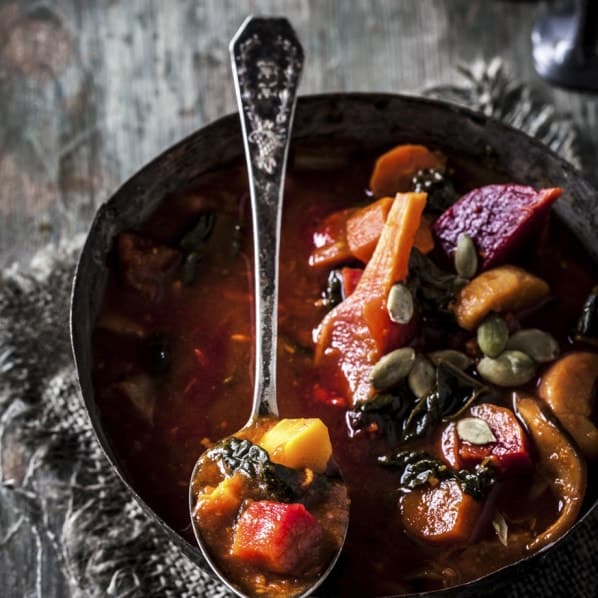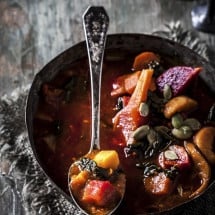 Ingredients
1

bunch

organic beets with greens

washed

4

medium organic carrots

washed

3

small organic sweet potatoes

washed

2

medium organic parsnips

washed and peeled

2

cups

butternut squash

cubed

1

medium onion

peeled

3

cloves

organic garlic

3

ounces

organic shiitake mushrooms

stems removed

4

large organic kale leaves

washed

1

tbsp

organic garlic

peeled and finely chopped

1

cup

organic cabbage

chopped

1

bunch

organic parsley

chopped

1

can

14.5 ounces organic diced tomatoes

1

tbsp

turmeric

1

tsp

ground cinnamon

8

cups

organic vegetable broth

1

cup

filtered water

1/4

cup

pumpkin seeds

pepitas

salt & pepper to taste
Instructions
Remove beet greens from beets, chop both into bite-size pieces and add to pressure cooker.

Chop remaining raw vegetables into bite-size pieces and add to pressure cooker.

Add turmeric, cinnamon and vegetable broth. Fasten lid to cooker, following manufacturer directions.

Cook over medium-high heat for 25-30 minutes. Cooker valve should close allowing pressure to build in cooker. A steady release of excess pressure should be heard while cooking.

After 25 minutes, carefully release pressure until all pressure is gone and top is able to be opened.

Remove top, ladle into shallow bowls and serve.

Garnish with pumpkin seeds and season to taste minimally with salt and pepper.
Notes
This soup can be used as a main detox meal. You can also use it as a non-detox soup by adding chicken, or tofu.