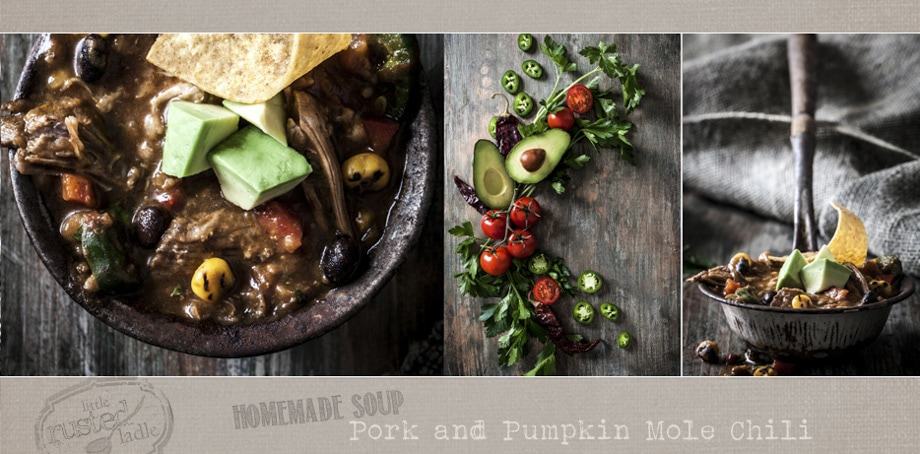 Mole could not be a more simplistic word to describe a Mexican sauce that is anything but simplistic. Mole is made with over 20 ingredients. Roasted dried chilies are simmered in a broth with other flavorful ingredients such as vegetables, sesame seeds, spices and cocoa. The mixture is puréed and traditionally served over cooked turkey. It is an arduous task that can take an entire day to make. The end result is worth it. Layers of flavor that seem to linger in your mouth forever. Anytime I visit a Mexican restaurant, I always look for the word mole, because it is usually the best dish on the menu. Recently, I was at my favorite Mexican restaurant in Milwaukee called Cempazuchi. This artisan Mexican restaurant is known for their homemade mole sauces. They make seven different mole's. Each one taking hours to prepare. I literally will drive to Milwaukee just to eat their mole. While eating this culinary explosion of flavor, the thought came to me (after my second margarita) that I never see mole sauce used in anyway other than as a sauce in Mexican cuisine. Why not? Italians use tomato sauce as a base for dozens of dishes. Chinese food uses hoisin sauce in many different dishes. Indian food often uses sauces like masala in multiple ways. So, why not expand the exceptional sauce known simply as mole to other recipes?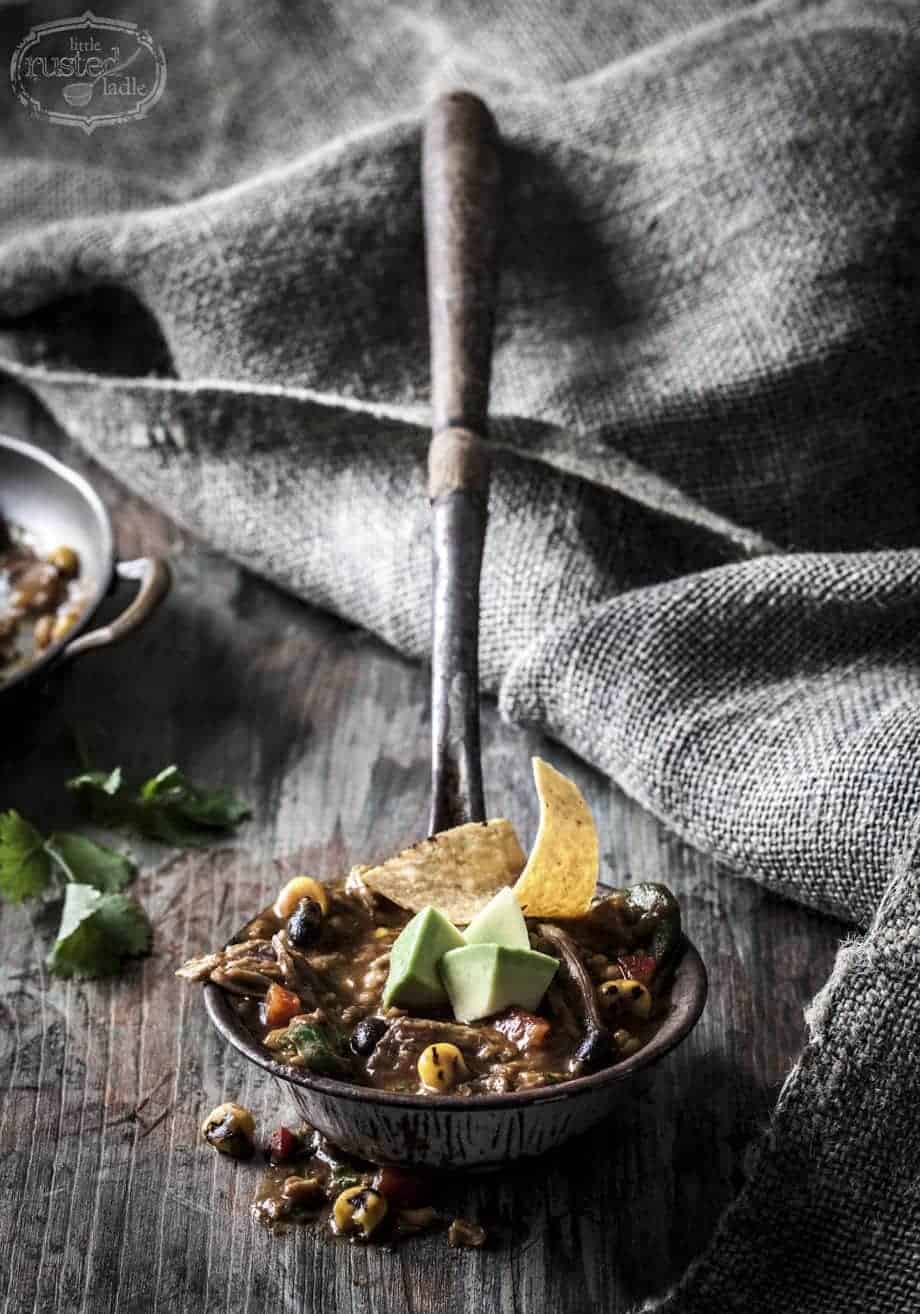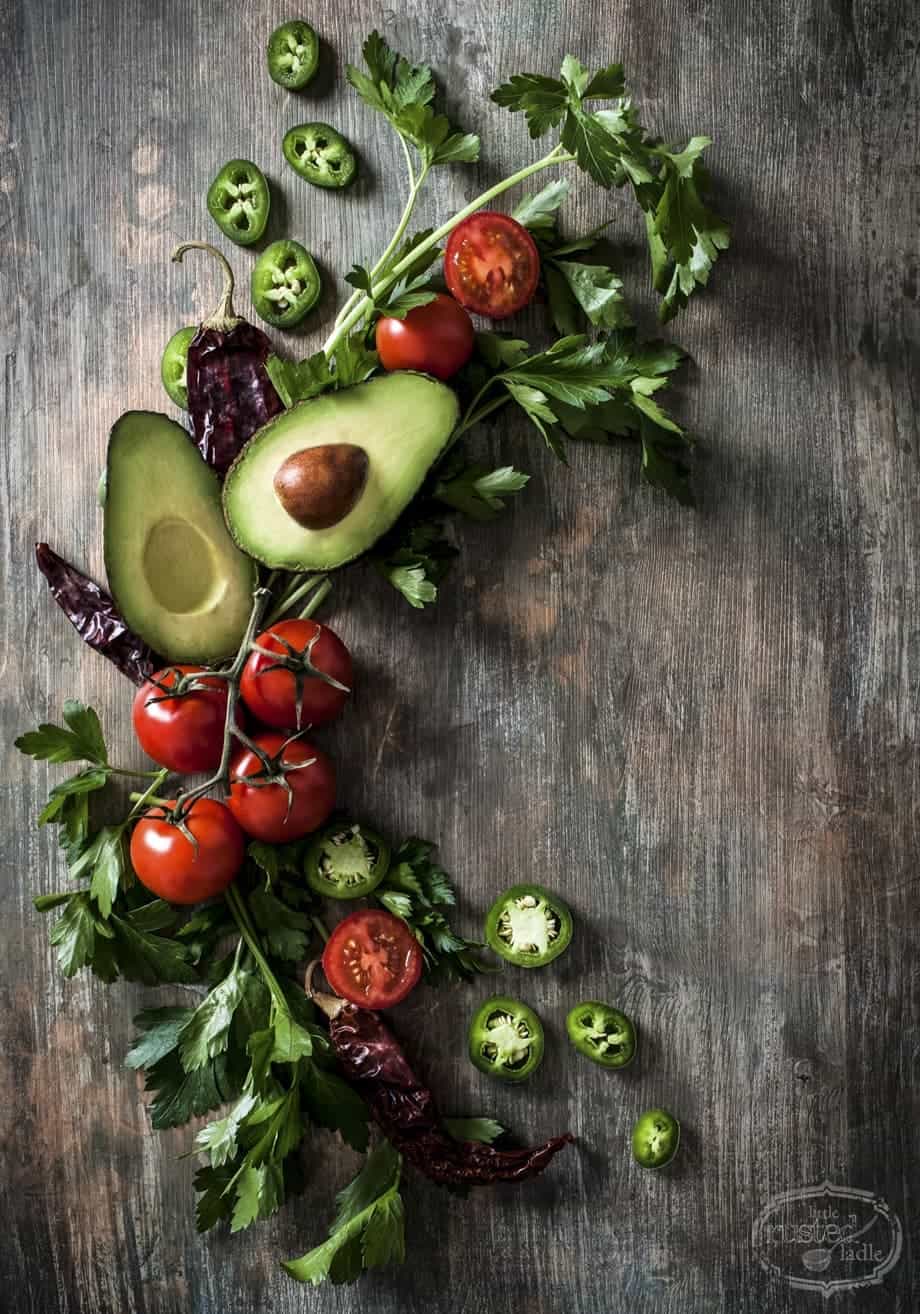 Since January is soup month this year for Little Rusted Ladle, I guess we'd better get to the reason why I'm talking about mole sauce. After downing a big bowl of chili at a restaurant the other day, the light bulb went off. No, really, right above my head while I was eating. Anyway, at the same time, I thought, "what if we combined the magic of mole sauce with the seasonal favorite known as chili?" Think of it, all the flavors of mole sauce added to a chunky style chili with the addition of brown rice, slow roasted pulled pork, roasted corn, salsa and pumpkin then topped with avocado, cheese, jalapeños and tortilla strips. Let's do this!
There's only one problem, did we have a week to make it? I exagerate a little by saying a week, but think about it. It takes a day to make the mole sauce alone. Add a day to make the pulled pork and chili, and now we're looking at two days to make it. No thank you. But what if you could use a pre-made mole as a rub for the pork, then slow cook everything in a crockpot all day while you were working? You walk in the house hungry and tired after a long day working and the smell of mole sauce, slow cooked meat and other aromatics hit your nose like a ton of bricks. Perfect!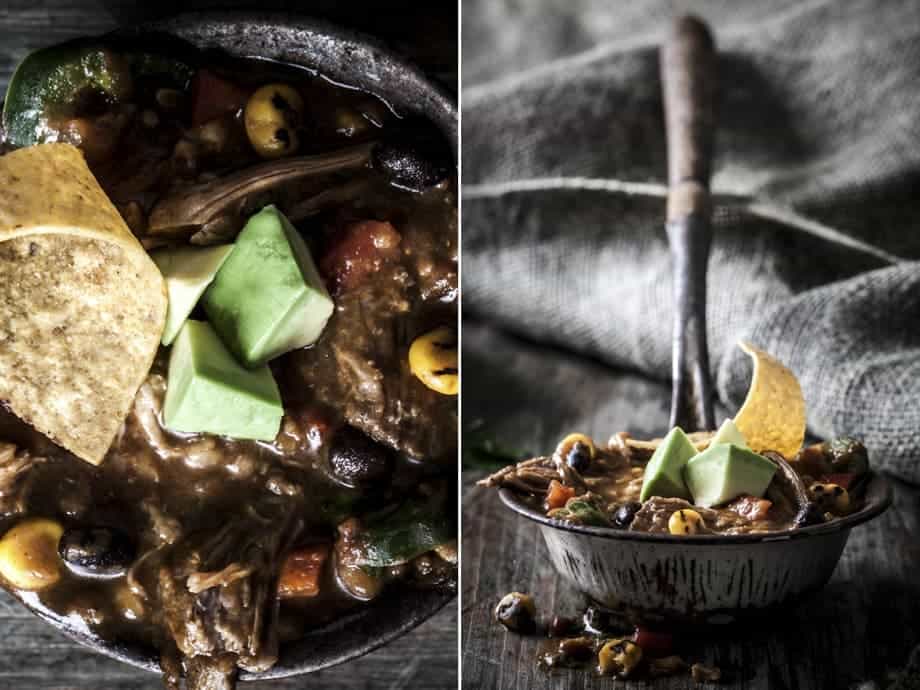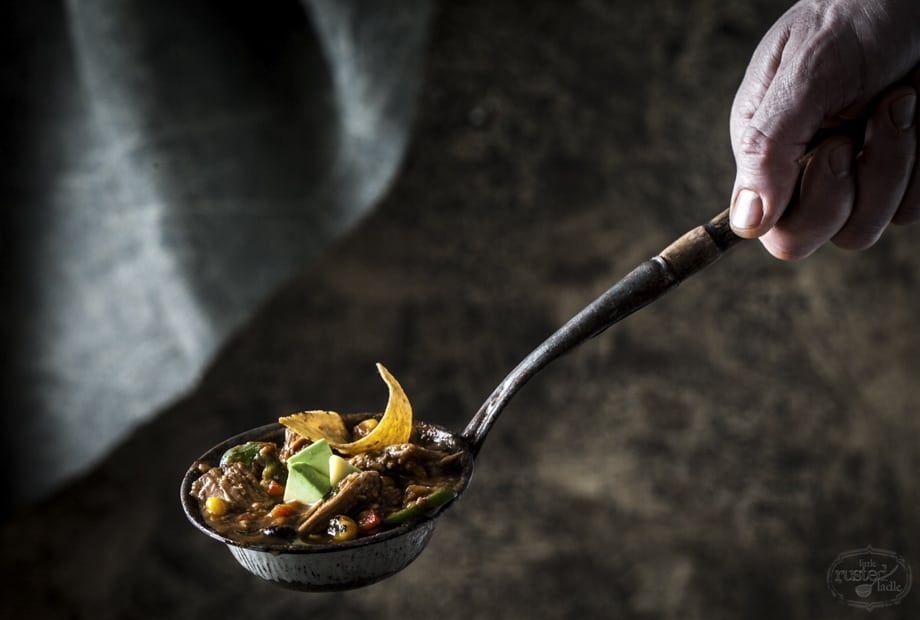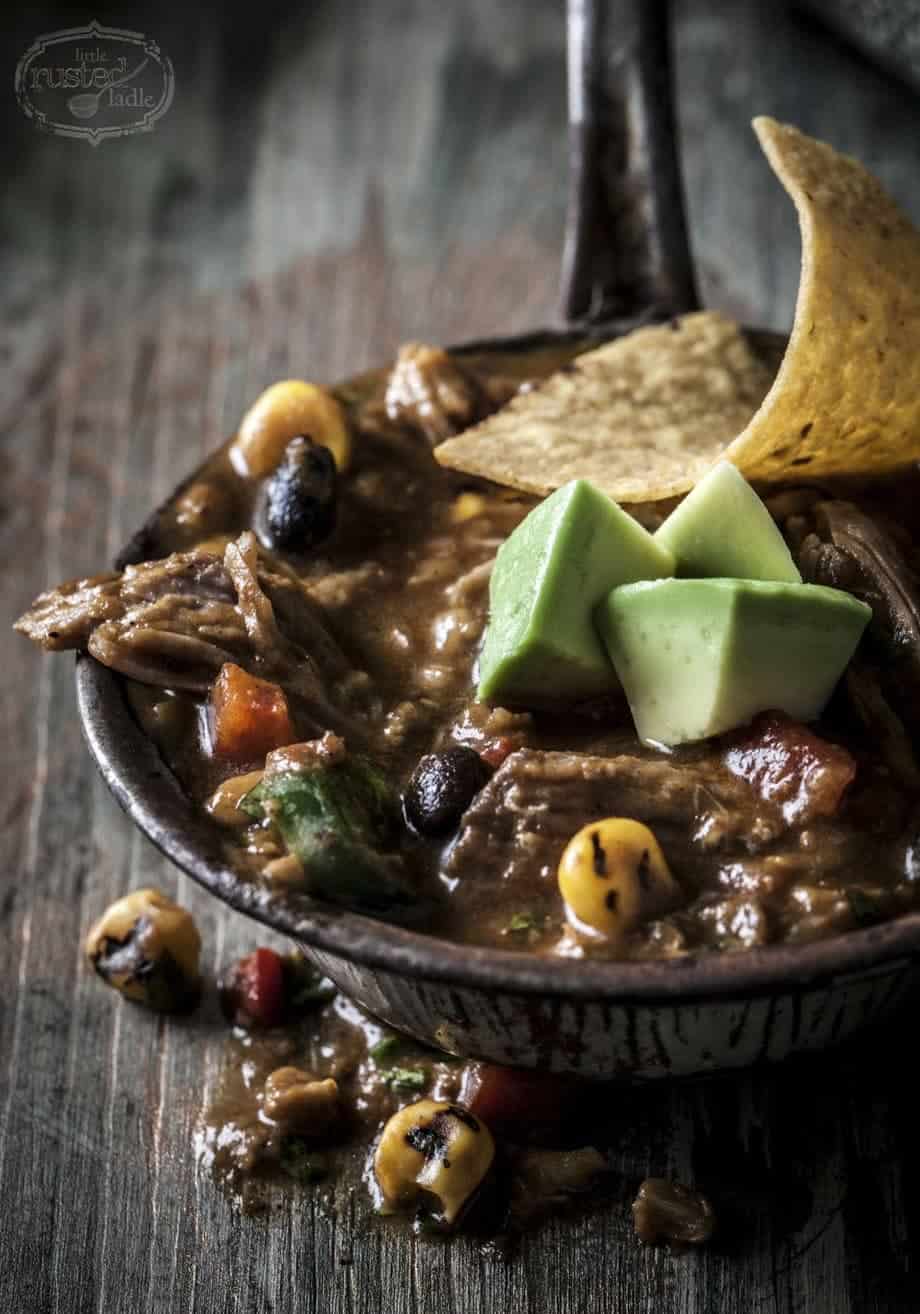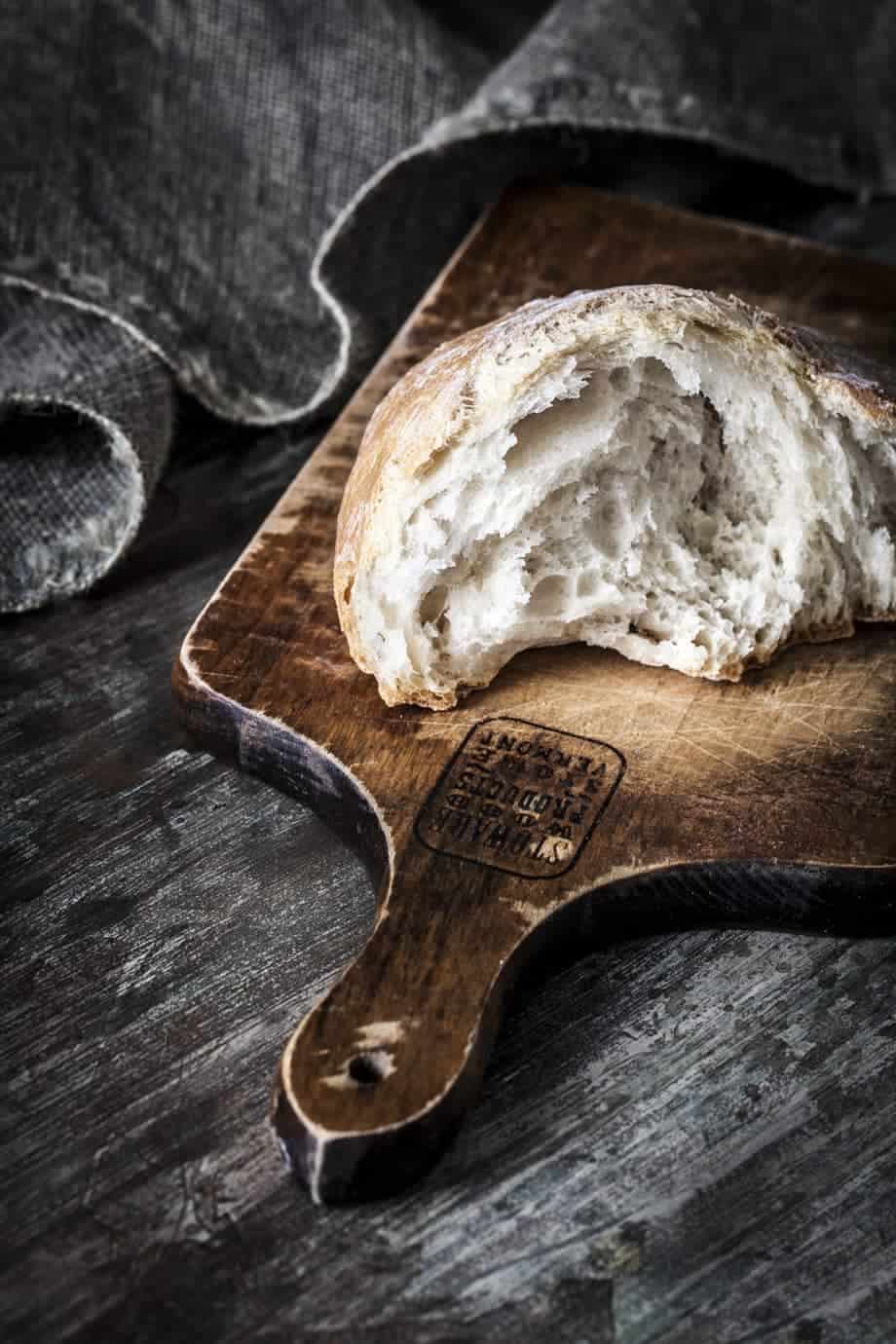 The preparation for this chili was actually quite easy considering the complexity of the flavors we were trying to achieve. Simply rub a three pound pork shoulder butt roast with a half a cup of store bought mole paste. You can get mole paste in most grocery stores in the Mexican food isle. Place the rubbed pork in a resealable plastic bag and refrigerate overnight. The next morning, simply place the rubbed pork into a large slow cooker and add the chopped onion and garlic (you can chop these night before), chicken broth, diced tomatoes with chilies, enchilada sauce, canned salsa, cocoa powder, roasted frozen corn, brown rice and black beans. Cover and cook on low for six hours or until meat is fall apart tender. Remove the pork from the mixture and let cool, then shred and gently stir back into the mixture with the canned pumpkin. Cook another 20 minutes and you're good to go. You can skim the fat off the top with a ladle after removing the pork and before adding the pumpkin, beans and pork back to the mixture. Then simply ladle into big bowls and top with diced avocado, mexican crema, queso fresco cheese, jalapeño slices, chopped cilantro and tortilla strips. Add a chunk of hearty bread for sopping up the extras in the bottom of the bowl and you are all set. The combination of flavors, textures and smells will almost certainly cause you to make a return trip to the slow cooker. A perfect one dish recipe that is great for after work or on a cold January day. Until next time, remember to cook with love and live to cook.
Jim & Jena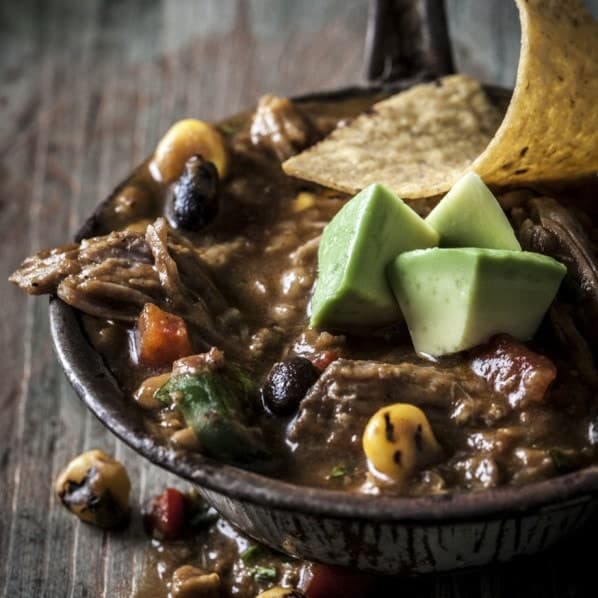 Pork and Pumpkin Mole Chili
The complex flavors of Mole sauce are combined with pulled pork, salsa, beans, corn, and pumpkin to create a very unique chili that your family will love.
Print
Pin
Rate
Add to Collection
Go to Collections
Ingredients
3

lbs.

pork but roast

1/2

c.

prepared mole paste

1 1/2

c.

onion

chopped

3

cloves

garlic

minced

5

c.

reduced sodium chicken broth

1

can

14.5 ozs. fire roasted diced tomatoes with green chilies

1

can

10 ozs. red chile enchilada sauce

1

can

7 ozs. salsa mexicana (found in Mexican food isle)

1

can

7 ozs. salsa ranchera (found in Mexican food isle)

1

Tbsp.

dark cocoa powder

1/2

cup

roasted corn (can substitute plain frozen corn.

1/2

cup

uncooked brown rice

1

can

14.5 ozs. black beans, drained and rinsed

1

can

15 ozs. unsweetened pumpkin

Toppings

2

ea. small jalapeño peppers

sliced

1

ea. avocado

cubed

2

c.

queso cheese

shredded

2

c.

small tortilla chips

1/3

c.

fresh cilantro

chopped

1/2

c.

Mexican crema or sour cream
Instructions
In a large resealable plastic bag, combine pork roast and mole paste. Seal, then rub the paste over roast on the outside of the bag. Marinate overnight.

The next day, remove pork roast from bag, and place in a large slow cooker. Add onions, garlic, chicken broth, tomatoes, enchilada sauce, salsas, cocoa powder, corn, brown rice and black beans. Cover and cook on low for 6-8 hours.

Remove pork from slow cooker and let cool for 15 minutes. Pull with two forks.

While pork is cooling, skim fat from surface.

Stir in pumpkin, then gently add pork back to slow cooker.

Heat for an additional 15 minutes.

Ladle into shallow soup bowls. Finish with toppings of choice.
Notes
Feel free to substitute 14 ozs. of your favorite salsa for this recipe.