My First Spooktacular Studio Soiree with Italian Beef Witches Hats Recipe
Throwing a party gives Jim and me a chance to exercise our skills and passions all in one exciting day. The Spooktacular Studio Soiree was no exception with weeks of planning coming together for one spoooooky Halloween party!
Since the moment I moved into my new studio space this past May, I knew that it would be the perfect place to host a party. The large, open rooms, that have at different times housed a country store, a neighborhood café, and an antique shop, were just waiting to be filled with spectacular decorations, tasty food, and the people I love best.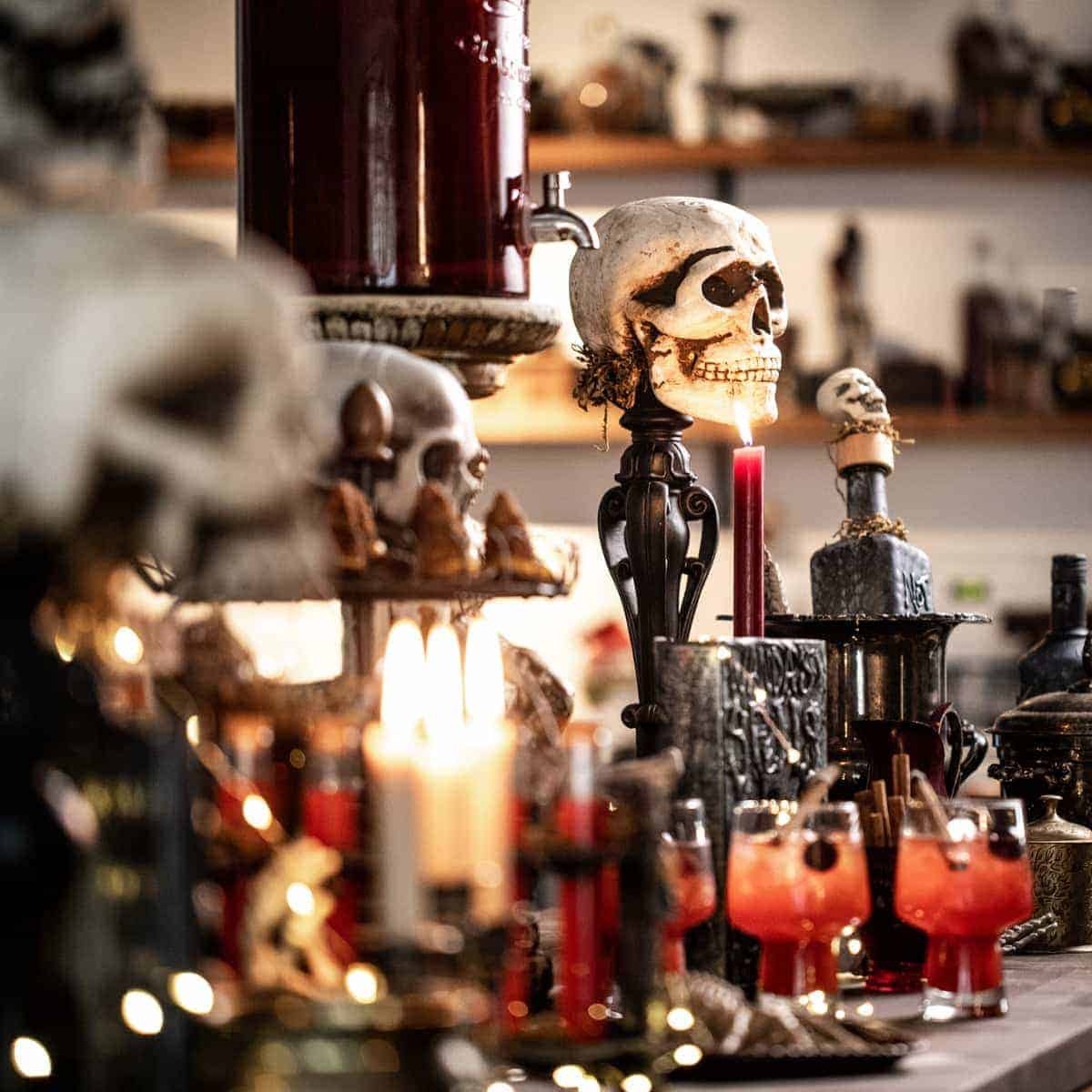 Preparing the Treats
I brainstormed some spooky crafts that you can learn about in our Shot Glass Vials and Vintage Halloween Decorations posts. They turned out terrifically and really added to the scene I was setting in the studio for the Halloween party.
Meanwhile, Jim worked his magic and dreamed up some truly delicious appetizers for the guests to enjoy. (He probably should have been dressed up as a wizard instead of Waldo!) There were so many options to choose from that we couldn't talk about all of them in one post. But here is one to whet your appetite.
Jim's Italian Beef Witches' Hats were an absolute scream! Our guests ate them up so quickly, I'm glad I took some pictures beforehand. Italian beef, cream cheese, pepperoncini peppers, and Italian seasonings are combined in a food processor, so the classic hat shape can be piped onto a blue corn tortilla chip. A salty, savory crumb of tortilla and rye chips coats the outside of the hat for the deep-fried look and taste without all the extra fat (and work in the kitchen).
Along with being on-theme and sinfully scrumptious, this appetizer is versatile in that it tastes just as good hot as cold. Heat them up on low in the oven before the Halloween party, and even those looking for a midnight snack at the end of the night will find a tasty treat.
Party Time!
Guests began to arrive just as Jim and I were putting the finishing touches on everything. In our invite, we asked our friends and family to come dressed in costume, as is fitting of a Spooktacular Soiree, and to bring their favorite Halloween treat to share. Our guests did not disappoint. Check out the pictures below for some of our favorite costumes and creative dishes.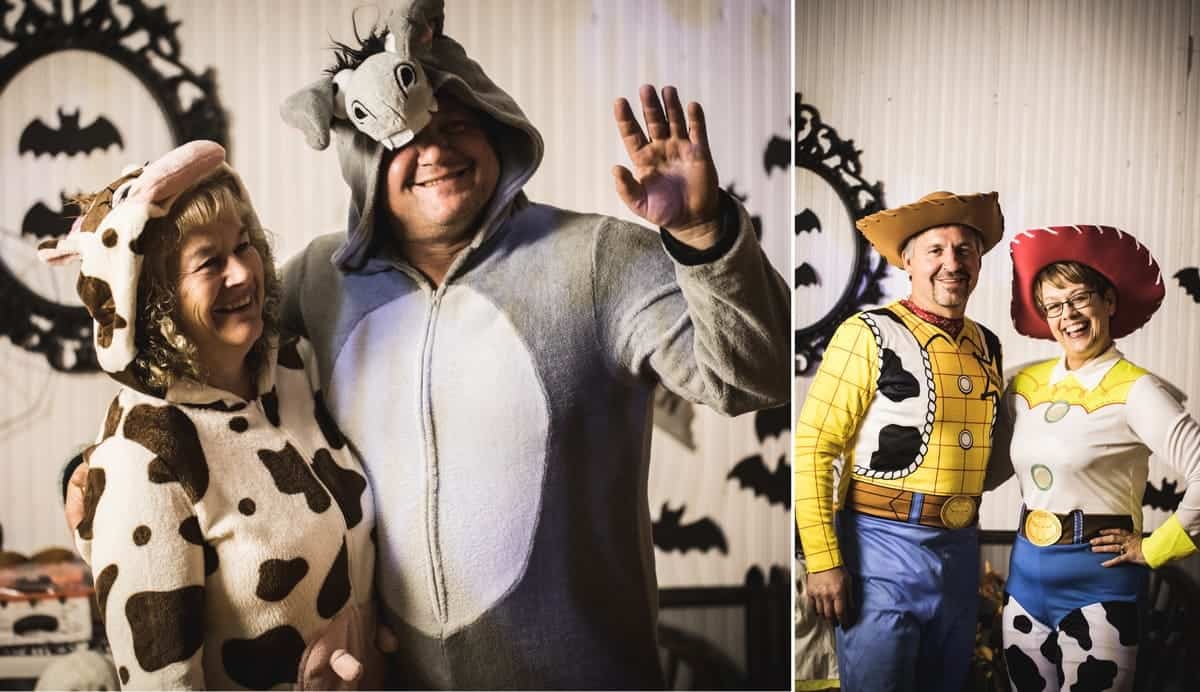 A Successful Soiree
What a truly delightful Halloween party! Thank you to everyone who came to see the new space and enjoy the spooky festivities. And remember, even when you're cooking for ghost and goblins, to cook with love and live to cook.
Jena & Jim
Blog Posts for All of Your Halloween Party Needs
Smoked Candy Apple Old Fashioneds
Scientist Shot Glass Vials Halloween Craft
DIY Vintage Halloween Decorations
Ingredients
25-30

whole

Blue corn tortilla chips

flat and unbroken

12

ounces

Deli style roast beef

thinly sliced, chopped

8

ounces

Cream cheese

softened

1/2

cup

Sliced pepperoncini peppers

1

tsp

Italian seasoning

1

cup

Rye chips such as gardettos

finely ground

1

cup

Blue corn tortilla chips

finely ground

25-30

small pepper rings

1/4″ thick
Instructions
Place flat tortilla chips in a single layer on a large baking sheet.

In the bowl of a food processor, combine roast beef and next 3 ingredients. Process until mixture is smooth and well blended. Spoon mixture into a pastry bag fitted with a medium round pastry tip.

Pipe the beef mixture onto each tortilla chip in a cone shape. Press the top into pointed tip with your fingers. Repeat with remaining beef mixture and tortilla chips. Refrigerate for 1 hour.

Meanwhile, in a medium bowl, combine crushed rye chips and tortilla chips.

Gently press crumb mixture onto and around the tops of each witches hat, being careful not to press too hard. Refrigerate while preparing pepper rings.

For pepper rings, microwave pepper rings in a small amount of water for 1-2 minutes or until softened. Drain and cool pepper rings with cold water. Pat pepper rings dry and cut one side of each ring.

Place a pepper ring around the base of each withes hat. Refrigerate until ready to serve.