Angelic White Nursery
Call it preparation, or nesting, or wanting to guarantee this new mother of two had a relaxing nursery with low stimulation. When I was pregnant with Elijah, I created my perfect adult and kid-friendly nursery space. I wanted a space where I could spend time with my babies and my husband without too many distractions. Above all, a place where I could wake up every morning with a clean slate and begin by connecting with my husband and sons.

Of course, the reality of having two boys isn't always as idyllic as all that. But having a beautiful place to call my own certainly didn't hurt. With Mother's Day upon us once again, I was thinking about this oasis I created for my motherhood to blossom, and how my mom had a hand in creating it.
Motherly Inspiration
The inspiration for my nursery is a cradle my mom purchased during a shopping trip. My mom and I spent a lot of time shopping together. It was a mutual joy and a great excuse to spend time together.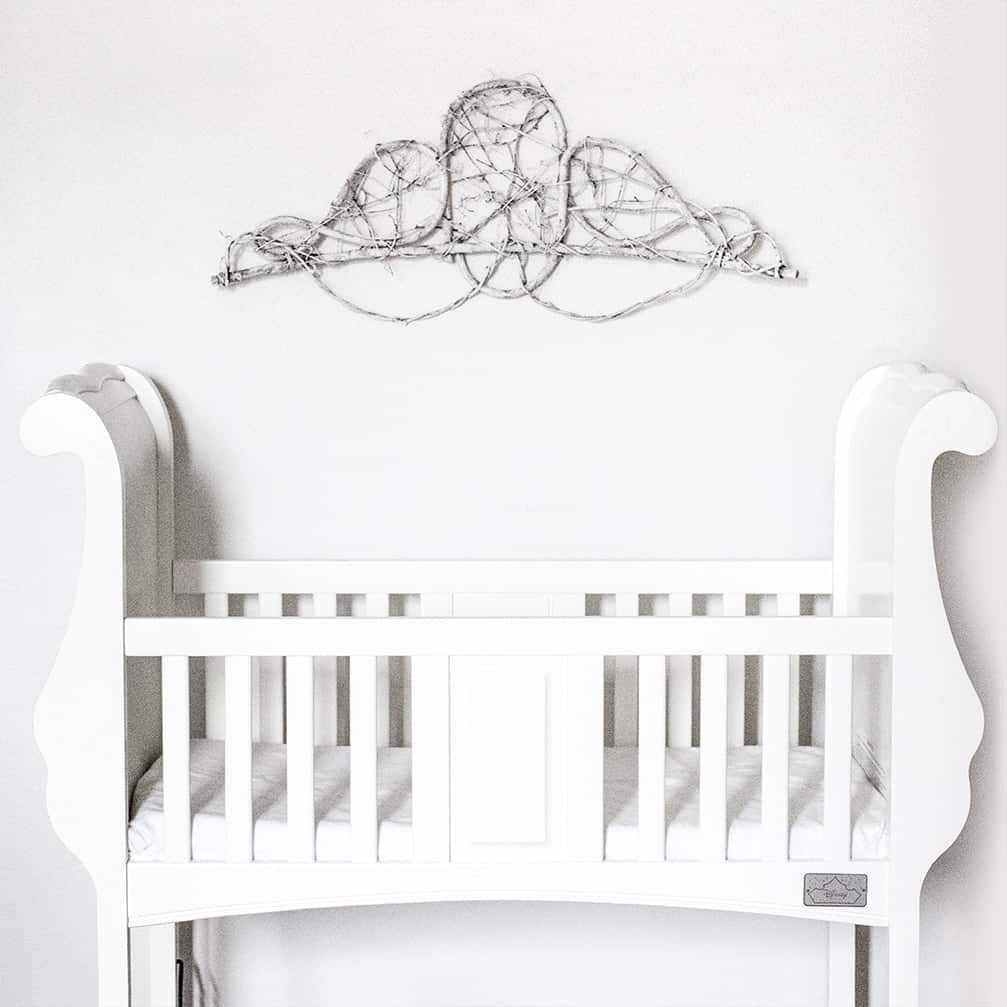 Years before I had kids, even before my brother or I were married, my mom spotted this cradle at JCPenney. She knew she wanted it for her future grandchildren as soon as she saw it. She insisted we buy it, even after I suggested that I wasn't interested in having children of my own. If memory serves, she hid it in my grandparent's attic, knowing my dad wouldn't have approved of such an impractical, preemptive purchase. (Come to think of it, I think many of our shopping trips ended this way.)
Now that Mom's gone, the pristine white cradle serves as a lasting reminder in the nursery of her love for me. I want to emulate that love as I raise my own children.
The cradle served well as a bedside sleeper in those first months where closeness is especially beneficial.
Later, when they boys were sleeping more independently, the cradle rested beneath a flower arrangement form I salvaged from my mom's extensive craft stash. The simplicity and potential of the form was the perfect accent to the curved lines of the cradle.
Nursery From Ordinary to Extraordinary
The rest of the nursery came together quickly with my cradle inspiration. I found some really great pieces at JCPenney and T.J.Maxx for a reasonable price that I knew would really shine with a vintage-style paint job. The antique-looking finials and scroll work on the headboard, foot board, and night stands could be transformed from something slightly dated to beautifully vintage.
Dry brushing is such an easy way to keep the character of a piece while brightening up the color with a slightly weathered look. I used this technique with small amounts of white paint on most of the pieces in the nursery.  It gave everything a cohesive, relaxing, and low-sensory feel.
I found the vintage-look frames at Ikea. They were perfect for my boys' newborn portraits with a spray paint base and the same dry brushing technique.

Vintage Nursery Vibes
Everything else in the nursery were vintage finds. With, I'm sure, more than 10,000 hours of practice, I'm a pro antique shopper at this point.
I transformed an antique desk into a changing table that sat perfectly at the end of our bed. A patterned cushion made sure the boys were comfortable and safe from rolling off. Added drawers for diapers ensured I was always ready for middle-of-the-night changes.

The tall dresser had five large drawers that were great for clothes storage, especially when things got a little disorganized. And all of the detailing and hardware looked phenomenal after the paint job.
On top of the dresser is a fireplace grate I painted and antiqued. I used it for hanging jewelry and other precious things that needed to be kept away from little fingers.
Personal Touches
As an artist and a business owner myself, it's really important to me to support local artists, so I picked up the framed art print from Fancy That Design House & Co. with a Bible verse from Song of Solomon, "I have found the one whom my soul loves."
Finally, for a little extra sentimentality, I picked up this decorative wooden ladder where I hung one of the boys' favorite outfits. It worked out as a fun way to display their personalities, especially as they got older and had some opinions about things like that.
Looking back on these pictures, it's easy to put myself back in that place of serenity. This Mother's Day, I hope you can carve out that little sanctuary for yourself and your family. Let me know in the comments if you have a heavenly place like this already!
Do you know a mother in your life who would love this nursery? Share the article on Facebook, Instagram, and Twitter to help spread the word on Little Rusted Ladle!
Until next time, don't wait for a special occasion; create one!
Psst… Ready to add a little color to your kids' lives? Here is an instructional post for Edible Finger Paint!
Thank you, Kate Berg, for capturing these precious photos of our family!